A manoeuvre into a mass
Notes on seams, binding and hungry shapes at Daiga Grantina's exhibition What Eats Around Itself, on view at the New Museum's Lobby Gallery through May 17, 2020
06/02/20
Daiga Grantiņa (or Grantina) is a Latvian-born artist (1985, Saldus), who lives and works in Paris. Her sculptural installation What Eats Around Itself was made in her studio, then shipped in a single crate, and has now come alive in the New Museum's Lobby Gallery. I first met Grantina through acquaintances several years ago in Basel, which led to her first institutional show in Riga at the Kim? Contemporary Art Centre in 2016. Last year she represented Latvia at the Venice Biennale through an unprecedented (for Latvia's standards) collaboration between two art institutions (Kim? and the Latvian Centre for Contemporary Art) and two affiliated curators (Valentinas Klimašauskas and Inga Lāce). She had previously already had a mesmerising-meets-photogenic show at the Palais de Tokyo in 2018.
We reconvene over mimosas on a blizzardy day in New York City, and what follows is a patchwork of impressions, quotes and reflections on her fresh new body of artwork, fact-checked during a gallery talk by Grantina and exhibition curator Helga Christoffersen just a few hours prior to the exhibition opening on January 23.
In 2018, then New Museum Associate Curator Christoffersen invited Grantina to create a show for the Lobby Gallery. The space at the far end of the museum's ground-floor lobby is a horizontally situated room separated by a transparent glass wall from the rest of the floor and the meeting and greeting taking place amongst those who arrive for tickets, books or coffee.
Throughout her practice, Grantina has been interested in how to make things meet and create causes for encounters. In this particular case, in a show that Grantina says is "very reflective for me", the concept of binding is foregrounded. Binding as both an act and a metaphor. To bind things to each other and open up the process and shape for something new that can go out into space. Everything that can be seen here serves the same idea of opening up towards an encounter of layers, just as the small pieces of wood placed on the surface of some of the objects turns out to be part of the binding. Having been recycled from the initial mock-up stage ("I rarely throw things out," says Grantina), they now find their way into the new show.
"Daiga Grantina: What Eats Around Itself," 2020. Exhibition View: New Museum, New York. Photo: Toan Vu-Huu
Grantina embarks on thinking about sculptures, their constellations and how they relate to each other by folding and binding paper to make 1:10 scale models. Next, the drawing-seam is made – a flat shape is cut out on the ground, and the volume is pulled up, allowing the specific form to appear. Grantina then goes back and forth between laying it out and pulling it up for the seam to make the line that marks the shape of the work of art.
An important premise of the show is that even though you see the objects in the space as massive as sculptures, in fact, the pieces all emerge from the two-dimensional plane, from a sheet of paper, and are completely collapsible. Christoffersen comments that, from the outside, this flying, elevated body of work has a lot of "air time", but when viewers enter the space, a "picture plane" unfolds before their eyes. "I often feel like things can fall apart very easily and I want them to hold, but the way they hold together is very evident, and this is, in a way, the subject of my work," says Grantina. This picture plane then helps to hold it all together, behaving as the seam for each individual sculpture.
"Daiga Grantina: What Eats Around Itself," 2020. Exhibition View: New Museum, New York. Photo: Toan Vu-Huu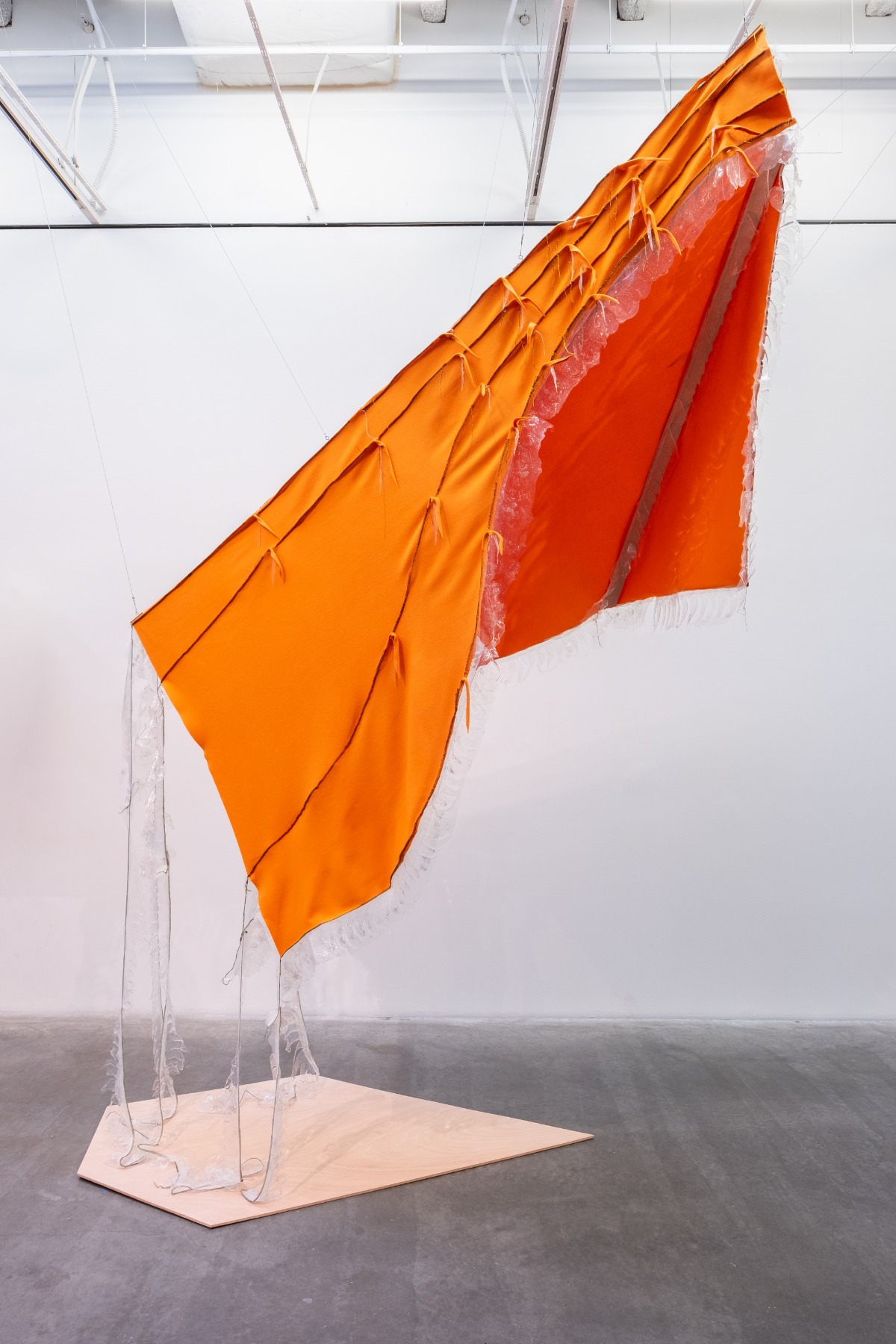 If in the past works of art usually arrived from a construction – they were constructed and contained a structure inside of them (as in architecture, where we can perceive of the house as a shell, the skin around a sculpture echoes how we see the space around it) – the major difference now is that this new body of work hasn't arrived from a construction. The way it has come together shows that the works are both their own houses and their own bodies, inviting viewers to enter the pieces with their own vision.
The works of art received titles only at the last minute because Grantina had to meet them in the space before naming them. For example, the pink-hued work is called Horme, which is the Greek word from which 'hormones' is derived. Hormones share a similarity to how colors function in the sense that they need a body and a mind in order to become alive. One of the last works Grantina made is See-Saw Crazy City, a wild portrait of New York City that combines many of the things she learned while making the other sculptures. The small work on the floor at the end of the exhibition space is titled Blickes Blick, a variation of the German word Blick, which means the object of vision and refers to both receiving and projecting the visual in one single act. The work has a whole inside and acts as a reflection towards the outside moving like a circle, like a spiral in an outward direction, out towards space. Fittingly, it seems that all of this effort, and the entire exhibition itself, becomes a frame for this tiny object. Sort of double and flipped, so that the way in which the main viewing point for the exhibition is composed and offered becomes very evident.
"Daiga Grantina: What Eats Around Itself," 2020. Exhibition View: New Museum, New York. Photo: Toan Vu-Huu
A curious aspect of Grantina's sculptural work is the painting by Balthus titled The Mountain (1936–37), with which she has had a long relationship. The giant canvas hanging in New York's Metropolitan Museum of Art depicts a mountain-valley landscape with five human figures situated very much in a relationship with the mountain. It is unclear whether the landscape or the figures, who behave rather artificially, came first. This very aspect provides Grantina with the impulse and eventually also the tools (albeit in a non-evident way) to keep it all together. Her practice also shares inspirational traces with the 1960s and 70s American artists such as Richard Serra and Richard Tuttle as well as Jessica Stockholder and abstract pioneer Hilma Af Klint; it even borrows habits of looking and displaying from fashion artists such as high-end couture designer Iris van Herpen.
The title of the show comes from the natural world and is inspired by a branch with lichen growing on it – a gift Grantina received from a friend who, coincidentally, lives near the Château de Chassy, where Balthus lived in the 1950s.
"Daiga Grantina: What Eats Around Itself," 2020. Exhibition View: New Museum, New York. Photo: Toan Vu-Huu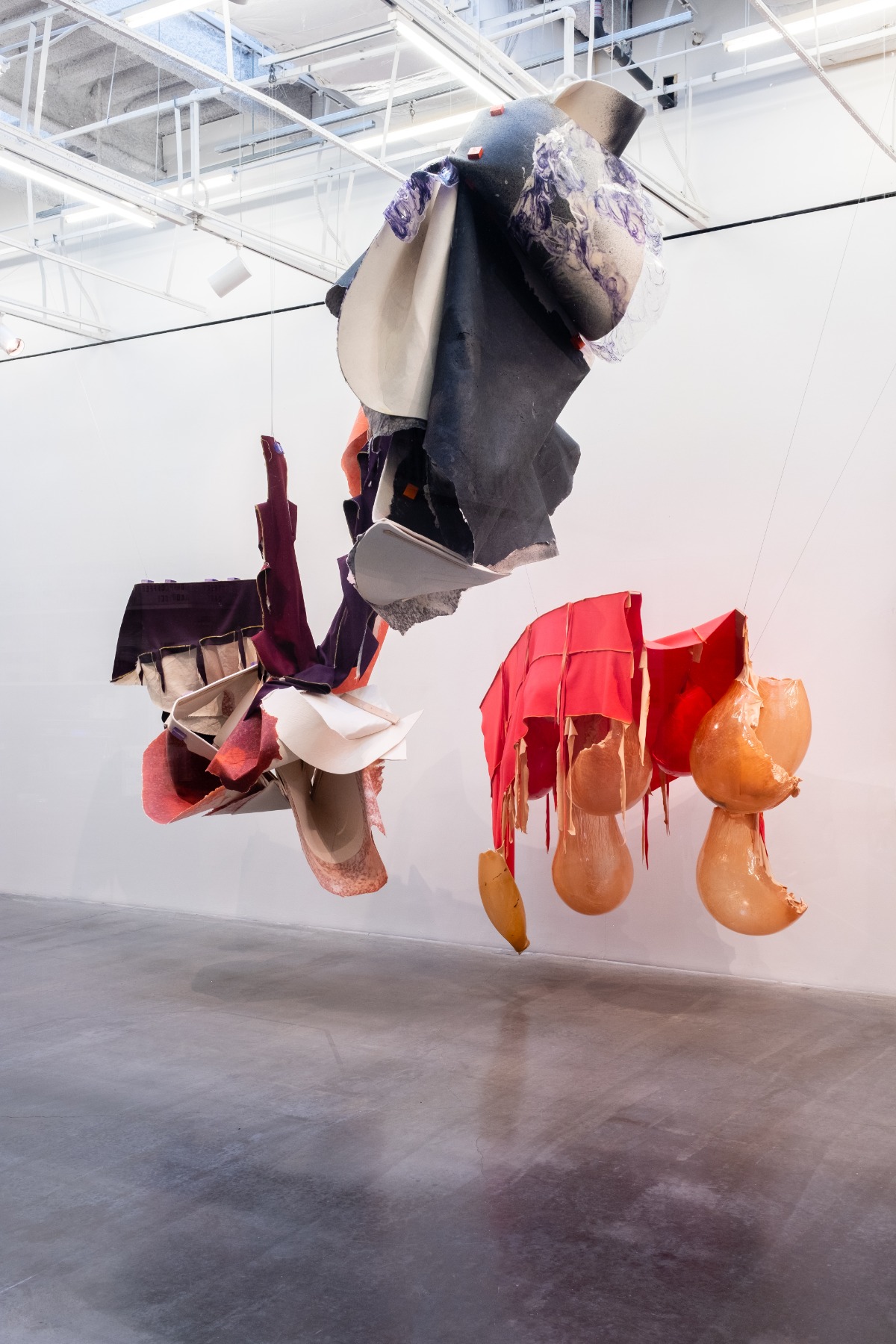 Lichen grows by multiplying like a cell structure and eating its way around. What Eats Around Itself also describes the concept of symbiosis, a word that was in fact invented to describe the behavior of lichen. In this exhibition, Grantina has channeled the very specific way of how this process of repetition and multiplication can be nourished. She looks at lichen in the same way as she looks at the Balthus painting – as a site where her own desires come into the process.
Next to the lichen is a rose. Rainer Maria Rilke's rose poems were yet one more important aspect of how Grantina constructed these sculptures. She has referred to her work as petals, which, when joined together, relate to the idea that whatever gets added to something changes everything. It's an inward–outward movement. Think of a rose, and, although you see the resulting line, you don't necessarily know how the flower's shape comes about. It behaves almost independently from the rest or, as Grantina puts it, "You cannot undo that picture of the flower so easily."
"Daiga Grantina: What Eats Around Itself," 2020. Exhibition View: New Museum, New York. Photo: Toan Vu-Huu
Particular viewing angles almost become part of the sculptures and materials that What Eats Around Itself is made of. Fabric is a very present material, as is the seam and its function. If Grantina's previous works contained and to a certain extent even conveyed a more "toxic" nature (with materials such as PVC plastic and the like), this time it seems that, due to more organic and soft materials, the behavior of the works appears more "human-like". Take, for example, the felt pieces, which seem to drink up all of the colors as if to sate a great thirst or, as Grantina says, as if "on a liquid diet".
"Daiga Grantina: What Eats Around Itself," 2020. Exhibition View: New Museum, New York. Photo: Toan Vu-Huu
The exhibition appears as a picture that can be viewed from afar, where it appears almost like a landscape, or up close, with various constellations announcing themselves. No matter whether perceived as a single installation or a grouping of separate sculptures, the concept of coherence here is big. While we can see the pieces as individual sculptures, in their "grammar" and the way in which they are built they are meant to be viewed together, as a whole. They are meant to mingle, to have proximities and frictions, and sometimes even to fall apart.
Indeed, power relations come into play, such as where do we draw the outline and where do we draw the shape? And how to think about something as complete? In Grantina's mind, the show is the moment. Other pictures and other constellations can be created later, afterward, but here they appear in the moment, and thus they become an exhibition. An exhibition that, hopefully, and with a nod to the site and context, it has grown into – it will eat around itself.
"Daiga Grantina: What Eats Around Itself," 2020. Exhibition View: New Museum, New York. Photo: Toan Vu-Huu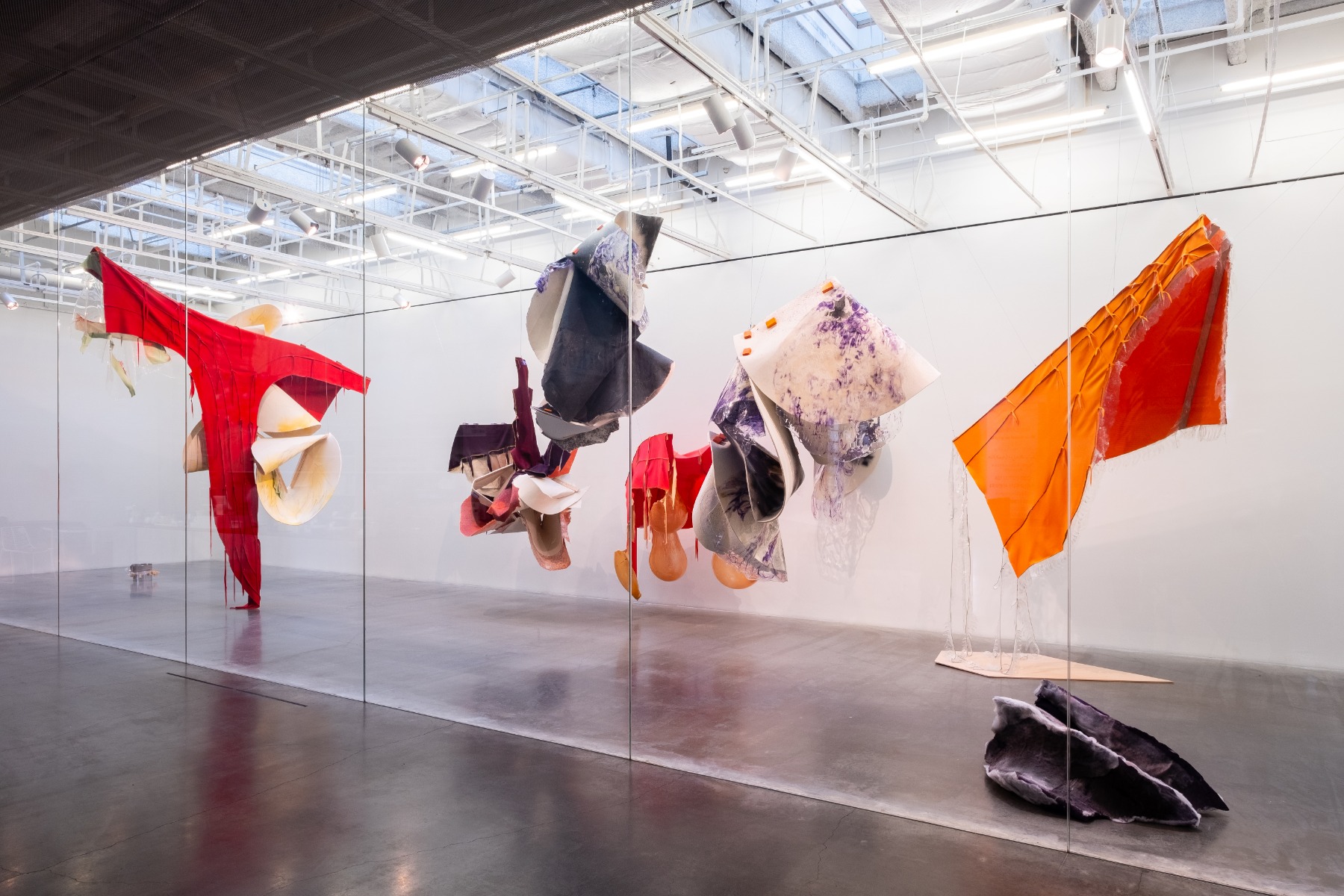 Massimiliano Gioni holds a bottle of prosecco and clinks it with a knife to make an icebreaker joke about the Titanic that is to be celebrated ahead of its tragic end. But he immediately adds that this is not the case here and that the show has gone far beyond his expectations. He then addresses the artist – "Daiga Grantina", a name he still has a hard time pronouncing – and continues with other "exercises with unpronounceable, foreign names", including his long-time colleague Christoffersen, who is a curator from Denmark and a representative of the Kvadrat design textile company, which is the supporter of the exhibition and the provider of the fabrics used in it.
Grantina herself stands nearby, dressed in various shades of Latvian grey. She smiles and adds that the Italian-born director might have actually got it just right because some have said that her name might just as well seem Italian.
As the brief introduction speeches go on, I can't help but think about the fact that this is the first exhibition by a living, Latvian-born female artist at this world-renowned institution (coincidentally, Latvian-born Vija Celmins was just on view at The Met Breuer this past autumn) but, somewhat surprisingly, it has met with almost no resonance among Latvian culture-politicians and planners on either side of the Atlantic. Hibernation. Exhaustion. Perhaps Latvian-centenary-hangover, I wonder.
This stands at odds with the fact that, while Grantina has openly spoken about the complexity surrounding her identity and identity politics in general (as have other rising Latvian-born artists who for various reasons are not working in or from their native country), she has recently noted that since turning thirty, her connection with "site" has undergone a renaissance thanks to an increased focus on childhood memories and a stronger connection with nature.
I leave this aspect suspended in the air to climb Balthus' Mountain at The Met the next day.