Listen to Your Eyes
Jurriaan Benschop
The exhibition at Museum Voorlinden brings together over forty modern and contemporary works from the collection of the museum's founder, Joop van Caldenborgh
Even though he is its founder, Joop van Caldenborgh is usually not the one curating the presentations at Museum Voorlinden in The Netherlands. Yet on the occasion of this 80th birthday last autumn, he made an exception and designed his favorite trail through the collection, resulting in the exhibition Listen to Your Eyes. Which works did he choose from all of those that he had chosen once before, one after the other, over many decades?
Alex Katz. Twelve Hours, 1984, oil on canvas
Standing in front of a large Alex Katz painting, Van Caldenborgh says that artists such as Katz taught him to think "outside the box". "There is something about artists that is weird or unadapted. Otherwise it doesn't work. As a businessman, when I started collecting, I was not used to that." Katz's Twelve Hours (1984) consists of four connected panels that each show three people in social interaction. The flatness of Katz's paintings is at work both on a formal and a psychological level – his figures are in lively conversation, yet they remain detached in terms of who they are or what they think. The museum has more paintings by Katz, and plans to present a solo exhibition of his work next year. After presentations of works by Ellsworth Kelly (in 2016) and Jonas Wood (in 2018) and Wayne Thiebaud (in 2018), Katz will be the fourth American painter whose work will be highlighted at Voorlinden.
Philip Akkerman. Self portrait No 2, No 31, No 36, 1981, oil on panel
Erwin Wurm. Pudelhaube, 2019
Preferences change over the years, and Van Caldenborgh, who has collected for more than 60 years, cannot be expected to stay committed to all of the artists whose works he has acquired. Yet he likes to follow certain artists as he believes in their enterprise. This has been the case with Dutch painter Philip Akkerman, who has been painting his own self-portrait since the 1980s – it is his only and daily motif. Van Caldenborgh visits the artist once a year to pick some works. The collector likes art with a twist, be it through a rigid concept like Akkerman's, or presented as a visual punch, like in Erwin Wurm's Pudelhaube (2019) – an oversized beanie under which visitors can stand and appear to have "lost their head", or which can also be contemplated as a soft sculpture in itself.
Pre Colombian piece alpaca wool
A pre-Columbian piece of fabric, possibly 1400 years old (maker unknown) and depicting a checkerboard pattern of colors, hangs in a room with works by Ryan Gander, Thomas Demand and Alberto Burri. It looks like an intimate abstract painting. It is possible to relate the delicate textile piece to the work of Burri, in which surface and materiality are most important, even though the context in which these objects were made are worlds apart. By introducing an ancient artifact in the context of contemporary art, Van Caldenborgh shows that he has himself learned to think "outside the box". He listens to his eyes indeed.
Tjebbe Beekman. Abstellraum, 2006, acrylic, sand, lacquer on canvas and panel
Tjebbe Beekman's painting Abstellraum (2006) was made during the period in which the artist lived in Berlin – he was fascinated by how history was so very present in the buildings and city spaces he visited. Van Caldenborgh suggests that this painting of a storage room could be regarded as an inversion of Luc Tuymans' approach. While Tuymans paints scenes that seem innocent, but hide a dark or unsettling (war) history, in Beekman's painting it seems that we are looking at a dark and charged atmosphere even though it is, in fact, just an 'innocent' space adjacent to a Berlin beer garden that the artist noticed one day. It offers a moment to reflect on the importance of things that are not always visible in a painting.
Listen to Your Eyes shows a bit of everything. Most artists represented in the collection have at least one piece in the show, which allows for displaying the diversity of the collection. Van Caldenborgh seems to follow the thread of previous collection presentations curated by museum staff. Such an approach is good for raising the visitor's curiosity and can lead to discovering artists that are new to them, but it is less accommodating in terms of getting a deeper sense of an artist's mentality, obtaining an understanding of the context in which a work was developed, or developing a dialogue between artists. It is hard to develop lasting storylines with so many different types of works.
Liza Lou. Pannus, 2018, oil paint, beads, thread
At first sight you would not think that Liza Lou's wall piece Pannus (2018) is made of little beads, as it looks more like a collection of hanging fabrics. The artist works with collectives of women in South Africa to conceive highly labor-intensive handmade pieces and installations. The shared manual work is about more than just producing an object or an installation: for the artist, it is about labor conditions and about the question of how immaterial qualities like empathy can become part of both the artistic process and what we are looking at. The work of Lou is presented in the seventh and last room of the exhibition, which is my favorite room as I feel that here the works relate to each other in a way that adds to their individual meaning.
Bridget Riley. Out There, 2004, oil on canvas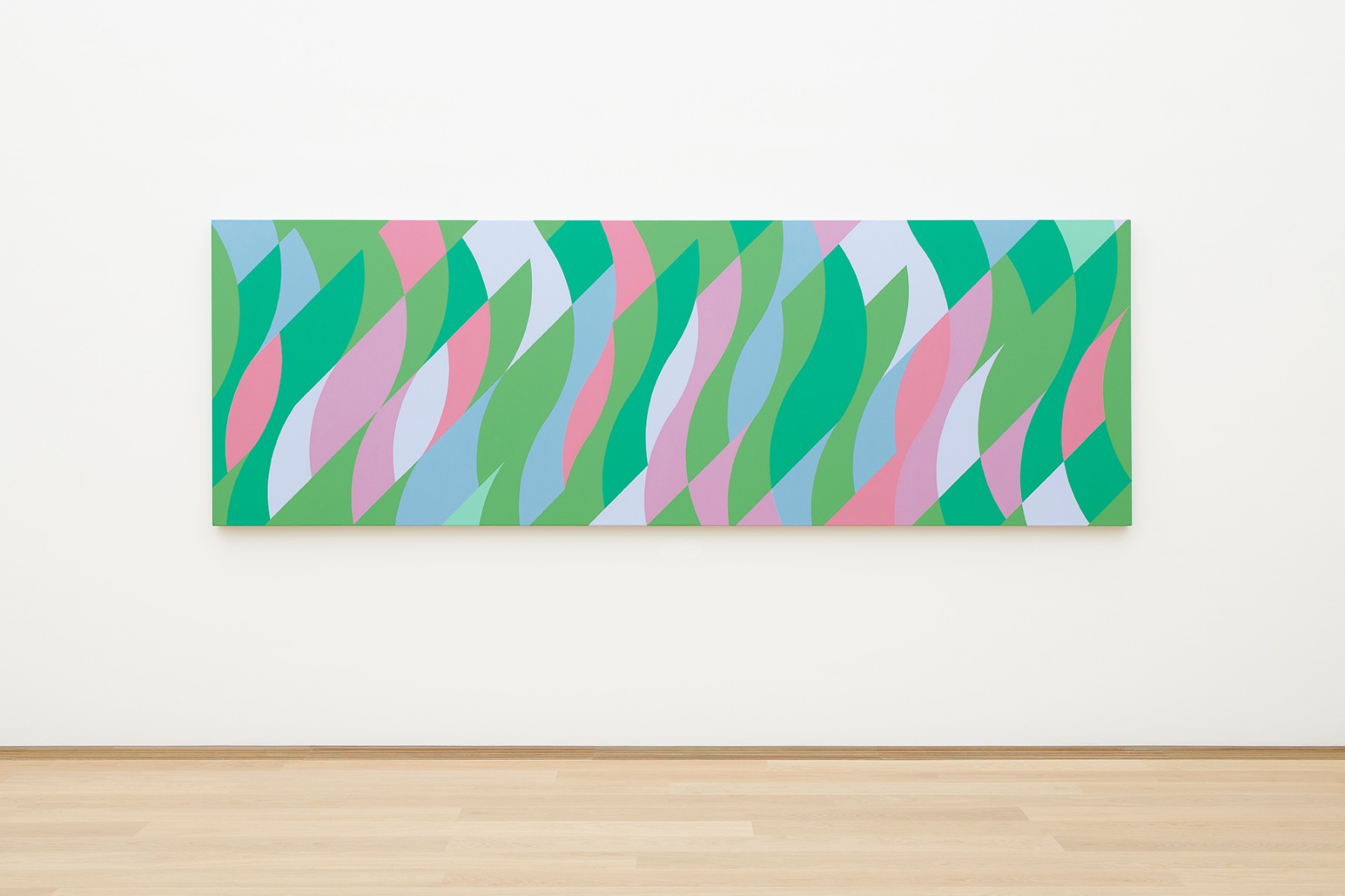 Nils Völker has made a kinetic sculpture – miniature pinwheels (the colorful ones children play with) mounted on the wall in the form of a circle. Powered by electricity, the pinwheels begin to spin every now and then and in different rhythms, thereby causing a visual play. To place this lighthearted work next to a painting by a grand old lady of abstraction, Bridget Riley, might be considered daring – but it works. Both artists – again, worlds apart – embrace the pleasure of looking at things, and present their fascination for optics. A dynamic quality is something Riley always looked for in the stationary medium of painting: to make the canvas vibrate and active through various color combinations. Looking at something is a work that is never finished.
Bridget Riley Nils Völker, Juan Muñoz installation view Listen to Your Eyes
A sculpture by the late Juan Muñoz completes the scene, and brings in a figurative element in a room with mostly abstract works. Two bronze figures lean towards one another in conversation. The figures are smaller than life-size, and instead of having legs, each one 'sits' atop a bulbous base. They are half human, half something else. Muñoz's figures have the ability to change the atmosphere in the room, mixing beauty with a sense of secrecy and melancholy. They transform the room into a stage where the visitor is complicit, but without saying in exactly what.
"Listen to Your Eyes" will be on view through 5 September 2021 at Museum Voorlinden, Wassenaar, The Netherlands.
Title image: Van Caldenborgh at Juan Munoz work "Talking to the Ear", 1992