Textile Art Works Create Other Spaces
Anne Clement
20/05/2013
Textile Spaces
Another Space, Copenhagen
Until May 25, 2013
A box made of silk, a square cloud of nylon, a wall of white plaids and laces, really long pockets (or tired breasts in bras) and a knitting facade. These are five art works that investigate the spatial potentials of textile in five different ways. The five works are made by Akane Moriyama (JP/SE), Aurora Passero (NO), CITA (DK), Else Leirvik (NO) and Tove Storch (DK) and can be explored in the exhibition Textile Spaces in the gallery Another Space, Copenhagen (DK).
A space for art and architecture
Another Space opened in march this year in an old chocolate factory in Amager, outside the centre of Copenhagen. Recently a lot of small, independent, and artist-run galleries has entered the art scene of Copenhagen. This tendency is both a pragmatic reaction to the financial depression as well as an attempt to create challenging and experimental art spaces outside the established institutions. Also it seems as if the small galleries meet the demand for more relaxed and less institutional environments for experiencing contemporary art of the art audience.
Another Space combines an exhibition program with talks, symposiums and workshops, presenting and discussing current tendencies within art, architecture and society. It was initiated by mag.art. Marte Danielsen Jølbo and architect Nicola Louise Markhus. The two young Norwegian women wanted to create a combined gallery, project room and shared office for interdisciplinary spatial exploration and collaboration. By curating exhibitions based on concerns for spatiality, materiality, sensation, imagination and craftsmanship they wish to enable experiments, research and reflections on artistic and architectural practices in a wider philosophical, theoretical, historical and social perspective.

Project room Another Space, Copenhagen
From crafts to contemporary art
Usually textiles are associated with design, fashion and craftsmanship, but lately we have seen an increased interest in textiles as art. As the world around us has been digitalized to a great extent, many artists turn to the tactile. Young up-and-coming female artists as Nina Beier (NO - b. 1975), Tauba Auerbach (US - b. 1981), and Ann Cathrin November Høibo (NO - b. 1979) work with textiles, and old textile works has again entered the museums - as we for instance saw it, when Documenta 13 adopted weaving and tapestry by showing the political textile works of Hanna Ryggen (SE - 1894-1970) from the early 1920's. Textile has gained status as fine art, and ancient techniques and traditions are being used to create new images, forms, and narratives. Texture, touch and colour create subtle, seductive, and powerful effects, while patterns and repetitive structures bear witness of labouring hands and minds.
Also in architecture textile has been discussed, as theories on the flexible, dynamic, and vibrant city gains terrain. Along with the financial and ecological crisis and the following acute need for long-term sustainable solutions, textiles are interesting both as technique and material.
Exploring material properties and integrating them with new technologies Textile Spaces reflects a shift towards abstraction. The exhibition investigates the renewed interest for textile as spatial definer by presenting works by contemporary artists and architects who create spaces with textile. With a sensitive and tactile approach Textile Spaces actualizes textile's poetic and visual potentials for rooms, homes, and cities.
All the exhibited artists and architects share a profound interest in the investigation of soft materials - their formal, structural and performative qualities - as well as an interest in good craftsmanship.
Spatial investigations and abstractions
The first thing that attracts your attention is a square nylon construction hanging from the ceiling in thin nylon threads. Like a poster bed it hypnotizes you, inviting you to dream of blue skies and beautiful buildings. By presenting a highly appealing multi-layered and complex construction, architect Akane Moriyama, suggests a dissolving of traditional architectural solidity and rigidity in favour of a more fluid and transparent architecture.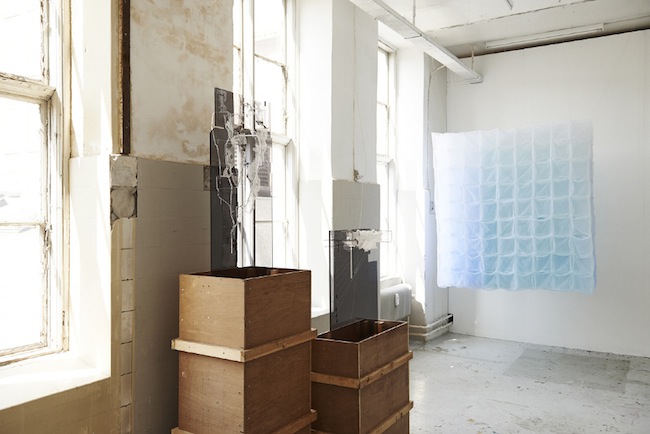 Installation view. Photo: Bo Johannsen
A more anonymous, yet intriguing work is Tove Storch's Untitled (Metal Object #15) - a wooden box covered in grey silk. The sculpture is static but still engaged with movement, carrying traces of work; sewing, moving and handling. It is both really concrete and at the same time absurd and imaginary. In her works Storch often investigates how sound or movement would look physically, and how we relate to objects and surfaces in the given room. In this case the presence of the silk box changed regarding to people's behaviour in the exhibition. Sometimes it made people stop, watch and touch the sculpture, but most of the time people gathered around it chatting, like it was a table with a tablecloth, as we know it.

Tove Storch. Untitled (Metal Object #15). 2008
The two Norwegian contributions to the exhibition can both be seen as a meeting point between picture and sculpture. Else Leirvik's installation seems like a spatial portrait that possess ephemeral and changing features. Her folded, compressed, and sewn textile pieces actualises the strength in the soft cotton. Hanging from the wall they appear odd and misplaced, containing personal and sensual qualities that mirrors and move the space they are placed in.
Building on traditions of handicraft, ethnology and art history, Aurora Passero weaves up her own canvases, dyes them and manipulates them. For the past years she has worked exclusively with nylon in her installations. Made of plastic, the material's industrial syntheticism is irredeemably unromantic. This, together with the raw, simple logic of the weave is contrasted in the risk and finesse of the colouring process, giving the work a sensual dimension. Her two pieces creates a beautiful and transparent wall in the room that simultaneously inhabit and express subtle and monumental qualities.

Else Leirvik. Untitled. 2013
The most suggestive artwork is CITA - Center for Information Technology and Architecture's Strange Metabolisms from 2007. The work offers a model for creating facades that can develop and repair themselves by means of digital technology combined with knitting. Using the inherent properties of natural textiles and traditional crafting, the model provides new ways of implementing textile logic in architectural thinking and practice. Behind the advanced technology lies a vision of a more dynamic relationship between ourselves and our environment. This interaction is in constant becoming as we start to abandon the idea of a stable physical world.
CITA's model represents what theorists refer to as behavioural architecture or smart cities. The intelligent city responds to the people who use it, according to their need for light, heat, cooling etc. The behavioural architecture is formed out of its own habits and behaviors, creating spaces that live and breathe with us. What is really refreshing about Strange Metabolisms, is that the art work does not only respond to ecological and economic challenges, it is also a model for creating aesthetic spatial experiences in every day life.

Installation view. Photo: Bo Johannsen
Even though the art works are rather small and the possibilities for interaction with them are limited, the exhibition, overall, gives a relevant insight into several approaches to using textiles in a spatial context. "Textile Spaces" offers new understandings of the soft materials and provides concrete proposals of their use. The desire for flexible and ambiguous spaces is achieved to a great extent with textiles, as they can be formed and manipulated in many ways, are easy to move and alter, and create shifts in light, opacity and acoustics. Textile techniques (weaving, knitting, crocheting etc.) used on materials such as steel, wood and plastic, enables open, light, and flexible structures. The soft logic opens up for new expansive thinking about space leaving the binaries and opening to multiple possibilities.
Another Space
Prags Boulevard 49 (entrance 10E, 1st floor)
Amager, Copenhagen
anotherspace.dk