The Legacy of Andy Warhol
.... on the blurred line between commercial work and art
Agnese Čivle
28/04/2016
The Legacy of Andy Warhol
Artipelag, Värmdö (Stockholm Archipelago)
Through September 25, 2016
The Legacy of Andy Warhol is 2016's major exhibition at Artipelag over the spring and summer period. This exhibition provides a unique opportunity to see more of the artist's works that have never before been shown in Sweden, including 40 sketches from the 1950s, and the legendary video installation by Andy Warhol and the Velvet Underground, The Exploding Plastic Inevitable.
Q&A with Jessica Höglund, curator of the exhibition "The Legacy of Andy Warhol", at Artipelag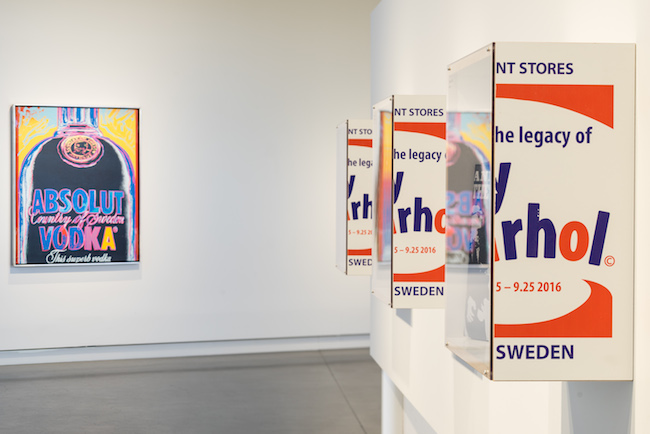 Andy Warhol. Absolute Warhol, 1985. RGB. Photo: Jean-Baptiste Béranger
What new and unique aspects does this exhibition reveal about this so-well-known legend of the art world?
If there is one thing that is present throughout Warhol's career, it must be the blurred line between commercial work and art, which is what we're highlighting in this exhibition. In Warhol's practice, there are no rules on what is art and what is not art. A commercial assignment could result in a work of art, just as a painting could end up being a commercial product. Warhol did not particularly look after his artistic oeuvre during his lifetime.
In keeping with his extended concept of art and democratic ideals, he made his works widely available in the form of reproductions and multiples, but also as commercial objects. A famous quote from Warhol is:
"In the future, department stores will become museums and museums will become department stores".
To highlight this quote, we have created a section in the exhibition that we call "Pop-up shop", in which we exhibit commercial products – some made after his death and approved by the Andy Warhol Foundation, while others are cheap commercial objects. Maintaining an expansive yet stringent policy, The Andy Warhol Foundation has taken Warhol's legacy to a new commercial level by initiating partnerships with numerous companies. They have commissioned designers to create new constellations based on Warhol's oeuvre, resulting in a form of applied arts that blends elements from Warhol's original art with the new designers' interpretations and creative solutions.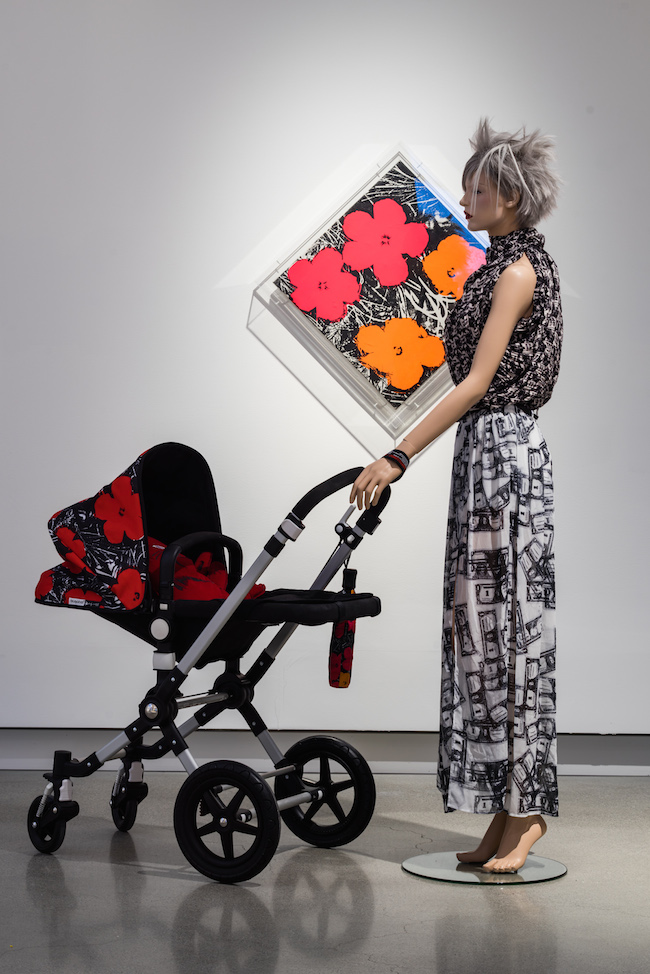 Andy Warhol. Flowers, 1964. RGB. Photo: Jean-Baptiste Béranger
Among the other brands included in the exhibition are: Diane von Furstenberg, Philip Treacy, WESC, Bugaboo, Burton, Besell and Retrosuperfuture. The Foundation has, as it were, created new hybrids of Warhol's works – a blending of commercial objects and art.
Andy Warhol would probably not have been averse to this development. Maybe that is why we love him so much. Warhol is high and low, a sell-out and a fine artist, an illustrator and a painter – offering something for everyone either to see, to like, or to buy.
Could you give us a few highlights of his oeuvre that can be seen in this exhibition?
We are, for the first time in Sweden, showing a collection of Warhol's drawings from the 1950s. This room is, of course, a highlight for many of our visitors, because the collection exposes another side of Warhol's practice and gives a new perspective to the body of work he left behind.
During the 1950s, Warhol essentially worked with graphic design for fashion magazines and newspapers, but he also did advertisements, Christmas cards, and cover art. What characterized his style was that it looked nothing like the design that was typical for the direction that the magazines were taking at the time – it was rather more artistic.

Andy Warhol. N.t. (Portrait of a Man Resting his Head on his Arms), ca 1950. RGB. Photo: Jean-Baptiste Béranger
Alongside his commercial work, Warhol also produced an extensive amount of drawings exhibiting a fragile line and a visual expression that, perhaps, leans more towards a form of abstract expressionism; although, in hindsight, and with the knowledge about his working method, it appears, conceptually, to be very contemporary.
Warhol was, at this time, already pondering the subject of copy versus the original, a subject that is strongly reflected in his work. In fact, his drawings were almost entirely based on selected images from LIFE Magazine, interpreted by him and reduced to simple contours. However, what makes the drawings so unique is not the relationship between them, but rather their high artistic quality – they are all small and accurate works of art.

RGB. Photo: Jean-Baptiste Béranger
How does the exhibition express itself visually?
The exhibition is divided into two parts. One part is more playful and interactive, with tools and different social elements. Andy Warhol was always interested in film and celebrity interviews, and probably would have loved the possibilities that exist today, with "selfies" and live-transmission apps turning everyone into a celebrity. If 15 minutes of fame was considered a short time in Warhol´s day, the norm now is 15 seconds (which is the standard duration of videos on social media, like Instagram). To relate the interactive elements to our time, we have installed a film booth where you can create your own screen-test and be interviewed by Warhol himself, however, only for 15 seconds. In addition to that, we have a photo booth in the first gallery room, so that every visitor can bring home a self-portrait done in the Warhol style.

Diane von Furstenberg. Pop Wrap Collection, 2013. Philip Treacy (Liz, 2003/2004, Debbie, 2003/2004, Marilyn, 2003/2004, Liza, 2003/2004). RGB. Photo: Jean-Baptiste Béranger
Integrated into the interactive area is the music room – here visitors can learn more about Andy Warhol's influence and involvement in music, from the 1950s to the 1980s. The room contains pre-made playlists and clips from television programs, as well as music and video interviews (made for this very exhibition) that show what some of Sweden's most influential people and artists have to say about Warhol.
The second part of the exhibition is more traditional. We have four galleries that have been divided into decades – Warhol´s Fifties, Sixties, Seventies and Eighties – in which we show original works by Warhol from these different periods.