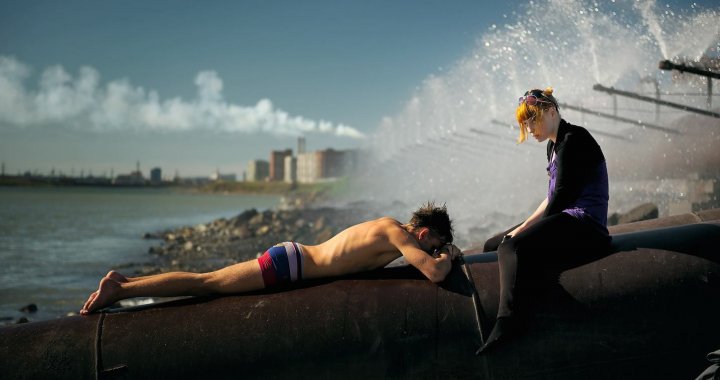 Copenhagen Photo Festival 2016
Q&A with Russian Photographer Elena Chernyshova

14/06/2016
The festival season is upon us, and during the following summer months Copenhagen and the rest of Denmark will be vibrant with numerous music and art and culture festivals. The Copenhagen Photo Festival started off on Thursday the 2nd and Friday the 3rd of June with impressive attendances at openings in spite of the summer heat. The grand openings took place over two days in three different locations across the city, all of which were part of "Photo City". Photo City was the central part of the Copenhagen Photo Festival, and consisted of exhibitions, workshops, artist talks and much more, all curated and organized specially for the ten-day festival. However, the festival also extended to many galleries and other institutions, as well as urban spaces that offer a comprehensive programme of exhibitions and other events. Many of the exhibitions are still continuing after the festival.
The festival was founded in 2010 with an aim to raise awareness about photography, as well as to create an international platform for contemporary photography in Denmark and to explore its different aspects, concepts and expressions. Since then, the festival has grown immensely as photography has gained a significant position on the art scene alongside other media, not to mention the fact that interest in photography in general has increased. Everybody takes photographs nowadays, and everyday we are flooded with countless photographic images. Therefore, the festival programme presents a great diversity without compromising on quality. There should be something for everybody, including the opportunity for active participation through different workshops that focus both on the technical side of working with photography, as well as the practice of curating photography.
Festival-goers also had the chance to experience photography from a theoretical perspective. On Thursday, June 9th, an international seminar took place at the National Museum of Photography; featuring leading photographers, critics and theoreticians from the UK, Sweden and Denmark, the speakers discussed current trends in art and documentary photography.
Since its beginnings, the Copenhagen Photo Festival has led a nomadic existence – this is actually part of its concept, and therefore it moves around into new and different locations every year.

Claudia Kent Hanako. "IT'S JUST SEX", 2015. From the Censured Exhibition
On the first day of the festival, two of the main venues of Photo City opened their doors a bit north of Copenhagen's city centre, in the posh Østerbro area, which is where several foreign embassies are found. The splendid neoclassical Museumsbygningen (Museum Building), which today houses Banja Rathnov Galleri & Kunsthandel, hosted the Censored Exhibition. This intriguing event showcased 84 works by 20 Danish and international photographers selected from an open call, along with a solo exhibition of works by the Danish photographer Peter Lind – titled "The Cat Lab", and presented by the gallery. This year, what the works in the Censored Exhibition had in common was their aesthetic perfection: blurry snapshot aesthetics seem to have been left in the past for the moment. Another common link was the fact that thematically, the works expressed what one could called neo-existentialism – they dealt with such subjects as the body, nature, home, intimacy, and architecture.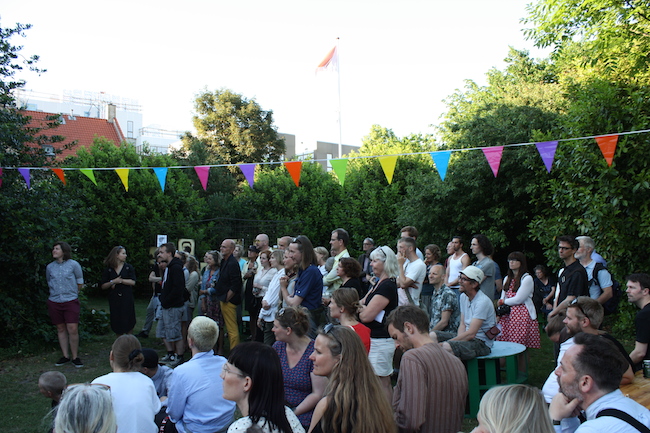 Opening of the Copenhagen Photo Festival at KW3. Photo:
Nearby, the second opening took place in Culture House KW3, in the idyllic and intimate surroundings of an old villa that dates back to 1920. This was the stage for Lars Just's project, "Voices From the Cold". Lars Just was born and raised in Greenland, and in his project he focused on the conditions faced by young Greenlanders: massive social problems of all possible kinds, with some even living in an orphanage – their last hope. Also presented here, in light-hearted contrast to Lars Just's photos, were surrealistic and humorous still-life photographs about the overload and consumption of images in our daily life, by the artistic partnership called PUT PUT. The duo creates playful and ambiguous objects for their still life photos, many of whom require a second glance from the viewer.

PUT PUT. nr.17, Photography On, 2015
Canadian photographer Nathalie Daoust's series, "Korean Dreams", was on view in the garden surrounding the villa. Daoust has travelled undercover as a tourist in North Korea, trying to catch on film glimpses of the alternative reality that exists off of the beaten track of the officially approved tourist route. Through a special development process, she has created a series of murky, ghostly photographs resembling old, faded photos that tell the story of this isolated country that seems to exist outside of time – a place where the truth is as obscured as the images.
The third and largest of the main exhibition venues, Bremernholm Transformerstation, opened on Friday, the 3rd of June, in the heart of Copenhagen. Here, for the first time ever, a closed-down transformer station from the 1960s served as the exhibition space. Five different projects were presented, including "Days of Night - Nights of Day", by the French-based Russian photographer Elena Chernyshova, widely considered to be one of the highlights of the festival. Among other subjects, here, too, was the theme of isolation and existence outside of time, albeit from a slightly different point of view.
The project has received several awards, including World Press Photo 2014, for "Daily Life stories". In her captivating images that remain etched in one's mind, Chernyshova documents the daily life of the inhabitants of the northern Russian city of Norilsk. Located in Siberia, with a population of 177,000 it is the second largest city within the Arctic Circle. It is a place with an extremely harsh climate – very low temperatures and no sunlight for two moths during the winter. Norilsk is isolated from the rest of the world – with no ground connections, it can only be reached by air or water, and even then, only when weather conditions permit. The city was founded in 1935 and built by approximately 500,000 prisoners of the Gulag, exclusively for the needs of the mining industry. The region has rich metal and mineral deposits, and Norilsk maintains the biggest metallurgical and mining complex in the world. Today, Norilsk is one of the ten most-polluted cities in the world. Almost 60% of the present population is involved in the industry.

Elena Chernyshova. Untitled, 2012. From the series "Days of Night – Nights of Day"
I had a chance to meet Elena Chernyshova in the raw, industrial surroundings of Bremerholm Transformerstation – the perfect backdrop for her photo project – for a brief interview on opening day.
You were initially an architect; how did you start taking photographs?
Photography has always been my passion. I started doing a lot of photography during my studies. I photographed mostly architectural objects and urban spaces. If there were people, they were there only to indicate the scale of the space and objects. After I finished my studies, and worked as an architect, I went with my friend on a bicycle trip from Toulouse (in France) to Vladivostok and back. It was akin to an expedition that lasted for almost three years. During this trip, I became more interested in photographing the daily life of people, and I also met a lot of photographers who inspired me and encouraged me to continue photographing. When I returned, I decided that it was the right time to try, and if it didn't work out, I would return to architecture.
What fascinates you about photographic media?
The most interesting thing for me is how fast the information emerges – in one second, you can get as much information from a visual image as from reading an article. Furthermore, it is the possibility of sharing what you have seen or experienced. What I also like about photography is that the same image opens up many layers of reading – for example, it can be an image of a face, and after looking at it for a while, you can get so many different associations.
Has your background as an architect influenced your visual language, your style, and your choice of subjects?
It has influenced the way I build the composition, which is often quite stringent, but it happens unconsciously. People and other photographers who like my work, without knowing by background, often say that I must be an architect – just because of my composition.
You also seem to have a fascination for industrial sights and factories, etc.
Yes, definitely. During my studies, I was in the industrial department.
Why did you choose to work with documentary photography in particular?
It's how my mind works. I am interested in daily life, in how things are, and to show – to reflect that, without disturbing it. I can't imagine building my own reality. I am fascinated when I see the projects of other photographers who do that, but I cannot work like that.
How did you get the idea for the series "Days of Night – Nights of Day"? Could you please talk a little about this project?
The idea came with the desire to go to Northern Russia, which I have had since my childhood. My mother lived above the polar circle for several years as a child, and for her it was quite a remarkable experience, and she told me a lot of stories about it. So I wanted to see, with my own eyes, how it is when it is -50C, when there are several meters of snow outside, and when for two months of the year the sun does not rise, and for two months it does not set. For me it was another reality, and I wanted to discover it and see how it is possible to live under such conditions. During my bicycle trip, I met a girl from Norilsk, and I learned a lot of things about this city that I didn't know. For example, I didn't know that there are now roads that link it to the rest of Russia. It's a very big city; it is the second largest city above the polar circle in the world, after Murmansk, but it is completely isolated. The whole city was built, in these almost-inhumane conditions, only for the mining industry. This is something that was only possible in the Soviet era; it could never happen today. I don't think that one would even think of doing something like that today; also, because of the fact that the city was built by prisoners from the Gulag concentration camps. It is a very tragic part of the history of Russia. There was, and still is, a lot of personal human tragedy. Today there are so many abandoned buildings there, and you ask yourself – what was all of this for?
You sometimes get the feeling that time stands still in Norilsk; that it is a state within a state; you are like on an island – it is a closed world. On the other hand, there are different kinds of people there; some of them have the opportunity to travel a lot, and to discover the world.
All these historical and geographical facts, and the significance that the city has for the world, gave me the desire to go there and study the Far North. It was a merging of two projects: the desire to see life in the North, and the city itself – its history and its present.

Elena Chernyshova. Untitled, 2012. From the series "Days of Night – Nights of Day"
Did you experience any challenges while working there?
I spent almost eight months in Norilsk, but it was so exciting for me to be there, and I had so much motivation to work on the project, that it didn't feel challenging at all. The biggest challenge there was the polar nights – this darkness for two months was crazy. I tried to prepare by reading about it – about the depression, the insomnia it could cause. However, psychologically, it was impossible to prepare for that and impossible to adjust – it was very hard for me. Sometimes, I was afraid that the light would never come back. But the people in Norilsk seemed to be used to it, and they cope quite well with it.
What were you pursuing with this project?
What motivated me to do this project was my personal curiosity; it is a kind of investigation. When I was taking the photos, I didn't have any particular topic in my mind; it is up to people to read the photos in their own way because there are so many possibile interpretations. I was criticised by some people in Norilsk – they said that my photos are too beautiful; that I didn't show enough reality, the social problems, etc. Others criticized that they are too much about ecology. There are so many different views about the same project, and I think that's a good thing.
I was interested in understanding how it is possible to live there with the very harsh climate, in isolation, and with all of the environmental problems that they have. I wanted to understand how a whole city can exist under such conditions; some families have lived there for several generations and say that they love Norilsk – it is impossible to be in love with such a place. I wanted to understand what's behind that.
Did you find an answer, an understanding?
Yes, I love Norilsk now. I love the people; there is a very special interaction between the people, the way they support each other. There is so much extremeness in one place, and that must be overcome every single day, that it fosters a very special way of communication and a particular sense of humour – a humour without which one couldn't survive there. I have many friends from Norilsk now. I feel a special connection to this part of the world.

Elena Chernyshova. Untitled, 2012. From the series "Days of Night – Nights of Day"
What inspires you?
The North inspires me a lot. I am thinking of doing another project about the northern regions, maybe about the gold mines; I would like to continue with that. Mostly, it is something that makes me curious – how something like that is possible – how this place, this way of life, can exist. Anything that is a little bit beyond the ordinary motivates me.
Is there any particular place you would like to travel to next – where you haven't been yet – and that makes you curious?
There is one place, but it will probably stay in my dreams. I would like to go to a space station.
Have you ever considered working with other media?
I would like, perhaps, to try to work with multimedia; to do a photo project, and parallel to that, to do also another project with sound – a sound film. Not a real documentary, but a short film as support for the photos – one in which the characters can have a voice. I sometimes miss hearing the vision of the people I photograph.