On the way to the 57th Venice Art Biennale
Three questions for Brigitte Kowanz, one of the artists presenting at the Austrian national pavilion

20/04/2017
At the 57th Venice Art Biennale, Austria will be represented by Erwin Wurm and Brigitte Kowanz – two artists who, over the last decade, have both played a significant role in strengthening Austria's international standing as they each epitomize certain directions in which today's art scene is spreading.
Whereas Erwin Wurm has extended the concept of sculpture in terms of materiality, Brigitte Kowanz, with her light works (light objects, light installations, light spaces and light architecture), has broadened our understanding of an image's non-material dimensions.
Dr. Christa Steinle, the commissar and curator of Austria's exposition at the Biennale, hopes that the presentation of the work of these two artists will show that everyone is capable of contributing to tradition in their own way and bringing about convincing artistic surprises: "They [Wurm and Kowanz] have extended sculpture and imagery into architecture and public participation".

Brigitte Kowanz. Shift, 2016. Photo: Tobias Pilz. Copyright: Bildrecht, Vienna 2017
What would you like the viewer to turn their attention towards when looking at your work? What should they be aware of in order to best understand your work?
In my works, I investigate light as a medium in relation to space, and in combination with signs, codes and language.
I use light as a means of transcending and adding precision in order to question the conventional concept of image and painting, and to hone a new, integrated relationship between the work, the space and the viewer.
In my works, I combine light with mirrors. By doing that, I create infinite, non-material virtual spaces. The light fills those spaces with poetic-philosophical and socio-political questions. The viewers find themselves inside those spaces. They see their own reflection in combination with the light (and which is often based on my hand-writing). Therefore, the mirror is, quite literally, a medium of reflection in my works.
My contribution to this year's Biennale is called "Infinity and Beyond". The works I created especially for the Biennale address the immersive impact of Digital Spaces on our society. They deal with dates, virtual space, and the transfer of information.

Brigitte Kowanz. Morsealphabet (Morse Alphabet), 1998/2010. Now I See, 2010, mumok museum moderner kunst stiftung ludwig wien, Vienna. Photo: Matthias Herrmann. Copyright: Bildrecht, Vienna 2017
What was the first impulse that sparked the idea for this work? What was your source of inspiration?
I have dealt with Morse code and virtual spaces for almost 25 years now. Morse code is the first binary code, and thus, a milestone for our time. Virtual Spaces are a metaphor for the infinite Digital Spaces that we all live in. Throughout the last decade, the impact of digital devices on society has risen tremendously. So, it didn't take long for me to understand that I want to address this topic. I have been reflecting on this topic for a long time – but the Biennale di Venezia is the next step for me in my oeuvre. It is a new dimension.

Brigitte Kowanz. Metaphora I, 2016. Photo: Tobias Pilz. Copyright: Bildrecht, Vienna 2017
How would you comment on your work in the context of the unifying theme for the 57th Venice Biennale – VIVA ARTE VIVA?
Obviously, "Viva arte Viva" is a very open theme that leaves a lot of freedom to the artists, and I appreciate that. The world is currently facing a huge amount of problems and conflicts. Viva Arte Viva lays the focus on the art itself. Art can be a haven from all of this madness going on. A platform where you can escape form the daily struggle. Art unites us.
On the other hand, art is a trans-disciplinary medium that allows for a diverse examination of the status quo...a reflection of the parameters of our time, and that is exactly what I am doing in the Austrian Pavilion.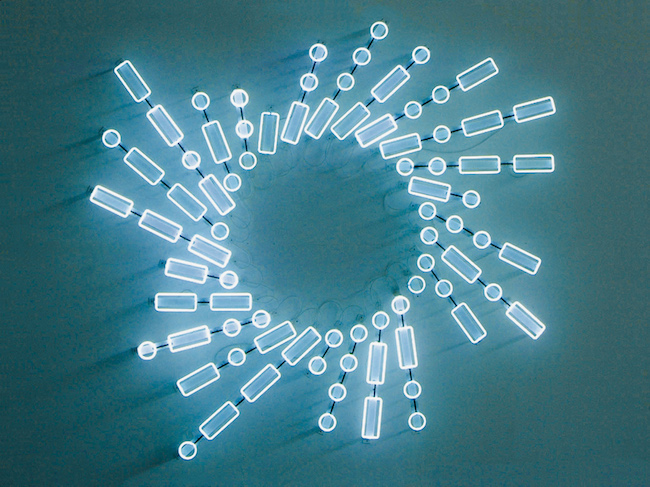 Brigitte Kowanz. Morsealphabet (Morse Alphabet), 1998/2005. Photo: Matthias Herrmann. Copyright: Bildrecht, Vienna 2017

Brigitte Kowanz. Arab Spring 17.12.2010 25.01.2011, 2017. Photo: Tobias Pilz (tp). Copyright: Bildrecht, Vienna 2017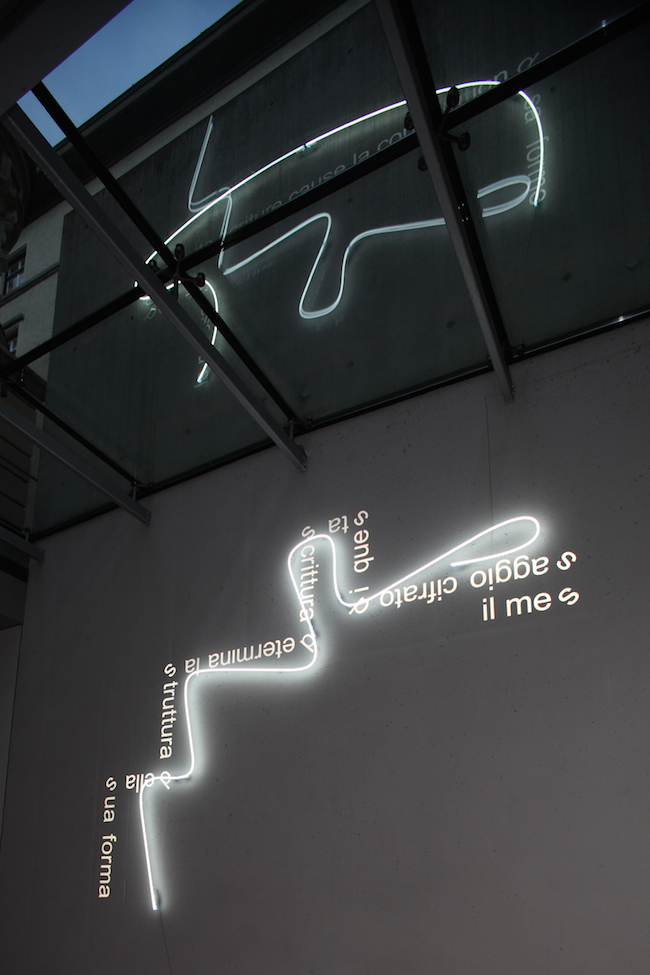 Brigitte Kowanz. Il Messaggio Cifrato, 1986/2009. In light of light 2011, Galerie im Taxispalais, Innsbruck. Photo: Rainer Iglar (ri). Copyright: Bildrecht, Vienna 2017
More about the artist: kowanz.com
More about Austria's national exposition: labiennale2017.at