"Not Fair" in Warsaw
19/09/2017
Since its completion in 1955 in the very heart of Warsaw, The Palace of Culture and Science became a signature of the Polish capital. Accepted as a controversial "gift of the Soviet people to the Polish nation" (offered by Joseph Stalin himself), up to the current day it is the highest building in the country (273 m tall) and visible from most places in the city. Despite many attempts to tear it down, sell it or relocate its parts, the Palace still stands where it has always stood and is a vital center for various companies, public institutions, concerts, cinemas, theaters, libraries, a swimming pool, two private universities, and the Polish Academy of Science. And as befits a building with culture in its name, it will host the international art fair NOT FAIR (21 – 24 September 2017) for a second time.
Organized by Piktogram (formerly an international art magazine, curatorial combo and project space, now a gallery in Warsaw), "Not Fair" is committed to meeting the demands and expectations of a young and active contemporary art scene. Breaking off with traditional cubicle gallery stands in favor of solo presentations of individual artists scattered around the building, it takes into account the eclectic character of the architecture of the monumental Palace of Culture and Science. This year's edition will present nearly twenty invited galleries (Drei/Cologne, Exile/Berlin, Suprainfinit/Bucharest, SVIT/Prague, Wschód/Warsaw, and Vin Vin/Vienna, to name a few), and will run in parallel with Warsaw Gallery Weekend 2017.

Michal Wolinski. Photo: Aga Bilska/warszawawarsaw.com
spoke to Michal Wolinski, the founding director of Piktogram and NOT FAIR about the uniqueness of this initiative, dissatisfaction with traditional art fairs, and the socio-political situation of Eastern Europe.
What are art fairs for you? How would you define them?
Art fairs are a tool that the art world has decided to use at a certain point in its development. The first art fairs – Art Cologne (1967) and Art Basel (1970) – took place at a time when there were much fewer galleries than today. They resembled rooms garnished with objects made in traditional techniques, but Seth Siegelaub's gallery was an exception to this rule. Besides, the art world was almost entirely dominated by the global center of the West. At present, this tool serves the galleries to develop material, symbolic and social capital; the first, material capital, through sales, of course. The second, symbolic capital – to broaden participants' knowledge, strengthen the position of artists, trends, regions and the "brand" of the gallery itself. The last, social capital, is the creation of new networks of contacts with both professionals and recipients of art.

Not Fair. Photo: Grześ Czaplicki
What do you think is unfair about art fairs as they have been traditionally understood?
Traditional art fairs – like the entire global neo-liberal market – favor the large and the strong, and mainly serve mega-galleries, which resemble international corporations, as well as elites and celebrities (the so-called 1%). Young, small and experimental galleries are "a square peg in a round hole". They participate in terms of costs, but not in terms of profits. Some get caught up in fashion, while others are drained of resources and energy and become squeezed like lemons. There are also those that do not fit either the scheme or the imposed rules of the game, and therefore remain marginalized.
Hence the idea for establishing NOT FAIR?
I recognized that there is a place and time to experiment with a new formula, to create hybrids from existing models, to mutate formats to fit new needs, new art, new thinking.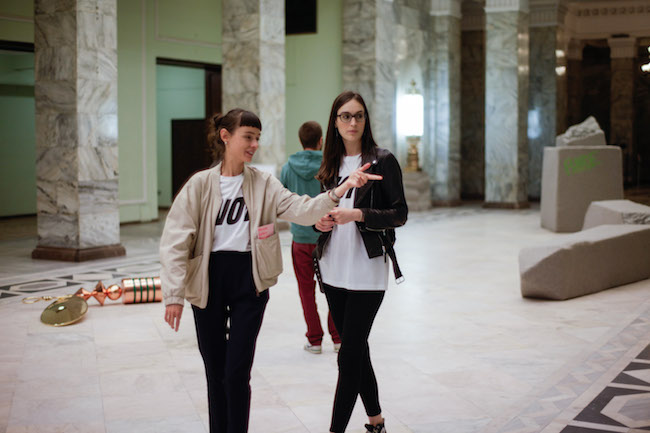 Not Fair. Photo: Grześ Czaplicki
To me, the concept of NOT FAIR reveals itself as a kind of critique of other art fairs. It concentrates more on contacts and collaboration between galleries rather than sales, and breaks off with the idea of individual gallery boxes by instead replacing them with a curated exhibition that features all of the participants' presentations. My question is, why continue to rely on the format of an art fair? Why not just go for an exhibition, or a biennale, for example?
Exhibitions and biennials are created by curators (I omit here that large galleries influence their structure). The truth is that any type of an exhibition, including international biennials, is used by influential players in a commercial field. In this case, it is about working out a model that will be more responsive to the needs of ambitious galleries who will then become co-responsible for the character of the whole event. At this stage, whether we call it a fair or an exhibition is a secondary issue for me.
What kind of galleries participate in NOT FAIR?
We invite commercial galleries with an ambitious program and project spaces. This year, on the same terms as the invited galleries, a curatorial duo (Ewa Borysiewicz and Romuald Demidenko) is taking part with their project.
The first edition of NOT FAIR took place in a go-go club. Now it has moved to the Palace of Culture and Science. Why this location?
Initially, Piktogram organized exhibitions in specially selected, extravagant spaces, such as in hotel rooms, the center of the stock exchange, or the cinema. The first exhibition that I did as a curator was held in an abandoned police station. For a long time I have been interested in using non-obvious spaces for art shows. On the other hand, to create an international event like NOT FAIR, I had to choose the most distinctive and recognizable building in Warsaw, which can be a magnet for visitors from abroad. Besides, the Palace has culture in its name, but it is not particularly loved by the residents of Warsaw. I wanted to give it more culture; I wanted to give it a go, remove the spell that has been cast on it, and use it for the right purposes.
How has its idea developed over time?
It all started with an exhibition to which I invited several Warsaw galleries that I am friendly with. The project has evolved into a salon d'art in which international galleries participate, and it's organized in the monumental Palace of Culture and Science. As I already mentioned, an independent curatorial project has been included in the upcoming edition. In the future, we may be in another place, in another line-up, and have another purpose, but I hope we will be where we want to be and that we will have come to that decision ourselves.
NOT FAIR happens alongside Warsaw Gallery Weekend (WGW). Why did you decide to connect both events?
NOT FAIR is an autonomous entity and takes place in parallel with WGW, like other events that are specially organized at the same time. NOT FAIR and WGW are complementary in some ways: WGW is based on local Warsaw galleries, whereas NOT FAIR is based on international ones. The fact that both events happen at the same time creates a synergy that is beneficial to all, both participants and recipients. Despite the fact that the galleries compete with each other, thanks to the joint events they join forces in developing social and symbolic capital.
Speaking of WGW, which you also organized in its first four years, in an interview for the Polish portal Onet.pl you said: "As representatives of private institutions of art and photography, we decided to unite ourselves – even though normally we compete with each other – and to work together for a common strategic goal." For last year's edition of NOT FAIR you invited galleries that you know and like, and then these invited galleries recommended other galleries. Was this year's selection done according to a similar key? Are you still interested in such collective drives?
This year is similar. I am more interested in grass-roots horizontal networking and personal relationships rather than hierarchical and rigid management structures.
Who is the target audience?
We are open to contact with people who are interested. Admission is free and there is no VIP section, so everyone is of the same importance.
I have the impression that many Eastern European countries (like Lithuania, Latvia, etc.) look at Warsaw as a model, including in terms of art and cultural events. How would you describe the contemporary art market in Warsaw, and where does NOT FAIR place itself in its context? Do you think that initiatives like NOT FAIR can serve as inspiration for other countries?
History was not favorable to our region. The socio-economic and political situation – which is peripheral and economically weaker in relation to the West, that is, to the Global Center – requires a different approach. We can't thoughtlessly copy the patents (cultural, economic, political) that work in the West because they are designed to work for their benefit. We should seek our own way, work on a subjective relationship with the world. The art market in Warsaw is in formation. In addition to older, more conservative collectors who are primarily focused on the auction market, young collectors are emerging, of the kind who are interested in young art and what is happening in galleries. It is difficult to change the habits of the older ones, so it is important to involve the young ones in close cooperation. I would like collectors to also aid in co-shaping NOT FAIR because this event is for them, too.

Not Fair. Photo: Bartosz Górka. Courtesy Not Fair

Not Fair. Photo: Bartosz Górka. Courtesy Not Fair

Not Fair. Photo: Bartosz Górka. Courtesy Not Fair

Not Fair. Photo: Bartosz Górka. Courtesy Not Fair

Not Fair. Photo: Bartosz Górka. Courtesy Not Fair

Not Fair. Photo: Bartosz Górka. Courtesy Not Fair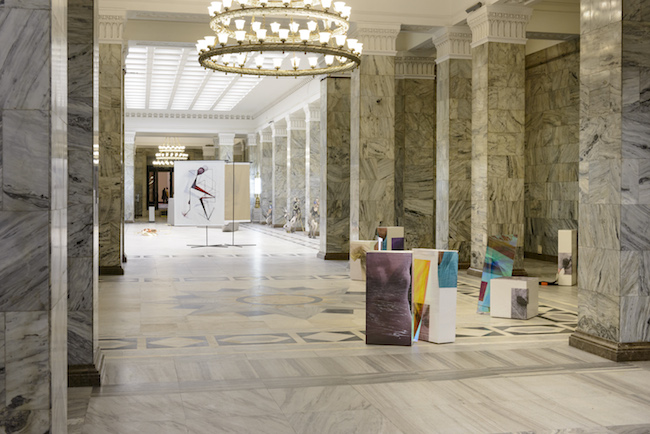 Not Fair. Photo: Bartosz Górka. Courtesy Not Fair