How to make Riga visible on the cultural map of Europe?
07/06/2018
Photos: Viktorija Eksta
Riga International Biennial of Contemporary Art.
Baltic Triennial of International Art.
Riga Photography Biennial.
Riga International Film Festival.
"Baltic Pearl".
Latvian Song and Dance Festival.
Riga International Textile and Fiber Art Triennial.
All the events concerning the 100th anniversary of Latvia, all the usual theatre, cinema and art events, etc., etc.
These are some of the major events happening in Riga this year, showing that 2018 is truly a rich year in terms of cultural events happening here. And what's more, many of these events attract an international audience. It would seem that cultural life in the city is thriving along with the city itself. And yet, one cannot help but feel that Riga still has much more potential than it currently exhibits – potential to be a cultural metropolis that people all over Europe (and the world, perhaps) regard as a top art and culture destination and that attracts people not only to visit but also to stay. To put it shortly, to become more visible.
In the middle of May, Arterritory organised a discussion titled "How to make Riga visible on the cultural map of Europe" with the aim of looking for ways in which Riga could fulfil its aforementioned potential. The guests of the discussion were the following: Zane Čulkstēna, founder of the contemporary art platform Kim? (which will oversee the Riga part of the Baltic Triennial); Solvita Krese, director of the Latvian Centre for Contemporary Art (LCCA); Agniya Mirgorodskaya, founder and commissioner of the first Riga International Biennial of Contemporary Art (RIBOCA); Arnis Rītups, co-owner of the local magazine Rīgas Laiks, organiser of the Rīgas Laiks Festival in 2013 and also the associate editor of the RIBOCA reader; and Kirill Kobrin, a writer, historian and world citizen who has lived in various cities and has now chosen Riga as his home. The discussion was moderated by Arterritory's Helmuts Caune.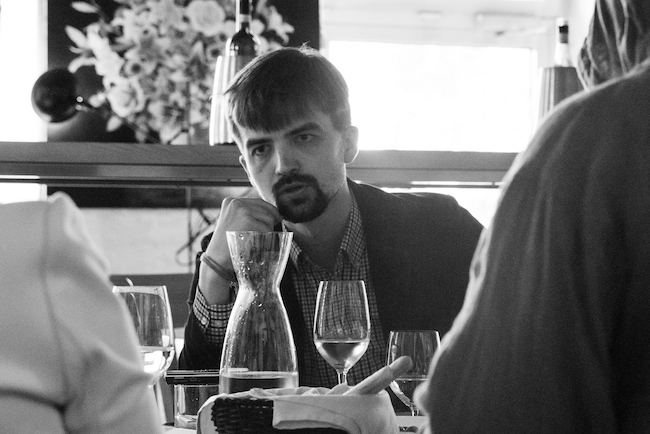 Helmuts Caune: Cheers! I'm glad that we've managed to gather here and talk about our beloved city. This year in Riga is especially rich with various cultural and contemporary art-related events that have international relevance and that many of you here are associated with. Yet it seems that Riga is not as internationally renowned as we would probably like. And the reasons for that are the topic we would like to discuss.
Arnis Rītups: I wonder why Kirill is here. What does he have to do with Riga?
Caune: He's an intellectual who has chosen to live here, after having lived in various places in the world. And for some reason he has moved here.
Rītups: Oh, I didn't know that!
Solvita Krese: Really? Everyone knows that.
Rītups: I guess I don't read the right news. How long has this been going on?
Kirill Kobrin: I've been living here since March. Not too long.
Caune: OK, just so that this idea of being "visible on the cultural map of Europe" does not seem empty, I've tried to discern three parts, or three features, of what that might mean. First, it would mean that this is a place where, in simple terms, stuff happens. In the form of events, in the form of more permanent phenomena, as places of cultural interest, schools, institutions, centres, seminars, workplaces, etc. And that this stuff is relevant and interesting internationally. The second feature would be that people around the world, when hearing the word "Riga", associate it with a place where it is interesting to be and to go to; that they have some image of Riga – preferably positive – already in their minds. And the third would be that people who have ideas and capital move here and stay here. Is there anything you'd like to add to my very arbitrary definition of what it means to be visible on the cultural map of Europe?
Rītups: Well, Kirill is clearly one of the people you mention in the third point, because he has come to live here, probably for several years! Perhaps we should start by just asking him why he has done this?
Caune: That's not a bad idea! But I believe that Agniya also falls under the same category.
Rītups: Well, then let's start with that – can you explain why you're in Riga and not Kathmandu or Bucharest? Because we, the others, were born here – that's nothing special, we're not guilty of that.
Kobrin: Ladies first!
Caune: Ladies first. Agniya, would you mind?
Agniya Mirgorodskaya: Right. So, it has to do with my relation to the region, because I'm half-Lithuanian...
Caune: You were born in Vilnius?
Mirgorodskaya: A large part of my family is in Vilnius. I've never actually lived there, but I've always had one foot there. I myself am from St. Petersburg, and basically I moved here... Let's say, the fact that I'm here is very much connected with my very long experience of living in London, which really tired me, and I thought it was too much to take in. I found Riga as a place where I could find peace to hear my own thoughts and as a platform where I could create something new and use all the knowledge that I accumulated in the metropolis that London is. And Riga just ticked all the boxes for me.
Caune: And those were?
Mirgorodskaya: Well, just all the boxes in terms of what I was looking for in terms of a biennial. Because I did want to make a biennial. And Riga is really perfect for that in terms of the scale of the city, the feeling you get when you're here, the feeling of a place where you can actually stop for a second and reflect on what is happening inside your head and what is happening in the world. So, it's a very peaceful place. And you can't really think straight when you're in a really busy location.
Rītups: So, it's a good place for reflection?
Mirgorodskaya: Yes, exactly. I think it's a beautiful city because of the architecture, I think it has a very interesting history, a very multi-layered history, and a biennial can really work with the material that's already embedded in this very...
Caune: But why exactly a biennial?
Mirgorodskaya: I see it as a perfect form for exhibiting art. I didn't want to make a commercial art fair, because a biennial is focused on artists. From my own experience in seeing different events, art fairs and biennials, I always thought that a biennial is the perfect form to actually enjoy the art as it is.
Krese: Sorry for interrupting, but why not an institution, for example, a museum or gallery?
Rītups: Yes, why a pop-up event, like a biennial?

Agniya Mirgorodskaya

Mirgorodskaya: Because it's constantly changing, and every edition can be completely different, depending on what curator you invite. And I find it fascinating to have a city as a platform where you can actually create something absolutely new every time.
Caune: Alright! Kirill, how about you?
Kobrin: So, first of all, the most straightforward answer is that I could not afford living in London any more. I just don't have enough money. Secondly, there are several reasons why I left London, among them political and ideological. I fled from the atmosphere of Brexit. Not the practical implications, because that's not very important for me, but the very atmosphere, the very climate. The recent intellectual, political and ideological climate in Great Britain is quite despicable for me.
Caune: Is it much better here?
Kobrin: I don't understand the language. (Laughter.) That's the answer. Thirdly, turning to more important issues for this conversation – I love the country, I love its landscape, the combination of pine trees, sand dunes and the sea, the very smell of the air, and so on. And Riga for me is... I spent about 14 years of my life being part of a counter-culture, an underground scene, a music and literary scene in the Soviet Union and post-Soviet Russia, in Gorky/Nizhny Novgorod and Leningrad/St. Petersburg. I felt that Riga resembled Leningrad in the 1980s and the first half of the 1990s. That's why I'm not particularly happy with current developments and improvements. Of course, I would like to see this city as a ruin. I'm very sorry, but yes. (Laughs.) I like that it conforms to my memory of the places where I belonged many, many years ago.
On a more serious note, I have a lot of friends here who are involved in culture and literature and art and so on; I love the many cultural institutions here, like LCCA... I'm not just trying to flatter, it's really true! And I love the very view of people gathering in the bars and drinking and speaking in three languages, which is very important... All these local stories, you know, about one-language politics... Maybe on a political level it's true, but on an everyday level it's different, obviously. That's my experience. And people discuss things, among them art and literature, from different points of view. I can't compare Riga to London, of course, because London is something that cannot be compared to anything...
Caune: During these months in Riga, have you ever wished that you were somewhere else, like back in London?
Kobrin: I always want to be sort of an alien, inostranec in Russian, yeah? When a friend of mine, the writer Zinovy Zinik, was asked why he moved to London, he said "ja vsegda ljubil bytj inostrantsem" – I always preferred to be a foreigner. And here, in Riga, I feel in a very comfortable position as a foreigner who belongs to this place.
Krese: I would just like to add to what Kirill said, because you mentioned that you want to see Riga as a ruin – in a metaphorical sense, obviously – but last week you had a lecture at our centre, and I really liked how you brought forward the notion of nostalgia as wanting to recreate something that is already in the past. As I feel, for many foreigners who come to Riga, they are still looking for this nostalgia, for the remains of the Soviet time, or, more generally, of the past, to see those kinds of ruins... That's probably something that we as locals do not enjoy so much, we want to get rid of it. But for foreigners those are traces that you probably cannot find anymore in London. Well, probably in some suburban areas, but here you can just walk to the next street and there it is!
Kobrin: Well, if you want to find powerful traces of decline and degradation, you can go to Northern England. Riga is full of life in comparison to Newcastle or...
Krese: But here these traces are rather contested, because, on the one hand, people just want to forget the Soviet past and overstep those 50 years and just jump into this neoliberal capitalism as if nothing happened. And now I think there's another tendency, because a new generation has grown up, and they kind of enjoy doing archaeology of the past and just digging up some interesting parts... And it's also partly incorporated into the hipster culture or DIY culture that some, let's say, emblematic Soviet things are becoming design objects, and also some leftovers of those dodgy areas, leftovers of the past, go together with this new, hipsterish, vibrant spirit of Riga. And somehow, I think, we should try to keep these traces of the past alive, keep them inhabitable, but not overdo it – as you said, if I understood correctly, that you don't like the trend of gentrification.
Kobrin: No, please, do not make a sort of German town out of Riga. Because I've seen this in the past. I've spent twelve years of my life in Prague, I've seen how that city slowly, step by step, went in this touristy-gentrified direction... Prague, which was a perfect place by the end of the 1990s, but then slowly it became... Now there's absolutely nothing interesting in it. But on the other hand it's not Germany, because life there is not as good as in Germany – it's a German town now, but without the best features of German life. That, I think, is a big threat to Riga. So, it's not that I want to see the decline of Riga, but I agree with Solvita that it's about the manner, about the limits inside of which everything could happen.
Caune: On the topic of desiring to not be perfect, let's take a step back and return to the topical question of the conversation. It's a loaded question in at least two ways. One is that, if we pose the question in the form of "how to...", we already agree that to make Riga more visible and renowned is something desirable and something we would like to see happening. But it's not that obvious. Especially after this monologue by Kirill, perhaps Riga is good just the way it is. So, could you please, each one of you, answer the question of why for you Riga should become more of a cultural metropolis? Why would you like that to happen? Perhaps we can start with Zane.
Zane Čulkstēna: Well, for me it would just be a reason to stay here, to live more interestingly. It's a fairly small town, and to somehow decide for it to stay that way...for me it would be pretty boring, I think.
Caune: So right now it's too boring for you?
Čulkstēna: No, I think that we are in the process of changing it, with everything that Kim? does, with everything that LCCA does, with Agniya and the rest of us. What people are doing in our respective fields is changing it. I'm not talking about all fields – in science it might be different, in business it might be different – but in our respective fields.
Caune: So for you it's that you wouldn't have to move away.
Čulkstēna: For me, yes.
Krese: This question somehow reminds me of "How to make Riga great again?" (Laughter.) But actually I think we're always comparing – oh, Riga is not Paris; oh, Riga is not Amsterdam; Riga is not London or something like that. But looking from another point of view, for example, the thematic line of the next Survival Kit is "Outlands", and what we incorporate in the meaning of that is that sometimes, even while being seemingly in the centre, you cannot really become an actual centre because of the historical, political or economic circumstances that surround you. And sometimes when we are looking at...for example, you mentioned Prague, there are many eastern European cities that are really geographically in the centre of Europe, but this geographical location doesn't mean that you're really in the centre. Now, with air traffic, you can reach most places equally fast, be it London or Prague or Tehran. But that's not enough. We should face the reality that Riga is somehow this "outland", that it's not really in the centre, the centre. But I think that we should benefit from all those local features that other cities don't really have, and not always compare and despair that Riga is not the same as London or Amsterdam or whatnot. By just figuring out what's embedded in this locality, we can really transform it as this main value that others don't have.
Caune: So you don't want Riga to become more like Amsterdam.
Krese: I think I would like to pose this question in another way. If people look at Riga and... Well, of course, it's the capital of Latvia, but what is the specific image that everyone should know Riga by? Like, it's a very specific town because of such and such... I think Riga is a cultural capital, we are a multi-cultural city, and things are happening all the time, but I think people will remember Riga because of something very specific, not as one cultural capital among many or in a row of many. That's how I would like to look at it.
Caune: Agniya, perhaps if Riga changed in the direction we're talking about, it would stop being your perfect place.
Mirgorodskaya: Yeah, it's a dilemma, because you don't want to turn Riga into a new Berlin. I just see it as a problem of our present world that cities are becoming unified and hipsterised and gentrified, and I'm not sure I want the same thing to happen to Riga. I agree with Solvita, because I think that's the beauty of the city, how authentic its character is, and I keep hearing from artists who visit Riga about how they fall in love with the sort of character that's still present in this city, which is no longer present in Berlin, for example.
Caune: What are some specific features of this character we keep mentioning?
Mirgorodskaya: Some roughness, some rough character about it. Not beautified too much. Maybe trying to solve this "problem" and bringing more people here will result in this feeling no longer being present in the city. But, on the other hand, I think that Riga deserves to be seen; it's still somehow not an obvious location for many Europeans to come to, and I think that's unjustified. I think it has to be in the minds of people. They just don't know. When we say "Riga", people just don't have an opinion, they don't know much about it. A lot has to be done to kind of...I don't like the word "promote", but to set the minds of the general European public that Riga is a destination. Because now it's not just that people don't have a good or bad opinion, they simply don't have any opinion. So I think that by bringing them here we can actually affect this thing.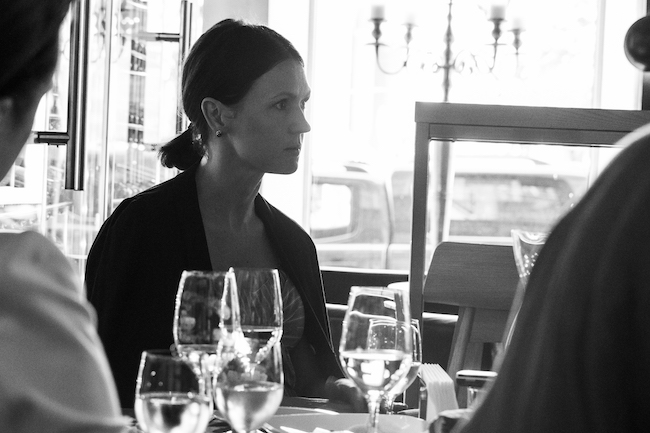 Zane Čulkstēna

Čulkstēna: But I think that we don't have to worry about overdoing it. We have, like, something between two hundred thousand and six hundred thousand people who have left, and if you now pass through the city, you'll see that most of the windows in the city centre are empty and no one lives there. Worrying about the Berlin scenario is... (Laughs.) Yeah, we shouldn't worry about that one.
Mirgorodskaya: Right.
Krese: It's a shrinking city.
Čulkstēna: Of course, it's an overarching trend. But that's why we shouldn't worry about overdoing it.
Caune: Arni, why would you like Riga to become more renowned? If at all.
Rītups: Because that would inevitably lead to situations of more interesting and alive people coming to visit, and I would have more people to talk to, and I would have to spend less time travelling around the world and finding the most interesting human beings in other places. They would come here. Because I'm lazy... I love talking to interesting people, and I waste a lot of time travelling around the world. If they would all come here, it would save me time and energy. But I think there's a big potential to magnetise and energise the city so that it attracts more interesting people – not just more people. Not just numbers. I'm interested in bringing in more interesting people.
Caune: But why do you stay here? Why aren't you in a place that has more interesting people, like London or New York?
Rītups: I was born here.
Caune: So what? You're not guilty of that.
Rītups: Yeah, it's... There's no need for me to be somewhere else at the moment.. I just moved, actually. For 41 years I lived in the very centre and heart of Riga. Just two weeks ago, I moved out, I moved to Jūrmala. That's where I live now. And it's obvious that Riga and Jūrmala should become one city. I think it would work. It was one city some time ago, and it should be one city again, and it would be the most unique city in Europe, with an attractive centre and a long stretch along the sea. So, it's a good plan for the next thirty years.
Caune: Thirty?
Rītups: Well, or fifty. I was asked about it five years ago – what should the future vision of Latvia be? Some aspiring politicians were gathering people and asking them about what the future vison of Latvia should be. Where should Latvia go? Formulate a vision in seven words – where would you want Latvia to go? And I said it's very simple, it's obvious – conversations that happen here are interesting to the whole world. That's a vision worth pursuing. And because I basically consider Latvia to be Riga plus its tiny suburbs, the same vision applies to Riga. The only worthwhile vision for the future development of the city is to create conditions so that the most interesting conversations can happen here and that they are interesting to the whole world. It doesn't specify if it's art or philosophy or...
Čulkstēna: Mayor Bloomberg, the former mayor of New York City, has been saying in all his speeches that it's talent that attracts the capital, not the capital that attracts the talent. The focus must be on how to make the city more interesting to talented people.
Rītups: Yes, that's the whole question and the whole fight in the world – how to make a city attractive to interesting and talented people from all fields. There are, for instance, a lot of talented people from Russia who've moved to Cyprus because they find the nature and the environment very productive for their work. Fine – we won't get those people. We lack hot, Mediterranean weather.
Krese: Well, quite a few Russians choose Riga as well, including artists.
Rītups: Certainly. But there's very minimal movement from the West at the moment. From Russia, it's been going on for, like, five years. But there has been very minimal movement from the West.
But I think there is a chance to do something so that people from the West start moving to Riga on equal levels as people from Russia.
Caune: And where does this chance lie?
Rītups: Well, the chance lies in locals creating and pursuing events that are interesting to all of Europe. And then those who visit the events will get attracted to the city, and some of them will move here! They have five million empty square metres in the very centre of the town. Of course there's potential! There is an opportunity to attract more people – because there is space for them. There are other towns and cities that are just full, packed with people. Riga is not packed. Without building any additional square metres, we already have five million empty square metres in the very centre of the town. So there is a chance. By only magnetising and energising city life and public space, by creating events that are interesting to all of Europe and the whole world, we can attract more talented people to live here! It's as simple as that.
Kobrin: Attracting people has to do with two different points of view, two different aspects. One is so-called "city marketing", which involves business-like management. But another is that the place is full of a sort of energy, a cultural energy, that definitely cannot be defined in the business-like terms of city marketing.
Rītups: Wait, where did you get the idea of "city marketing"? Who was talking about "city marketing" here, at this table?
Kobrin: Let me explain. The very word, the very term – to make something "visible" – is a marketing term. It all comes from the area of this sort of activity. You know, to make something visible. I worked for 12 years as a journalist, as a radio presenter and, eventually, as a media manager, I've spent a lot of useless hours in endless meetings discussing how to make something "visible". So I believe I know stuff about this. Secondly, I consider Riga as already being...well, not a cultural capital, because I don't understand what the word "capital" means in this context, but I consider Riga as a very important place, a sort of cultural port, a place where something very important for me is happening, for me as someone who belongs to Russian and European culture. For instance, at least two cultural phenomena that are very important for me are based here, in Riga. First, it's your magazine, Arni – its Russian version, of course, because I don't read Latvian. And second, it's the Orbita group. Orbita produces some of the best poetry in the Russian language today – and I'm not even speaking about their stunning book design.
Caune: Who of them?
Kobrin: All four of them. I'm not going to rank them. But that part is not so important, good poetry can come out of anywhere. But as publishers and book designers, you know, they produce the most beautiful books published in the Russian language today! And that's happening in Riga – not in Moscow or in St. Petersburg! They are the best publishers. I mean, not necessarily by the content, but...
Rītups: ...by the way they present the book itself.
Kobrin: Exactly. By the design. And, you know, I'm very envious. You know, as a writer, I publish a lot of books in Russian as well, and I'm envious, because personally I would like to have a book designed like the Orbita ones!
But, OK, another point. How does it happen, what's the trigger for any town or city to become interesting or visible, and so on? First of all, there are different stories. You've mentioned Berlin. But how did it start with Berlin? It's very interesting. It didn't start with the end of the Soviet Union, you know, the fall of the Wall and so on. It started in the 1970s, when David Bowie and Iggy Pop came to Berlin! In 1976. They moved from Los Angeles to Berlin, to West Berlin. And at that time, I think, it was the gloomiest town in Europe. And they had chosen this place as the gloomiest and darkest place in Europe, which was an absolutely doomed place, being surrounded by communist enemies and so on. And, secondly, which is crucial, it was an important place for them because early German electronic music was there, in the local clubs and recording studios, with Neu!, Tangerine Dream and especially Kraftwerk around. So, they were moving around the city, going to the clubs, listening to electronic music, and that's how the best records by David Bowie and Iggy Pop were born. "Berlin Trilogy", yeah? Low, Heroes and Lodger.
Caune: And why is that important?
Kobrin: Because, from that point on, everyone in the underground culture knew that Berlin is something special. You can go there and get soaked in the local cultural atmosphere, and then you have a chance to do something beautiful on some level, like Bowie did. So that's how the idea, the very idea, the very word "Berlin" got started. In the minds of the people of the counter-culture, the underground and so on.
Rītups: And it still lingers on, it's definitely alive.
Kobrin: Yes, of course. And the Hansa recording studio, where these albums were recorded, is like a museum now. So that's just one of the examples of how it works. It doesn't work just with money. It doesn't work just with politics and so on. It works with something, you know, strange, even sinister, even "sinful", and at the same time, of course, it couldn't have happened if there hadn't been this sort of German electronic scene. That time, it was a very interesting, absolutely obscure phenomenon, a cultural phenomenon – Bowie and Iggy had dived into the intestines of an absolutely gloomy city, but it was worth going and spending several years there.
Rītups: I think the model you present is replicable. It will be filled by someone, we just don't know the name yet. He or she hasn't yet arrived.
Caune: Mansky.
Rītups: Who?
Caune: I was just thinking about people who have already come to Riga and stayed here. Like Vitaly Mansky, the film director.
Kobrin: Mansky as David Bowie, well...
Rītups: A little bit different scale. (Laughter.)
Caune: Of course, that was just the only example that came to my mind.
Rītups: Well, if it was, for instance, Werner Herzog... If Werner Herzog decides – fuck California, I want to die in Riga! Now, that would be something.
Čulkstēna: Well, that's an even better concept – to invite people to come to die in Riga!
Rītups: Yeah, indeed! The most talented people come to die in Riga. And it will become a trend, and we will create hospices in Riga for the most talented people to die in! A dignified human death. Not hospitalised, not under machine-assistance conditions, no. We will give you an opportunity that neither California nor Switzerland gives, we will give it to you in Riga. A dignified human death. And then it will become a trend, and all the most talented people make will decisions like – oh, I have only two years left, I should move to Riga to die!
Čulkstēna: The problem is that most of them will be elderly.
Kobrin: Well, not necessarily...
Rītups: That's not a problem, it's a chance for young people to be inspired and learn! Most interesting people are usually old, but they can inspire groups of young people! And they can perform their death, you know, they can make it as a performative act. And at the next biennial...
Mirgorodskaya: Right! It will be the theme of the biennial!
Rītups: "Who is dying next?" (Laughter.)
Caune: OK, I think I have a title for the publication...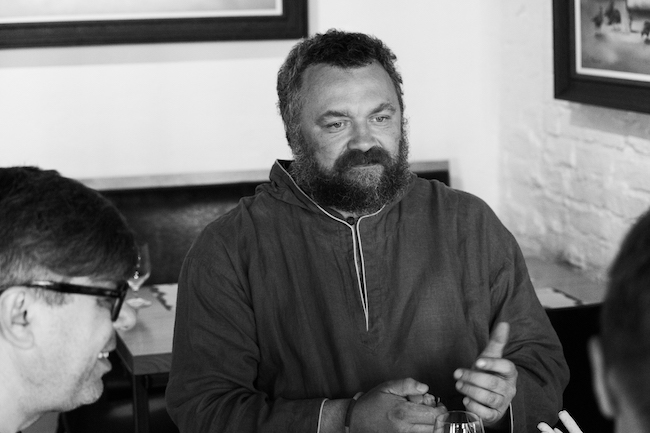 Arnis Rītups

Rītups: There was an earlier trend I unsuccessfully tried to launch for Riga: Riga as a place to think, which you mentioned in terms of reflection. Riga can be not only a place to die a decent human death, because in these times, when ars moriendi has almost disappeared, and nobody knows how to die a dignified, decent death, that would be one aspect with which Riga could attract talented people. But the other one is that Riga could be presented – I mean, not in the city-branding sense, but in actuality – as a place to think. Because there are many cities that are "cities of knowledge", there are "smart cities", "innovative cities" and whatnot, but there is no city on Earth that claims to be ideal for thinking. But this could be the case for Riga! It's a quiet town, you can easily find corners and empty spaces where nobody bothers you. So, Riga as a place to think and to die! Let's have a drink... Oh, and to drink! (Laughter.) And to love, of course!
Caune: Well, that it already is.
Rītups: And to talk! Basically, it's a place for all human, specifically human, activities! This is the most human city on Earth! We have a chance to create a space where all specifically human activities can flourish. Which means: to learn to die, and die with dignity, to think, to talk, to drink, to love! What else do you need?! To live! All of this together is a place to live.
Caune: And it's a beautiful sequence, because at first a particular person comes here to die, but then he or she starts thinking, and then, after having some thought, goes for a drink... (Laughter.)
Rītups: Yes, excellent! And then finds a new love and lives for fifty more years! You see?! And that's what we can call a life, that's a flourishing life, that's happiness – in Aristotelian terms.
Krese: Perhaps it wouldn't be so unique. If you've been to Varanasi, you know that they do that kind of thing there, there are many houses dedicated to that...
Rītups: Of course! But there they know how to die. Most westerners don't know how to die.
Kobrin: OK. So we can call it "a nice dying experience".
Caune: As a part of Riga city marketing.
Kobrin: "Last-drink bars". (Laughter.)
Rītups: Yeah! The last-drink bar becomes a fashion, and Berlin is empty, because they all move here! (Laughter.) That's very easy! We've created a world-changing future plan for the city in ten minutes! So, let's start by proposing an offer to Werner Herzog to die in a dignified manner.
Caune: Absolutely! Cheers to that. Now, returning to the various features of Riga's unique and unused potential, as mentioned before – where else does it lie? We've already mentioned five million free square metres, Riga as a peaceful place for reflection, Riga as a place to die, some of the best contemporary Russian-language poets... Is there anything else that people don't often talk about that Riga has up its sleeve?
Čulkstēna: I think that content-wise everything is already there, we don't have to seek further. From there, it's about execution, it's about doing something, and, sorry, but it's also about marketing. As a semi-dirty story from my experience, I was once invited to a similar meeting at a foreign investors' council, a meeting about the "positioning" of Latvia. Everybody was in a group there, you know, trying to come up with some smooth idea, like, we should do something with "green" or, no, better yet with "small but beautiful", "best enjoyed slowly" and this and that. (Laughter.) And there was this older Jewish gentleman, who at one point said – you know, enough with this discussion! It's just like with sex: if you don't have the drive, the pose doesn't matter. So, it's about doing things. We are sure about the things we need to do in Latvia, the OECD, the rest of the organisations, everything is written down! We know it. But it's about getting shit done. Not just seeking the perfect sentence or the perfect formulation.
Rītups: Of course, I agree. It's only about the willingness to act and the energy to do it, nothing else. The ideas are all on the table – just take them and run.
Kobrin:Um, just a sort of post-scriptum. I'm just an alien here. I'm just strolling along the streets, and the most disappointing thing in Riga I've ever seen in my life are the billboards. Billboards for concerts and shows and so on. The combination of Grigory Leps and... I've never seen this in Russia! You know, it's the worst I've ever seen – in terms of billboards, of course – in my whole life. You know, Chippendales next to Grigory Leps next to "Deep Purple 50 Years". I die just from looking at all of this. (Laughter.) However, an opposite thing that I really do love about Riga is the graffiti art. It's some of the best graffiti art I've seen. Especially in the Grīziņkalns district.
Krese: Yes, and not far from Grīziņkalns, on Ernesta Birznieka-Upīša Street near the bar Aleponija, there's a graffiti that says "Riga is the new Berlin". I think there are a lot of things going on that we often don't notice. Of course, I'm more familiar with the contemporary art scene and the art scene in general, but the way I see it, despite that, as you said earlier, stuff really happens. We have these gaps in the, so to say, ecosystem – while there is a lot of contemporary art, there is no contemporary art museum, no city hall for art, and much that is done is basically done by NGOs, as we are, as Kim? is, like 427 and others. So, there's a lot going on, but all of the activities are very, let's say...precarious. That is, if you get funding, you can survive, but if you don't get it, you die. There's really a lack of some proper cultural policy, which would be really valuable, because such small initiatives are, I think, the hidden gems you asked for. They're a treasure box we should keep dear and spread in the city. I think the art scene in Riga is very vivid, but we've got to somehow just keep it up, not let it die, because right now, there are really many interesting initiatives going on.
Čulkstēna: Yes, well, that also concerns not only the product itself – the quality of the artwork, artist, event or whatnot – but also the whole "packaging", delivering it further, the way you present it, the way you communicate and sell it. It's about the marketing, the business aspect of the work. Everyone in the marketing business will tell you that you can have a great product, but if you don't have a good sales and marketing strategy, it's not gonna fly. If you look at sales and marketing, there are some simple ways in which businesses, for example, measure the effectiveness of their activity, and one of them, at least in sales, is the number of calls and the number of meetings. Per week, per month – how many meetings have you had? So, I think if you look at RIBOCA, they are bringing around sixty journalists, they've been touring around, they've been in Venice, London, etc., just physically meeting people and simply telling them! Of course, it requires resources...
Krese: But it's all about funding.
Čulkstēna: Of course, it's about funding, but it's also about understanding how important it is. It's not about Riga being a wonderful place full of potential and artists; it's about that second part, which has been largely missing and should be activated.
Caune: I don't doubt that the RIBOCA team has been on many trips. But Agniya, would you agree that the biennial has had disproportionate foreign and local communications?
Mirgorodskaya: Well, we have international and local PR units that work hand in hand, and we put equal energy in promoting the event both internationally and locally.
Caune: Well, perhaps I just live in the wrong information field. It's just that I was recently at Art Cologne, and basically with everyone I meet, when I tell them I'm from Riga, their first response is – oh, you're going to have a biennial soon!
Mirgorodskaya: That's very nice to hear.
Caune: So, obviously, you've done a very good job communicating it abroad. However, as for here, I don't think that...well, considering it's only two weeks away, the local public is as aware as it should be about such a large-scale event that's about to happen.
Rītups: That's true. I agree.
Caune: It just seems that there should be bigger hype than there is right now.
Mirgorodskaya: Perhaps. But our options are limited – there are not that many art journals or media here that we can appear in.
Caune: But do you also address big, mainstream media?
Mirgorodskaya: I mean, we use everything that we really can. We have partnerships with Delfi, with various other magazines, we are using all the tools there are, but there are just not that many tools.
Krese: Well, local coverage of such events usually happens later. I think local media will start to react about a week from now.
Mirgorodskaya: No doubt. Because local journalists are all aware of us, but they usually answer that they want to see the actual exhibitions first before publishing anything. So, they're waiting for the moment when we're open, and then.
Caune: Zane, could you very briefly tell us about what impact the Baltic Triennial might have?
Čulkstēna: Well, the Baltic Triennial is a long-standing tradition, this will be the 13th edition. So far it has taken place exclusively in Vilnius, but this year, thanks largely to additional resources, it was extended to Tallinn and Riga as well. Kim? is hosting the last part, which will take place in September and will focus mainly on performances. And, judging by the results of the first exhibition in Vilnius, I think it will definitely bring quite a lot of international attention to Riga.
Caune: I believe there's no good way to configurate it, but don't you think it's a bit too much? Like, this year there's RIBOCA, the Baltic Triennial, the Photo Biennial, Photo Month, so many -ennials... And their dates partly overlap.
Mirgorodskaya: I don't think it's too much. I find it to be a positive thing. The more events there are, the more attention it attracts, and the more reason it gives for people to actually come here.
Čulkstēna: I completely agree, yes. What you experienced at Art Cologne, we've experienced for about a year, kind of building on each other's activities. So, people who are coming to see the opening of RIBOCA, they're using the fact that they're in the Baltics to go to Vilnius as well, so it's a... Now, I'm always quoting Ojārs Pētersons, who has said that with contemporary art it's like with fast-track trains: if there's a stop, you stop and exit, but if there's no stop, you just pass by. For many years, we were hoping to have a museum as such a stopping place. We'll still see about that, but things like the biennial, triennial and Survival Kit definitely give more reason to come here.
Caune: But doesn't the fact that there's such a limited number of people working within contemporary art in Latvia create some unnecessary tension among your organisations?
Čulkstēna: No, I don't think there's any tension at all!

Solvita Krese
Krese: The more players there are, the more they can play into each other, the more interesting it gets. The only tension that there might be is that there's always limited funding, but if that issue were solved, there would be even more collaboration. Now, of course, both we and Kim? are writing papers to get the same miserable amount of money from the VKKF, and then we compare – oh no, you got a few euros more than me this time! And then you ask – why so, are they better than us, are we not that good...?
Caune: But as long as you can still sit at the same table, all is well.
Čulkstēna: And also, from a business point of view, your best competitor sets a higher standard to aim for and grow, so one should always be happy to have someone to compete with.
Mirgorodskaya: And we are always asked about the Riga art scene, because everyone is curious to see not only the biennial but also the institutions, to get a more general picture. So, the more there is, the more we can tell people and the more there is to attract them. And we're always happy to share everything that's going on in Riga. It goes both ways, I think.
Caune: Obviously, you've cooperated with a lot of foreign artists and colleagues. What are the things that your associates from abroad most often criticise when talking about Riga?
Krese: Actually, most of our guests who are artists and curators are extremely happy.
Čulkstēna: I think that expectations are usually so low or non existant that they are taken by surprise. They are taken aback by the architecture, by the cultural life...
Caune: So it comes from low expectations?
Čulkstēna: But that's OK, I think.
Mirgorodskaya: I have to say, I've spent most of my time travelling and speaking to art professionals outside Riga, and I think that every time we discussed the Riga biennial, we spent five minutes talking about the biennial and twenty-five about Riga. People are very curious about where Riga is and what it's like. I've had to do a lot of promotion, because people really do have no opinion, no expectations.
Kobrin: I will just throw in an unpopular opinion. It's not really the problem that people abroad don't know about Riga – it's what they know about it. For instance, in the UK, Riga is quite well known as a great stag party destination. (Laughter.) On the other hand, there's an opinion which has been defined by Timothy Snyder in his rather interesting book about Eastern Europe. Latvia, being a part of Eastern Europe is therefore a part of so-called Bloodlands. Eastern Europe is a region of an endless horror, bloodshedding, suffering etc, it is Bloodlands. The region was ravaged by World War II, and a lot of things because of that are still happening. And it's interesting to come here, just to see the monuments of this disaster, the relics, to listen to the stories of victims, etc. But I think that in truth Eastern Europe (and Latvia and Riga as a part of it) is, in some sense, the most interesting region of European culture in the 20th century. The most interesting painters and artists of this era have come from here, a big part of the most interesting writers were from here. From Eastern Europe: the Baltics, Poland, Czech Republic, etc. But not Russia. The most interesting music as well, if we're talking about classical music and avantgarde. And this is actually the most powerful thing about the region that you can define and explain to Western Europe and to the whole world. That we are not just victims, we are not just sufferers, and we are not a stag party destination, but that we are very rich, that in some sense we have richer cultural life than you. What interesting has happened in Paris or London in the last 50 years, after May 1968? Not a lot, really.
Čulkstēna: I may add that it's the same with New York. We've all read about the richness of the place in the 1970s, but it has become rather conservative and very commercial.
Krese: I agree. We need to rewrite the perceived history of Eastern Europe, and a lot of the projects that we and other organisations in the region are doing are exactly that.
Kobrin: I think that is the most important task – to write the history of Latvia and Riga as something, first of all, modern, secondly, full of interesting culture, which is simply true, and thirdly, as something that is still alive. We just need to show that. And the reason it hasn't been shown so far is the neoliberal approach to social life and culture that has been dominant here after 1991. This sort of approach approach that we can trace even see in the vocabulary of our discussion – we're talking about sponsors, funding, competition, marketing, etc. But what, to return to the discussed case of urban cultural success, made Berlin so prolific and important? It wasn't just money, it wasn't just marketing. It was a very powerful local culture which existed in the city after the war, especially from 1960s. And I think that if you add to the existing – and very special – local contemporary culture of Latvia and Riga a different approach, if I may say, a more socialist approach (although the term "socialist" is not popular here), you see a different future. By "socialist" I mean European-style social-democratic politics of course.
Krese: That sounds great. Sometimes it's just unclear how to smartly handle the "showing" part, so that it doesn't turn into aggressive marketing.
Kobrin: I think a good start would be commissioning a few good, serious English-language books about the city and the region that would be published by some big British or American publishing house. That has proven to work in the past, for instance, with Poland.
Mirgorodskaya: And I believe it also has to come from within to outside – from a population that is aware of its history, richness and potential and is very knowledgable about the facts. And from what I've seen, the local population is very proud.
Caune: That is truly good to hear. Thank you all for coming! I wish you the best of luck with your projects.

A big Thank you to Vīna studija for its collaboration!