Never give up
An express-interview with Vincent Honorè, the Artistic Director of the Baltic Triennial 13

12/06/2018
Long before the Baltic States were swept over by art fairs, biennials and international exhibitions of a contemporary nature – in 1979, to be precise – the Baltic Triennial was founded. At first, the exhibition was named The Baltic Triennial of Young Contemporary Art in Lithuania, and mainly focused on (as one could imagine) politically and socially permeated topics. This focus was based on the fact that Lithuania, Latvia and Estonia were still a part of the Soviet Union. Objecting to – moreover, protesting –the cultural trends of the system, Baltic artists strove for absolute freedom of art and speech. And frequently, the ways of achieving their self-set goals rested upon a fight between traditional (permitted) and contemporary, (pseudo)Western-influenced or underground art. At the cross-roads of politically engaged/provoked art that was being created all through the 1980s and the beginning of 1990s, the Baltic Triennial had a great deal of importance. It was (and still might be) the largest art festival of the Baltic states that focuses on local artistry – taking into account that the freshly opened RIBOCA1 (Riga International Biennial of Contemporary Art) spotlights an international spectrum of participants. At the same time, one of the Triennial's objectives has always been a discourse of international development and exchange with the local art scene. Not only during the Soviet era, but even now, the Baltic region has remained somehow marginal to the rest of Europe. Nevertheless, that position has only increased our will to prove our (Baltic) competitiveness. Not, of course, by means of ostentatious competition, but rather by way of a healthy recovery of fractured identities.

BT13 Vilnius Chapter. Anna Hulačová. Underworld Upside Down. 2018. Photo Andrej Vasilenko

In the famous play The Tempest (1611), William Shakespeare writes: 'What's past is prologue.' By using this statement, he implies the impossibility of a future without a past experience. And when talking about the Baltic art scene, one has to admit that it's quite impossible to ignore past events. Times have changed and political subjects are no longer the main matter of interest, although it must be noted that the previous trends of Baltic art (and art in general) have not become imperceptible.
This year, the 13th edition of the Baltic Triennial has changed its method of representation by literally involving Latvia and Estonia. In other words – for the first time, BT is being jointly organised by all three Baltic States. From May 11 until November 18, the Triennial, entitled Give up the Ghost, will be held at the Contemporary Art Centre in Vilnius, the Tallinn Art Hall, and the kim? Contemporary Art Centre in Riga. Thus, the exhibition has been divided into three chapters, each of them informed by a shared concern – What does it mean to belong at a time of fractured identities? In terms of philosophy, the concept of fractured identities can be defined as 'having many parts to one's personality', and the creative team of BT13 has chosen to avoid a particular answer to the posed question. Aiming to maintain a neutral position, the creative team only suggests the need to review 'a collective vision of what is at stake: independence and dependency – and everything that lies in between'.
This year the Artistic Director of BT13 is Vincent Honorè; he has collaborated with a slew of world-reknown artists, and has worked in the curatorial department at the Palais de Tokyo and other grand exhibition halls and museums. In his statement, Honorè has admitted that the Baltic Triennial is an experimental event, and added: 'I am eager to start a collective research that will deal with infiltrations, displacements and hybridisations as valid forms of production. I expect the Triennial to be a place of disorder, exploring definitions and identities through action.' In the following express-interview for Arterritory.com, Vincent Honorè describes his interest in Baltic art and the metaphorical layers of giving up the ghost.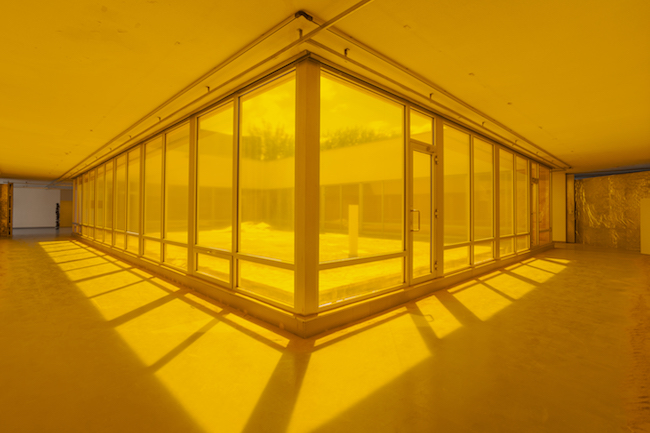 BT13 Vilnius chapter. Dora Budor. The Preserving Machine. 2018. Photo: Andrej Vasilenko
Just recently, until 2017, you were the director and curator of London's David Roberts Arts Foundation – an independent organisation for contemporary art. You have also worked as a curator at the Palais de Tokyo in Paris and the Tate Modern in London, and have developed projects with world-reknown artists such as Louise Bourgeois, Pierre Huyghe and others. Taking into account this international experience, what is it that attracted you to the Baltic region?
Firstly, I think it is important to point out that since I left my position at DRAF in autumn 2017, I have taken up the role of Senior Curator at the Hayward Gallery, which marks a new chapter. However, as you point out, I have worked in a variety of international contexts throughout my career. When I was invited to curate the Baltic Triennial 13, I wanted to create something that maintained a relevance to the region but which was not exclusively bound to it. Delving into the history of the Baltic countries, and specifically the long-held perception of them as limitrophe states – as situated in between Europe and Russia, as spaces defined by precariousness and a certain sense of formlessness – it became clear that the question of belonging was a relevant concept through which to think of the Triennial and its relationship to the region, and to situate it within wider global and contemporary artistic discourses. So, you can say that the specificity of the Baltic states – in at least the manner in which their image has been codified – has helped to propose a set of questions that are applicable and which resonate – and which we are proposing during the run of BT13 – far beyond this particular geography.
How would you – as an outsider to the twists and turns of the Baltic art scene – describe or categorise the tendencies in Lithuanian, Latvian and Estonian contemporary art?
There is a young generation of artists coming from the Baltic countries whose work speaks to some of the most pressing concerns of our age, among them Augustas Serapinas, Ieva Rojute, Ola Vasiljeva, Kris Lemsalu, and the Young Girl Reading Group. Ultimately, though, our aim has been to focus on shared concerns (in relation to the notion of belonging) that extend beyond country-specific boundaries, and which allow the work by artists from the Baltic regions and beyond to share an equal footing. One of the fundamental duties of the triennial is to avoid recourse to categorisation and compartmentalisation: this lies at the core of the project.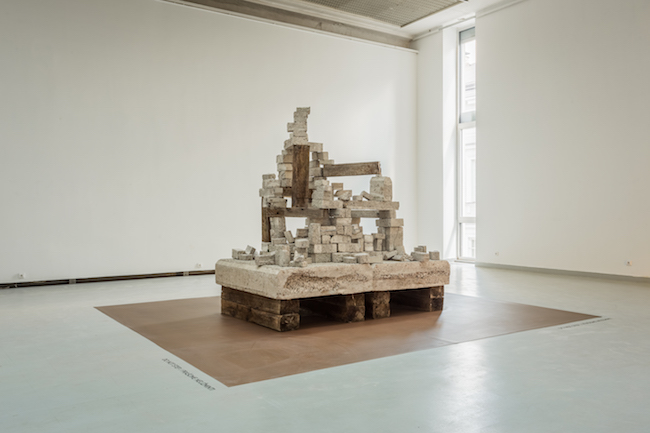 BT13 Vilnius chapter. Augustas Serapinas. Vygintas, Kirilas and Semionovas. 2018. Photo: Andrej Vasilenko
This is the 13th edition of the Baltic Triennial, and for the first time ever it will be organised and take place in all three Baltic States. How important is the Triennial in the context of the centenaries that Latvia, Lithuania and Estonia are celebrating this year?
I was initially approached to curate the Baltic Triennial 13 very much within the context of celebrating the centenary of independence that the Baltic states are marking this year. However, this notion of national self-fashioning and pride was tempered by the fact that this invitation came also at a time of rising geopolitical and cultural tensions: Brexit in the UK, the election of Donald Trump as US President, and the increasingly vocal presence of populist and nationalist movements and agendas that have been rocking the foundations of the European Union. These factors, alongside concurrent debates about gender, race and class, encouraged me to eschew approaching this anniversary in a nostalgic manner – as a celebration of a historical moment – but rather as a chance to rethink our presence within the world today.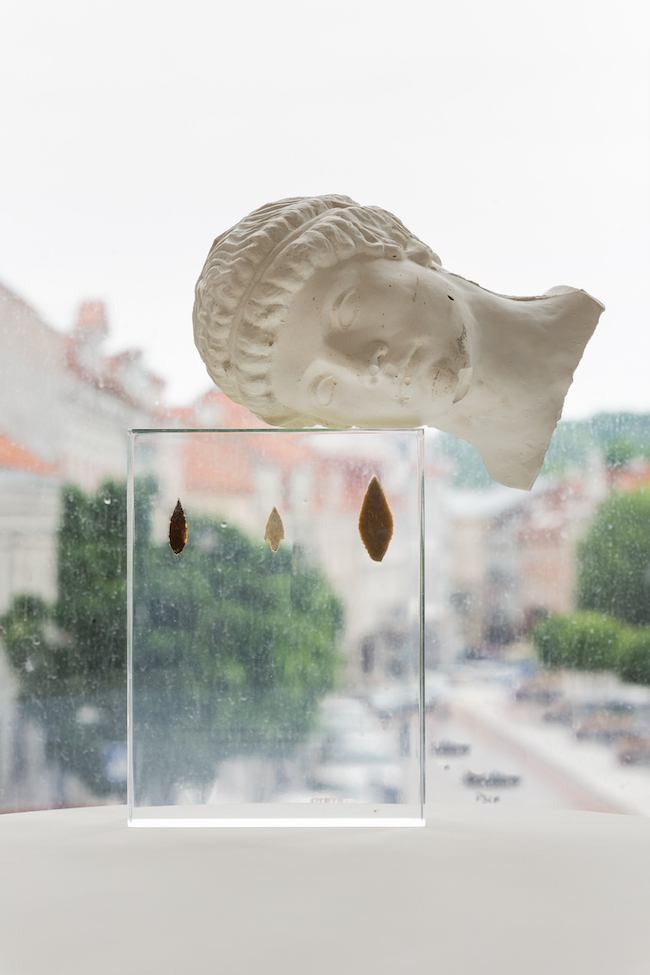 BT13 Vilnius Chapter. Benoît Maire. Society. 2018. Photo: Andrej Vasilenko

You have stated that you expect the Baltic Triennial to be a place where 'definitions and identities are explored through action'. What kind of new interpretations have you already found?
It may be premature to mention any kind of new interpretations; but, thinking of Édouard Glissant, whose writing has informed the Triennial, I wanted to go beyond identity and look at belonging, specifically: What does it mean to belong, on an individual and global scale, to a world in which we all feel like bastards, and where all forms have been bastardised? Researching it, it seems that a different form of subjectivity, which we call formless subjectivity, is emerging.

BT13 Vilnius Chapter. Korakrit Arunanondchai. With history in a room filled with people with funny names 4. 2017. Photo: Andrej Vasilenko

The title of the Baltic Triennial 2018 is Give Up The Ghost. How would you describe the ghost that Baltic art should give up, and what would you give up in the name of art?
While the title of BT13 can initially be read in a negative way – it does mean to die, after all – it ultimately encapsulates the possibility of a renaissance. It is about thinking through and becoming aware of the bonds, strictures and codes (many of them centuries old) that govern our sense of self – in relation to ourselves, to others, to society and culture at large – and how to negotiate and break free of them. In our current socio-political climate, when everything seems to be at stake, what does it mean to belong? Or, conversely, to not belong? It's an inherently subjective position, and so the last thing BT13 wants to do is impose a new set of forms to ascribe to. In that respect, your question about what is the ghost that Baltic art should give up may be better served as an invitation for self-questioning and self-reflection, both individual and collective. BT13 is ultimately about disrupting the way we personally think, rather than the way others think, and to question our own norms.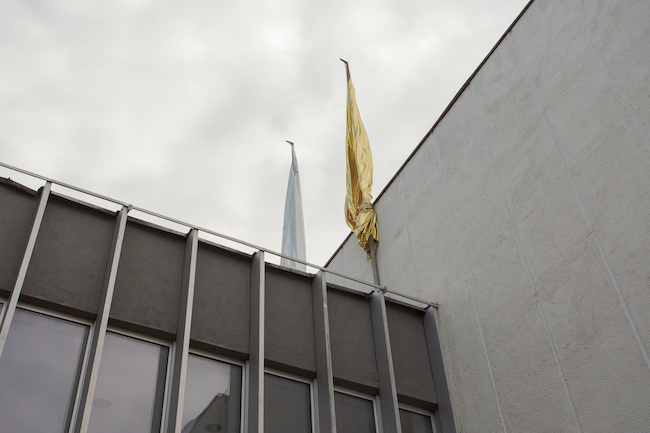 BT13 Vilnius Chapter. Architecture by Diogo Passarinho. Photo: Andrej Vasilenko