David Shrigley and a bunch of inflatable swans in Stockholm
05/10/2018
British artist David Shrigley's solo show Exhibition of Giant Inflatable Swan-Things is the sixth solo project to be held at Stockholm's vibrant Spritmuseum (as in 'spirit/alcohol museum'). Having been located at Djurgården's waterfront since 2012, the museum already tops every list of strange and peculiar museums. As one can infer from its name, the museum 'focuses on the Swedes' bittersweet relationship to alcohol', but it also hosts the Absolut Art Collection, which contains more than 850 works. The collection started off in 1986 with a piece done by none other than Andy Warhol, the king of pop art. From 1986 to 2004, the iconic Absolut Vodka bottle has been interpreted in a variety of genres by at least 550 different artists, including Keith Haring, Louise Bourgeois, and Damien Hirst, among others. All of the works were subsequently used in Absolut Vodka marketing campaigns, thereby giving the Absolut Art Collection a permanent spot on the list of most innovative advertising projects ever.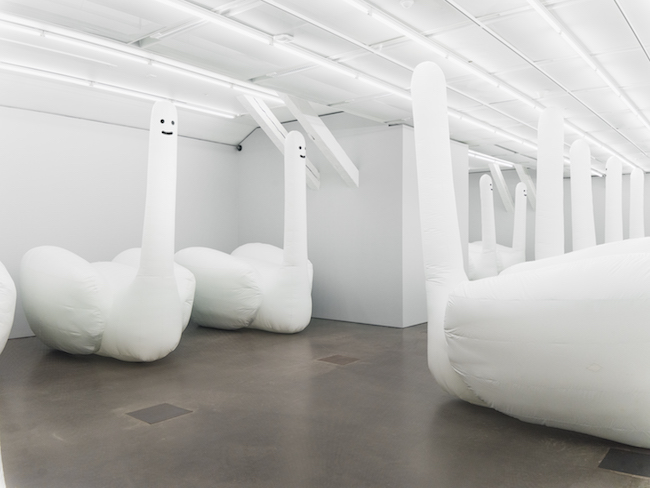 In 1996 David Shrigley created a separate work specially for the collection titled ABSOLUT SHRIGLEY. Also custom-made for the museum is the currently showing installation Exhibition of Giant Inflatable Swan-Things, which features 'sleeping' swans in various poses which, much like huge life-preservers, intermittently inflate and deflate.
A nominee for the 2013 Turner Prize, Shrigley is known for his comic drawings infused with ironic texts about everyday situations, common human passions and weaknesses, life and death, good and evil, the popular neuroses of the moment, and political satire. His style balances somewhere between childish naivety and the nihilism exhibited by an adult encrusted with rank experience. Equally present are heartfelt laughs, snide sarcasm, and black humour. Shrigley's works have been exhibited at London's Tate Modern and New York's MoMA, as well as in Paris, Berlin, Melbourne, Munich and elsewhere around the world. He has more than 167,000 followers on Instagram. Besides drawings, Shrigley also works in photography, painting, animation, music and sculpture. He has put out more than 20 books, with the latest one, Fully Coherent Plan. For a New and Better Society, having been published just in May of this year; it contains 254 illustrations, all of which have been drawn with his characteristic thick black ink pen on practically starched white paper.
The following is a transcript of a short conversation that Arterritory.com had with Mia Sundberg, the curator of the Absolut Art Collection, in which she reveals that she's wanted to do an exhibition with Shrigley ever since the museum opened.
As nothing is quite as it seems in Shrigley's universe, what was the first thing that came into your mind when David Shrigley presented to you his idea of 'giant inflatable swan-things'?
I first saw the idea in the form of a perfect miniature model of the room with the swans in it – small and cute. It took a moment to get it, to realise what kind of an impact it would have in its full size, but I loved it!
David Shrigley is the sixth artist to have a solo show at Spritmuseum – following in the footsteps of Beatrice Cussol, Keith Haring, Frank Bowling, Dan Wolgers, and Bertil Vallien. You've said that you have been eager to host an exhibition of Shrigley's since Spritmuseum opened in 2012. What makes Shrigley so special in today's art scene?
I have been following him since the late nineties and saw his show Brain Activity at the Hayward Gallery, London in 2012. David Shrigley is a huge presence in the art world, but equally so in the world of pop culture and comics, since his drawings have reached huge audiences outside the general art world. He's a personal favorite of mine among the 500 or so artists represented in the Absolut Art Collection. The collection is the starting point for everything we do in our art gallery.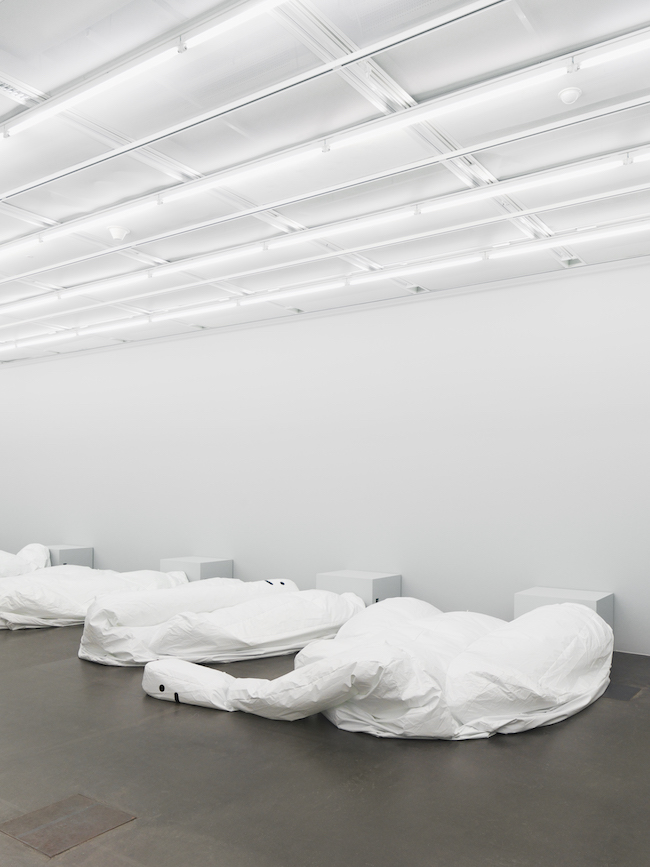 The swans stay inflated for 4 minutes, then they deflate for 8 minutes, and then they inflate again. David Shrigley's works often present a dark side in a rather humorous way. How do you feel when you're in the presence of Giant Inflatable Swan-Things – do you think more about life, or death?
If you ask David Shrigley to speak about his work, he will tell you more or less what you can already see: they are huge swans that inflate and deflate in a cycle; he is not really interested in the interpretations. Part of what is so funny and ambivalent with his work is that it seems to say nothing; it seems like such a meaningless thing to make giant inflatable toys. At the same time, he is playing with classic issues of sculpture, such as positive and negative space. Swans as an art-historical motif are loaded with metaphoric meaning going all the way back to antiquity. And as you say, the swans seem to be in a constant cycle of life and death.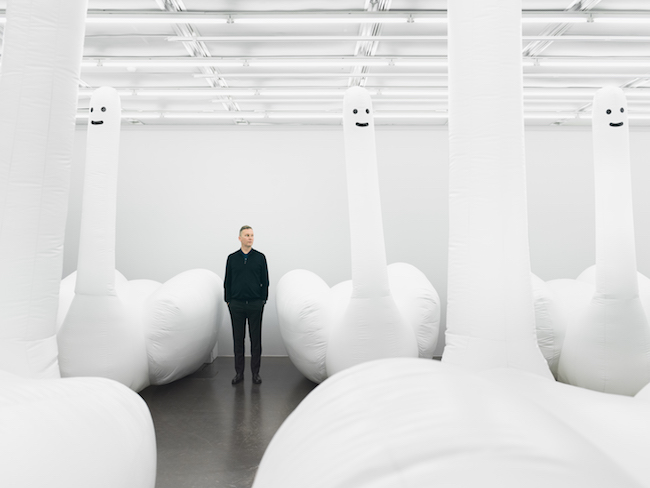 Considering the fact that Spritmuseum is a small and also somewhat odd institution, how do you see it's place (and role) in the current art scene?
We were recently listed as one of the nine weirdest museums in the world, and therefore worth a visit. We're very proud of that – haha! Six years have passed since we moved into this house in Djurgarden, in which the Absolut Art Collection has its own gallery. It has taken a while for the art world to start paying attention to our art projects, but it is slowly happening. More and more people from that world are visiting us, and when they do, they are usually surprised due to more than one reason. David Shrigley's show will open even more doors. But people are also discovering that it's a beautiful spot to hang out in, and that the food in our restaurant is supreme.
What is the main challenge in keeping alive an art collection that is so closely tied to the brand's history but, at the same time, is now finite since the ownership of the brand changed hands?
Exactly this: finding ways of connecting the historic collection to what goes on in art today. The artists that we collaborate with are all represented in the Absolut Art Collection. When we contact them, it's an open invitation – there are no à priori conditions (except a budget) as to what path the project may take, which I think is as exciting for them as for us.
Exhibition of Giant Inflatable Swan–Things by David Shrigley is ongoing at Spritmuseum through March 31, 2019; spritmuseum.se