Master of Contemporary Art at the Estonian Academy of Arts
Express-interview with Margit Säde – the head of the new MACA programme at the Estonian Academy of Arts

18/04/2019
"Education is always important," says Margit Säde, an independent curator and the head of the new Master of Contemporary Art programme (MACA) at the Estonian Academy of Arts. The new master's programme at EKA has been established for those students who want to expand their point of view, develop their thinking and, above all, wish to establish a dialogue with their contemporaries and other art professionals worldwide. The MACA programme not only offers author-focused tutoring for artists and a critical discursive environment for discussions about contemporary art and society, but also access to professional studios of sound art, installation and sculpture, painting, graphic art, etc., as well as collaborations with international gallerists and artists, curators, theorists and philosophers.
Margit Säde is a curator, publisher and artist based in Tallinn and Zurich who has already been a visiting associate professor at EKA; since 2017 she's been the head of the Contemporary Art Masters Programme. In recent years she has curated exhibitions around Europe, including "Score Symposia" at Minimum Bouldering Hall in Zurich, "Hear Me With Your Eyes" at Castrum Peregrini in Amsterdam, "SOURCE AMNESIA" at Oslo10 in Basel, and "And So On & So Forth" at kim? in Riga.
Arterritory.com invited Margit for a short conversation about the new MACA programme as well as her own experience during the last years.
Although the concept of contemporary art has been around for quite a long time now, the academic term "Master of contemporary art" can be understood rather broadly. What is the main focus of new MACA programme at the Estonian Academy of Arts?
Indeed, modern and contemporary art are historical phenomenon of the 20th century and one could argue that contemporary art is, by now, an overused and already outdated term, yet fine arts is even more so. I am sure, eventually, perhaps, something else will step into its place that will critically and fearlessly investigate what it means to be alive today, but compared to the fine or visual arts, contemporary art, in its so many diverse forms, was the most inclusive term, so we decided to call the programme accordingly. The main focus of the new MACA programme is exactly this inclusiveness. It supports a multitude of approaches: it has author-focused tutoring yet collaborative practices, it is critical yet ambiguous, conceptual yet craft-based. We are interested in the bold experimentation and cross-disciplinary approach. The students decide and define themselves what exactly is the core of their studies and we will provide them with the necessary practical and theoretical tools.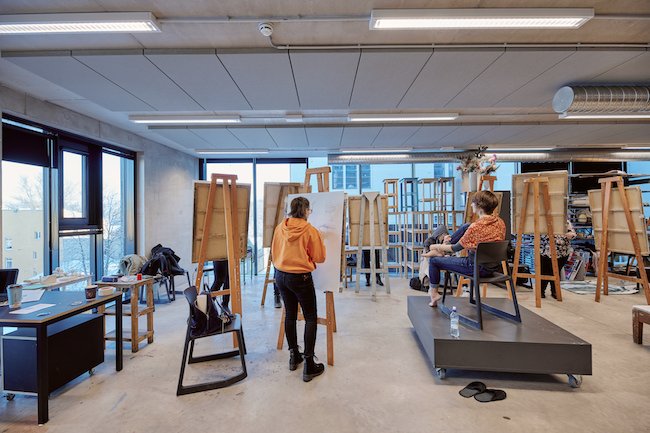 What study subjects does the new programme offer, and what kind of an educational system will it follow?
The MACA programme comprises general theoretical subjects such as Problems of 20th - 21st-Century Philosophy, Art & Theory, Artistic Research, Academic Writing, Creative Industries, and optional subjects.
The faculty's speciality, Studio Project, takes up one third of the semester and gives each student the time and space to just work on their artwork, project, or performance. They are tutored by one selected professor and two associate professors. The Questions of Contemporary Art series gives an option to choose between different topics, for example between sound installation, body and stage presence, artist's theoretical toolbox, exhibition analysis, and trends of visual culture. Throughout the semester, there are many shorter and intensive practical workshops, where one can choose between programming, performative strategies, social media's effects, portrait photography, printing techniques, painting, voice training, everyday rebellion, feminist tactics, radiophonic art, sculpture and installation, etc.
Group Crit prepares you for articulating your topics and discussing and presenting your artistic practice among co-students. Curatorial Project is a collaboration with curatorial students – the course takes you out of the academy to have hands-on experience in planning and carrying out a lecture series, publication, cinema programme, exhibition, or performance night, or to try out any other curatorial format you might be interested in. It is supported by installation practice, which is all about installing an exhibition and, next to the lectures, gives the opportunity to technically install a show or performance in a local art institution. Self-organisation is practiced in small thematic groups in Student Study Group to practice different research and working methods collaboratively, whereas Work Discourse encourages student involvement in the local art scene and the opportunity to discuss one's work with different professionals on a one-on-one basis. There is always a collective study trip organised to visit a larger-scale exhibition or to collaborate with other universities abroad. But yes, we basically have put together a programme that we would have liked to study in ourselves.
The programme for the Master of Arts in Contemporary Art is normally completed in four semesters, with a maximum of six semesters (120 ECTS points).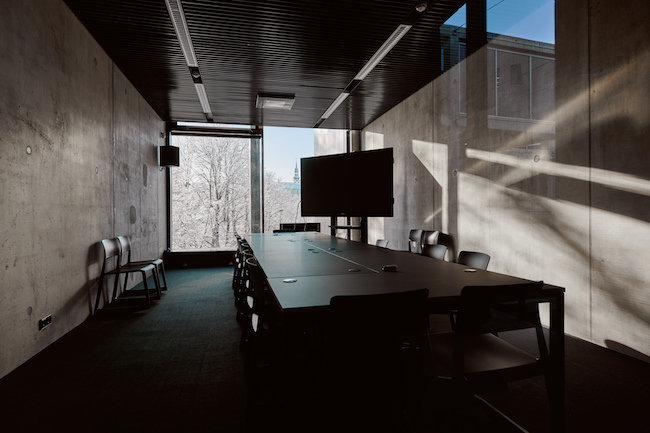 How do you see the MACA programme developing in the long term?
Actually, at this point I am not trying to make predictions too far into the future, as the MACA programme has the face of our current professors and students. As it tends to be, subjects of interest keep changing quickly and every graduating year is very different from the previous one. Nevertheless, I am sure that having the programme in Tallinn will be an enriching factor for our local art scene as well as society at large, where we always need more grey zones, ambiguity, and alternatives to our effective and high-functioning lives.
As the only public university in Estonia that provides higher education in the visual arts, design and architecture, the Estonian Academy of Arts also collaborates with other international art schools and art professionals. How much access will students of this new MA programme have to collaborating with international figures in the art scene?
I guess, like always, this depends mostly on each student's personal ambition; if you are persistent and work hard, eventually your efforts will be rewarded. Of course, sometimes being at the right place at the right time helps. Nevertheless, our programme doesn't take the commercial and client-oriented approach, but rather puts focus on environmental and socially conscious art production. We do our best to prepare students with a basic knowledge of how the field functions; through the many workshops and via individual mentoring with diverse international artists and other cultural producers, we hope to help them find their future collaborators and audience.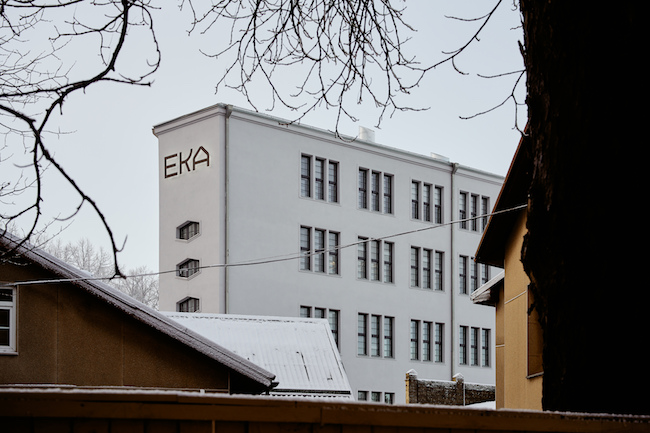 How important, in your opinion, is the need to maintain this kind of collaboration between the art schools of the Baltic states? Do you think that an exchange of students between Estonia, Latvia and Lithuania would increase the stability of the so-called Baltic art scene?
At the moment, there definitely isn't enough collaboration between the art schools of the Baltic states. Thanks to the KUNO and ERASMUS networks, there is some exchange between the Baltics but, at the moment, I don't think we can really prove the existence of a so-called Baltic art scene. I guess the Baltic Triennial, the Riga Biennial, and airBaltic (laughing) are steps towards establishing it, yet there is still a long way to go. The MACA programme hopefully will have its role in it as well – if there is a good international master's programme closer to home, maybe there is no need to go and study in more prominent and expensive European capitals.
You are an independent curator, and over the last ten years have produced more than ten exhibitions in Estonia and abroad. How important do you think an academic education is for a curator nowadays?
Education is always important! It's important to be together with like-minded people, to intensively share knowledge and emotions, figure out things together. Yes, you could be an artist, working from your computer without leaving your home. But try it, and you will very quickly be bored – and what's worse, very lonely. Nowadays we need to work on co-existence on all levels. Higher education in art offers great possibilities in that regard. Plus, there you will meet people whom you will voluntarily keep spending time with for many future undertakings. I guess if one is very self-disciplined and consistent, you could skip academia, but for me it definitely provided a structure, support and lots of inspiration – even if, at times, I was perhaps undermining some of it while studying. In retrospect, everything was good for some eventual purpose, and it helped me to see the bigger picture. I do not think that in order to become a curator one needs to study curating per se – studying critical thinking, visual literacy, and cultural production (in a fine arts programme) is much more essential.
Since 2017 you have been an associate professor at the Estonian Academy of Arts, and have therefore had the opportunity to observe the youngest generation of art professionals. How are they different from you and your contemporaries?
I guess that at this point, they have less experience as they are just starting out. The research methods are very different, and the younger generation does read and write less. At the same time, they grow up much faster and are more serious than when I was a student. There really isn't time to enjoy student life; students now need to support their lifestyles and there is less time for hanging around and taking it easy. Even if saying this makes me sound very old, practically an extinct dinosaur, I do notice that the new generation works and rests differently. But yes, they are definitely much better at Instagram! (laughing)

Margit Säde

What would be your encouragements for potential MACA students?
This is a good occasion to point out the 10 Rules for Students and Teachers by Sister Corita Kent, who was a celebrated artist and educator at the Los Angeles's Immaculate Heart College (1964-1968). The rules were subsequently appropriated as the official art department rules, and they have been immensely inspirational to me over the past years while teaching at the MACA programme.
RULE ONE: Find a place you trust, and then try trusting it for awhile.
RULE TWO: General duties of a student — pull everything out of your teacher; pull everything out of your fellow students.
RULE THREE: General duties of a teacher — pull everything out of your students.
RULE FOUR: Consider everything an experiment.
RULE FIVE: Be self-disciplined — this means finding someone wise or smart and choosing to follow them. To be disciplined is to follow in a good way. To be self-disciplined is to follow in a better way.
RULE SIX: Nothing is a mistake. There's no win and no fail, there's only make.
RULE SEVEN: The only rule is work. If you work it will lead to something. It's the people who do all of the work all of the time who eventually catch on to things.
RULE EIGHT: Don't try to create and analyse at the same time. They're different processes.
RULE NINE: Be happy whenever you can manage it. Enjoy yourself. It's lighter than you think.
RULE TEN: "We're breaking all the rules. Even our own rules. And how do we do that? By leaving plenty of room for X quantities." (John Cage)
HINTS: Always be around. Come or go to everything. Always go to classes. Read anything you can get your hands on. Look at movies carefully, often. Save everything — it might come in handy later.
So to sum up, if you feel you are curious and fear neither a challenge nor stepping out of your comfort zone, the MACA programme is waiting for you!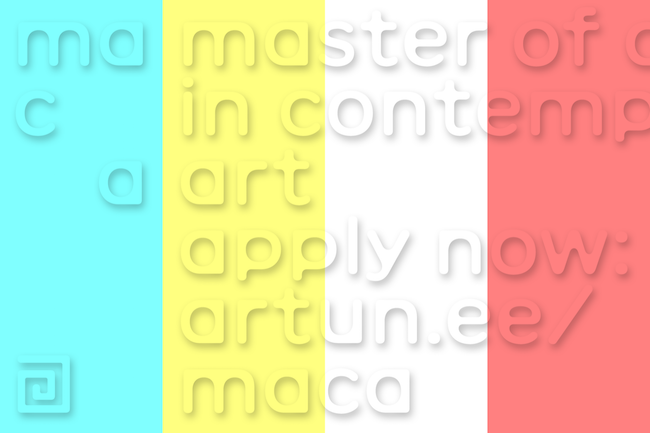 More information about the MACA programme.