BASTIAN prepares to open a new gallery in Berlin
An interview with gallerist Aeneas Bastian
Almost at the same time that most European countries were forced to impose a series of restrictions for controlling a global pandemic that had reached exponential proportions, the well-known Bastian family of gallerists announced the creation of a new gallery in Berlin Dahlem, on Taylorstraße. With construction already underway, the opening of the gallery space is scheduled for autumn 2021. The building, designed by renowned architect John Pawson, will be located on the periphery of a park not far from Grunewald and will respect the proximity and context of the nature park by opting for the typology of a pavilion-like form.
In 2019 Céline, Heiner and Aeneas Bastian donated their gallery building, located at Am Kupfergraben in Berlin Mitte, to the State Museums of Berlin. The latter decided to establish an art education centre there, which subsequently opened on 1 September 2019. That same year the Bastian family also opened an exhibition space in the heart of Mayfair in London. Since the new gallery opened, it has already presented solo exhibitions of Andy Warhol, Cy Twombly, Joseph Beuys, Dan Flavin, and Hans Hofmann.
The new Berlin gallery will continue its exhibition programme of German and American post-war modernism starting with autumn 2021. The exhibitions will be accompanied by public lectures, readings, and concerts.
In the following telephone interview with Aeneas Bastian, the director of BASTIAN gallery, we found out what it means to open a new gallery in the reality of a global pandemic, and how this crisis – with its unknowable end date – could influence the art market.
Why do you feel it is important to open a new gallery space in this time of a pandemic and global uncertainty? How would you characterise the uniqueness of this project in the context of the current state we're in – the so-called 'new normal', as well in terms of the art world in general?
I believe we have to think ahead of the present situation now. And we have to be courageous enough to project ourselves into the future and think about that time when, hopefully, it will be possible to again visit exhibitions without too many restrictions. I also still strongly believe in the power or 'aura' of an original artwork. That is why I believe that even though digital presentation, images, tools and films can do a lot, they will never completely replace the original work. I think that by having a space in London and planning for this new space in Berlin, we will again have two different places where we can actually show original artworks.
Is the focus of the upcoming gallery space in Berlin different from that of BASTIAN in London?
I don't think it will be different, really, but we certainly have projects that will be only for Berlin. And we will have other projects that will only be conceived for London.
How could you characterise the current situation in the art world in Berlin? As we all know, some galleries are struggling a lot, and a number of private collections even left Berlin; for example, me Collectors Room closed down. However, this autumn we also saw the opening of a new art space in the former Berghain nightclub.
I think the situation is quite difficult for most galleries. They are struggling, but they are under pressure for simple reasons. For many galleries, their turnover was essentially based on sales at international art fairs, and not so much from their own Berlin gallery space. So the challenging part for them is that almost all of these fairs have been cancelled or postponed. And it is very difficult now to compensate for that. I think that we at BASTIAN have been quite fortunate to have long-lasting relationships with certain clients who have agreed to buy certain works even if it is no longer possible to view them in person. We were probably less dependent on having physical exhibitions and participating in art fairs compared to others. I think we're seeing a market which is a little bit slower, but in the meantime, I think we are much less affected than many of our colleagues. And that gives me the courage and the optimism to commit to a new location in Berlin.
How did you choose the location for a new gallery?
I think the first decision was to do something that is quite decentralised. With our previous space at Am Kupfer-graben, we used to be very much in the city centre – one could even say at the heart of Berlin, close to Museum Island. And I felt that a new contemporary space could be completely out of the centre. So we are in the South-West, which is also a residential area. We don't have any other galleries near us, but there are quite a number of interesting small museums, so there is some art context there. I believe that we don't have to be in one of the more typical Berlin art gallery districts like Mitte or Charlottenburg.
Regarding the architecture, this time you are collaborating with John Pawson.
I think that working with John Pawson will mean that we have forms that are simple, reduced, and pure. And I think that a kind of clarity and simplicity will not interfere with the artworks – so that the artworks will have a central place. I think that creating this new environment was much like looking for some kind of continuity of simple and pure contemporary forms. When you build a new exhibition space in Berlin, you also have to be aware of the industrial heritage we have here. So I guess that keeping to very simple forms is the right thing to do here in Berlin. It is a very difficult thing to do in London, where you have such great architectural heritage – all these 18th-, 19th-, or even mid-20th-century buildings, which Berlin also used to have before the disasters and destruction of the Second World War. Now I think that what is interesting in Berlin is its modern and contemporary architecture.
Speaking about London, the news just came that BASTIAN's current exhibition, Atelier Picasso, which is devoted to Picasso's years in the South of France, has been extended until 12 December 2020. It turned out to be very successful, especially taking into consideration these challenging times. How do you explain that?
Well, we did something unusual, maybe even a bit crazy: the idea was to evoke or recreate part of Picasso's studios in the South of France – the post-war years, when he left Paris and settled in different places by the Mediterranean Sea, like Vallauris, Cannes, and Mougins. I think the exhibition is immersive; you feel a kind of atmosphere. We integrated pieces of furniture and photographs by André Villers, who was a great friend of Picasso. It is not a typical kind of museum exhibition – it is on a small scale, but you almost feel as if you have walked into Picasso's studio, home, and pottery workshop.
During the first wave of Covid, most professionals said that having fewer art fairs would be the healthiest outcome of this crisis. Is is possible that the role and position of the gallery will come back, and that we will once again see in the art market a return of the personal touch, intimacy, and the true value of art?
I think that we will actually see and witness that, because I believe that many collectors are very much interested in that. Instead of travelling globally all the time from one temporary marketplace to the next, many people would like to focus on certain exhibitions and galleries and take time to have in-depth conversations. I guess that from the collectors point of view, maybe there will also be more time for making decisions – not being rushed to commit.
In the times of artists who are very much in demand or sought-after, it is sometimes a bit distressing to be on a waiting list, so one has to make a decision very quickly. I think a lot of that is going to change, and I have to say that I agree that while these marketplaces like art fairs are needed, there are too many of them. People get confused and sort of thrown between different choices. So I think that this decrease in the amount of these marketplaces means that many collectors have more time to think and reflect now; I think that is a positive aspect. Of course, a negative aspect is that the resulting economic downturn is influencing the collectors whose companies are struggling now. So, I think there really are two sides to the current circumstances, not just negative or just positive. It is a very complex situation.
In your opinion, will the centres of activity in the art world remain as they are now, or will they change?
I suppose that London will remain a major marketplace, and that Berlin will remain one of the most interesting places for contemporary art. I feel that places like New York might be quite affected; I guess it will recover, but it might take longer than many people believe. I do think that New York will be the major art marketplace it used to be, but its recovery will be quite long and it will be a difficult path in the US, I suppose – maybe more so than in London and Berlin.
I have no doubt that London, as it emerges from the pandemic at some point, will still hold as being the major place to be; I don't think that a city like Paris can take over that role.
Are you sure that the art world will survive this crisis – with losses either great or small?
I think so. What I am really worried about are small institutions and galleries run by great people who are passionate, enthusiastic and very knowledgeable, but who work with young contemporary artists who obviously need some kind of income. These young galleries need turnover or sales results. I think that the market will be very difficult, and that economically it might prove to be an existential issue for some. Some of these places, which up to now have been great places to discover art, might have to close at some point if the pandemic continues in the way it is now.
I think we are on the verge of loosing some actors in the art world. In the end, the art world will be a bit smaller, which I think is a loss. I think that what we, the mid-range or leading global galleries, can do is use the resources that we have built up before the pandemic to continue our programmes, continue to grow (if possible), and support others when we can.
Especially since this pandemic has only confirmed the importance of art and its ability to help us survive in these difficult times.
Absolutely. We talked about all these collectors and the galleries who see collectors as clients, but I completely agree that the members of the general public who used to come see our exhibitions are just as important. I think that as soon as we can, we should reengage with them, and in the meantime, we should keep in touch with them via the new forms of digital communication.
Coming back to your very first question, I think that committing to this new exhibition space in Berlin should be seen as a sign of hope that, at some point, we will all be able to enjoy exhibitions again. Whether we are collectors or whether we are just passionate art lovers. It is a very special experience to stand in an exhibition space and have a dialogue with the works in the flesh, so to speak.
Aeneas Bastian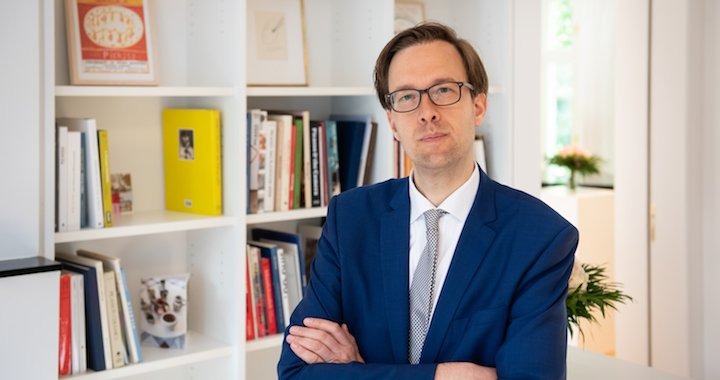 Title image: BASTIAN Berling gallery design by John Pawson, © John Pawson Ltd, Courtesy BASTIAN