We Are Stronger Together!
How art galleries are reinventing their business model in 2020
The knowledge of a stick with two ends is marvellous – in a crisis, be aware of the danger, but recognize the opportunity. What to do when the cultural sector is on lockdown? Anything but sit on your hands – and try to play an active part in the changing art world.
The numerous cancelled major art events around the world this year cannot be replaced, especially when it comes to sales. Currently, art galleries, especially those not in the dominant market centres, suffer from the lockdowns - despite opening hours. The number of visitors alone does not generate enough revenue for the galleries. However, gallery owners should not place all commercial success and visibility in the hands of art fair organizers alone. As a creative industry, we have all the necessary tools to improvise in various ways to make a physical gallery space more than just a postal address that also functions as a "selling booth" all year round.
The Covid-19 outbreak has accelerated already existing trends – the rise of online purchasing, incorporeal money, teleworking, social media, and online content – the main consequence of which will be a continued reduction of 'physical and human contact'. Will these trends have a fatal impact on traditional brick-and-mortar art galleries? The opinion of the Global Director of Art Basel, Marc Spiegler for The Financial Times in June, calms the anxiety. According to him, "the future of the art world is not digital".
Anyhow, views and predictions of what the "new normal" of the art world might look like in the 2020's vary. So far, It's been inspiring to see how galleries have come together to collaborate and to confront a difficult situation as colleagues rather than competitors.
Like many art dealers, NADA (The New Art Dealers Alliance) members had to overcome many hurdles this year, from figuring out how to recuperate lost incomes due to the global pandemic, to finding effective new ways to engage with audiences and collectors beyond the increasingly stagnant online viewing rooms. In this respect, although the limited aspects of online viewing rooms are usually not of a character that stimulates a connoisseur's delicate sensibility, thanks to these virtual art viewing options, many of the art-interested have crossed the barrier from art buyer to collector. As stated by NADA, "a hybridized, cooperative approach seems to be the best solution" — and so the art dealers begin to take the market's reinvention into their own hands.
NADA in Miami and … Riga
Indriķis Ģelzis. Still life with Pencil Neck and Gigglemug, 2019 Steel, MDF, veneer, metal primer, varnish 155x138x21cm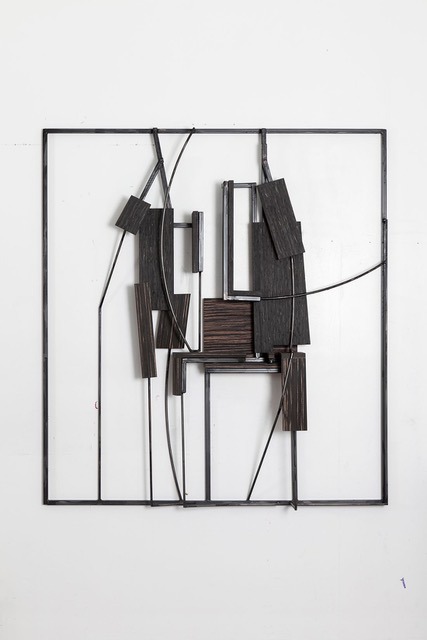 This year, from December 1 to December 5, NADA is presenting the 18th edition of the organization's flagship art fair in a redesigned format. The new decentralized event features an international series of presentations, both online and at multiple participating galleries around the world. Accompanying the fair, the virtual programming series will continue to showcase conversations and performances from the defining voices of contemporary art and culture. Out of more than 90 participants in the upcoming NADA Miami program, 27 are first-time exhibitors, including the well-known contemporary art center Kim? in Riga.
Exhibitors were encouraged to arrange in-situ presentations to accompany the fairs online platform. Kim? (acronym Kas ir māksla?, Latvian for What is art?) took up the call in a novel way by establishing an alliance with two other Riga-based project spaces Low and 427. This resulted in five different shows featuring works by emerging Latvian contemporary artists both online and in-person. All three institutions' collaborative sales exhibition titled "Black Market" will open on December 1 and will run until January 31, 2021 in Kim?. A special highlight from the online presentation of gallery Kim? is the works of internationally working Latvian artists Indriķis Ģelzis un Elza Sīle.
Elza Sīle. Top-down and the vertical becomes negative, 2020 Gelatine, graphite lead, waterslide transfer, correction marker and oil paint on hand-tapped aluminum plate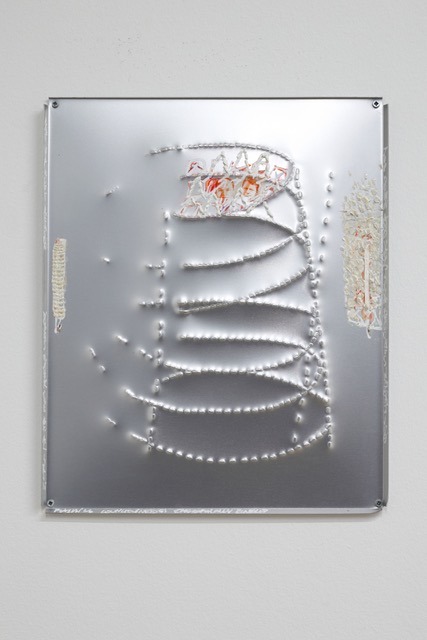 Borrowing its name from the 1990s post-Soviet reality with clandestine markets all around the Baltics, this improvised art fair booth embraces the underdog status of the Riga art market scene with an attempt to overcome the curse of never being legal or financially viable. The offer includes the recent works and series from Riga affiliated or Riga bound artists selected by the three galleries and curatorially arranged by the host. "Black Market" is a socially responsible event and will follow social distancing protocol and local guidelines to protect staff and visitors.
"We saw this as a great opportunity to put Riga's name on the world art map. ", comments the executive director at Kim?, Elīna Drāke on stepping into the new terrain. "This year's NADA Miami format offers a platform where we knew that we could purposefully highlight not only Kim?, but also our Riga-based partner institutions 427 and Low." For more than 10 years Kim? has been an active advocate in promoting contemporary art and artists from Riga, with persistent focus on international audiences. "Oftentimes Kim? functions not only as the non-profit platform for exhibitions and projects, but also as an advisor for collectors, institutions. ", Drāke continues. "It is therefore, seeing how much has changed including how much Kim? has contributed in terms of supporting and to an extent shaping artist careers from one end and at the same time noticing how little has changed in terms of the Baltic art market and especially Latvia's gallery offer and collectors interests. We see it as almost a necessity to add certain gallery functions to our otherwise exclusively non-profit profile." Zane Onckule, director of programming at Kim? says she hopes that this step will foster and diversify the "otherwise non-existing art market in Riga," calling it a "reverse hybridization" of what major galleries like David Zwirner are doing by expanding from market-based work into the institutionally-geared work of research and publishing.
When asked about experiencing art online, Elīna Drāke personally believes that it is possible to appreciate a work of art online, but better if the body of work of a particular author has been previously seen in real life.
CHART Art Fair 2020
CHART Darja Bajagic Destruction and misery are in their ways, 2015 Galleri Golsa, Oslo
Adapting to a changed reality in light of the global pandemic, Copenhagen's CHART art fair moved from its home venue of Charlottenborg in Copenhagen into 28 art galleries across the Nordic capitals; Copenhagen, Helsinki, Oslo, Reykjavík, and Stockholm. Each gallery presented its CHART exhibitions and hosted talks and events in their own gallery spaces during 28 - 30 August.
Among the participants were some of the leading galleries in Scandinavia such as Galleri Nicolai Wallner (Copenhagen), Nils Stærk (Copenhagen), Galerie Nordenhake (Stockholm, Berlin, Mexico City), i8 Gallery (Reykjavik) among others.
In a strong collective statement, all participating galleries were showing 100% women artists to highlight the structural challenge of gender imbalance in the art industry. This curatorial decision undoubtedly pushed the limits of how an art fair can impact the art scene and market and organizers have carefully considered how to create lasting effect and value for the participating artists.
Alongside the fair, a program of talks, performances, screenings and online programming were organised within the galleries to enable audiences to engage even closer with the artists and artworks. Fairs mission is to re-start the Nordic art scene, reconnecting local and international communities in a responsible and sustainable way.
Basel By Berlin
Art Basel OVR Konig Galerie Exhibition view by Trevor Llyod Konig Galerie 2020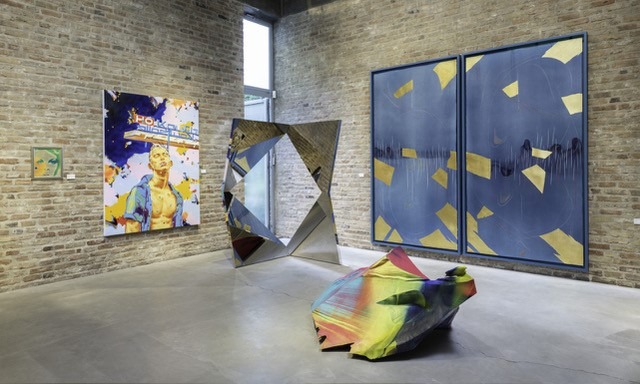 Basel by Berlin x Gallery Plan B (Berlin, Cluj) exhibition view. Adrian Ghenie. The Uncle 4. 2020
In June, after the Swiss edition of Art Basel was canceled and transferred online under the name of Art Basel OVR (Online Viewing Rooms), an unexpected initiative, Basel by Berlin, saw daylight. 31 Berlin-area in Swiss fair participating galleries put together their own DIY art fair, Berlin's analogue addition to Basel's digital - of course in compliance with the current safety regulations. The project was held together by the common title, the "official" running dates (17.06–18.06, 2020), and a shared Instagram channel. The galleries were, however, free in how they interpreted the idea as well as in terms of display duration.
MESSE IN ST. AGNES
Promotional poster for the mini-fair Messe in St .Agnes. Image via König Galerie's Facebook.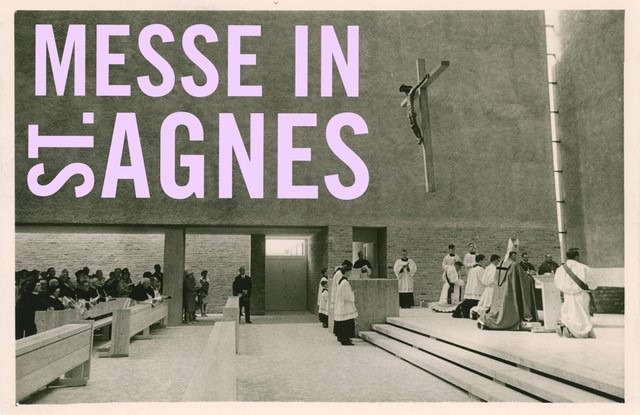 The first MESSE IN ST. AGNES, a sales format for emerging art from the primary market as well as for established art from the secondary market, was hosted in the premises of KÖNIG GALERIE in the former St. Agnes Church in Berlin-Kreuzberg from 17.06-26.06, 2020, in the frame of the aforementioned Basel By Berlin. In the gallery space, a signboard adorned the partition walls, exactly like the ones at the Art Basel. This gesture seemed to pay homage to the 50th anniversary of Swiss fair which the art world could not celebrate together.
Konig Galerie, Messe in St. Agnes, Exhibition view, 2020
The second edition of MESSE IN ST. AGNES took place in September on the occasion of Berlin Art Week. The fair was accompanied by a series of exclusive events such as concerts, readings, and a panel discussion moderated by Hans Ulrich Obrist, Roya Sachs, and Marc Spiegler, among others. It was an impressive step and one of the gallery's most elaborate projects to date, which gallery owner Johann König organized under his own initiative.
Photo from Berlin Art Week website
After the great success of the first two editions of MESSE IN ST. AGNES, the format will be continued in 2021 on the occasion of Gallery Weekend, from 30 April until 2 May 2021. Who knows – perhaps in the future MESSE IN ST. AGNES will actually turn into an "it" fair.
4 Art Galleries In 1
Founders of STUDIO 4 BERLIN - Anahita Sadighi, Katharina Maria Raab, Anne Schwarz, Eva Morawietz. Photo: (C) STUDIO 4 BERLIN Michael Pfister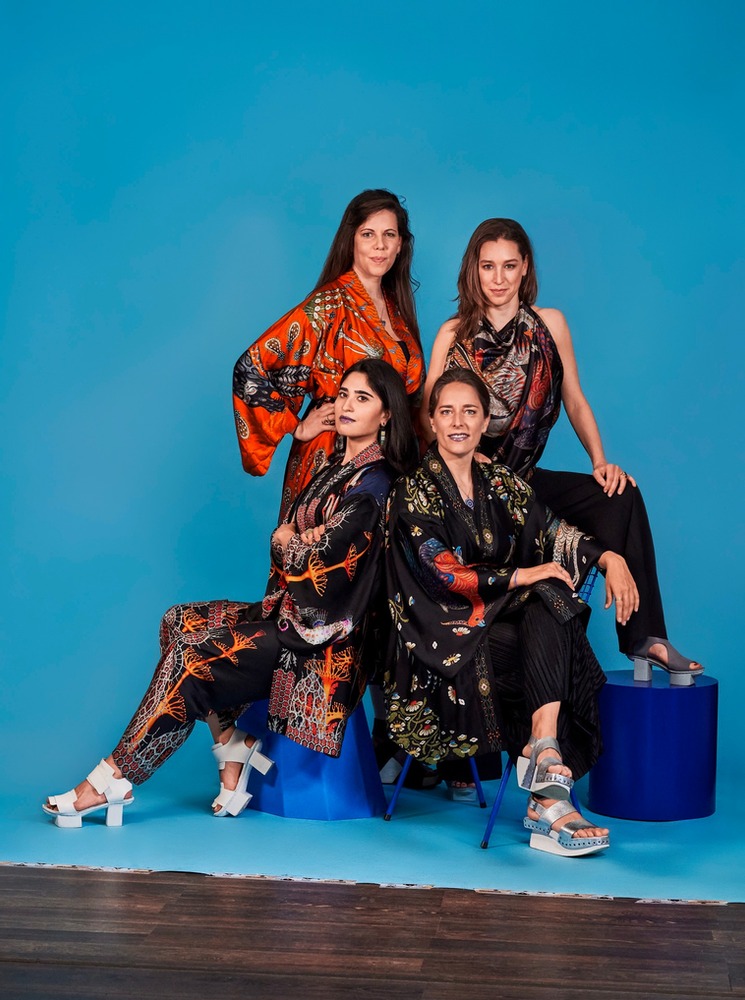 Four gallerists based in Berlin – Eva Morawietz, Katharina Maria Raab, Anahita Sadighi, and Anne Schwarz – dared to experiment in these times of the pandemic in a most positive way. Since July they have run a joint showroom under the name STUDIO 4 BERLIN, which they operate in addition to their individual gallery spaces. STUDIO 4 BERLIN sees itself as a response to an art market in transition and closes the aesthetic gap in the representation of different cultures, epochs, and artistic media. With a declining art market and limited global mobility, STUDIO 4 BERLIN offers a "journey" around the globe and good art advice thanks to the excellent knowledge of international art market and the area of individual expertise of all four founders. Showroom's sales exhibitions and online store offer ancient Asian and Oriental art, applied and contemporary art from the Middle East, North Africa, Europe and the USA. In addition, where else a 35 square meter showroom operates in 6 languages: German, English, French, Italian, Chinese and Persian.
Title image: Artist Crisis Center II-B Fair Gear by Ieva Kraule-Kūna and Elīna Vītola at Low (Riga). NADA Online presentation