A book as an extraordinary exhibition
New release: a book dedicated to the legendary art institution museum in progress
The book "museum in progress. Art in public spaces and in media. IN ONE END & OUT THE OTHER [& THEN AGAIN]", which was released late last year, is a long-cherished and very special project – a tribute to more than thirty years of museum in progress.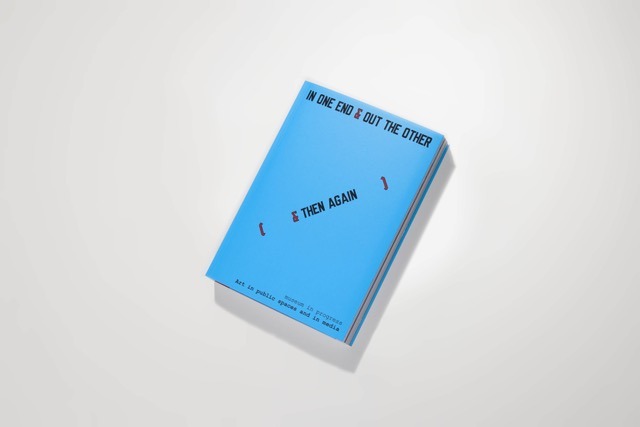 Founded in 1990 by Vienna-born curator Kathrin Messner and Austrian artist Josef Ortner, museum in progress is one of the most visionary museum projects of all time. For more than thirty years, it has not only continued to exist as an institution outside the standard framework; it has also, at the same time, served as a direct embodiment of the fundamental values of democratic society. This dynamic model of existence and an ability to fittingly inhabit places and social structures that already have a voice of their own, thereby creating new models of perception and forms of functioning through contemporary art, have allowed museum in progress to keep alive a culture of discussion and diversity of opinions as well as stimulate the thought process via a wide variety of social platforms. museum in progress proves that art has a voice, but also that the true power of art is revealed in interaction – innovative, extraordinary and sometimes openly provocative interaction. The projects organised by museum in progress are procedural contributions to our common desire for a better world, which, in the current capitalist environment, may sound utopian. But perhaps it is not, if we assume that, according to Joseph Beuys, the whole world is being created as a "social sculpture"…
Featuring a double-cover by Lawrence Weiner and works from more than 250 artists, and texts by such luminaries as Massimiliano Gioni, Kasper Konig, Hans-Ulrich Obrist, Jonathan Meese, Udo Kittelmann, Tauba Auerbach, Christian Boltanski and many more, the book is an extraordinary exhibition presenting new juxtapositions and fascinating successions of artworks. At the same time, it is also a work of art in its own right, vividly embodying the fundamental purpose of museum in progress – to constantly develop and create new forms of contemporary art exhibitions, thus enabling high-quality art to reach as wide an audience as possible.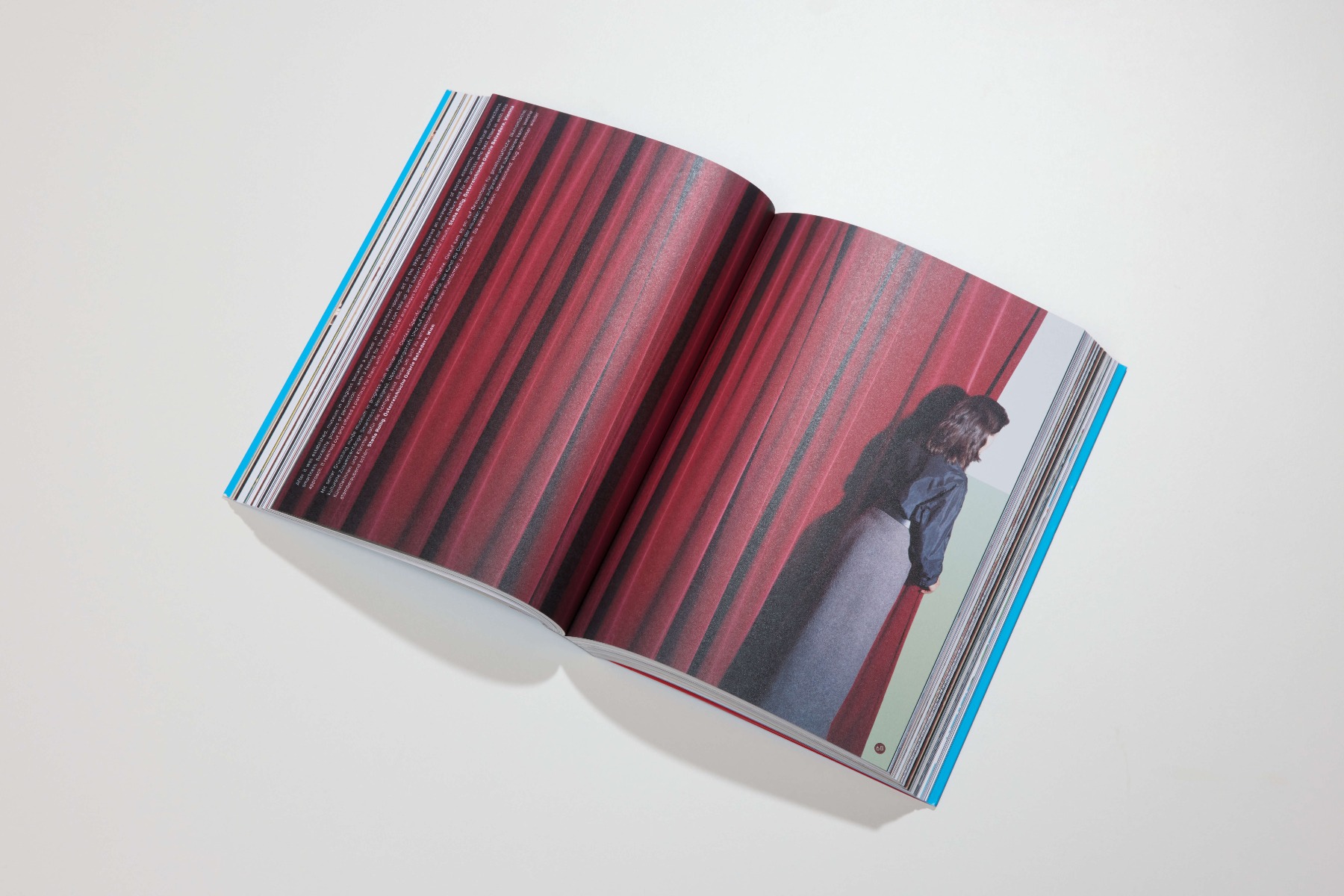 Kaspar Mühlemann Hartl, the director of museum in progress, writes in the book's introduction: "The book cover was designed by Lawrence Weiner for this publication on the basis of a work that the artist realised in 1996 with museum in progress as a newspaper multiple in the daily newspaper Der Standard. His text work "IN ONE END & OUT THE OTHER [ & THEN AGAIN ]" reflects both the layout concept of the publication and the working method of museum in progress. Linearity and conventions are most interesting for museum in progress when they are broken. New insights are most likely to be gained on unexplored paths, whereby discontinuities and contradictions are also quite productive. The unconventional approach "in one end and out the other" thus corresponds to museum in progress's objective of confronting its audience with contemporary art beyond conventional pathways and thereby enabling art experiences that stimulate thought and change points of view. At the same time, Weiner's sentence is also an instruction to the readers of this publication to move through the book exhibition on ever new paths, & THEN AGAIN."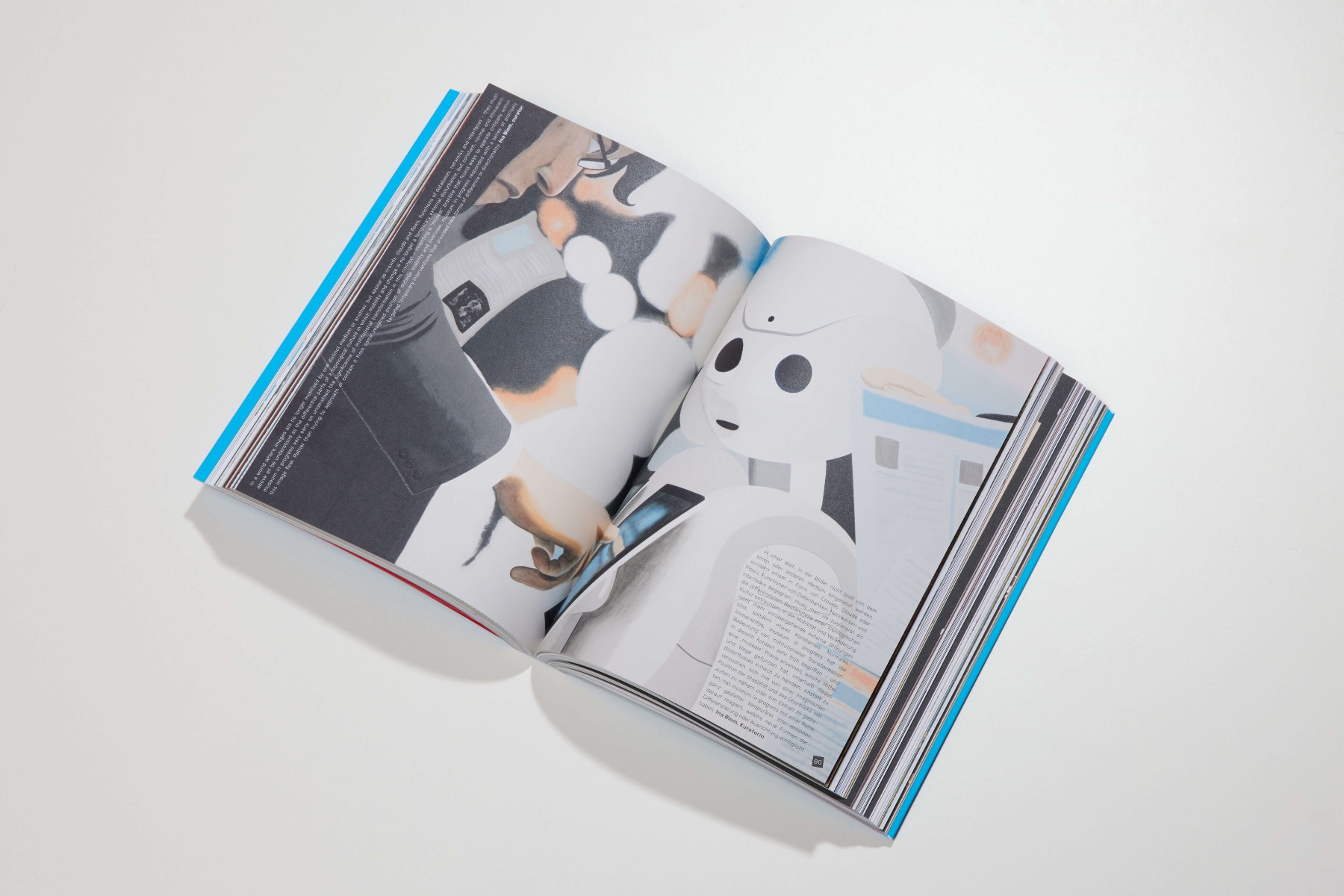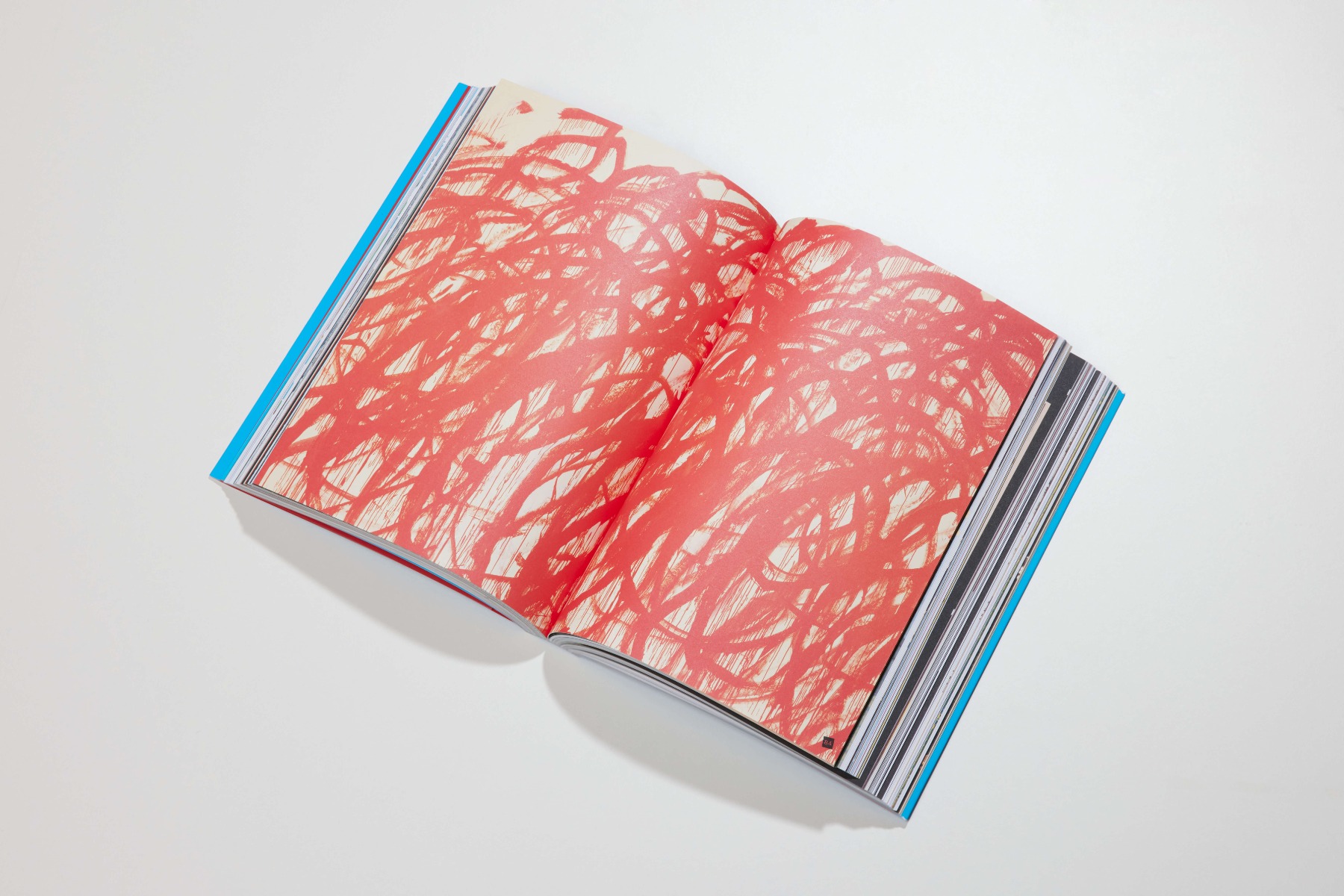 The uniqueness of the edition and the essence of museum in progress itself is also illustrated by the fact that each of the 1000 copies of the book contains a different fragment of American artist Tauba Auerbach's "Safety Curtain", which she created for the 2016/17 season of the Vienna State Opera as part of a long-term collaboration project between museum in progress and the Vienna State Opera. Each of these pieces is essentially a small part – a book-page-sized artwork – of Auerbach's 176-square-metre dot-matrix picture "A Flexible Fabric of Inflexible Parts III." To bring this idea to life, around one quarter of Auerbach's artwork was reprinted in its original size onto PVC and then cut into pieces that fit the book.
"museum in progress gave me a rare opportunity to insert something new into an old space in a purposeful way. The attitude of the organisation's whole history of projects is both sincere and cheeky – a smart ratio of meaningful and fun," writes Tauba Auerbach in her short statement found in the book.
The book itself was designed by Alois Herrmann and has a double-cover, or rather, two beginnings without endings. This makes it an ongoing experience regardless of the time, place or space in which it is opened, conferring continually new viewpoints from the current context of the moment and blurring any boundaries between past, present and future. As in his essay "In Memory of My Friend Josef Ortner", Hans-Ulrich Obrist writes: "Over the years, museum in progress has allowed for an engagement with art that is freed from the conventions of the institution and to conceive of the work of art beyond as a mere object in an institutional space."