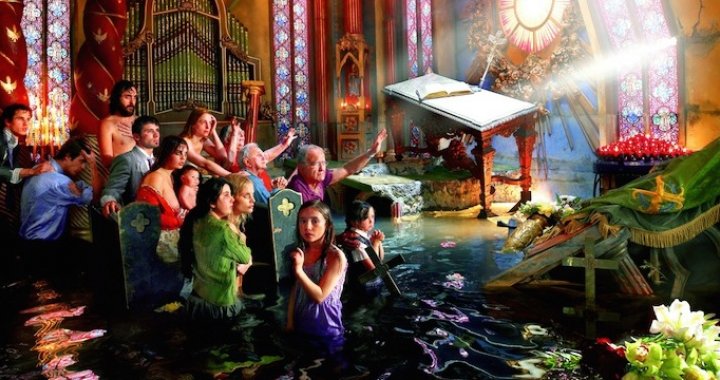 What to expect from David LaChapelle's newest exhibition?

29/11/2012
David LaChapelle "Burning Beauty"
Fotografiska, Stockholm
November 30, 2012 – March 3, 2013
American photographer David LaChapelle (1963) is one of those idiosyncratic, modern-day artists who was discovered by Andy Warhol and offered a job at Interview magazine. The artist began his career in the 1980's, and already by 2003, American Photo Magazine listed him as one of today's most influential photographers. Original and eccentric, LaChapelle is also active in the fields of film, advertising and the fashion industry, and occasionally, he will combine all of these subjects into the carefully orchestrated scenes of his art photography. From November 30 through March 3 of 2013, Stockholm's museum of photography, Fotografiksa, will be showing LaChapelle's photo exhibition, Burning Beauty – a collection of some of the artist's most distinctive works. The pictures on view are saturated with the aesthetics of daily life and consumer products, but at the same time, they point to our overreaching search for the soul – which is paradoxical and grotesque, but also quite fascinating.
To learn more about David LaChapelle's immense solo exhibition, Arterritory contacted Patrik Steorn, the curator behind the Burning Beauty.
A few years ago David LaChapelle announced his retirement from fashion business to concentrate on art photography. What can we expect to see in this exhibition – fashion, art or a mixture of both?
The exhibition covers all periods of LaChapelle's work – the early photographs from the 1980s (which were exhibited in New York galleries and have only recently been shown again), the fashion, celebrity and advertising images from the 1990s and early 2000s, and the art photography from recent years. The exhibition allows the audience to survey the development his work of almost three decades and it includes music videos, magazines and the movie "RIZE". The exhibition also makes it possible to see LaChapelle's recurrent themes and artistic motivations. For example, the religious theme was strong in his early photography but it also appears in his current work.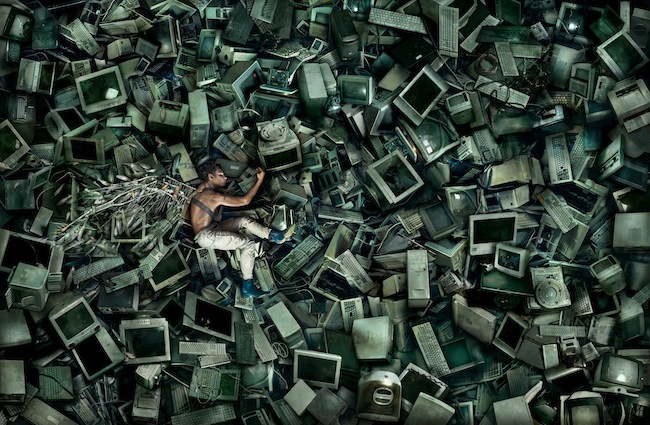 "Icarus", 2012 © David LaChapelle, courtesy of Fred Torres Collaborations, New York
Where does the title Burning Beauty come from?
The title is taken from a sonnet by Michelangelo. In terms of artistic inspiration the Renaissance artist has always been an important reference point for LaChapelle. I would even say that Michelangelo has been LaChapelle's role model, an artist who has made images that really touch people. The title of the exhibition refers both to LaChapelle's passion for spirituality and the divine beauty of humanity, as well as the paradoxical imagery that questions conventional concepts of beauty. This is the full sonnet:
Beauty and The Artist
Al cor di zolfo
A heart of flaming sulphur, flesh of tow,
Bones of dry wood, a soul without a guide
To curb the fiery will, the ruffling pride
Of fierce desires that from the passions flow;
A sightless mind that weak and lame doth go
Mid snares and pitfalls scattered far and wide;--
What wonder if the first chance brand applied
To fuel massed like this should make it glow?
Add beauteous art, which, brought with us from heaven,
Will conquer nature;--so divine a power
Belongs to him who strives with every nerve.
If I was made for art, from childhood given
A prey for burning beauty to devour,
I blame the mistress I was born to serve.
— Michelangelo Buonarroti
"Amanda As Andy Warhol's Marilyn", 2002 © David LaChapelle, courtesy of Fred Torres Collaborations, New York
How did the collaboration with David LaChapelle begin?
The Swedish audience was first introduced to LaChapelle's photos in 2008, when Jan & Per Broman, the founders of Fotografiska presented the artist's solo exhibition in an unconventional gallery space in Nacka, just outside of Stockholm. The audience came in large numbers and the event created much attention and appreciation. This exhibition in Nacka also convinced the Broman brothers to create Fotografiska, a space dedicated to world-class photography. Burning Beauty celebrates this collaboration and allows the Swedish audience to reconnect with LaChapelle through an even more comprehensive display of his work.
Looking from a curatorial perspective, was it a challenge to fill Fotografiska with a single artist's exhibition?
In an early stage we decided that this would not be a conventional chronological exhibition, as previously we had already worked with themes that cut through the entirety of LaChapelle work – "Fashioning the Body", "Religious Attractions", "Captivating consumerism", to name a few. You have to take into consideration that normally there are about four to seven exhibitions going on at Fotografiska at the same time, so this is really an event in itself. The entire space is devoted to a single artist. The seductive and complex features of LaChapelle's creations claim the whole house. He brings together conventions from commercial photography and art. The glossy and evocative imagery is combined with social critique and the quest for spirituality. The motifs deal with various paradoxical questions regarding ideals of beauty, consumerism, gender roles and lifestyle.
"The Beatification: I'll Never Let You Part For You're Always Part of My Heart", 2009 © David LaChapelle, courtesy of Fred Torres Collaborations, New York
Where can David LaChappelle's influence on fashion be seen today?
In the 1990s LaChapelle made us realise that fashion can transgress the ordinary. When I went through magazines from that period such as i-D and The Face, it was really evident to see how the surreal and dramatic images of LaChaplle stood out from the rest. Everyone else was mainly creating realistic and descriptive images. Within his role as a freelance photographer he created a vibrant scene of style magazines. But just like many fashion designers today decide to talk about sustainability and involvement in social issues, LaChapelle's imagery has moved from glossy decadence and luxury to a persistent critique of consumerism, a quest for a spiritual message.
Are we in a golden age of fashion photography?
A lot of ground-breaking work was done in the 1990s that, with the presence of Bettina Rheims, Terry Richardson, Ellen von Unwerth Wolfgang Tillmans, Juergen Teller, could be called the most recent golden age of photography. Today, fashion photography is challenged by bloggers, who publish their photos online. It is still unknown how the fashion photography and fashion magazines will respond to these online, do-it-yourself aesthetics. They can either choose to become more minimal or more theatrical. Which will it be?
"Sarah", 2007 © David LaChapelle, courtesy of Fred Torres Collaborations, New York
What are your personal highlights of this exhibition?
One of LaChapelle's most famous advertising images is "Victory 1945" (1994) with two sailors kissing. The scene alludes to photos from the peace celebrations at the end of the Second World War, but this image was used in an advertising campaign for a jeans label. With this photograph LaChapelle, who is openly gay, delivers an alternative take on what victory photos could have looked like. And thus he presents a different version of history. As a 20-year-old gay guy, I recall the unexpected joy of seeing this straightforward rendering of two men in a sensual embrace. It demonstrates LaChapelle's ability to transcend visual genres, while challenging social norms of gender and sexuality.
Among his latest work, the series "Awakened" has really grown on me. The peaceful humans floating in the enlightened water between life and death give a sense of hopefulness to the viewer.
Stadsgårdshamnen 22
Stockholm, Sweden
en.fotografiska.eu