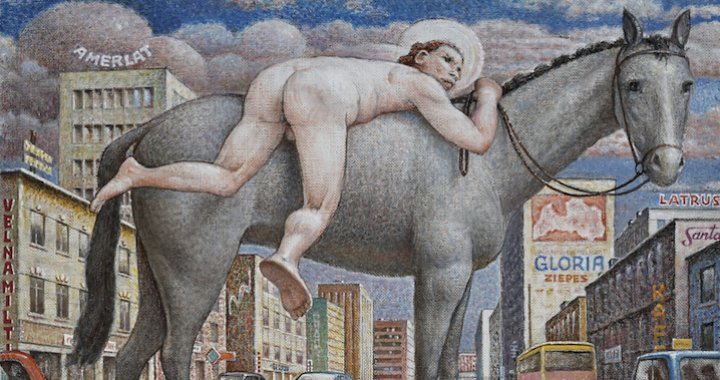 The most unusual stories behind the works in the Zuzāns Collection
As told by Jānis Zuzāns, art patron and collector
23/08/2017
Through September 17, the Latvian National Museum of Art is presenting the exhibition TOP no top / TOP in formation. In concert with the exhibition, the publishing house Neputns has released the first book on the Zuzāns Collection featuring approximately 200 artworks – gems of the collection and pieces that have an interesting backstory.
invited Jānis Zuzāns to share some of the best stories that have arisen from such an interesting pursuit as art collecting, a passion of his that has resulted in a collection nearing 5000 units in size. Each work in the collection has its own unique history – information that Zuzāns was aware of and which oftentimes was the impetus for the piece's procurement.
Although in a previous interview with Zuzāns has admitted that, occasionally, the process of acquiring a piece has turned out to have been more decisive than the artwork itself, in this article we've collected stories on artworks that are notable not only in the context of the Zuzāns Collection, but in the context of Latvia's art history as well. These are stories of persistence in getting a desired object, as well as accounts of the role that others have played in these "art hunts" and the overall developmental process of an art scene. But mostly, these are stories about how one should always heed the cautionary maxim: A great offer only comes by once in a lifetime. These are also stories of the unusual messages which artworks frequently reveal alongside their conceptual content, and their ability to exert an emotional influence on the work's owner.
ACHIEVING THE IMPOSSIBLE, OR, THE FULFILLMENT OF A COLLECTOR'S WISHES

Biruta Baumane. Bērnības atmiņas. Labrenču tirgus. (Childhood memories. Labrenču Market.) 1972. Canvas, oil. 92 x 117.5 cm. Zuzāns Collection
Biruta Baumane
Childhood memories. Labrenču Market
On occasion, the biggest struggle a collector must win is with the artists themselves. It took seven years for the painting Labrenču Market, by esteemed Latvian painter Biruta Baumane, to get into the Zuzāns Collection. Zuzāns remembers that Mrs. Baumane was quite resolute – if she ever sold anything, then only a selection of works that she had selected beforehand. Although there were numerous paintings stacked in her studio's shelves and hanging on the walls, Baumane allowed the collector to select only one of three smallish works that she had set aside. Zuzāns' interest in Labrenču Market and another work from the 1960s was rebuked.
After several years had passed, Mrs. Baumane was ready to sell another piece, and this time she allowed the collector to choose which one. However, Labrenču Market was still off-limits, as were pieces from her circus and sauna series. At the time, Zuzāns selected the large, expressive painting Lauku muzikants (Country Minstrel). However, the next day Zuzāns received a call from Mrs. Baumane in which she said that she hadn't been able to sleep all night because she realized that selling the work had been a silly mistake. He ended up bringing the work back.
Eventually, Labrenču Market did enter the Zuzāns Collection, but only after the artist had passed away.

Auseklis Baušķenieks. Jaunkundze no bildes. (The Young Lady From the Picture.) 1998. Canvas, oil. 86 x 79 cm. Zuzāns Collection
Auseklis Baušķenieks
The Young Lady From the Picture
Art by Auseklis Baušķenieks has been close to Zuzāns' heart since he was a child, especially the works from the 1970s and 80s, a period in which the artist masterfully concealed within completely innocent images an irony critical of the socialist state: "That is the added value of Baušķenieks. The true essence with the pain underneath, and the heightened irony executed so finely that it can only be perceived on a subconscious level."
Zuzāns had had his eye on the painting Blēņu stāsti (Silly Stories), from this same period, but Baušķenieks' wife, Ņina, didn't let him sell it. Eventually Zuzāns did end up getting The Young Lady From the Picture, a work from the same period, but on the sly – he bought it from Baušķenieks while Ņina was out shopping!

Kārlis Miesnieks. Salome. 1926. Canvas, oil. 108 x 168 cm. Zuzāns Collection
Kārlis Miesnieks
Salome
Zuzāns had already noticed Kārlis Miesnieks' Salome back in the soviet era, while reading a biography of the artist. The fate of the effectively dramatic painting had become unknown, but after a lengthy search with the aid of local art people, Zuzāns tracked it down. It was in the possession of the onetime caregiver of Miesnieks' wife, and she didn't want to sell it. Five years passed, with Zuzāns regularly reminding the owner of his interest, until she finally decided to sell it. The piece is one of the most recent acquisitions of the Zuzāns Collection.

Oto Skulme. Portreta kompozīcija. (Composition of a Portrait). 1923. Canvas, oil. 138 x 103 cm. Zuzāns Collection
Oto Skulme
Composition of a Portrait
An absolute legend of Latvian art, Oto Skulme's Composition of a Portrait was a long-term stalwart of the permanent collection of the Latvian National Museum of Art, where it served as one of the main examples of modernist painting in the period between the World Wars.
In the mid-90s the painting was sold to the Ainārs Gulbis Collection, but after a while, the unbelievable happened and it was offered up for sale. Today Zuzāns says: "Such an offer, which seemed incredulous at the time, happens only once in a lifetime. Either you take it, or you don't."
HIDDEN STORIES: A BROKEN TĪDEMANIS AND A PATCHED PURVĪTIS

Vilhelms Purvītis. Rudens laukos. (Autumn In the Countryside.) Late 1920s. Cardboard, oil. 72 x 101 cm. Zuzāns Collection
A broken painting
The Zuzāns Collection had acquired several works by Jānis Tīdemanis, all of which had come from Canada. They were in terrible condition, especially the paintings on cardboard, which had become completely dessicated. As the works were being photographed for inventory, the photographer accidentally tipped one over and it broke in two. After careful restoration and preservation, the work now looks good as new.
A cross over flowers
Yet another of Tīdemanis' works has a hidden history – a 1930s oil painting. First of all, it can be seen that the flowers in the painting have been painted over another older image. Secondly, when lit from the side, it is revealed that the canvas was once slashed cross-wise. "The artist obviously had a grudge, but the flowers have come out fantastically expressive."
An excellent Purvītis on cardboard, spattered with pigeon droppings
The collector once came upon a severely dirty, wrinkled, damaged and pigeon-dropping-spattered painting that was actually a work by Purvītis. Found in a shed not far from the city of Jelgava, it was brought to Riga where it underwent chemical analysis, spectral imaging, and restoration. "From this tattered piece of cardboard, a wonderful Purvītis emerged. And it's quite an unusual one as well – a landscape of Zemgale with fields and a road in the distance, probably heading to Jelgava."
Sugar trapped in canvas
The backs of paintings also have a tale to tell. Mostly they are an indication of the artist's financial situation and standing at the time. Many 19th-century works were painted on burlap canvas that had been used for bags. Some canvases still contained sugar dust, and even though they had been primed, here and there one can still see stamps and lettering spelling out "Latvijas cukurs" (Latvian sugar). Many works also still have labels on the back that reveal in which exhibitions they were shown.
A COLLECTION OF LATVIAN ART PORCELAIN FROM THE INTERWAR YEARS –
from the local market to highly sought-after collectibles

Aleksandra Beļcova / "Baltars". Meitene ar vēdekli. (Girl With Fan). 1925. Faience, hand-painted, gold plating. Ø 35 cm. Zuzāns Collection
A plate by the studio "Baltars" featuring Aleksanrda Beļcova's painting Girl With a Fan
In the section titled "The Collector's Office", visitors can see the Zuzāns family's porcelain collection, including their latest acquisition which was found in America – a plate by the Latvian porcelain studio "Baltars" featuring a painting by Aleksandra Beļcova. The Collection's porcelain section helps illustrate one of the Latvian art market's most recent historical resurrections, namely, the once-forgotten Latvian art porcelain created in the interwar years. The Russian billionaire Pyotr Avens brought the genre – which had been manufactured in studios like "Baltars", "Ripors", and "Burtnieks", and in the porcelain factories of Kuzņecovs and Jesens – back into the limelight. Says Zuzāns: "15 years ago, no one was interested in this porcelain. It was valued at a few hundred lats, at most. Avens began buying it up, and he did this publicly and quite aggressively. Thanks to him, interest rose, as did the prices. At the moment, the price of a "Baltars" plate is dictated by its diameter: one centimeter equals one thousand euros. Add to that a coefficient system – if the painted image is in the art deco or constructivism styles, then double the price. So, a 24cm-large plate is worth at least 24 thousand euros, and if it has an interesting picture on it, then it could go for 50 thousand euros. This segment of the Latvian art market is truly active!"
FIVE POWERFUL STATEMENT PIECES

Kristaps Ģelzis. Karogs. (Flag.) 2013. Polyethylene, plastic adhesive film, acrylic pigment. 175 x 210 cm. Zuzāns Collection
Kristaps Ģelzis
Flag
As one of his most emotionally powerful pieces, Mr. Zuzāns points out Kristaps Ģelzis' plastic-film piece Flag: "So powerful for us, and so deterministic. It's amazing how the artist has achieved such tragedy with the mourning ribbon pictured in the work! It is our country, but we're attaching these mourning ribbons. We can't shake them off. It's aggravating. Let's get rid of the mourning! Time goes on, we have to look to the future. Let's get into formation! We have to think about the nation's achievements. This absolutely genius work always makes me think like this..."

Auseklis Baušķenieks. Gribu tikt zirgā / I Want to Get On the Horse. 1995. Canvas, oil. 55 x 70 cm. Zuzāns Collection
Auseklis Baušķenieks
I Want to Get On the Horse
On this gift given to him by Mrs. Zuzāns in the mid-90s, titled I Want to Get On the Horse, the collector says: "It pictures a horse and a naked man who, having thrown his clothes down on Brīvības Street, is trying to get up on the horse. The work illustrates wonderful allegories on how we were finally free, but naked. We had no coal, no money. In the painting, you can see advertised signs for AMERLAT and LATRUS – it was the time of the first joint ventures being formed; and the naked man on the main drag – getting up on the "white horse of fate". This piece hangs in my office, and it reminds me to get up on that horse and hold on! You have to fight!"

Kārlis Padegs. Leitnanta Glāna portrets. (Portrait of Lieutenant Glāns.) 1936. Canvas, oil. 70.5 x 61.4 cm. Zuzāns Collection
Kārlis Padegs
Portrait of Lieutenant Glahn
My wife says that the Portrait of Lieutenant Glahn is aggressive, that it looks like Satan; but I feel myself in it. The masculine power of men. He's holding a flower, which reminds one that a man can be harsh, but also romantic and gentle. If you've read Knut Hamsun's novel Pan, then you'll recognize that Lieutenant Glahn is like that – a proper man, a wild and robust man, but one who is capable of love."

Andris Breže. Sarkanais kvadrāts. (Red Square). 2012. Insulation material, shoes, tar. 63 x 58 cm. Zuzāns Collection
Andris Breže
Red Square
"An excellent conceptualist work – on the "Red Square", which is now dead; only the rubber boots are left. And [it's a reference to] Malevich's Black Square, which began a whole new era in art."

Līvija Endzelīna. Maija. 1973. Canvas, oil. 65.5 x 38 cm. Zuzāns Collection
Līvija Endzelīna
Maija
Also hanging in the collector's office is Līvija Endzelīna's work Maija, from the 1960s, featuring a girl in a worn coat and a tabletop with a tiny vase of snowdrop flowers. Says Zuzāns: "This piece is so timeless...metaphysical. The little girl's inner emotional world...the mystical in her which is reflected in her face, makes me liken this work to a Latvian Mona Lisa. Its supernatural quality refreshes me; you can't take your eyes off of it, and that's something that makes the acquisition of art worth it."