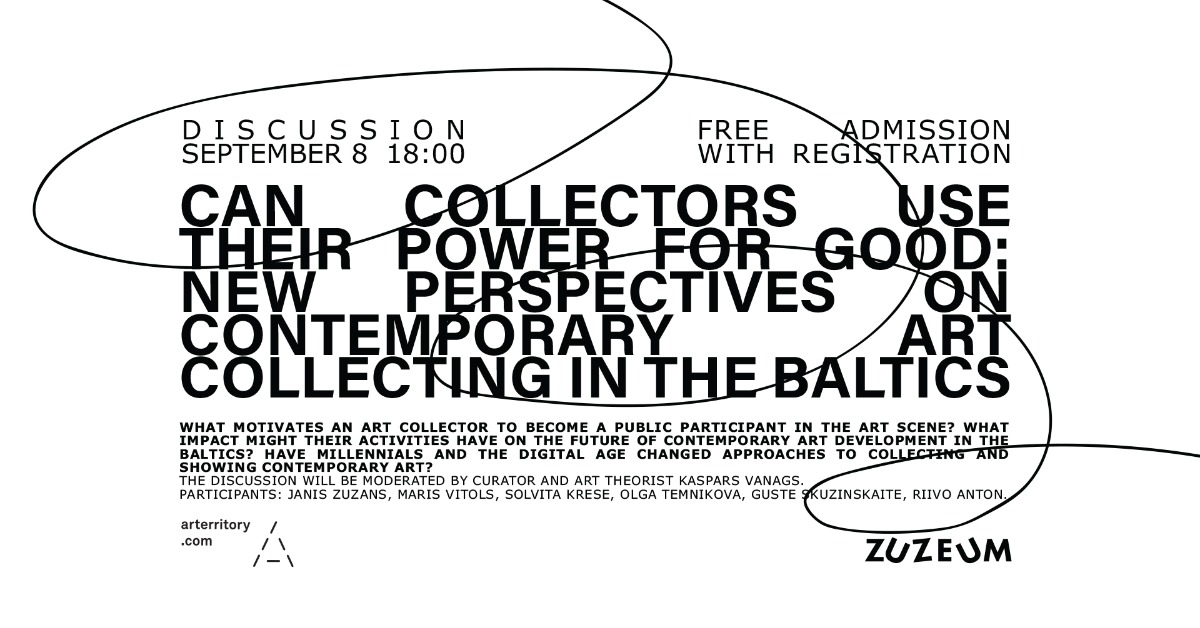 Discussion on contemporary art and collecting
Can Collectors Use Their Power for Good: New Perspectives on Contemporary Art Collecting in the Baltics
Join for a discussion with collectors, curators, and gallery owners in conjunction with the exhibition Growing Out? Growing Up? Contemporary Art Collecting in the Baltics, in partnership with media Arterritory.
September 8, 2022
6 p.m.
Zuzeum Art Centre
Free admission with registration
On September 8 at 18:00 p.m., Zuzeum will host a discussion with curators, collectors and gallery owners on contemporary art and collecting.
What motivates an art collector to become a public participant in the art scene?
What impact might their activities have on the future of contemporary art development in the Baltics?
Have millennials and the digital age changed approaches to collecting and showing contemporary art?
The discussion will be moderated by curator and art theorist Kaspars Vanags.
Participants:
Janis Zuzans (art collector and owner Zuzeum Art Centre and Zuzāns Collection)
Maris Vitols (art collector and curator, Vitols Contemporary)
Solvita Krese (curator and director of the Latvian Centre for Contemporary Art)
Olga Temnikova (art consultant and co-owner of Temnikova & Kasela Gallery)
Anton Riivo, art collector
Exhibition view / "Growing Out? Growing Up? Contemporary Art Collecting in the Baltics" at Zuzeum Art Centre in Riga. Photo: Kristīne Madjare
The exhibition Growing Out? Growing Up? Contemporary Art Collecting in the Baltics introduces to the broad public unique contemporary art collections in the Baltics in the context of social aspects of private collecting. It is one of the first initiatives to unite art collectors in Estonia, Latvia and Lithuania and facilitate public and international access to art in private collections and the emerging art infrastructure in the Baltic countries.
Arterritory is an art and culture website in Latvian, Russian, and English, which focuses on Baltic, Scandinavian, and Russian art and its presence and influence elsewhere in the world.
Kaspars Vanags is a curator and art theorist with a master's degree from the Courtauld Institute of Art, London. He was a founding member of Riga's Open creative collective (1994), which organized interdisciplinary festivals that were a platform for active interaction and synergy between visual art, electronic music, new media, and literature. His latest projects include Slash: Between the Normative and the Fantasy at Kim? Contemporary Art Center, Riga (2015) and You've Got 1234 Unread Messages at the Latvian National Museum of Art, Riga (2018). Vanags also curated the Latvian Pavilion at the 56th Venice Biennale (2015).