The most vivid art event of 2018
27/12/2018
Arterritory continues its year-end tradition of using the winter holidays as a time to look back on the past year in art by inviting old and new friends from among the ranks of artists, curators, and experts to voice some of their opinions.
In 2018, some of the biggest museums in the world organised 50-year retrospectives of the events of 1968; for the first time in its history, the Metropolitan Museum of Art introduced a USD 25 entrance fee (for which it was harshly criticised); the traditional "farewell to the White House" portraits of the Obamas enjoyed positive reviews from art critics; and museums and galleries around the world responded even more to the political events of the day, holding exhibitions that addressed various social issues and provoked controversy. While several auction-house records were again broken, Bansky's Girl with Balloon self-destructed when bidding reached a certain level. The film industry continued to confirm its love for Vincent van Gogh in Julian Schnabel's At Eternity's Gate, and artificial intelligence affirmed its artistic ambitions when an AI-generated painting fetched more than 40 times its expected price at Christie's auction house. Arterritory turned to art personalities both at home and abroad to find out which of the many events of 2018 in the art world left the greatest impression on them.
Joseph Kouli, art collector

Mark Dion, A Tour of the Dark Museum. 2018 @Riboca1. Photo: Kristīne Madjare
The most vivid event of 2018 is undoubtedly the 'yellow vest' movement happening in France right now: common people who not only want to but need to be heard and listened to. This is another expression of the roots that led to Brexit, for instance.
To roughly sum it up, there are two consequences. First, if you no longer believe in tomorrow, how do you talk about today? This is a terrible issue for artists who have increasingly more challenges when it comes to being connected to the world around them.
Second, this is a manifestation of a clash of classes reduced to two: the rich and the poor. There is no middle class anymore. It follows that the following recurring issue can be outlined: is art, unfortunately, a production by the bourgeois for the bourgeois?

If we focus on the art world – and I am being totally honest about this – I was stunned by the energy I discovered in the Baltics. It was an amazing year with the Baltic Triennial curated by Vincent Honoré, and the Riga Biennial curated by Katerina Gregos, which I had the chance to discover. Consistency and ambition with new productions, some risks taken, and a genuine rooting into the dynamic local art scene – that is what we want to see more of.
Viktor Misiano, curator and Editor-in-Chief of the Moscow Art Magazine (Moscow)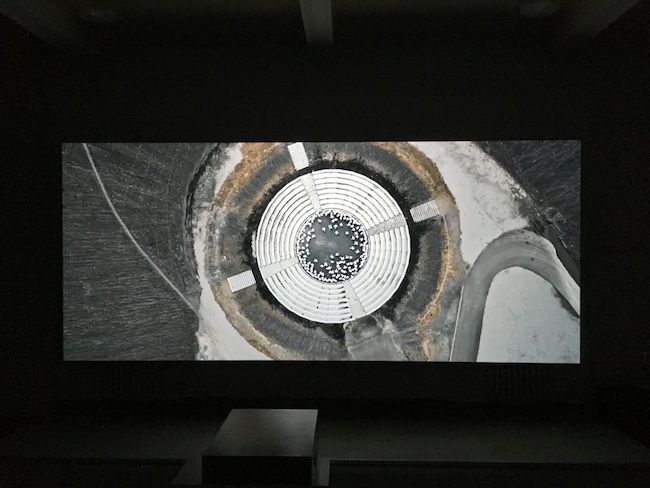 Julian Rosefeldt, In the Land of Drought. 2016 @Riboca1. Photo: Kristīne Madjare
Considering the fact that these lines are a response to a question by a Riga-based publication, I was resisting this answer for quite some time ‒ for many, I presume, very obvious reasons. And yet in the end I decided to stop denying it. It just so happens that ‒ what can I say? ‒ for me personally it was the First Riga Biennial that turned out to be the most memorable event of 2018. There are lots of critical things that can be said about the exhibition; I have a lot of doubt regarding many of the works that were shown, a lot of curatorial and editorial objections... The question, however, refers to an event as a whole, and there is no denying it: the event was a vibrant and memorable one. As a debut biennial hosted by a country and a city with no previous experience of holding an art event of this scale, it was incredibly extensive, solid, spectacular ‒ in other words, memorable. Even the sunshine was unusually bright for the Baltics at the time.
Gil Bronner, art collector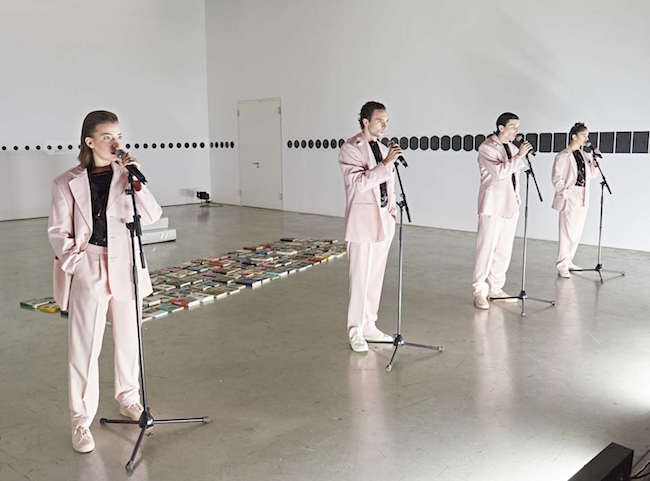 Jeff Koons by Rainald Goetz. A scenic installation at Philara Collection. Florenze Schüssler, André Kaczmarczyk, Jonas Hackmann, Marie Jensen. Foto: Thomas Rabsch
[The scenic installation] titled Jeff Koons, performed at Philara, definitely made the greatest impression on me. It was not an art show but a scenic interpretation based on a book by Rainald Goetz, and put on by the Düsseldorfer Schauspielhaus. It was wild, funny, sad, clever and crazy. It really had nothing to do with Jeff Koons, whose name was just chosen by Goetz to represent imagined scenes from the lives of artists. The ensemble transformed various rooms of the museum into a stage to be followed around, ending with a wild rave party in the main hall.
Milena Orlova, art critic, Editor-in-Chief of The Art Newspaper Russia (Moscow)

Manifesta 12. Giardino dei Giusti. In collaboration with: Giuseppe Barbera, Antonio Motisi, Manfredi Leone, Valentina Mandalari (Università degli Studi di Palermo), Gaetano Cascino (Libera), Piero D'Angelo (Parco Uditore).
To me personally, the most memorable event was the Manifesta Biennial in Palermo ‒ not least due to the charm of the host city itself, which I had not visited before, but also thanks to the artists who took on the role of scouts and guides to its innermost nooks and crannies. The Manifesta press conference, held at one of the city's most beautiful churches, impressed with its symbolism: I felt that I was an adept of a very special world religion, the religion of art. I also loved the Vatican Pavilion on the island of San Giorgio Maggiore in Venice as part of the Biennale of Architecture, featuring contemporary chapels by contemporary architects.
Zane Onckule, Programme Director at kim? Contemporary Art Centre

Installation view of Marc Camille Chaimowicz: Your Place or Mine... The Jewish Museum, New York. Photo: Jason Mandella
If the question is limited to the field of art, then my choice is a rather biased one since I was one of the project commissioners for it – my outstanding event for the year is the 13th Baltic Triennial, over all three of its continuing programmes of exhibitions and performances that took place in London, Vilnius, Riga and Tallinn. Ironically enough, I was, unfortunately, able to experience the Riga portion of it (which was held at kim?) only through photos.
More impartial choices, and each with its own degree of exceptionalism, were my New York art adventures and experiences: the Kai Althoff exhibition at the TRAMPS gallery, which is located on the second floor of a Chinatown supermarket; Polina Olowska's show Belavia at the Metro Pictures gallery; Bruce Nauman's retrospective at MoMA and MoMA PS1; the fashion brand Eckhaus Latta exhibition/shop at the Whitney Museum of Art; and the crazily beautiful Marc Camille Chaimowicz exhibition at the Jewish Museum.
Māris Vītols, curator and collector, head of the association "Latvijas kultūras projekti"
In the context of Latvia and our geographical area, in my opinion, the most outstanding art event of 2018 was the exhibition of the 1st Riga International Biennale of Contemporary Art (RIBOCA) with the subtitle of 'Everything Was Forever, Until It Was No More' (head curator: Katerina Gregos). This art event not only perfectly complemented the Baltic region's cultural calendar, but also strengthened Riga's international reputation as a contemporary art centre.

Wagner: Parsifal - Jonas Kaufmann (Parsifal) & the flower maidens Munich Opera Festival. Photo: Ruth Waltz. © Bavarian State Opera
On a personal level, in 2018 I was most inspired by the excellent world-stage productions of two geniuses of theater and opera, Romeo Castellucci (Italy) and Krzysztof Warlikowski (Poland). Castellucci's production of Richard Strauss's opera Salome with Lithuanian soprano Asmik Grigorian at the Salzburg Festival, and his directing of the Hans Werner Henze opera Das Floß der Medusa (The Raft of the Medusa) at the Dutch National Opera, along with Warlikowski's production of Henze's The Bassarids (Salzburg) and Leoš Janáček's From the House of the Dead (London and Brussels), were, for me, the most surprising and personally meaningful art events of 2018. The phenomenal accomplishment of German painting titan Georg Baselitz in the role of stage and costume designer for the latest iteration of Richard Wagner's Parsifal, at Bayerische Staatsoper in Munich, must also be noted.
Marko Mäetamm, artist

Marko Mäetamm work from serie "Chain Saw", 2018. Photo: www.maetamm.net
Personally for me the most vivid art event was actually Art Fair Vilnius. I wasn't there with any galleries but was invited as a guest artist with my solo show. It was so great to see the passion and the energy of the organisers to make it all happen. And I am so happy to see how the whole event has grown and keeps growing. This region really needs one really good diverse international art fair and I believe this is what Art Fair Vilnius is going to be. It already is!
Alisa Savitskaya, curator of the Volga‒Vyatka branch of the National Centre for Contemporary Art (Nizhny Novgorod)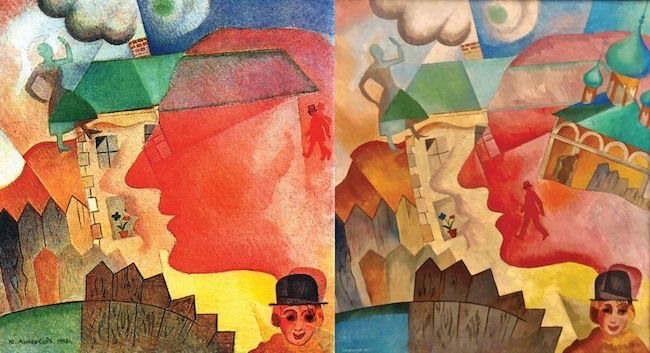 Vladimir Hofmann, the world's leading authority on Yury Annenkov, has pointed out the striking similarity between a fully authenticated Annenkov dated 1918 (left) and a work ascribed to the artist, labelled Synthetic Landscape and dated 1919, which was on display in the Ghent show. Photo: Dieleghem Foundation (Synthetic landscape)
The most memorable events throughout 2018 were centred around an exhibition at the Museum of Fine Arts Ghent (MSK Gent) featuring, as a result of a decision made by the curatorCatherine de Zegher, works by Russian avant-garde artists from the collection of Igor Toporovsky. The 'Ghent case' served to expose, condensed to a maximum, a number of issues of cultural policy, such as: what exactly is a modern museum and what is its future? How and by whom is the history of art written? What are the risks taken on by an art curator? And what are the boundaries of their responsibility towards the relevant institution and the public?
The positive side of the whole story, to my mind, lies in the public nature of the conflict and its progressive upward development ‒ from letters and public statements by representatives of professional art circles to political decisions and change.
Anne Laure Chamboissier, curator, CHAMProjects
It is difficult to answer this question by citing one exhibition more than another. I'll give you a list of three:
-Jochen Lempert's first major exhibition in France at the contemporary art museum in Rochechouart, France. His black and white photographs reflect the multiple forms of life. He invites us to take a close look at the smallest details of things and their poetics.
-Bouchra Khalili's exhibition at the Jeu de Paume in Paris. Bouchra Khalili articulates singular stories and collective history in a fair and sensitive way...and invites us to rethink the communities to come.
-Alejandro Cesarco's video film Learning the Language (Present Continuous I) at the Jeu de Paume in Paris. In this video, he sketches the possible echoes that exist between music and language, as well as opens up the viewer to multiple interpretations.
Agniya Mirgorodskaya, Commissioner of the Riga International Biennial of Contemporary Art (RIBOCA)
The most memorable art event for me was the Bacon‒Giacometti show at Fondation Beyeler in Basel. It was the first ever two-man exhibition where the focus was on the connection between the two artists, on the similarities and differences in their art. I believe that it was the most significant event, considering that both artists have greatly influenced the art of today. Both self-proclaimed realists, they chose the human figure as their point of departure, exploring ‒ each in his own way ‒ the new extremes of abstraction. What I found striking was the sheer scope of the show (approximately a hundred works) and, as ever, the impeccable work of the curators. The exhibition was divided into nine subjects housed in 9 rooms, each of them ‒ a unique opportunity to view works by the two artists side by side.
Ivars Drulle, artist

Boris Lurie LOAD, 1972. @ exhibition '1243 text messages'. 1972.
The year 2014 was celebrated in Europe as the 100th anniversary of the First World War, and this year, it was the official end of that war that was widely celebrated. Both this theme and that of the centenaries of various small countries were well funded from the coffers of art foundations, some of which resulted in great art projects. In Latvia, except for the '1243 text messages' exhibition that took place at the very beginning of the year, I didn't notice anything exceptional. In a European context, however, The Head & the Load, a performance – or 'four-dimensional drawing', as its director, William Kentridge describes it – was a standout. Set during the First World War, the production was shown seven times at Tate Modern, and the hour-long performances were available on HD video for 30 days. Kentridge was also named (by Māris Vītols) in the Outstanding Event category in the 2017 Arterritory survey of The Year in Review, which suggests that he is currently at his peak. It is safe to say that those who have been able to give him the impressively sized budget necessary for the creation of his work have acted wisely, and the results are definitely worth it.
A link to the recording of the performance.
Vita Liberte, founder of the VV Foundation and a patron of the arts

Artist Daiga Grantiņa's installation at the Baltic Triennial in Tallinn. Photo: Karel Koplimets/Tallinn Art Hall
In my opinion, the vibrancy of RIBOCA manifested in its Lutheran overture – for five consecutive months, everyone had the opportunity turn off the autopilot switch and think about how the acceleration of time and technological progress affects their existence. Most of the works were so uncomplicated that they were successful at visually and emotionally addressing viewers who were not specialists in contemporary art. And at last, people in Riga we were talking about the future instead of weeping about the long-lost past. However, if the ambitiousness of RIBOCA gave both a quantitative and qualitative impression that the presence of contemporary art in Riga would be 'eternal, it nevertheless did cease'. Which is why it is impossible to not mention other outstanding events, including the Baltic Triennial and the Riga Photography Biennial, both of which brought high-quality, interesting works to Riga. I'll just modestly mention that in April, the works of Laris Strunke were on exhibit at the Railway Museum.
Valentin Dyakonov, curator, the Garage Museum of Contemporary Art (Moscow)
For professional reasons, I have been taking particular interest in South Asia this year, and therefore the two most memorable events to me where my visits to Dhaka Art Summit and the only Indian biennial in Kochi. This year's edition of the Dhaka Art Summit comprised a number of individual exhibitions, each one better than the last. Sharmini Pereira in One Hundred Thousand showed the post-war art of Sri Lanka. Cosmin Costinas from the Hong Kong Para-Site did a project entitled A Beast, a God, and a Line with a very vast geography and slightly vague structure. Planetary Planning by Devika Singh, on the other hand, was a strictly structured project dealing with the reception of international style in South Asia. Plus, a session of the Norwegian Critical Writing Ensembles project dedicated to indigenous nations living in a territory expanding from Finland to Australia. The biennial in Kochi, mounted by the artist Anita Dube, focused on familiar and, to an extent, well-explored subjects (art as a platform for dialogue and collaboration; fair representation of genders); what it did, though, was tackle these problems with incredible directness, without any exhausting academic elaborations and superstructures. To me, both Dhaka and Kochi were, on the one hand, an important experience of decentralization. We do not even notice how we rate different art scenes depending on the stability of investments in the working institutions. If there is a network of museums, galleries, art fairs and biennials ensuring a certain circuit of names and works, it means the scene is well-developed and, by default, a good one. Whereas in reality, in places where there are no institutions, or they are hanging by a thread, artists often create much more intense artistic identities ‒ a sort of involuntary futurists, as it were. You can see it in Russia, in India and in Bangladesh. On the other hand, new locations are emerging and developing in front of our eyes, and their influence is growing.
Inga Lāce, curator at the Latvian Centre for Contemporary Art
Instead of choosing one event, I would like to say that in 2018, I was inspired by a number of artists who try to look at history differently, revealing the various colonial and gender, class, race, etc. issues that continue to influence both the world order and the things that we are still learning, hearing and seeing in exhibition halls. Also inspiring were all of the curators and artistic institutions of various sizes that work with these artists, and who are also reviewing the art history of modernism by underlining the artists that have been overlooked, and are responsibly thinking about institutions as platforms for representation that will determine what kind of stories are being told and who will be the voice that tells them. Notable examples include the Villa Vassilieff in Paris, which focuses on the Paris art scene from the early 20th century to the present day and emphasizes its migration history and diverse population; and SAVVY Contemporary in Berlin, which has a highly decolonial approach. Khartoum Contemporary Art Center, a 'cultural centre in exile', was founded by the Norwegian-based artist Cassius Fadlabi from Sudan and is based in Oslo while it awaits a time when it will be politically feasible to relocate to Khartoum.
Artūrs Analts, designer

Photo: Ed Reeve
I'd have to say that for me, this event was the London Design Biennale – an event that gave us the opportunity to represent our country and our culture to a much wider audience. I even heard rumors that the British royal family had discussed my work. I hope that this will be a stepping stone to a larger art market for both me and other young artists.