A car park as a metaphor for the way 2020 feels like
Elmgreen & Dragset turn the EMMA-Espoo museum of Modern Art into a car park
Finland's EMMA – Espoo museum of Modern Art – is presenting the exhibition 2020 by well-known artists Elmgreen & Dragset (Michael Elmgreen [born 1961 in Denmark] and Ingar Dragset [born 1969 in Norway]) through 17 January. For the show, the museum's 1960s-era, 5000 m2-large building built in the Brutalist style – which in a former life was the Weilin & Göös Printing Works – has been transformed into a car park with all of the usual signage and markings. Exhibited are both past and current works by Elmgreen & Dragset. The duo has worked together since 1995, and the exhibition at EMMA also marks the 25th anniversary of their collaboration.
Elmgreen & Dragset, The Wait, 2013–2020. Private Collection. Photo / Kuva: Paula Virta/EMMA
"This year, 2020, feels quite like the atmosphere one would experience in a car park – something you want to leave soon after you have entered," the artist duo states in the exhibition's press release. "Parking garages seem to correspond to a darker place in the human psyche. It is at this particular moment in time, as a general scepticism towards constant expansion and speed looms and a global pandemic further pushes debates on mobility, that we stand to turn EMMA into a car park".
This is not the first time that cars have been used in the duo's works, but it is the first time that Elmgreen & Dragset have devoted a whole show to the topic of automobiles as cultural signifiers. "More than most other design objects, cars can reveal a lot about the power structures in our society," the artists say.
2020 by Elmgreen & Dragset at EMMA – Espoo Museum of Modern Art Sep 26 2020 – Jan 17 2021. Photo: Paula Virta / EMMA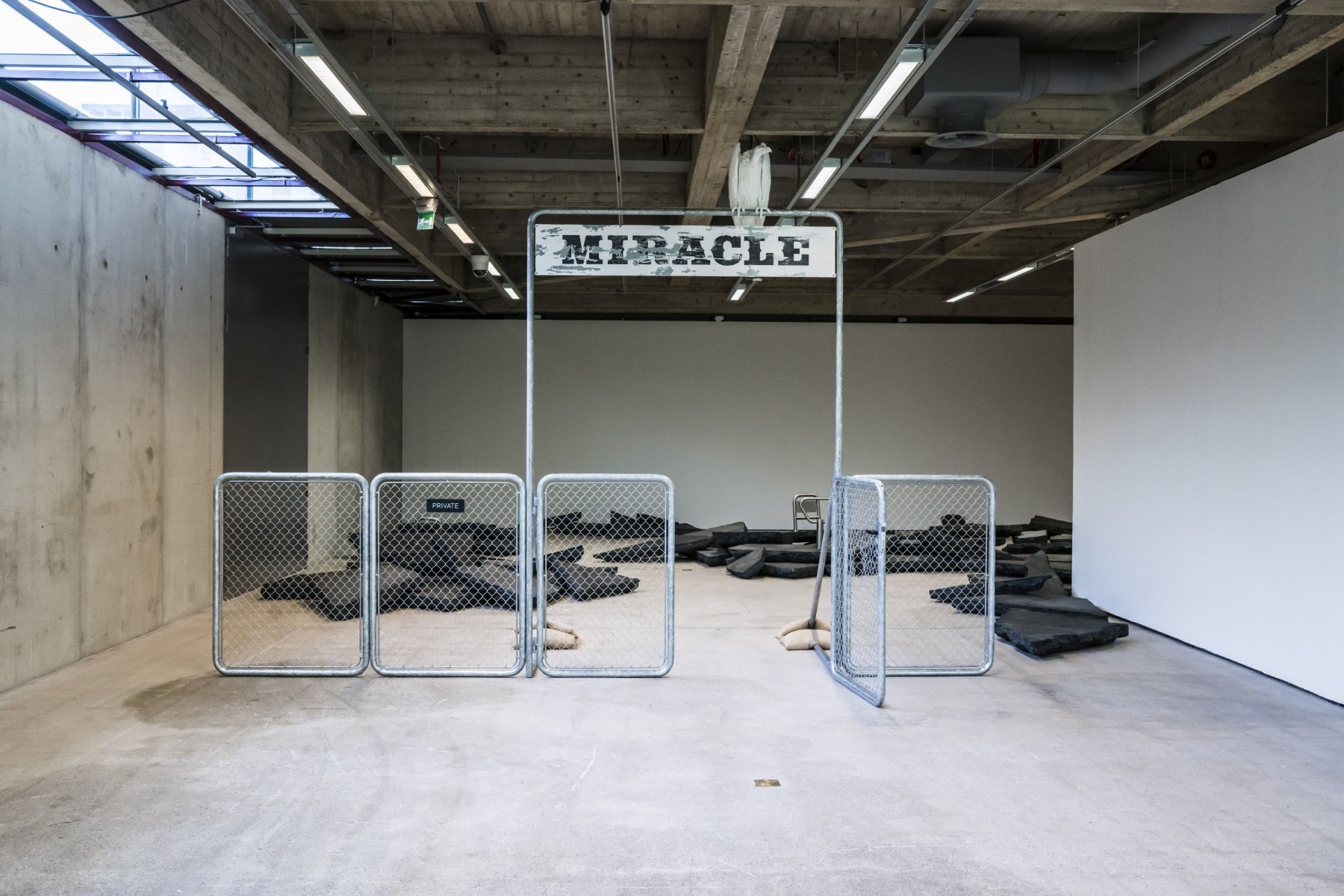 In the exhibition's accompanying essay, "On Parking", Elmgreen & Dragset write: "It was not our first concept for our scheduled exhibition there, but when this idea arrived, it quickly pushed everything else aside and settled in as if it had been there from the very start. (...) The vast, bare space seemed to be a natural place to park ideas that had circulated in our work for a long time. We have often conflated gallery and museum spaces with other sorts of institutional or civic spaces – transformed the minimal design features of the so-called white cube into environments closer to our everyday reality, such as an underground station, a hospital ward, an airport, an abandoned public swimming pool, or a domestic setting. The spatial transformation can trigger a moment of surprise, an experience of alienation by the viewer, which has the potential to sharpen the viewer's perception. However, dressing up the gallery space 'in drag' can also create a more direct familiarity since the space suddenly can remind us of other less 'arty' contexts from our everyday lives. People that have followed our practice over the years are familiar with this approach.
Elmgreen & Dragset, Trap, 2020. Peugeot Cabriolet, taxidermy rat, car jack. Courtesy of the artists. Photo: Paula Virta/EMMA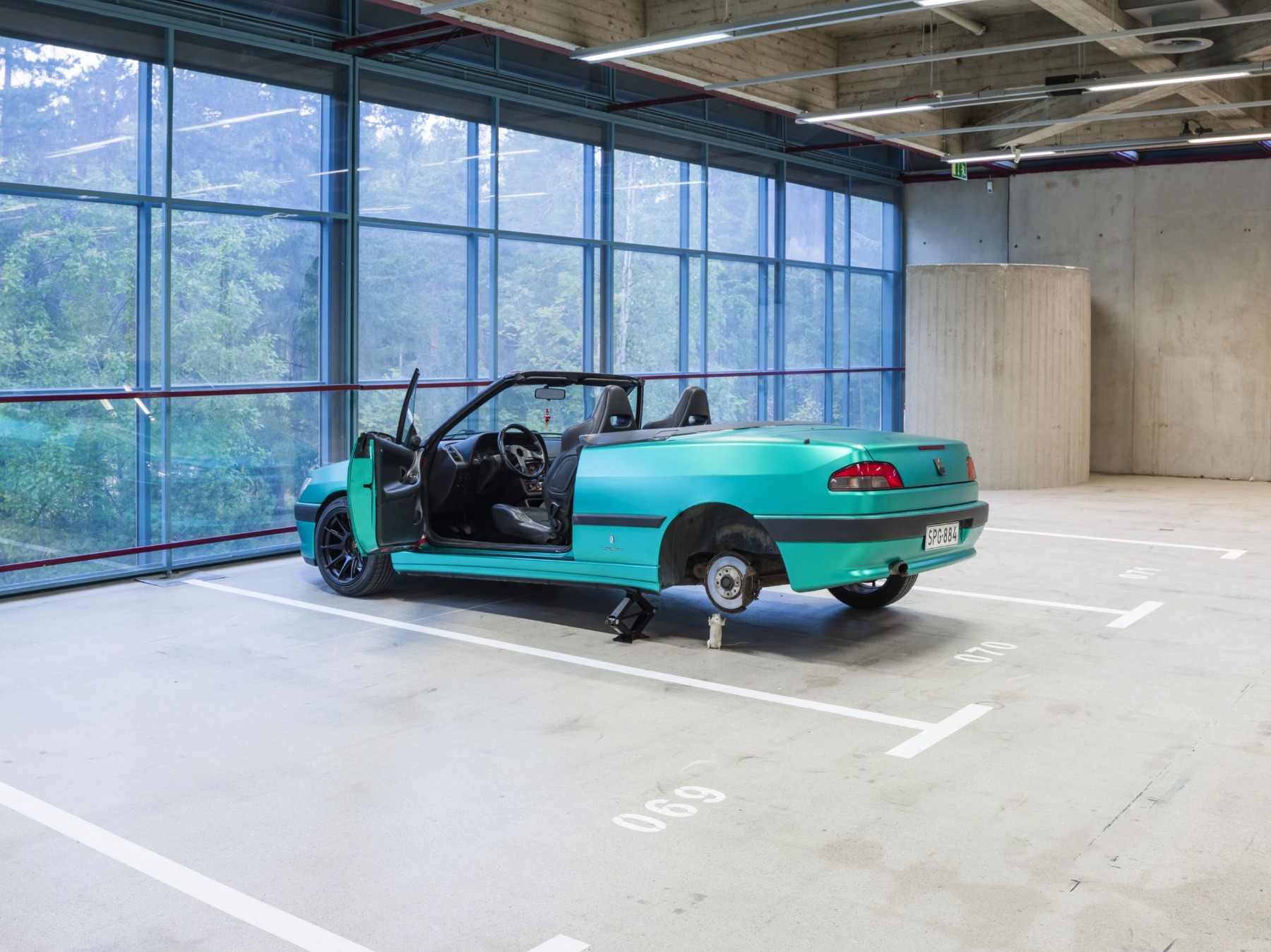 What is lesser known and has – until now – even slipped past our own radar somehow, is the relatively frequent use of cars in our art works. Why cars? The sociologist Karen Lumsden has pointed out the absurdity of the lack of social science around cars, considering there are almost 1.5 billion of them in the world. 'The role of the automobile is shaping landscapes, social relations, gender roles, everyday routines and urban life', Lumsden writes. 'Traffic largely dictates the design of space – both urban and rural – thus structures, and defines our experience of, and negotiations through, everyday life'.
"We have never perceived ourselves as 'car freaks'. We currently lease a pick-up truck that we share with our studio and another Berlin artist, and it's not in daily use or of any great importance in our lives. That being said, Michael knows everything about cars. Models, engines, cylinders, horsepower, acceleration... He's had an obsession with cars since childhood. The only problem is that he doesn't drive. But that never diminished Michael's adolescent infatuation with cars as design objects, so whenever there has been a motor vehicle involved in any of our art projects, he has happily taken the reigns in the process of selecting the right model. He would consider the design and tech specifications as well as what that particular car brand would signal socio-culturally at that particular time in history, the brand and the specific model's symbolic value in relation to class, taste and norms, and what a certain car can tell us about our visions for the future at that given point."
2020 by Elmgreen & Dragset at EMMA – Espoo Museum of Modern Art Sep 26 2020 – Jan 17 2021. Photo: Paula Virta / EMMA
The car park concept addresses some of the central questions in Elmgreen & Dragset's artistic practice such as the privatisation of public space, marginalisation, and the loss of communities. 2020 not only raises questions about the role of the car in modern society and what it means culturally, but also about that part of public architecture which can be described as "non-places" or transitional spaces, as the car park can't really be described as a destination in itself.
The exhibition – the melancholic, half-abandoned car park – also begs the question: What will happen to intimacy after 2020, a year of social distancing and a heightened fear of sharing physical space.
Ingar Dragset, Michael Elmgreen 6.3.2020, EMMA, 2020. Photo: Ari Karttunen / EMMA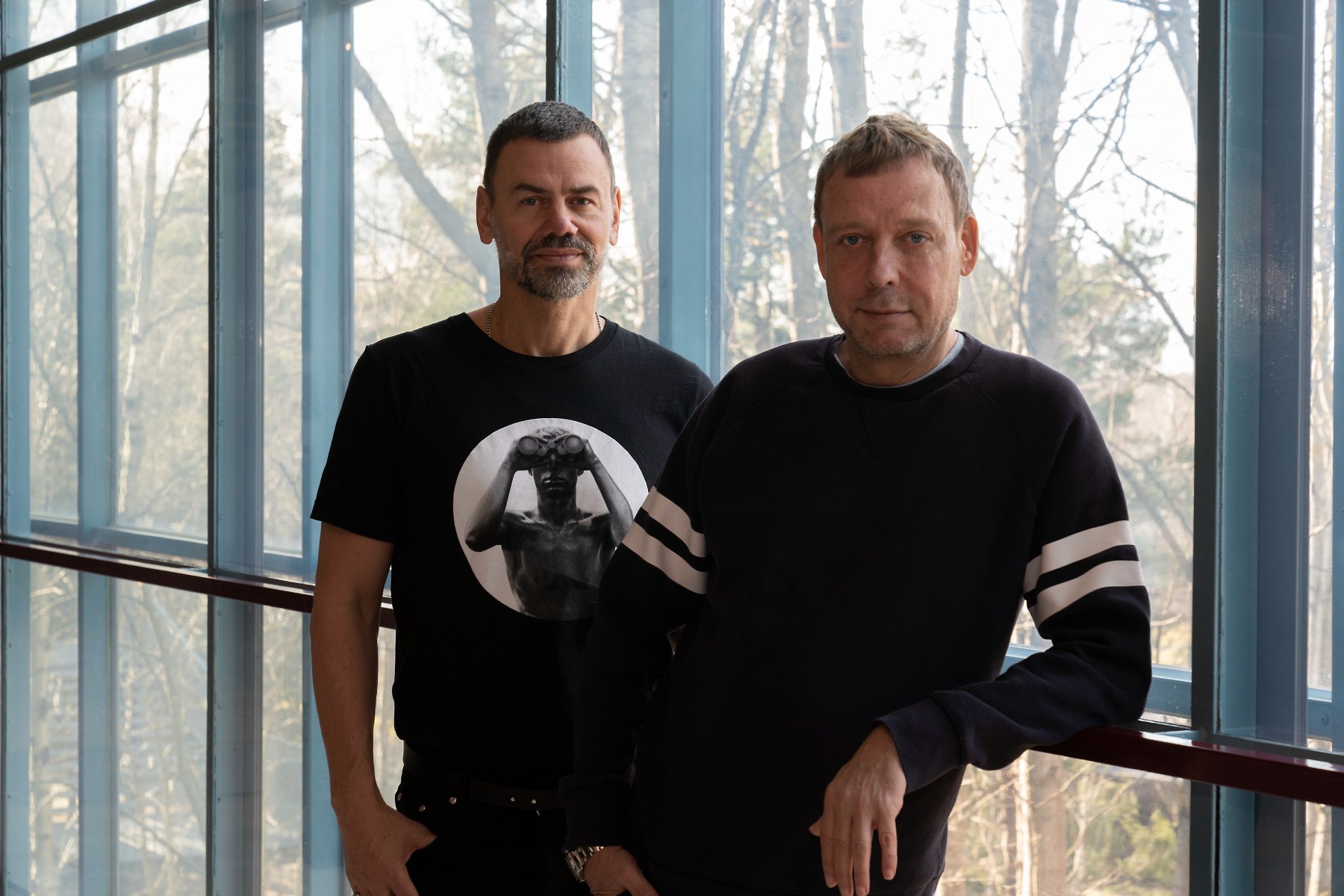 Soon after the exhibition opened, Elmgreen & Dragset graciously agreed to answer some of Arterritory's questions.
If we imagine a time traveller driving through the current world in a high-speed car, what would be the three most vivid things that they would see through the window – things that one could say are a reflection of our time?
Police in riot uniforms clashing with protesters; a lonely cow chewing on a blade of grass, unaware of this world's chaos; a high street full of closed department stores.
"An inhumane place", "a dark place"… are words you used when describing the car park and it's social and cinematic mythology. It seems that, in a way, we are all stuck in a car park now, and without a safe way out. With what kind of emotions do you want visitors to leave the exhibition – the museum turned car park?
Confusion, which is such an underestimated emotion; a relief that nothing bad happened and, therefore, feeling less fearful than before they entered; and maybe a little laughter mixed with thoughtfulness, if we are really lucky.
2020 by Elmgreen & Dragset at EMMA – Espoo Museum of Modern Art Sep 26 2020 – Jan 17 2021. Photo: Paula Virta / EMMA
As part of the exhibition, you have built a large metal mesh fence with a gate above which the word "MIRACLE" has been stencilled onto a signboard. Have you ever believed in miracles? Is there any place for miracles left on this world?
We probably rather believe in small wonders… and they sometimes happen.
Elmgreen & Dragset, Adaptation, Fig. 9, 2020. Stainless steel Courtesy of the artists. Photo: Ari Karttunen / EMMA