On poetics of art by Daiga Grantiņa
A conversation with curators Sara Fumagalli and Helga Christoffersen
Until September 19 the GAMeC in Bergamo, Italy hosts Atem, Lehm "Fiato, Argilla", the first solo exhibition in an Italian museum by Daiga Grantiņa (Latvia, 1985) curated by Sara Fumagalli and Valentina Gervasoni.
For the occasion the artist has conceived a new body of work with a site-specific spatial concept in the museum's project room, Spazio Zero. "The consistency, composition, adaptability, color, and texture of the materials are offered to the viewer as plastic entities that stimulate our perceptual system," reads the exhibition description.
"The artist asks "If and how can we delineate color?" as she puts together the exhibition in Bergamo around both this question and her observations on color and its dynamic relationship with matter and light. In Grantiņa's work color is fluid and vibrant, neither stable nor static. The experience is not investigated in the symbolic sphere but in its corporeal and mental dimension."
Read more about the show here: www.gamec.it/en/daiga-grantina/
GAMeC has acquired two of the works - Around Green (2020) and What Eats Around Itself (For Rilke) (2019), for its permanent collection.
Arterritory presents conversation with curators Sara Fumagalli and Helga Christoffersen moderated by art critic Anda Kļaviņa as well as a photo report from the exhibition.
Conversation on Daiga Grantina's poetics from Arterritory on Vimeo.
Daiga Grantiņa. Atem, Lehm "Fiato, Argilla" / Vedute dell'installazione - GAMeC, Bergamo, 2021 / Photo: Lorenzo Palmieri / Courtesy GAMeC - Galleria d'Arte Moderna e Contemporanea di Bergamo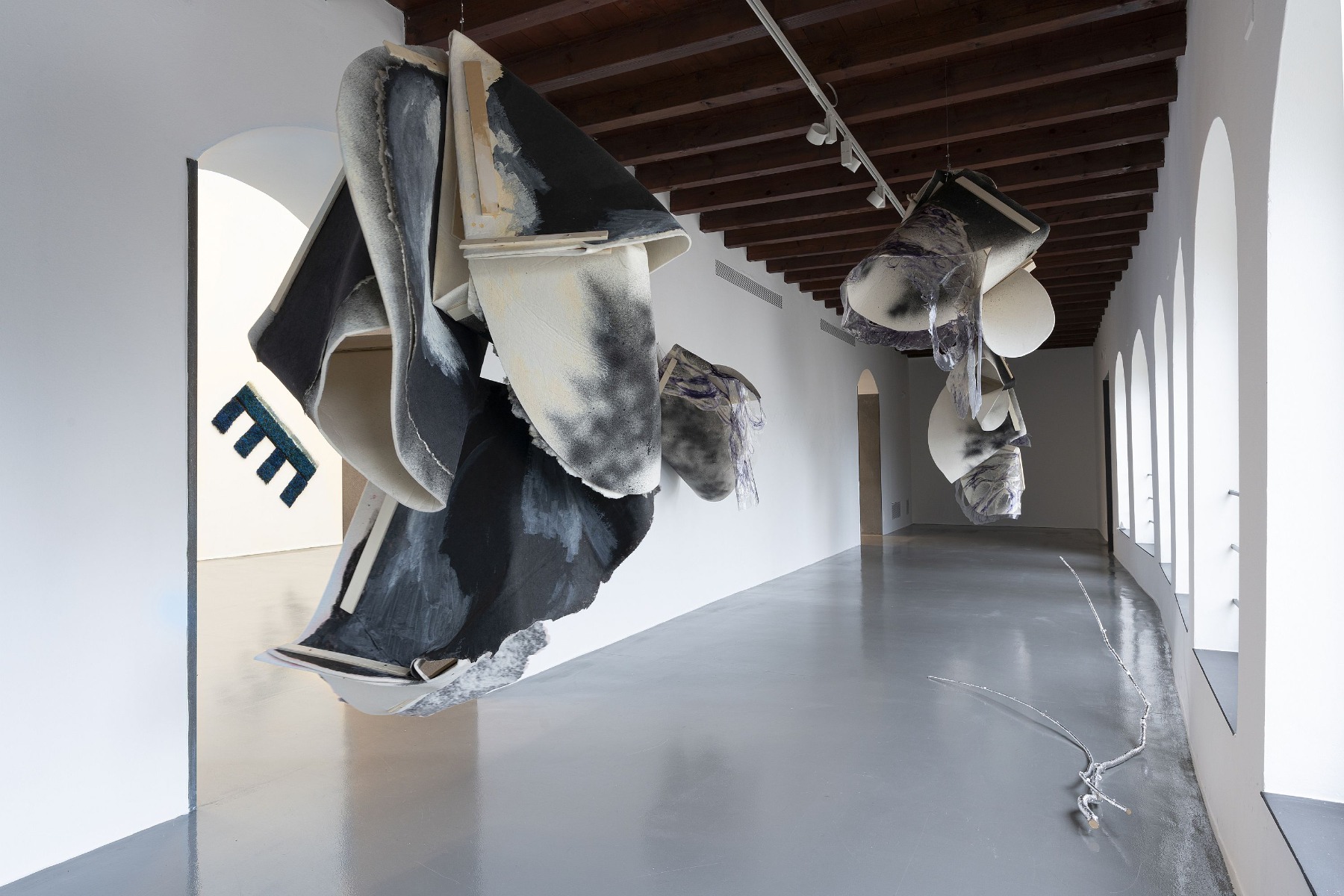 Daiga Grantiņa. Bar, 2021, feathers, fabric, latex, wood 100 x 100 x 5 cm approx. (detail) / © Daiga Grantiņa, Courtesy of Daiga Grantiņa Studio and Emalin, London Photo: Toan Vu-Huu
Daiga Grantina. Around green, 2020, fabric, wood, ink, wax, staples / 70 x 90 x 15 cm, detail / © Daiga Grantiņa, Courtesy of Daiga Grantiņa Studio and Emalin, London / Photo: Stephen James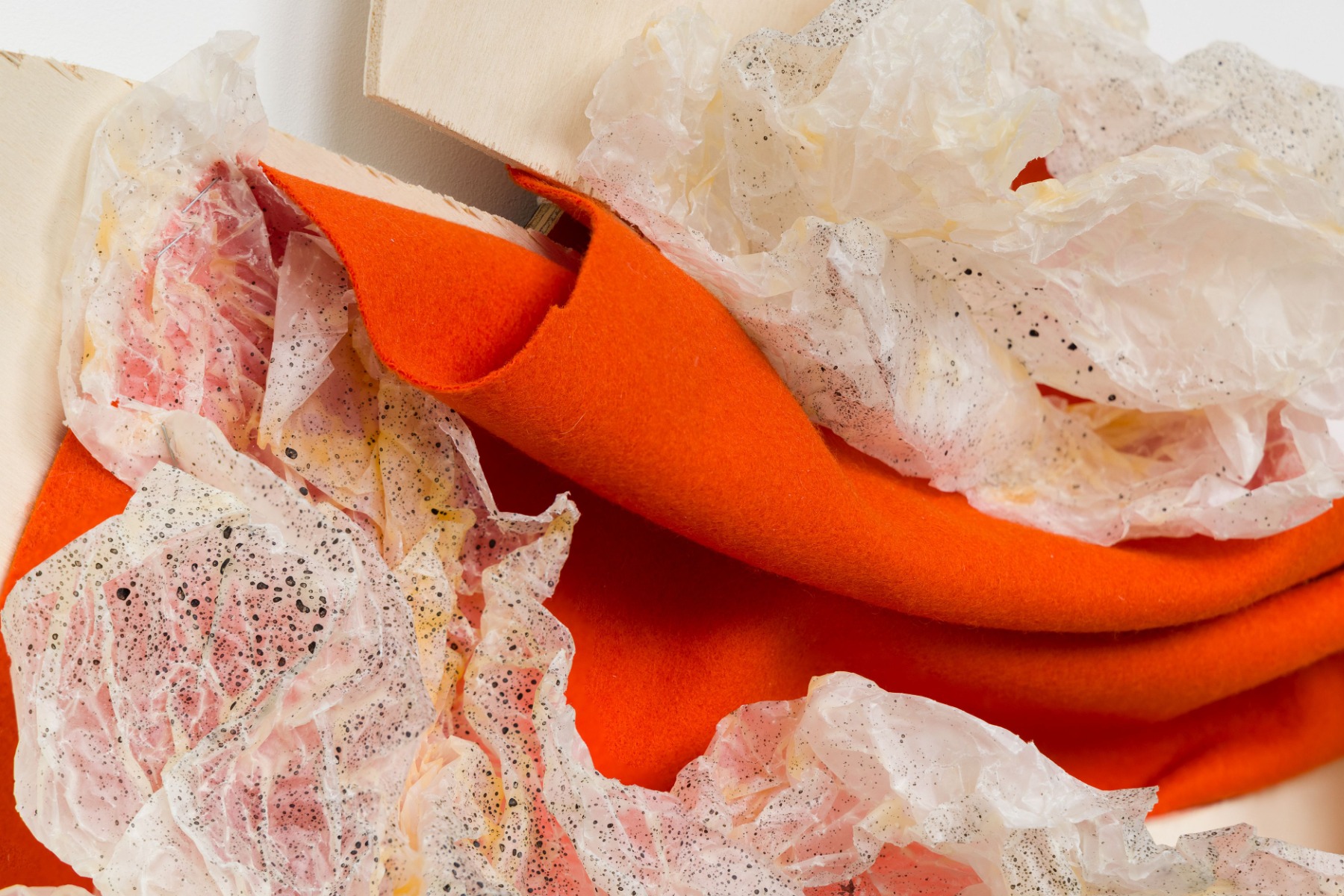 Daiga Grantiņa. Atem, Lehm "Fiato, Argilla" / Vedute dell'installazione - GAMeC, Bergamo, 2021 / Photo: Lorenzo Palmieri / Courtesy GAMeC - Galleria d'Arte Moderna e Contemporanea di Bergamo
Daiga Grantiņa. Atem, Lehm "Fiato, Argilla" / Vedute dell'installazione - GAMeC, Bergamo, 2021 / Photo: Lorenzo Palmieri / Courtesy GAMeC - Galleria d'Arte Moderna e Contemporanea di Bergamo
Daiga Grantiņa. Atem, Lehm "Fiato, Argilla" / Vedute dell'installazione - GAMeC, Bergamo, 2021 / Photo: Lorenzo Palmieri / Courtesy GAMeC - Galleria d'Arte Moderna e Contemporanea di Bergamo
Daiga Grantiņa. Atem, Lehm "Fiato, Argilla" / Vedute dell'installazione - GAMeC, Bergamo, 2021 / Photo: Lorenzo Palmieri / Courtesy GAMeC - Galleria d'Arte Moderna e Contemporanea di Bergamo