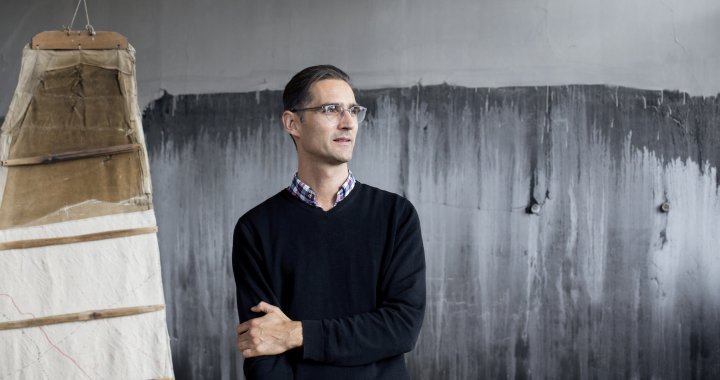 Survival Kit 9: A Forest of Mushrooms, Meanings and Passages
An interview with Jonatan Habib Engqvist, one of the three co-curators of the Survival Kit 9 festival
24/09/2017
Photo: Kristīne Madjare
Launched in 2009, at the very peak of the economic crisis that had hit Latvia, the Survival Kit festival of contemporary art was, in a way, the contemporary culture's answer to some of the most burning questions of the current times, a survival kit for a confused society, as it were. The country was going through a moment of total reboot on a political and conceptual level; as for space, countless unoccupied buildings suddenly became available in the Latvian cities and towns. Former restaurants, shops and offices were taken over by artists for the duration of the festival; they came to transform these spaces into temporary exhibition venues and try to get to the bottom of what actually had happened to the society and to the 'creative class' within this society. Where do we go from here?
The festival stayed around after 2009, and every time its organiser ‒ the Latvian Centre for Contemporary Art (LCCA) ‒ chose underutilized or no longer functional spaces as its venues, as was the case with the premises of the former textile factory Boļševička or the former building of the Latvian National Library. This year, the festival has come to the Faculty of Biology of the University of Latvia, set in one of the greenest and most hospitable locations in Riga ‒ in the middle of a park, on Kronvalda Boulevard. There are no students in the building anymore; it is being prepared for the forthcoming fundamental reconstruction; the abandoned passages, libraries and lecture auditoriums are now hosting an exhibition that, in various ways and with various means, explores the subject of interaction between culture and nature. In their statement, the curators of the Survival Kit 9 project speak about their intent ‒ fundamentally important for them ‒ of uniting the three ecologies, 'environmental ecology, social ecology and mental ecology', which they see as 'sites of negotiation and reconstruction, and also interchangeable perspectives'.

The former long-time building of the Faculty of Biology of University of Latvia.
The exhibition of the Survival Kit 9 festival (open through 1 October 2017) has also found its way into the three still-functioning museums housed in the building: the museums of Zoology, Botany and Chemistry. It is populating the half-abandoned building like an infiltration of an almost organic nature, something like a canopy of artistic lianas or a creative jungle. 'At certain points, a viewer might not be able to immediately tell, if something from the original building and its furnishing has been enhanced, or if it is a work of art that has been brought here,' I am told by Jonatan Habib Engqvist, one of the co-curators of Survival Kit 9. The permanent leaders of the festival Solvita Krese and Inga Lāce invited him to join their team as one of the Nordic region's art practitioners most open to interdisciplinary and experimental projects. Having started his career at the famous Moderna Museet in Stockholm (2008‒2009), he soon enough decided to embrace the status of an independent curator after managing Iaspis visual arts project (2009‒2014). He curated the 2012 Reykjavík Arts Festival and co-curated the Momentum Biennial (2015). Through mid-September, the Turkish city of Sinop hosted the extremely interesting Sinopale 6 Biennial of process-based arts, to which he also successfully contributed as a co-curator.
Jonatan ‒ tall, thin and energetic ‒ originally obtained a degree in philosophy but then realized that he found it much more fascinating to discuss philosophical matters with artists, that they were genuinely interested in it and tended to view these things in a much wider perspective. 'Artists today are people who still read Einstein and are informed about quantum physics, while not being physicists or scientists...' We wander around the faculty building and look at parts of the exhibition ‒ some of them fully installed, some, at the time of our conversation, still waiting for some flesh to be put on their bones ‒ then go outside, cross a path and settle down at one of the tables of the Pagalms café, where we speak, looking now at each other, now at the empty tennis court and the tree crowns.

Fragment of Stress Call of the Stinging Nettle by Christine Ödlund
Jonatan Habib Engqvist: The initial idea behind the current edition of the Survival Kit festival was an exhibition around the subject of alternative education. On the one hand, however, there was this opportunity of working with the former building of the Faculty of Biology that came up during the process of preparation; on the other hand, the situation in Europe has changed significantly over the last year and half. And we thought ‒ rather than simply criticizing existing systems of education, it would be more interesting to come to the audience with a proposal. One can still sense that the current exhibition emerged, to a certain extent, from the subject of education, of different approaches to learning and knowledge, as well as the ways in which art looks at these things.
Scientists make discoveries, but it is artists who can try to make sense of them, to try to put them into some sort of wider human contexts. One of the contributors to the festival exhibition, the Swedish artist and composer Christine Ödlund has been exploring the subject of plant communication for well over a decade. Her work for the festival is based on the fact that nettle plants send each other a chemical signal when a caterpillar appears on one of them and starts eating it. Humans might sense this as smell. But the plants draw certain conclusions from these signals as to how they should grow or how they should organise their group. Scientists know that; they have this knowledge ‒ but how do they transfer this knowledge outside their professional circle? Ödlund translates it into an image and into music, a musical score where different chemical signals are transposed into sound. And when she shows it in a visually and sensory perceptible form, we also start noticing something that is literally going on right in front of our nose.
To phrase it a bit provocatively, artists are acting like professional amateurs. They are asking questions like: 'OK, so you discovered this, fine. But what does it mean for our existence?' All right, so a discovery has been made of the fact that plants can tell apart different colours ‒ but what does it mean for our common existence?

A crow's nest at Survival Kit 9
If we take a look at the history of European culture, it was the Romantics who turned our attention back to nature and recognised man as part of it. Then, in the 20th century, ecological thinking emerged, which was orientated towards protecting nature while viewing man as a threat to it; in other words, it separated man (civilisation) and nature. In your opinion, will the 21st century bring us a new model of thinking about this relationship?
First of all, perhaps we should bear in mind that the line between culture and nature is a concept that can be negotiated. I can offer a good example. As part of the festival exhibition, we decided to show a crow's nest from the collection of the Museum of Biology; the nest had been found in Riga after a storm. It has been constructed out of wire, pieces of plastic and metal, as well as some twigs... it is mainly constructed with man-made materials. Which part of this is nature and which should be seen as civilisation?
Similarly, plastic has become part of what we call nature. And it is not just people who are dealing with it, but also all the plants, all the animals, the whole natural world. It is reflected in the terrasphere, but plastic also ends up in rivers, seas, all sorts of bodies of water... I think with this show we are questioning certain dichotomies but also trying to have a more holistic approach without moralizing too much about it. We are often served with just one part of the picture, kind of like visiting the doctor who only looks at your hand because your finger is aching ‒ and then it turns out that the pain in your finger is caused by some problems with a nerve that leads up to your shoulder, and so on. Perhaps the artists can help give this wider perspective. They can see similarities in the structures of different things ‒ things from dissimilar areas, and try to put them together in order to see what happens. At times this sort of approach can help us have a wider, more complete view of the world.
This attempt also means expanding our understanding of ecology. In the curators' statement, we speak about the convergence of three ecologies ‒ environmental, social and mental. It is an idea that comes from the French thinker Felix Guattari, who meant that these three ecologies are interwoven and influence each other and that they have an impact on each other. Look at what happened quite recently. The presidential election in the USA, and several recent elections in Europe have been won on rhetorical demands to increase the scope of underground resources like coal mining. To win the election in 2016 in support of a totally backward technology is quite something! How many people voted for Trump, while perfectly aware of climate change and the fact that coal really is a thing from the past? Nevertheless, the idea wins support due to a set of political and economic interests. The problem is not the stupidity of people or something like that; it is a much more complex situation. Artists might come to the foreground in helping us understand these complexities. Because journalists look at these things from one angle, researchers ‒ from another, but the thing is, everybody is focused on their own area of knowledge or interest. Only artists, writers and poets try to look at the whole picture, look at the underlying desires and ask for meaning.

Jim Holyoak. Book of Nineteen Nocturnes. 2017
There is another aspect to this thing ‒ the fact that we are starting to search for models of our own behaviour, for solutions to certain problems in nature, not just trying to preserve it in protected areas like something we can only admire from a distance...
Yes, indeed. I am quite fond of the term 'resilience' ‒ an ability to adapt to a changing situation. Plants and animals have this ability to a high degree. We need to be more humble about things we do not understand and are moving towards having to learn how to emulate non-human strategies and transfer these to the ecology of social existence. And I don't mean Darwinism here but rather an ability to perceive humanity as a certain community.
As a Scandinavian curator, you are hailing from a region where the relationship between nature and man is traditionally examined very attentively and from different angles...
Yes, of course, and perhaps that is why so many artists work with this subject there. But the international context at the Survival Kit 9 exhibition is not provided by Scandinavians alone. We have artists from Canada, South America, South Africa. It is quite a global picture we have here.

Fragment of Laboratory of Poetic Research by Andris Eglītis
Does Latvian contemporary art fit in this picture as well?
Yes, I find that Latvian artists think 'through material', research through a doing, or through material investigation. Many artists here seem to make things that are tangible. So it is essentially a question of intellectual work manifest in physical form. Like Andris Eglītis with his Laboratory of Poetic Research project that he shows at our exhibition: submerging primed canvases into a swamp, letting the swamp make the actual painting. It is a very formal project, something along the lines of Rothko or abstract expressionism ‒ that is an academic movement in art. Rather than a random selection of examples of 'interaction with nature', we are dealing with sophisticated compositional choices.
Or there is Krišs Salmanis, who has made an installation with a tree that acts as a giant pick-up playing a vinyl record with birdsong. Krišs recorded the voice of this bird on video a few years ago, and now he has 'extracted' the soundtrack. There is no amplifier or speakers; it is almost an analogue object. The sound is amplified by the tree itself so in a way, you are listening to birdsongs through the tree trunk. To me, art frequently is a sensorial intellectual investigation, quite comparable to a scientific article.
If we speak not only about Latvia but also the whole region, this resonates with the practice of Nomeda and Gediminas Urbonas from Lithuania. Gediminas has been teaching at the Massachusetts Institute of Technology (MIT) for some time now, and he is giving a talk at the opening of the festival. In the exhibition he and Nomeda are presenting their Zooetics Pavilion in a former chemistry lab ‒ a world of mycelium, with some artificially 'bred' species among them. The installation consists of three laboratories with different climates that suit the different stages in the development of mushrooms that are being grown throughout the exhibition. It is a remarkable forest of mushrooms, a potential future energy source.
Returning to Latvian artists another noteworthy project is of course Ieva Epnere's Green School installation, which echoes our initial subject – alternative education, alternative 'growth' ‒ and is an interpretation of the experience of a real educational institution for young children that existed in the early 1900s in Latvia.
Finally, a 1985 film also explores a similar subject by Andris Grinbergs and Laima Žurgina, dedicated to work with students of a special boarding school in Mazirbe. The teenagers, many of them young delinquents and dropouts, were sent to live and study there. One of the things that Andris proposed to these kids was 'adopting' a tree of their own to identify with, to build a relationship with it, to draw pictures of– to try to establish a relationship to something that belongs to the non-human sphere.

Krišs Salmanis. On One's Own. 2017
You mentioned South Africa... It caught my interest: what is representing this ‒ quite distant for us ‒ part of the world at the festival?
James Webb is a South African artist working mostly with sound. He is showing two works at the Survival Kit 9 exhibition. One of them is in the park outside the building. It is an on-going project, launched back in 2004; consisting of installing speakers in trees in different countries, which broadcast birdsongs recorded somewhere else in the world. In Riga, for instance, a recording of a 'newly discovered' bird from a Chinese province discreetly joins the general chorus sounds in the park. The project is called There's No Place Called Home (Riga), and echoes subjects of magic, migration and unpredictable ecological circumstances.
James also made another work for the festival, also an audio installation where he has used recordings of underwater sounds by seals. Together with an ethnomusician he transferred these sounds into a musical score and then asked the singer Julianna Venter perform it. The result is a very specific sound that echoes throughout the building from the central stairwell, bringing to mind something mysterious, something invisible yet audible.
In a sense, this work is a good example of the building itself becoming one of the key elements of the exhibition. And it's not just passages and hallways but also, for instance, the fabulous room of the former library with all the rows of bookshelves still intact that Lotta Antonsson will be working with. It is quite easy to get lost here... But you can also make a lot of discoveries.
Fragment of The Sarcophagus (II) by Andrej Polukord
So what should a visitor feel like when he or she has walked through the entire building and is now emerging through the main entrance, walking down the steps and into the park?
I hope they will feel slightly confused... (Laughs.) That they will be somewhat perplexed... hopefully in a good way. You know, a friend once said that an exhibition is like seeing a Hitchcock movie – you can look at it from a number of very different vantage points. If you are a director yourself, you will see some incredible work with editing, with frame composition. If you are an anthropologist, you will see a genuinely outstanding psychoanalysis of the society. If you are a philosopher, you will see an existential drama played out right in front of your eyes. But if you are someone who is simply watching it around, say, 11 p.m. at night before going to bed, it will be just an excellent entertainment, a well-told story. It will stay with you nevertheless.
The same here ‒ someone might simply be happy to have this opportunity to wander through this building from top to bottom, and come to understand the political and historical significance that this edifice used to hold and is still holding, not least thanks to our show. And yet I sincerely hope that there will be also works of art that will instill something inside you that you will become aware of ‒ perhaps not right here, standing on these steps, but eventually, a week or maybe much later. Or perhaps you will simply step outside and see the treetops, just linger and look at them for five minutes maybe. And see them as if through new eyes. 'Goodness, I have been coming for walks in this park all my life, and I had never noticed this tree before. It is magical! I wonder how old it is?' If someone comes out and asks himself or herself this question, it will mean that we have succeeded; and some kind of process has started.