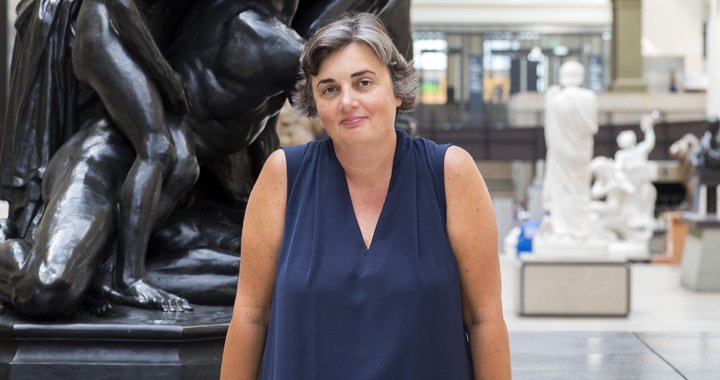 I really do not have a passion for a museum empty of visitors
An interview with Laurence des Cars, director of Paris's Musée d'Orsay
18/10/2017
The appointment of Laurence des Cars (1966) as the director of the Musée d'Orsay in Paris reverberated not only around Western Europe, but also in Latvia, Lithuania and Estonia on account of one her first decisions being the confirmation of an exhibition on symbolism in Baltic art. Titled Le symbolisme dans l'art des pays Baltes (Symbolism in Baltic Art), the four national art museums of the Baltic States – located in Riga, Tallinn, Vilnius and Kaunas – are putting together a joint project that will be on view at the Musée d'Orsay from April 8 to July 15. Housed in a former railway station, the museum is one of France's largest national museums, and it contains the world's largest collection of Impressionist and Post-Impressionist art.
Des Cars specializes in art of the 19th and early 20th centuries. Having worked as a curator at the Orsay for many years, she also managed the creation of the Louvre affiliate in Abu Dhabi, and in 2014 was appointed the director of the Musée de l'Orangerie. Des Cars' 2017 posting as the director of the Orsay is also notable because in the history of French museums, she is only the second female curator to have been assigned to such a high position.
Recently we had some wonderful projects done in collaboration with French art institutions. I would like to mention the 2015 exhibition The Magnetism of Provence, which featured the works of Auguste Renoir, Vincent van Gogh, and Paul Gauguin, which were on loan from the Musée d'Orsay. And now, the exhibition Symbolism in Baltic Art will be presented at the Musée d'Orsay. What was the pivotal moment that made you decide to host this exhibition?
It might sound presumptuous, but my appointment as president made the difference. I was already aware of the project when I was the director of the Orangerie. I met the team, had a lot of discussions with Rodolphe Rapetti [1], and they presented me with the project last fall, which was almost one year ago. I found this project extremely interesting, but at that point it was too big for the Orangerie. At that time we were already waiting for the change of presidency at the Musée d'Orsay, and I was one of the candidates. It was impossible to make a decision before the appointment was officially made in late February/early March, and so it was suspended for a few months. When I actually took my new position in mid-March, confirmation of the Baltic Symbolism exhibition was really one of the first decisions I made in terms of the program. And 2018 was perfect timing to also celebrate the independence of the three countries. Since then we have finalized the list of works, and we are also in the middle of producing the catalogue. Last week we also selected an architect and designer for the exhibition – an Italian architect working and living in Paris, Flavio Bonacelli. The space will be different because we are now in the middle of renovating our exhibition galleries. The Symbolism exhibition will be the first to take place in the renovated galleries. So I think we are going to have a really beautiful project. We are also diligently working on a culture program that will complement the exhibition. There will be a very important music program, a symposium, lectures, and things dedicated to literature; we will also produce a documentary with Arte (the French/German cultural channel). We have to take into consideration that the subject of the exhibition is completely unknown, so it is very important to give a context for people who are not familiar at all with Baltic Symbolism.

Janis Rozentāls. Arcadia. Ca. 1910. Oil on canvas. Collection of the Latvian National Museum of Art. Photo: Normunds Brasliņš
It is also very symbolic that when you were in Latvia in 2005, you ended your interview with Ginta Gerharde-Upeniece by saying that Latvian Symbolism deserves much more recognition.
I remember it as a very interesting moment because it was the first time I was in Riga. I have a really vivid memory of it. When I was introduced with this project, my interest was immediately piqued. If I had not become the president of the Orsay, who knows...this exhibition might never have come to Paris. So, it is a combination of group connections and friendship, of people who trust each other. Because when you make that kind of a decision very quickly, you have to be 100 % sure that that the group will be able to deliver, and that the subject is good, because you cannot make a mistake. You don't have time for that.
I feel that Symbolism, as an art movement in which the individual turns towards himself, is very important nowadays, too. Do you think that this exhibition will be able to also include what is going on in the current day?
It's complex. Because it's not only about Symbolism, it is about the way people are connected to a former period of art. In a way, you can say that about other movements of the 19th century as well. I really do feel that late-19th-century art, in general, is extremely important to understand in the context of what we are living and going through now. A lot of the questions raised in the 19th century are still very active, and it was the first time they were really being articulated by artists. The question is not so much about the current connection with Symbolism art coming from the Baltic States, but more about raising curiosity in terms of this exhibition. In Paris you have a lot of competition between many exhibitions going on at the same time. It is the city with the highest number of important exhibitions being held at the same time – more than New York and London. The French have a great passion for exhibitions. So you really need to be different. Baltic Symbolism is a completely unknown territory. Symbolism art in the Baltic countries won't ring a bell in Paris. It's the visuals that will make a difference. The poster you will see in the subway of Paris is very important, as are the catalogue and flyers. That is my main preoccupation. The way people perceive exhibitions is always very tricky because each visitor has a different perception and it is difficult to generalize it for everyone. The effort put into communication and the educational program will be particular.

Galerie symboliste - Musée d'Orsay. © Photo: Musée d'Orsay, Sophie Boegly
From one point of view, we can say that this exhibition will, of course, show the quality of Baltic Symbolism art, but from the other side, we will also be introducing France to the history of the Baltic States. Do you feel this exhibition could also influence politics and future collaboration between the Baltic States and France?
Yes, it is already a very political project. This exhibition is supported by our President, and the Presidents of the Baltic States will be present. It is sort of a European statement. That is one of the reasons I am doing this. It is not only about the history of art, but also a question of what Europe is about. Europe is about culture, and we tend to forget this. We talk a lot about economics and the tensions between nations, but the issue is that there is a common link between all of these countries, and that link is their history and culture. You have to give the public an opportunity to understand that past. The end of the First World War was a decisive moment for this [eastern] part of Europe – a complex one, a really tense one that was rather unknown in France. So we have to tell this story, as well as the story of today. Because we are in a very unstable moment right now – many questions are asked about Europe, with Brexit and other events that could become crucial turning points. This is the right moment to remind people that culture is very important, and that it is the foundation of Europe. In France, there are a lot of discussions on how can we relaunch the European identity through culture. Talking only about economics is not enough; we need to be fed spiritually. So, this is also a political exhibition.
This year the Latvian National Museum of Art hosted the annual We Are Museums conference, and there still is a lot of ongoing discussion about the role of museums in the 21st century. How do you see this role today? Why do people need museums?
Art is something that is a priority in everyone's life; it is not an extra or a luxury. Life that is not touched by art is impoverished in many ways. Museums are just a part of it – they are not the answer to everything. They are very special places with definite histories, especially in the Western world. The museum is a rather recent invention, a cultural construction of Modern times. They keep evolving, which is absolutely natural because museums do react to the changing cultural habits of society. For example, the mobile phone has changed everything for everyone, and also for the museum. You don't visit a museum the same way that you visited it 20 years ago. Museums should follow this progress and adapt to reality, to the needs of the new public. There are people with different cultural backgrounds. In Paris, you can have people from India or China coming to discover Impressionism, and they don't have the same cultural background. They don't have the keys to understand it naturally. That is the big challenge for museums – to connect and to stay relevant. I don't think there is a general recipe for that. Each institution should work starting from their identity. For example, the Orsay has a very special identity because it is located in a railway station and has a historical collection dedicated to a certain part of the 19th and early 20th centuries. And I tell my team that we should work starting from that. We are not going to reinvent the Orsay, just as you cannot reinvent the Louvre. You should be aware of the changing times and adapt regularly without selling your soul, selling your identity. Because if you do the thing everyone does, you are lost. At the Orsay you can find something that you can't find at MoMA or the British Museum. And this is the reason you want to go to the Orsay. We tend to have a world where everything looks alike. A museum should be a singular experience. This is easier done with historical collections; contemporary collections have a tendency to be similar.

Musée d'Orsay. © Photo: Musée d'Orsay
Museums are increasingly becoming community connectors that are open to all of society. With openness being such an important factor, how can one maintain the balance between research, collection maintenance, and openness to the public so that the museum doesn't become a playground? I don't believe it is difficult because everyone is a little bit like this. We do have this need to take everything seriously, as researchers must do, but sometimes the same people also like a lighter approach. We do not operate in the same intensity all the time and we live out various experiences. A museum is a living organism and I really do believe in a mixed approach. There is a need for balance between very serious publications, exhibitions, and symposiums, and at the same time, we have to try to find fun activities not only for children or young people, but also for adults. It is very important to break the barrier between the public and the museum. With the Orsay, I want to invite again to the museum not only artists but also writers, to be sort of ambassadors of the Orsay's exhibitions and collection. A place like the Orsay needs other voices besides curators and directors. More than 30 years ago, one of the founders of the Orsay said that the Orsay is a polyphony, and that is very much true. I believe that a museum creates events on different levels all the time, and it is a mixture of interesting things. We do a lot of outreach to people who are really far from culture. We are very active with people who have immigrated. And then let's imagine this person standing in front of the Baltic Symbolism exhibit. It is a totally different planet for them. That is a challenge, and we don't always succeed.
Museums are a wonderful place where we can not only discuss the past, but also the current day. It is very important for museum employees to be aware that they play a big role in terms of promoting important discussions about today's society as well. How can we best interpret historical collections in terms of the 21th century?
Someone once said that "countries without history are lost". If you are not aware of your history, you cannot have roots, and if you don't have your roots, you can find yourself in a very delicate situation – much like today's society. I think that history is very much a necessity, and I do believe that the contexts of artworks are very important. I think that in the years to come, at the Orsay we are going to address this issue of context in terms of mediation by using different tools – perhaps digitally, perhaps through human-to-human contact. Because I think that people are a little bit lost when it comes to history; they don't have extensive knowledge, and they need to be reminded of this context – including French history (I am not even talking about European history). At the Orsay, you have to give people an opportunity to see how everything is connected – the political and social changes that took place in the 19th century are deeply connected to the resultant changes in art, literature, and music. It is a moment in which you can feel the connection between big political ideas, and also how these connected to the subsequent art movements. I believe that literature is the key to 19th-century art. A year ago, I was curating an exhibition on Apollinaire at the Orangerie; it was an entryway leading to cubism and all of the avant-garde of the early 20th century. Apollinaire was a very good friend of Picasso. When you read Apollinaire, you enter Picasso's world. We tend to separate, but actually, it is all connected. And I think that this is the zeitgeist of our time and I want to catch it. For instance, we are preparing an exhibition on the birth of cinema and its connection with pictures and painting at that time. To study how cinema was more or less predicted by 19th-century painting. I don't think people realize that. Context is the key.

Works of Paul Gauguin at Musée d'Orsay. © Photo: Musée d'Orsay, Sophie Boegly
What challenges are you looking forward to in your position as museum president?
My mission is really to transmit this heritage to the new generation. In order to do that, you need to be inventive and imagine new subjects and ways of talking about the collection. There are a lot of challenges when you are the president of a place like the Orsay or the Orangerie. But in the end, the reason we work is the collection and its transmission. The contact between the collection and the public. That is the key purpose of the museum. If you don't have this, you don't have a museum. You should never lose sight of this main objective. Sometimes people say – What is fantastic is an empty museum when it is closed. You have your museum all to yourself. As a director, it must be fantastic to work alone in your galleries. I hate an empty museum. I love seeing children running in the galleries. It is like a reward for me. I really do not have a passion for museums empty of visitors.
The Orsay rather recently underwent partial reconstruction (in 2010), as has our Latvian National Museum of Art. Do you feel this has changed the museum?
In the museum you make changes all the time. The problem with a historical building is that you need to be consistent with any changes (which was done very well here). At the Orsay, we have two historical moments: firstly, it used to be a railway station, so the building itself is actually a 19th-century railway station from the outside; however, when you go inside of it, you see that it has been totally reconstructed. That was done in the early 1980s by the Italian architect Gae Aulenti, and she imagined a whole different space in order to accommodate the works of art. We have those two moments, and anything that the Orsay undergoes should be consistent with them; I hate it when things are done little by little or piece by piece in a museum. And there are a few inconsistencies at the Orsay. But I am somebody who works with a global vision, so I want a consistent vision for the Orsay in terms of its building and other spaces; otherwise, it can quickly become very ugly. I think it becomes very unpleasant over time if you implement differently structured interventions.
There are two very significant projects of national importance currently underway in Latvia – the ZUZEUM Art Center, a private undertaking of the art collectors Jānis Zuzāns and Dina Zuzāne; and the Latvian Museum of Contemporary Art, which is being financed by two private sponsors and the state. What is your opinion on these kinds of joint private-state endeavors and their affect on a museum's functions?
It is a reality of today's world. I don't fear it if it is well-mastered, but you have to have the right partners and a common goal. And I think a global vision should be the key thing. All of the museums in the world need private funding. The Orsay also has some private funding. In the reality of today's economy, it's impossible for states to fund everything. In Paris we recently had big changes take place in the cultural landscape. We had the opening of the Louis Vuitton Foundation, a private foundation, which is a very ambitious project with a building designed by Frank Gehry and a top-level exhibition program. People were a little bit destabilized by it, but I think that we, as a state institution, shouldn't be afraid of that because we have strong assets – we have traditions, history, knowledge, and research. Things that newly founded organizations don't have yet. Whether they work together or separately, they do offer other things, and that is also a good thing.

Edgar Degas (1834-1917). Danseuse au bouquet, saluant sur la scène, 1878. Paris, musée d'Orsay, RF 4039. © Musée d'Orsay Dist. RMN- Grand Palais / Patrice Schmidt. Exhibition: Degas Danse Dessin. Un hommage à Degas avec Paul Valéry. 27/11/2017 – 25/02/2018
Le Monde wrote that your appointment is also significant because you are only the second woman curator ever to head a major Paris museum. Do you feel a certain responsibility in this regard as well?
Yes, I definitely do. This theme is also quite new for me, too. When I started my career as a curator among other curators working at the Orsay, being a woman was not an issue. When you begin to extend your reach a few steps further and have more responsibilities, you sense the competition. And then you realize that there are not many women in the top positions. So there are questions of self-censorship, such as turning 40, choosing between a personal or professional life, finding the right balance, and so on. Unfortunately, many women really think – I can't do it, it's not for me, I am not competitive enough. We can also talk about the system itself, which tends to have more men than women, and that that's simply the way it is. I certainly hope I was not appointed President just because I am a woman [laughs]. Actually, we were two women from a total of four competing candidates, which was a first. For the first time ever there was gender equality among the candidates for one of the top positions in a French museum, and I am quite proud of that. Also, I appointed a woman as my successor at the Orangerie, and another woman as the director of the collections and affairs curator – really gifted curators, people who share the same vision. It is really interesting because we are three women running the whole thing now, and there are two men working on the administrative side of it. With my very small power, I made a very strong statement by hiring two women with me, and in the recently-held press conference there were just the three of us. The press was very impressed because it was the first time ever that three women were talking about one of the top museums in France. I think that we should be cautious with that, however, because it is really tough and it shouldn't be. It should only be about whether you are good at your work.

Laurence des Cars. © Photo: Musée d'Orsay, Sophie Boegly
---
[1] Curator of the exhibition