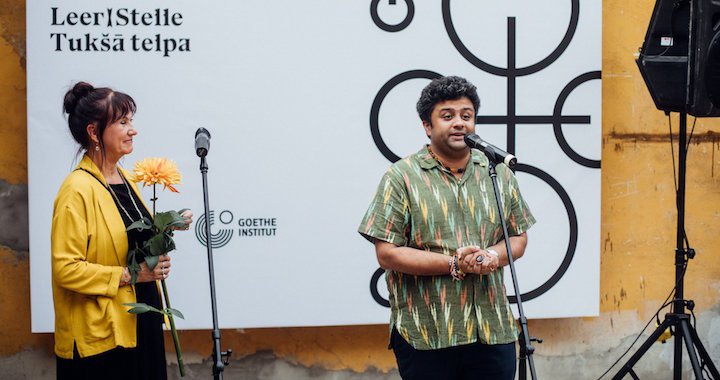 Sumesh Sharma in Riga. The grandson of a trade merchant on diversity and exchange
An interview with Sumesh Sharma, one of the curators of Survival Kit 10.0

10/09/2018
September 6 saw the opening of the annual Survival Kit festival as organised by the Latvian Centre for Contemporary Art. For the tenth time, the festival will take place over two sessions – the first one taking place now, and the second in May 2019. 'Outlands' has been chosen as the theme marking the first decade of the event, with the aim of 'questioning the traditional division of geopolitical and cultural space into centre and periphery'. The currently topical issue of global migration will also be looked at, as well as its tangential problems of racism, growing right-wing nationalism, and intolerance. Solvita Krese, director of the Latvian Centre for Contemporary Art, expands on the chosen theme of Outlands as 'not always geographical; it can be any territory characterised by a complex politico-economic situation which makes it more difficult to reach both literally and metaphorically. Thus, although physical distances from Riga are similar, Western Countries are much more accessible and attractive than Kiev, Bucharest or Ljubljana, with which we share our recent history.'
The festival's own geography will broaden this year in terms of its curators, and so in addition to Survival Kit's mainstays and team leaders Solvita Krese and Inga Lāce, curator Sumesh Sharma from Mumbai (he himself calls the city Bombay, and so we will keep to this name throughout the piece) and curator Àngels Miralda from Barcelona/Berlin will be involved in running the festival. We had the chance to meet with Sharma and talk about his projects at the Clark House Initiative art centre in Bombay, his views on national and transnational issues, and the subjectivity of the terms 'centre' and 'periphery'. We sat down to share a large jug of coffee at the offices of 'Orbīta' on Ģertrūdes iela; Sharma arrived together with Inga Lāce and Àngels Miralda. Speaking very fast and with a light Indian accent, the compact but lively (and occasionally quite sarcastic) Sharma sat down in his chair and began:
I was at the opening of the exhibition at kim? yesterday, where I spoke to two young fashion designers. They asked me if I love Bombay, and I replied: 'Yes, Bombay… maybe I could love it.' But I can't imagine that I could love a national state. That's like loving your car. I don't want anything bad to happen to my car – for instance, having it stolen or breaking down – because that would be an inconvenience and unpleasant. But I can't love it. The idea of a national state is not one I hold dear.

Cibelle Cavalli Bastos. Abravana Cosmic Shopping Show, Sonja Khalecallon Products para uma Vida Melhor. 2016
I think that size comes into play here. If you come from India, then it is somehow easier to keep a distance from 'national discourse' compared to someone who comes from Latvia – a small and rather fragile country.
If Bombay would be independent I would be a 'Bombayan'. My ancestors came to Bombay four generations ago; they were from a fairly privileged caste. There's a powerful anti-immigration feeling in Bombay right now, aimed at people who are coming from India's east, from the state of Bihar – it's the poorest state in India, and it's where my ancestors came from. I wouldn't want to live there right now and I feel closer to Bombay. Nevertheless, I return to its syncretic indemnity that is non-national . India, by the way, has never declared itself a national state. It is a republic; it is a union. Its existence as such is, in large part, a product of the fall of the British Empire; we didn't come up with the India of today in terms of its constituent parts. Overall, in terms of territory, India was largest during British rule, when it included such territories as Burma and many others which later became independent nations.

Photo: clarkhouseinitiative.org


Clark House Initiative art centre in Bombay.
Without a doubt, India is a complex and multi-faceted context. And you are trying to reveal this with the help of art. In Bombay you were one of the founders of the interesting Clark House Initiative, which was established in 2012. That's where you began to develop as a curator.
The Clark House Initiative Bombay is a fake institution in the sense that it's not really an institution, it's not a professional structure, and we don't try to professionalise art in any spheres. That's because that sort of professionalisation leads to a hierarchy, and a hierarchy emerges from the human tendency to control power in order to fulfill some needs. In a hierarchical situation, someone is delegated the job of responsibility, and someone else gets the job of execution. That is not our situation. At Clark House, we see ourselves as a movement, as a union of like-minded people.
The place where we are based is my grandfather's old office from the times when he worked in trade – mostly dealing with countries in the socialism camp or developing countries: the Soviet Union, Eastern Europe, Africa, Latin America. The trade was based on a kind of nepotism and having your own people in government who would give you some privileges and opportunities. At the end of the 1980s, when the Soviet Union collapsed, the business also underwent a fiasco because it was based not on cash but on bartering and government licenses: you send bananas to the Soviet Union, and in return, you get weapons for India's army; you send fabric to Yugoslavia and bring back Romanian tractors. It was my grandfather who introduced me to art as a theory and a profession; he was a trade merchant, but he was interested in art and poetry and even wrote himself. His trade business was doing very poorly at the end of his life. After he died, I began to look on the web for information on him; after all, I knew that he had had a long, interesting and full life. But all that Google came up with was news of his company going bankrupt. Then I found out that the Prague zoo had a live elephant (it was still one of the main attractions at that time) which, right before the Soviet Union occupied Czechoslovakia, my grandfather had sent to Prague as a thank-you gift for trade contacts. At the time it was the oldest elephant in Europe.
I contacted the Prague zoo and asked if I could come and look at this elephant; they agreed, and I took along my grandmother, who didn't even have a valid passport at the time because she hadn't travelled anywhere for 20 years. It was a pretty sentimental journey. When we returned, we had to do something about the office rooms that had never belonged to my grandfather outright, but which he had signed a lease for in the 1950s at a really good rate.
I didn't have a professional art education, and I began to work at a bank; then I decided that that wasn't for me. Around that time I met Zasha Colah, curator and art historian with a keen interest in the intersections of folklore and the act of storytelling with the field of contemporary visual and conceptual art. She's a wonderful person and my biggest influence. I had tried my hand at art before, but like a kind of punk – with sharp reactions to what was going on around me. She was able to help me channel these things. We began to make exhibitions right in the offices [of my grandfather], without changing or painting over anything, sometimes even making use of some of the things that had been left there.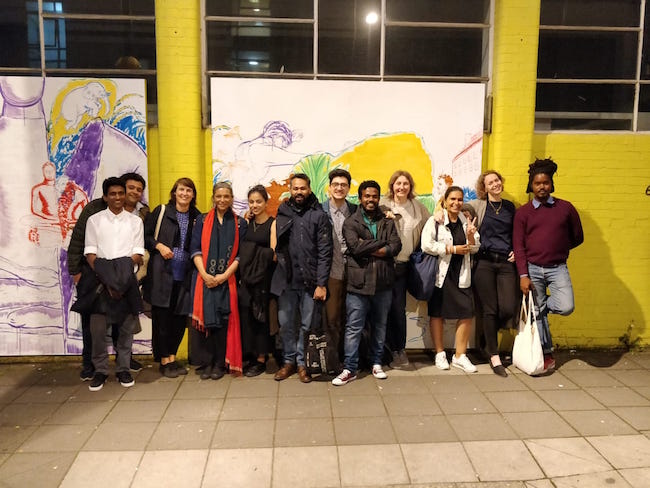 Clark House Initiative team at the opening of their exhibition Working Practices at The Showroom, London, May 2018 . Photo courtesy Yogesh Barve
We showed Bombay artists, but at the same time, we were thinking about an international context because back then, despite the multiculturalism and diversity of Bombay, we felt a growing pressure to 'be Indians' and 'think like Indians' – even though no one could explain what that meant, exactly. Indians are so very different from one another – they eat different foods, speak different languages, have different kinds of relationships with their parents, and so on.
At that time in Bombay, I was really missing the traditions of black consciousness, which I had felt a connection to while living in Marseilles – there, everyone I approached assumed I was either Arab or North African. I lived in student dormitories with students from Africa, Asia, Eastern Europe – those were the poorest dormitories in the city. And suddenly, for me – a guy from a family belonging to a privileged caste – the customary models changed and I felt a solidarity with these people, like we we belonged to the same political group. When I returned to Bombay, the anti-immigration riots, mostly aimed at people from Bihar, started. I, of course, was living in a wealthy neighbourhood, in my grandmother's luxurious apartment; there, no one accused us of being one of 'them'. But I do remember a friend whom I got along with really well, asking about my heritage and then leaving me after I told her; at her home, all of the servants were from Bihar. Many of my cousins hid their heritage, but I have never done that.
And so, in this sort of environment, and in a space where trade with Eastern Europe had gone on for decades, we began to work with artists from Poland and the former Yugoslavia. We also worked with very young local artists, and with art students from the lower castes who didn't have access to the Indian art system – their English was poor, they didn't fit in with the local art society, and the galleries didn't show any interest in them. We endeavoured to bring their personal stories to the forefront, and to give them a place and the privilege of being heard – things that had formerly been unattainable for them.
The Clark House Initiative Bombay began as a curator initiative, but then it turned into an artists' commonwealth, a kind of a 'union'. We became a space where we spoke about things such as attitudes towards homophobia and Islamophobia, political and ethnic issues, freedom, and feminism. And we've always talked about our own mistakes and erroneous preconceptions in these spheres, about our share of the collective guilt.
We weren't particularly interested in places that we heard about all the time such as New York, London or Tokyo. We've worked with a lot of artists and art spaces in Africa (that's our main focus); we've also worked with eastern Europe, but right now the Clark House Initiative Bombay is closely working with South America. We've organised about 300 exhibitions altogether. But I am no longer a curator or project director there – a completely new generation is working there now. It's a large collective – 30 to 40 people, and one that can accomplish a lot. Rightly, the Clark House collective is still interested in backgrounds that deal with difficult issues, with identities that are questionable, and with unknown stories that people try to forget or cover up.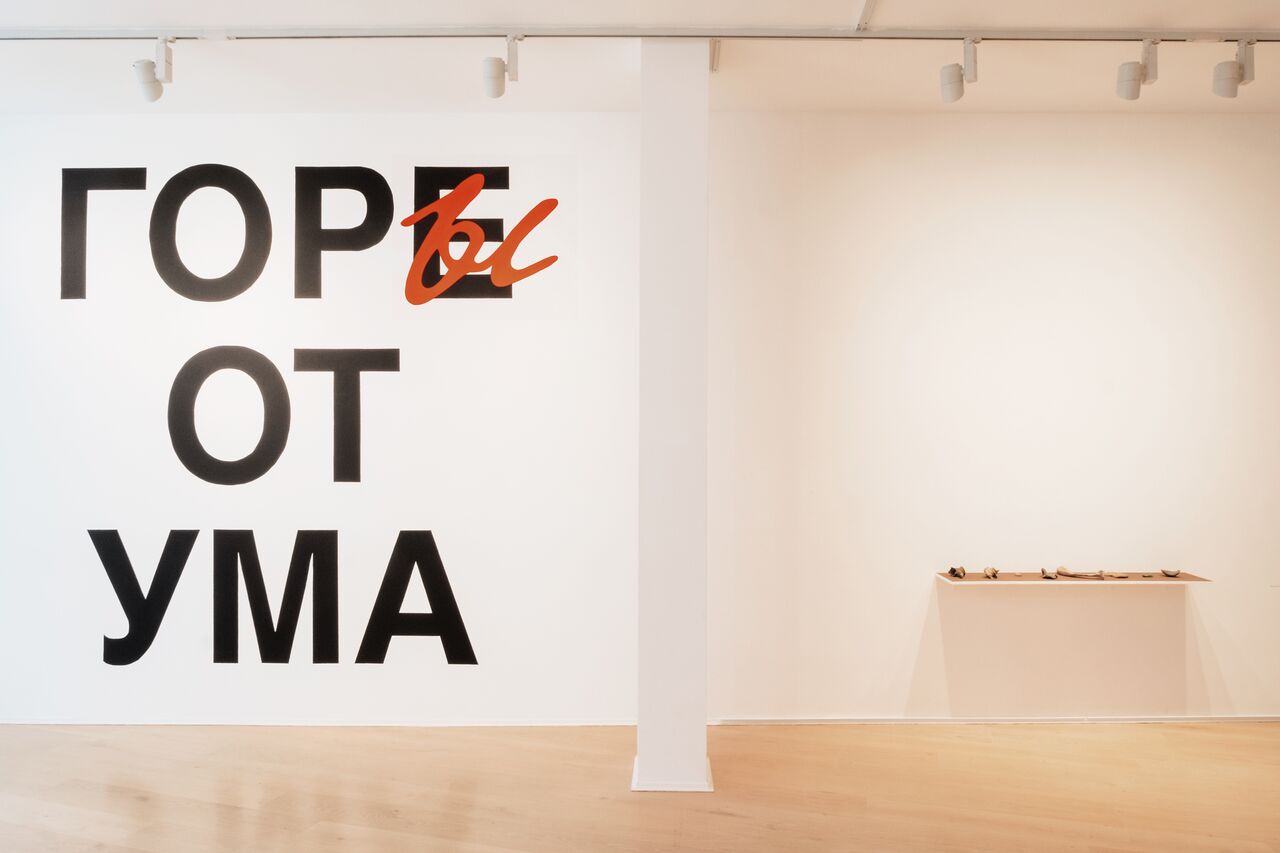 Slavs and Tatars. Mountains of Wit. 2009. Wall application. Installation view at Calvert 22, London, 2017. Photo: Nat Urazmetova
This is in line with the main theme of this year's Survival Kit festival – 'Outlands'. Stories that take place outside of our everyday world – somewhere else – but they nevertheless affect us somehow… Or countries that find themselves in some sort of periphery. Did you also participate in developing this concept?
Yes, I came up with the 'Outlands' title. And I wrote a part of the accompanying motivational text. Conversations with Inga Lāce and many others during my visits to Riga also helped lead me to it. My personal experience guided me as well. Bombay is one of the most international cities in the world; it has a population of 12 million, it has a large port and city that were founded by the Portuguese. Yet the people who live there don't see it that way – they think that 'international' means something from New York, that ['international'] is 'there' or something that is brought from 'there', such as when the Vienna opera comes to Bombay on tour – now that is 'international'. This leads us to devalue that which we objectively have; our cultural and economic elite are the first to perceive what we have as being of little value. We have great architectural specimens, buildings still standing from colonial times – but we don't see them because 'architecture' is something one sees in Paris, not here.
Periphery – that is when you are seemingly colonising yourself by creating the role of 'a victim of circumstance'. I think people need to travel a lot, especially when they're young, but if you've chosen to live in Riga, you need to perceive this city as the centre of the world, and not construct never-ending projections of your mindset towards other places and what your life would be like 'if only I were somewhere else'. It's easy to see how Facebook and Instagram play into this marginalisation syndrome by showing what a beautiful day it is today in New York, or…. how ABBA is performing in some big city but you are here, in Riga. We have to start living for real in the geographical location where our own two feet are standing. I'm not talking about chauvinism – in which we love only this one place, city or village, and don't allow others to feel that way as well – but rather about the opportunity to create your artistic practice from right here, where you are now.
At the same time, the role of perspective – the place from where we are viewing what is going on, is very important. In India, the lower castes, together with Muslims and Christians, make up more than 90% of the population. The higher castes constitute only 4-6%, yet among them it is routine to speak of the lower castes as if they were the minority. And it very well might seem like that to you as well if you go to India for an art event. You'll contact artists, curators, critics – they are all largely from the higher castes. It is unlikely that you will have substantial conversations with people from the lower castes – the housekeeper at the hotel, your taxi driver, or a street food vendor. And so you will leave, having formed a rather unrealistic view about who is in the majority here and who is in the minority.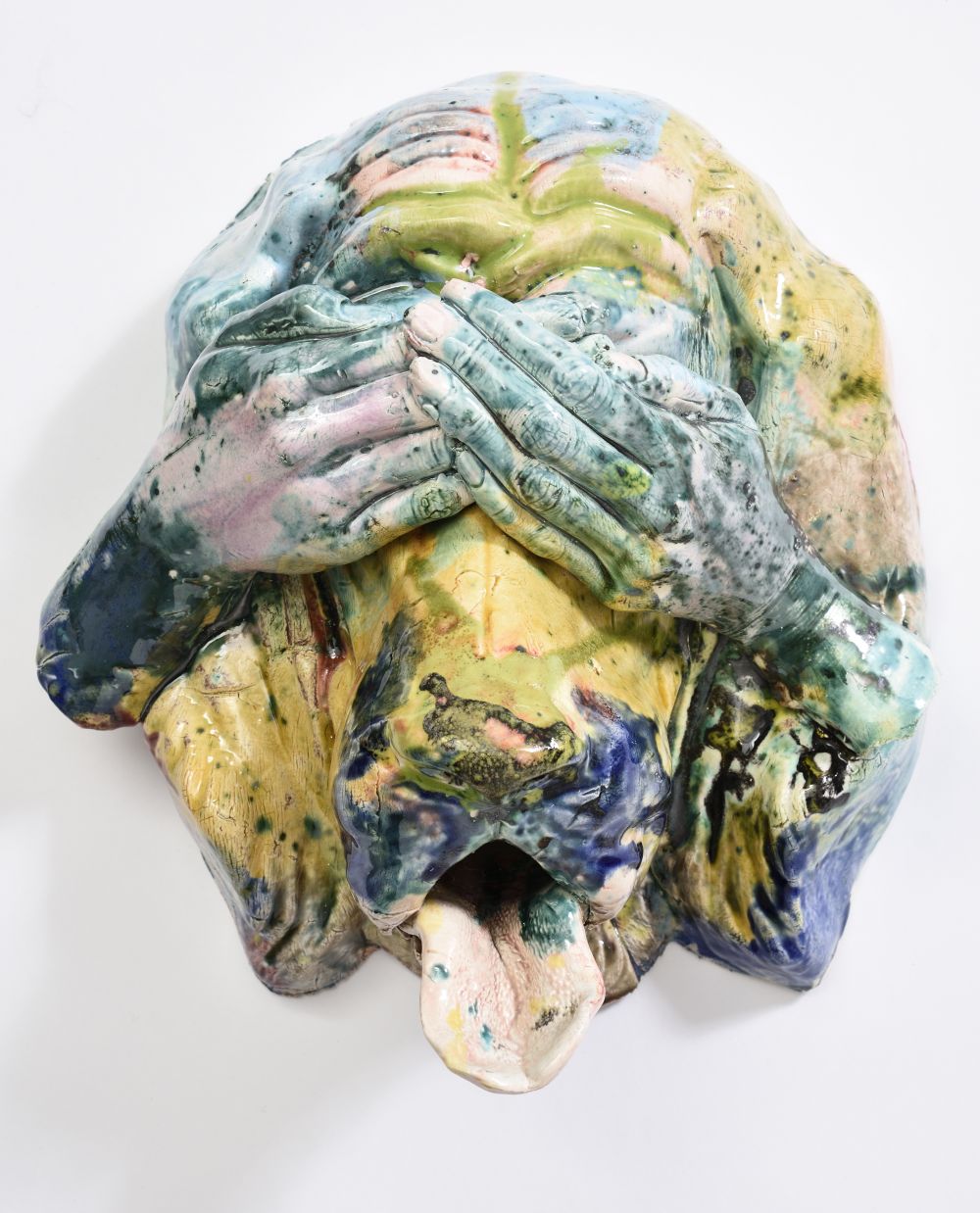 Kris Lemsalu. Phantom Camp. 2012. Ceramics, sleeping bags. Dimensions variable
How do you perceive the theme that you have chosen for the festival in terms of Latvia's art society and the local situation here?
I'm not trying to find something exotic here, yet I do see a lot of artistic practices that have been formulated excellently and that are rooted in reality – such as those of Andrejs Strokins and Maija Kurševa. You know what else is interesting? I met some Indian students who are studying here, and for them, this really is the centre of the world – the middle of Europe; they really like it here. But earlier, I had spoken to a curator in Paris, and he had said: 'Hmmm, the Baltics?...Those countries don't speak to me.'
If we look at recent history, the Baltic States were at the focus of the EU for quite a long time, but then when the economic recession hit, they were pushed to the side, into just an economic sphere, a cultural sphere...some sort of integration sphere that everyone understands as 'the European dream'. That says a lot about the true essence of Eurocentrism, which was also visible in the recent events that took place in Greece when everything was presented from just two perspectives: either the EU will save Greece, or, Greece will be left to its own fate, i.e. an utter financial breakdown. That's like saying we're all brothers here, but as soon as one of the brothers is about to go bankrupt, we seriously think about just letting him go to hell by himself.
You know, about the recent scandal with your bank, ABLV – there are many banks in London that do the same thing. But when the USA decides to score points over Putin and give him a slap on the wrist, they go after a bank in Latvia instead of one in the UK.
Returning to the festival... As a curator, what would you say is an important characteristic that a participant in this session of Survival Kit should have?
The ability to 'contemplate' the political through the personal; for instance, through our relationship with our families. We can express very important and vital macro-plots. It's not just a question of being able to be politically correct and holding fast to a liberal-left position. It is something personal. A position that has been formed by your own life experience, your own survival, and not by accepted assumptions of what is correct and what is not.
When you were telling us about your grandfather, I thought to myself that the core of the curating profession is close to the core of being a merchant trader. It is an exchanging of values – a more or less successful transfer from one context to another. Would you agree with this kind of an interpretation?
Yes, no doubt about it. I'm not that interested in academic traditions or in training for a certain field. The idea of exchanging seems much more interesting to me. And there's a strong association there with my heritage, with the place I come from and which has always been a large international port. A port is, first of all, exchange. There are very honourable things in this tradition – to trust that you will keep your word, and having respect towards diversity and differences. Problems begin if one looks at things from just from a Marxist perspective, from which any form of capital looks like a goblin from hell. And that leads to a kind of fascism – look at the Soviet Union and communist China, the latter of which at some point event attained a level of ethno-fascism. While there is a wide variety of national minorities in the world that deal with trade in their homelands, there will always be a diverse array of goods and opinions available and circulating. Why do we need Jews in Beirut or Alexandria? Because diversity ensures us an interesting society and an economy for our own goods. My grandmother and grandfather taught me that, and I feel these things in my core – I eat everything, I drink everything, I have no prejudices, I like to speak in several languages, and I am open to what is different. I can't imagine myself as a nationalist because the idea of a nation does not guarantee me anything close to what a transnational view of the world does. I listen to different kinds of music, I watch different kinds of movies, and I listen to differing opinions. That's how my grandfather and grandmother raised me, readying me for a career as a merchant trader in the far future. But if you wish to become a 'trader in ideas' instead of a trader of goods, then you also have to be open-minded and sensitive to all kinds of forms of discussion; you must know how to communicate and not be chauvinistic towards yourself or your past.
I've never thought about the curating profession from this point of view. This conversation has helped me in this sense.
The idea of exchange or trade among different areas of the world or different worlds aids in dealing with marginalisation. This isn't neo-liberalism, and it's not an intellectual fad; it is something that has been a part of human nature for thousands of years. I, of course, am not a neo-liberal, and I also abandoned pure Marxism a very long time ago. My grandfather supported India's traditional left, it was an influence but later I became an ardent follower of the economic, social political policies of Dr. Bhimrao Ambedkar, the architect of India's constitution, where the politics of social change takes in many more realities such as caste, language, geography and race unlike traditional Marxism. Diop and Ambedkar asked us to look beyond the narrow definitions of the nation. Because Marxism doesn't help us, say, solve all of the issues that have arisen in Africa, or get a clear sense of the new philosophies and human realities. I am a 'Diopist', I read and disseminate the world view of the Senegalese polymath Chiekh Anta Diop. Marxism has deep roots in English rationalism, which is, in some regards, unbelievably dull. People want to listen to poetry and get drunk on brandy; they don't want to be rational, logical beings their whole lives.

Installation view from the opening of the the Survival Kit 10.0 Outlands. Publicity photo
The Survival Kit festival will take place in Riga September 6 to 30. For full programme listings, click here.