Reality is outstripping fiction
An interview with the artist collective Slavs and Tatars, curators of the 33rd Ljubljana Biennial of Graphic Arts
04/06/2019
The notorious artist collective Slavs and Tatars, who were also guests at the Survival Kit festival in Riga last September (an extended interview with one of the members of the collective can be found here), have taken it upon themselves to curate the 33rd Ljubljana Biennial of Graphic Arts. Founded by Zoran Kržišnik in 1955, it is one of the oldest biennials in the world and will take place at nine different locations in Slovenia's capital. This year's concept by Slavs and Tatars has been entitled Crack Up – Crack Down, and it will take an extended, in-depth view of the genre of satire today, featuring works by historical and contemporary international artists, interventions by activists, new media polemicists, performances by stand-up comedians and more.
In the 33rd edition of the biennial, the curators wish to "consider 'the graphic' not only as a medium but as agency", noticing ways in which graphic language has, via irony or ridicule, become a "particularly resilient and contemporary form of critique" that can work as both a critique of power and as its servant, certified by the phenomenon that it thrives in periods of authoritarian rule. Slavs and Tatars comment on their curatorial concept: "With the rise of populism across the globe, not to mention reductive and revanchist forms of identity politics, there has been vigorous debate over who constitutes 'the people'. For more than a millennium, satire has been a particularly contested genre to explore such questions, via varying degrees of serious invective or jocular teasing. Is each joke, as George Orwell maintained, a tiny revolution? Or does laughter deflate the pressures and tension which could otherwise lead to political upheaval?"
The Ljubljana Biennial of Graphic Arts will host almost 50 artists from all over the world. A press preview is scheduled for June 6, and the biennial will be open to the public from June 7 to September 29.

Lin May Saeed, Reiniger, 2006. courtesy: Jacky Strenz Frankfurt /Main DE, Nicolas Krupp, Basel CH. Foto: Wolfgang Güntzel
Arterritory: What were the main reasons you decided to make satire the core topic of this biennial?
Slavs and Tatars: We're clearly living in a period in which reality is outstripping fiction, a period in which comedians and/or buffoons are being elected to high office. In Slovenia the prime minister is a former comedian. Ukraine just elected a comedian as president.
We've always been interested in modes of critique that are not obvious as such. Originally, satire was a form of popular philosophy, a "low" answer to the high, both in power and in form.
Could you explain in a bit more detail what you mean by "understanding 'the graphic' not as a medium but as agency"?
The biennial has historically been focused on the graphic as a medium. But in the second decade of the 21st century, it seems naive to focus on a particular medium, much less one as specific as graphic arts. Instead, our engagement with the graphic has from our early days been in the editorial nature and potential of design. As such, we felt it natural to focus on the graphic not as a limit but instead as a language.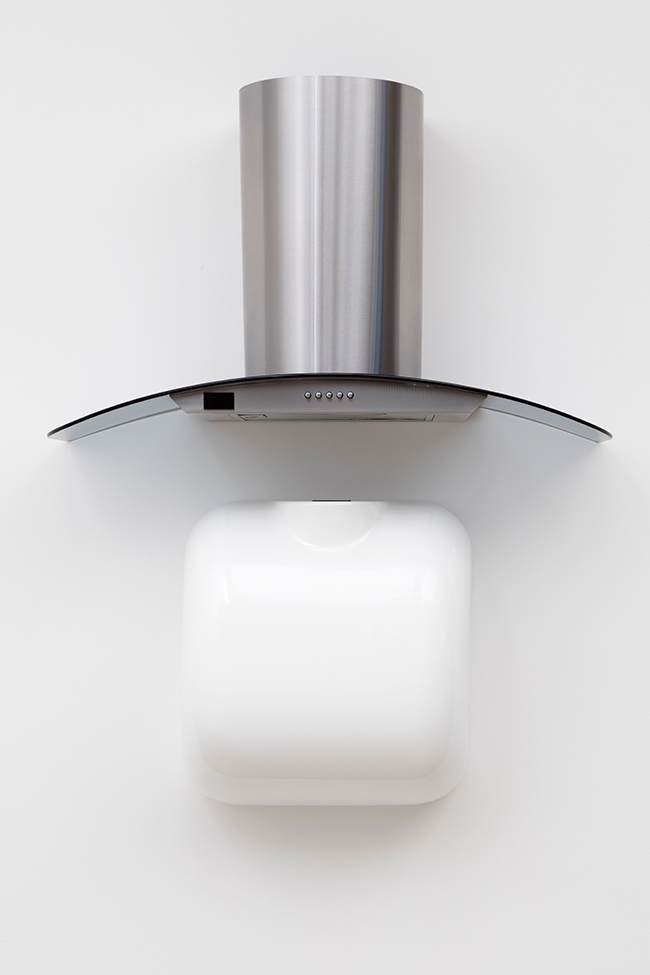 Nicole Wermers, Givers & Takers #4, 2016. courtesy: the artist, Herald St., London; Jessica Silverman Gallery, San Francisco; Produzentengalerie Hamburg; and Tanya Bonakdar Gallery, New York
You explore opposite ways in which satire can work politically and socially. Has this curatorial work made you understand something more about the nature of humour?
It has been quite surprising to discover the conservative nature of satire and humour. That, like many other things we're discovering of late, swings both ways.
It seems that currently in the West a lot of resistance against the resurfacing "strongman" and right-wing populism comes through humour: late-night talk shows, internet meme culture, etc. Do you believe this has proven to be an effective tool for resistance?
We haven't found the traditionally robust forms of American satire, say, late-night talk shows or Saturday Night Live, to be particularly relevant over the past couple of years. It will take some time for certain societies to understand that what many see as problems are only symptoms. That the status quo, whether that of 2012 or 2002, was not something to restore.
What does curating this biennial mean for Slavs and Tatars?
It's one of several recent initiatives we've undertaken to reclaim Slavs and Tatars as a platform, as much as an art collective. We've launched two residencies in the past six months for practitioners within our regional remit. And we're preparing to launch our public programme next summer. Given our research, knowledge production, lectures, publications, etc., curating has been a relatively natural if challenging form of narration.

Hinko Smrekar, "Slovenian art show" (1910). Narodna galerija (Ljubljana).
Translation from the poster in the work: "Who knows, maybe this slovenian art show could be likeable?"