«No one will come and save us!»
An interview with gallerist Olga Temnikova, one of the creators of the exhibition "Growing Out? Growing up?"
The exhibition "Growing Out? Growing Up? Contemporary Art Collecting in the Baltics" is currently being shown at the Zuzeum Art Centre through 20 November. The exhibition offers an opportunity to get to know ten contemporary art collections (deeply personal private collections as well as institutions open to the public) created by passionate collectors from Latvia, Lithuania and Estonia. Presenting the most recent acquisitions, the exhibition reveals the character and focus of each collection and indicates its direction and ambitions.
The exhibition's spatial structure in the form of a transparent labyrinth not only symbolises the opportunity to freely glimpse the art microcosm subjectively shaped by collectors, but also confirms the potential of the different collections to form a single Baltic art organism – an undivided space that is open, accessible and transparent rather than isolated, closed and fragmented.
The art collections and works for the exhibition have been selected by Olga Temnikova, a Tallinn-based art consultant and co-owner of Temnikova & Kasela Gallery. As an active participant in the art market and an experienced representative of art from the Baltic Sea region, Olga is constantly analysing the peculiarities of the region's art scene – both its positive and negative sides. Olga's main goal for this exhibition is to strengthen the dialogue between private art initiatives in the Baltic region. The gallerist also calls on national institutions – which, after the generous gestures of assistance in the 1990s, have today, unfortunately, turned their backs on private initiatives – to reassess the important role of private collectors in processes that are vital for art. Olga also calls for a stop to the complex of always trying to keep up with others: "We don't need anything, because no one will come and save us!" She believes that now is the time to appreciate the region's own existing art and culture base and to strengthen a self-sufficient Baltic identity.
"Growing Out? Growing up?". Exhibition view at the Zuzeum Art Centre. Photos: Kristīne Madjare
What was your approach to this exhibition? What role did your professional background play in this process?
In the first place, I agreed because it is my field of research. I thought that I could advise and it would be interesting to be part of this journey.
At some point, this all felt a bit weird to curate something that is already curated. Collectors curate their collections and then I had to curate some part of it. For me, it felt a bit too ambitious! But, OK, I am a gallerist, I am a "connector" – so, what would be logical for me to do? I decided to select people whom I believe in, and who are dear to me. I invited people who care, who are nice and good to have around, and who would be great to be introduced to other people.
When selecting works from the collections, we decided to just show recent acquisitions; otherwise, how could I describe each collection in ten works?! That would be impossible!
Although the private contemporary art collection scene in the Baltics is not very broad, it is very diverse and very distinctive. What were the biggest challenges you had to face in the process of identifying and selecting collections?
I have to admit, I was really struggling with the selection. I knew that the collections must be the ones that have an approach and movement towards the public. But it's not all that simple. For instance, in Lithuania, there are at least three collections that are public, but only two of them are really contemporary, and only one is international. Whereas in Latvia, there's basically Zuzeum and the VV Foundation, but Vita [Vita Liberte, the co-founder of the VV Foundation – Ed.] doesn't show her collection – the Foundation works more like a residency. In Estonia, there's only Jaan Manitski (who was so bad at communicating that I thought I would burn up all my energy just on dealing with that). But he is a great guy and has a great institution in the beautiful village of Viinistu.
What about the challenges regarding choosing specific works?
My first ambition was to look through the works, analyse, and pick highlights, i.e. find what is the main characteristic feature of each collection. Sadly, most of the collections didn't have a proper overview available with which to visually see what they actually have. I gave up on that. Although, with Lewben we almost did exactly that – we showed that they have international sculpture, that they have integrated local photography into an international context, and that they have important local names. So with some, it worked. But in the end, I understood that it doesn't even matter! They just have to be good works, and people have to see what is in the collections! It is really an exhibition for the people! Still, there are some experts who say that too many works have been selected, but how can I tell the story with just five works?!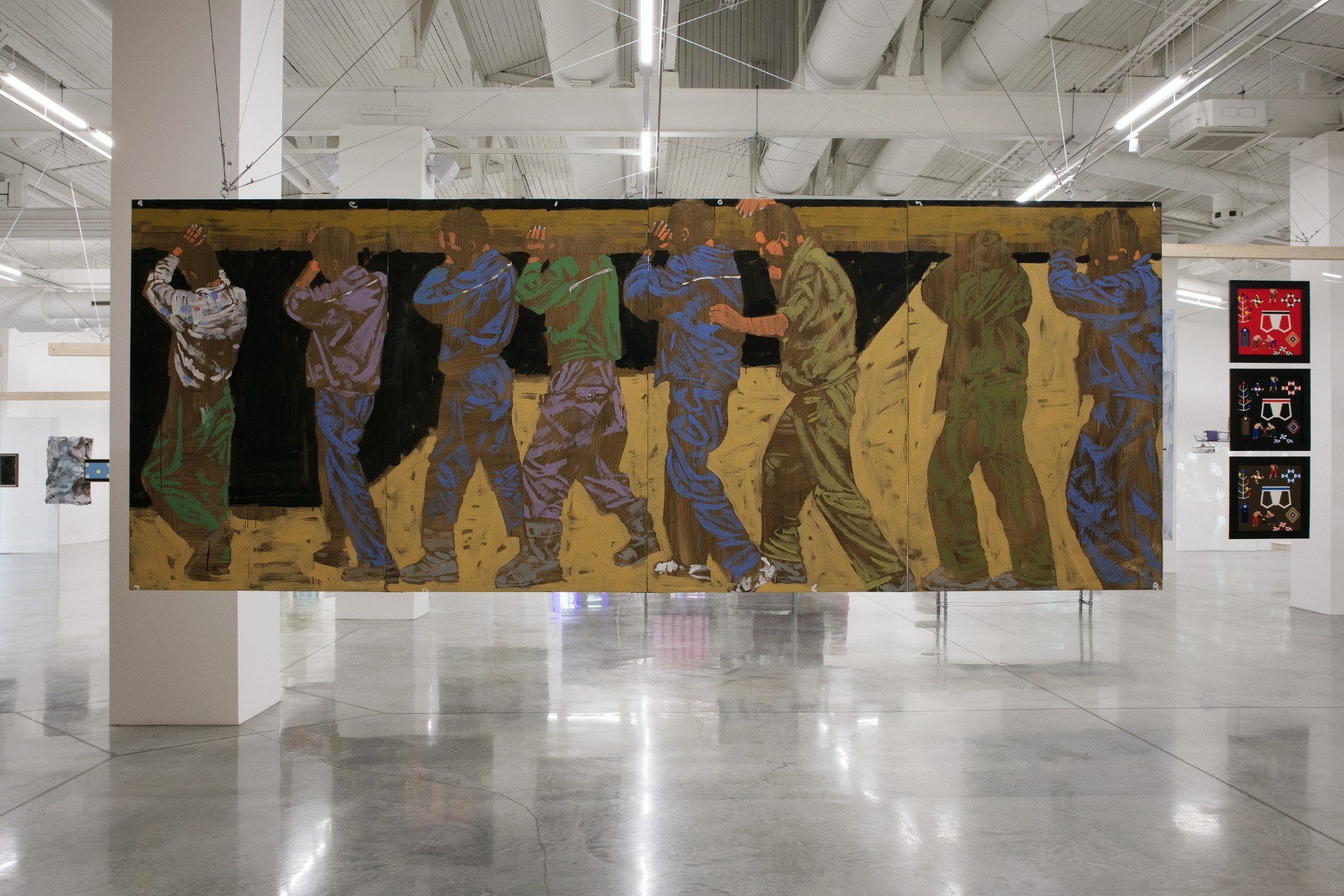 Were collectors given the opportunity to suggest what they thought would be the most suitable works for the exhibition? Did they have the opportunity to personally participate?
There were some suggestions, but eventually, I was the only one who saw the bigger picture, so I did not go with most. The exception being Māris Vītols – he is really keen on having his own thoughts and also has the ambition of a curator. He is probably the most aware collector, and he really knows what he is doing. From the beginning, when I was just thinking about the show, he was the one who came up with the first suggestions.
How would you describe the Baltic art collector approach to building a collection?
For me, a collector is someone who follows the artists, buys internationally, actively creates a wider group of contacts, and usually keeps to a narrow time interval in terms of the art. In the context of Baltic collections, there are so many that have been created all over the historic time scale. Someone may be buying antiquities together with the latest and freshest post-internet stuff. And they have reasons for that, but internationally – you just don't see that. If you go to ArtBasel, it is very rare to find someone with such a wide focus.
It is the same when looking at galleries. For instance, in my gallery, we represent post-internet artists and painters in their 60s from the Baltics, and then we'll take someone from Finland... and we also have have one artist from Germany. I guess it's all about the market and how people approach it.
How interested are collectors in the art scenes of their neighbouring countries? Who are the Latvian, Lithuanian and Estonian artists that are represented in several collections?
There are some Estonians crossing the border, some Lithuanians crossing the border… Katja Novitskova, Kaido Ole, Robertas Narkus, Žilvinas Kempinas… Sadly, I cannot name the Latvian. I have to say that Latvian art isn't collected enough internationally, and I actually think the gallerists are to blame, to be honest.
What are the themes or movements represented in most of the collections? Is there a unifying characteristic of Baltic contemporary art collections?
It is hard to generalise. For, instance, all the Lithuanians have an amazing selection of local photography, and I am happy about that because in Estonia, photography still has to prove itself, while in Lithuania this is not even an issue. Vitols Contemporary is totally into archaeology and geopolitics and trying to figure out what is going on in Eastern Europe. Collection Kruus, on the other hand, has a focus on science and technology art, which the others don't have. If we look at Lewben and Zuzeum, they have a tendency to buy contemporary trends that are taking place internationally. VV Foundation has a great selection of female artists (even though Vita [Liberte] says that she does not look at gender, she nevertheless has a set of powerful young women), and the same goes for Collection Kruus. Yes, I would say that turning their heads towards female art could probably be the new thing.
How interested are collectors actually in the common collecting process taking place in the Baltics? Is it important for them to be in such a community?
I think people want to belong, and it has been problematic for them to find their peers. When I look at Estonia, for instance, there is a certain lack of communication that stops people from developing. For me, the ambition of this show was to put people together. I thought, perhaps we need to make the stage wider for people to have a bigger selection with whom to connect, and maybe they will find their peers internationally. I think this exhibition will lead to something. I think this is a historic event!
So we can consider that the overarching goal of the exhibition is to build/strengthen this community.
When I went to the collectors' brunch and I saw who is sitting with whom, I was like, "Yes! This is what I want!" I think this is what worked, and that's why I am happy about the show!
We will do these three stops [the exhibition will be followed by independently curated exhibitions in Vilnius and Tallinn, as organised by the main project partners – Lewben Art Foundation and Kai Art Center – Ed.] and during them, people will become friends and figure out their international situation.
You know, I am very surprised that this hasn't happened before. And it is so generous that Zuzeum decided to host and produce this show because it is a huge effort for the good of the collective. I think that long-term, let's say, after two years, something will change for the better. It's funny that this community is so small, but those few people could make a difference!
In reality, how much influence do collectors have in today's Baltic art space and in the processes shaping it?
Of course, we have institutions that commission pavilions at the Venice Biennale, and we have museums that are buying, but their budgets are hyper-limited. If we look at the list of how many pieces are bought per year, this has nothing to do with how art survives! So, let's see who are the real players in Baltic collecting or art production… My gallery use to sell 70% of its art abroad, but with the pandemic, this number rapidly dropped. Thank God, the local market came to support us! Collectors are tremendously important and very, very underestimated by institutions! Hyper-underestimated! I think the state institutions could do way better in their dialogue with collectors. Not having this attitude of being super-snobbish and exclusive!
What is the potential of Baltic collections to be recognised on the international private collection map?
Three years ago, I would say something completely different, but right now I say – it doesn't even matter! I think we have to appreciate our own collections and appreciate those international collections and institutions that relate to the Baltics and Eastern Europe. If you think about which international museums are actually keeping an eye on our region… What would you name? I would name Kiasma, but the list would be very short. All the world is slightly corrupted; curators and museum directors want to be invited to the same dinners as, I don't know, Gagosian or Hauser and Wirth… So, if they think internationally, they're thinking London, Berlin. They haven't any clue about what is going on in the Baltics. We all meet in London and don't even say hello to each other. So, I think it doesn't matter! And even though it is important to see what is going on internationally, we don't have to be in this competition. We just have to find our own way!
Returning to the exhibition, could you tell us more about the concept of how the exhibition has been laid out?
I wanted to do it like a labyrinth – within it I've placed the private collections, while the outer wall of the labyrinth is devoted to public collections. That was the general idea. But then the architect came in with his idea of transparency, which conceptually felt a bit wrong because, for me, looking into private collections and learning about them has nothing to do with transparency. But then I thought, it is like a "game" of transparency – we are looking through the walls – and, in a way, it clicked for me!
It is a labyrinth where the visitor can make his own conclusions, doing his own research. Every work has been selected for a reason. Yes, we used some statistics, but still, they are all subjective, conceptual choices. Perhaps there are some not-so-precise elements, and I could change some things, but it is what it is.
Severija Inčirauskaitė-Kriaunevičienė. DONALD's Adventure, 2016 / Original chewing gum Donald papers, buckets, drilling, cross-stitch embroider
What is the one thing you want people to learn and remember when they leave the exhibition?
There were several points which I thought are important. One aspect is these favourite artists, or artists which have been collected throughout the Baltics, so I made sure that they appear several times in the show. Then there is this aspect of "cross-border", in which I tried to bring out those artists that are in collections from other countries.
The exhibition poses a question: what is the future of collecting? So… how do you see this future?
Well, it just poses a question! In a way, the fact that we are showing recent acquisitions shows where we are going. In the case of MO, they are where they are – they just buy younger art and will never start collecting international art. But if you look at other collections, there is huge potential for collecting international art, and collectors are buying more complicated things – both medium-wise and content-wise.