Beyond the Tune
An interview with Lithuanian artist Lina Lapelytė
Lithuanian artist Lina Lapelyte's name was heard louder and more frequently on the global art scene when the opera-performance Sun and Sea (Marina), her collaboration with Vaiva Grainytė and Rugilė Barzdžiukaitė, triumphed at the Venice Biennale in 2019. The piece continues to move audiences, touring and transforming within various art institutions and contexts around the world.
A few years ago, as part of the Riga International Biennial of Contemporary Art (RIBOCA2, curated by Rebecca Lamarche-Vadel), we were able to see the large-scale installation Currents created in collaboration with Mantas Petraitis (Implant Architecture), where more than two thousand pine logs were floated into the Daugava River (in the Riga neighbourhood of Andrejsala), creating a kind of island on which performances by Lapelytė took place. This is also where the idea for Lapelyte's performance piece The Mutes took seed – the work premiered last week in Paris at the Lafayette Anticipations art foundation. In this exhibition, Lapelytė has created a performance in collaboration with people who recognise themselves "singing off-key".
Lina Lapelytė. Mutes. 2022. Photo: Marc Domage
A couple of years ago, the large-scale installation Currents, created in collaboration with Mantas Petraitis (Implant Architecture), was on display at RIBOCA2, which was curated by Rebecca Lamarche-Vadel. Lamarche-Vadel is also a director at Lafayette Anticipations – was it around this time that the seeds for The Mutes were sown?
Yes, after our piece at RIBOCA2, the conversation with Rebecca continued – without precise dates and conceptions, but we both agreed that it would be nice to continue to work together and Lafayette Anticipations was an exciting proposition. The building designed by Rem Koolhas is a very special place that allows artists to choose the configuration of the building that best suits the needs of a work...
Lina Lapelytė. Mutes. 2022. Photo: Marc Domage
Could you elaborate on what was your inspiration for creating The Mutes?
In my practice, I often work with singers, and one of the key requirements when selecting them is singing in tune. The Mutes challenges this by inviting people who don't have musical precision and who have been excluded from singing activities throughout their lives. The work looks into what it means to be out of tune or off key, but not just in musical terms.
The exhibition contains sculptural objects – wooden canes, benches, shoes, ceramic ramps – which serve as tools for this durational performance that takes place daily for six hours at a time. The whole space is turned into a nettle garden – the plant that is treated as a weed (you could say it's kind of "out of tune" in the garden) despite its extremely beneficial qualities.
Lina Lapelytė. Mutes. 2022. Photo: Marc Domage
Within the performance, words extracted from Sean Ashton's book "Living in A Land" are sung by amateur performers who claim to not have an "ear for music"/are "singing off key". Could you talk more about the casting process, composing for and directing these performers?
The call for casting was aimed at people who consider themselves non-musical. And those who don't have "an ear for music" know it – they have been told that they don't, often in childhood. So in a way, the casting confirmed to some people that they do sing quite off-key, and with those, we continued working. The others were not selected as their sensitivity to pitch was pretty OK. It was an audition with no negative outcomes. (smiles)
There were a lot of "unknowns" in the process of making the work - I wasn't sure what to expect from the selected people. Some of them had a little acting experience, and some were dancers but the majority never performed or sang. However, I was blown away and touched by the generosity of each person involved. The braveness to stand for who they are and to be who they are without pretending, freely enjoying themselves. It was a beautiful and a rewarding process.
I worked with amateur singers before so the process is different compared to the professionals who can read the score and deliver what you need.
Here I had to learn what each person requires and accommodate these needs.
The music is mainly song-based: they were all given a recording of me singing the songs and they learned that way. Of course, I'm not there to fix the singing - the main focus is on togetherness and ownership of the space.
Lina Lapelytė. Mutes. 2022. Photo: Marc Domage
The Mutes deals with themes such as otherness, and at the same time, the creation of collectiveness. How do you see this work in relation to today's social and political context?
The work is not trying to teach people to sing, but it asks us to become better listeners. The shared collective voice that is not meant to be singing refers to many aspects of our lives – the current abortion crisis in the US, the war in Ukraine… Who are the policymakers that allow these things to happen? Are those who are not being heard "out of tune"? Or is it the other way around?
Lina Lapelytė. Mutes. 2022. Photo: Marc Domage
Your composition for The Mutes also involves recorded contributions by experimental musicians such as Angharad Davies, Rhodri Davies, and John Butcher. How did these collaborations come about?
I have been performing and collaborating with these musicians since my very early days in London. They are all fantastic artists, and in the context of The Mutes, their experimental approach to music fitted very well. They expand the possibilities of their instruments beyond conventions, beyond pitch and the given timbre. We will also be holding a concert on 23rd July as part of the public programme.
Lina Lapelytė. Mutes. Lafayette Anticipation, Paris, 2022. Photo: Rasa Juškevičiūtė
What is the meaning behind the title of the show?
The Mutes refers to the silenced - as much as the out-of-tune, people are silenced in musical collectives, in daily life, the voices of people of color, the queer people, and neurodiverse people often do not have the right to perform in the same capacity as everyone else.
Your opera-performance Sun and Sea (Marina), made together with Vaiva Grainytė and Rugilė Barzdžiukaitė, triumphed at the Venice Biennale 2019. Since then it has been recreated and shown in various venues and contexts. What do you think is behind the success of this piece?
Behind the success of this piece are trust, non-hierarchy, collaboration, love, coincidences, and hard work without high expectations.
Lina Lapelytė. Mutes. 2022. Photo: Marc Domage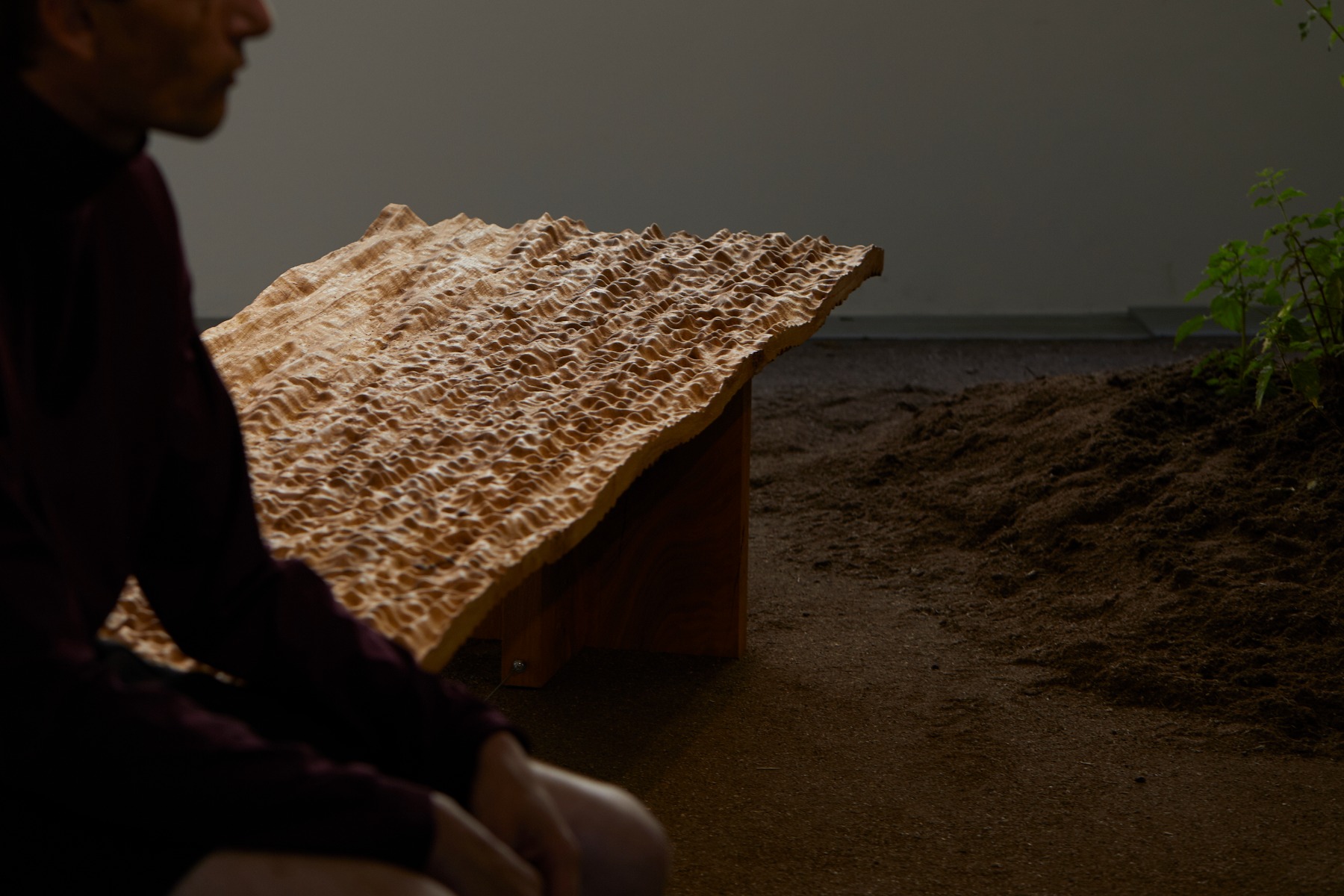 In several of the latest editions of the Venice Biennale, the Golden Lion has been awarded to a performance*. What are the aspects that have led to a rediscovery of contemporary performance?
It's hard for me to reflect on that as I am biased, also I am also originally trained as a musician, therefore, I trust live and ephemeral work. However I don't think one medium is better than the other - the content is what matters, the good painting can touch as much as a good performance work.
In summer you spend time in your house in rural Lithuania. Nature and its forces are often reflected in your work; would you say it is also an important aspect of creation?
Creation is streamed through a very fragile human body and mind – if it gets a bit of sun and fresh air, the possibility to walk barefoot, and an open horizon for the eyes to feast on, it gets ready to stream the subconscious of the universe, to create. Slowing down is extremely important – I keep reminding myself of this, and in the countryside, it's much easier.
Your work takes different paths – from composition and directing to performing and composing for film. What do your future horizons look like?
It may look like my work takes different paths, but actually, it often follows the same interests – you can't escape from yourself! Sun and Sea and Have a Good Day! are the touring works that will continue through 2023.
Upcoming personal shows include a new performance work on the lake, involving myself and a local choir in Theaterspektakel in Zurich, as well as a public artwork commission for the Munich Open and a solo show at The Frac in Nantes.
* This Progress by Tino Sehgal in 2013, Faust by Anne Imhoff in 2017, and Sun & Sea (Marina) by Lina Lapelytė, Vaiva Grainytė and Rugilė Barzdžiukaitė in 2019.
The exhibition The Mutes is on view at the Lafayette Anticipations foundation through 24 July.
Title image: Lina Lapelytė. Photo: Rasa Juškevičiūtė