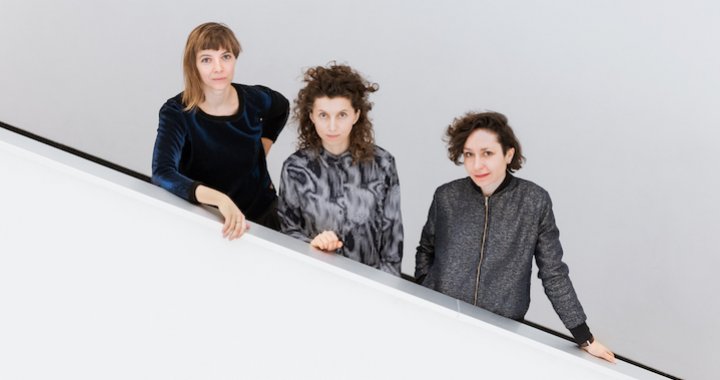 Take me to the beach
An express interview with Rugilė Barzdžiukaitė, Vaiva Grainytė and Lina Lapelytė, the artists representing Lithuania at the 2019 Venice Biennale
17/04/2019
Imagine a warm (or even hot) summer day. You carefully put everything you need in your bags – towels, water, parasols, another swimwear set, a hat and certainly some snacks – and taking along a good mood, you go to the beach. There you'll spend a peaceful, sun-filled holiday. For decades, the beach has been a symbol of absolute happiness and recreation, a place where to simply be lazy and enjoy la dolce far niente. For the 58th International Art Exhibition La Biennale di Venezia, the Lithuanian pavilion has prepared exactly this sort of hypnotic and tempting scene – an opera and a performance, Sun and Sea (Marina), that will be displayed in a historic quayside building within the Marina Militare, a space never before used during the Biennale.
This project by film and theatre director Rugilė Barzdžiukaitė, artist and musician Lina Lapelytė, and writer, playwright and poet Vaiva Grainytė brings up to 20 participants and singers together for a durational performance and takes place on an artificial beach composed through music, light and specific architecture. While the vacationers are lying on the hot ground, the audience observes them from above – through the point of view of the sun. Yet this work is not just a reminder of "better days"; the core idea of the work concerns the ecological issues of today – while some are lying on the beach, social and environmental crises are still emerging.
Sun and Sea (Marina) has been previously performed at Vilnius's National Gallery of Arts and as a "micro-opera" at Palermo Gallery in Stuttgart. The adaptation shown at the Venice Biennale will be the first version of this piece in English and will be curated by Lucia Pietroiusti, Curator of General Ecology at the Serpentine Galleries in London.

Rugilė Barzdžiukaitė, Vaiva Grainytė, Lina Lapelytė. Sun & Sea, 2017. Opera-performance. Photo: © Neon Realism

Your work Sun and Sea (Marina) is an opera and a performance set in an indoor beach full of typical holiday-goers. What's the concept behind the piece and how did you come up with it?
Vaiva Grainytė: This carefree situation of the beach is only a surface. The image of nude laziness and lightness encrust topics of temporality of human bodies, and the tired body of Earth. Holidays manifest the joyful consumption of planetary resources and our daily engagement into anthropocentrism.
Lina Lapelytė: We've been asked somewhere to describe it in one sentence – it could sound something like this: a dense bodily performance of 30 bodies and voices in a rhythm of sea waves or a broken bossa nova or your favourite pop song – an end that might be a happy beginning.
Rugilė Barzdžiukaitė: The holiday-goers are not that typical as they do sing here. In solos and in choirs... This singing beach is the careless, entertaining format of the piece, however, there is a hidden intuition of the end, encrypted under the surface of burning time and burning skin. The idea began with the image of the beach, watched from above, and the parallel between the fragile human body and the body of Earth...
The 2019 Venice Biennale isn't going to be the first time the work is displayed – it has been previously performed at Vilnius's National Gallery of Arts and at Palermo Gallery in Stuttgart. What (if any) updates has Sun and Sea (Marina) undergone before your participation in the Venice Biennale?
Vaiva: The Palermo version of Sun and Sea that we did during our residency at Akademie Schloss Solitude was only a try-out, i.e. the very first exercise for the three of us to check out the angle from above (which was suggested by the specific architecture of the gallery) with the singing and laying out of bodily figures. There was no content as such, only a few looping lines sung in intervals by residency fellows as the vacationers. The premier at Vilnius's National Gallery of Arts marks the actual birth of Sun and Sea and where the characters, their stories, music and choreography were embodied in the form of an opera-performance. One of the main updates of Sun and Sea (Marina), I would say, is the language – the vacationers will be singing in English, which means that the score was rewritten according to the new translation of the libretto (done by Rimas Užgiris). Not to mention the fact that we will have local Italian singers taking part and rotating during this six-month period of the Biennale, which means that each performance will suggest a different approach of characters, accents, bodies and energies.
Rugilė: Besides the one at Palermo Gallery, there was another German version in Dresden. We still have the piece, which is around 70 min long, if we sing it without pauses, but we have to find a subtle way to go in and out of the singing mode if the visitors of the pavilion are away at certain times. This piece has many narrative layers as well, so we are trying to speculate how it will look for the viewers if they're only there for 5 or 10 minutes...
Lina: For me, the biggest change and challenge is the durational approach towards the work. During the Biennale, performance days will last from morning until evening. Actually, from the very first stage of the piece we saw the need to have it as an installation more than a performance with a clear beginning and end. We always wanted something that could feel eternal, something that not only formally but also physically functions as a day under the hot sun.

Rugilė Barzdžiukaitė, Vaiva Grainytė, Lina Lapelytė. Sun & Sea, 2017. Opera-performance. Photo: © Neon Realism

Each of you represents a different field of art. How, in your mind, this has affected the result of the artwork?
Rugilė: This piece has visual, narrative and musical layers, and if any of that is taken away it would be lost as a whole. Each of us has developed our creative roots in separate fields: Vaiva is a writer and poet, Lina is a sound artist who has expanded her creative practice into a much wider context, and I am a filmmaker and theatre director who has expanded to also being a stage designer. Yet at the same time, all three of us are involved in every aspect of the work. We do discuss and contribute to each other roles, which is why we stopped labeling our roles at a certain point.
Vaiva: During the process of creation, we equally exchange our ideas, i.e. we discuss all the steps together despite having our own fields of competence and solo tasks that are done privately (for example, after writing a piece of text or music, we share it openly and analyse collectively). This method of a "three-headed dragon" takes lots of time; it is energy-consuming and requires respect and patience, but the outcome is more than somewhat of a distilled piece of art.
Lina: I think that most artworks of this scale are the creations of more than one person. The different fields enrich each other, and working collaboratively helps to maintain healthy egos.
In our work, there is the sharp eye of a filmmaker, the ear of an improviser, and the words of a very good listener.
Is the making of Sun and Sea (Marina) your first time working together?
Lina: Actually, we have been working together since 2010 – almost a decade.
Rugilė: After our first collaboration, Have a Good Day!, there was a long pause before the second one came up, however, with the first work we were touring intensively for many years, so it felt that the collaboration hadn't stopped during those years.
The curator of the Lithuanian pavilion at the 2019 Venice Biennale is Lucia Pietroiusti, the public programmes curator of the Serpentine Galleries in London. How did your collaboration begin?
Lina: In 2014 I had a solo show at DRAF (David Roberts Art Foundation); Lucia came to see it and soon after commissioned me to present a new work at the Serpentine pavilion. At the end of the same summer, I made a new performance work called Hunky Bluff. And, obviously, the conversation kept going...
Rugilė Barzdžiukaitė, Vaiva Grainytė, Lina Lapelytė. Sun & Sea, 2017. Opera-performance. Photo: © Neon Realism

Your work in Venice will be set in a historic quayside building within the Marina Militare, which is a space that has never before been used during the Biennale, and this fact has already become quite the topic of debate among professionals. What do you think of this place, and how do you feel about the upcoming Biennale?
Rugilė: While looking for the space, we scouted so many different locations: staircases, abandoned churches, banks, warehouses, shipyards, private apartments, inner yards and so on – looking for the required angle from above. The audience has to watch the piece as if from the sun's perspective. The ceilings are not that high in the selected space, but there still are many other advantages. Logistically, sometimes it feels as if everyone is fighting to make the impossible possible – the project is crazily ambitious in every aspect, if we bear in mind the context and the format...
Lina: We discovered this space while having a very specific need in mind – a location that would not require us to build anything new...Sun and Sea (Marina) requires viewers to see the performance from above, and this dictated our needs. Marina Militare was, in fact, almost the only location that could offer this angle. Moreover, it also features a beautifully abandoned and calm military area next to the canal.
Vaiva: I am looking forward to the Venice experience with cortisol-driven excitement and dopamine-fuelled (mild) insomnia.