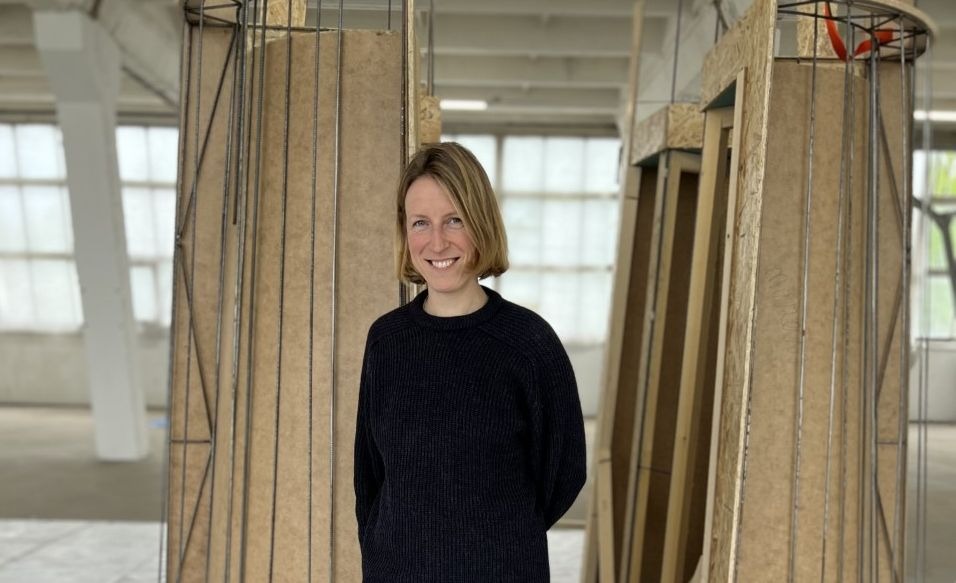 I know where I'm going but have no idea how I'll get there
An interview with artist Evita Vasiļjeva
Evita Vasiļjeva is a Latvian-born Europe-based artist, educated at the Department of Visual Communication of Latvian Academy of Arts (2005‒2009) and the Amsterdam Gerrit Rietveld Academy (2009‒2013), without a permanent residence at a specific address in a specific city. True to this spirit, Evita arrived for this interview armed with a suitcase to head straight for Cēsis where she and artist Kaspars Groševs are mounting an exhibition entitled Blue Lagoon House as part of the 2022 Cēsis Art Festival, which opened on Friday, 8 July 2022. The next stop is Lyon, where one of the most significant events on the European art calendar, the Lyon Biennial, opens on 14 September 2022.
'A teacher once said that artists make things they did not have as children. I'm not sure if I should believe her or not. I didn't have a room of my own as a child in Soviet times. Perhaps there is some connection with my art. Or perhaps [the fact that] I don't have a real home; I don't have a flat of my own in one specific country and city [is the reason why I] always set up my own room in every exhibition. I am in Latvia now, but my thoughts are already with the basement in Lyon,' she says during our conversation.
Speaking of Evita Vasiļjeva's sculptures, critics sometimes refer to them as 'a physical extension of thought'. At the same time, it is important to highlight the multi-layered character and architectural depth of her art, the infinite labyrinth of thoughts where the viewer is invited to search for his or her own unique experience amidst robust and rough fragments of concrete, vibrations of light and fragile spheres of soap.
Monumentalism and physicality of corporeality, tangible even without touching, are the most significant qualities that define her art, as is existence in an intermediary state, a certain incompleteness that generates a sense of openness. Evita has developed her own language, always recognisable on sight. And if you don't know her, you could easily think that her art was created by a man. 'It's just that I have never wanted to make typical women's art ‒ the kind associated with women by the viewers. I have thought a lot about these matters because the subject has been quite topical in recent years. Women are fully able to make anything, build anything.' Evita makes her artworks with her own hands, getting some help when needed. And it is a surprise in the routine of Western European art today because 'it does not happen like that anymore'.
You have been living and working outside of Latvia for a long time now. Does your background make you different? Is your art different? Are you a cosmopolite or an Eastern European artist despite everything?
Both. The longer I live in Western Europe, the more I feel like an Eastern European. Differences become obvious through exchange/diversity. I have by now mastered all the codes of being a world citizen, and people struggle to tell where exactly I am from. I installed my work Bed-Room-Bed (2021) for the Adesso No group show a month ago in Florence, at the Not A Museum exhibition space; it is made from metal beds, and the curators were very surprised to learn that I had made the piece with my own hands, I had done all the welding myself. They were shocked: It does not happen like that anymore. Normally you give somebody the drawing and they weld it for you. I don't do that; I find it very normal to make your own things. I recently talked about that with Liene Pavlovska ‒ about which artists do it themselves and whether it is important to make things with your own hands. I think it might be about some cultural layers in your identity. I am half-Russian and half-Latvian. My Russian grandmother, my babushka, worked insanely hard. That's how I was brought up, with this idea that you have to do everything for yourself. That's what I normally think ‒ if you cannot buy it, make it. I think it can be traced back to the Soviet times when everything was always remade and adapted; nothing was ever thrown away; everything was treated with creativity and lots of sticky tape. And there was great respect for hard work; the idea that you had to work was cultivated a lot. It is this kind of unconscious baggage that is hard to get rid of.
Do works preserve an energetic imprint of the artist?
Yes, I believe in that. The presence of the artist's hands can definitely be felt.
Bed-Room-Bed, 2021 Installation view, Fiminco Foundation. Photo: Martin Argyroglo
You left Latvia early in your life and studied in Amsterdam for a long time. What impact did it have on your work as an artist?
Back when we studied at Rozentāls Art School and later at Visual Communications (Latvian Academy of Arts, 2005‒2009), we used to lend each other art magazines; we had this crazy craving for knowledge. They used to take us to the Venice Biennale, and this world abroad seemed insanely cool. Then I went to Berlin on an exchange programme; I was 18 or 19 (I was still a student at the Academy).
I got a taste of living abroad. In Berlin, I fell in with the Russian art crowd, and there was a moment when it felt like I was about to give up everything and stay in Berlin. It was like this nightlife was taking over (laughs). But then I came to my senses; I realised that would not be a sensible thing to do. I went back to finish my studies at the Academy. But I felt there was something missing in my education. I appreciated the fact that I was asked to paint and draw at the Academy; all of these things are great for training the eye and the hand, and yet this approach seemed too mechanical to me. It was cool that I mastered all the software, the whole technical range that was available here at the Visual Communication Department. What was lacking was, for instance, contemporary art theory. And so I left to study at the Gerrit Rietveld Academy (2009‒2013) in Amsterdam. I was completely in awe of everything there. It felt as though I had learned in a year as much as I had in five years back in Latvia. Super intensive daily discussions; an extremely interesting bunch of international fellow students. I had had my BA already back in Latvia, but I still enrolled in their BA programme simply because I wanted to spend four more years there. I felt that the two years of the MA programme would not be enough. I had this desire to soak up everything. The curriculum at Rietveld Academy is based on the Bauhaus principles. Initially, everybody studies everything without picking a specific department. We had to study design, printmaking, fashion, drawing, painting ‒ everything. This is perhaps where I found my conviction that I can change the categories I work in if I feel like doing it. A specific direction is only chosen further down the road. We were a terrific class; we mounted exhibitions with the Last Minute Group. But at some point, you start getting used to it all and you start missing Latvia. All the weirdness; the fact that everything is done differently than in the West. Initially, you love the orderliness of Western Europe ‒ that everything is so correct, so cool, and intellectual there. And yet it seems so… routinely polished. Then you come to appreciate the character of Latvia, the imperfection of Latvia (as opposed to the perfection of the Netherlands). I noticed that people had lost any local ambitions; they had become placid; they don't want to exert themselves. Eventually, I started to feel that I would start to stagnate if I stayed. At some point, I stopped feeling stimulated in that environment. Perhaps I had taken everything I could from it, I had soaked it all up. And so, I started to look around for places to go next.
Does well-ordered life rob the art of drive?
It's hard to say one way or another. On the one hand, you lose your drive when everything is fine and there is no lack of anything in your life; on the other hand, you need some comfort so you don't have to think only about paying your rent. Comfort was quite important to me in the Netherlands; during the residency at De Ateliers, I did not have to worry about trivial everyday things and there were no obstacles to expressing myself creatively. Two years of residency ‒ is a much-needed time that allows you to not think about the mundane. You can put all of yourself into your art. In Latvia, artists cannot afford it; they must work and earn their living. It is so much harder to open up. At the same time, the thing I love about the Latvian art scene is that artists make art here because they want to, because it is their natural way of living ‒ not just because they want to sell something to somebody. Because there is no market. But you have to find a balance between comfort and creativity; creating is impossible without any comfort at all. Stress deprives you of your ability to think.
Impulse (J or Imp), 2020; Interactive site-specific installation: 12 channel sound, green lights, electricity 220 v, 12 movement sensors, electromagnetic microphones, contact microphones. Photo: Madara Gritāne © The Latvian Centre for Contemporary Art
The conceptual point of departure for your art is usually the space where it is shown.
Yes, I usually start with the space. What matters is a certain stream of associations which is then crystallised through sculpture, sound, or light. But then again there are cases like this autumn's Lyon Biennial where I am showing an existing work, the green electric piece originally created for the Survival Kit (Impulse (J or Imp), 2020 ‒ Ed.). That's why I have to think about ways of adapting it so the space would suit it. About what are the important things regarding the space ‒ what was crucial in the original situation, what can be left out, and what is essential in this new location. I have to understand the boundaries and character of the piece. This time around, working with the Lithuanian programmer Alius Bareckas, we will focus particularly on the precision of sound. Initially, I used the 'turn on / turn off' approach, without the option of controlling anything. We will now try to adapt the frequency tone, and change the sound feed by using sensors.
There will be about twenty of us showing our works at an abandoned museum of natural history. I love the building, although it is in a tragic state. It is empty; there is this slight whiff of mould. I am actually somewhat surprised that it is even open to the public. But it is very impressive. There are still Egyptian-themed posters on the walls: the room must have housed mummies at some point.
I had initially picked another room with a caved-in ceiling, but it turned out to be in too bad a state, completely unfit for use. And so, I was allotted the basement. It is great, it's just that… I had an exhibition in a basement only a month ago; I've kind of had enough. People have seen my works in basements; they find them edgy and cool, but I'm actually not that fond of them (laughs). Although the place is very good for the particular piece ‒ it's atmospheric, windowless; it has character. It fits the specifications I submitted to the curators.
My Room is in the Corner, 2018. High density polystyrene, paint, Lustwarande. Photo: Gert Jan van Rooij
Transferred to another environment, the essence of the works also changes to a certain extent. Like the soap lamps from Marseille shown at the Same Door, Different Street exhibition as part of the Roots to Routes project (curators Merilin Talumaa, Maija Rudovska and Justė Kostikovaitė) for Manifesta 13 (2020) and now also featured at the Blue Lagoon House show at Cēsis Art Festival. How do you integrate the distinctly site-specific story of these objects into the context of a different exhibition?
The site matters initially. And yet the work goes on to live a life of its own and eventually becomes independent of its place of origin. It is inspired by a place but also self-sufficient. In a different context and different space, it is still a sculpture. It's just that people will interpret it differently. For instance, I collected the flies incorporated in the soap in Latvia, and because of them, the work was connected to the context of immigration in France.
Seven reasons why you should make time for the sunsets I-V, 2020-2021. Exhibition "Same door different street", Roots to Routes, 2020 Soap, flies from Latvia, plastic, metal, pigments, wires, lamp. Photo: Aurelien Meimaris © Roots to Routes
The materiality of your sculptures is surprisingly extensive and diverse. How do you choose, and how do you arrive at these things? The soap, for instance.
I wanted to work with something you can melt and then set again ‒ it stems from working with concrete on a regular basis, a material that behaves in a similar way. The idea was born in Marseille where soap production is a local industry. A small detail, though: soap is always opaque in Marseille. I wanted translucent soap, so I had to order it from the UK (I had found the chemical formula but was a bit wary of making forays into the world of chemistry on my own). However, the inspiration came from Marseille and its sunsets. The aspect of perishability is also essential here. Soap dissolves in water and disappears. Just like a sunset.
It is also important that soap is reminiscent of glass visually; I came up with the idea that I could melt the soap, make a cast, and it will look like glass. The flies just happened automatically. I had a few dead flies lying about in my studio, and it all clicked into place in my mind. I could not find any flies in France. When I went to France, I noticed that there were none, not even at specialist shops for anglers. When I was installing my work at the Survival Kit, there were lots of flies. I collected them all and brought them to Marseille. I cast the soap at the studio of the French artist Antoine Nessi with whom I made that double exhibition.
Seven reasons why you should make time for the sunsets I-V, 2020-2021. Exhibition "Freedom of Sleep", Fiminco Foundation, 2021. Soap, flies from Latvia, plastic, metal, pigments, wires, lamp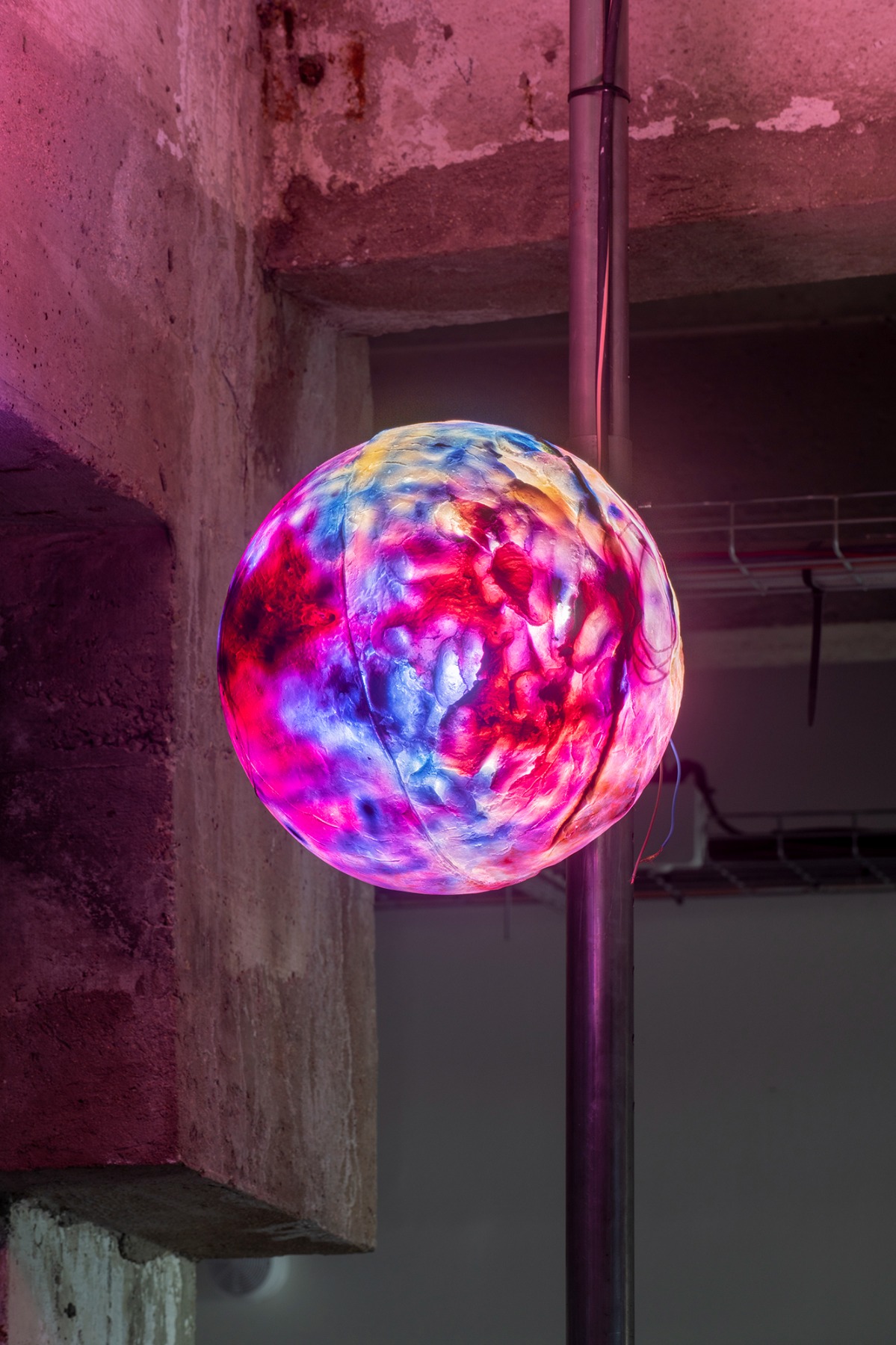 What about concrete? It is the material that springs to mind when I think about your works.
I started working with concrete back in Amsterdam, during the De Ateliers residency (2014‒2016). Before that, I worked with plaster. The floor was grey at De Ateliers, and I realised that plaster will not look particularly good in that room. Everything happened quite organically. Without much deliberation. They started referring to me as 'the strong Russian woman' after that (laughs). On the whole, it seems that the point of departure for the whole thing was a kind of Eastern European code, the post-Soviet legacy. I am starting to think that there must be deeper roots for that. My grandfather was building a house with my dad. From the actual foundation. As a child, I spent a lot of time watching them; I saw the whole process. How they cast the foundation, how they buried the slab in the ground. I found it fascinating. I played with other children on the adjacent construction sites. We crawled inside the unfinished structures; it was our headquarters. A large part of the newbuilds was abandoned. They remained unfinished. Latvia regained its independence; a time of big changes started; many people lost their jobs. This stayed in my mind as a moment when time stopped. When some things were not continued. Or perhaps somebody else continued them but in a transformed state. That influenced me.
Blue Lagoon House. Exhibition view. Photo: Kristīne Madjare
It is exactly this moment that we see in your bells for the Blue Lagoon House in Cēsis: unfinishedness, half-finishedness, fragmentation…
Yes, the bells consist of segments, some of which are not completely filled. I also think about architecture, modular building ‒ about ways of putting something together. I also mostly use the modular principle ‒ forming a whole by joining separate things. But ‒ yes, preserving fragmentation. It makes a work... open? Personally, I always prefer only open works. If I can simply read a piece, it is over for me. If I cannot read it completely, it continues to intrigue me. Build associations. But it is important to preserve a certain balance ‒ to not confuse too much. Because many people feel confused, they don't get the idea and therefore reject the work. But there are others who do not understand and yet find it interesting.
Blue Lagoon House. Exhibition view. Photo: Kristīne Madjare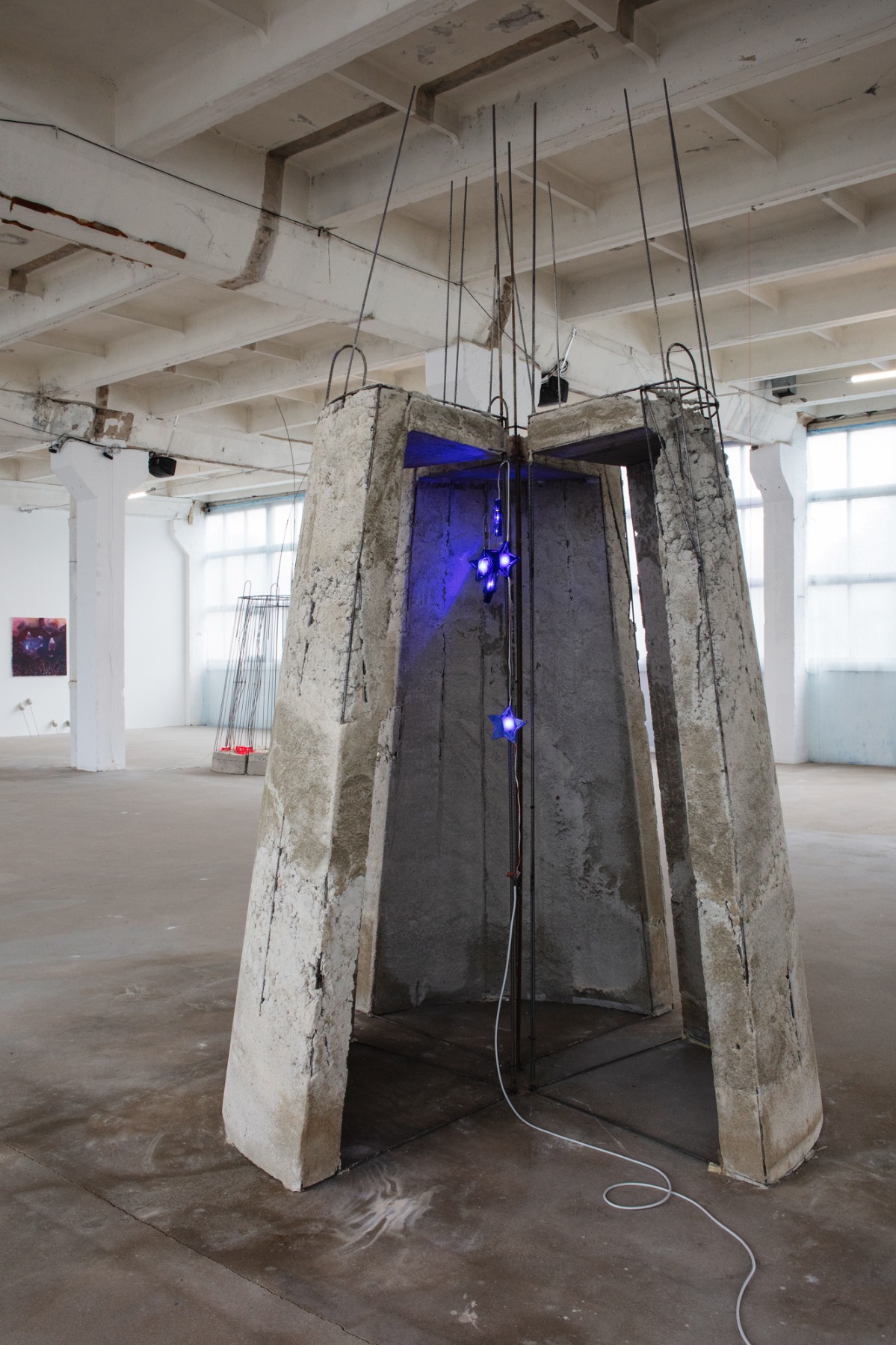 But the sculptures shown in Cēsis and created especially for the project can be called bells ‒ right?
It is my nickname for the object. I don't want to refer to them as sand houses because that's what everybody will see then. 'Bell' carries a more open meaning. We associate a bell with sound, but my Bells have the texture of sand which does the opposite ‒ absorbs sound.
For a short while, I considered calling them Head for the House. Because there are usually houses for heads. But this time it is the other way round. Head for the House ‒ a space where you can place yourself, an imaginary room.
I decided to stick with Bells in the end. I think it is a good thing when a work does not have a proper title when you cannot find the right name for it. All it has is a nickname.
Your mind is a house and you live in the kitchen. Installation view, Marwan, 2019. Photo: Franz Muller-Schmidt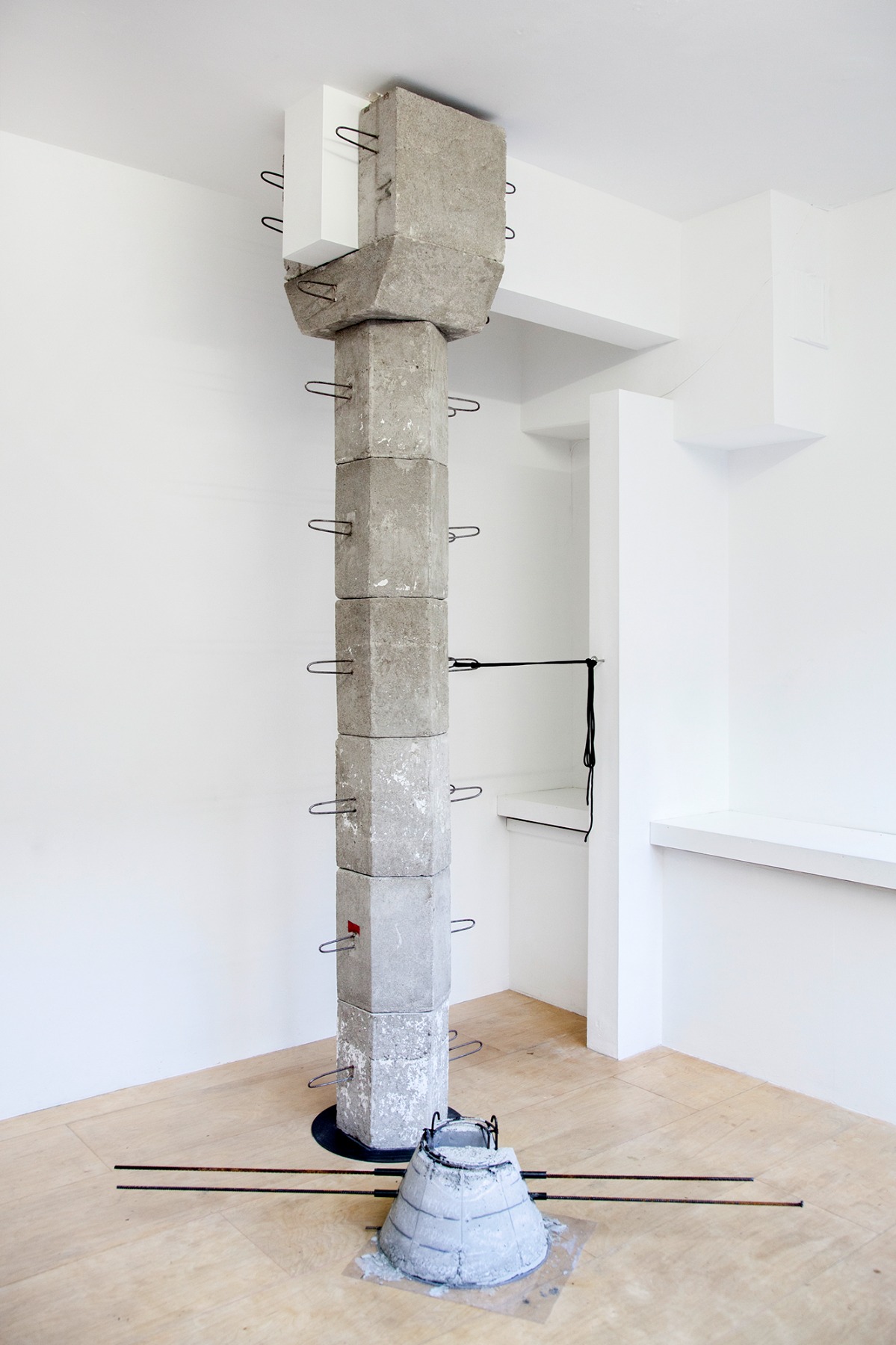 Your works are a tangible demonstration of existing in an intermediary state. Although there have been instances of completeness, certain elements of design. Is it deliberate or perhaps a natural process you surrender to?
I am giving more thought to being able to move the works. It did not matter before; I did what I felt like doing. But when I started to get invited to exhibitions, certain issues arose, like, for instance, transporting the pieces. And that started to influence me. There were some shows I could not take part in, simply because my works were too big. So, I started to think about ways of solving these problems. For instance, I made feet for the soap lamps that are transformable to suit the room. Because initially they were fixed to posts but then I realised that there may not be any posts in other exhibition spaces. So, I had to make my own. I became more aware of the fact that concrete is heavy, so I started working with sound more. I tried working with electricity because then there is no need to transport anything particularly bulky. Just the wires. And when I work with sound and electricity, I treat them as sculpture materials that are also corporeal, have mass. But for me it's always the case that, when I make a piece, I immediately start missing something else. When I work with sound and electricity, I long for the physicality of concrete. And vice versa. I try to leave some room for me to be versatile. I could not be content working exclusively with concrete. I have developed my own language where the train of thought shines through regardless of the tools I use.
They say of your works that they are a physical extension of thoughts. Are your works born of a concept or perhaps of something quite physical and tangible?
It is a mix of the two. I have noticed that there is a moment, a certain state of tiredness when the analytical mind relaxes. When you are exhausted, and you automatically switch to… instinct? You follow your inner voice, you trust yourself. When your intuition kicks in. You feel that it's not quite, not quite, not quite… You pace the room, you climb up and down the step ladder, you add something, you look from different angles… And at some point, something like a tornado emerges; something happens.
How important is the actual process of production for you ‒ an immediate physical contact with the material? You build your own works, although it is very hard physically.
I normally have somebody who helps me, but I always closely follow every step of the process. How much concrete are we going to pour ‒ up to where? When do we stop? It is different from simply giving somebody a drawing and asking them to produce it. Because it is in the process that I often realise what should or should not be changed in the plan. I love working with fragments. And fragments, the process of making the fragments depends on many things. Including on running out of the material; there may be insufficient funding. But the whole thing happens very organically. I call it 'alibi' ‒ the direction we are taking. We can change a lot as we go. It is a combination I have never decoded for myself yet ‒ a formula of the process. I have spoken with other artists who have suggested that it could perhaps become boring for me if I got to the bottom of it. But since I haven't been able to crack to code, there is this stirring feeling inside ‒ I want to understand. I feel like I'm touching it with my fingertips, but it slips through my fingers in the end. There is this thinking time, then some breaks. But once the physical work starts, I have this rush of adrenaline. And everything happens very quickly. I switch to a different gear at once.
The beginning is always the slowest part ‒ until something finally carries you away. You spend a month sketching endlessly ‒ and there is nothing, but then, amidst it all, something clicks into place: oh, this could work out really well. There is no gravity to sketches. Then comes the super boring preparation time (you have to consider physics ‒ the weight, the size of the door you will have to get the thing through). The calculating and the sourcing; sometimes it's not even clear if you can get away with the whole thing. Lots of doubt: should I, shouldn't I? But when you get over this bump, excitement kicks in. It's when you start making real progress.
If told correctly it will center on me, 2019. Installation view, galley Post. Photo: Inga Jankūnaitė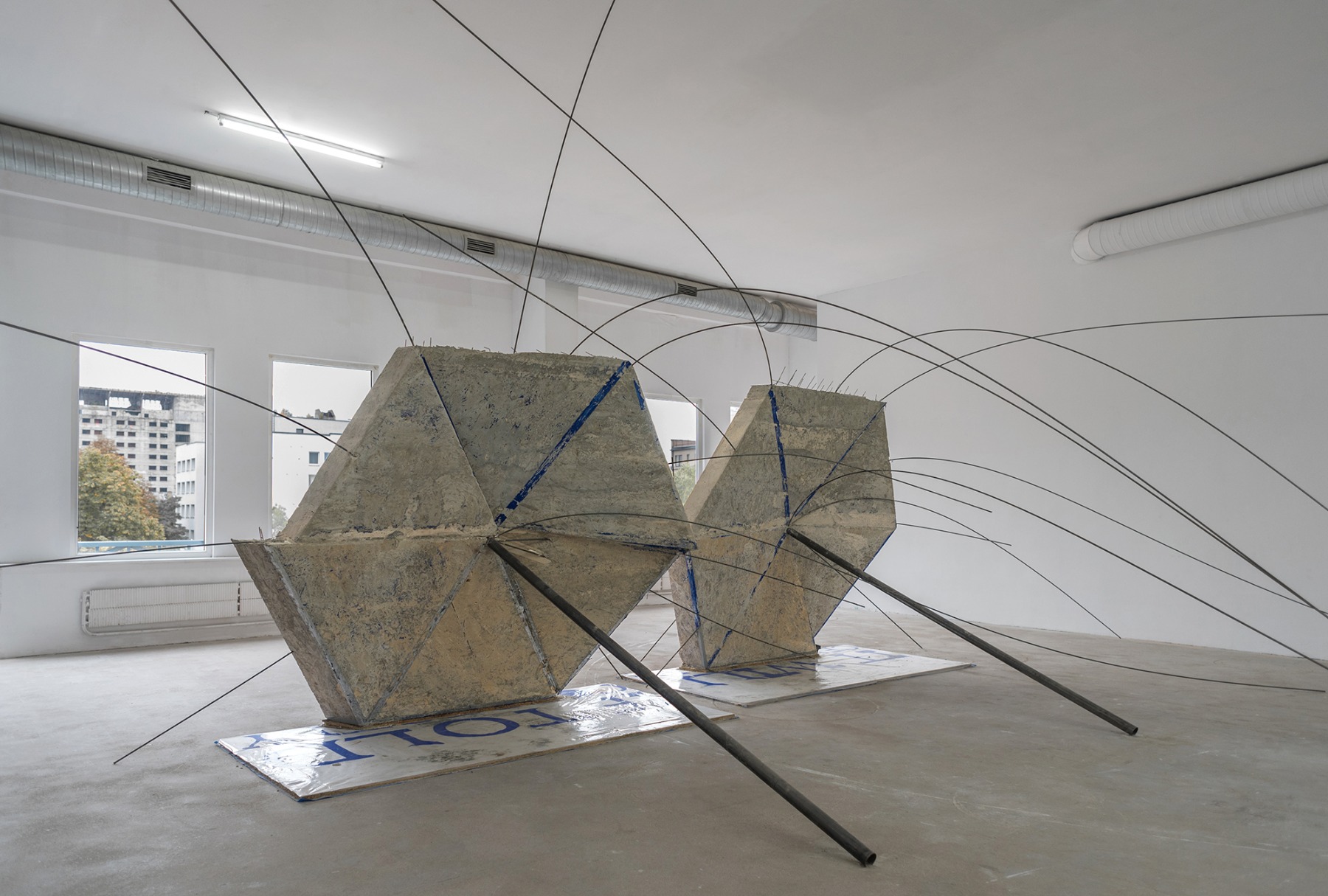 Do you read books between your works ‒ accumulate information?
Less so these days (since the advent of smart phones). Before that ‒ very much so. I love attending talks on philosophy, linguistics. But I do not work with textual concepts in a literal sense. I tend to work through my senses. I am influenced by it, but I don't see myself as a philosopher. I once found myself at a weird philosophy workshop in Spain. We had to form a Socratic dialogue every day to try and find an answer in a specific thematic context. I used to worry a lot that I don't know all the references and citations, I can't quote texts by great philosophers. At the workshop I realised that we all carry an incredible amount of knowledge inside us ‒ that everybody actually knows everything. It gave me a certain freedom, empowerment to express myself more ‒ without stating specifically what it is that I am doing. Open people possess all the knowledge. You just have to find a way to access it.
Evita Vasiļjeva and Kaspars Groševs. Photo: Kamil Bouzoubaa-Grivel
How do you feel working in synergy with other artists? In the context of the Blue Lagoon House ‒ with Kaspars Groševs?
With Kaspars I share an approach to art, a way of thinking of what we like. And we normally have this exchange where I send him things that I like, and he sends me things that he likes. Community spirit is quite important to me ‒ regarding any exhibition. Even though I feel that I am very much an individualist, the team, all the people who are involved in the work matter to me greatly.
You mentioned that you both liked similar things in art. What is it that you look for in art?
I have a great respect for people who collaborate. When it is recognised that art is important for the local space and artists do more than just promote their own ego. Personally, I have noticed that I am always moved by female artists and their works. The ones who follow their own thoughts, who don't try to fit in. All kinds of creative personalities. But generally, I really love historical art. Speaking of the contemporary kind… A big part of artists who are my age are becoming awfully trendy. And I am interested to see in ten years or so if they have stuck with it or they have just been following a fad. I love artists who, I feel, are being really who they are. Even if they don't fit in with what is generally accepted or recognised as the right way.
You mentioned that you are particularly moved by works of female artists. As a woman, have you ever felt uncomfortable in the art world?
Personally ‒ never. Many people have asked me that. I remember that, when I was studying in the Netherlands, I was told: 'Oh you are a woman, you will find it hard.' So, I was warned (laughs). But if you start giving it much thought… I don't know, perhaps it is harder for women to fit in, get accepted in galleries and museums. The general belief is that they predominantly focus on men. But I have never paid much attention to that. The only time it played any role was when I was graduating from De Ateliers. I had made concrete sculptures, and there was a woman who viewed them. The pieces did not really strike a chord with her initially ‒ until she learnt that I was a woman, and then she liked them. It is weird that the author's gender is thought relevant. In case of a man, concrete would be associated with macho. In case of a woman, it is perceived completely differently. It's just that I have never wanted to make typical women's art ‒ the kind associated with women by the viewers. I have thought a lot about these matters because the subject has been quite topical in recent years. Women are fully able to make anything, build anything. For instance, in Cēsis I am assisted by Liene Pavlovska. It is more fun working with other girls. We have also considered starting a women-only carpentry business.
I do ask some guys when it comes to hauling around slabs of concrete, though. But generally, I do not make a distinction between women's jobs and men's jobs. These codes have somehow been taught to us, ingrained in us. I don't know if we can get rid of them.
As the war in Ukraine started, you became an active member of the aid movement. With a group of like-minded people, you launched a website that aims to help Ukrainian artists. In what way has this geopolitical conflict influenced you and your views on art? And what role in your outlook is played by your background?
I belong to a reading group called Beyond the Post-Soviet; it was formed a year ago in Paris. We are curators and artists, people who are somehow connected with the post-Soviet space. It may be our place of birth, or we may have a Russian father or mother, etc. It was a very easy-going thing initially. We read essays and debated. An interest group. But then we gradually became aware that all the people involved had some things in common. I had never thought about these matters before. But as we listened to the story of a female artist from Kazakhstan and compared our experience, we started to notice certain key motifs emerge. We had some conversations that touched me deeply, because I had never realised that we carry something so unresolved inside us. An imprint of history. A code hardwired into us ‒ one that we ignore. Unresolved history. Something you try not to talk about. You leave it inside without trying to live through it. What happened ‒ happened; it is an unresolved pain. You don't understand how you should position yourself, how you should feel and treat the Soviet legacy ‒ because I am a citizen of the independent Latvia, after all. I identify myself as a Latvian. So, I have never really understood what to do with my Russian past. Because I don't think of myself as a Russian. And that's why I noticed that there were a few other people in the group who were confused about their identity. It is up in the air. It remains unused. But I only became aware of it when I became part of the group. Before that, I thought I didn't care about it one way or another. And then a regular group meeting happened to be scheduled on the day when the war started. It was on Zoom. I was in Lyon to view rooms for the exhibition. We were all completely bewildered at first, but we soon realised that we had to mobilise. And so our reading group transformed into an action group. There were Ukrainian artists among us; we immediately asked them what we should do and how we should go about it. In a way, they brought us news from the inside. We tried to get organised; we did what we could. We had some well-connected curators in the group. They approached the big media, like Der Spiegel, for instance. We tried to make use of all of our contacts and links to help people from the culture scene ‒ artists, writers, etc. I spent the first three weeks on the phone; information accumulated at break-neck speed. It had to be posted on our website ‒ all the residencies, available accommodation, etc. It took some time for the cultural institutions to build a system for providing help. We just grabbed at once whatever we could lay our hands on.
Seeds of Light, 2021. 2 aluminum casts of Philips lamps, wires. Exhibition Publiek Park. Photo: Michiel de Cleene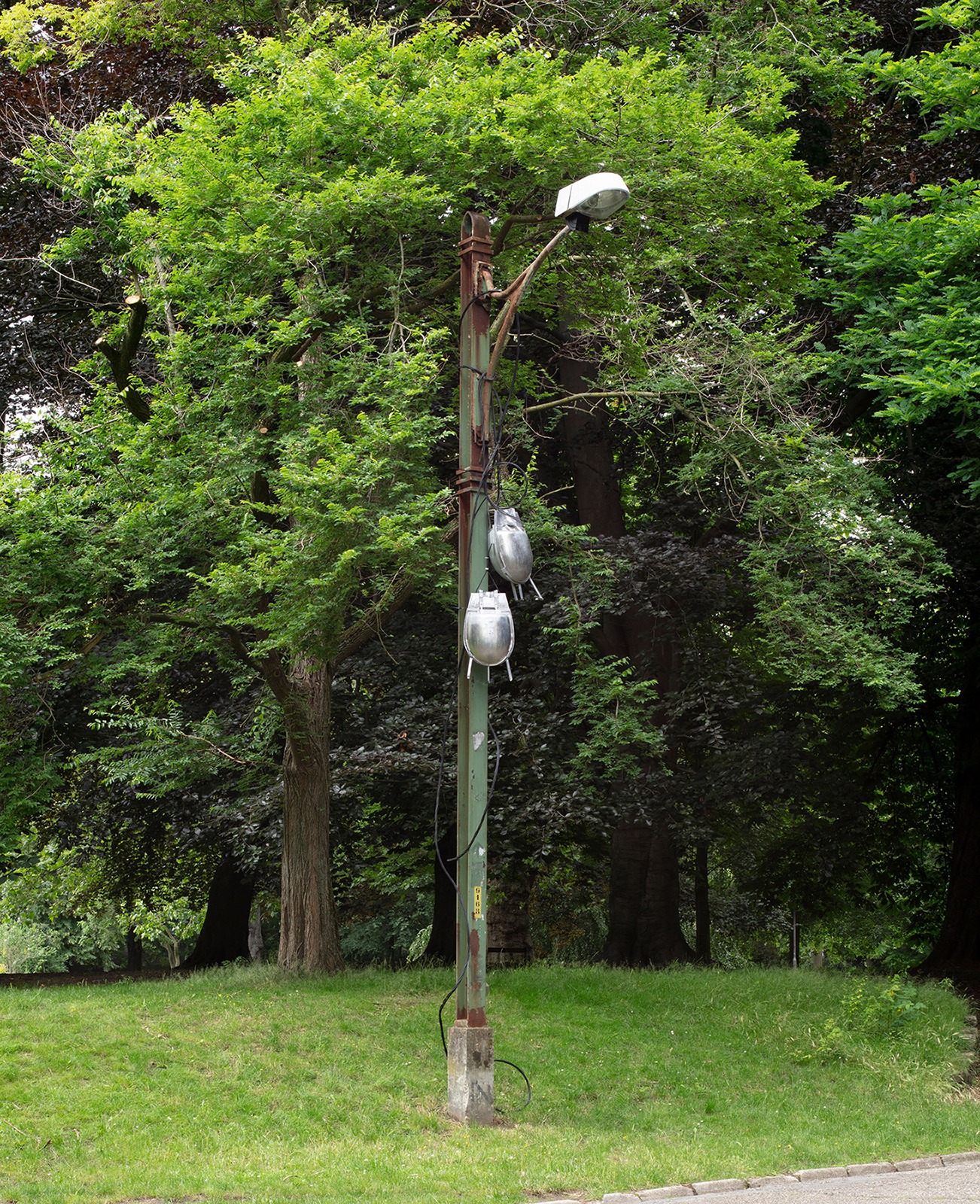 But is there any point in art at a time of war? The Ukrainian artist Nikita Kadan continued to show works in Kyiv.
Yes, he took part in one of our group meetings, we spoke about that. At the time it seemed like there was no point in anything anymore. Our group was also involved in connecting donations for people who went to Ukraine to save art. There were people who said: 'What's the point? Save people not art.' On the whole, though, the dominating belief was that there was a point in art because it was part of culture. Culture is what shapes identity and history. In the beginning Nikita, calling on Zoom from a shelter that had been converted into a gallery, said that the heavier works are best because they are good for blocking the door. He also said that a Daniel Buren piece is used as a shooting target in the room that was open to the public ‒ during training sessions. And then he added that every country would be welcome to donate an artwork to Ukraine in the future because everything would be destroyed. I still don't think that art is pointless. There was a video artist from Kyiv who decided to stay although everybody tried to convince her to leave the country. We offered to buy a cloud for storing her video archive. In case her house gets blown up. From the safety of our location, it seemed that we should try to preserve everything. I remember that Nikita said he was basically working full time in social media, giving interviews, speaking about all these things. He was well aware that the public would get used to this conflict and, as new problems appeared, Ukraine would recede to the background. And that they should make the most of the moment while it lasted.
Could these new circumstances in Europe become a turning point in the art system?
I believe they could, yes. But we have to keep in mind that an artist's egoism is a powerful thing. I hope that everybody will be able to think in a more global way, not just taking care of themselves, but… I am not too optimistic about that. It looked for a while like covid would change the way we look at things but we see now that everything is slowly going back to the way we were before. And now I fear that the same will happen after this crisis. But I do hope it won't.
Could yourwish to live in synergy with the world, with space, various ways and areas of expression, stem from the principles of the Bauhaus school, which are the basis of your education?
Yes, although it has not been my focus, synergy has always inspired me. I have always been fascinated by alternative approaches to education. The Black Mountain College, for instance. I believe in the golden ratio; I have always been interested in the concept of structure. The dialogue with environment and space. When I enter a room, a see at once where the door is, how the light falls, what should be changed to create an ideal relation to the surrounding world. For instance, my works in Cēsis were very much influenced by the town itself. The castle ruins, the history and also the actual concrete building. Not just the immediate environment but also the one outside the door. The route that takes you to the room. That, too, is for me a segment that demands some attention.
Have you ever been surprised by what you have created?
For instance, by the work from Survival Kit repeatedly referred to earlier ‒ the one that will travel to the Lyon Biennial: it was so scary that even I was taken aback. How could I make something so creepy? My friend's father said that it evoked associations with some kind of prison for him. Yes, it seemed to emanate something. I don't know if it was a sense of fear but early on, I noticed the tangle of Soviet-era wires covering all the walls. I thought ‒ wow! That was where it was coming from.
Visually very impressive...
People are not used to hearing light. Sound enhances the effect created by light. The element of surprise has always been important to me when I create my works. I do know the direction I am taking but I don't know how exactly I am going to get there. I believe in this tiny moment that makes all the difference and when everything happens. But you cannot force or accelerate these moments. Information seems to come from nowhere in these moments. A teacher once said that artists make things they did not have as children. I'm not sure if I should believe her or not. I didn't have a room of my own as a child in the Soviet times. Perhaps there is some connection with my art. Or perhaps it's because I don't have a real home, I don't have a flat of my own in one specific country and city. Maybe that's unconsciously making me always set up my own room in every exhibition. I am in Latvia now, but my thoughts are already with the basement in Lyon.
You currently don't live in a specific place, at a specific address? In Paris, either?
No ‒ nowhere. I am currently staying with Dasha Melnikova and in Cēsis. That's why I always have a suitcase with me. But I think I really should find a home of my own. This is too stressful. Initially it was interesting for me to be always on the road, to move around all the time.
Do you know where you would like to live?
No. That's the problem. I feel drawn toward Paris now because I find fulfilment in music, art, culture, and the sense of community there. The intellectual circulation is very important to me after all. I can get all that on my own, from books and films, but you cannot compare it to actual physical experience.