ART COLOGNE 2018. A sea of art on three levels
What did 210 galleries from 33 different countries bring to Cologne? Overview of the participants' opinions of one of the most important European art fairs

25/04/2018
ART COLOGNE 2018 opened the doors of its enormous exhibition complex Koelnmesse for an international array of VIP guests, collectors and the press on Wednesday, April 18, and it turned out that this day had the biggest number of visitors at the art fair. Crowds of people conversing and gesticulating slowly cruised through the "streets" constructed from gallery stands. And the stands were filled with an incredible concentration of art: the first floor mostly had artwork from the Modernist era and post-World-War art, the second floor had the main galleries that work with contemporary art, and the third floor had new galleries, galleries from "far away regions", newcomers who were participating in the fair for the first time, and experimenters. The whole scene was reminiscent of a rough spring sea that had spread all over three floors at once; a sea of images, objects, faces, meetings, options and offers.
The next day, when the art fair opened not only for invited guests, but also for everyone else, was a lot more calm. Of course there were still enough people but the air was no longer bubbling with a volcanic feeling of collective and boisterous insanity, ardour, challenge and competition that prevailed the previous day. Some said it might have been partly due to another art fair opening that day, ART BRUSSELS, and part of the collectors could have moved on to that. The news that the two art fairs had the same dates was discussed at length last year but actually this wasn't the first time it had happened. And the degree of excitement started to rise again in Cologne on the second and third day.

Grayson Perry. Reclining Artist, 2017. Courtesy Gallery Paragon (London)
ART COLOGNE is a contemporary art fair with a long and rich history, and there are galleries that take part in it time after time for many years. That is the case for the gallery EIGEN+ART, working both in Leipzig and Berlin, whose director Christian Ehrentraut tells us, "We've been doing the fair for a very long time now. These are the relations that grow over time and it feels like homecoming every year." When asked about the strong sides and the pluses of ART COLOGNE, he says, "It's a community, it's a collecting culture, it's the density of museums and institutions. It's one of the very few remaining art fairs in Germany that we have on that quality scale. All the German-speaking countries and their museum goers are going to Cologne." And when we asked him what caught his eye in general at this year's ART COLOGNE, he answered "It's getting more physical again, some years had been very over-sexualised, then it was very prudish at some point, now again it's getting more physical. There is a lot of sex at this fair."
To answer our question whether this is related to some changes in the society and in politics, Christian Ehrentraut says that he doesn't want to begin interpreting that. He actually holds the opinion that interpretation is not a gallerist's task: "Forming the context, sure, but not interpreting the works themselves."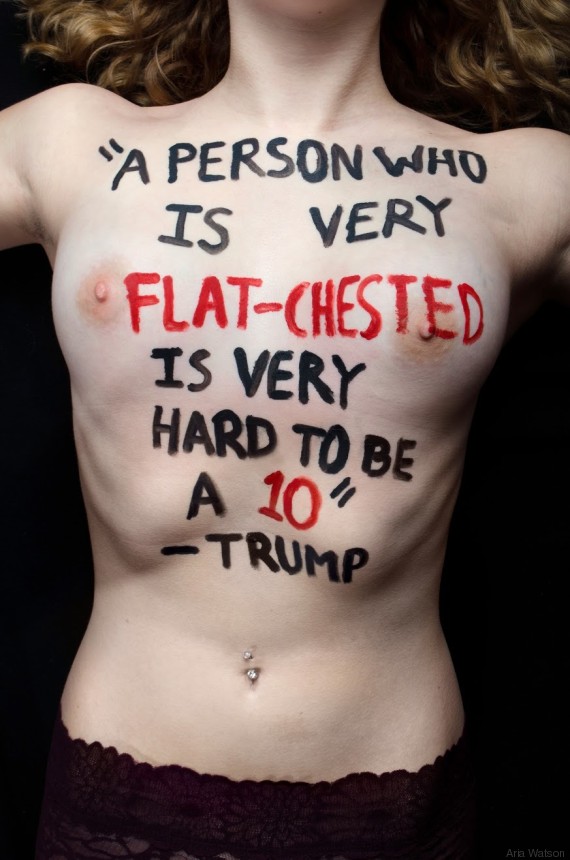 Aria Watson. #Signed by Trump. Courtesy Galerie Julian Sander (Cologne)
It has to be said that having met the art fair's art director Daniel Hug on the first floor on Sunday, the last day of the fair, he turned out to be more open to conclusions, including political ones. On that day he slowly walked around the galleries' stands, conversing with everyone, being interested in the gallerists' success and their opinions of this year's art fair. It could be felt how he was carrying five day's worth of weight of the project on his shoulders, and not everyone would be able to endure that. But he found time for us to discuss the "flesh" matter of the fair further, noting, "We are standing outside the Julian Sanders gallery, and on the other side he got this young artist Aria Watson, who is a 19 year old girl from Oregon. And the gallerist discovered her on Facebook and he did a show of her works… Nudity and gender politics are, of course, the themes again with the #MeToo movement, especially with Knight Landesman, one of the publishers of Art Forum, having been exposed… or Benjamin Genocchio, the head of the Armory fair. (Both of them were accused of sexual harassment by female colleagues - editor's note). In the age of Trump and Putin and Kim and the other sort of crazy leaders, it's becoming more important and relevant to stand up against sexism, against racism, against ignorance and exclusionism." Hug was very satisfied in this sense by the doings of young galleries or galleries from new regions on the third floor of ART COLOGNE. He said, "You see that people really put in effort, especially in large scale installations… Like Vartai Gallery from Vilnius which represented the artist couple SetP Stanikas. And they are all like statements!"

Installation by SetP Stanikas at the Vartai Gallery (Vilnius) booth
On the same third floor 36 galleries exhibited under the model of "Collaborations": two galleries shared one stand between them and presented one overall project. Marie-Christine Molitor, the director of the well-known Berlin gallery Galerie Neu (its brilliantly assembled and presented exposition attracted a lot of attention on the second floor of the fair), sees a good sign in the collaborations: "There is one booth where two galleries are just showing one video work of the artist they both represent in their countries. It beautifully shows that there could be another way – not just splitting the booth in two parts, but sharing: sharing the artist and sharing the profit if the work will be sold." To our question, "What, in her opinion, is the point of participating in this kind of art fair for the gallery that she represents, if her gallery's location in Berlin, such an active city, already seems to be the key to success," she replied "Yes, that's a good question. I think that we wouldn't necessarily need it for our business. But it's important for our artists to be continuously represented and art fairs are places where people see more of something than at the gallery."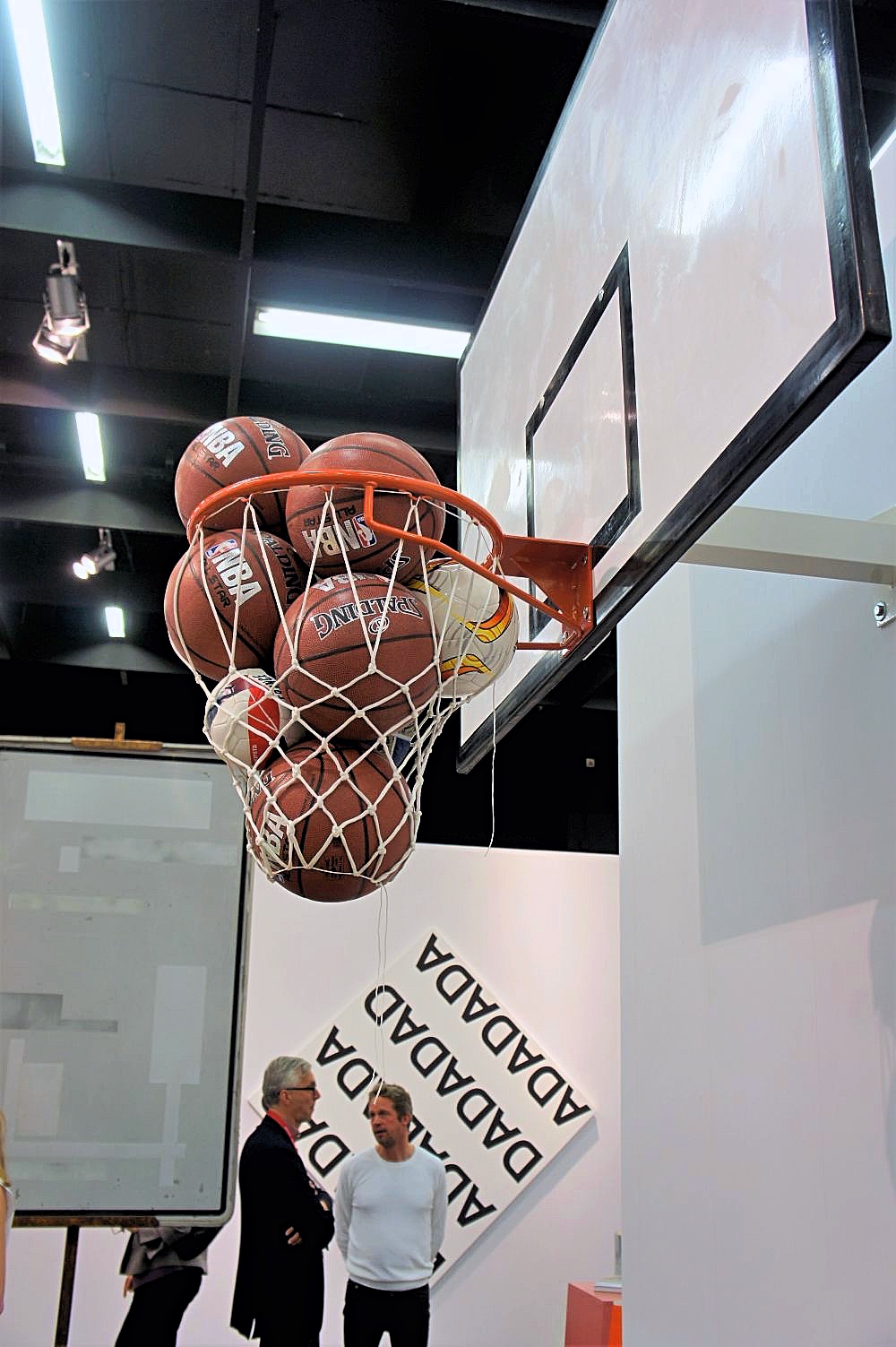 Fragment of the exposition at the Galerie Neu (Berlin) booth
Of course choosing an artist and their works to show at the fair is not the easiest of tasks, and Elisabeth Thoman, the co-owner of Galerie Elisabeth & Klaus Thoman, which has been participating in ART COLOGNE since 1980, tells us: "It is always difficult to pick which works to bring to the fair. Walking around, I realise that we have perhaps one of the highest number of works in one booth. Maybe it scares people off – next year we'll consider bringing fewer works, focus on a few established artists."
Compared to other art fairs in other cities, Thoman notes that the public in Cologne is well-educated and appreciative of contemporary art, which is what Cologne really stands out for and is another reason why it has been a pleasure to return here for already almost 40 years. "Here, in Cologne, it is a part of people's everyday life – to know a little bit about art, to go to museums... and to collect. Even for the regular audience. Cologne is a largely Catholic community, and the importance of images and art in Catholic societies is higher than in Protestant societies. I see the same in Austria which is also more Catholic."
She also thinks that the division of the fair into three levels had been a very good idea. "It is a wise decision to have the art dealers in the basement, and then we have the level with galleries that are working with contemporary artists in the present. In Germany and in Europe, there is an important distinction between a gallerist and an art-dealer. I think it is important to maintain this distinction. An art-dealer is someone who constantly seeks new and interesting artists and works to satisfy the public's needs in the present. A gallerist works towards the future: they cooperate with artists in the long term, they preserve their works, they protect the artists..."

Shirazeh Houshiary. Slow Time, 2017. © Shirazeh Houshiary, courtesy Lisson Gallery (London)
Not far from the Thoman gallery there are various bigger and more essential players of the field, such as the London-based galleries Lisson and White Cube. Andreas Leventis, the associate director of Lisson whose booth this year boasts works by Anish Kapoor, Marina Abramovich and other legends, tells us that Lisson has not been in Cologne since 2004. He admits that although this year's fair is "a bit slow", the public included a lot of good collectors, which is also why their gallery can consider this fair a success. Representatives of the White Cube gallery from London, Julia Baumhoff Zaouk and Penny Johanna Beer, admit that this is only the second year of their participation, and they emphasise the high-level organisation and hospitality they have received. "We represent a lot of recognised German and international artists with whom we work very closely, so it was important for us to be here. We have had a very good second year, meeting important collectors from the US and elsewhere who have made the effort to come exactly to Cologne, to the fair."

Anony Gromley's work "Feeling Material XXXIX" (2008) at the White Cube (London) booth
Baumhoff Zaouk, who serves as one of the directors of the gallery, remarks that they have sold the majority of works that they've picked to bring to the fair. Among the exceptions are a few large signature works by Damien Hirst that White Cube has also brought to Cologne. However, they've also seen a lot of interest, and Baumhoff Zaouk believes that out of the seeds sown in Cologne they might get those works sold in the future. "The size of the work is more substantial than that of the smaller pieces, so this might be something that we don't close at the fair, but afterwards."
However sales are a complicated issue. Erika Deák, the owner of the 20 year old Budapest-based gallery called The Erika Deák Gallery who exhibited her artists on the prestigious second floor of ART COLOGNE says although she was able to attain many new contacts at the fair which could reap benefits in the future, the sold works were mostly going to the same collectors that the gallery has been working with for some time now. She says that she was pleasantly surprised by the level of quality of the gallery-exhibited art, and she liked the respect and the interest shown by the expositions of the new galleries on the third floor. But to answer the question whether anything struck her in the works of the young artists exhibited by them, she replied that unfortunately no and among them "nothing really gave me goosebumps. For me that is the measure. Do I have this tickle feeling in my stomach or not? Good art is also always measured whether it can go wrong at any minute. But if there is a recipe – there is no way of making a mistake. Good art is not afraid of making mistakes. It's a key idea for me, especially today, when things are so calculated in many ways."

Lito Kattou works at the Eleni Koroneu Gallery (Athens) booth
At the same time betting on a young artist helped the Greek Eleni Koroneu Gallery gain recognition and with that a somewhat commercial success. Her exposition of the Cyprus artist Lito Kattou won a special prize at the fair - "New Positions 2018" - for "the combination of mythological references and the digital world". The art work is lines of figures, playing with the relationship between a flat surface and volume, a procession done in a Kafkaesque style, and each one priced at 6000 euros (which is really not a lot judging by the medium level of prices at the fair). As Alexandra Ikonomou, the daughter of the gallery's owner who also works with her mother, says, "It's a special work but commercially it's going well. People are fascinated by the new… Lito Kattou is young, she is 27, she makes art that doesn't remind you of anything. She makes her own language."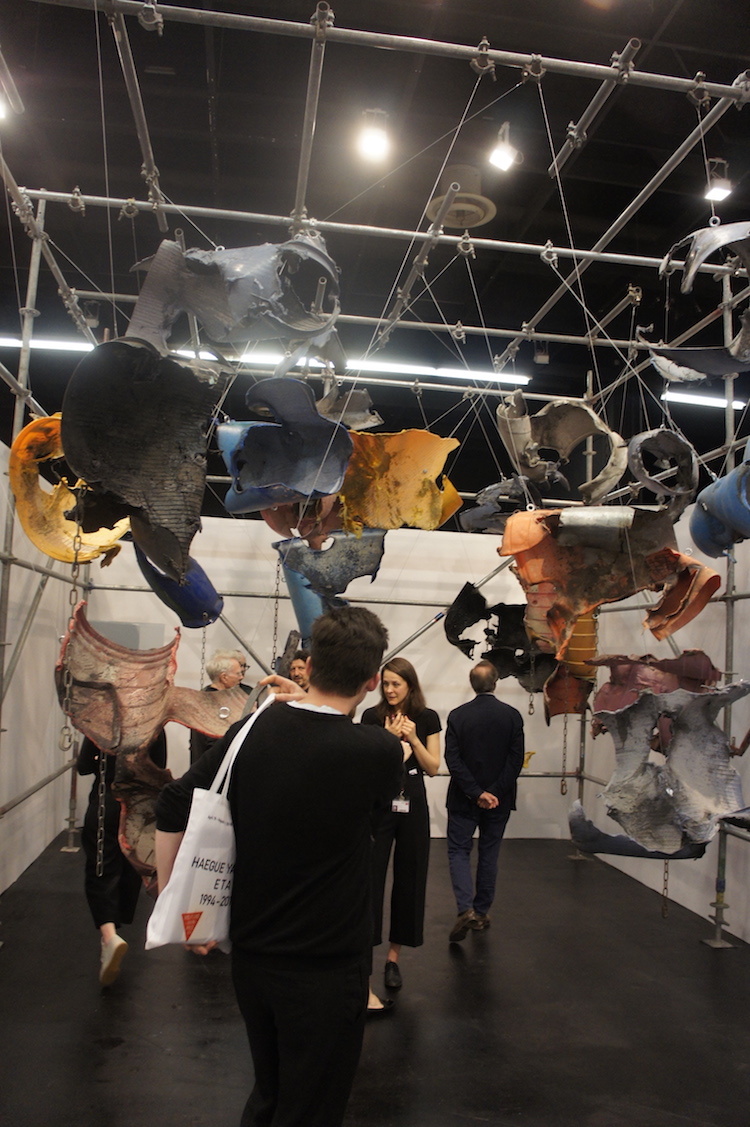 "Falling Sleeves" by the artist Max Frisinger at the booth of Galerie Gisela Clement (Bonn)
One of the more conceptual statements on the third floor could be the stand of Galerie Gisela Clement, which took up all its space to present the hanging upside-down piece "Falling Sleeves" by the artist Max Frisinger. The artwork consists of twisted and almost turned inside out objects that have their origins in old plastic tubes that were used for throwing out the garbage during the repairing and reconstruction of buildings. Hung in space they look like wreckage from a crashed spaceship or like falling leaves of a plastic baobab growing somewhere above us. At first it seems that these twisted bits are not something that could be "hung on a wall". But the gallerist Christoph Jaschke says that if a collector has real interest in the work, then the conversation begins at the fair, and only afterwards the question of where to install the work and how to exhibit the newly created installation arises. The fair shows only an example or a prototype of something that in the end could be carried into a private collection. He says, "To be honest we definitely knew in advance that it's hard to sell but we wanted it to be a sort of a statement – to show what the artist can do and to show what we allow in our gallery. It's our second appearance at ART COLOGNE and at the beginning it's more important to leave a mark than to sell something in the first place."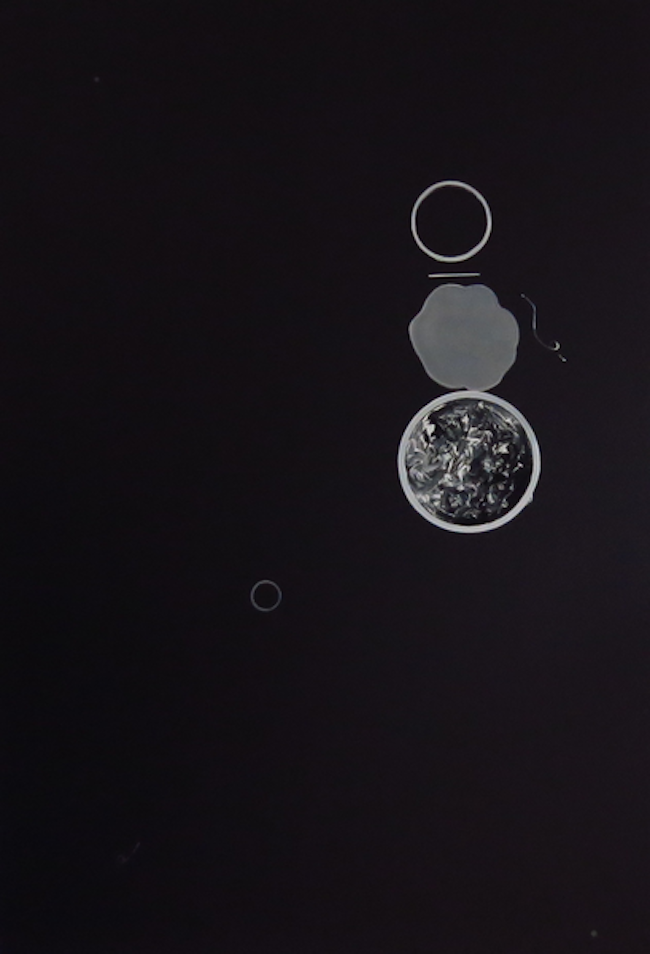 Ēriks Apaļais. Stolichnaya and Snowman, 2018. Courtesy Alma gallery (Riga)
And for Astrīda Riņķe, the owner of Alma gallery in Riga, who brought paintings by Ēriks Apaļais to Cologne, it was only the first participation in ART COLOGNE, before this year she exhibited her artists at ART BRUSSELS for four years in a row, but she decided to try to change this "habit" when the curator Katerina Gregos left ART BRUSSEL'S post of artistic director. She says, "You always have to change something, you always follow interesting fairs and think, which one should I try…"
Not to be afraid to try something, not be afraid to make mistakes, and here once again we go back to the Budapest gallerist Erika Deák's opinion. And it seems that her stand exhibited perhaps one of the most metaphoric works of this year's ART COLOGNE: multicoloured pieces strapped together by colourful ties, not all of one origin and in different outlines, but fitting together in one "frame" (the young Hungarian artist behind the work is Márton Nemes who is studying in London at the moment). These pieces makes one think of the art world of the last hundred years, where the most diverse and dissimilar layers and movements make up one unified picture (and the wonderful proof of that is walking among the three levels of the exhibition). But it also makes you think of the societies in our countries, diversified and consisting of people with different opinions but still holding on together. What is it that pulls us together and holds us close? Perhaps it is the images and our admiration for them, goosebumps from seeing the masterpieces, "butterflies in our stomach" from experiencing these wonders… But we are also held together by meeting each other and sharing information and opportunities. And that is exactly what the art fair is about, to understand that the art world is one whole on all continents and it does not recognise borders that dictate to be closed off from the "others", and, if necessary, to laugh at the stupidity of the ones in power. And that is exactly our "colourful ties".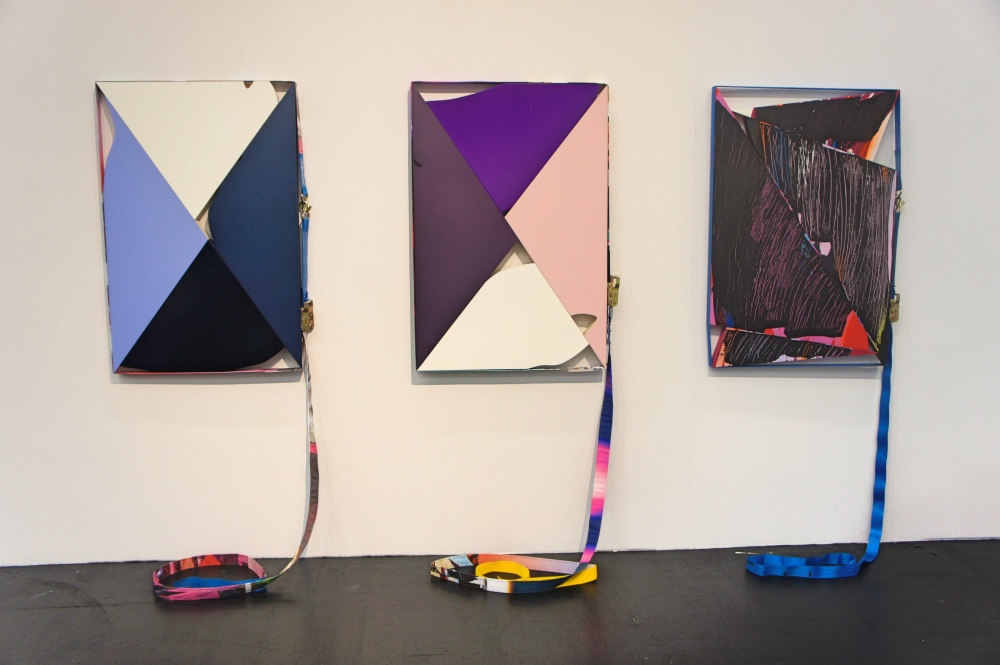 Works by Márton Nemes at the booth of the Erika Deák Gallery