"Picnic" in Bergen
This spring 27 artists graduating from the Bergen Academy of Art and Design presented their works at the final exhibition. Let's have a look at the main themes of this show.
One of my first encounters in Bergen happened to be Elin. She works in a bookstore that has been open since 1771. "A bookstore with a three-hundred-year history… Wow," – I thought. But then, Bergen Kunsthall, a key urban art space, has also quite a long history: it began as a city gallery back in 1838. Today it occupies an early functionalist building downtown. Built by architect Ole Landmark in 1935 it is situated next to the park that offers magnificent views on the imposing mountain peaks.
Kunsthall houses the exhibition of 27 graduates of the Bergen Academy of Art and Design – quite a conventional event for Bergen and for this art institution. Unconventional is what the Academy's graduates have gone through on their way to acquire their master's degrees. It was the time of pandemic and isolation, so most of the classes of their two-year course were held via zoom, online. Besides Norway, young artists from other Scandinavian and Baltic countries, from the Netherlands and even Russia study here.
Sonja Ovaskainen. Merenkehto (The cradle of the ocean)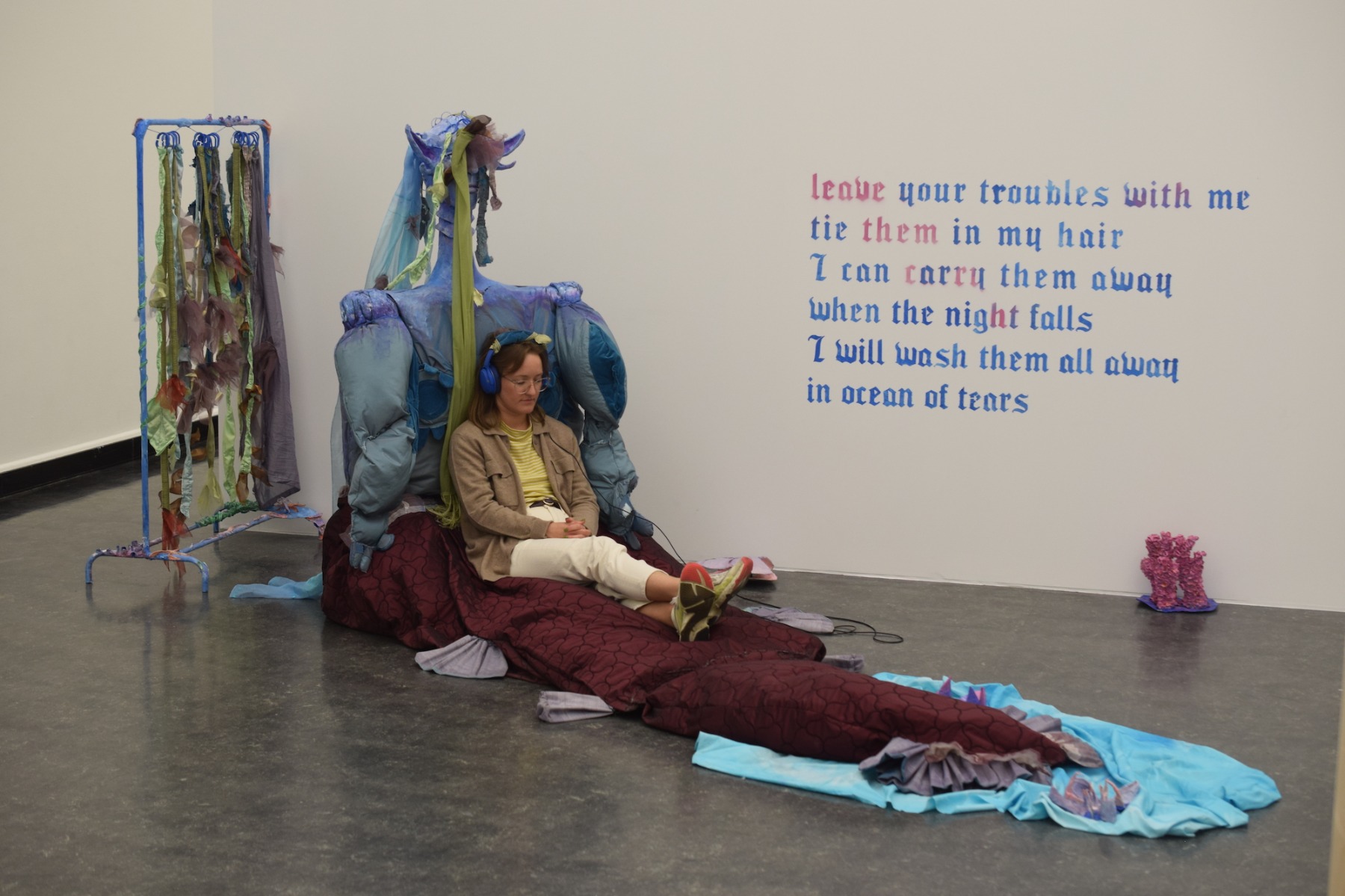 The situation they found themselves in may well account for the fact that a lot of exhibits were of tactile nature, a lot of works provoked empathy and contact. And the most tactile work exhibited here is "Merenkehto" by Finnish artist Sonja Ovaskainen – a huge figure of a mermaid that resembles a sort of sofa and invites visitors to have a rest at it. After you get yourself comfortable "in the arms" of the mermaid, you can put headphones on and listen to the sound of waves and the mermaid's monologue in English and Finnish.
Iris Bengtsson. Next Time We Meet on Broadway
The "anti-isolation" theme is also addressed as an invitation to share someone's world or someone's fantasy about the world. Swedish artist Iris Bengtsson presented a "Broadway dream" corner – a mirrored table in a sort of dressing room stuffed with little bohemian accessories: old photographs, theater binoculars, glasses, mouthpieces. Apart from being an installation "Next Time We Meet on Broadway", is also a performance: Iris sings, playing along on her keyboard, making some viewers cast ironic glances, and others – admire or even daydream of something impossible.
Fredrik Landevaag. Gathering Around the Ashes of a Fallen Order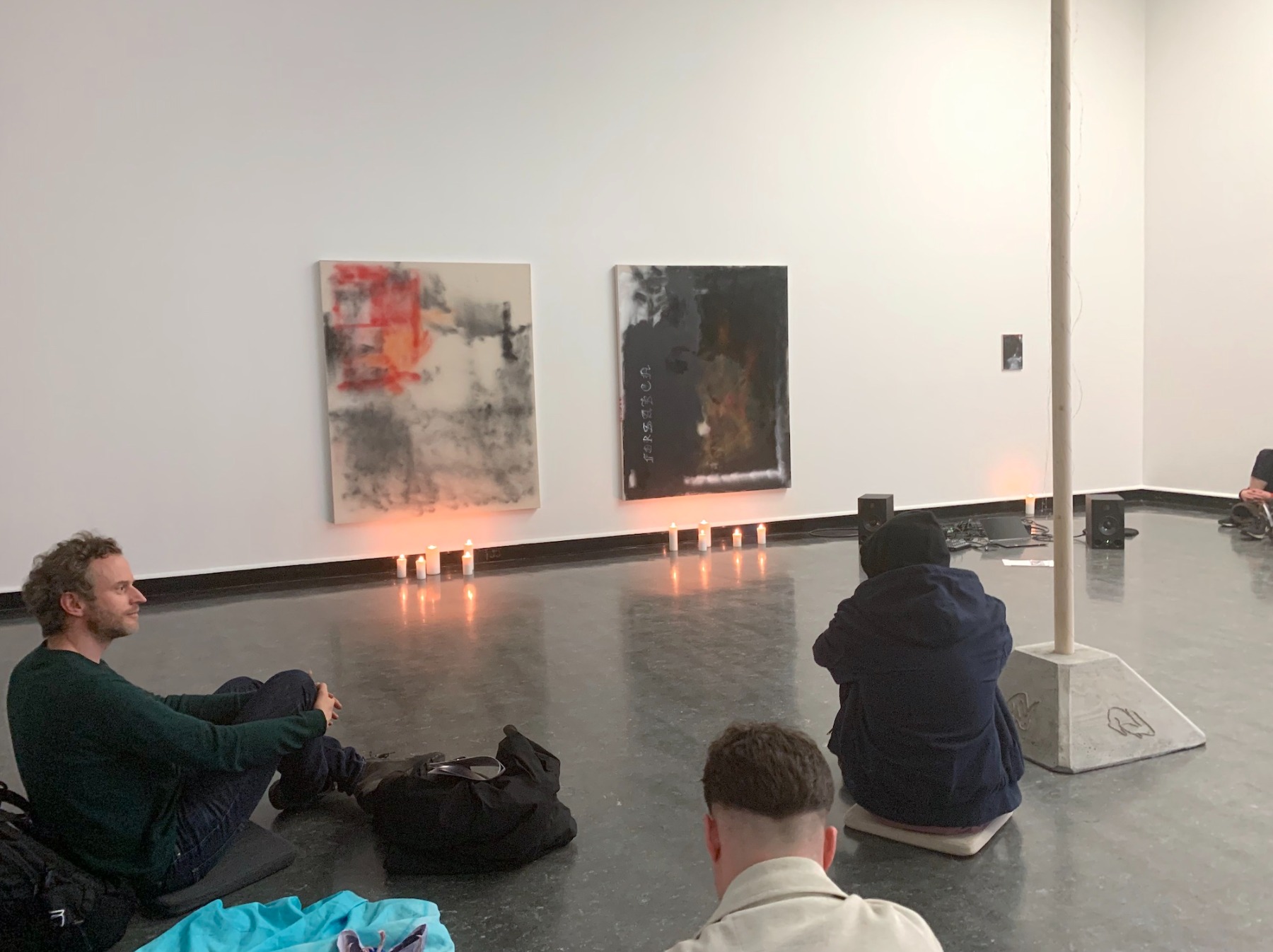 It's not the only musical performance at the exhibition – Fredrik Landevaag offered a "Gathering Around the Ashes of a Fallen Order" set next to his abstract canvases that look like they were painted with smoke. Candles lit in front of the paintings, Fredrik in a black jacket with a black hood sits in a chair with his laptop and takes us on a half-hour journey through the world of Black metal. Along with that, dancers/musicians wander around the exhibition halls wearing some rattling and ringing objects of Norwegian artist Marta Dahl, which she describes as "wearable installations" or "body instruments".
Marte Dahl. reverbaration of recalibrating
The work by Norwegian artist Selina Rosenborg was also a sort of continuous performance by two static figures: a monster and an eccentric hare, holding their respective tablets, seem to chat on a messenger, and we can see what they are writing to each other. One can easily see that the relationships they discuss are of an abuser vs victim kind.
Selina Rosenborg. The Talk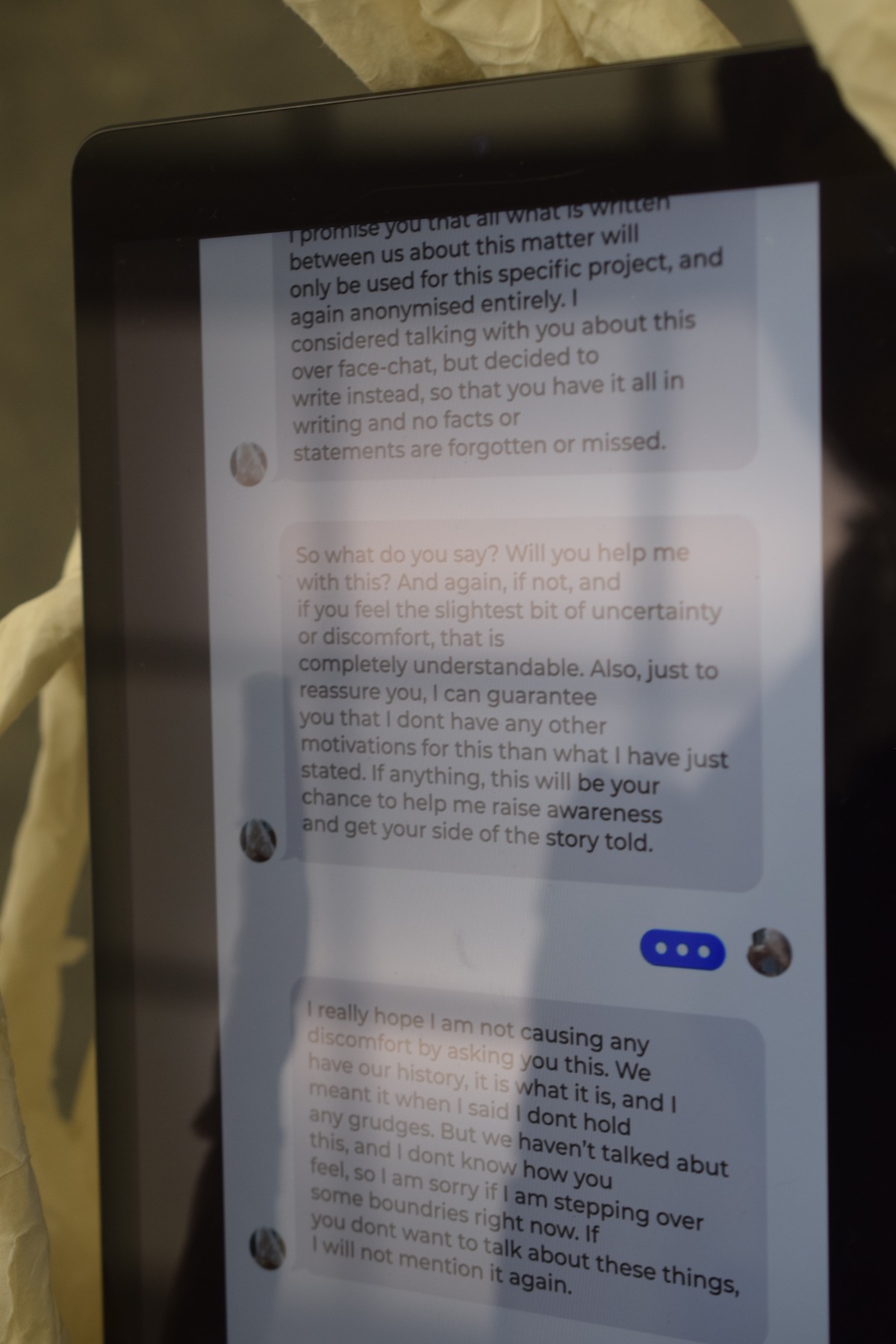 It's hardly the only work involving social media associated with "online" life. There's almost no digital art, nor new media at the exhibition. It may also be considered a reaction to the time when screens occupied too much of our lives.
But all the challenges and fears of this epoche now feel almost nostalgic – at least for those who have not been severely affected by the virus – and comfortable compared to what is happening in Europe today. The war in Ukraine has become a challenge and a personal downfall for a Norway-based Russian artist Sasha Azanova. In the last months before the exhibition, she had to rethink her work and devote it to the search for meaning – both in her profession and in her life that is now overshadowed by this disgusting and inhuman war. Her three-screen video "Landscape of numinous events" – is a chain of reflections over her personal story and how it is connected to the current historical developments. Paradoxically, she finds her personal balance in semi-isolation – she has moved to a northern island to observe local nature as a participant of a small research group.
Sasha Azanova. Landscape of Numimous Events
"Re-Cycle" by Siavash Kheirkhah is another impressive video work at the exhibition. It may also be considered a journey, but within the limited space of an apartment and the unlimited space of reversed time. This video seems to be the work that is directly, physically connected to the pandemic experience, the experience of isolation and a closer, more careful study of your own space.
Peppi Reenkola. Care currency
Another theme arising from the pandemic situation is care, care in every sense. Care – or rather urgent need for care – is clearly visible in "Teppet", a meditative animation work by Lars Morten Elstad Rehnlund from Norway. Finnish artist Peppi Reenkola in her video and installation explores the trending theme of cryptocurrency, but the core of the digital world turns into a dish with pebbles and wooden chips presented as a new kind of "Care Currency". This currency is an equivalent of an act of care shown towards you, its evidence with symbolic capital.
I was curious to see the video by Renate Prokopčika, a Norway-based Latvian artist. And her work is just another journey "to yourself through outside of yourself": it is a long train ride through Latvia and Russia, the camera capturing the movement and then close ups of the landscape almost frozen details of Vecumnieki – Renata's native Latvian town, where her grandmother and grandfather used to live until recently. Her video evokes a feeling of levitation, of being suspended among a whole bunch or a constellation of identities (Latvian, Russian, Norwegian) that Renate was destined to inherit. This rather long video (30 minutes) offers a possibility of slow meditation, of approaching something elusive and at the same time quite comprehensible.
Trude Berg. som noe bærer og annet brister
Certain works at the exhibition seemed to have little in common with the post-pandemic narrative. But even in these works one feels some kind of uncertainty in the surrounding world and an attempt to overcome this uncertainty or give it a closer look. Such is "It all started because we wanted a beginning" – a 80 slides loop that forms a poetic and philosophical work by Norwegian artist Julie Schie Olsen. Charlotte Besuijen from the Netherlands sees reality, objective and quite chaotic, as a colour abstraction, as some kind of abstract structural relationship in her elegant series of photographs.
There are no political messages or virtual reality at this exhibition – these new artists see the world as relationships, as gestures, as objects that can be touched or even arranged in a new way. It's like a blindfold journey around your room, as shown in "Remember" – a video by Latvian artist Katrina Neiburga, another eloquent piece of evidence of how we perceive the world in the early twenties. After all, all rooms are quite similar – whether they are in Bergen, Riga, Helsinki or Amsterdam.
Hanna Pherson. Where have all the fowers gone? Young girls have picked them everyone
The exhibition is curated by Randi Grov Berger who chose for it the metaphor of "Picnic", referring to a certain common ritual, when every actor brings something of their own. This particular "Picnic" took place from April 8 to May 8, during this rather cold spring of 2022. But the trees blossomed on the square next to Bergen Kunsthall, and the new artists came into this world, because some picnics are bound to take place – even if the world around us is all but rain and wind.
Upper image: Malin Arnedotter Bengtson «Månen» (fragment). Photos: Arterritory.com