An important player
Express-interview with ArtVilnius director Diana Stomienė and the artistic director Sonata Baliuckaitė.

04/02/2019
Founded in 2009, the International Contemporary art fair ArtVilnius is now not just one of the most important art events to transpire in Vilnius, but in the Baltic and Eastern region as well. Taking place every year in one of the largest and best exhibition spaces in Lithuania – the LITEXPO centre – ArtVilnius has become a precursor of summer and a significant event for contemporary art.
Every year the fair welcomes more than 20,000 visitors and 60 galleries from all over Europe. In recent years, it has also developed its concept by dedicating the theme of the fair to various topics, artists or countries. The year of 2019 is very special to ArtVilnius and its team – this year the 10th anniversary of the fair is going to be celebrated with a special focus on France. The young and upcoming curator Aurélie Faure has prepared a programme that highlights the latest developments in the French contemporary art scene. Consequently, an interesting mixture of galleries with assorted levels of experience and diverse target audiences will be represented at the LITEXPO exhibition space from 30 May till 2 June.
While gallery applications for ArtVilnius'19 are still open (deadline: 11 February, 2019), Arterritory.com has invited the director of the fair, Diana Stomienė, and the fair's artistic director, Sonata Baliuckaitė, to report on the development of ArtVilnius and what viewers will be able to expect this year.

Diana Stomienė & Sonata Baliuckaitė

ArtVilnius is the largest art fair in the eastern European region, attracting contemporary art galleries from almost 20 countries and more than 20,000 art-loving visitors each year. What is it that guarantees the prestige and success of the fair?
Diana Stomienė: I think that the quality of the art fair is the most important thing for visitors and collectors. Every year, galleries are becoming more and more creative in presenting their artists, and many have accrued their own "fan clubs". Art fairs are far livelier than exhibitions, as visitors have a permanent contact both with gallerists and artists, and this makes it much easier to choose and acquire the desired work.
A large hall dedicated exclusively to ArtVilnius contemporary art projects allows visitors to see new or not-yet-showcased works by Lithuanian and foreign artists from the collection of the Lewben Art Foundation, as well as from the inexhaustible collections of the Museum of Contemporary Art in Krakow (MOCAK), conceptual projects of the Jonas Mekas Visual Arts Center, and many other contemporary art works by famous guest artists. Exhibitions and the programme are curated by invited Lithuanian and foreign curators. We also have public meetings with artists, discussions, video art programmes, lectures, educational programmes, and many other events. The facilities of the Litexpo Exhibition Centre are very convenient. Even the smallest visitors in prams and pushchairs can travel comfortably with their parents through the exhibition halls. The spacious outdoor area is suitable for displaying art and spending some time in the fresh air. I am grateful to the ArtVilnius team for paying keen attention to providing the public with such conveniences.
This year ArtVilnius celebrates its 10th anniversary, and it is more than clear that both the art world and society in the Baltic and Eastern regions have changed a lot during this time. What particularities you have encountered over these ten years, and how do you value the art-related changes that have taken place in this region?
D.S.: Over the last ten years we have seen significant changes in the art markets of the Baltic and Eastern regions. The situation in Lithuania has also changed considerably, and there has been good progress over the last decade, with many good examples. Recently, the MO Museum has opened in Vilnius, a result of the amazing efforts of Danguolė and Viktoras Butkus, who sold their business and invested in a new museum. This is a gift to the public to have the opportunity to see valuable artworks collected over a long period of time.
In addition, the Art Cognitive Centre TARTLE was opened in Vilnius, located in the picturesque district of Užupis; its founders are the Public Institution Lithuanian Art Foundation and the famous lawyer and collector Rolandas Valiūnas.
The current situation both in Lithuania and worldwide shows that entrepreneurs are already replete with real estate, cars, and various luxury items. They have now become attuned to making their investments more meaningful, i.e. associating their their name with culture, sharing their achievements with the public through art projects, and supporting creative people. This tendency has also been observed among patrons of the fair. For example, the exclusive partner of the fair not only purchases artworks, but also presents their collection of works by world-renown artists at ArtVilnius, thus contributing to the education of the public. On the initiative of Mr. Irmantas Norkus, a leading partner at the Cobalt Legal law firm in Lithuania, a primary patron of ArtVilnius, a new object of contemporary art will soon be presented in Vilnius next to the MO Museum. The author of this new work of art is Severija Inčirauskaitė-Kriaunevičienė, an artist who gained world recognition by being invited by Banksy to participate on his Dismaland project.
Inspired by the success of ArtVilnius, our neighbouring countries are also activating art processes. An new and important art event for the Baltic States is the Riga International Biennial, which premiered last year and surprised its visitors with its scope and content. Also last year an art fair opened in Tbilisi; its art director, Eric Schlosser, is the former artistic director of ArtVilnius. And of course, the art festival KievArtWeek is very actively developing in Kiev; they are organising a photography art fair as well.
We are glad that the Baltic art market is becoming more active – that Latvians and Estonians are actively participating in ArtVilnius, selling their works, and establishing useful contacts and developing interesting joint projects.

Diana Stomienė. Photo: Audra Vau

How has the focus of ArtVilnius changed in these ten years, and what is the focus of the fair today?
D.S.: In 2014 the main focus was on photography art. We started focusing on a guest country in 2015, firstly on the countries in our region. The first guest was Ukraine, and it is no secret that we have given it special attention because of the ongoing crisis there. Ukraine is rich in famous artists, and has good galleries of contemporary art.
In 2016 we presented the contemporary art scene of our neighbour Poland, which has a number of very famous art galleries. MOCAK joined the fair with its world reknown art collection, and we continue our successful cooperation with this museum; it is a very important partner for us. In 2017 video art became the main focus of the fair with VIDEONALE, the oldest festival of video art in Germany, as the main highlight.
In 2018, celebrating the 100th anniversary of the independence of the Baltic States, we introduced the art scenes of Lithuania, Latvia and Estonia. The results and feedback have fully satisfied our expectations. The high quality and diverse art concentrate of the Baltic States was very interesting for all of our guests and visitors. The Estonians especially enjoyed this happy moment, and almost all of their gallery stands presented strong solo exhibitions of currently creating and very promising Estonian artists. The Latvians focused on well-known names and, having participated in the fair from the start, reinforced their position at the art fair. We highly appreciate the loyalty of Latvian galleries. And this year, we will mark our 10th anniversary by celebrating French art.
Yes, I understand that this year the fair is going to be enriched by a special French contemporary art programme curated by Aurélie Faure aka Katarina Stella. How did you come up with the idea of collaborating with this curator and focusing on French art this year?
Sonata Baliuckaitė: ArtVilnius is a particularly popular event among diplomats and ambassadors; it is a place where intellectual conversations take place, and political issues become less important in the face of art. That's how France came up. Mr. Philippe Jeantaud, the former French ambassador to Lithuania, had already suggested that we invite France as a guest country back in 2017, so we were steadily preparing for it. We have faithful French galleries and artists at our fair who come back every year and really contribute a lot to the special atmosphere of the art fair – for example, the performances by Sarah Hadou, François Durif, and the conceptual stands of the Nivet Carzon Gallery which, although not always shocking, are always intriguing.
Indeed, over these ten years we've come to know many French artists and curators, and on the basis of their recommendations and advice, we invited several candidates personally and ended up selecting Aurelie Faure, aka Katarina Stella. She has a great deal of experience working with galleries like Emmanuel Perrotin, Suzanne Tarasiève, and Eva Hober, and it is important for the curator to know the galleries from the inside. Aurelie Faure is a promising and progressive curator of the younger generation, as is our fair. We have not yet had joint projects with her and she has never been to Lithuania. However, I believe that ArtVilnius and the Baltic region will be a great platform for her to implement her creative and courageous ideas. This year's fair will be full of video, audio art, performances, and French artists who are shaping global trends in contemporary art. At the same time, and with the support of the Embassy of France and the French Institute in Lithuania, we will try to find an intriguing artistic connection between France and Lithuania.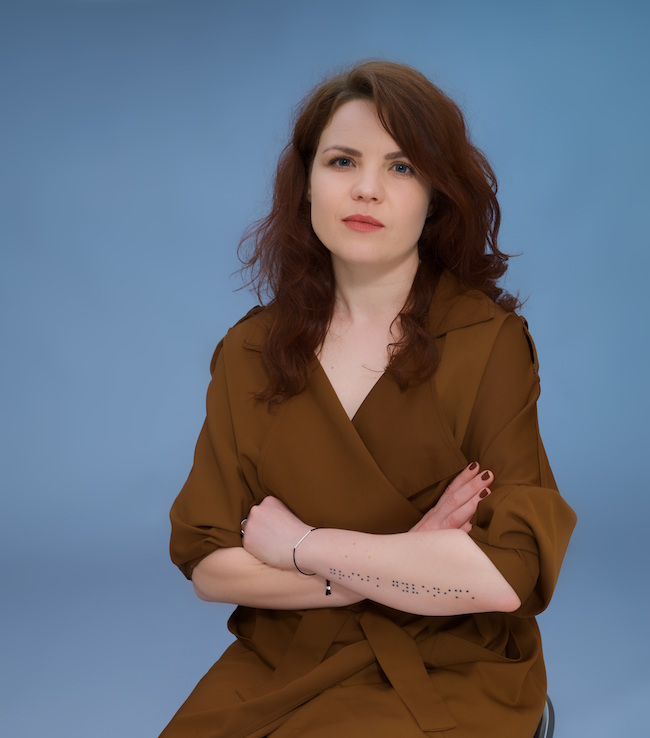 Sonata Baliuckaitė. Photo: Audra Vau

How, in your opinion, does collaboration with different individual curators brighten the concept of an art fair?
S. B.: The art fair must constantly change and renew; galleries cannot display the same works two years in a row. Artworks can travel through different fairs, but when we think of a collector or a buyer, we have to provide diversity and offer the most relevant or fresh works. Of course, the greatest responsibility for gallery programmes lies with the galleries themselves, who present their own projects and programmes. However, as you know, there are many other projects, performances, sculptures, solo exhibitions, collections, and institutional presentations that take place at our fair.
The fair is an international event that does not have a single theme but contains all genres and subjects; it is not oriented towards one kind of style, taste or trend – just towards quality art. Curators also perform educational functions, as every new person comes with his own ideas and points of view. Of course, there are professionals in the field who shape trends, but we predominantly concentrate on being interesting and providing a high quality experience for visitors and, certainly, collectors.
Every year ArtVilnius welcomes around 60 different galleries from all around the world, and it is no secret that fierce competition exists between some of them. What kind of a gallery, do you believe, is the "ideal" for ArtVilnius? Is there a particular type of art or concept that you would like to underline as relevant to the fair?
S. B.: Although we actively support young artists and galleries, and we have special conditions for them, we can also offer the best conditions for prestigious mega galleries.
Ideal are galleries with charm, with a range of good, professional artists and collectors. Those which not only know how to sell, but are also open to cooperation and interested in discovering artists. We do not limit or restrict the genres and themes of art, but we do focus on contemporary art and all of its forms now being developed.
Thankfully, the facilities of the exposition centre make it possible for galleries to add performances to their programmes, or to display large-scale sculptures and installations within the space of the fair.
We also have a zone in which earlier modern art is dominant. We have defined 1960 as a boundary (a widely accepted marker in the art world), and so galleries that work with famous and renowned painters and sculptors are also highly welcome.
What are your future predictions for ArtVilnius – how do you see the next ten years?
D. S.: The future of the art fair depends on the sustainability of the global economy and on the stability of the European Union. Over the last ten years the art fair has grown, established itself in the Baltic and Eastern region, and has become well known. It will continue to grow if there is economic growth and a boost in art sales. We predict that the art fair will become an important player, an art junction between North and South, between East and West.
We will always need people who are enthusiastic and believe in the future of the fair as we do. This is what we expect from galleries, artists and, of course, from collectors and visitors.