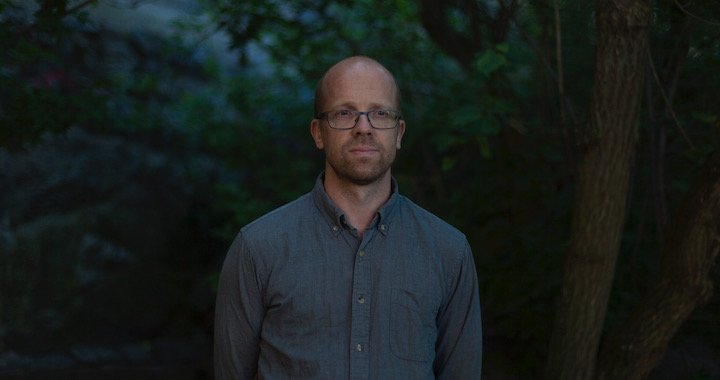 To not forget one another
A conversation with Kristaps Epners, artist and nominee for the 2019 Purvītis Prize

13/02/2019
One could say that Kristaps Epners' multimedia work Forget Me Not is a deeply personal story about three separate yet connected things: the relationship between two people, the life experience and quintessence of one individual, and of the encounters that the artist himself has had with the protagonist of his work. At the centre of it all is Miervaldis Kalniņš, not just a fanciful, imaginary figure thought up by the artist but a real person who, in 1971, decided to change his life by leaving Latvia for the harsh expanses of Siberia. Kalniņš was a friend, or at least an acquaintance, of Kristaps Epners' father, the film director Ansis Epners. In its own manner, Forget Me Not confirms this friendship as it reconstructs segments of Kalniņš' life.
Kristaps Epners is well known in the Latvian art scene, and the emotional and physical abilities of a specific person have served as the focus of his work more than a few times – and not as just a simple rendering, but as an immersive and up-close study. Epners is a graduate of the Visual Communications Department at the Art Academy of Latvia, has been an artist in residence at both Cité Internationale des Arts in Paris (2006) and at Arctic Art Week in Kakslauttanen, Finland (2007), and his works can be found in the collections of the Latvian National Museum of Art, the Latvian Museum of Contemporary Art, and the KUMU Art Museum (Estonia). Since 1996, Epners has held several solo shows and has participated in group exhibitions in Riga, Tallinn, Rome and elsewhere, including the exhibition EXTENSION.LV: Meeting with Ourselves at the Triumph gallery in Moscow (2017), and the Narracje #10 art festival in Gdansk (2018). He was previously nominated for the Purvītis Prize, Latvia's highest art award, two years ago, for his solo show Vingrojumi/Exercises (2016) held at the NOASS floating art gallery. This time around, Epners' spot on the Purvītis Prize shortlist is thanks to the above-mentioned work Forget Me Not, which was on public display during the first Riga International Biennial of Contemporary Art (RIBOCA).
This very sensitive and personal regression into a past time and space, which Epners came to know only through stories told by others and archived mementos, has been able to make a durable impression on people with various life experiences, tragedies and successes. Despite the fact that at the core of Forget Me Not lies the story of one person – Kalniņš – the painful and distressing story of 'the Siberian experience' as such is oftentimes personified as being the story of the Latvian people as well.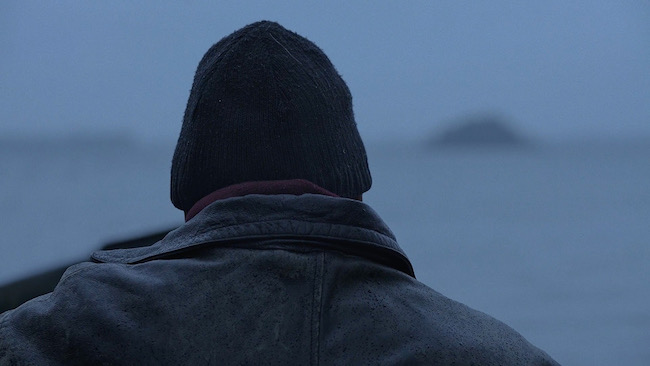 Screenshot from video
In reading articles on RIBOCA in the foreign press, it appears that in terms of works by Latvian artists, yours was the one most often mentioned.
I really don't know how that's come about. It was important for me to show that Miervaldis' [Kalniņš'] model of life was consciously chosen. Perhaps his ending up in such a 'nowhere place' is a personal longing of mine that will never come true. From the sidelines, it seems like you're in a kind of a locked cell when there. But it really isn't like that – the reality is dynamic, with fatigue and work, people, occurrences. Being there is more like having the creative mind locked in a cell. Secondly, the friendship that Ansis [Ansis Epners, the film director and Kristaps' father – Ed.] and Miervaldis had was a link between two completely different kinds of people… [thinks for a while]. I don't even know… I actually don't know how good of friends they were.
You wrote an essay about Forget Me Not in the catalogue for RIBOCA, near the end of which you mention that the correspondence between Miervaldis and Ansis is testament to a truthful and honourable relationship.
Ieva Akurātere [a well-known singer in Latvia – Ed.] said that when you're in the company of Miervaldis, you want to draw yourself up and straighten your posture. That's a pretty good way to describe Miervaldis. He's altogether an introverted type who likes to write and doesn't like to talk, but he somehow has a magnetising effect on people.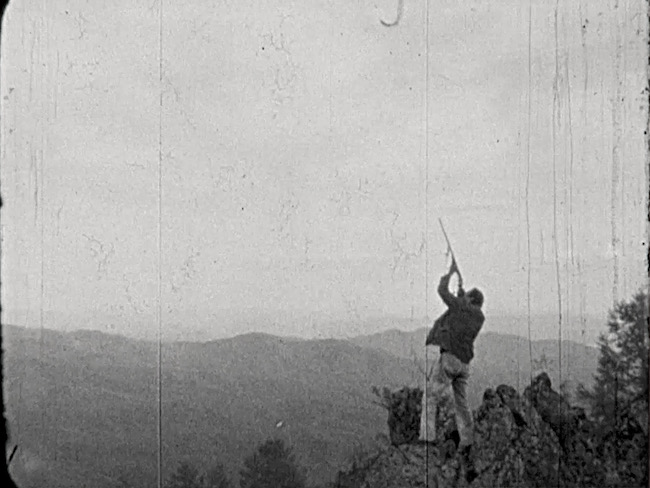 Screenshot from video
Do you remember Miervaldis from your early childhood?
I don't recall those times all that well. There are basically three periods that connect my memories and the work I've titled as Forget Me Not: the 1970s/80s, when Miervaldis was in Siberia; then the time when he had returned to Latvia for a few years, which was around 1995… I was a teenager, and when Ansis and I went to visit him, he was living in some sort of building that had never been fully completed. The third period was relatively recently, when Ansis had already died… Actually, my meeting up with Miervaldis happened due to friends of ours who we would go visit in Vecpiebalga, and Miervaldis lived right there on the shore of Alauksts lake. That's how our regular visits began.
I mentioned these three periods because, you see, there's this Russian art publication called Искусство [Art], and they asked me to write a kind of introduction to Forget Me Not. In this introduction, I consciously tore down the dimension of time. Miervaldis liked the text, but he didn't really like the work itself. Well, now it turns out that due to the pressure, he must like it, but in truth, he had imagined it all differently. He, of course, has every right to imagine it differently.
Tell me about Miervaldis.
[Thinks] In our family, the stories about 'Siberian Miervaldis' had always been there in the background. Sometime around 1968/69, Ansis held some sort of office in the Young Writer's Association (which was under the wing of the Writer's Union), and that's where he met Miervaldis. Ansis would organise skiing excursions (under the official guise of political-agitation field trips), and Miervaldis was asked to join in because he had graduated from the Physical Education Institute and had trained as an athlete. In any case, Miervaldis later explained that they met by way of poetry and skis.
That's how their spiritual connection began and, as it would later turn out, their written correspondence as well. When I began to put the work together, my knowledge about their friendship was only fragmentary… When we would go visit Miervaldis in Vecpiebalga, we would sometimes look at his photographs of Siberia and he would tell us stories about those times. This somehow resulted in a dream that I saw – even before RIBOCA had been announced as such.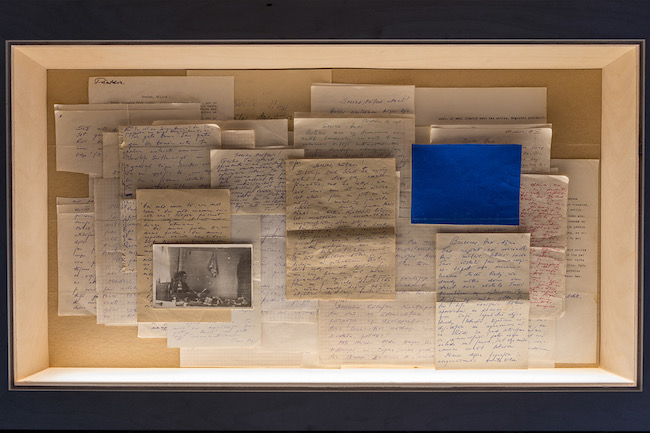 Exposition view. Photo: Ivans Jerofejevs

So, you discovered the letters only later on?
Yes, the story behind the letters is also a bit of happenstance. The chain of events went so: I told Miervaldis that I want to do a work on him and Siberia… He had been asked to go to Siberia by a Seventh-day Adventist called Verners Zālīte, who filmed a lot. (Footage filmed by Zālīte makes up the foundation of the reedited black and white film that can be seen in my work.)
I asked Miervaldis if any of the footage was still around. It turned out that Verners' son had given them to a church friend of his father's, and it was in his basement that I found the films. About two thirds had nothing to do with Siberia, but the remaining third did – I was extremely happy about that, and so I started to put together my work. Shortly thereafter, RIBOCA appeared and Katerina [Katerina Gregos, head curator of RIBOCA – Ed.] asked all of the artists to meet with her and talk about what they were working on. I told her that I was working on Miervaldis' story, and she thought it just might fit into the exhibition.
All of Ansis' papers and documents are sitting on my shelves, and as I was gradually going through them, I found a box of letters that he had saved… Among them were 36 letters from Miervaldis, including one which had two dried flowers that had been placed inside – one for Ansis and one for me. This was a touching surprise for me. At first, I thought I could put that one letter with the flowers into the work because it represented so well the essence of why I was creating this work. But as I read all of the letters, I understood that it is an intrinsic part of a ten-year-long correspondence, and it must be included as a whole in this new work.
So, you reworked existing material…
Well, yes; in truth, I haven't created anything new in this artwork – I just combined existing things. They hadn't filmed just random things – they had their own ideas and a rough screenplay. Actually, one of the films is about a rather modern-day issue: a bear is caught in the woods and taken to trial, where civilisation will judge him as 'savage nature' – along the lines of 'nature meddling in the way of progress'. But the verdict cannot be predicted beforehand, and the court ends up ruling that the people must be punished and the bear is set free…
The Sayan Mountains, which is where they lived, are a special place – it's a nature reserve. They had even gotten a license to shoot the bear and had gone on a week-long expedition in the wilderness. But they didn't get the bear. It turns out that the bear you see in the film was actually filmed in the courtyard of the Riga Circus.
The second scene that I put in my work was filmed in the Biķernieku Forest in Riga, when Miervaldis had come back to Latvia and had taken along a real bearskin with him. They used it to film the one scary scene of the film: the bearskin was put on the back of Miervaldis and another man and they crawled around the forest, in-step with one another, to make it look like a real bear… Each scene there has some sort of meaning.

Screenshot of video
Have you asked Miervaldis why he chose to specifically go to the Sayan Mountains?
He first went to Dudinka, actually, which is a famous place at the head of the Yenisei River, far up north. He had begun to write to Ansis from there… I really liked organising the letters back into their correct order – they hadn't been accurately formatted, and many had no indication of where they were sent from, in which month, or even which year. It was very important to me to put them back in chronological order, and Miervaldis even admitted that now I know it all better than he does himself. Returning to your question: back then, Siberia was like an exotic place. Miervaldis had several reasons for going there, one of them being the draw of a faraway place…
The expanse of it?
He also had familial reasons… His connection to the KGB is still unclear. In any case, just by being a member of the Writer's Union meant that there was pressure from the security institutions. Things were quite difficult for anybody who wanted to work in the field of poetry, or any of the arts, and that was definitely an emotional hardship. Anyone could be a 'kitchen poet', but if you wanted to present your work publicly, you had to be a part of the system. It was a method with which to destroy creative people. Eventually, Miervaldis also become one of those who were no longer asked to present their work in public.
Have you spoken to him about why he didn't want to emigrate to the West? Why did he choose to go to Siberia?
Emigration is partly like that… He really didn't even want to come back [to Latvia], and that often happens with Siberia. For example, my aunt and her mother were deported to Siberia, and when they returned to Latvia, they very quickly understood that people here had a very nasty attitude towards those who had been deported. Their first reaction was also to think about going back to Siberia.
In terms of Miervaldis… First of all, the labour group in which he worked earned a lot of money. Really big amounts – thousands. They had an extreme schedule, and were very disciplined. Miervaldis was very satisfied with it until the 90s, when the USSR fell apart, and for a while there wasn't any work there, either. He had also promised his granddaughter that he would return to Latvia. But here, he's said several times that he doesn't feel… That he would have rather stayed there. I also think that when he did live here, he was actually somewhere else.
Perhaps my film doesn't appear to imply this, but in the last scene there's a very famous mountain ridge that is called 'Sleeping Sayan'. All of the peoples who have lived in the area have created their own myths about the ridge because it really does look like the silhouette of a sleeping person. Various symbolic meanings have been attributed to 'Sleeping Sayan'; for instance, that he is the protector of Siberia's untouched nature, and if enemies come, the mountain will rise and punish them. Another myth says that when a honourable warrior died, the gods transformed him into in a mountain ridge. And Miervaldis – he is that 'Sleeping Sayan'. I didn't attempt to explain it any further; the film simply ends with that. As if with a shot of Miervaldis from afar.