Scandinavian exhibition guide
September / October
16/09/2019
From September, Arterritory.com will offer its dear readers a monthly insight into art events in Scandinavia!
HELSINKI
Noora Schroderus "DIY" at Galerie Anhava
5 till 29 September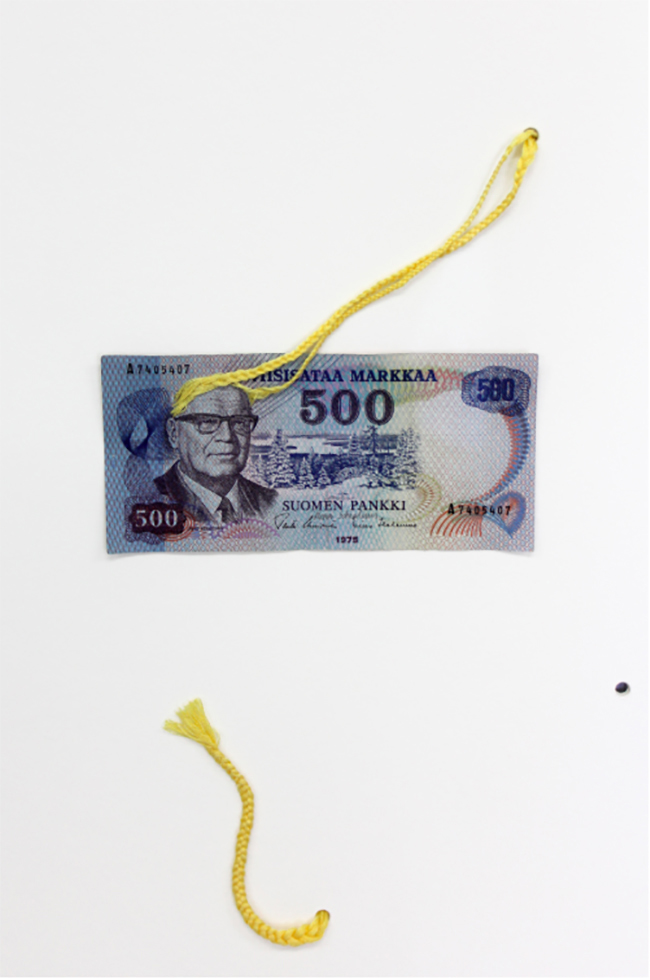 Viewers of Noora Schroderus's (born 1982) works can readily move from one emotional state to another. Her works abound with inventiveness, surprise the viewer with their diversity and offer silent moments of pause. Schroderus chooses her materials with care and is interested in their opportunities. Occasionally, the material finds its way to her, like dog hair, which unknown people began to offer to her after she had first used human hair in her works.
The works of this exhibition have in common serial thinking, a slow process of preparation and humour.
For Schroderus, hair and money are of equal standing. She feels that material must have some kind of starting point, to be attached to and to be appreciated. At the same time, she considers whether she has the right to touch or interfere with the material that she chooses. The iconic form of Finnish Fiskars scissors is bent into a new shape in Still-Life. The hard element acquires softer forms and the threatening nature of the scissors starts to become amusing.
Two shows at Helsinki Contemporary
6 till 29 September
4 till 27 October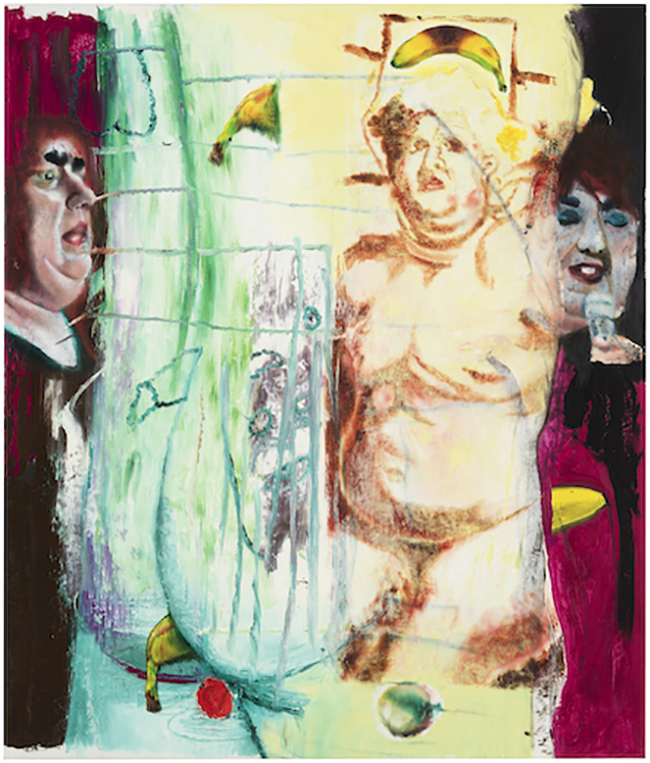 From 6 till 29 September Jukka Korkeila's exhibition "Oneness of Purpose" is on view at Helsinki Contemporary. The exhibition divides the gallery space into two parts that serve as emblems for this world and the next, and for the two together. The paintings seen in the different spaces will constitute their own integrated wholes, with the viewing experience taking on its own distinct form in each setting.
With his new works Korkeila urges viewers to experience light and oneness, instead of seeking out differences and distinctions. "Everything starts from light," he says. "Oneness of Purpose – the purpose of oneness – is linked to the idea of a network that embraces the whole of humanity, of which we are all a part and connected with each other. We are all each other's brothers and sisters. We are drops in the communal ocean, where we are at one with the primordial energy from which we have come, and which in our culture is called God."
However, from 4 till 27 October will show Heli Rekula's "Drunken gods and a box of colours". Heli Rekula's anticipated solo show examines the relationship of space, image and memory through photographs and works based on photography. The origin og the works is in film material that Rekula has photographed on her trip to Mexico thirty years ago, in the Fall of 1988. Heli Rekula is one of the key photo and video artists in Finland, and is known for both her staged and landscape photographs. Rekula has been active on the art scene since the early 1990s and this long career has brought her international acclaim. In 2002, she received the Ars Fennica Award and, in 2005, the Finnish State prize for photography. In 2012, Rekula was nominated for the Carnegie Art Award.
Torbjørn Rødland exhibition at KIASMA
13 September till 5 January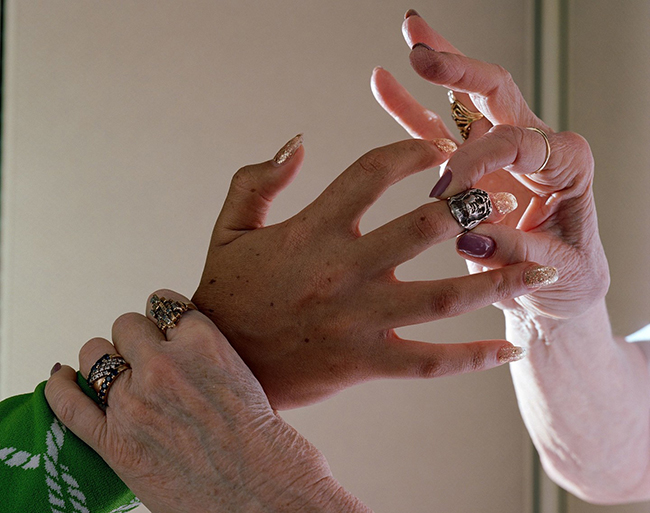 In the autumn KIASMA will show a solo exhibition "Fifth Honeymoon" by Norwegian artist Torbjørn Rødland. Rødland is known for carefully staged, beautiful photographs that evoke emotions. The subject is often a person in an intimate situation filled with tension and which allows multiple interpretations.
Bodies appear in Rødland's work both as portraits and as individual parts or they appear as staged, typologized "characters" in the midst of a telling moment. Like the artist's many still lifes, these photographs are made to reflect our complex and layered reality.
In his works, Rødland often combines figures asymmetrically. Old is coupled with young, different ethnic backgrounds mix, and the power relations of the models are out of balance: one dominates while the other submits. However, Rødland's aim is to deconstruct these dichotomies by showing that they are intertwined. This idea repeats in many Eastern philosophies that for instance posit that it is impossible to comprehend good without evil.
Although Rødland's medium is photography, the key work in the exhibition Fifth Honeymoon is the new film Between Fork and Ladder, shot in Los Angeles and the scenic landscape of Norway's Lofoten Islands.
COPENHAGEN
"I Would Love Just One Flower, I Don't Need the Whole Bouquet" at Galleri Nicolai Wallner
28 August till 26 October
From 28 August till 26 October Galleri Nicolai Wallner is pleased to present a group exhibition "I Would Love Just One Flower, I Don't Need the Whole Bouquet" with works by A Kassen, Cornelia Baltes, Jeppe Hein, Jose Dávila, and Poul Gernes.
On his 1972 track, "You're a song (that I can't sing)", Frankie Valli poignantly opens with the lyric "you've only given me a flower, I wish I had the whole bouquet". As Valli's ballad continues, he not only assures us of the intensity of his love but, through poetic allegory after poetic allegory, insists that his love is so strong that even if we were to spend a lifetime together it would not suffice. As fleeting as our interaction, it's enough to make Valli want it all. Inversely, with this group exhibition, we look at artists and artworks in which a brief moment or simple gesture can emote more than a lifetime of words.
Each work in I Would Love Just One Flower, I Don't Need the Whole Bouquet can be felt tangibly throughout the space. The weight of their presence is made even more so by the simplicity in which each work presents itself. Be it through materials, construction, concept or gesture, each creates a poignant moment which—while fleeting—stays with us.
Taking a central position within the first room, is an expansive installation by Poul Gernes. Overlapping rolls of newsprint paper cascade from the ceiling of the gallery, stretching out towards the walls, draping themselves down towards the floor. Gathered at the middle near the bottom, this minimal construction creates the shape of a flower. Gernes' "Blomsten (Paper Flower)" dates back to 1969, and was exhibited in Denmark the same year and again in 1977.
Alongside the installation is a painting, "Tjob", by Cornelia Baltes. There is a playful, yet intentional, authority to Baltes' brushstrokes. The impact of Jose Dávila's work "Untitled (Yellow Brushstroke II)" lies elegantly in what is missing, rather than what is there. Taking on a Roy Lichtenstein work of the same name, a photographic replica of the work has been made, with the iconic yellow paint cut out, leaving only the outline and background intact.
In the second room, elements of Gernes' insistence in the intimacy of the relationship between work and viewer can be seen in Jeppe Hein's work, "World in My Eyes", in which a round piece of fragmented, mirror-like material is mounted on the wall.
The work, in turn, reflects A Kassen's large-scale "Bronze Pour" sculpture. The work is created through a process in which heated, liquid bronze is poured into water, hardening instantaneously into a small, unpredictable and unexpected form. Simultaneously biomorphic and innately abstract, the work's form feels referential, encouraging us to build our own narratives around it.
Two shows at Kunsthal Charlottenborg
21 September till 6 October
21 September till 16 February
From 21 September till 6 October Kunsthal Charlottenborg presents "Seductive Exacting Realism (SER)" - Irena Haiduk's first exhibition in Scandinavia. The exhibition is a sound programme based on an interview the artist Irena Haiduk conducted on January 14, 2015 at Harvard University's Carpenter Center, with Srdja Popovic, co-founder of the OTPOR! student group and the consultancy CANVAS who advises democratic, revolutionary movements all over the world. The 28-minute programme is experienced in total darkness and commences every hour, on the hour. The conversation presents similarities between the contemporary artist and the revolutionary consultant, who are actors in Western corporate economies nourished by displacement, military intervention and financial warfare. In the dark, these equivalences are felt as the advantages of orality emerge, announcing another way of making history: another kind of economy.
This presentation marks the beginning of a two-year collaboration with Irena Haiduk, and the opening of Yugoexport's economy inside Charlottenborg's bookshop. SER was originally commissioned by the Renaissance Society at The University of Chicago, and later exhibited at the 14th Istanbul Biennial and documenta 14. The exhibition is curated by Michael Thouber.
The exhibition is curated by Michael Thouber and supported by The Danish Arts Foundation and The Obel Family Foundation.
From 21 September till 16 February 2020, a scenographic exhibition "Confessionf of the Pipin System" by Eva Koťátková will be on view at Kunsthal Charlottenborg. Eva Koťátková's distinctive artistic vocabulary finds its way into all corners of the exhibition: posters with text, cages and other unnerving iron structures as well as an oversized pair of metal scissors leaning against the wall in a room decorated with sewing patterns and textiles. A large vitrine displays hundreds of images painstakingly cut out of a book by the artist herself and the visitors can lie in a giant bed while listening to recordings of children describing their dreams. A new comprehensive work, created especially for the exhibition at Kunsthal Charlottenborg, unites sculpture, text and performance and thus emphasizes Koťátková's theatrical frame of reference.
Surrealism and institutional critique lurk beneath the surface of this scenographic exhibition. Koťátková is interested in the relationship between the realm of the private and personal on the one hand – our dreams, creativity and engagement – and the public, authoritarian sphere on the other. Which sets of rules do we adhere to in everyday situations? Koťátková hints at how we are informed by the codes and social control of institutional structures, how inner and outer impulses may clash, but at the same time, she points to opportunities for thinking and acting freely.
The exhibition is curated by Henriette Bretton-Meyer and supported by the Danish Arts Foundation and the Obel Family Foundation.
OSLO
"Pasenau and the Devil" by Maria Pasenau at Fotogalleriet
31 August till 12 October

Challenging the exhibitory space of Fotogalleriet, "Pasenau and the Devil" is a threefold project consisting of an immersive multimedia installation of newly commissioned photographic and sculptural pieces, a nomadic video work and a publication. Through this extensive project Maria Pasenau wishes to explore the 'Darkness' as the hidden side of humanity, with alternative representations of the self, sexuality and subcultural beliefs that escape the world of normality, often pushing the boundaries of societal acceptance. The project represents a generational struggle against dictated categories, set by market structures and capitalism violently entering our lives by means of images.
In a world where women artists continue to be prosecuted for showing their bodies and desires, the explicitness of Maria Pasenau's work makes it highly precarious. Identity and gender are currently taking the form of binary categories; of Darkness and Light. Instead of supressing the Darkness in favour of the Light, this exhibition will lift the Dark out of the shadows in order to paint a full portrait of the artist. By doing so, Pasenau does away with the idea that the Dark and the Light are binary opposites. The photographs will be accompanied by text and sound, allowing the spectators' bodies to merge with the body of the artist. This merger will allow the audience to become acquainted with Maria Pasenau's photographs in an intimate setting. The artist's own body thereby acts as the point of departure for this exhibition.
Maria Pasenau was born in the era of the selfie as a means of self-expression. Through her photography she wishes to show the alternative story of her generation – a story that is often lost in the cavalcade of polished self-promotional imagery. Pasenau's work shows a narrative that is queer, naked, imperfect and sincere, making it all the more relevant in a time of resurgent political foreclosure in which basic human rights and freedoms are under constant attack. In this sense, her work echoes the voice of feminist artists like Carolee Schneemann, whilst also referring to the art practice of Robert Mapplethorpe, who reframed ideas of sex and identity by taking pictures of his friends and contemporaries, and the chaos and stark aesthetic of Bjarne Melgaard, looking into self-destruction, divergent sexual interests and unusual religious rituals.
Gilbert and George at Astrup Fearnley Museet
13 September till 5 January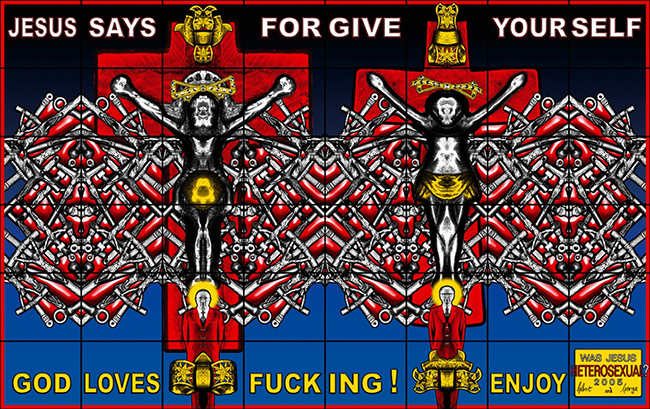 Two individuals - one artist. For more than fifty years Gilbert & George has created art placing themselves as both subject and object. In "THE GREAT EXHIBITION", the artists has selected pictures mirroring their art, just as captivating as it is prolific.
Ever since they first met at the Saint Martin's School of Art, Gilbert & George have been inseparable, both professionally and privately. This was in 1967 and while London was swinging, Gilbert & George were unmoved by current trends. Instead, they donned immaculate attire – their "responsibility suits" – and embarked on a voyage to challenge the conventions of art and society.
Fearless and straight to the point, their art has the power to unsettle the viewer. "THE GREAT EXHIBITION" comprises works from the period 1971 to 2016. The exhibition is packed from floor to ceiling with pictures that are grotesque and terse, surrealistic and symbolic, but consistently within the strict grid that is emblematic of the duo.
Gilbert, born in 1943 in the Italian Dolomites, and George, born in 1942 in Plymouth, UK, have an express purpose with their provocative art: "to reveal the inner-bigotry in the libertarian, and conversely to reveal the inner-libertarianism in the bigot". Gilbert & George have lived and worked in the same London neighbourhood for more than five decades, noting how it has changed over time. Dressed in almost matching, immaculate suits, the two are in equal parts subject and object – an indivisible unit, unconditionally devoting themselves and their life together to art. The everyday life of Gilbert & George is as creative as it is rigorously ordered. By committing themselves to a discipline as rigorous as it is creative, keeping their life at their home and studio to simple classless routines, they have made room for total creative madness. Punk rockers and nationalists, folk dance and bombs, autumn leaves and personal ads – with their fearless and singular common gaze, the most iconic duo of the art world probes the world that surrounds us all.
Curators: Daniel Birnbaum and Hans Ulrich Obrist.
Hodgin and Creed "Inside Out" at Kistefos Museum
18 September till 17 November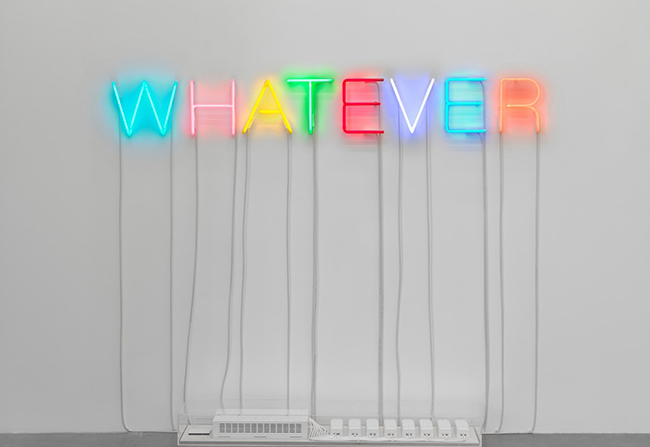 This exhibition pairs the painter Howard Hodgkin (1932-2017) with the conceptual artist Martin Creed. It celebrates their conviction that art offers a framework through which we can express and come to terms with our complex emotional lives.
Pairing these artists offers a refreshing view of their work: The first exhibition conceived since his death, Inside Out takes us beyond a lyrical reading of Hodgkin's oeuvre and allows us to reconsider it in the context of contemporary art practice. At the same time, it approaches Creed's minimalist work through Hodgkin's expressionism, drawing out its essential emotional element, which is often overlooked.
In 2016 the artists showed their mutual admiration when Hodgkin invited Creed to present him with the first Swarowski Whitechapel Art Icon award. Creed performed the song 'Feeling Blue' in his honour.
The exhibition is curated by Guy Robertson and produced by Kistefos in collaboration with The Estate of Howard Hodgkin and Martin Creed. It brings together important works from public and private collections, including the Christen Sveaas Art Collection.
STOCKHOLM
"1989 – Culture and Politics" at National Museum
5 September till 12 January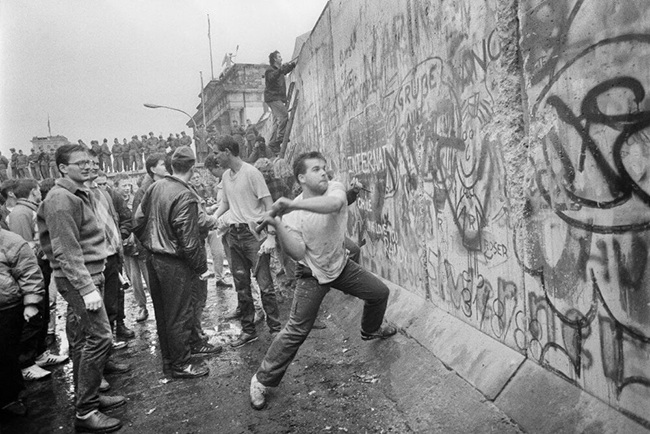 This autumn, Nationalmuseum features an exhibition on one of the most dramatic moments in history – the fall of the Berlin Wall in 1989. The exhibition takes a broad look at what happened within the visual culture during the upheavals of 1989. Global outlooks, Swedish perspectives and high politics meet mundane everyday life in an array of documentary photography, portraits, posters, videos and designs.
At the turn of the decades of the 80s and 90s, conflicts about freedom of speech, religious and ethical values flared up in many places. The Iranian leader Khomeini issued a death sentence against Salman Rushdie whilst images by Robert Mapplethorpe caused outrage and protests in the USA. In Sweden, charges were brought against Horst Schröder, publisher of the adult comic magazine 'POX', for illegal depictions of violence.
Against this backdrop of social development and political drama, the 1989 exhibition dives into the scene of visual culture at the turn of the 80s and 90s. Global outlooks and Swedish perspectives alternate. High politics meet mundane everyday life – illustrated in the form of political resistance posters from Hungary and former Czechoslovakia, pictures of Mexican immigrants on the border to the United States, modernist furniture designs, abortion rights activism, kitsch aesthetics, music videos and restaurant interiors. Conceptually, the exhibition revolves around notions such as freedom versus lack of freedom, borders versus borderless.
The exhibition includes documentary photography, portraits, posters, videos and designs by artists, photographers and designers such as Richard Avedon, Ron Arad, Cecilia Edefalk, Nan Goldin, Willliam Kentridge, Barbara Kruger, Boris Mikhailov, Tracey Moffatt, Ingrid Orfali, Ingegerd Råman, Philippe Starck, Lars Tunbjörk, Pia Wallén and Andres Serrano.
Lisa Jonasson solo show at Galleri Magnus Karlsson
7 September till 19 October
Galleri Magnus Karlsson is pleaded to present Lisa Jonasson's second comprehensive solo exhibition at the gallery. In the exhibition "Act and Meaning", a larger site-specific installation and new assemblages in painted cut-out paper and wood are presented.
"The word meaning extends between signification and intention, act between drama and action. In my new work, the cut-out figures extend over curved surfaces, without even knowing that they enter the third dimension," says the artist. In the new works the three-dimensional parts are given more focus – both in carved elements and in backgrounds that are arched inwards and outwards. Lisa Jonasson describes the works as a division of bodies and surfaces: "The bodies are carved in balsa wood, into a kind of anonymous objects with a purpose to carry the surface. The bodies become my partners as the motifs grow. I carve and shape something that can carry the surface towards the viewer. The feeling is that I develop the possibility of my own images."
A series of works in the shape of books reconnects to Jonasson's earlier text-based works and comic strips. Here, however, it is rather symbols, signs and information that brings to mind Egyptian murals and ancient narrative. The book spreads offer a promise of pages before and after what is unfolded right now. The story is not a whole, it both 'is' and has a continuation. Something that in a way, is significant for Jonasson's art in general — the images have a before and after, they continue in time and space.
Niki Lindroth von Bahr at Färgfabriken
7 September till 11 November
In the fall, Färgfabriken produces a big solo exhibition with the artist and animator Niki Lindroth von Bahr – a contemporary, complex and diverse artistry. The exhibition includes sculpture and film as well as the premiere of the new short film also called "Something to Remember".
Lindroth von Bahr has a unique style, both in regards to content and expression. Her films and sculptures often tell a kind of melancholy modern fables where animals act in an ordinary but at the same time absurd world, which in every way resembles our own. The common and well known is made alien and distanced, while through the actions of the animals we can see and understand our own human characters and behaviors.
Although it is not the artist's ambition to promote a political view, a significant interest in social and politics issues becomes evident in both action and form in her work.
Lindroth von Bahr is educated at The Royal Institute of Art, she is represented as an artist by Stene Projects Gallery in Stockholm and as a director by Nexus Studios in London.
Lindroth von Bahr´s award winning short films "The Burden" (2017), "Bath House" (2014) and "Tord and Tord" (2010) has been screened at festivals like Cannes, Berlinale, Toronto and Sundance. "The Burden" has since it´s premiere in 2017 won 80 awards, including the Cristal for Best Short Film in Annecy, Best International Short Film in Toronto and Guldbaggen for Best Short Film. Lindroth von Bahr is also a costume designer and has been working for artists such as Fever Ray and David Bowie.
Two shows at Moderna Museet
14 September till 16 February

From 14 September till 16 February an exhibition "ALIAS: CFR" by Carl Frederik Reuterswärd will be on view at Moderna Museet.
Playful and multifaceted, Carl Fredrik Reuterswärd's career spanned nearly seven decades, several pseudonyms, and most artistic techniques. The exhibition focuses in part on the intricate installation and group of objects, "Kilroy", and in part on a series of monumental, expressive drawings the artist made after suffering a stroke in 1989 which forced him to switch from working with his right hand to his left. "Kilroy" (1963–1972) began in January 1963, when Carl Fredrik Reuterswärd (1934–2016) published the following notice in the New York Herald Tribune: "CARL FREDRIK REUTERSWÄRD Closed for holidays 1963–1972." He intended to use this vacation to create nine interrelated objects under the collective title of "Kilroy". It is a poetic and simultaneously ambiguous and esoteric group of works, and in the exhibition "Alias: CFR" you meet objects, as well as lasers and sketches related to the work. In 1989 Reuterswärd suffering a stroke that forced him to switch from working with his right hand to his left. He described the time after his stroke as in part a kind of liberation. He began drawing with his left hand, and the lines and subjects seem to suggest a searching both back and forward in time—to before and after the stroke. The monumental oil pastel drawings of the late 1990s feature scenes of, among others, mythological figures and acrobatic displays. They are mysterious and dreamlike, and although the expression here appears different from that of the earlier conceptual exercises, the two are also linked by the artist's continual exploration of new styles and approaches.
Curator is Andreas Nilsson.
At the same time, Moderna Museet presents a show by Japanese artist Atsuko Tanaka. In post-war Japan, a period infused by the overhanging threat of nuclear war, Tanaka along with other members of the Gutai group wanted to break away from academic art and start again from square one. With simple, everyday materials and radical practices, they sought a new art for a new era. Atsuko Tanaka (1932–2005) was part of the Osaka-based Gutai group in 1955–1965. These artists wanted to dissolve the boundary between art and life. Like many other members of the Gutai group, Tanaka explored everyday materials and performative practices. Atsuko Tanaka created "Denkifuku (Electric Dress)" for a performance in 1956. It consisted of hundreds of coloured lightbulbs, and when she wore it on stage, their pulsating light illuminated the room like electrified blood circulating through her body. Technology and body were fused in the hallucinatory light-play of the modern city. The intense colours in "Denkifuku" recur in several abstract paintings in this exhibition, where networks of circles and lines are repeated in complex circuit diagrams. The same gesture is repeated in the film documentation of "Round on Sand" (1968), where Tanaka instead draws circles in the sand until the waves wash them away and the process starts over.