"Art is my life today"
A conversation with the Polish art collector Piotr Bazylko about the pros and cons of the decision to become a gallerist and about Import Export Gallery, currently showing the Ukrainian-born artist Veronika Hapchenko
At the time of my previous meeting with Piotr Bazylko in Warsaw, which was in late autumn of 2019, he was one of the Polish collectors most followed by the media and the co-author of a book about collecting Polish art, republished a couple of years ago. 'Act early, decide quickly, have a good eye, and be brave' ‒ thus he defined his collector's credo during our conversation back then. He certainly does not suffer from a shortage of courage: the middle of last year saw Piotr open a Warsaw-based art gallery with his business partner, art historian and art dealer Sonią Jakimczyk; the gallery is called Import Export.
SAGG Napoli & Stefania Batoeva. Drama II. 2021
It is a thing not very often seen among art collectors who are more likely to search for ways to put their collections on view ‒ in the shape of a separate private museum or as part of some sort of institutional exhibition project. They are rarely keen to play a direct role in the art process, in shaping the actual art landscape and making decisions on the kind of art that is going to be presented in the public space right now.
And yet this is the road that Piotr has taken. The opening of the gallery was preceded by the sale of some 70 items (a relatively small part) of his collection, the proceeds from which apparently constituted the initial capital of the gallery.
The gallery was inaugurated in September 2021 with a memorable exhibition entitled Drama by the international art duo SAGG Napoli and Stefania Batoeva; it is currently showing False Door, a show by Veronika Hapchenko, an artist from Ukraine ‒ a take on the subject of the Russian Cosmism (for additional information on the movement, see our extensive interview with Anton Vidokle). We contacted Piotr to ask him about his change of career and his views on the role of the contemporary art gallery within the system of 'meaning-making'.
Veronika Hapchenko. Liquid, milk. 2021–2022
What was your purpose when you decided to change your own status in the art world – from a very well-known and established art collector to a gallerist-newcomer? What is your mission in this field, and how has it changed the way you look at art?
It's true that I went from a collector to a gallery co-owner. And that changes a lot. But first, I still want to collect, but maybe to a more limited extent. Secondly, being a gallerist seems to me to be a natural part of my evolution. After all, I was not just a collector. I wrote a blog, published books on art and collecting art, and organized project exhibitions. But back then I did it in my spare time, and today it is my life. When I started collecting 20 years ago, I didn't think it would lead me to where I am today. Therefore, I am very curious to know what awaits me in the coming years.
Did it change the way I look at art? Once, when I saw the work of an interesting artist, I thought: "I want to have his/her works in my collection." Today I think: "Let's make him/her an exhibition". But apart from that, art is still my passion and that hasn't changed for sure.
Mia Dudek. View of the exhibition 'Manhattan'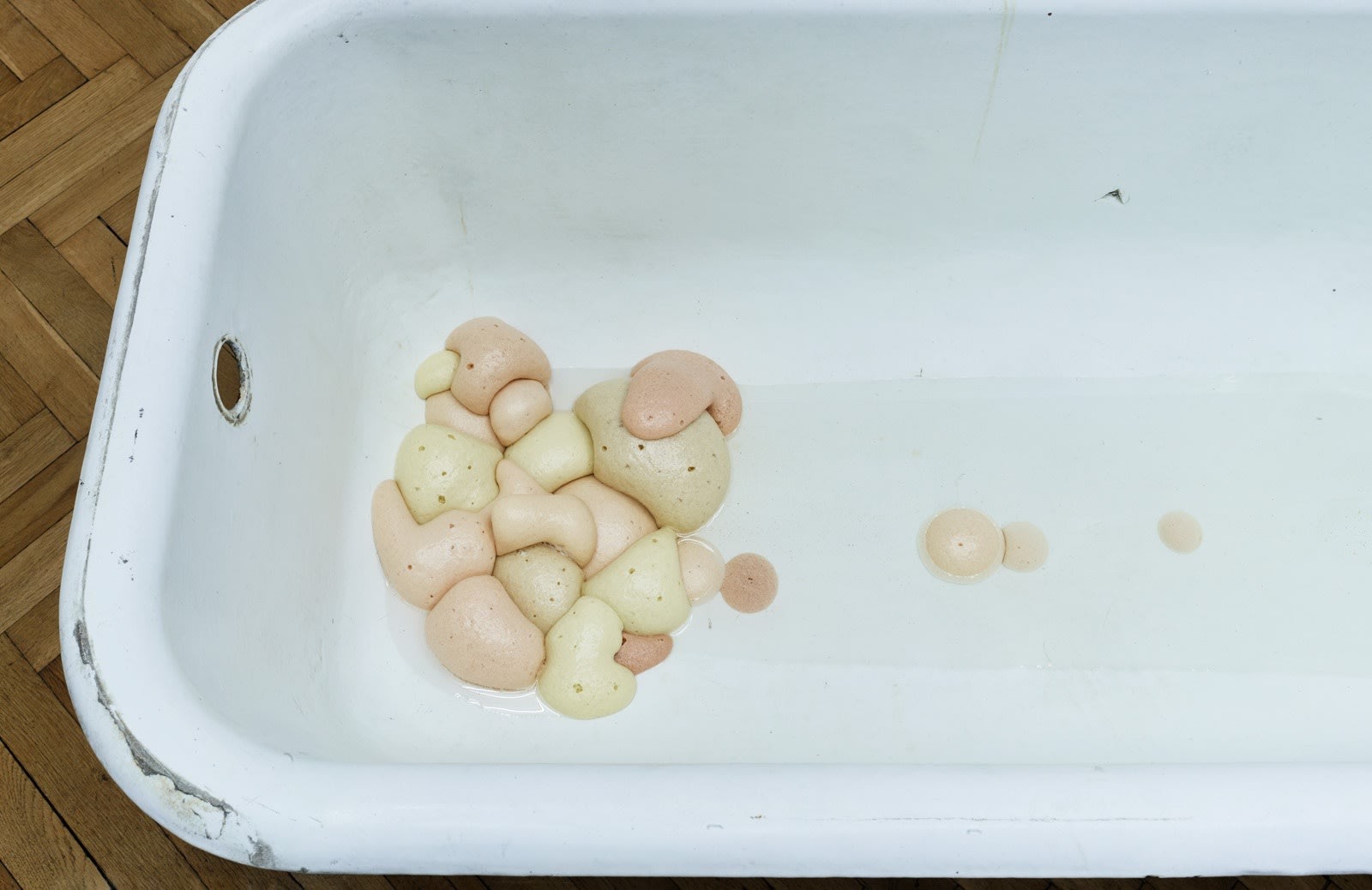 Mia Dudek. View of the exhibition 'Manhattan'
What is the idea of "a modern gallery" today? Has it changed in the last two years? How will it change in the future?
I do not know. But I do know what we want to do with Sonia Jakimczyk, with whom we have established the Import Export Gallery. The uncertainty of tomorrow, great economic and social changes, the closing of borders, and the lack of an art fair have forced galleries to find each other again. We have our roots in Poland, but at the same time, we're proposing an international program. It was no coincidence that the inauguration of the gallery – which was a performance by SAGG Napoli and Stefania Batoeva – could be watched both on the big screen in front of the gallery and on the internet. This gives completely new possibilities for galleries from the peripheral art market, such as Poland. If you show good art and collectors trust you, it doesn't matter where your gallery is.
SAGG Napoli & Stefania Batoeva. Drama IX, 2021
What is the focus of the Import Export Gallery – is it a specific generation of artists, or perhaps a particular aesthetic that you're looking for? Why did you decide to start with shows by SAGG Napoli & Stefania Batoeva and Mia Dudek?
We want to show good art that moves both of us, Sonia and myself. We are looking for artists who move smoothly between media. On the one hand, it is a coincidence that three of the four exhibitions we've organized have been by women artists. But then again, it was in some ways a conscious choice. Women, especially in Central Europe, have been less visible in galleries over the years and now, thanks to galleries like ours, they have a chance to appear. The choice of the first two exhibitions was conscious; we wanted to show something fresh and different in Warsaw – performance combined with painting (SAGG Napoli & Stefania Batoeva), and a Polish artist who received her artistic education abroad and is less known in Poland (Mia Dudek). Her art, which consists of photographs, sculptures and paintings, tells us about ourselves from the perspective of a young woman.
Przemek Branas. Rumour 2. 2020–2021
Could you say some more about third exhibition – People, Teeth by Przemek Branas? The artist says: "I am interested in working with materials that are available to me". What kinds of layers and forms of materiality can we see there?
Przemek Branas's exhibition People, Teeth is a story about relationships, about the formation of groups and communities, a bit about communication, and sometimes about leaving the group. The artist is a sculptor and performer. In his sculptural practice, he often uses materials that he has next to him – inexpensive and accessible ones. And he creates fascinating objects from them. To create sculptures from the Rumor series, he used a nutshell from a tree called the bastard poon tree (Sterculia foetida), which he had brought from Indonesia. They look like human jaws. The tongues and gums are made of polymer clay, and the teeth are made of acrylic. He built the structures out of aluminum cables that he had found on the street, and finally covered them with the broken shells of emu eggs, gluing them to the cables piece by piece. The artist says he sees the potential for reusing unused or unwanted things and gives them second meanings. But there is also a practical dimension to this practice – by reusing materials, sculpting doesn't have to be expensive.
Veronika Hapchenko. Liquid, blood. 2021–2022
The latest exhibition in your gallery (which started recently and will run until Feb. 26) is titled The False Door. The description for it reads: "Embracing both painting and object making, Hapchenko's work is concerned with Russian philosophy and cultural tropes of the former USSR – as well as with strong ties between esoteric beliefs, politics and the militarism that it entails". So, to which space does this door lead (or doesn't lead), and why is it false?
For the exhibition at Import Export, Veronika Hapchenko created paintings and objects related to Russian Cosmism. The exhibition is a result of Veronika Hapchenko's studies of the work of Nikolay Fyodorov and Konstantin Tsiolkovsky, who developed Russian Cosmism. The title of the exhibition comes from a term used in architecture. In ancient times, a false door would be created as a meeting place between the two worlds: the living and the dead. First, at the sarcophagus, and later in ancient Rome, in the villas. For Veronika Hapchenko, The False Door leads us to the world of the unknown, to immortality.
Veronika Hapchenko is from Ukraine. As we know, the works from the exhibition are practically sold out – congratulations! Is an interest in Ukrainian artists something new among Polish collectors, or is it a tendency that's already been around for some years?
It is true that Ukrainian artists such as Nikita Kadan, Mykola Rydnyi and Zhanna Kadyrova are present in Polish collections, especially public ones. Poland and Ukraine are so geographically close that perhaps we understand the topics raised by artists from Ukraine better than collectors from Western Europe or the USA. But most of all, their success is due to the fact that they are great artists. I think it will be the same with Veronika Hapchenko.
Veronika Hapchenko. Atlas I. Atlas II. 2021–2022
In closing, could you name three pluses and three minuses of being a gallerist?
Pluses: I do what I really like; I am learning constantly and I will be learning for a long time; I work on a great team with Sonia Jakimczyk and Kat Zawada.
Minuses: I see only two: being a gallerist takes patience and I don't have enough patience; working Saturdays (☹).
Title image: Veronika Hapchenko. View of the exhibition 'The False Door'