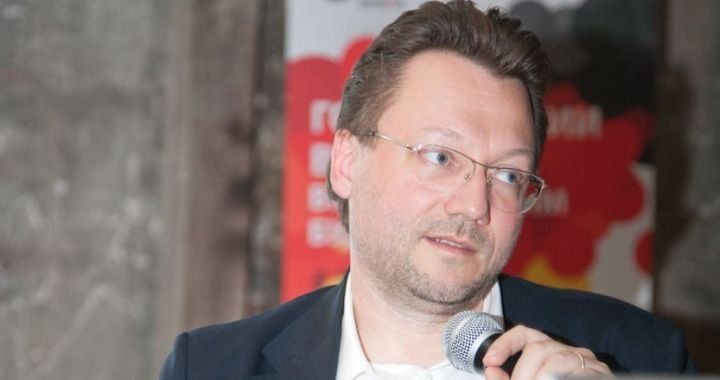 Muck Petzet: "To carefully look around"
Yevgeniya Romanova
11/06/2013
The international conference "Urban Identity: Architecture and Public Spaces" organized by the magazine "Проект Балтия" and Goethe Institute in St Petersburg took place in Kaliningrad within the framework of Year of Germany in Russia. One of the speakers was architect Muck Petzet who flew in from Berlin and was the curator of the German pavilion at the XIII Architectural Biennale in Venice in 2012. He not only found time for two exploratory walks through the city but also for an interview with Arterritory.com.
The main trends at the last Architecture Biennale in Venice were small budgets, social orientation, work with problematic territories and economy of resources. But what was the theme of the German pavilion whose curator you were?
It's about what we have in common, about what we seek and find uniting us: about buildings and premises that have been built long ago, about how they could be organized and used again – and about the uniting beginning hidden in them.

The three main revolutionary Rs of the German pavilion. Photo: Edward Beierle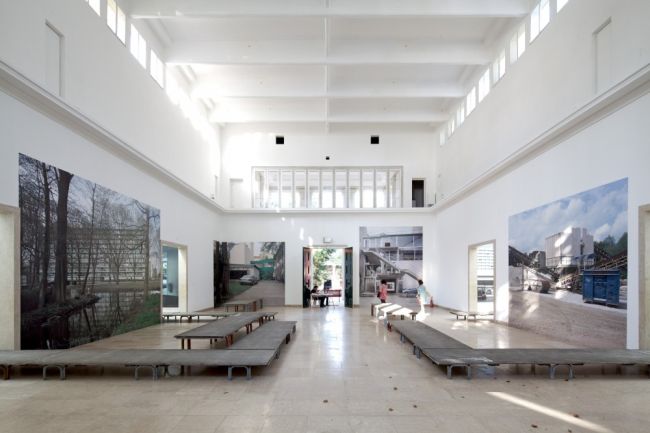 Inside the German pavilion at the Venice Architectural Biennale. Photo: www.archdaily.com
Is such an approach the new agenda in the relationship between architecture and society, architecture and the changing world?
Architecture is the most responsible and publicly oriented of all the existing arts, because everyone has to live somewhere. What does the responsibility of architecture involve in the new conditions? We have to think about more effective ways of preserving the already existing energies: to carefully look around and work with what's already there.
Regarding the issue of responsibility and sharing it, a good illustration from the German pavilion is a project by the Herzog & de Meuron bureau: German newspapers with publications about the ten-year history of the project for building a new philharmonic in Hamburg...
This project is special, in the beginning it was actively supported by the city dwellers and then was transferred to the area of responsibility of the city authorities of Hamburg and they are charged with the task of somehow complete it with dignity. The project is very problematic, in Germany it is one of the most striking examples of how things can go wrong. The prices have been raised ten times, everything is taking five years longer than planned, the implementation of solutions in typical architecture keeps lagging behind and, in this way, the project seems to lag behind itself. Overseeing also could be better: clever companies with good lawyers are making money from it. The hung newspapers were telling the story of how, within the ten years, the attitude of the locals to the construction project changes: in the beginning, everyone liked it, then they stopped liking it but are still hoping that it will finally be built and built well.
Which were the pavilions at the Venice biennale that you found to your liking both in the thinking behind them and their spirit?
The Swiss pavilion with which we developed a very close relationship. It told the story not just of separate sites but about an overall approach, about putting things in a context, in an ensemble and there was also reflection on what already exists: if you want to build, you must first of all look around you carefully and then to adapt your own architectural language to your surroundings. I liked the Belgian pavilion. I generally like pavilions that use the exposition for research. The Belgian pavilion was about the possibilities of developing some regions of Belgium in new directions. It was high art and intellectualism although quite difficult to understand.
Do you personally have any problems with professional self-identification in the contemporary world, which is undergoing an economic crisis? How do you feel professionally? Do you understand what should be done and in what direction to move?
I am attracted by the contemporary. In architecture, I like the clean, "naïve" thinking, which, I am sure, can change the world. And I can see that it is possible here in Kaliningrad. Architects think that by constructing beautiful buildings and other sites they can make the world a better place. I am trying to make the world a better place by preserving its energies and making them move to the future, both practically an theoretically. I think it also helps me grow.
Who, in your opinion, is an architect: an artist who transforms and translates higher energies or a demiurge, a builder, a creator of worlds?
Architecture should not speak the language of design but that of development, a gradual movement forward. Even to a completely empty space it would be wrong to come with a strict idea of what has to be there. By the way, it is not always wrong, but usually it is. Mastering a space is a process. If we are open to what already exists in the space, if we are aware of the personal situation of the client and know about his needs, we are beginning to work taking into account all factors. And if we do not hurry and think too fast, we are sure to achieve what will be organic to the existing context and will enrich it.
The economic crisis has impacted the global architectural thought. In what way has it affected European and, in particular, German architecture?
It may seem strange but in Germany there is no crisis. It is, however, all around Germany. Originally the theme of our pavilion at the biennale was perceived as a reflection on the crisis, but we were simply trying to fit in the overall picture. If we don't have money, we become more rational. We ask ourselves: do we need a new car or is it possible to drive the old one? And such an approach to solving a problem will always be right – independently of any crisis. I am hoping that the crisis will change that crazy contemporary development that we observe in many places in Europe. For instance, in Spain, where, without any need, they built many new city blocks and whole cities on the coast: for the sole purpose of circulating money. I hope that the crisis will force us to change the approach to investment.
Yesterday you took a walk through the squares and courtyards of Kaliningrad. How did you like the local public spaces?
I was told that Kaliningrad almost completely lacks public space, but, judging by yesterday's walk, it is not so. Courtyards and squares are interesting public spaces that are less formal and thus closer to people who use them. Public space in the original sense is space for the people. It does not necessarily have to be beautiful like a square, it can, for instance, be a back yard or courtyard. All kinds of things can be developed here, yet one should take care not to lose the value of the original informality.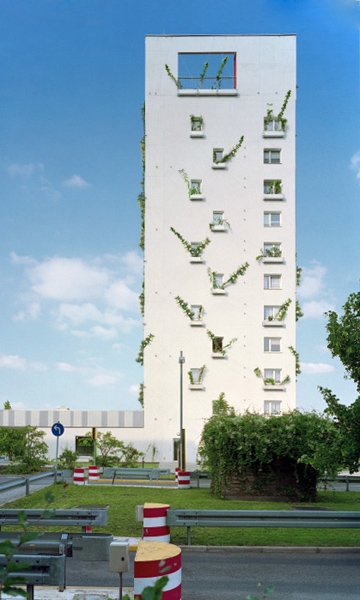 Project of the "residential" green house Lausitztower by Muck Petzet Architekten
What role do public spaces play in the city planning and architecture of contemporary European cities?
In Germany, public spaces are very often directly related to shopping. For that reason, it is very important to avoid building huge shopping centres, which pull people out of the public space, in the centre of town and to organize the shopping and public spaces to their mutual advantage, so that they would reinforce each other. But at the same time on should be able to think on a large scale, so as not to spread out on the map. It is also necessary to think about relocating the transportation, about city traffic. It seemed interesting to me that Kaliningrad has big, wide streets with traffic jams, but quite literally next to these streets, right behind the houses, there exist huge, peaceful, practically pedestrian spaces that are in no way related to the traffic jams. It's amazing! Usually it's quite different.
How are public spaces formed in Germany? Can it happen on the initiative of the population or activists, or can a public space be planned only from above?
In Germany, this process is controlled by city planning. The majority of important projects are carried out through a competition process and activists have a certain chance to have their say in the decisions. A couple of days ago I was in touch with a group of activists who were protesting against demolishing a building and constructing a shopping centre in its place. But they had really not much chance to win, since everything is quite strictly controlled from above.
In the American pavilion at the biennale 120 projects of positive involvement of ordinary Americans in the city environment under the common title "Spontaneous Interventions". Can the experience of such interventions be used in any country?
Similar spontaneous actions exist all over the world. In any country, a granny may plant something under her windows and we call it urban gardening. The question is different: do you show this in your pavilion at the Venice Biennale.
If we were to compare Western and Eastern Germany, is there a difference in how public spaces are formed?
Of course. For instance, in Dresden, there is Praegerstrasse. It was a classical example of a main street in GDR. After the reunification, it was purposefully being destroyed, in large part, for ideological reasons: in the opinion of many people, everything left over from the socialist era, should be wiped off the face of the earth. They built this street over with western style houses and destroyed the overall picture of the space. The Stalinist Lane in Berlin, however, was preserved. In Berlin generally much has been preserved and it is possible to see how in one city two types of architecture, socialist and western, can co-exist side by side.
Would you find it interesting to work with the spaces of Eastern Germany? And do you find the architecture of post-soviet territories interesting?
I have thought a lot about Eastern Germany; for me, it was an important theoretical experience. And I would gladly work on post-soviet spaces. In Kaliningrad, I would like to work on the Soviet House and at the same time with the platform on the ruins of the Royal palace. I think that with just slight intervention it is possible to make something quite substantial here.

M House/Studio at Wörthsee. Project Muck Petzet Architekten. Photo: mp-a.de
I would like to clarify: so you think that the Soviet House should not be demolished?
Absolutely not!
In your opinion, which public spaces form "the face of the city"? Are they above all macro-signs for the foreign consumer, something on display, or are they micro-signs of a local, "home-grown" identity? What signs of identity did you see in Kaliningrad – where they expressive of Kaliningrad and not of Koenigsberg?
It's always a mixture. You need monuments for the external associations with Koenigsberg to work, but you also need that which forms the identity of Kaliningrad. For instance, the emptiness of the centre of town, which to me seemed a very powerful sovereign space: it is a monument in itself. Probably, it should be somewhat improved. Or the Soviet House, a special object, which becomes even more interesting in combination with the ruins of the Royal palace. At the souvenir shops of Kaliningrad, they should not sell beer mugs with German writing, but postcards and pendants with the image of the Soviet House. A special feature of Kaliningrad, in my opinion, is also the informal public spaces where we walked yesterday.
What if the city council of Kaliningrad were to turn to your bureau of architects with an order of working out a plan for the development of the city, what would you do?
I already mentioned the empty centre. I would leave it as it is and at the same time I would reinforce what surrounds the centre, so that what already exists would sport new colours. Right now there is a contradiction: for example, this new multi-storied building across from the Fish Village is concealing Soviet five-storey blocks that are located behind it. It is the wrong approach. If we work on these five-storey houses, it will diversify the overall architectural situation. According to my development plans, everything should be done very slowly, gradually, with small improvements, reinforcing the existing condition. Yesterday we walked on the pedestrian street with beautiful flower boxes but also with asphalt in a very bad condition. It would be nice to fill the holes in the asphalt, but it is not necessary to take off the entire cover and pave the street anew. If you work slowly and give it a lot of thought, always remaining within the context, you will for sure be helped by some sort of self-organized spaces – for instance, the small shops in the courtyards. As a city planner I would very carefully follow the process of this self-organization and would try to stabilize these trends. That would be the core of my strategy.
To stabilize and not to control?
If you are aware of the goal, you can work on several of these projects. You have to decide what is necessary and good for the city overall, but also try to be rational and not to forget about the details. Perhaps sometimes it is necessary to simply wait and you may receive a ready-made space which forms itself, without your interference. If a city has enough living space, then it is best for it to remain as it is and not to keep wondering all the time what new things to build.