On the status and power of the Venice Biennale and documenta
28/12/2017
2017 was a year in which two of the most important world art events overlapped one another – the 57th Venice Biennale took place from May 13 to November 26, and documenta 14 was on from April 8 to September 17, this time in both Kassel and Athens. Visitors to both events have long been divided into those who vehemently defend them and those who are categorically opposed. Which is why we asked our survey participants if 2017 proved that both events still hold the status of being the art world calendar's prime touchstones for revealing what is (or isn't) cutting-edge.
Michael Klaar, art collector:
Definitely yes!
Mark Gisbourne, curator, art historian and critic:
I found Venice a somewhat average affair, a little to heavy on craft, and not enough consideration of the cultural and political complexities of the present moment. Conversely, the two city venues of documenta seemed to be politically framed but the exhibition was visually uninteresting. While it pushed all the buttons of our contemporary anxieties about European fragmentation, and the wider inclusion of the Other, a viewer never felt to what end or purpose it was aimed. It was indexical without being substantive, diagnostic without any thought given as to an ameliorative prognosis. In this sense, it lacked clear vision for the future and felt more than a little self-satisfied about its aims and realizations. And at the same time, parking the Greek Modern and Contemporary Art Collection in the Fredericianum, a collection of moderate quality, served no real pictorial purpose unless it was that of fulfilling some hidden form of personal nepotism.

Nathaniel Mellors and Erkka Nissinen exposition The Aalto Natives at Finnish pavilion. Photo: Agnija Grigule
Christian Ehrentraut, Senior Director, Galerie EIGEN + ART Leipzig/Berlin:
Well, they do and they function as important meeting points for people from all over. Of course, there will always be works in these shows that mean more to you than to others, but it's the direct contact to the artists, the works, the curators and writers and our colleagues, the openness and the festival-atmosphere that lead to numerous discussions and direct discourse around the shows, concepts and curatorial perspectives.

Anne Immhof. Angst II. 2016. Eliza Douglas and Josh Johnson performing at National gallery in Hamburger Bahnhof, Berline, 2016. © Photo: Nadine Fraczkowski. Artist herself, Galerie Buchholz and Isabella Bortolozzi Galerie property.

Christian Ringnes, art collector:
Both exhibition events are strong and important. However, they represent two very different genres, and the quality is mostly varied – perhaps they are most relevant as contributions to a greater discourse. Of course, there are always works/installations that stand out, like Anne Immhof´s eminent long-duration performance of Faust at the German pavilion at this year's Venice Biennale. She truly deserved the Golden Lion. I would also like to mention the strong biennale that was curated for Istanbul this year – Elmgreen & Dragset´s A Good Neighbour was a relevant comment in today's world.
Noemi Givon, Founder and Director of Givon Art Gallery, art collector:
To me, both exhibitions emphasized an excessive neo-colonialistic approach, thus resulting with a condescending attitude towards refugees and minorities, and surprisingly, silencing those whose voices were supposed to be accented by neo-colonialism. What we were left with was these kind of "low-tech" crafty works.
This, of course, does not represent Kara Walker or William Kentridge's critical approach to similar questions. Both artists had great shows in 2017.
Moreover, both exhibitions (the Biennale and documenta) gave the impression that it all remained within the boundaries of good-taste and well-placed conventional, conservative, and clichéd art. Nothing of the new technologies, artificial intelligence, or cyber had entered the art as either a major participant or in the same magnitude of its capacity to control our society.
The main themes that both events dealt with perplexed with the art they presented and gave the impression that art is 'chasing after its own tail' or endlessly 'circling the same bushes'. Venice's general show, in this sense, was the worst.
This was a year of the collapse of globalization in art.

View from exhibition "The Boat is Leaking. The Captain Lied". Artists and Fondazione Prada property. Photo: Delfino Sisto Legnani and Marco Cappelletti

Hedwig Fijen, Founding Director of Manifesta, the European Biennial of Contemporary Art:
I think that both large mega-events are still very valuable, even if what they show at a certain moment is not always very popular. I do think that some of the productions at D14 were amazing and inspiring, but many issues lacked cohesion and mediation as well as clarity. The Venice Biennale this year had some really perfect pavilions – such as the Finnish, American, French and German ones – for which it was worth travelling. The Prada Foundation was also excellent.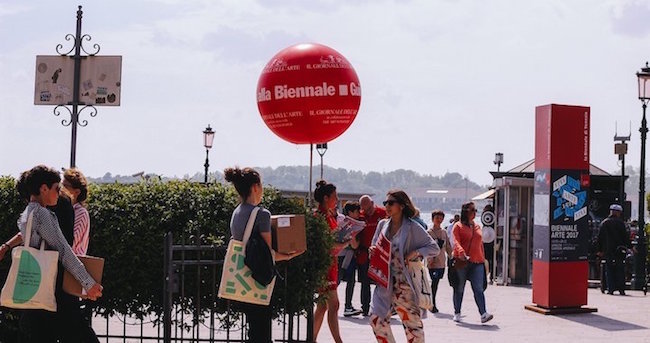 Photo: Agnija Grigule
Katerina Gregos, Chief Curator of the Riga International Biennial of Contemporary Art (RIBOCA):
Certainly they hold their position as two of the 'unmissable' events, which practically the entire professional art world deems necessary to visit. Whether they were as relevant and topical as they were in the past is debatable for several reasons. Firstly, there has been a global explosion of other, ambitious and relevant exhibitions, which means they are faced with stiff competition and are no longer big fish in what was once a smaller art world pond.
It is known that Venice Biennale is not an example of best practices exhibition making; though the Biennial makes millions, it does not pay artists or production and thus relies on galleries and private patrons which makes it dependent on market forces and sacrifices any potential independent stance. In addition, the appointed curator usually gets very little time to organize it, allowing little time for research, so very often the exhibition ends up including most of the usual suspects and artists that each curator knows and has worked with. I doubt that Venice would still be considered important if it wasn't for the fact that it takes place in one of the most beautiful cities in the world. Now, regarding documenta, to my mind it is an exhibition that should in fact function as a barometer for the most important artistic, social and political issues of the day. This last edition, however, though certainly not uninteresting (one has to credit the curatorial team for their extensive research and many thought-provoking discoveries) was strangely anachronistic, rather tame and a bit didactic. Given the many problematic foundational issues, questions of sustainability and unrealistic expectations that many mega-exhibitions and biennials generate (often drowning under the weight of their own inflated ambitions), it is an opportune moment to re-think these models based on a sustainable and best-practices approach, and one which puts the artists back at the forefront. This is what we are trying to do with the Riga Biennial.
Maria Arusoo, Curator, Director Of The Center For Contemporary Arts, Estonia:
I do agree with the concept of biennale exhaustion, and I am critical towards megalomania and over-production in the contemporary art world, but both Venice and documenta still hold rather strong central positions in the field as they gather together enormous audiences and exhibit valid topics. I wasn't really taken away by this year's Venice Biennale, but documenta offered many topics to discuss, argue about, and go into deeper. documenta, for example, is a rather rare case in this accelerated, high-speed production-based art world as it allows for actual proper research time and budgets for making the exhibition. It is something that should be valued and not converted to the market immediately. The only other similar example I can think of is Bergen Assembly, where I also experience in-depth thought.
Kaspar Mühlemann Hartl, Managing Director of museum in progress:
I think that documenta still does. For me, this is a space where I can discover new artists and where I can see courageous art exhibitions that don't follow the logic and demands of the art market. The Venice Biennale, on the other hand, is very much rooted in the art market, and thus a place more for representation and networking than for surprises or discoveries. Nevertheless, due to its high quality, size, and rich collateral programme, it still is an important place to go.

Roee Rosen, The Dust Channel, 2016, digital video, installation view, Palais Bellevue, Kassel, documenta 14, photo: Daniel Wimmer

Valentinas Klimašauskas, Programme Director of the kim? Contemporary Art Centre, Riga:
I did not do the Venice Biennale this year, however, I think that both the VB and documenta are and will be very relevant events as they unite, stir, divide, raise questions, give hope and fail, are national and transnational, visionary but decadent, schizophrenic but also normal, extravagant but boring; they serve as hyper-objects – no one, even curators, could see, read and participate in all of the events they had curated and edited. The events became incomprehensible; however, they do also dictate the rhythm, and the art world would not want to lose that – the chance to be even larger and faster, to happen in nanoseconds with an AI-orchestrated rhythm, but to last for years; and also to take up more space and have larger budgets. 'We are not surprised'.
Sigalit Landau, artist:
I have never enjoyed these huge stampedes much; the ones I survived I tended to experience with an 'Oh, well...OK !' attitude. For the most part, as an artist you want to see your art there – so I very rarely go see these 'parties' unless I exhibit in one of them: and even then I take one or two memories along with me, ones that are relevant to my experience of the 'human condition'...like after a hurricane. Very few big shows are created to be coherent experiences; it is the pressure to be opposed or in line with coherence that is maybe the problem: the fear of commitment? Loyalty to the blank flag? And right/wrong lessons from the past...subjective!, manipulation! – all [not] OK, we always expect miracles... Still, true art does hide there if you know how to look for it...but one doesn't need the colossal side of mega-shows for this.

Rachel Maclean. Spite Your Face. 2017. Shot from the video. Artist property. Alchemy Film & Arts cooporated with Talbot Rice Gallery and Edinburgh university. © Rachel Maclean
Viktor Misiano, curator:
documenta is not just the largest and most representable contemporary art exhibition, but also an exhibition that with every edition poses anew the question of What is representation?. In other words, documenta is a reflexive project that assumes that new art that has been created as an answer to new social and cultural problems deserves new and adequate models of presentation. In terms of the last documenta, it could be reproached for: not having enough representation (there were too few artist-stars, and many important regions where art is being created were ignored); lacking a clear expositional narrative and thematic programme; having unclear boundaries between artistic and anthropological materials; and much more. However, these reproaches are a bit lacking in basis because they actually come from curator conceptions and are rooted in the artists' original tactics for exhibiting. And to bring my answer closer to your question, to me this tactic seemed extremely symptomatic; analyzing it leads to interesting conclusions and contemplations, therefore, one could say that documenta has fulfilled its mission faithfully.
In terms of the Venice Biennale, the verdict that this year's main curator exhibition was unsuccessful has been sufficiently accepted. However, that doesn't mean that the Biennale has lost its meaning. It is regardless an extremely complex and, in terms of scale, unprecedented event. Even the failures of the main project, which is only a part of a massive and diverse conglomeration, cannot threaten the meaning of the Biennale as a whole. It's the exact opposite, in fact; by provoking exuberant critique, it once again attracted sweeping attention to itself, proving that it still is a cult event.

Adam Szymczyk at documenta 14 press conference in Kassel. Photo:

Good Intentions, installation view, The Venice Biennale, Viva Arte Viva, 2017 © Irina Korina, courtesy Garage Museum of Contemporary Art

Milena Orlova, Editor-in-Chief of The Art Newspaper Russia:
Of course, I think that both documenta and the Venice Contemporary Art Biennale are still the most important exhibitions in the world. The Venice Biennale always blows me away specifically because of its multinational body of expression; on a purely statistical level, it lets you know what's going on in the world. Curator Christine Macel's main exhibition, Viva Arte Viva, with the theme of artist-magicians and workshops as the centre of the universe, seemed very interesting as an alternative to the now overly common political conjectures. In terms of its topicality, I can judge by the choice of Russian artists – both Irina Korina and Taus Makhacheva are indisputable stars of the Russian contemporary art scene. As for documenta, I can say that I greatly admire the courage of curator Adam Szymczyk to move part of the exhibition to Greece, and for his coming up with the provocative title of Learning from Athens. It turned out that behind him was not only today's political significance of the region, but also a huge European cultural tradition that, with each new stage, returns to its roots – the ideals of humanity and democratic society; as documenta went on to show, this tradition, and good intentions, often just end up leading to hell.
Alisa Savitskaya, curator at The National Centre for Contemporary Arts, Volga region branch (Nizhny Novgorod):
documenta in Athens and Kassel (according to the curator's conception, this is the correct order in which these cities should be sequenced) left a double-sided impression. There were too many logistical mistakes within the project; there were measures that were too simple, or the exact opposite – too complex; and distinctly low-quality works. documenta 14 became a large-scale continuation of documenta 13 and a kind of fun-house mirror that reflected the achievements of its predecessors in a deformed way. Nevertheless, once again documenta confirmed its flagship status in the field of contemporary art and curating. I think that in the next four years we will see many projects using the exhibition techniques that documenta 14 came up with. But today, to me the most important question is what will documenta 14's longterm results be? Unlike documenta 14, this year's Venice Biennale turned out to be revealingly retrograde. The exhibition Viva Arte Viva would fit very well into the museum of a big city: good things that have been divided into simple, broadly comprehensible sections ('pavilions') are a wonderfully suitable for a weekend cultural event. But it has absolutely nothing to do with cutting-edge art trends and processes.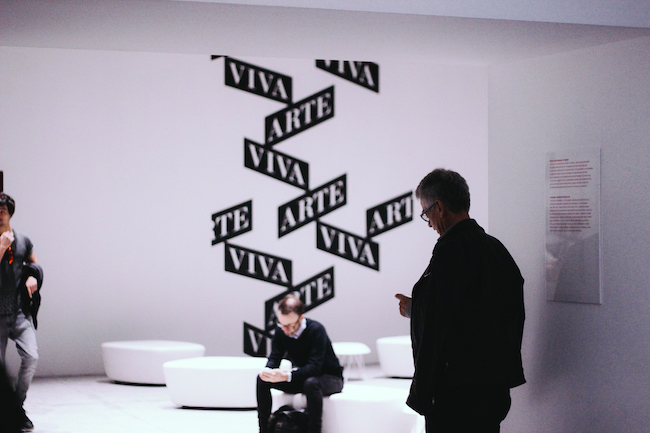 Photo: Agnija Grigule
Dmitry Bulatov, Senior curator at the Kaliningrad Branch of the National Centre for Contemporary Art:
I don't consider the Venice Biennale and documenta as events that represent current art processes. That would be the same as going to the Salzburg Festival in search of contemporary music. However, this does not take away the fundamental characteristic of these events, which is to correspond with the 'big turn to the conservative' trend in which we're living right now. I'd say that the main indicator of these trends in art is the replication of practices that, for one reason or another, have been left without saturation and an inner sense. It's hard to say why that's happened – is it due to an inert institutional mechanism that has focused on some sort of preconception of a 'standard' for contemporary art, or is the public to blame for regarding these exhibitions as just another fashionable way to spend one's free time. Undoubtedly, the 'mainstream' (if with the descriptor 'mainstream' we're describing a durable union of creative methods and strategies) has an important mission in the cultural sewage system. As does the debanalisation of how we perceive our surrounding environment. And this is where I see the positive role of these art events.
Olga Temnikova, gallerist and co-owner of Temnikova & Kasela Gallery:
I am a little stuck in my art flâneur habits, so I did visit documenta in Kassel, Venice, and the Münster Sculpture project. Venice has lost it for me, so I visited it off-season – mainly to see the exhibition at the Prada Foundation; it was completely worth it, especially as my favourite restaurants were not overbooked. I spent five days with documenta and it made complete sense. Despite the fact that the local bureaucrats see this mega-exhibition only as a money-making machine, its five-year preparation period and good curator line-up still works. Sadly, not that many people come to see it for more than two days, though…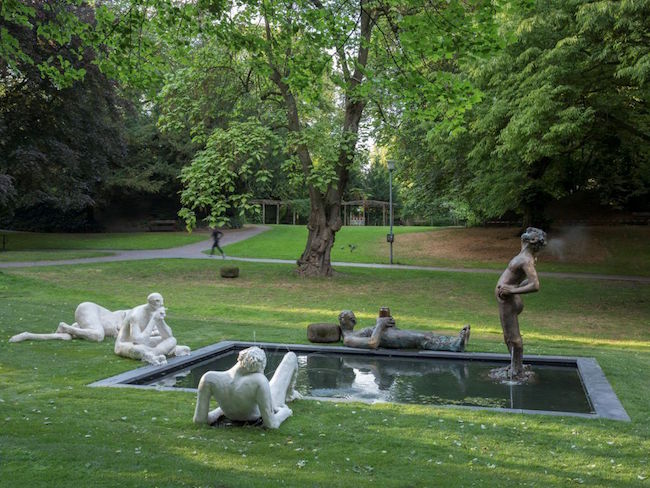 Nikola Eizenmane, Sketch for a Fountain (2017) ©Skulptur Projekte. Photo: Henning Rogge

Māris Vītols, art collector:
In my opinion, this year's Venice Biennale provided an especially strong presentation of national pavilions and exceptional satellite programme events, among which I'd like to single out the great exhibitions at Palazzo Fortuni and Fondazione Prada. There was a certain disappointment surrounding the documenta 14 exhibitions in Athens and Kassel with their various accompanying financial scandals. Polish curator Adam Szymczyk's team provided a very small number of new works created specially for these shows, and instead based his process view on working with archival material. The unsuccessful attempts at encompassing as wide a range of political themes as possible led to the exhibitions lacking a unifying core.
I would emphasize that along with the Venice Biennale and documenta 14, another impressive large-scale exhibition this year was Skulptur Projekte 2017, which takes place every ten years in the German city of Münster. By now this grand show is traditionally put together by a team led by the notable German curator Kasper König, and along with previously made works, the city's urban environment featured 35 new works from around the world, created especially for this event.
Solvita Krese, Director of The Latvian Centre for Contemporary Art:
Regardless of the oft-heard criticisms heard in the international art scene (much of which I can agree with), I still value documenta 14 as one of the world's most important art exhibitions; it is based on serious research and on the study of current processes in art, and it still offers a conceptually driven, many-layered and finely calibrated frame of thinking.
This year's Venice Biennale, at least the central exhibition, was one of the weakest I've seen. One cannot help but notice the Biennale's commercialisation and its unhidden advancement towards the territory of the art market and entertainment venues, thereby belittling the potential of its message and concept. If the Biennale continues to develop in this direction, then it is more than likely that its role in the international world of art will change.