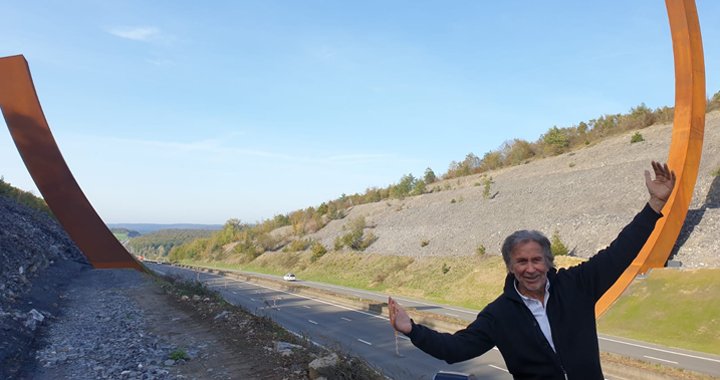 Arc Majeur: a symbol of human interaction
24/10/2019
The ambitious yet laconic Arc Majeur sculpture by French sculptor Bernar Venet, unveiled on October 23 at kilometre 99 on the E411 motorway in Belgium's Wallonia region, is not only a unique work of art; it also serves as confirmation of the symbiosis between an artistic idea and political and economic will (the main supporter of the project was the Fondation John Cockerill). Such a project would have been impossible without the union of these three things. Arc Majeur is a story about the heroic interaction between people from the most diverse fields, from the author of the idea to the scientists, technical engineers, manufacturers, welders, fitters and even traffic police, who ensured safety on the motorway during the construction of the arc.
Arc Majeur is 60 metres high, 75 metres wide and weighs 200 tonnes. It's the world's largest public work of art made of Corten steel, a material often also used in architecture which combines corrosion resistance, tensile strength and a pleasingly warm appearance. The red-brown patina that develops on its surface is waterproof and does not seep through materials, unlike standard rust. Both parts of the arc are made of 20-metre-long steel segments (three on the larger side, two on the smaller side) that have been fused together with surgical precision. The construction process took into account both the condition of the soil at its final location, vibration caused by heavy traffic and the potential for extreme climatic changes, for example, 200 km/h winds. The base of the sculpture extends to a depth of three metres into the soil. Thus Arc Majeur embodies both a brilliant artistic idea and the highest level of 21st-century technological and scientific know-how.
Arc Majeur can only be seen while one is in motion. Although it can be glimpsed from several kilometres away, the gigantic sculpture organically merges with the landscape surprisingly well. It embodies an almost unbelievable lightness, strength and also existential fragility, giving the impression that the arc has always stood on this site. Its true size, however, can only be appreciated up close, as one drives through the arc.
As previously reported by Arterritory.com, Arc Majeur has been a dream for the artist 35 years in the making. "I'm finally starting to believe it," Venet says when asked whether that dream has now been fulfilled.
On the evening of October 23, in a ceremony at the Château de Lavaux-Saint-Anne, Venet presented the mayor of Wallonia with a signed certificate of authenticity for the arc. The work of art is a gift of the Fondation John Cockerill and the artist to the region of Wallonia. It is a vivid gesture of a strong artist and a successful local business giving back to society.
Arterritory.com offers a look at the Arc Majeur unveiling event.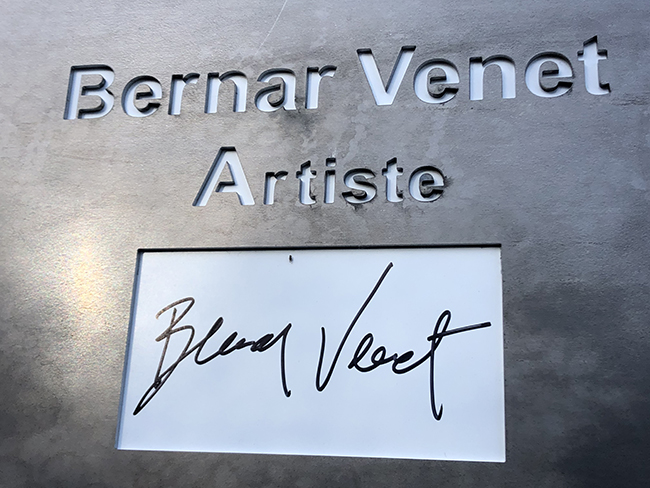 Installation view. Exhibition devoted to Arc Majeur at the Château de Lavaux-Saint-Anne. Photo: Arterritory.com

Arc Majeur. Photo: Arterritory.com

An inauguration of Arc Majeur on the 99km of E411. Photo: Arterritory.com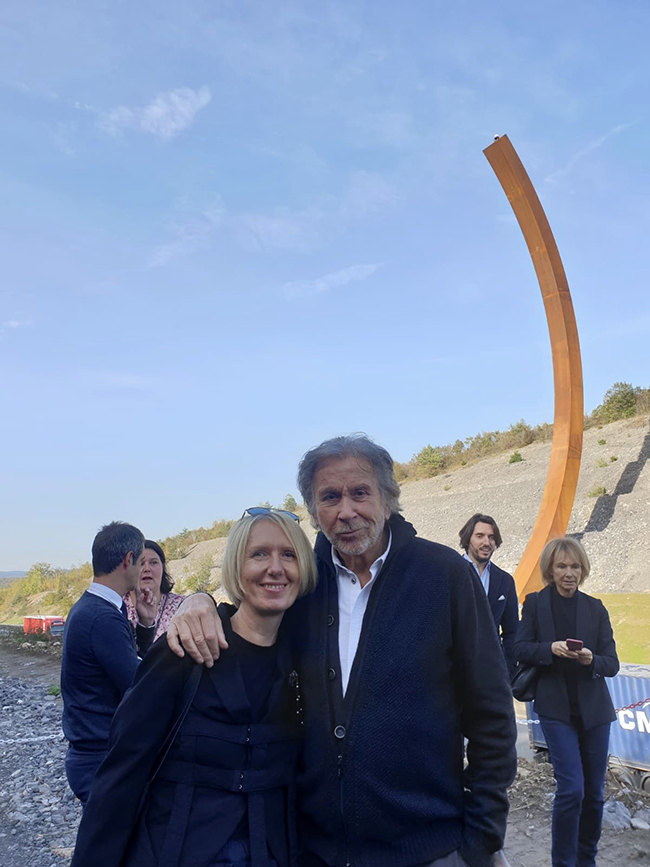 Una Meistere and Bernar Venet at the inauguration of Arc Majeur on the 99km of E411. Photo: Arterritory.com

Arc Majeur. Photo: Arterritory.com

Bernar Venet Arc Majeur drawing. © Meta Morphosis pour la Fondation John Cockerill

Installation view. Exhibition devoted to Arc Majeur at the Château de Lavaux-Saint-Anne

Installation view. Exhibition devoted to Arc Majeur at the Château de Lavaux-Saint-Anne

An inauguration ceremony of Arc Majeur at the Château de Lavaux-Saint-Anne. Photo: Arterritory.com

Arc Majeur. Photo: Arterritory.com