I am very influenced by the places I live in
An interview with Evy Jokhova
Curated by the Lithuanian artist and theorist Paulius Petraitis, and having been part of the ongoing Riga Photography Biennial 2020, the now-closed exhibition On Photographic Beings at the Latvian National Museum of Art explored the relationship between images and objects. The exhibition invited viewers to consider the "photographic being" as something more multilayered and complex than what a singular image is often able to capture. On Photographic Beings displayed the thoughtful work of three contemporary artists, of whom one was Evy Jokhova.
Born to Estonian/Russian parents in Switzerland, Jokhova is a multidisciplinary artist based between Lisbon, London, and Tallinn, and whose practice spans over several media. Interested in extending across different fields and ways of thinking, Jokhova's work engages with social anthropology, architecture, philosophy, and art. Arterritory.com spoke to Jokhova about the exhibition in Riga, her practice, and the daily life of an artist during a global pandemic.
I wanted to start by asking – can you tell me where you are now and what your everyday looks like?
At the moment I'm in Lisbon. I was in-between houses, which, of course, had an impact on being in the studio and my headspace, but I finally moved into an apartment, and now for the last two weeks it has been back to normal as I go from my home to my studio and back. The [second] lockdown in Portugal starts today, and we'll see how that goes. I am thinking about potentially going to the Azores islands next weekend for a few weeks. I have someone out there. It's in the middle of the Atlantic and it's Covid-free. I am taking pencils, writing material, and a laptop; my Super 8 films are being developed in Berlin at the moment, so I will have material to work on in the middle of the Atlantic.
I've been in Lisbon for the last few months, aside from being in Estonia for two weeks, because the work for the show in Riga was produced there. At the time I also assumed that they would let me into Latvia, so I had the trip booked to go to Riga as well, but that didn't happen. I was in Tallinn to oversee the end of the production. The production team had already started it before then, and most of our communication happened over Skype. I was meant to meet them in person in March, but then lockdown started and our exhibition got pushed to October. We had to re-plan everything because the museum changed the room of the exhibition, so we literally came up with a new piece over Skype, having never met each other. It worked out very well.
Can you talk a bit more about the work you made for the exhibition On Photographic Beings in Riga?
The curator, Paulius [Petraitis], wanted to look into the relationship between object and photography – the two-dimensional and the three-dimensional in the works of the three artists that were in the exhibition. I work across all media and occasionally even venture into painting. Photography has been a big part of the practice, but not one I often show. Paulius was talking about this idea of image as an object, and he did a really basic example of a photograph of an object and a photograph being framed behind glass, and again it becomes an object. It just instantly triggered an image in my head of something I see in museums so often – people using the reflection of the glass in a photograph as a mirror. And that concept of a mirror just stuck with me and related back to analogue photography – with the mirror inside that flips for the exposure to happen. I was thinking about how I could make an object that can also function as an image, or put the viewer inside the image produced by an object. I was very interested in the whole concept of mirroring, symmetry, and reflection.
Evy Jokhova. Mirror image. 2020. On Photographic Beings, exhibition of the Riga Photography Biennial 2020 at the Latvian National museum of Art. Courtesy of the artist. Foto: Kristīne Madjare
We went on a research trip to Riga the summer before this one, with all the artists and the curator, and I noticed that on almost every floor of the exhibition space there were different types of pillars. All of my work deals with the relationship between people and architecture, and often it is a critique of architecture theory or looking at how we are affected by space. So, I figured that an architectural intervention – an object that looked like it has always belonged in the space – would make most sense.
The original space [where we were supposed to have the exhibition] was the room with the glass floor and semi-glass ceiling, from which you could see the collection below. So my idea was to build two pillars: one of them pink and very textural – furry or flocked – so it would look a bit like flesh or something that is domestic; and the other one – a mirror. And I wanted to model them on pillars that I know from Estonia. As Covid happened and our exhibition got delayed, we were given a different space that I hadn't thought about as a space that I would be working with.
At that moment I understood that the original forms of the pillars, and potentially even the whole concept, would be placed wrongly. It took me almost two months, pretty much the entire lockdown, to come up with a new idea. The very first thing I did was to actually make models of the original design of the pillars in a small scale and shoot them in the pond near my house. I spent lockdown in Vienna with my family, and I took a Super 8 camera with me, so in a way they were still made and shot within a reflective surface. Those were intimate moments experimenting with this idea of duality and mirroring. There were also a lot of mirrors in the house, so the Super 8 film consists of fragments of these explorations and things I saw in Vienna when it was completely locked down and abandoned.
Then, after two months of staring at Google images of the museum cupola, I came up with two possible solutions which I then told to the production team in Estonia to see which one of these fit within our budget, as at that point we were in a situation where we had to do the whole thing twice. The design we chose looked much more at theatre sets and making a set for a photograph for the audience to be in, as well as mimicking the crisscrossing of all the beams that are in the space. The pillars come apart in four parts each and they slot into each other, and then they join in the same way while also looping over the beam. The audience could inhabit the space around and between them. I also wanted the slotting mechanism to be so that each of the four parts of the pillar would be at right angles to each other, sort of making an infinite reflection in the one that is a mirror.
Evy Jokhova. Mirror image. 2020. On Photographic Beings, exhibition of the Riga Photography Biennial 2020 at the Latvian National museum of Art. Courtesy of the artist. Foto: Kristīne Madjare
The exhibition statement of the show speaks of a curiosity in the relationship between the object and the image that depicts the object. In the way that you use photography in your practice, do you find the exploration of this relationship compelling, or is there something else that draws you to the medium?
Quite a few things. I work primarily in sculpture, and often some of the objects that I make or the found material I use are present as objects or are seen in photographs. And in photographs, they are always the same scale as the original. So, in one of my last shows there were elements of sculptures that were also photographed in different parts of the interior, and they all sort of co-existed, questioning the multiplication of an image and repetitive notions. That particular exhibition dealt with the role of women in architecture, so it really touched upon the notions of the grid and repetitive actions. Many of the objects were repeated, and they were not unique but were things like plastic bags for groceries, or pieces of toast that get those grid lines when you use a French toaster. These were mass-produced objects that were also re-photographed, showing them in different entities and questioning the image and object relationship by having them side by side.
With the Riga exhibition, I almost wanted to try and make the audience an object as well. Especially with the mirror – having them constantly be in the work and seeing themselves, and then the other pillar being a replica of the first, and then also thinking about the reflective aspect in all of it.
With some of the most recent photography, I use it also as a documentation of things or thoughts, and often it's a way to present aspects of materiality which are not graspable as they're in an image and you cannot touch them. Some of my photographs are observations; sometimes they are macro shots from nature or they extend a narrative. Photography is always an extension of this narrative that often deals with concept and materiality.
Evy Jokhova. Between thes lines I operate. 2017. Installation at Galeria Foco Lisbon. Curated by Aude Vignac. Photo: photodocumenta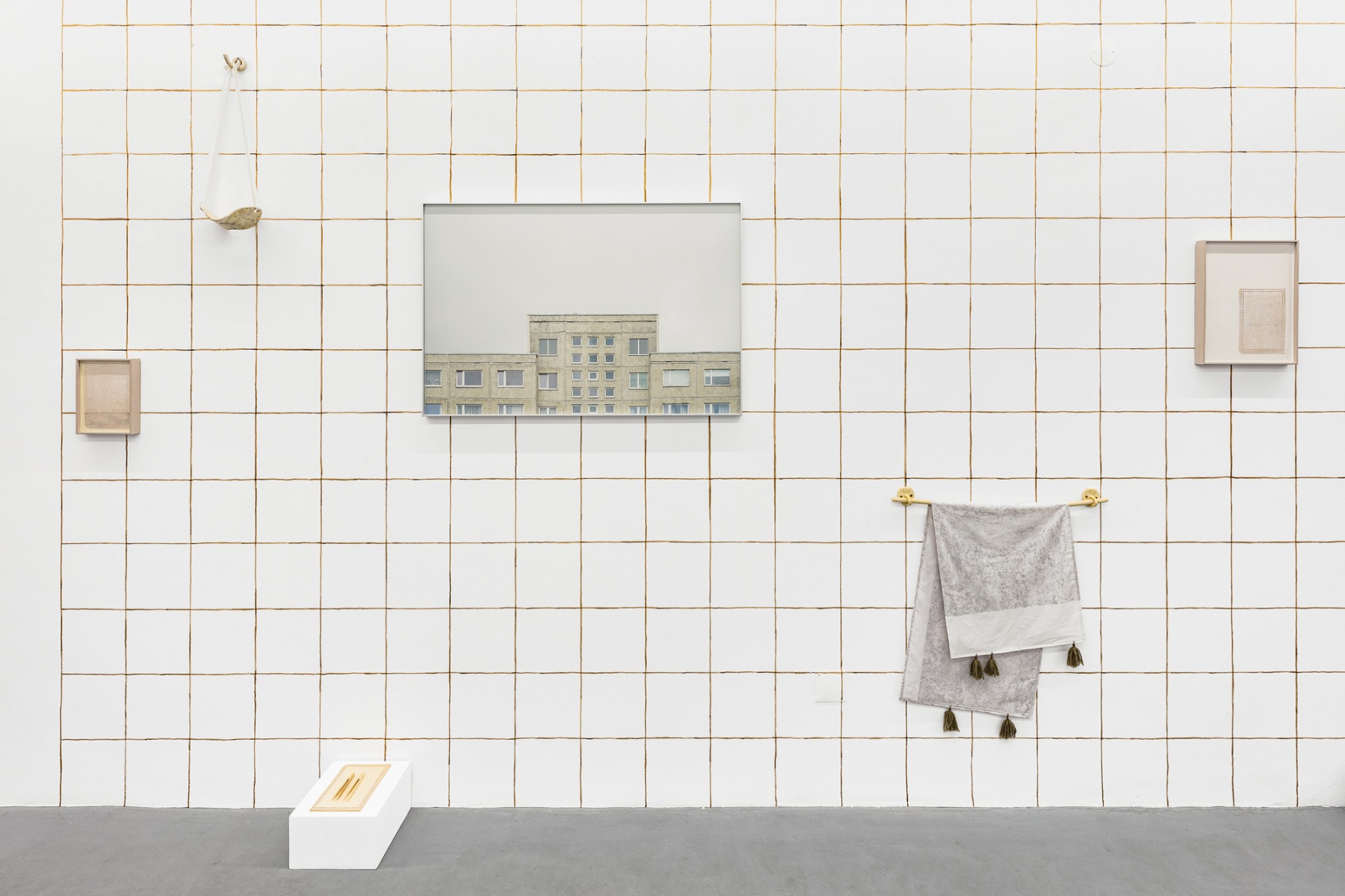 Evy Jokhova. Between thes lines I operate. 2019. Installation shot at Galeria Foco Lisbon. Curated by Aude Vignac. Photo: photodocumenta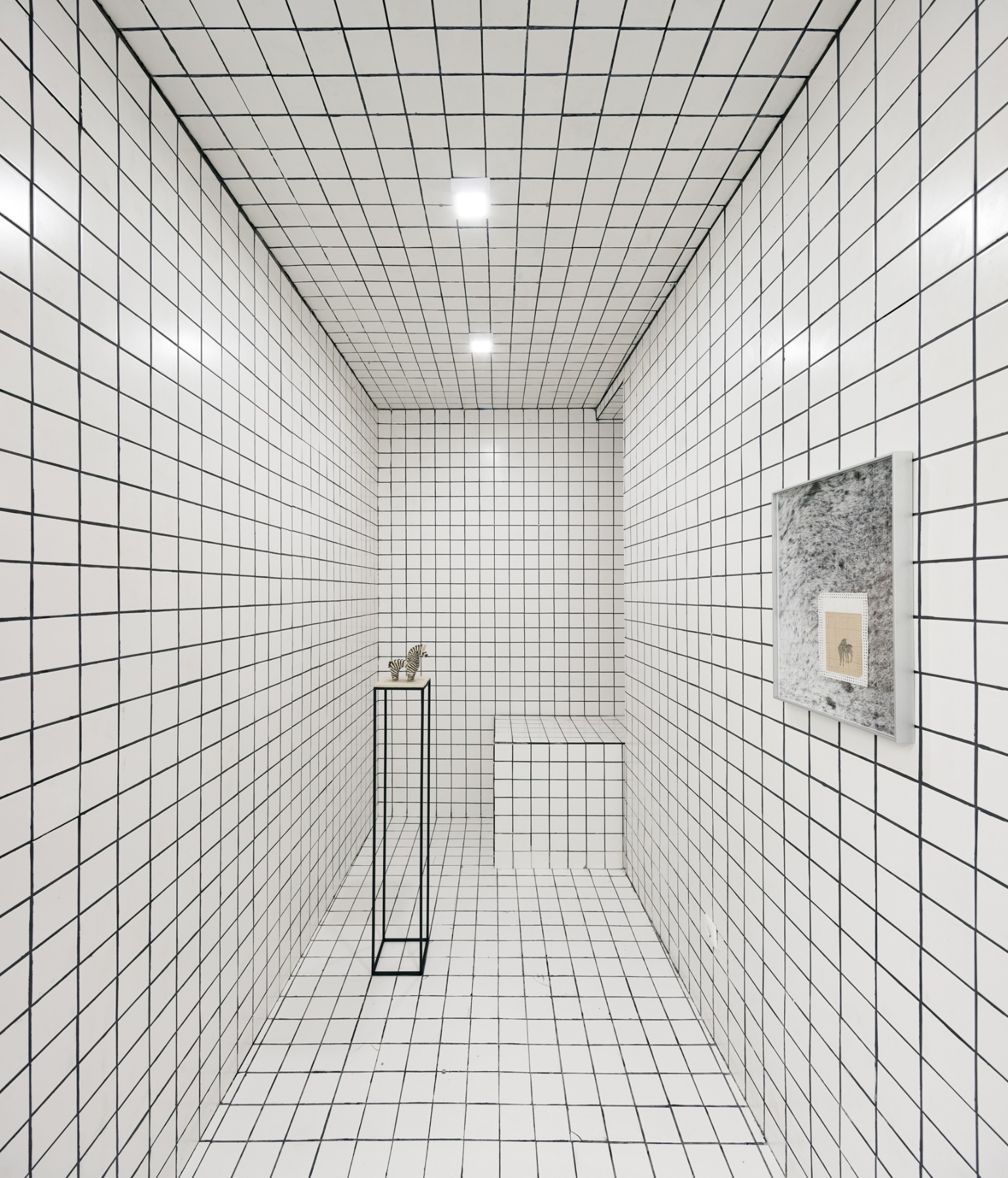 You already spoke a bit about thinking about your work and how you deal with site specificity, but I wanted to ask you about the projects that you have carried out in existing architecture, such as in churches or modernist spaces. How do you feel entering spaces that are so meaningful in so many ways, and that carry so many cultural connotations?
Initially, I started with doing more wall drawings and trying to break down the white cube from being a white cube setting. They were quite geometric wall drawings that came out as sculptural installations. The research became more and more about actual architecture and the influence of it on the human body, and the relationship between body, architecture, and movement. One project in particular came out of an article I read on the relationship between music and architecture, and architecture as frozen music. I was looking at the mathematical relationships between the two. I tried an experiment with a team of dancers and a musician in which we tried to translate buildings into music by breaking down their blueprint architectural drawings into scores – giving each feature a note or a chord and then playing the music back inside the sites. This was often accompanied by architectural interventions that were made out of acoustic foam used to construct sound studios. And in Vienna, I worked with two dancers who translated the music and the architecture into dance.
EvyJokhova. Staccato. Concertina Pillar. 2016. Marcelle Joseph Projects at House of St Barnabas London. Photo: Jan Krejci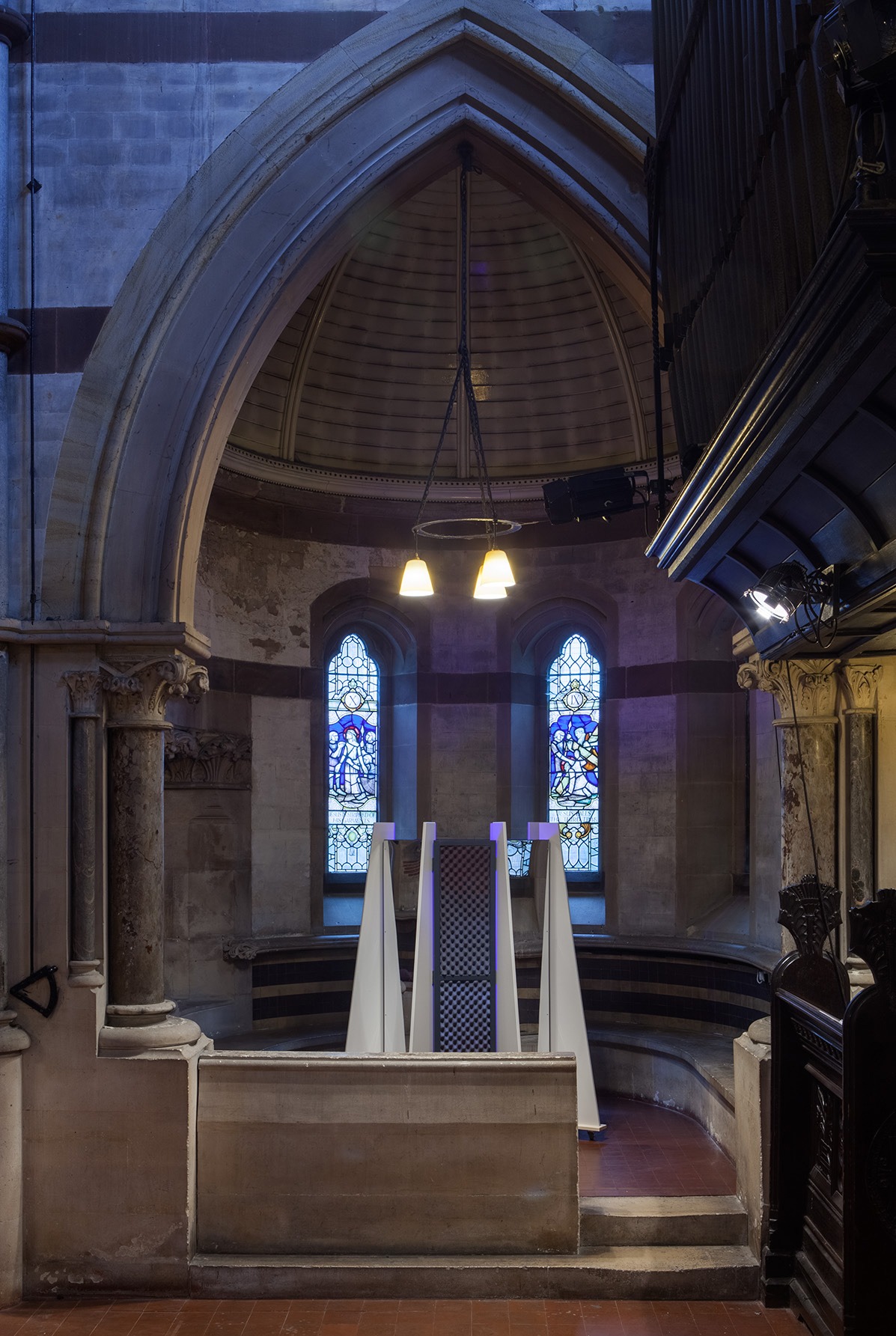 Evy Jokhova. Staccato. Cube Pillar. 2016. Marcelle Joseph Projects at House of St Barnabas London. Photo: Jan Krejci
In a sense, the sites were an intrinsic part of the work. Without them, the work wouldn't exist. It was about playing the architecture back inside of itself. With putting both the performance and the sculptures back into the church, and then the modernist building, the costumes for the performers were designed from the scores with the architecture very much in mind. The sculptures that went within the church were built with materials that had acoustic properties. The colours were actually matched to the stained glass windows of that church, so the building itself was the core inspiration for everything that also came from it visually.
Evy Jokhova. The Shape of Ritual. 2017. Commissioned by Belvedere Museum Vienna. Video Still. Photo: Ulrich A. Reiterer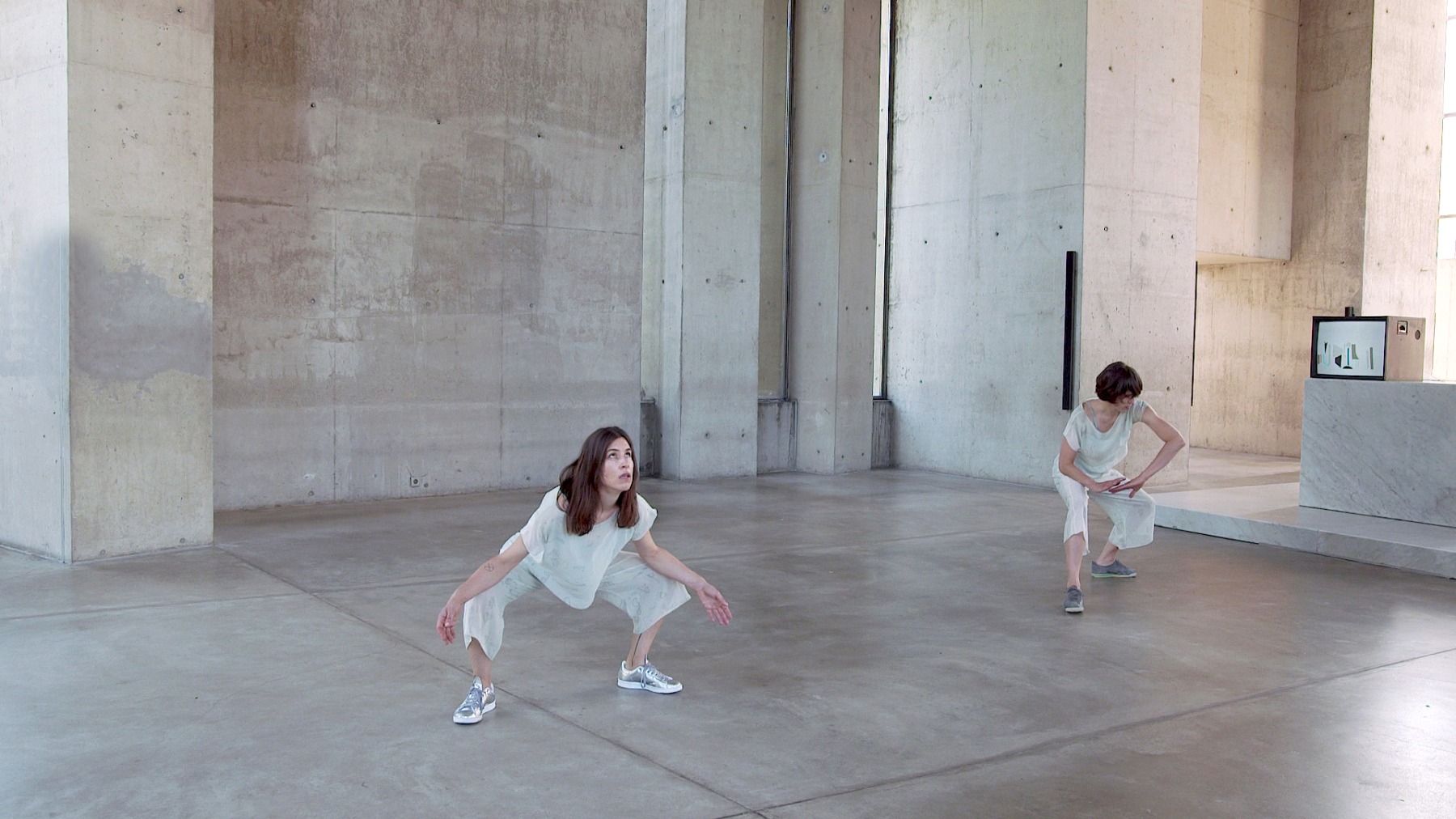 You also did a performance with three women in a Modernist-designed outdoor public space.
That was in Holland after a residency that I did in Bijlmer, which is a neighbourhood in Southeast Amsterdam. It's pretty much the same size as the historic centre of Amsterdam, and it's a huge Modernist development project that has had issues dealing with social segregation and race. It was used by the Dutch as a place for a lot of newcomers and immigrants, and the way the area was treated was, in the end, seen as a bad example. But at the same time, it is a super-interesting area because it managed to claim its own identity and it became the most international place in Holland. There is an incredibly vibrant community that is no longer completely poor and neglected as it was before. I did two projects there, and one was the performance with the three women. Their costumes were made from DIY materials that I could find in local shops – floor lining, wall padding, ropes for pulling up heavy things on a construction site – and it traced the history of the site which had been re-developed three times, and each time by an almost entirely male-dominated architecture bureau. The building projects very much told people how they should live with this new vision for architecture and life. [For the performance] I worked with three women and wanted to focus on how people are actually adapting the space and making it livable in a way that is functional to actual human life and not just to architectural theory.
Evy Jokhova. Heaven and Hell performance supported by CBK Zuidoost. Bijlmer Amsterdam. 2017
The materials were all sourced from what I could find in the local DIY shops. We also re-staged it later in London, and I re-made the costumes, but all of them were different than before because different things were available in the hardware shops in London. The performance consisted of three tasks in three stations that get repeated on an endless loop until the performers become tired or they decide to stop. One task was the rolling out of clay with a rolling pin; the second task involved wrapping a number of boulders, sourced from a recently demolished building, in the rolled-out clay; and the third task was taking the clay off of the boulders. It was making work in an endless loop.
Evy Jokhova. Paper Scissors Stone Performance. 2017. Supported by CBK Zuidoost
Evy Jokhova. Paper Scissors Stone. 2017. Supported by CBK Zuidoost. Bijlmer Amsterdam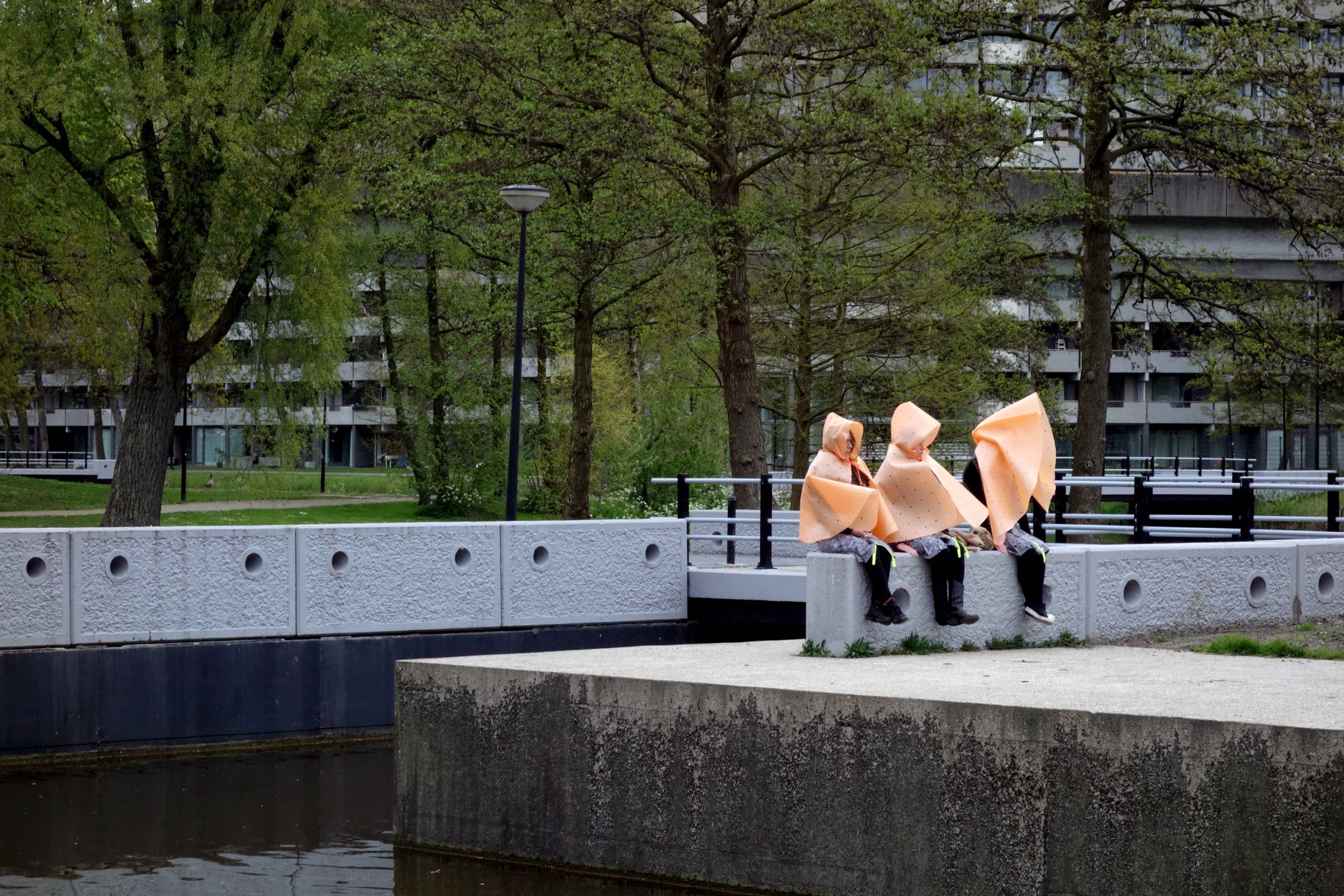 This piece, and other work you've done, refers to ideas concerning femininity and domesticity. What do you think of this moment in which more women have more rights than ever before while, at the same time, we see legislation being pushed through that goes against those interests, like, for example, the abortion ban in Poland that was passed a few weeks ago...
Yes, in many ways like you just said, we have more rights than ever before, but, at the same time, we're not even halfway through and already so much is being contested. In the US as well – a few years ago they were pushing for abortion to be made illegal in some states. To me it was just such a shock that this sort of dialogue can come up at a moment when there is so much being done to support women and help them, and there is quite a strong empowerment narrative. In theory, you see people acknowledging it and trying to work towards greater equality, so it's really such a grey zone at the moment. It really makes me think that we haven't reached half of what I thought we had, and we kind of have to re-assess to find better ways of phrasing and getting the feminist dialogue across. The speed and rate at which conservatism and right wing politics are coming back in many countries across Europe, and worldwide, is quite scary.
For me, it's also a source of confusion as to why and how it is possible that such things as we see in Poland have gone that far. Nobody has managed to stop it, and, at the same time, in recent years and through certain experiences I have had, it has made me realize how deeply conservative the world still is even within younger and "more progressively" thinking groups. The old format of the male and female dynamic is still very present.
You have an MFA from the Royal College of Art (RCA) in London, but you also have an MA in Political Communications from Goldsmiths. How do both of these experiences play into what you do?
With Goldsmiths, I took a year off after finishing the RCA, and I didn't get a studio after that first year because when I went into the MA, I knew what I was interested in, but I wanted to entirely rephrase and re-address my visual language and how I get those ideas across. So, I went in to break apart my practice and build it from scratch, but the re-building of it took longer than I expected. So, upon finishing the two-year course, I didn't feel like I was ready for a studio that could really warrant a bigger space. I had a small space in the apartment – an office I could work from on a very small scale – and I thought, OK, this is a great space in which to continue reading and researching, and doing some experiments.
Then I had a small grant to cover tuition fees for Goldsmiths and I really felt that, although I wouldn't call what I make political work, it does deal with people and architecture, which are intrinsically political subjects or politicised subjects. I thought that it would be a really good thing for me to have this grounding – a slightly more formal and academic study of both the history of political communications (how messages get across) and writing on the politics of architecture. I managed to tailor the course somewhere in-between the communications, politics, and sociology departments, so I attended lectures across the three – Goldsmiths, being super open-minded, allowed me to break the course up among different departments. So, I used that year to really write on the politics of architecture and investigate it from the political and sociological angles. I also learned so much because there were core lectures that you had to go to in political communications, and they gave me a really good insight and an outlook on life in terms of the way I read the press and where I get my information from. The things I learned there became a very good research tool, or strategy.
It was tough because I was working not completely full-time but close to that, and studying full-time – I just remember Goldsmiths as an intense year. When I finished that, I was definitely ready for a studio. The practice, as it is now, started then. I didn't want to speak flippantly or superficially about many of the topics that I dealt with because they are so sensitive, and at that point it felt like I had done enough research.
Evy Jokhova. Installation at Passengers London. 2017. Curated by Julie F Hill. Photo: Ben Blossom
You've been living in-between Lisbon, London, and Tallinn, and also come from a multicultural background – born in Switzerland to Russian/Estonian parents. What motivates you to move among all of these locations, and also, how does inhabiting all of these different social identities and structures feed into your work?
As a kid, I would also always move around because my family was in-between Austria, Russia, and Estonia, so those three countries were a given every year. Growing up in Austria was super sweet because, even without much money, you can get into a car and drive to Italy or Germany. We could have family vacations in pretty amazing locations because of how it was geographically situated, and we had friends in a lot of places, so there was always someone we could stay with. Then the summers were mostly spent in Estonia and also a little bit in Russia. When I started going to university in London, that sort of mobility stayed the same – having to visit family in one of the three countries – and it became a little bit part of my routine.
Two or three years ago I did five residencies, give or take, in two years. So I was living out of a suitcase. Three months in one country, two months in another, three months somewhere else, and just going back to London to repack. All of which really fed into the practice a lot because a lot of the work is very site-responsive. I'm also very influenced by the places I live and work in. It's pretty instantaneous – within two or three weeks, I'm affected by the elements, whether it's a change in colour palettes or the forms becoming more round or angular. My colour palettes have changed a lot since I moved to Lisbon last year – a little less grey and more pastel. They are much more grey in London. Also, I use so much more fabric and ceramics here because there is such a rich tradition of fabric and ceramics, and great workshops and technicians.
I've spent nearly 15 years in London, so I'm very much a Londoner. I grew up in Vienna – we moved there when I was five. So, I wouldn't call myself Austrian, but I would definitely call myself Viennese. Estonia – the landscape, especially around the dacha where I spent my summers, is probably the one I'm most connected to because during summer holidays, of course, you spend all of your time outside. So, there are moments when I just want to go there. It's my place of peace and serenity. I just feel happy with the pine trees, the moss on the ground, and the mushrooms all around. In a way, all of these places are home and it feels relatively natural. Portugal is a very welcoming country and I had friends here before. Many of them I knew from London, and with life being so mobile and all my travelling for exhibitions and residencies, I just stayed longer and longer, so it felt kind of natural [to move here]. I recently signed with a gallery here, so I know Portugal will stay in my life. But I am thinking about eventually moving back to Austria. I would like to have just one base to operate from. Life is still quite scattered.
Evy Jokhova in her residency studio at Nida Art Colony Lithuania
Title image: Evy Jokhova at RBS 2017 in front of Sketch for failure of budgets. Photo: Anne Purkiss