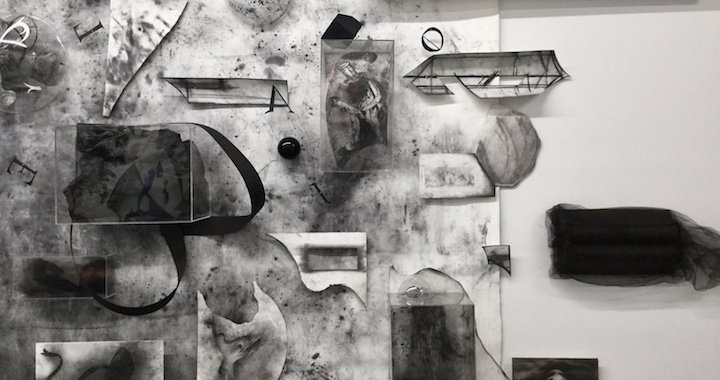 The chorus in close-up
An express-interview with artist Artūrs Virtmanis
21/05/2018
Through May 27, MEN Gallery in New York is showing Artūrs Virtmanis' solo exhibition Against the Tragic Wall. Virtmanis moved to New York more than two decades ago, and for a long time was more 'heard about' than actually seen in the Latvian art scene. This has changed over the last few years as Virtmanis has been actively participating in exhibitions in Latvia with his large-scale installations made of delicate materials that combine drawings with staged spaces: To Perish in Fantasy at the Survival Kit festival (2016); Fucking Times at the exhibition No laika gala (From the beginning of time) at Riga Art Space (2017), and several works at the exhibitions The Future State and Portable Landscapes held this year by the Latvian National Museum of Art. At the end of last year, Virtmanis went to Beijing to set up an installation at the Xin Dong Cheng Space for Contemporary Art. One wonders how, among all this, he found the time to develop his solo project in New York. It should be noted that Virtmanis has closely corroborated with the George Tsypin Opera Factory, working on the creative teams for such productions as the musical Spider-Man: Turn Off the Dark and the opening ceremony for the Olympic Games in Sochi, as well as operas and other stage events. Virtmanis often works theatrical themes and gestures into his personal works, too.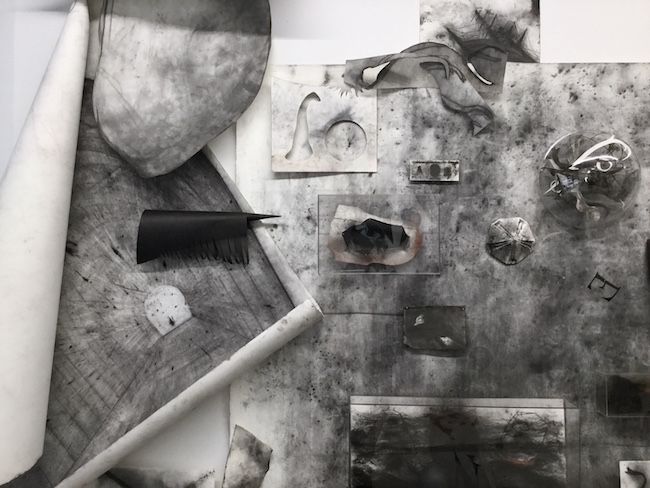 What is this 'wall' that you speak of in the title of the exhibition?
Against the Tragic Wall, the title of the exhibit, is meant to invoke two things: metaphorically, it points towards an existential state where all attempts at action cease – an end point of some sort. It also describes, literally, the process when a drawing (a sheet of paper, an image) is pinned onto the void of a wall, in the hopes that it will work, will resonate... While referencing Nietzsche's description of the origins and functions of the Greek Tragic Chorus – 'the tragic wall' – it also suggests the presence of all kinds of walls, including political and social walls.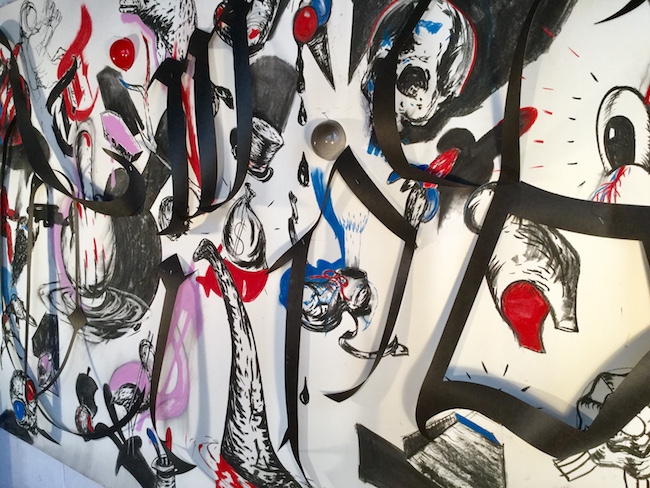 How did you come to have your show at this particular gallery – MEN Gallery?
The gallery is a project space that's set up as an experimental platform by three different curators/gallerists, where each produces a show in alternating order. M E N stands for the initials of their names. I am working with Molly Krom – her interests are positioned towards the art of drawing and installation, which is exactly where a big part of my work originates.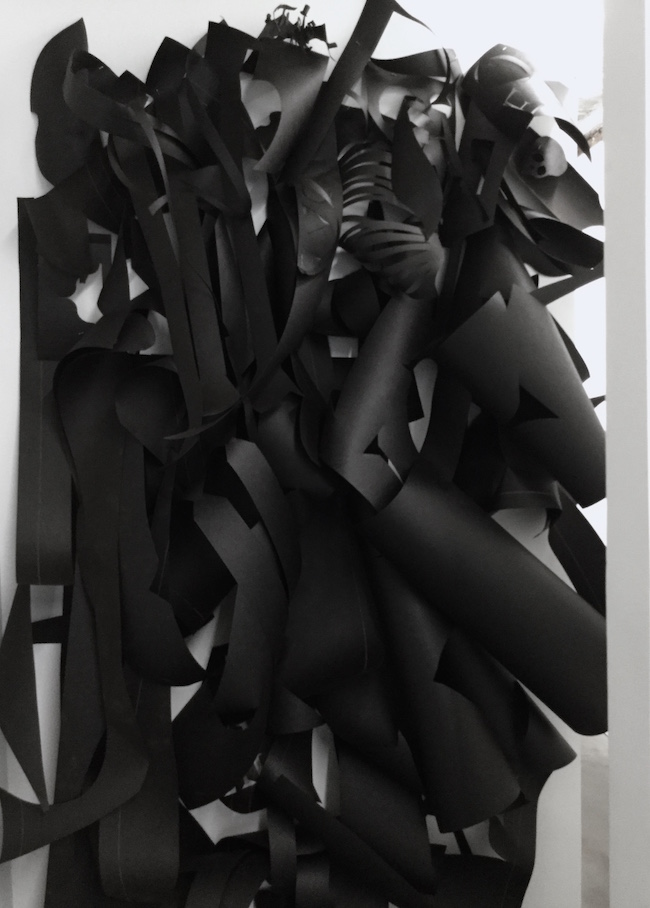 According to Google Street View, the gallery is quite small. Is it big enough to fit your rather ambitiously-sized works?
Indeed, the space is not big. Perhaps it is the smallest space I have ever exhibited in. It turned out to pose a challenge for me in a very different way then the usual struggle that unfolds while working at large scales. There is a learning process involved and a certain struggle, just like with every project, and this was no different in this sense. The way I ended up doing this exhibit was to give up my usual 'invade space' strategy, and instead concentrate on things that unfold on the walls; which, in turn, was reflected in the title of the show as well. But the beauty of small spaces is that it forces the viewer to look at things close up, to examine things in detail without the possibility of stepping back and escaping into the safety of a generalised view – an immersive experience without an alternative.
You've lately been participating in exhibitions in Latvia quite often. How is your stage work going?
Yes, the last couple of years have been very fruitful for me in terms of 'pure' art creation, and the stage design projects have been placed a on the back burner a bit. Nevertheless, I am working on the design for a show being directed by Alvis Hermanis called Linda Vista; it's scheduled to open in Riga on September 1. And I have other work projects going on outside of Latvia.
At the opening of your show, did you hear anything new about yourself from the guests?
Something new? Not really, but what's satisfying is that it seems that things do resonate...that there are moments when people are moved by these paper and carbon dust 'speculations'...that it's possible to 'read' into these arcane projections. To me, it's always surprising.