Baltic exhibition guide
August
31/07/2019
For as far as one can remember, August has always been the time for going on holidays and planning long-term vacations. As the world heat records fall, biggest museums and art galleries around the world are continuing their program with exhibitions that opened early in the summer, while intensely getting ready for the autumn season as well.
This time we present you with Baltic art scene and artist related events that are not to be missed during the torrid month of August!
Žilvinas Kempinas in Bordeaux
until 20 August
From June 20 till August 20, two installations by Lithuanian artist Žilvinas Kempinas are exhibited in France, Bordeuax – "Scarecrow" (2014) at the Garonne and "Tube" (2008) at the Chapelle du Crous.
Known worldwide for his work with magnetic tapes, this time Kempinas invests and transforms two emblematic places of Bordeaux. Always in search for new places and stories, he presents these installations in France for the first time, recreated in situ. Two works "Scarecrow" and "Tube", made from long stretches of magnetic tape unfold in the urban space and transforms the
visitor's usual perception of things. "Tube" is created as a tunnel of tape within which visitors can walk and be drawn deeper into the site of worship, "Scarecrow", however, is an urban corridor made from tape that follows a pedestrian pathway along the water. Walking beneath the installation, visitors are encouraged to visualize the surroundings through the strips of tape, with alternating currents creating a visual vibration that transforms typical perceptions of space.
Tree Opera in Finland
17 and 18 August
On August 17 and 18 a Tree Opera by Latvian composer Anna Ķirse will take place in Forest Stage and its surroundings in Hyrynsalmi in Finland.
The starting point for the contemporary opera piece is the entwined relationship of humans and forests and the conscious and unconscious communication that is based on it. Tree Opera is linked to the protection of valuable old-growth forests in the area.
The opera's libretto is inspired by forester and author Peter Wohlleben's book "The Hidden Life of Trees" (2015), and the artistic group behind the opera is formed by internationally acclaimed musicians, composers and visual artists from Latvia and Sweden – stage director Matīss Budovskis, librettist Andris Kalnozols, architect Austris Mailītis, visual artist Andris Eglītis and paetzold recorder AnnA Petrini. The orchestra comes from Latvia and the vocals are performed by eight singers from the Latvian Radio Choir.
microRIBOCA
While we still await for the second Riga International Biennial of Contemporary art that will take place in the year of 2020, creative team of RIBOCA have developed microRIBOCA – an inter-season project that has been developed to foster a feeling of belonging to a particular place among Rigans and to free their creative potential that is present in everyday life in the public space of the city. It will offer interdisciplinary public art projects, urban exploration walks, and educational master classes, providing Rigans with instruments of social involvement useful for urban revitalization.
Already from June the first project "Brownie from Bruņinieku Street" by internationally acclaimed artist Inga Meldere is on view at Bruņinieku street 14 in Riga. "Brownie from Bruņinieku Street" is a monumental painting on the façade of an early 19th-century building, dedicated by the artist to the history and restoration of Riga's wooden architecture as well as a dialogue with people involved in street art and graffiti. Brownie is a term coined by Rigans for uninhabited wooden houses in historical neighbourhoods where only the facades are kept up. In order to comply with the real estate management standards, such buildings have to be regularly repainted, which is the simplest way for the owner to avoid penalties for an inscription or a drawing left on the walls by some passer-by. A brown floor paint, as the cheapest and best-loved option, makes these abandoned buildings even more strikingly sad. Both in the city centre and the historic neighbourhoods, the brownies bring to the forefront the issue of the unused potential of the memories encapsulated by urban cultural space.
"Interwoven" at EMMA
until 1 March 2020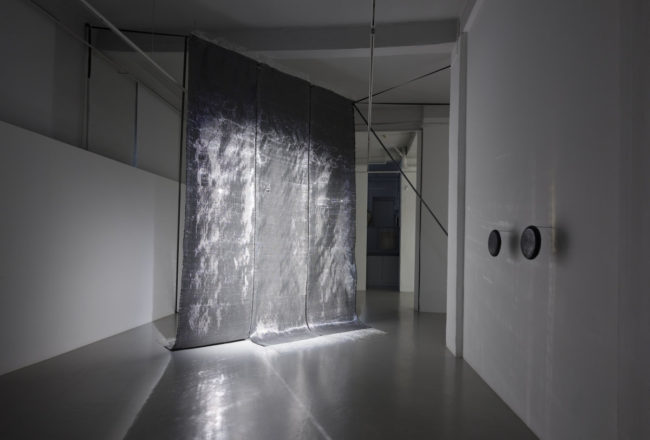 Until the beginning of spring of 2020, Espoo Museum of Modern art presents a group exhibition "Interwoven" with the participation of Estonian artists Kärt Ojavee and Johanna Ulfsak. The exhibition presents works by 12 artists who combine contemporary art and textile in their artistic practice. Ojavee and Ulfsak will show their joint installation 'Save As' in Espoo, which was first displayed at Temnikova & Kasela Gallery in 2018.
"Interwoven" is an exhibition exploring ties between art and textile design, including a glimpse of bold new materials used by experimental designers. It interweaves fibres, techniques, textures and diverse materials into a tapestry fusing the legacy of contemporary art, ancient handicrafts, new technology and futuristic visions. A timeless source of warmth and security, textiles preserve an important fragment of human history, while also carrying on ancient techniques and narratives from generation to generation.
Among other participating artists are Hanna-Kaisa Korolainen, Sheila Hicks, Maija Lavonen, Sandra Wirtanen, Bella Rune, Sue Stone and others.
New exhibition at MO Museum in Vilnius
8 August till 17 November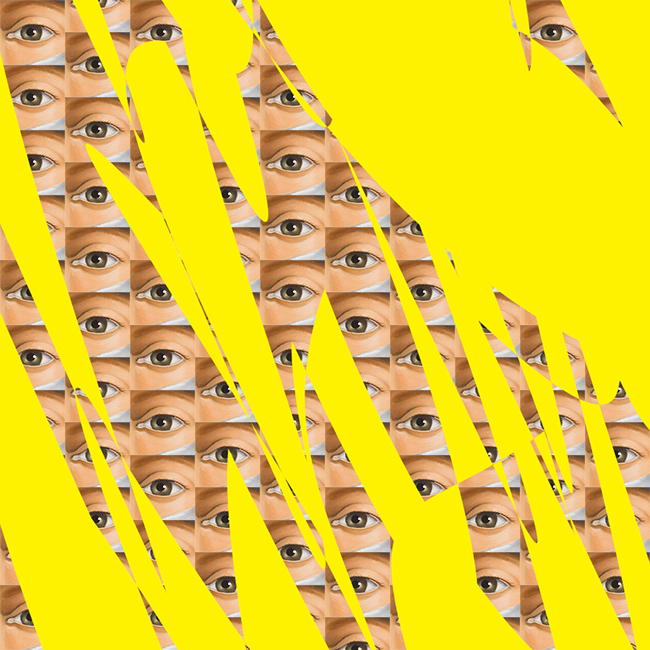 From 8 August till 17 November MO Museum in Vilnius will show a group exhibition "Our selfie", curated by Francesca Ferrarini.
The portrait in the most contemporary generations explores the possibility of representing the action and the sentiment that lies behind every individual, together with the exaltation of his own culture and of the social environment that characterizes the diversity of any human being. Portrait – a possibility to show how a human being changes over time.
All artworks in the show are related to changes and all its synonyms: transformation and metamorphosis, how the external world pushes our inner side to react and how different cultures influence human behaving, interpretation of the inner self.
Participating artists are Tschabalala Self, Damir Očko, Patrizio di Massimo, Paulo Nazareth, Neil Beloufa, Buhlebezwe Siwani, Simon Denny, Eglė Budvytytė, Violeta Bubelytė and Gintaras Znamierowski. Exhibited artworks come from Lewben Art Foundation and MO Museum collections.
kim? Contemporary art centre celebrates its 10th anniversary
This year the kim? Contemporary art centre (Riga) is celebrating its 10th anniversary with a broad program of events.
Until 4 August an exhibition "A Very Small Window", curated by new program director of kim? Kaspars Groševs is still on view. The exhibition A Very Small Window brings together Finnish artist Jaakko Pallasvuo, Turkish artist Bora Akinciturk and two Latvian artists Evita Vasiļjeva and Viktor Timofeev in a visual and spatial conversation, unfolding ways in which artists can collaborate beyond limitations of language.
From 13 June till 7 September a group show "Stumbling Through the Uncanny Valley Sculpture and Self in the Age of Computer Generated Imagery" is on view at the Centre for Contemporary Art in Tel Aviv (CCA). Organised by kim? and CCA, the exhibition includes contributions by Cory Arcangel, Aleksandra Domanović, Carmi Dror, Adi Fluman, Santa France, Nimrod Gershuni, Nir Harel, Jakub Jansa and Karolína Juříková, Haviv Kaptzon, Ronnie Karfiol, Christopher Kulendran Thomas, Daniel Landau in collaboration with Maya Magnat, Oliver Laric, Alicia Mersy, nabbteeri, Katja Novitskova, Pakui Hardware, Eva Papamargariti, Ruth Patir, Andrea Pekárková, Heather Phillipson, Seth Price, Jon Rafman, Elinor Salomon, Jacolby Satterwhite, Miri Segal, Timur Si-Qin, Jasmin Vardi, Andrew Norman Wilson, and Lu Yang. The exhibition is conceived as a major spotlight on this medium shift, drawing inspiration for the stream of "Post-Internet Art." "Post-Internet" does not mean a world after the Internet, but rather work being made in a widely networked world and focusing on the visual culture that is its by-product, a culture that has become more and more globalized and connected, bringing together artists from different regions of the world, from Asia to Central Europe, from the Middle East to Baltic Countries. These artists are not only producing art with new tools, they are looking deeply at a new world order in which synthetic images make up a large part of what we take in. In this world, mediated by technology, the physical and the virtual merge, and the Internet complicates how the self and the other meet. Curator of the show is Chen Tamir.
From 3 August till 30 September, however, for the first time kim? presents an off-site location in Salacgrīva "THE ESTATE / SUMMER" by Tobias Kaspar. "THE ESTATE / SUMMER" takes place in an abandoned Latvian summerhouse and imagines a fictional art collector who (could have) lived in a remote place such as this. Different artworks, ephemera, and leftovers from artistic productions join everyday utensils in creating a portrait that engages the entire house. An exhibition curated by Zane Onckule includes such artists as Ēriks Apaļais, Merlin Carpenter, Vija Celmiņš, Gina Folly, Daria Meļņikova, Cindy Sherman, Edgars Gluhovs, Marie-Pascale Wellinger and many others.