Quality over comme ci, comme ça
An interview with Boris Ondreička, curator and Artistic Director of viennacontemporary
In September, Vienna's 19th-century Neo-Renaissance Kursalon concert hall hosted viennacontemporary, the international contemporary art fair that has been taking place in the Austrian capital since 2006. This year's edition heralded a major structural change at the core of the fair, as well as a new target in their pursuit of ever-higher quality.
One of the fair's qualitative goals includes a selfless effort to fulfil its mission as defined at the outset: to become a support platform for those central and eastern European countries whose contemporary art market is still undeveloped or weak. In order to position itself even more convincingly as an intermediary between the regions in the future, it was necessary to transform the fair. This was further reinforced by the dramatic geopolitical backdrop of the moment.
The fair's previous owner, Russian businessman Dmitry Aksenov, had stepped away from the enterprise, which led to the fair becoming a non-profit organisation. Subsequently, a new, fully international team of creators for the fair was formed; alongside local Austrian experts, this team now also includes art professionals from countries such as Ukraine, Hungary and Slovenia. The reins of the team's artistic direction have remained in the hands of the artistic director of the previous edition of the fair, curator Boris Ondreička from Slovakia.
Odreička's approach has been to keep tight control over the content of the fair, i.e. galleries are carefully selected and specially invited to participate. As invited guests, the galleries enjoy special care and attention from their hosts, a situation which, according to Ondreička, provides fertile ground for the artists represented and the art they create, and makes the fair not only a place of trade but also, to a large extent, a place of social intercourse and cultural exchange.
Artist and curator Boris Ondreička lives in Bratislava, where he initially pursued his career as an art professional by working as a project coordinator at the Soros Centre for Contemporary Art as well as leading the art initiative tranzit.sk. Ondreička has realised several curatorial projects at the Thyssen-Bornemisza Art Contemporary (TBA21) in Vienna as well as a number of international exhibitions. He also runs the Class of Interpretation (COI) in Prague, a unique project that brings together international thinkers as it explores intellectual processes, artistic mediation, and critical thinking.
Artistic Director is the formal title of your position, but how would you informally define your job duties at the art fair?
I would say I am a conceptual manager. When I was invited to take this position, one of the conditions for my taking it on was that I wanted to turn it into a "by invitation only" fair. And "by invitation only" I mean that the fair has to result in a great show. In having complete control over quality level rather than quantity, I am lucky to have a great board full of vision, understanding and trust. We are looking to have a flamboyant and unique profile in the field of global art fairs because there is no reason (plus, it would be absurd) to go in the direction of Art Basel or other monalithic structures of this kind. We know where we are – we are in Vienna; we aren't in New York City or London, and we don't have 50 years of tradition such as Art Basel does. This motivates us to construct and produce our own unique "face", which is very challenging. So, there is a concept, a vision, and a management approach to how to fulfil this desired profile. That's why I see myself as a manager – a structural manager.
Magagement and Team. Photo: Niko Havranek, viennacontemporary
So it is crucial to select the team accurately.
Definitely! In this art fair, particular sections have to be curated. And I am always profoundly considering the question of competence because it is not my job to curate; that task has to be given to the right people. That was the case in the exhibition for the STATEMENT UKRAINE programme – obviously, we are not competent to speak on behalf of Ukraine. That's why we invited a fully Ukrainian team to do that – of course, with our assistance and backup, and hosted by a Viennese institution, das weisse haus, a good friend of ours.
Whereas for ZONE1, we invited Tjaša Pogačar, a young and very progressive curator from Ljubljana, Slovenia. There were specific parameters and principles we tried to set for this programme's curator – a professional coming from, let's say, an institutional environment, preferably a freelance person, young, progressive, preferably female or queer. This construction of parameters provides us with something similar to what Jacques Lacan called "the mirror stage" – a self-critical or critical platform for ourselves. So, we created a nucleus of critique inside our enterprise and learned from it.
In this way, the fair can become more than just a market for works of art.
Yes, we would like to be as good as possible. Not good only in terms of sales but also in terms of being a good nucleus in this urban constellation in which we find ourselves. We are in the heart of Vienna, and we see ourselves as a "hyperobject". Philosopher Timothy Morton uses this term when he speaks about an object with vast temporal or spatial dimensions, or when the significance of this object is much more considerable than the object itself. We understand that we are a magnet for social encounters on various levels – from the general public to municipal and higher-end politics. And we know that we can also provide different platforms of neutrality for particular political or diplomatic negotiations. This brings a certain significance to the event, but it attracts commercial clients as well.
ZONE1. Photo: viennacontemporary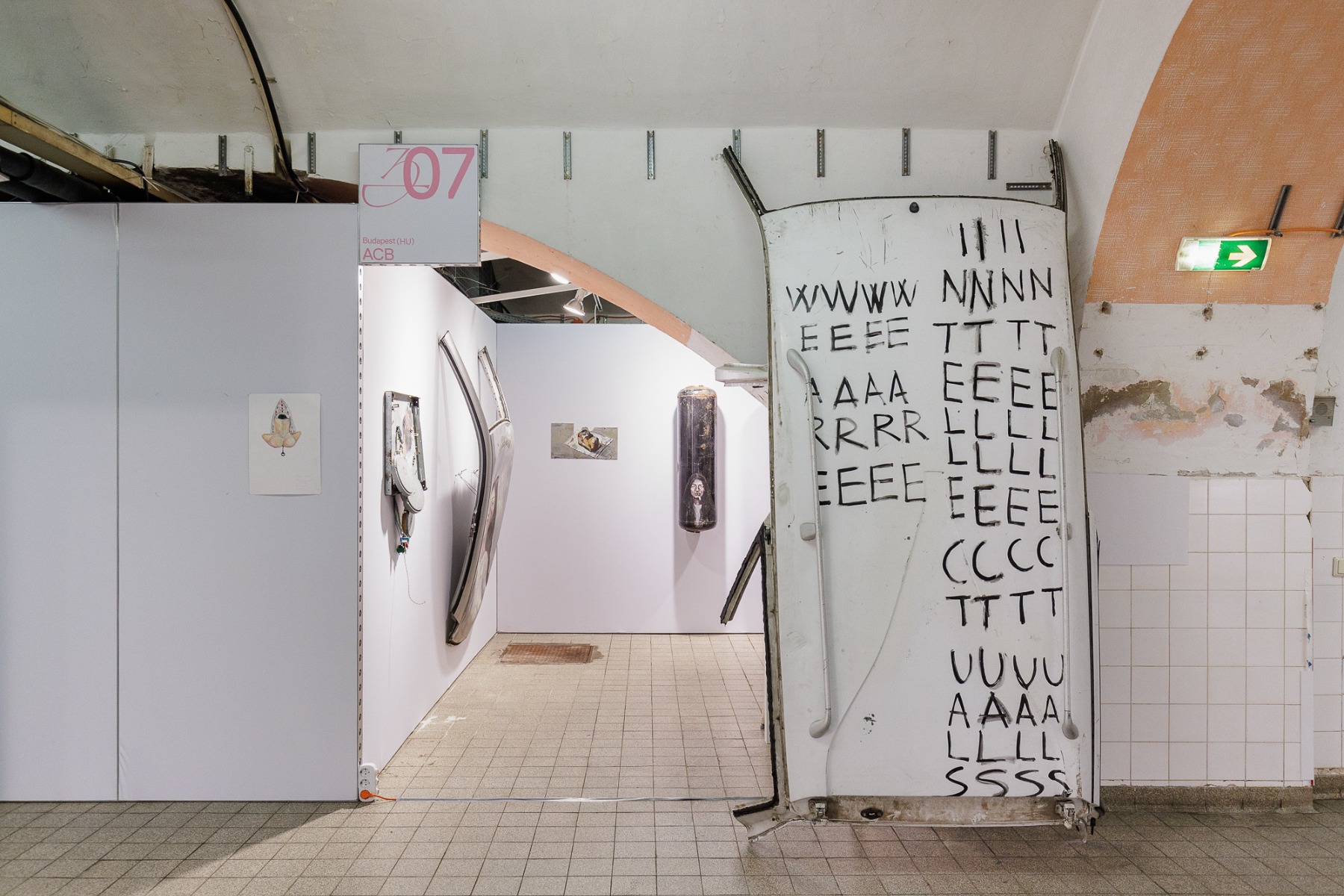 Can we talk about the art fair as being political?
It might sound funny – art fairs, politics… You know, it's like when you wake up with a certain mood, but your wife has a different one – you would like to at least provide her with a moderate compromise. And if you love her enough, you go further away from your comfort and closer to hers – that's politics already. I am not speaking about "Realpolitik" when I say politics. I'm talking about the social dimension.
As you already mentioned, we are right in the heart of Vienna – on the splendid premises of the Neo-Renaissance Kursalon palace. What were the strategic goals in choosing a new location? Did the selection process also include embracing the social dimension?
viennacontemporary used to take place in Marxhalle, which is in almost a suburb of Vienna. Yes, it is quite suitable for an art fair, but it's in an area where you go once and then don't return. The area is surrounded by zero social infrastructure – no restaurants, no bars, no places to hang out in. It's almost a kind of hostile context. Moving to the centre was not only my idea but in complete synergy with the thoughts of the board and Markus Huber, the managing director. Now, we are within walking distance of galleries, and hotels are just around the corner, as are institutions like MAK and the Konzerthaus. Also, the pavilion of Kursalon featured one of the first performances by Johann Strauss. So, when your Japanese or Saudi client comes, they are immediately face-to-face with Vienna! It's like an authentic 19th-century postcard! We are interested in international clients – we want to provide them with "the Vienna of Viennas"!
This building specifically was not built as a palace; it was built as a ballroom. The ballroom is on the ground floor and the concert hall is upstairs. This typology of architecture was made for social encounters. There are these double staircases and other places where people cross paths and meet.
Kursalon Vienna. Location of viennacontemporary 2022. Photo: © Kursalon Betriebs GmbH / SHI Beteiligungs GmbH
Are you planning to stay here for subsequent viennacontemporary editions?
We are planning to stay here. We are planning to invest and refurbish, and if everything goes to plan, even occupy more space in the underground level. This year ZONE1 occupied less than 20% of the available space. The underground space is much bigger than that of the ground floor – while we are sitting on this terrace, there's this whole incredible space below us. There is huge opportunity here! Also, we can use and operate with different nuclei here, as in both spatial and institutional. The Kursalon is one thing, but the context of the whole Stadtpark is something else entirely.
It is clear what this city brings to the fair, but what does the fair bring to the city? The idea to restructure the art fair included the desire to attract and unite forces from different sectors of Vienna. How did this pan out? What was used as the primary motivator?
Austria, and especially Vienna, has a particular socialist feature in understanding culture as an essential aspect of societal life. Especially on the practical level. The city itself understands that we are holding an art fair and that it is a business. At the same time, for example, in the VIP section we have more than 2 000 registrations, which means that 2 000 people from around the world come to Vienna, pay for hotels, eat here and spend money here. Consequently, the city of Vienna, especially the tourism department, perceives us as a significant contributor. And not only as a magnet for anonymous tourists but more sophisticated tourists – our audience are people who go to museums and spend money there. Besides museums, we offer them a complex programme of opportunities and recommendations. This goes back to Morton's idea of a "hyperobject". If you are not involved and don't see the big picture, you think – It's just an art fair happening in three rooms somewhere... – but actually, it is happening across the whole city. We are very thankful that we have the support of the state, the city, various investors, entrepreneurs, sponsors, etc. And this is already a significant part of the budget.
STATEMENT UKRAINE Panel Discussion 1 Photo: Nina Kowalska, viennacontemporary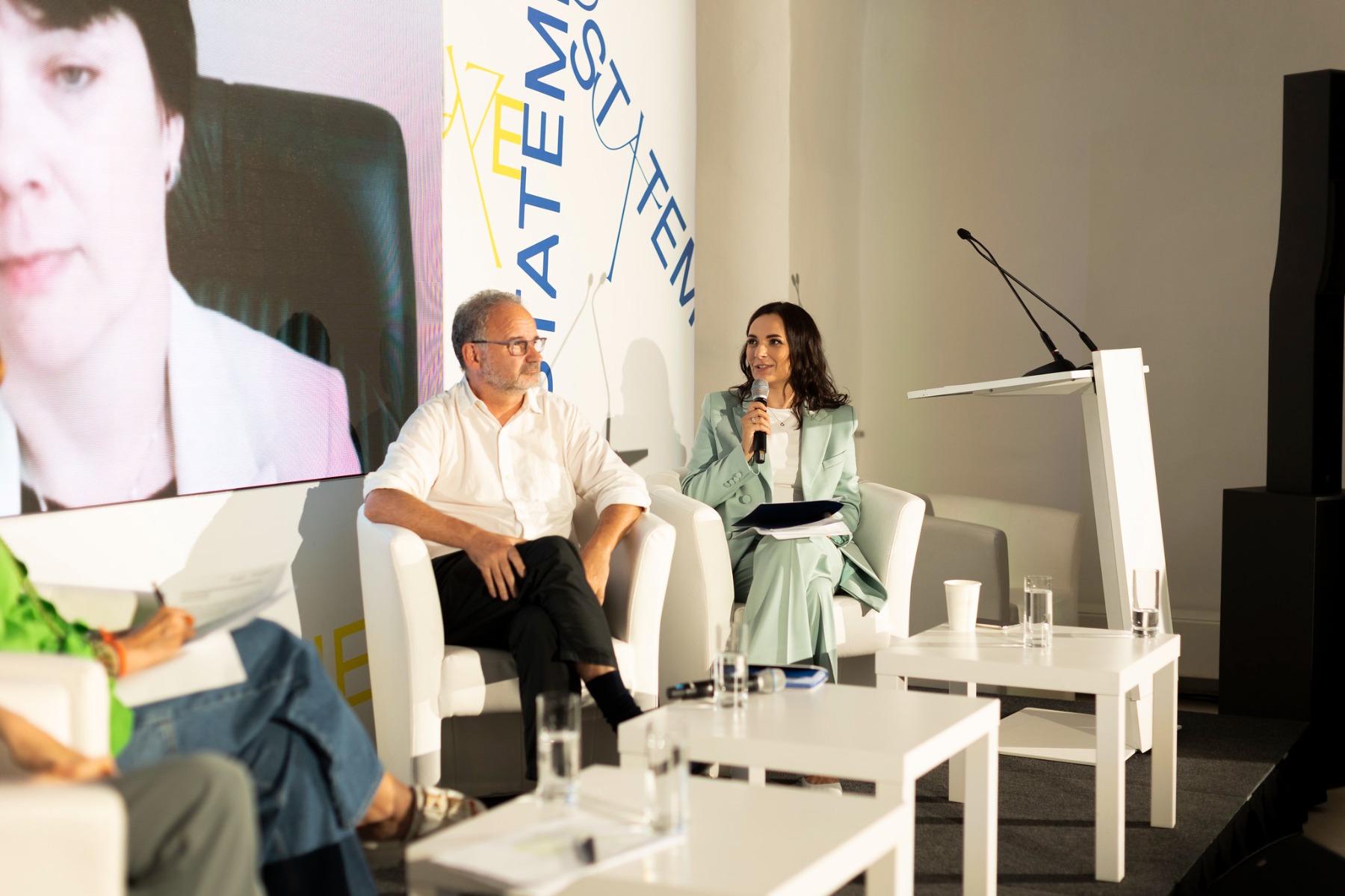 Many cities in central and eastern Europe could learn from this example…
Look, I am Slovak, and I used to be Czechoslovak, so we share certain historical conditions. Especially the occupation and what happened to our countries and our people after 1949. Although Austria had its own problems in the 1950s and early 60s, they weren't occupied. They have a certain continuity and traditions – especially in the 19th century, negotiations between artists in the rest of the world and Vienna were really significant. The Viennese Secession was also the nucleus of really hybrid discourse, especially between medical universities, lawyers and artists. It comes from there. Whereas we were occupied for 40 years – come on! Then in the 1990s, I believe that Latvia went through the same thing as Czechoslovakia – a total capitalistic transformation. Subtle things, such as art and culture, were just forgotten about. We put them at the end of the line, unfortunately. They suffered under the absolute stupidity of a harsh and much too capitalistic approach.
Coming back to the topic of your position – what attracts you to the art fair model?
I've gone through different job positions in my life. I am old enough and come from a formerly pseudo-socialist country, Czechoslovakia. I graduated as a painter – I even had to take Stalinist social realism painting classes – but after finishing the academy, I could not imagine building a life by selling my art. So I took on jobs as a production manager in the arts. I worked as a project coordinator at the Soros Centre for Contemporary Arts for almost ten years; I led one part of the art initiative tranzit.sk in Slovakia. Then I worked at the Thyssen-Bornemisza Art Contemporary private collection here in Vienna, and now I am here. So, I have gone through, let's say, four to five formats of art production. In terms of the art fair, it is about how we can dynamise the market; the other part is about activities that can contribute strongly and significantly to art communities.
Is contributing to the running of an art fair highly valued in art professional circles? Do they gravitate towards this position?
The art fair is the target of the harshest critique. I don't believe that art professionals have a general or grand desire to become artistic directors of a fair or work with a fair. Maybe I'm wrong about this. But it's precisely what excites me! I am very much interested in this! To me, it is a tempting challenge! And also, I was invited to this position by persons whom I had already worked with for 20 years, so it was not as if some completely unknown entrepreneurs invited me.
viennacontemporary positions itself as a meeting and exchange platform for central and eastern Europe; it is characterised by developing bridges between emerging and established art markets. However, when I scanned the exhibitor list for the fair, I noticed that a large part of the region is represented only by one gallery, and some countries aren't even participating. I assume that some galleries simply cannot afford the booth fees and prices. Shouldn't the fair, which positions itself as a support platform, develop some support mechanisms?
Each country has a cultural institute, diplomatic networks, and local ministries of culture, and each gallery can apply for such support. I don't think there is any financial burden. Of course, it is not cheap to come here. Still, one reason why the geo-cultural representation is not complete is that we were simply too late in sending out invitations because we were extremely disturbed by the Russian aggression in Ukraine. Also, as I said, we are quality-oriented, and if we don't have an excellent gallery we trust, we will not invite it just because it is found in a certain country. It is not about statistics. And also, I am not willing to sell square metres; this is absolutely uninteresting.
Certainly, there are very poor territories in the private gallery business, for example, Serbia. Croatia is growing, and I believe we have the best gallery from there. Macedonia and Kosovo are also not represented at the fair. There is a great gallery in Kosovo, but again, they had different interests and considerations about how they use their money. So, it is a matter of negotiation.
Also, it is a matter of viennacontemporary's restart of its, let's say, comme ci, comme ça history. I believe I was invited to this fair in order to bring it somewhere. I am not naïve; I know that it will take three to five years to optimise its reputation. Because reputation is the key to our business – that is the most important thing! You can't construct a reputation yourself, and neither can you buy one. It is constant work, and it takes time. Which is why I believe that when we meet each other again in, let's say, three to four years, I will be able to tell you that I am happy with how things have turned out!
ZONE1. Photo: viennacontemporary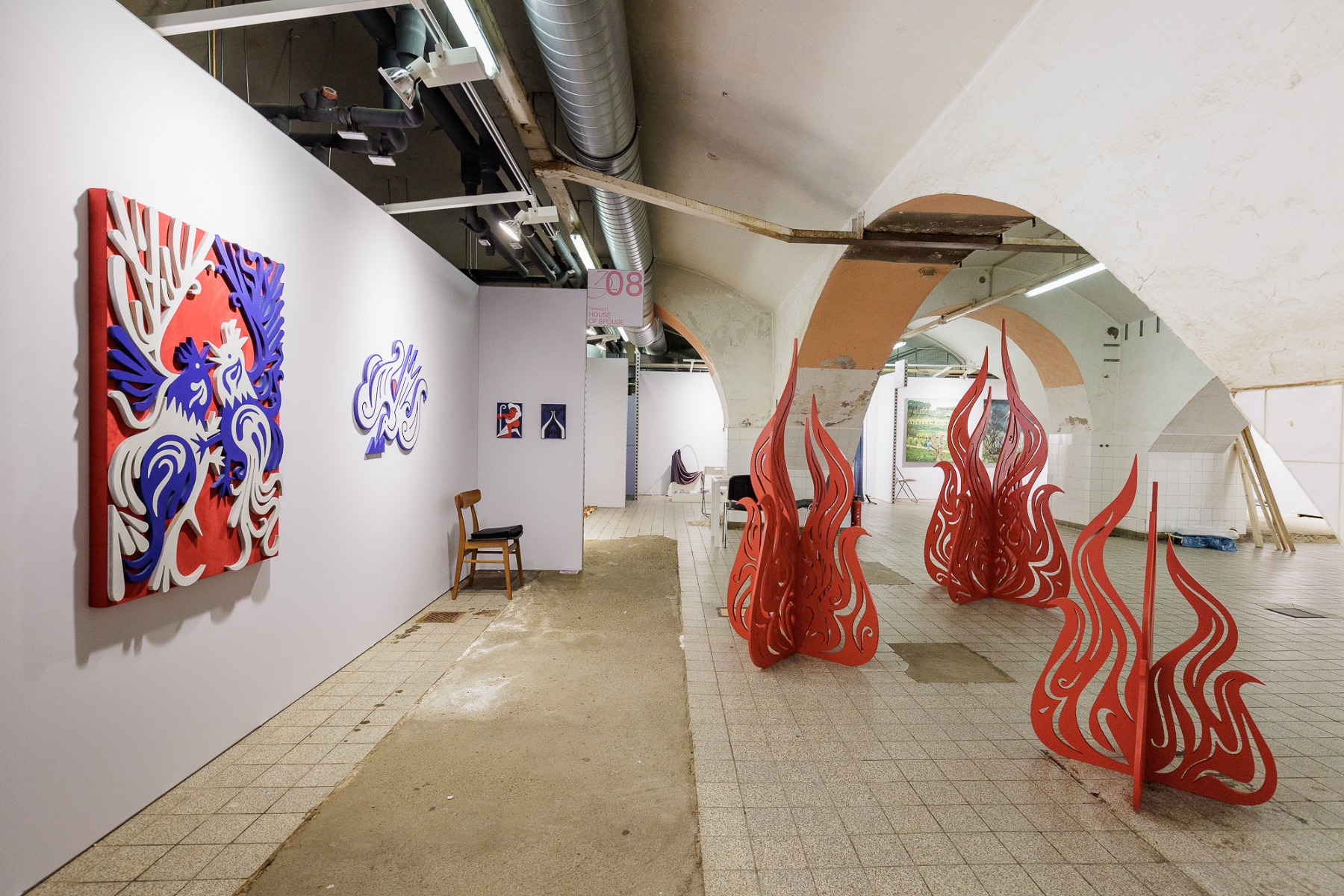 It seems like there's a kind of boom in small artist-run collectives and off-space galleries right now. As I understand from conversations with local art professionals, the same is true in Vienna as well.
In Vienna, I think it is due to a hybrid of reasons – like during the right wing populist government, there was a fierce fight against especially non-commercial sectors and the artistic sector. Yes, there were cuts and a very brutal "checking of the books", but the growth of the so-called off-space industry is also coming from the nature of the new generation – young people, young curators who don't want to wait until they grow according to the standards of institutional chains; they just want to do things immediately.
At the fair, we have Sandwich's really young gallery from Bucharest. It is an artist-run gallery, and it has three to four platforms of production in Bucharest. They are amazing! In the end, they also established a commercial part of their activities. One of their platforms is an exhibition space which is basically a really decrepit garage in a suburb of Bucharest, but it does outstanding in situ projects. And they are here, and they are great, and they are selling! They've been to Liste, too!
Is viennacontemporary also a place where new collectors originate?
Absolutely! There is the aspect of the new or first-time collector. There are two things to consider here: one is to inspire people in general, like – Hey, it is good to buy art!; and the other is to help and advise those who are already considering, but are shy and think they can't do it. It is great when someone who wants to start a collection has a good adviser. But this adviser also has to understand you as a collector. You should not be a slave to the adviser. It should be the opposite, actually, because as an art adviser, the "client" is a concrete person with specific tastes and affiliations. This is what we are intensively working on.
STATEMENT UKRAINE Panel Discussion 1 Photo: Nina Kowalska, viennacontemporary
I'd like to turn the course of our conversation towards the existing geopolitical situation and its effect on the art world. Can we hope that in the eyes of the art world, Ukraine will finally be separated from Russia, and that everyone will finally understand that Ukrainian art is its own independent identity? Similarly, will the international art world finally stop using the term "post-Soviet countries" and realise that the Soviet Union and its former member states have been two different entities for more than 30 years by now?
When I first entered this position, people in Vienna used the metaphor "the bridge between East and West". It sounded strange to me! Bridge? That means there is some gap! I asked – where is this gap?
In 1998 I interviewed a great Viennese leftist art critic, and he wanted to title the interview "Neue Nachbarn" (New Neighbours) – it was about Slovakia and Austria. I was like – Mathias, are you crazy? We have always been here! We are not new. Come on! Also, we didn't change! The regime failed – it is not like we magically changed into something else in November 1989, over ten days. Stop it!
Yes, this antiquated vocabulary is meaningless, but there are also more serious things that limit our discussions in the art world. The major historical collections of art, especially modern and classical modern, and the new avant-garde up to the 1960s – found at Tate, Centre Pompidou, wherever – had devised a chronology in which one of the founders of modern Romanian painting, Nicolae Grigorescu, was not included. But suddenly, some pieces by Grigorescu started creating problems for this fluid "Western" chronology of arts because some of his works depicted certain styles much earlier than his "Western" counterparts had, and the major collections and museums were like – Shit! For collections like Pompidou, this meant that they now had a massive conglomerate of works miscategorised according to the true chronology, and which is, of course, impossible to revise in two days' time. But then we realised that these museums simply don't want to revise these histories. They don't even want to invest in presenting parallel histories. That's why this nostalgic or sentimental kitsch of the "post-Soviet" is still there! And the diversity of different cultures is not being recognised. Firstly, it is an economic factor because there are values which are set by the Western concept of art history. It's a huge problem! And it can really take time. Thirty years are not enough! And the former West won't do it. Latvia, Lithuania, Estonia – they will have to do it themselves!
viennacontemporary could be a great help in this sense.
There are a lot of international activities in your region. You are much more international than Slovakia, for example. And our role is to do this research; we're planning a trip to the Baltics next month. viennacontemporary is an international team itself. I can ask, for instance, Aliaksei for specific expertise on specific regions, and I trust him. We have this in-depth capacity!
What do you think will happen to the Russian contemporary art scene in the future?
The recent past of viennacontemporary was related to Russia because our former patron was Russian. And this person suddenly turned toxic and unacceptable to the rest of the world during the last week of February. Nevertheless, there is no time for the tears of Russian intellectuals when the blood of Ukrainian children is being spilled. At the same time, we also understand that not inviting galleries also means that we are silencing them, and they go deeper into the underground. The art collective Chto Delat has already emigrated from Saint Petersburg. I believe that for Russian galleries, it is a horrible time because – what are their options? To emigrate? To conform? It's not fun to do conformist business in the arts – it's a pain! But many of them have their families there. I don't know. But one thing is clear – even if the war will end next year (let's hope for that!), this toxicity of Russia will remain. Maybe for the next decade or more. It is like contamination.
But… There are a lot of unforeseen things that could happen. Maybe there will be a complete crash of the Russian Empire, much like what happened with the USSR after Gorbachev. Who knows?!
Boris Ondreička. Photo: viennacontemporary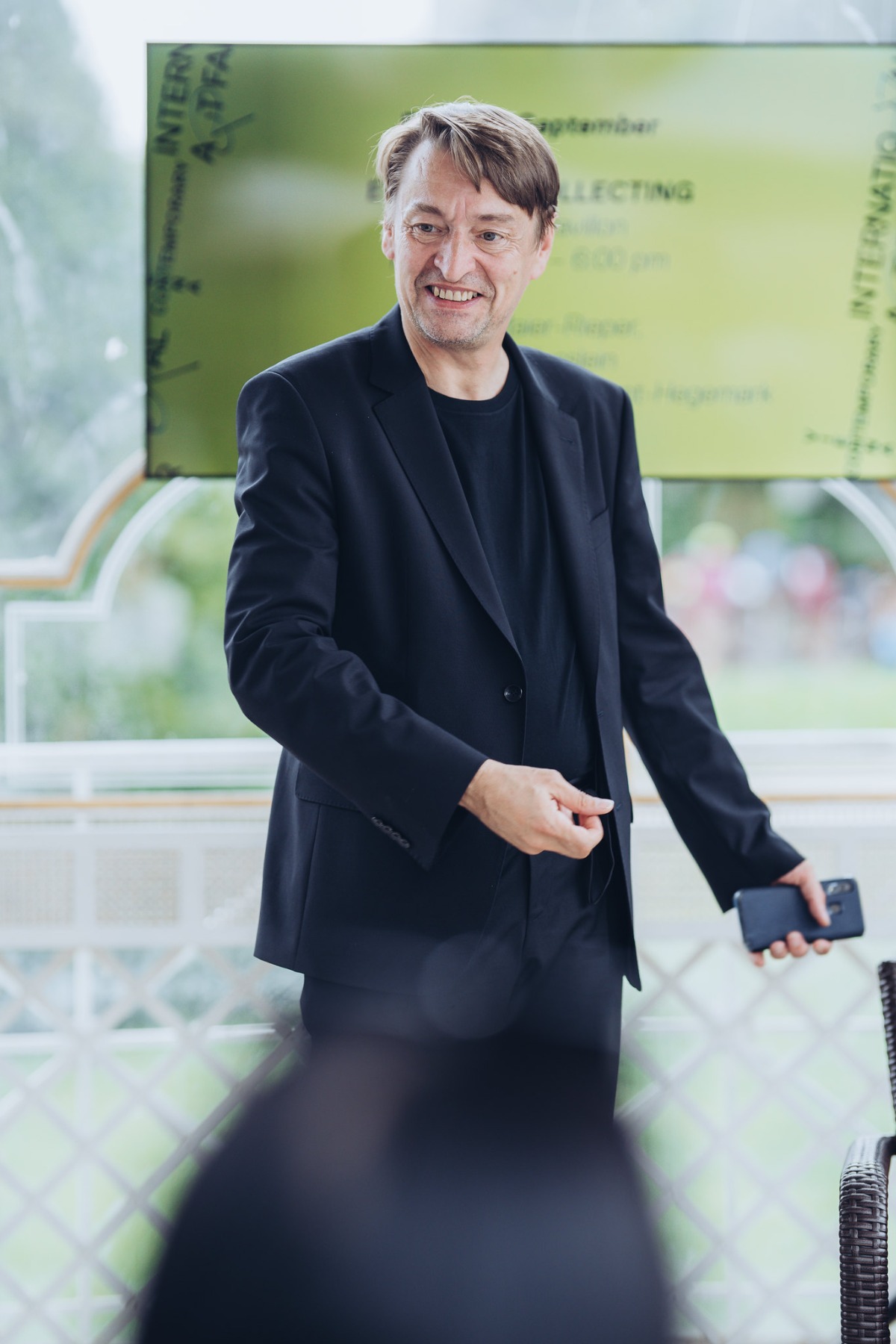 In your teenage years, you took part in the punk scene. How does the punk inside you feel today?
Punk rock is for kids. It's a very healthy platform for growing up, but you must eventually grow out of it! [Laughs]. Paradoxically, for the last 20 years, punk rock (the hard music part of it), is not hard enough for me. Now I listen to black metal. I am a black metal person! But what was our position at that time... I think we didn't formulate it like that when we were teens, but it was something that we now can call "affiliated with individual ontological anarchism". That was the main thing! And obviously, the music was expressive, like this pathetic factor of personal deliberation.
Can we sense the spirit of black metal at the art fair?
No! [Laughs] OK, there are some artistic positions which are like goth. They're numerous! Also, there is a slight renaissance of goth these days. To me, it is like a certain aesthetic distancing, which is essential for an artistic director because there are many, many aspects where you just have to leave behind your personal affiliations and you have to think and act with a much more umbrella-like approach.
When is an art fair successful, in your opinion?
That is pretty simple – you've shown good art, had good collectors, and had sales. It's simple mathematics!
Title image: Boris Ondreička. Photo: Kristina Kulakova