«Ways of Being» / Laura Põld with Kogo Gallery at viennacontemporary 2023
An interview with artist Laura Põld and curator Šelda Puķīte
For the second year in its new venue – the 19th-century Neo-Renaissance concert hall Kursalon Wien – the international contemporary art fair viennacontemporary will bring together an international audience of art enthusiasts to discover the work of artists represented by 61 galleries from 19 countries. Two Baltic galleries are participating in this year's edition of the fair: Meno Parkas Gallery (Kaunas, LT) and Kogo Gallery (Tartu, EE).
Kogo Gallery is participating in the fair with a special presentation in the ZONE 1 program put together by British curator Francesca Gavin. As every year, ZONE 1 is designed as an exclusive platform for talented young artists living, working or educated in Austria. Taking the opportunity to make her mark on the international art scene as well as gain additional attention from art experts and enthusiasts, Estonian artist Laura Põld is presenting her works in this special program of the fair under the auspices of Kogo Gallery. This will be the third time that the gallery has presented Põld's work in the international art market – previous successful showings took place at Liste Art Fair Basel 2022 and Art Brussels 2023.
Põld's practice is based on sculpture in the interspaces between different media and techniques, and this year she will be making her presence known at the viennacontemporary with an art project that is both technically and conceptually multi-layered as it illuminates universal human themes and truths. Šelda Puķīte, curator and international project coordinator at Kogo Gallery, points out that Põld's installation specially created for the fair, Ways of Being, is a unique presentation that combines the format of the fair as a trade platform with that of an exhibition. Puķīte explains: "Baltic galleries face fierce competition and small markets. International fairs shine a light on us, exposing us to potential opportunities. Scouts look for fresh talent in places like viennacontemporary, so you never know where your breakthrough might happen. Fairs offer exposure for young artists and galleries. It's all about seizing unforeseen chances".
Laura Põld. "Ways of Being", 2023. Photos: Albert Kerstna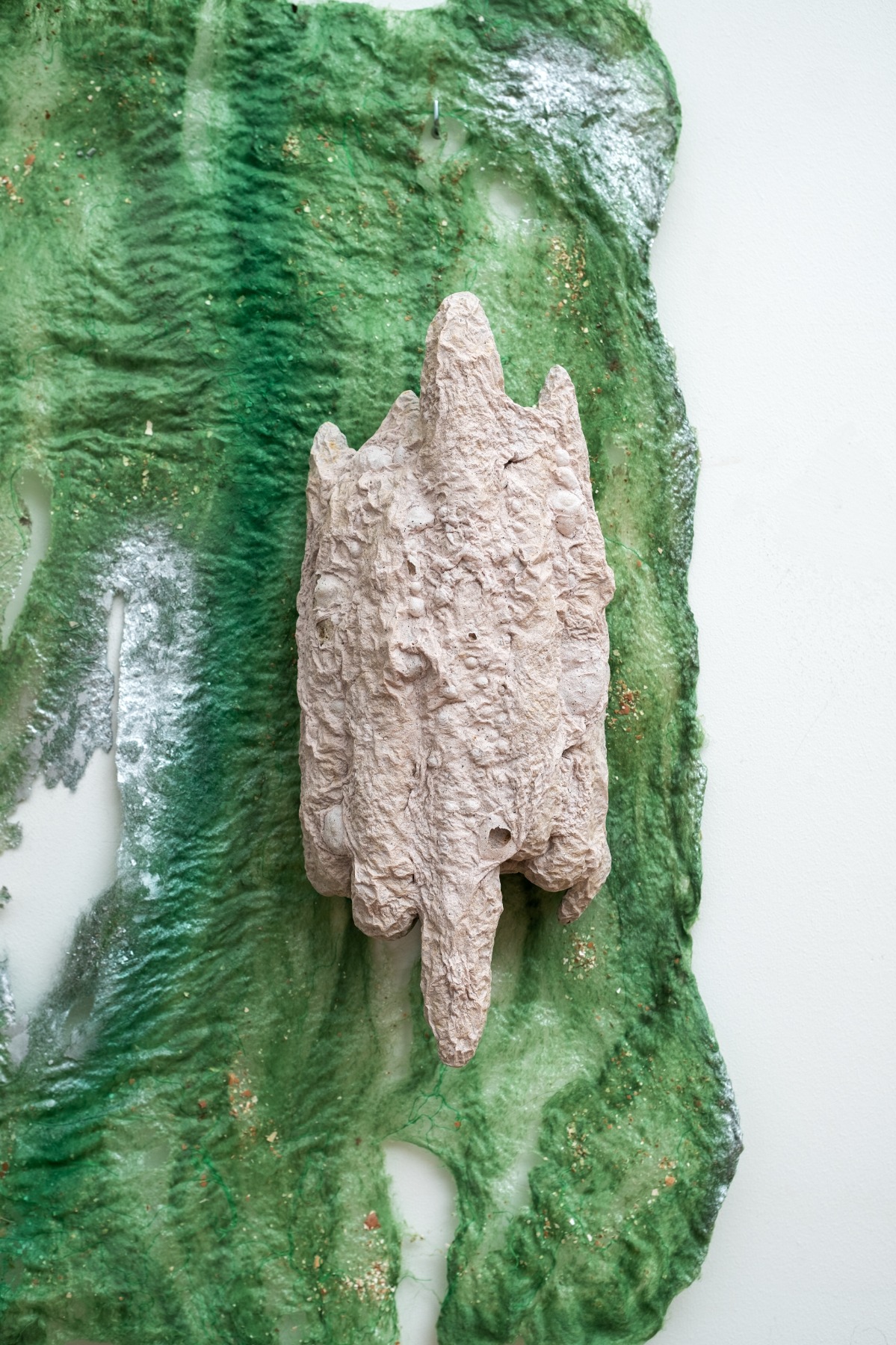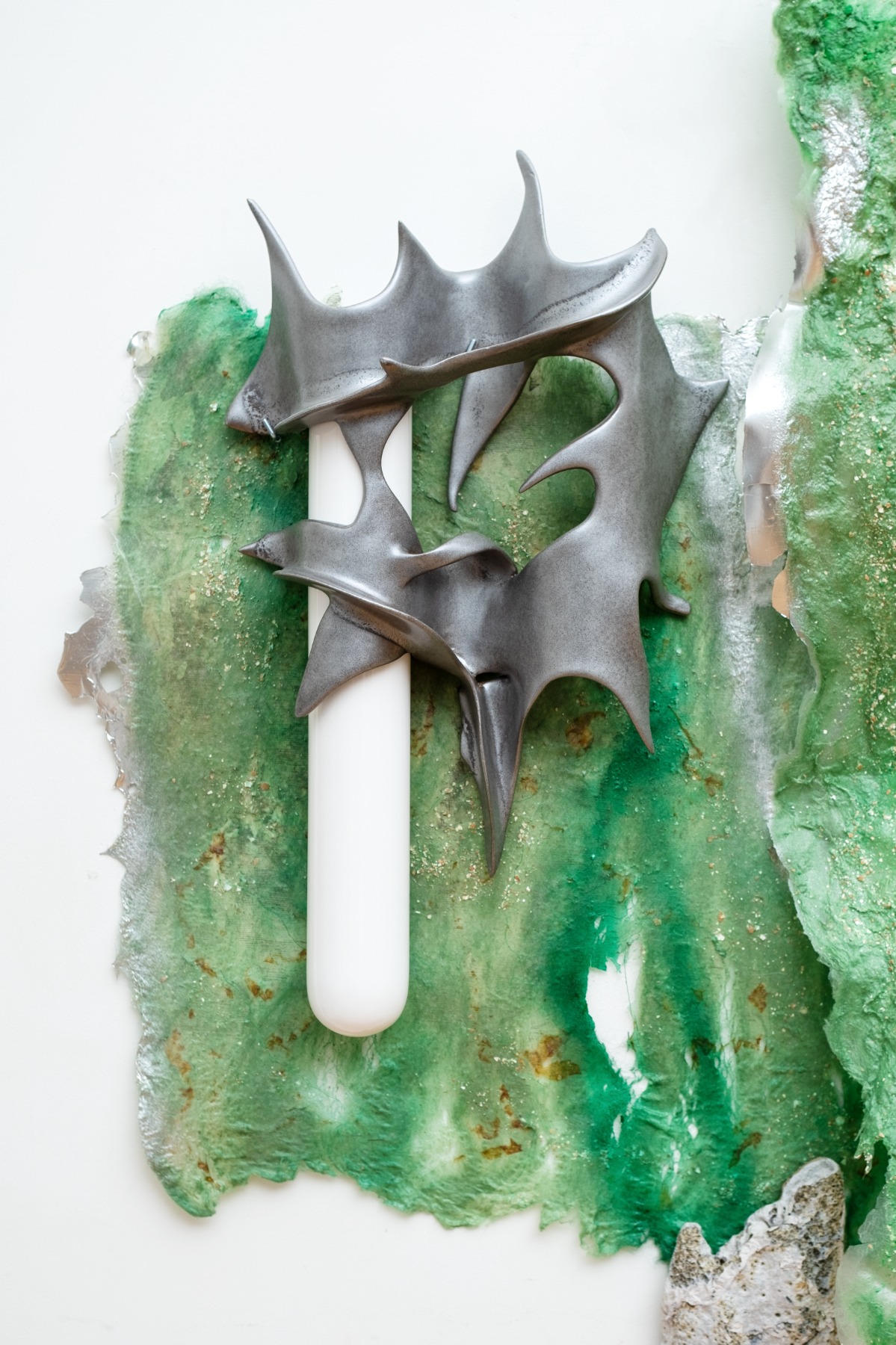 The following conversation features both Šelda Puķīte and Laura Põld, the latter of whom has just recovered from a nine-hour-long installing day and photo shoot (pictures from the shoot accompany this interview). Topics covered include Põld's upcoming participation in viennacontemporary, her recent experience in the artist residency at the historic Gmundner Keramik Manufaktur (which is where a part of her new ceramic works for the fair's exposition were created), and the inspirations and challenges of working with ceramics.
I understand that Laura's contribution at viennacontemporary is all about fresh creations. Could you go into more detail and shed some light on the size, mediums and materials of these artworks?
Laura Põld: Upon receiving the invitation, we were provided with the dimensions of the booth, which measures six by two meters and is an L-shaped. I approached this space as if it were a single painting or a solitary scene – a unified composition. Although I had a clear grasp of my interests and the materials I intended to use, my imagination began to envision it as one massive painting formed from various objects mostly crafted from ceramics. Then I started to do the first sketches of this "large painting". The first layer, or "underpainting", is made out of bioplastic sheets that have been made in my studio in Tallinn over many months. Bioplastic, the way I make it, is made from gelatin and it needs to dry and be cared for because it's like a breathing, living organism. This background, or "underpainting", resembles ancient nature; the green patches look very much like something from the bottom of the sea, but the main structure is actually made from wool that has been dyed green. The next layers are made from two kinds of series of ceramic objects.
Šelda Puķīte: The way Laura has built it up is very coherent, like one organism, although you will be able to purchase it piece by piece. It's similar to how we collect a seashell or a rock as a memento when we travel – we believe that by doing so, we're carrying a fragment of that experience or the essence of that place along with us. That's how I feel about this work, and how I will encourage potential buyers to see it.
Every piece you create draws inspiration from various places and situations you've come across, each brimming with its own distinct energy and story. Can you describe the precise moment when you recognized that the spark for your next work had ignited within you?
Põld: The source of inspiration for the green underpainting and the "dripping" ceramic forms, which evoke images of salt-cave formations or the texture of worn stones, can be traced back to a residency I undertook in France last summer. The residency was close to the Grotte de Font-de-Gaume and the Lascaux caves. There was a lot of this very raw experience with nature that is not typical for us in the Baltics. I suppose there's a somewhat sensual quality to it all – the "drippings", the elongated and unconventional shapes, the textures, the moisture, the skin-like feeling to the surfaces... It's as if there's an element of heightened sensuality, an almost more-than-human experience. We recognize these elements as familiar, yet they take on an alien quality.
I was recently at Gmundner Keramik Manufaktur in Upper Austria for two months, where I made the last layer for this exhibition. The inspiration for it came on site, from the blackberry vines there – they're fast-growing plants, and like snakes, they crawl everywhere on the side of the streets. They have very sharp thorns and look very much like aggressive plants. In Gmunden, I made hand-modeled ceramics with a silver glaze – they also have thorns and a kind of dangerous appeal.
I believe that inspiration is not just about nature itself; it's equally about how I react to it. It's similar to the complexities that arise in human interactions and communication. In my experiences, I often find myself having certain expectations in various relationships, whether they're work-related or part of everyday life. However, I consistently end up feeling let down because reality doesn't align with my initial perception. This internal conflict leads me to reflect on how nature operates and how I can see aspects of myself mirrored in it. This connection with nature has proven to be incredibly meaningful and valuable in my life.
As an artistic medium, ceramics boast a deep-rooted history of cultural significance. How do you navigate the blending of tradition and innovation within your creative process?
Põld: It's a bit of a joke, but seriously, every time I attempt to work with technical equipment, something breaks or goes wrong. At the ceramics factory, they've got these sleek spraying booths where you wield an air-pressured pistol to apply glazes. I always have to ask the nice lady in the glaze lab to do the simple prep work for me because I've been bestowed with some sort of "anti-technical" curse.
I'm someone who likes to juxtapose and combine the new with the old, but at the same time, I think the universe is pushing me towards the very basic and very even archaic. However, I will share a recent triumph: the ceramics I crafted for this upcoming exhibition, the ones glistening with that exquisite silver glaze! I'm so proud of the way it looks because I tried different glazing techniques – typically, when I'm in my studio, I don't have access to a spraying booth, so I stick to the basics – brushes and manual finesse. But this time, I had the chance to immerse myself in a truly professional environment, and the glazes on my pieces are top-notch thanks to the professional setup; otherwise my ceramic work often has no glaze at all.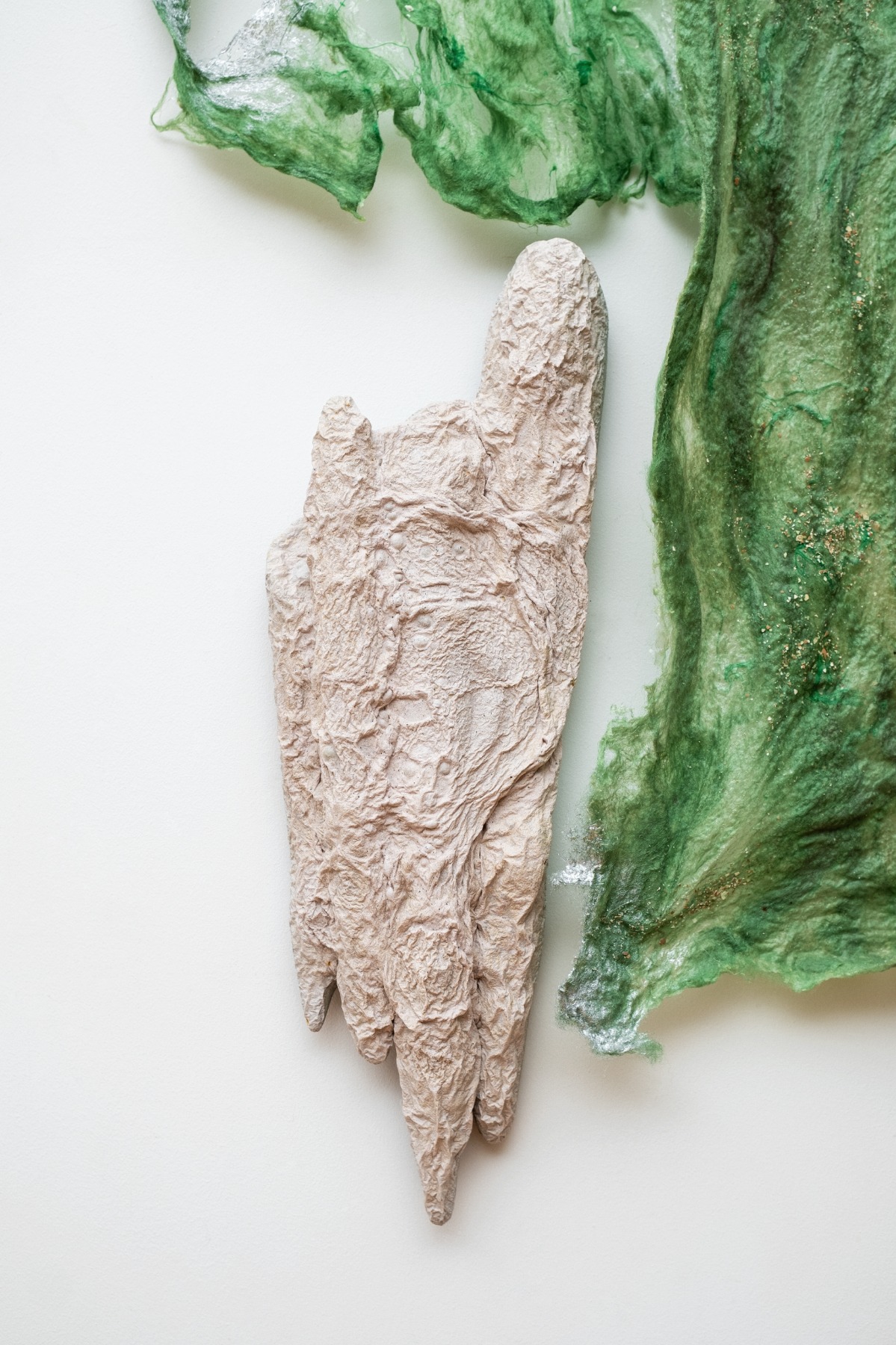 In addition, some of these objects have cylindrical "icicles" that were made in the ceramics factory. Factory technicians helped me produce nice plaster moulds so that I could cast cylinders as part of my wall composition. I have never made so many ceramics over one or two months in my life! I'm thankful for the professional support that was available, and I was in a slight state of grief when the residency came to an end.
Puķīte: Ceramics has reached its moment of finally being celebrated as high art. For a very long time it had been perceived as applied arts, "functional design", or decorative art (in other words, it was put in a very specific "box") that would rarely play a leading role at contemporary art venues. At the same time, I like that in Laura's works, the applied arts aspect has not disappeared – she has not tried to run away from it. So many of her objects, including those in this fair, can actually also function as a vase. It's a sculpture, but you could also fill it with water and put some plants or branches in it.
Clay is a material that transforms through fire and time. How does the process of creating ceramics reflect your philosophical views on transformation, inconstancy, and the passage of time?
Põld: When reflecting on the passage of time, what springs to mind is that artists often find themselves in a realm where time seems to slip away. In the case of ceramics, it's very important to keep your mind sharp when you cut out the shape, but then there is all of the work where you're not supposed to think too much. You just have to be really careful, for example, when polishing a dry piece. You have to leave your egotistic desire to rush the process behind you and really be as gentle with your hands as you can, because unfired clay can fall apart at any moment.
I think that over these last two months I became, in a weird way, spiritual. Among us were three renowned artists from South Africa – big-shots in the art scene, their creations fetching prices as high as 50,000 euros. Yet, they also faced a string of monumental setbacks, for example, kiln explosions of epic proportions that turned life-sized pots into mere fragments, scattered into small pieces. I consider myself somewhat fortunate in this sense, because I was saved from such disaster – this time. I don't know how to talk about this...I don't really have the vocabulary, but basically – you have to be humble! Everything you do, also outside of ceramics, it comes back to you immediately. If you are not fully present and you don't notice – you can break off a corner of a fragile work, for example. You really have to be there, in the moment. The timing of certain tasks is crucial. You have to be ready to let go of everything, and you can't expect too much, because it will always turn into some other thing.
It sounds like you have to find a balance between control and spontaneity in your creative process.
Põld: Yes, and even if you've managed to "crack the code" on the glaze itself – i.e. you've mastered the art of applying it and have extensively tested your approach – don't be surprised if just using a different kiln, even while maintaining identical temperature settings and firing schedules, yields different results. The kilns seem to have a mind of their own!
Puķīte: This is where the real excitement lies – I'd call it a survival strategy, too. It all comes to light after spending several days at art fairs and dedicating hours to engaging with clients, fellow artists, and curious art enthusiasts who want to delve into Laura's creations and her artistic process.
You know, with every hour, our stories become richer and more diverse. That's because I am not a robot and I have never been able to repeat the same things again and again. So I just enjoy adding all those layers to the story. It's fascinating to draw out narratives that intertwine with the materials and techniques used.
In this case there will be, as Laura mentioned, two types of ceramics – each having undergone a unique journey. And the processes they have gone through are also different – one is high-heat and one is a low-heat process; one remains raw, while the other grapples with the quest for that elusive, perfect glaze. A glaze that gives the ceramics an almost metallic appearance, akin to futuristic welded weaponry – although their forms pay homage to the natural world. Ceramics, it seems, find their allure in the very struggle they embody. It's a tale that holds drama and beauty.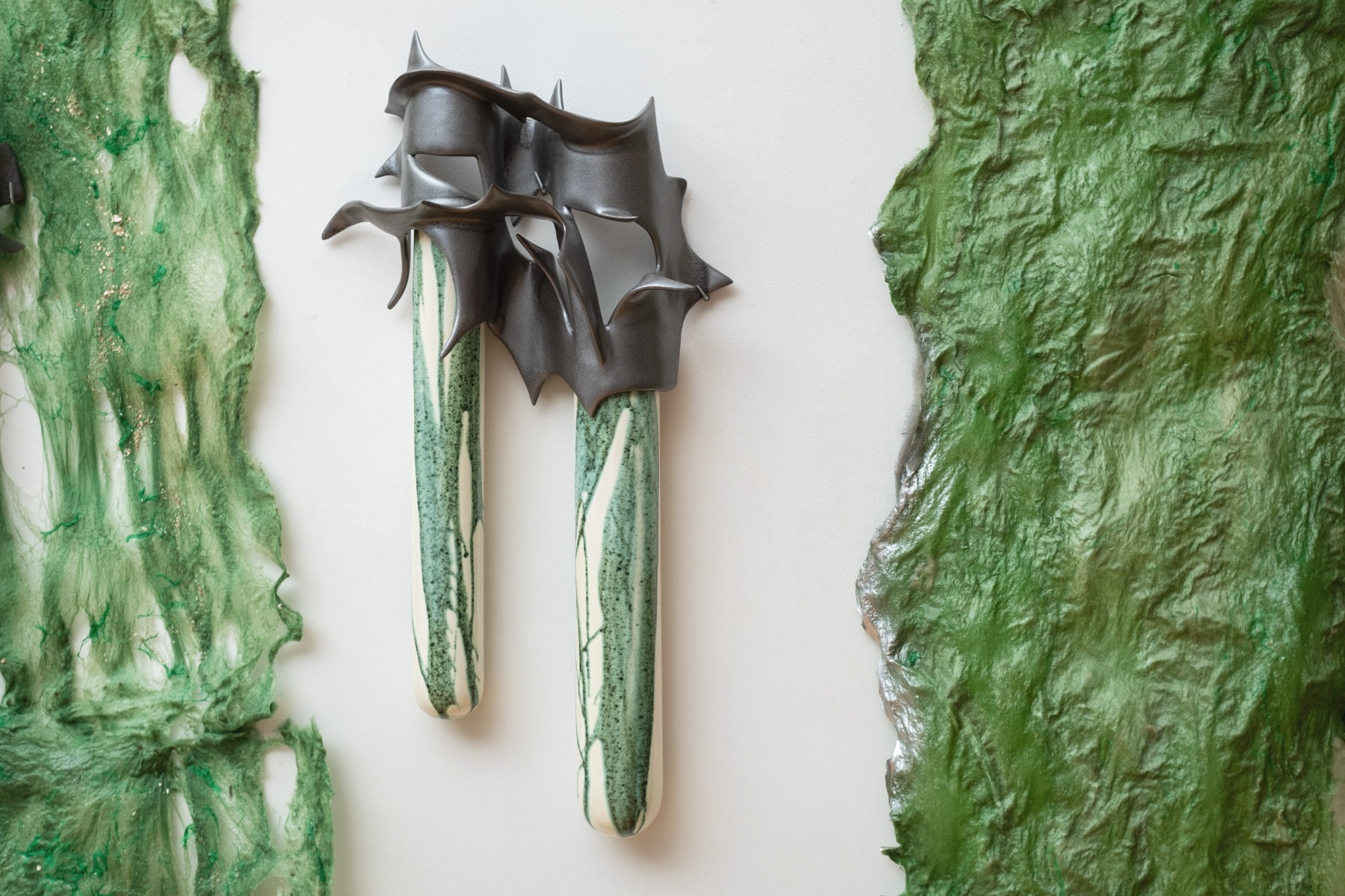 Šelda, from your point of view – how does this current body of work and presentation encapsulate Laura's recent artistic journey as a whole?
Puķīte: Over the past two years of her collaborating with Kogo Gallery, there have been, let's say, two distinct facets of Laura's work that have held equal prominence. The first involves textile pieces, while the second centers on ceramics that intriguingly resemble craters or natural formations you might stumble upon in the wild – maybe even akin to a field of geysers. This effect is achieved through the activation of ultrasonic misters that cause the water within the ceramic works to create an artificial mist, thereby resembling the phenomenon of volcanoes or geysers.
In the latest project, this continues through more pinkish-looking ceramic work that, due to its "wrinkled" surface, starts to resemble skin. Some of these new wall sculptures will work with the same principle as the older ones, i.e. with ultrasonic misters inside and vapor coming out. Previous works, such as the sculpture series "Wasteland. The Phosphorite Wars", shown at Liste Art Fair Basel 2022, for example, were more connected with phosporite mining in Estonia and the political history connected with it. Now it feels like the works have become more abstract – allowing for the experiencing of nature as a holistic entity.
It is interesting that you always structure your presentations at art fairs as though they were exhibitions.
Puķīte: There have been three projects that we've done together with Laura through fairs; this is the only time that everything will be newly produced. This past spring was our first time participating in Art Brussels, in the Discovery section. Each time we try to give titles to our stand, although it's not needed – it's not an exhibition – still, we always try to do it this way. In Brussels the title was "Fibres in the Cave". There, again, Laura had textile works and totally new ceramic works that felt like a new direction. In the ceramic sculptures, she mixed together found thermoses – leftovers from the Soviet era, from the National Institute of Chemical Physics and Biophysics in Tallinn – with stoneware clay. The clay in these works mimics how the earth or rocks would change their shape if water was flowing over them, smoothing them, making paths and rivulets.
It's interesting how in Laura's works, nature and the heritage of human actions and creations always blend together. This connection seems to naturally extend to the project in Vienna as well.
Having attended the fair last year, I got to experience the ZONE 1 exhibition – nestled in the captivating vaulted basement spaces of Kursalon Wien. How does the design of your exhibition harmonize with the distinctive spatial arrangement of the venue?
Põld: Actually, we also thought it was going to be in the basement again, but then we recently heard that this time it will be on the first floor. It will be interesting to see how my work organically fits, or doesn't fit, within this luxurious interior; it will be quite exciting to see how it looks.
Puķīte: We're hoping it will create an interesting, freaky dialogue – the glamorous décor of a historical building juxtaposed with the very natural and organic essence of Laura's works.
Francesca Gavin is the curator of ZONE 1 this year. How did her guidance shape your presentation? Were there any significant changes or adjustments made based on her suggestions?
Puķīte: This fair diverged from our usual approach. Typically, we decide on a specific fair, select the artist or artist group we want to collaborate with, create the presentation, apply for participation, and then await the outcome.
However, this situation was distinct and unprecedented because we will not be in the regular part of the fair but in Zone 1, the curated part. Francesca Gavin directly invited Laura to participate, and the gallery joined as representers of the artist.
Nevertheless, this did not feel like a regular curated exhibition would, especially not a heavily curated one where there is much discussion about what and how things will precisely be shown. It felt like this was more a discussion between the artist and the gallery. I may be mistaken, but it appears that Francesca's curation lays more in the selecting of the artists and envisioning how they will align with the thematic concept and desired presentation.
It seemed to me that by opting to invite Laura, Francesca had already accomplished a pivotal curatorial decision. The rest seemed to hinge on Laura and the gallery's efforts to bring the presentation together.
Laura, how does the commercial side of art fairs resonate with you as an artist?
Põld: Of course, as an artist, you always hope to have more eyes on your work. So this is something! I have to admit that I sometimes feel sad that Estonia is so small and removed – there is less attention and not so many new people get to see your work. You work constantly and really hard, but then it's still the same small circle who come to your exhibition… So this is first and foremost why I enjoy going to art fairs.
It's quite a slow process getting your work bought for a collection, so I think all these showings are very helpful if you want to be noticed by institutions. So, ideally, the commercial aspect is also about getting noticed by the professionals who advise collections, as I have been working with a few ceramics collections in the recent past, and through that, learning about the importance of collecting. The role of strong collectors in the overall possibility of one's work surviving over (the artists') time is so great. So, high quality art fairs give artists a chance to be seen and for the galleries to start relationships.
Many artists find that their work evolves over time. How do you see your art progressing in the future, Laura? Are there any new directions you're interested in exploring?
Põld: I'm quite competitive. In a recent residency context, I needed to be as productive as the others, even if that meant working on three large pieces at the same time. But such extremes can make one go crazy! So that's why I don't really know what will happen next.
There's a certain boldness one needs to have – like, what's the next big plan? You always feel like you need to be a nice, meek and mild type of person, but actually, maybe you need to be a really bold person. Like Kris Lemsalu – we used to study together, and now every time I see her again, I think: What crazy thing has she come up with again! For instance, booking a whole swimming pool for a performance and rowing around in it with a boat and so on. I'm always really jealous! (Laughs) Seeing such playful artistic impulses pushes me forward to be more courageous, fearless.
And yeah, definitely more ceramics and definitely textiles, but hopefully more and different things will follow. For example, I'm now working with STL (Sõltumatu Tantsu Lava) and the young performance artist Marta Jamsja – perhaps something video-based… There are several exciting projects and shows in the future.
Šelda, reflecting on Laura's journey, could you highlight the key challenges or standout moments that have significantly shaped and impacted her artistic approach?
Puķīte: Even before Kogo gallery began collaborating with Laura, I had been keeping an eye on her activities. I affectionately nicknamed her "the residency junkie". This term stemmed from Laura saying in some interviews that her life resembles a perpetual journey in a suitcase, hopping from one residency to another.
Now, time has passed – people get older, she has a family and an apartment and a dog… (Laughs) These have grounded her a little bit more in one place, but still, as you see – "this residency, that residency...". I think they have definitely shaped Laura's work by giving her opportunities and access to different kinds of workshops and manufacturing facilities – many of these residencies provide their artists with elaborate workspaces, and not just a nice room and a pretty landscape for inspiration.
I think that the best way to learn new things and evolve is to not limit yourself to just one school but to go to many different places so that you can develop both as a person and as an artist/creative person.
Other participants in ZONE 1 come from the USA, the UK, Denmark, and beyond – all of whom have, in one way or another, converged in Austria due to their art education or career trajectories. Recalling your time studying and living in Austria, how would you characterize your interactions with international artists who were also present in Austria during that period? And moreover, what draws you, as a young artist, to Vienna?
Põld: My closest friends in Austria actually come from elsewhere. One's a talented artist originally from Prague, the other from Krakow; they've become my best buddies in Vienna. It's ironic that, as a foreigner, I might forever feel foreign in Austria.
Interestingly, I've connected better with fellow travelers who are grappling with their sense of belonging. Art universities offer a natural platform, but I held off on pursuing studies for a while. My journey started with an art education in Estonia and then a residency in Vienna. I initially made friends easily, but shows and exhibitions were elusive. Despite my efforts, I didn't get any good shows in Vienna. Eventually, I pursued a second master's in ceramics in Linz, not Vienna. That "outsider" feeling persisted.
Now I work full-time in Estonia, with the occasional surprise exhibition in Austria. It's like ceramics – they surprise you when you least expect it. A curator reached out, recognizing my work despite never having met me. Things take time and there seems to be no logic. In Vienna, I often feel distant from the scene, yet someone recalls my work.
For me, Vienna is a foreign but familiar place. I call it "Vienna's paradox" – foreign yet comforting. Recently I even found myself in a traditional café, embracing what I once resisted. Struggling with foreign culture and blending in is a journey.
Laura Põld and Šelda Puķīte at the opening of "Common Threads, Polar Bear and Elephant" at Kogo Gallery, 2022. Photo: Evelin Lumi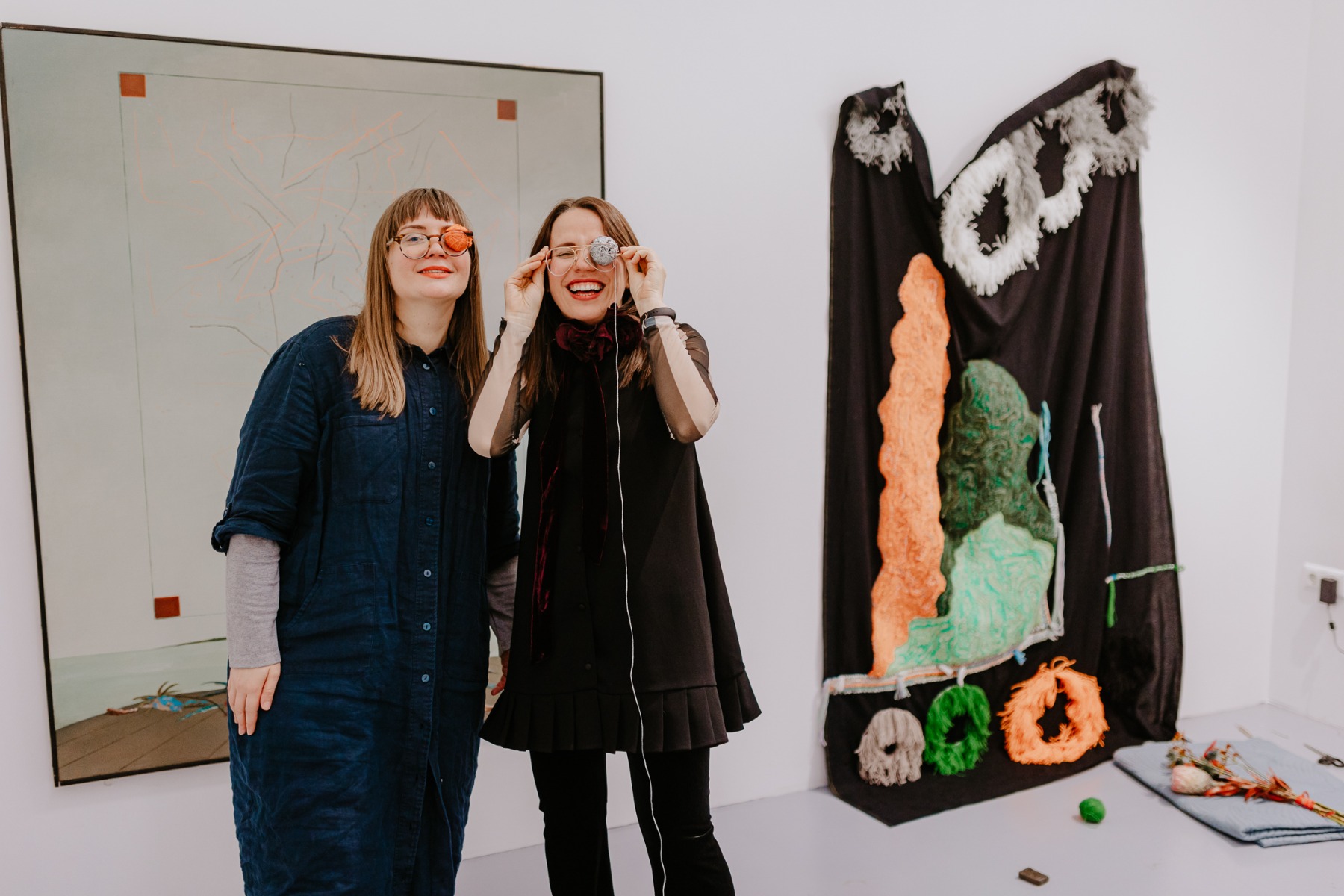 ***
Laura Põld (b.1984) is an Estonian artist living in Tallinn and Vienna. Her practice combines interdisciplinary and traditional craft skills with sculpture-based mediums. Through these lenses, she examines posthuman and more-than-human ways of being, caring, community building, and sheltering. She creates large-scale assemblages, constructions and installations from these sources, which playfully disrupt and subvert the typical understanding of art venues. Põld's formal education includes the study of ceramics at the Estonian Academy of Arts, painting at the University of Tartu, and sculptural conceptions and ceramics at the University of Art and Design, Linz. She is a Visiting Associate Professor of installation and sculpture at the Estonian Academy of Arts (EKA), Tallinn, Estonia.
Title image: Laura Põld. Photo: Evelin Lumi