ART COLOGNE: 53rd EDITION. Overview
ART COLOGNE: 53rd EDITION. Overview

18/04/2019
From April 11 to 14, one of Europe's most prestigious, oldest and important art fairs took place – Art Cologne (Kunstmarkt Köln), established in 1967 by Hein Stünke and Rudolf Zwirner. This year there were 176 galleries from 24 countries participating. An intense energy surged during those five days: almost 60 thousand visitors consisting of collectors, gallerists, artists, and art lovers – which is 3% more than last year. The fair's director, Daniel Hug, stated that the decision to decrease the number of participating galleries and to focus on quality has paid off. Transactional discourses, discussions on and relating to art, public presentations, press conferences. And it all took place amongst thousands of works of art: the ground floor featured Modernist and post-WWII works, while the upper floor was the realm of contemporary art galleries. Hundreds of artworks came into the hands of their new owners during the fair, and successful collaborations were formed.
Arterritory.com gathered the following opinions and reviews of the fair from gallerists and art professionals that were on site at Art Cologne 2019.
ARCHIVE: Photoreport: Art Cologne 2019

Gallery Nagel Draxler exposition
Reflections on Art Cologne 2019
Christian Nagel, co-owner of the Nagel Draxler Gallery, said that when comparing today's Art Cologne with what it was ten years ago, he considers that it has returned to the big stage and can now be securely placed among the world's top five art fairs – along with Fiac, Art Basel, The Armory Show, and Frieze. Ten years ago, Art Cologne was ranked among the fifty most prestigious art events; under its previous director, Art Cologne was more of a regional event, but now it has become much more prominent on the international art stage.

Gallery Nagel Draxler. Artists Martin Kippenberger + Albert Oehlen
French artist and curator Pierre Granoux, director of the art space Lage Egal (Berlin), said that this year's Art Cologne was very well curated, highlighting the fact that because of fewer galleries participating, there was more physical space in which to step back and enjoy the art; the works also greatly benefited from having been allotted more light and space. Pierre Granoux did note, however, that this year the number of international galleries had noticeably decreased, but at the same time, he emphasised the importance and status of Cologne in today's art scene. 'The culture of the art fair that we know today started in Cologne. Everyone was guided by what happened at Art Cologne. Today, art fairs, both larger and smaller ones, have multiplied like mushrooms after a rain shower. Art Cologne was originally the only art fair in Germany with an English name, which therefore sent the message that it wished to bring together an international art audience. It was a special mark of recognition. Now, as we know, there is Art Basel, Art Düsseldorf, Art Berlin… it's become boring. The audience is overwhelmed by this "art-whatever", and they ponder how the previously mentioned Art Cologne copy-cats compare in quality to Cologne. The name [of an art fair] should include a message. Art Cologne has that message, but do Art Basel and Art Düsseldorf contain anything more than the name of their location?'

Nicolas Pelzer's work at Fiebach Minninger gallery
Art Adviser and artist Zlatko Šumkovski shares his opinion of Art Cologne by way of saying that he has lived in Cologne for more than thirty years, and having visited almost every edition of the fair, every time it is a new experience for him as it is always coming up with something fresh. A shortcoming that Šumkovski mentions is his disappointment in the fact that this year there was a wide range of easy-to-sell works, but an absence of art reflecting present-day, i.e. this generation's, artistic developments, as well as an absence of discussion about the sustainability of art and artists: 'I understand that an art fair is a powerful market instrument. Selling (and selling as much as possible) is the goal of the participants of the art fair. But when it comes to art in an academic context, subjects like sustainability and ecology are extremely topical. We have not entered discourse on these themes here.'
NEUMARKT
This year's Art Cologne introduced a number of innovations into its program. Unlike previous in years, where the galleries were thematically divided into three halls, this time the gallery presentations were divided into two spaces – the Neumarkt section, which features galleries that have only been in business for ten years or less, was in one hall together with well-established and highly recognised art galleries.

Gallery Jan Kaps representative Alan Longino

One of the thirteen galleries in the Neumarkt section was Jan Kaps (Cologne), representing two artists – Nancy Lupo and Melike Kara. A representative of the gallery said that four years ago, Art Cologne was the first art fair in which he had participated, and now he goes every year. Asked about his thoughts on the fair's decision to exhibit the new galleries on the same floor as already established contemporary art galleries, he replies that he is very pleased with this arrangement – in this way, the new galleries are positioned as equal players, as in previous years there was a feeling that the new galleries were cordoned off from the rest, and that often times visitors did not even go up to see the third floor. Now, all galleries are presented together. As the main benefit manifested at this year's Art Cologne, he mentions the marked interest of curators and the formation of new contact networks. On the third day of the art fair, the gallerist said that some works had already been sold, but that their display would remain unchanged until the end of the fair.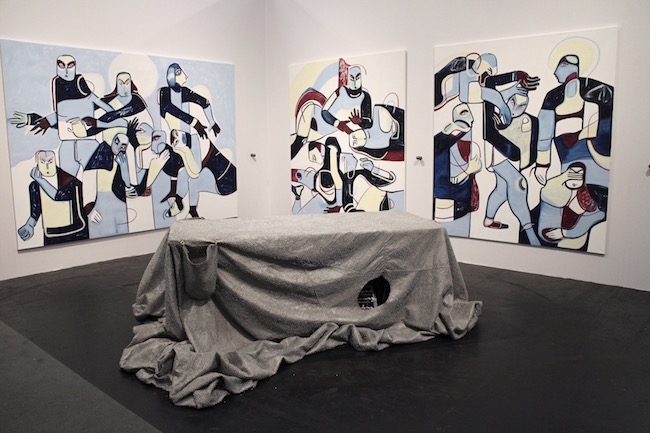 Nancy Lupo and Melike Kara
Gallerist Natalia Hug also wholeheartedly supports the inclusion of the Neumarkt section into the same level as established galleries, adding that she sees no reason for subdividing the contemporary art segment of the fair into several categories, or scattering them among different floors of the fair. Hug remembers how in previous years, a large number of visitors to the fair didn't even manage to get to the third floor, which had a significant impact on the sales numbers for these new market entrants. Hug highlights the well-being of visitors as an important point: 'It is self-evident that the expanse of the exhibition's central exposition and the marathon it requires to see it all in one day is quite taxing.' In her opinion, this year the conditions were ideal – all contemporary art was located in one place.
Gallerist Anja Minninger, director of Fiebach Minninger gallery (Cologne), also spoke positively about the new structure of the fair: 'All of the contemporary art galleries are now in one place. Including the new ones, who have not yet reached their first ten years of being in business. It is a pity, however, that the number of galleries in this section has visibly decreased. The "small" galleries, inclusive of Fiebach Minninger, represent a range of promising young artists: Arthur Löwen, Maximilian Rödel, Lisa Tiemann, etc. Their works are selling well and are being broadly presented, meaning that, in terms of prices, their works are easier to sell, yet this also means that many need to be sold. Our regular clients are, of course, diverse, but the ones showing the most interest are the young art collectors who are starting to put together their own private collections. They are interested in getting works created by artist of their own generation.'

Christian Nagel
Christian Nagel, co-owner of Nagel Draxler gallery (Berlin, Cologne), mentions that joining the usually third-floor exhibition with that on the second floor is a welcome decision by the fair's director. The fair is more compact and more populated by visitors: 'I have never had any objections to the presence of new galleries. For the last ten years, ever since Daniel Hug has been the director of Art Cologne, I have been in the gallery selection committee. We decide what kind of a survey of galleries to display in this category. I advise the smaller galleries to apply more actively and to expand their opportunities. I agree with the commonly held view that the number of new galleries should be increased!'
COLLABORATIONS
The focus of this sector of the fair is collaborative processes that reveal parallels and interactions between artistic practices – for example, between an emerging gallery and an established gallery, or between different artistic trends, styles and approaches across national borders. As a sector, Collaborations took place for the first time in 2014, initiated by Art Cologne and NADA (New Art Dealers Alliance). This year the sector featured 32 galleries representing today's art processes and the manifold ways in which art can be cooperatively expressed.
Ammann Gallery (Cologne)
The exhibit shown by Ammann Gallery reinforced the interconnections between art, architecture and design, yet it was also a sort of dialogue between two creative figures: the works of photographer Hélène Binet took us on a journey to the world of Zaha Hadid, showing us not only the infinite levels of the architect's masterpieces but also an intimate view of the furniture, jewellery, and design objects that Hadid designed.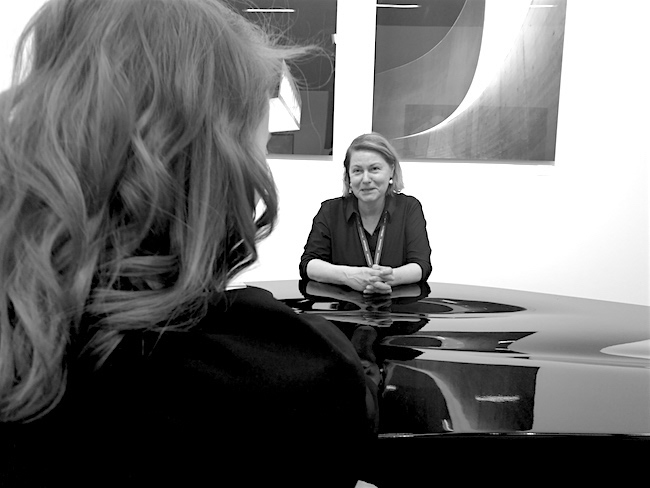 Gabrielle Ammann
When talking to gallerist Gabrielle Ammann about this year's exhibit for Art Cologne, she revealed that Zaha Hadid and Hélène Binet had been cooperating for a very long time. The Vitra Fire Station, designed for the factory complex of the same name in Weil-am-Rhein, Germany, was the among the first of Hadid's design projects to be built. Back in the 1980s, Zaha Hadid asked photographer Hélène Binet to photograph the whole building process. The two women had a close friendship. Binet said that the shape, structure and details of the buildings designed by Zah Hadid can already be identified during the construction of the building, and that at that stage, one can even better understand how the building was designed and the idea that was behind it all. That is also why she also often documents the construction of a building and not just the finished product.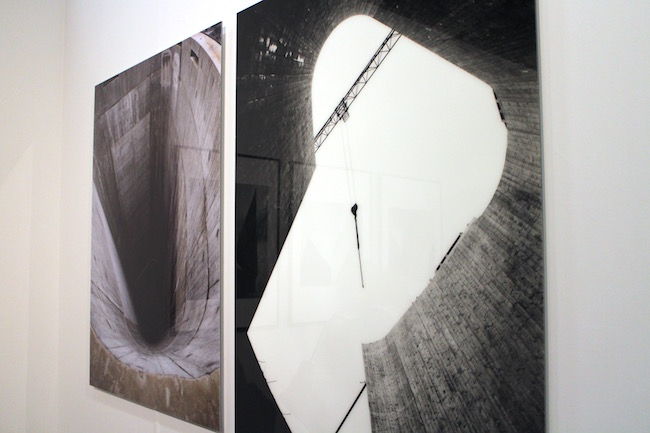 Ammann Gallery exposition

When asked whether Ammann Gallery concentrates primarily on the art of photography, Ammann replied that their main focus is on the interaction between architecture, art, and design. Ammann admitted that she was very honoured when Daniel Hug invited her to participate in this year's fair in the Collaborations section, as her gallery's exhibition shows in the most direct way possible the collaboration between two very talented figures, and the result is fantastic. In her opinion, the Collaborations section is a very rational theme that helps the various galleries and artists involved to cooperate and create a unified exhibition while also opening up a wide breadth of possibilities for interpretation.
When queried as to whether Ammann Gallery would have participated in Art Cologne even without such a Collaboration section, Ammann replies: 'Yes, we would have. I once took part in Art Cologne back in 2008, but at that time, design was still being separated from art – they were not being seen as one whole thing. I think that society is now much more open and sees that design, architecture, and art are inseparable disciplines.'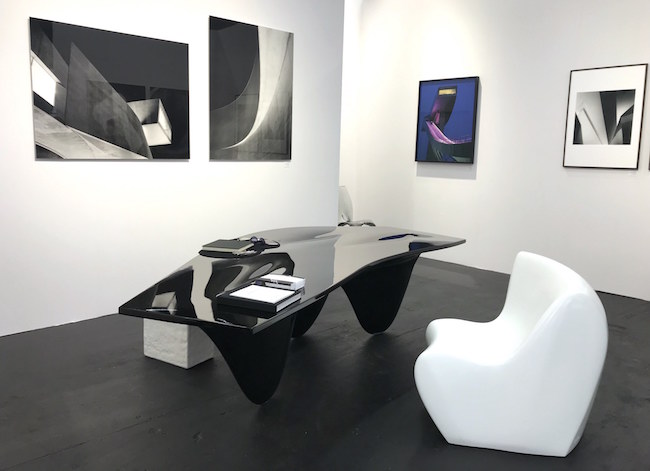 Aqua Table by Zaha Hadid
At the centre of the booth is a table designed by Zaha Hadid in the 1980s, titled Aqua Table; it fits perfectly into the design of the booth and augments the series of photographs. When asked if the table is also for sale, Ammann laughs, saying: 'You can buy anything in the booth except for me and my daughter. I am obsessed with tables – it is a very communicative and serious piece of furniture.'
Gallerists Natalia Hug (Cologne) and Aurel Scheibler (Berlin)

Elīna Ije and Natalia Hug
The Collaboration format is open to various options and variations. The mini-booth for the gallery partnership of Natalia Hug (Cologne) and Aurel Scheiber (Berlin) features the brightest protégé of both galleries – works by the artist Carolin Eidner (1984). Natalia Hug said that seven months ago, the gallery duo asked the artist to make some works specifically for Art Cologne: 'Carolin Eidner works with various art media. Her historical and cultural knowledge is the starting point for her creative work. She has an optimistic and progressive vision of the future.' Eidner's quality work and lightness of personality are unanimously highlighted by both gallerists. The exhibition in the galleries' booth consists of a series of paintings focusing on the three metamorphoses cited by Friedrich Nietzsche – the camel, the lion, and the child. Eidner believes that the definition of fine art painting is outdated and that the potential of the medium is vastly underestimated today. She has developed a special image creation process that references Picasso, Henri Matisse, and other figures and elements of art history.

Carolin Eidner
Hug explains that a booth at the fair is best suited for the presentation of just one artistic position rather than the typical variety one sees in a salon. Solo presentations are easier to absorb, as evidenced by the feedback coming from visitors.
Gallerist Aurel Scheibler adds that in this way, the viewer is better able to understand a particular artist's creative activity, and it makes it easier for the viewer to interact with the artworks compared to looking at the works of several artists in a single booth, which is the most typical booth layout at fairs: 'For example, by seeing just one piece in this series without seeing the others, one would never imagine that the series could continue as it does [Scheibler indicates an adjacent artwork]. The paintings are different, but they complement each other and expand the narrative.'
Fiebach Minninger gallery

Anja Minninger
On the displaying of several artists in one booth, Anja Minninger, director of Fiebach Minninger gallery, said: 'Our booth exhibits two different artistic positions: large-scale paintings by Arthur Löwen, and sculptural works by Nicolas Pelzer. We allowed the artists themselves to decide on how to lay out the booth. A simulation of the booth greatly facilitated the preparation process. Installation of the booth took place without incident and took just one hour. Of course, the experience accumulated over the years makes each subsequent booth easier to set up. In the very first years, we practically lost our minds trying to set up the gallery's booth so that it would be at least somewhat harmonious and easy for visitors to take in. All of the constant rearranging, and then the visible holes left in the walls…'

Fiebach Minninger exposition
In answer to the question of when a work is sold during the fair, does their booth's exhibition change, Minninger replies: 'Since the collaborative layout was decided upon by these two artists, our exhibit during the fair will not change; however, we do have some other works adhering to the same two positions stashed away in our storage room here at the fair, e.g. Maximillian Rödel's abstract paintings and Lisa Tiemann's wall sculptures. Customers who know the gallery's usual stock also ask for works by these artists.' Minninger agrees that it is easier to create a unified impression with the positions of just one or two artists. Moreover, such a streamlined and subtle atmosphere is a good contrast to the plethora of colours and impressions generated by the fair as a whole.
Booth strategy. The curatorial concept.
Replying to the question of whether there are any general guidelines for creating a booth's layout or its substance, Christian Nagel says: 'No rules! I personally tend to display as many works as possible. However, Saskia Draxler makes the final judgement on whether it's too much. We decide together what will be go into the gallery's booth. There have been times when the stand has been laid out in a minimalistic way. We have no specific rules on how to put together an exhibition for a fair. But for us, as art dealers, it is important to show more than just one or two artistic positions. Five to seven positions is the standard for this context. The architecture and curatorial vision of the booth is the next big issue to tackle; we want to make sure that everything we've brought looks like a group show when put together. Accordingly, group exhibitions are meaningful only if the works do not conflict with each other. If you exhibit paintings, photos and sculptures, it's not as exciting as, for example, exhibiting the works of two seemingly unrelated artists who lived in the same small town. If I had to name one prerequisite for putting together an exhibit at a fair, then it would be the matter of understanding how to attract the attention of the fair's visitors and potential customers. One should keep in mind that the layout of an exhibition in the gallery is not the same as the layout in a booth at a fair. Every space has its own inherent principles. In the commerce of art, and especially in the context of a fair, a gallery presents its strongest pieces; it creates a concise image of the gallery and arouses interest in the gallery as such. The most important thing, however, is to please the visitors at the fair.'
Thomas gallery – the most experienced gallery at Art Cologne
Director of gallery Thomas Heike Grossmann and Paula Lūse

Gallery Thomas. Martin Spengler, "La Defense 2000", 2019
Speaking to the fair's director, Daniel Hague, we learned that there is one gallery that has participated in every single Art Cologne – 53 years, to be precise – Thomas gallery. Asked whether after so many years of participation in the art fair, there is anything in art that could surprise her, Thomas gallery's director, Heike Grossmann, replied: 'Every day! Every single day in the business you get to know new art lovers and collectors – you learn their tastes in art. Our gallery focuses on classic modern art. When the gallery was founded in the 1960s, the focus was on post-war art – Andy Warhol, Piero Manzoni, Yves Klein, Tom Wesselmann. A bit later on, we had the chance to get acquainted with the German Expressionism collection, and the focus of the gallery then transferred to that. There are only a few galleries with high-quality German expressionist works. If someone wants works from this period, they know they have to come to us.'

Gallery Thomas. Works by Heinrich Compendonk and Emil Nolde
Are art fairs the place for galleries to become friends?
Asked if art fairs are a place for galleries to forge friendships with other galleries, Christian Nagel replies that there are countless competing art fairs in the world today. The goal of all galleries, regardless of their status, experience and prestige, is to participate in at least five to seven fairs a year, but this can only happen if the gallery has a good yearly sales rate. Relationships between galleries are now more antagonistic than ever, and they are not inclined to work together – everyone wants to get the customer on their side. Of course, there are also some exceptions that do create interesting collaborations, as can be seen in this year's Collaboration section, but those gallerists have known each other personally for a long time. 'In real life, we talk to a neighboring gallery or the gallery booth facing ours, but there is no movement of forging friendships between galleries here. Everyone's looking out for number one, so to speak.'
And so it happens every year – hundreds of galleries and thousands of artists make the journey to Art Cologne to, in the words of Christian Nagel, 'look out for number one' in terms of making new contacts, selling works, introducing their artists, and gaining recognition among collectors, art professionals and art lovers. Undoubtedly, one of the most uplifting parts of the fair was to see smiling and satisfied visitors leaving the fair with a packaged work of art.