Art Quest or Warsaw Gallery Weekend
In Warsaw, one of the year's most important events in Polish and Eastern European art has just concluded
26/09/2019
Warsaw seems to be gradually and convincingly becoming the new centre of attraction for Central and Eastern Europe. And it is not just about the size of the Polish capital, not just about the diversity of its districts, the number of ambitious new-builds and how many young people there are in the streets and how many bars and cafés there are on the corners of the streets. The key role here is played by individual people and their personal ability not to be afraid of starting something new with a group of like-minded fellow Varsovians. In 2011, it was the Warsaw Gallery Weekend (WGW) that became one of these initiatives. And it was in the minds of the local gallerists, apparently, inspired by the example of Berlin, that the idea was born of 17 Warsaw galleries, representing quite interesting and experimental art, simultaneously opening 17 new exhibitions during three days in September, offering something like a tour, not only of the most current trends in Polish art, but also of the surprising and impressive spaces of the galleries themselves and the diverse districts and neighbourhoods of the city where they are located.

Dominika Olzsowa, Household Spirit, gallery Raster exhibition view
This also happened in 2019, over the weekend of 20‒22 September, when gaggles of art critics, curators, artists, art collectors and ordinary art lovers (who, undoubtedly, constituted the majority of said wandering groups) roamed the streets of the Polish capital. Everybody had either WGW catalogues or brochures in their hands, making it even more reminiscent of a mass intellectually visual quest, where the prize was new images, acquaintances and impressions. And in each gallery, there were also little tables with wine glasses or bottles of Polish beer produced by one of the patrons of the weekend.

Parallel Universe, Szydlowski Gallery exhibition view
The galleries opened at noon and received visitors until late evening, when the elegant Varsovian trams and inexpensive taxis started taking the audience to the events of the evening programme ‒ performances or concerts in venues like one of the halls of the giant and brilliantly lit-up Stalin-era edifice, the Palace of Culture and Science, dominating the Warsaw cityscape since the mid-1950s.

Bownik, Colors of Lost Time, gallery BWA Warszawa exhibition view
27 galleries took part in the 2019 edition of WGW (and that is by far not the total number of art galleries in Warsaw, part of which ‒ apparently, belonging to the more commercial wing ‒ held their own parallel and alternative parade of exhibitions that ran at the same time). Varsovian galleries were joined by the Poznań Rodriguez Gallery; for its pop-up exhibition, the gallery had rented a space next-door to the fashionable PURO Hotel that accommodated many of the weekend guests. The Spanish owner of the gallery, Carlos Rodriguez Sainz-Pardo, who moved to Poland five years ago after marrying a Polish girl, presented a show entitled So Boring, bringing together Dalila Gonçalves from Portugal and Michał Smandek, a Polish artist, who shared a totally non-boring interpretation of what is being boring and boredom in general. Pure both conceptually and in its spatial manifestation, the exhibition served as an excellent starting point before going further, both width- and depth-wise.

Michał Smandek, Rodriguez Gallery exhibition view
And going upward! Housed on the top floor of an elegant Art Nouveau building with incredible windows on Wilcza Street, the Lokal_30 Gallery was, incidentally, one of the original 17 co-founders of WGW. Its owner Agnieszka Rayzacher mostly focuses on female artists, and there were eight of them represented at the show mounted for the Weekend. "I believe that feminism today is developing along the lines of equalism, and it is no longer about the equality of men and women but about the equality of all the living creatures on Earth, not just humans. We all really must be feminists in a sense and change the way we treat our environment. Yes, Polish collectors are mostly men, but the number of women active in this area is also growing.'

Agnieszka Rayzacher, owner of Lokal_30 gallery

Maria Anto and Zuzana Janin, Local_30 gallery exhibition view

Malwina Niespodziewana, Katarzyna and Nika. 1936 – 1951. Lokal_30 gallery exhibition view
And one of the most famous women in these circles, Grażyna Kulczyk ‒ a collector of great experience, ambitions and financial potential ‒ took part in the summit of Central European art collectors, held as part of the WGW programme in the building of the Zachęta National Gallery of Art. She told about Muzeum Susch, the excellently organised and thought-out private museum of Polish contemporary art that opened on 2 January 2019 so far from Poland, in a small Swiss village. She explained her decision to open the museum in Switzerland with a discord between her and the Polish authorities, who created various obstacles to the process of launching the museum ‒ so much so that it turned out to be easier and better done abroad. The summit programme also featured appearances by Piotr Bazylko, another Polish collector and co-author of several books on art collecting and Polish art; Vilius Kavaliauskas, art collector from Lithuania and head of the Lewben Art Foundation; Christian Kaspar Schwarm, collector from Germany, founder of the Independent Collectors online platform. A discussion with them was moderated by Sergej Timofejev, editor of the Russian version of Arteritory.com. The collectors agreed that, so far, Central and Eastern Europe are united pretty much only by its shared past, and a lot should be done to create a sense of a common art space and art market. And an enormous role in this could be played by events like WGW or the Vienna Contemporary and Art Vilnius art fairs.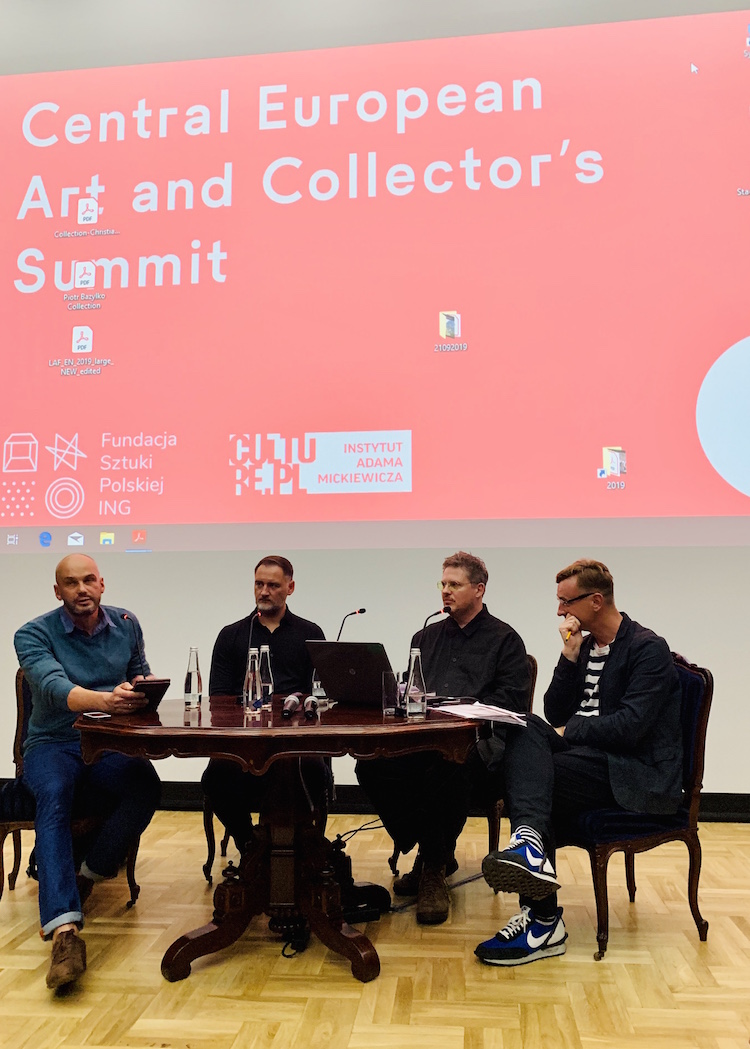 Central European Art and Collector's Summit discussion. From left: Sergej Timofejev, Christian Kaspar Schwarm, Vilius Kavaliauskas and Piotr Bazylko. Photo: Una Meistere

Tropical Craze, gallery Propaganda exhibition view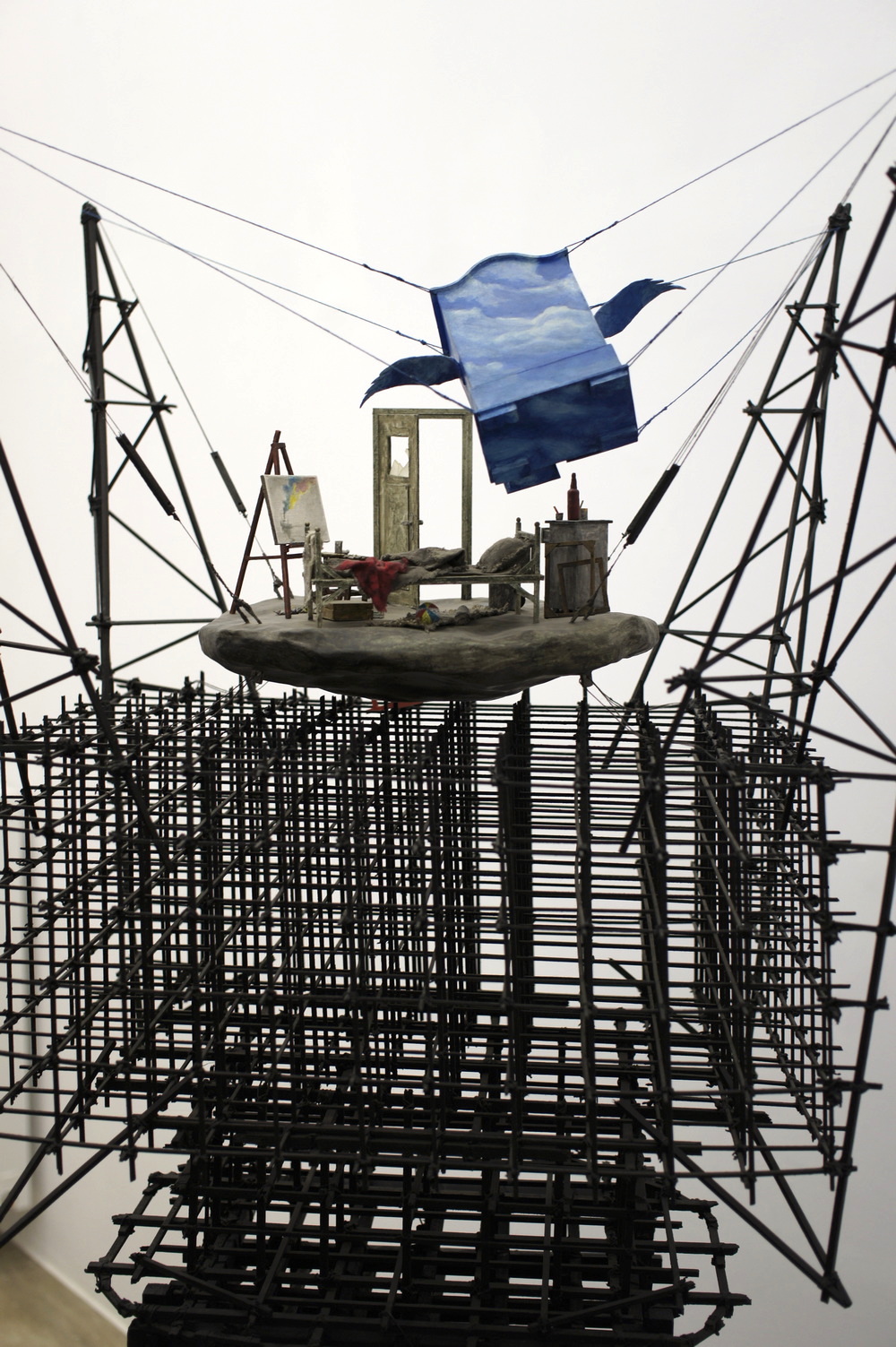 Zbigniew Natkaniec, gallery Leto exhibition view
In all, a large and diverse selection of artists was represented at the Weekend. Among comparative newcomers, a special mention is deserved by Zuza Golińska, whose totemic exhibition Suns was on view in the vast space of the Piktogram Gallery. 'As an artist, I take on myself a responsibility by releasing yet another object into a world that is already full of objects. Why should I make something from new materials, from extra-produced stuff? Perhaps I can do whatever I need to do with some sort of industrial waste? During the preparation stage of the show I visited a gas-metre factory in Ukraine and saw how much unwanted material is left over once the production process is over. And so I came back to my native Gdansk, went to a shipyard and asked the workers there to help me realise my idea of a post-apocalyptic landscape with some sort of totemic objects created from the leftovers of the materials they use in their work. And they agreed…'

Zuza Golińska, Suns, gallery Piktogram exhibition view

Zuza Golińska and galerist Michał Woliński, gallery Piktogram
Piktogram is also one of the WGW old-timers, just like the cult gallery Raster, the small M2 or Leto, a gallery showing the complex and intricate installations created by Zbigniew Natkaniec (1961). Fundacja Galerii Foksal, perhaps the best-known Polish art gallery, associated with names of the key artists of the 1990s and the 2000s (the gallery was founded as a non-commercial institution back in 1966), put its money on masters like Wilhelm Sasnal and Artur Żmijewski. We have interviewed both ‒ one in 2016 and the other one in 2017.

Wilhelm Sasnal, Fundacja Galerii Foksal exhibition view

Artur Żmijewski video Gestures (2019), Fundacja Galerii Foksal exhibition view
The influential ING Polish Art Foundation prize was awarded to a work by Mikołaj Sobczak from the New Kingdom exhibition shown by Polona Institute in the rooms of a closed-down fashion magazine (this gallery does not have its own space in the city; each exhibition is held in a new place). It is a mixture of 16th-century history of Anabaptists from Münster with the realia of contemporary Poland. Sobczak, who turned to painting after a period of intensive work in video, has depicted women who are forging a new future for Poland ‒ some of the female members of the Solidarność movement, important yet overshadowed at the time by male leaders like Lech Wałęsa, stand side by side with a well-known LGBT activist and a determined-looking drag queen.

Mikołaj Sobczak, New Kingdom, Polona Institute exhibition view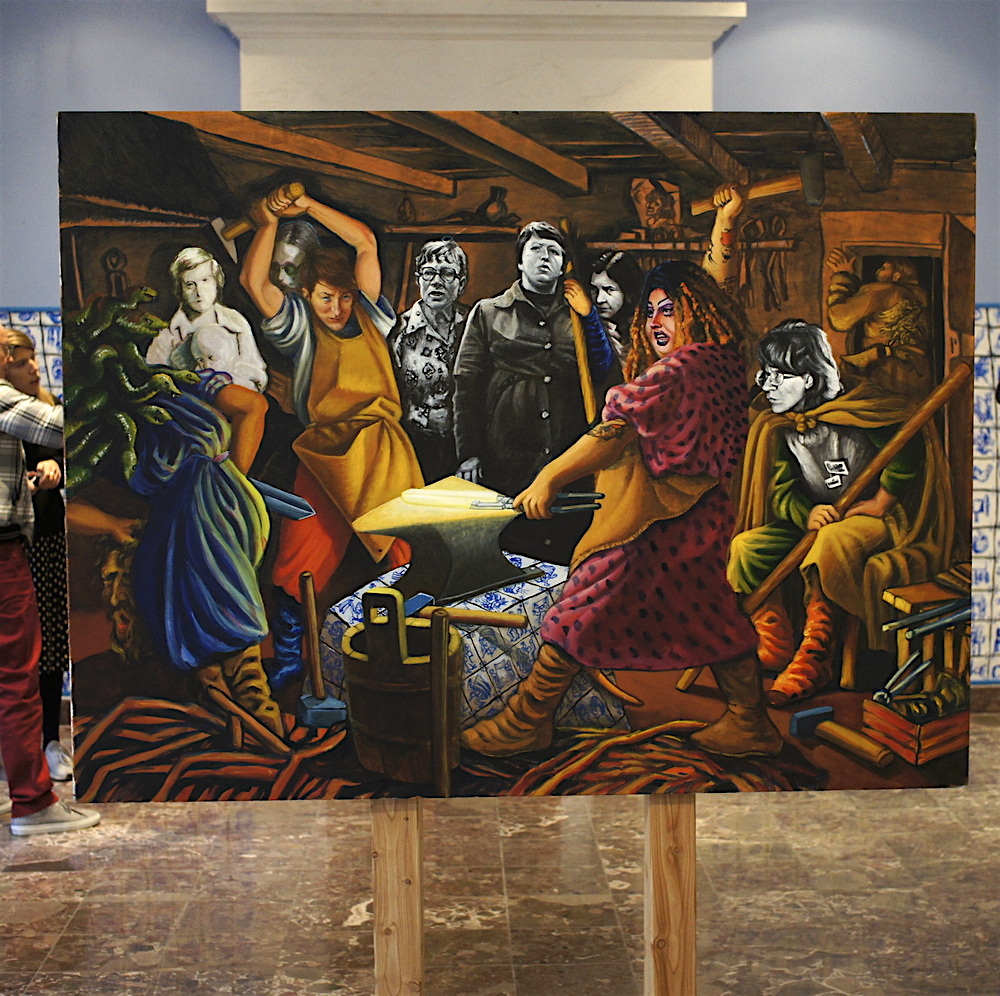 Mikołaj Sobczak, Polish Art Foundation prize winning artwork
Not everything in the shows of the WGW programme was about such distinctly political statements. Part of the Weekend's satellite programme, an exhibition deserving a special mention was the show at the Stefan Gierowski Foundation, dedicated to this representative of lyrical abstraction and a group of like-minded fellow artists and contemporaries from other countries. The exhibition at the Pola Magnetyczne Gallery shared this mood to a certain extent, showing the works of the Poland-based French artist Nicolas Grospierre; we interviewed him in 2016. Grospierre is famous for his photographs of late Soviet modernist architecture; this time around, though, he appeared in the role of a 'slow artist'. He had left in his garden several squares of stretched velvet fabric, exposing them to sunlight for several months; during this time, he gradually moved geometric patterns across this 'canvas', creating impressive abstract images as the light left its imprints on the fabric. The Longue Durée exhibition also featured a number of works by the Israeli artist Nelly Agassi, whose art played on the venue itself. The gallery is located on the second floor of a small house, and the space was originally the flat of the Pola Magnetyczne founders Patryk Komorowski and Gunia Nowik. Patryk's flat eventually moved to the third floor, but visitors still enter the gallery through its kitchen. And it is yet another completely original and special space that invites us to visit the Warsaw Gallery Weekend. The Weekend is now over, but most of the exhibitions we mentioned are still open. In any case, this is a perfectly good time to start making plans for next year's last September weekend.

Stefan Gierowski, Obraz CXCI (1965), Fundacja Stefana Gierowskiego exhibition view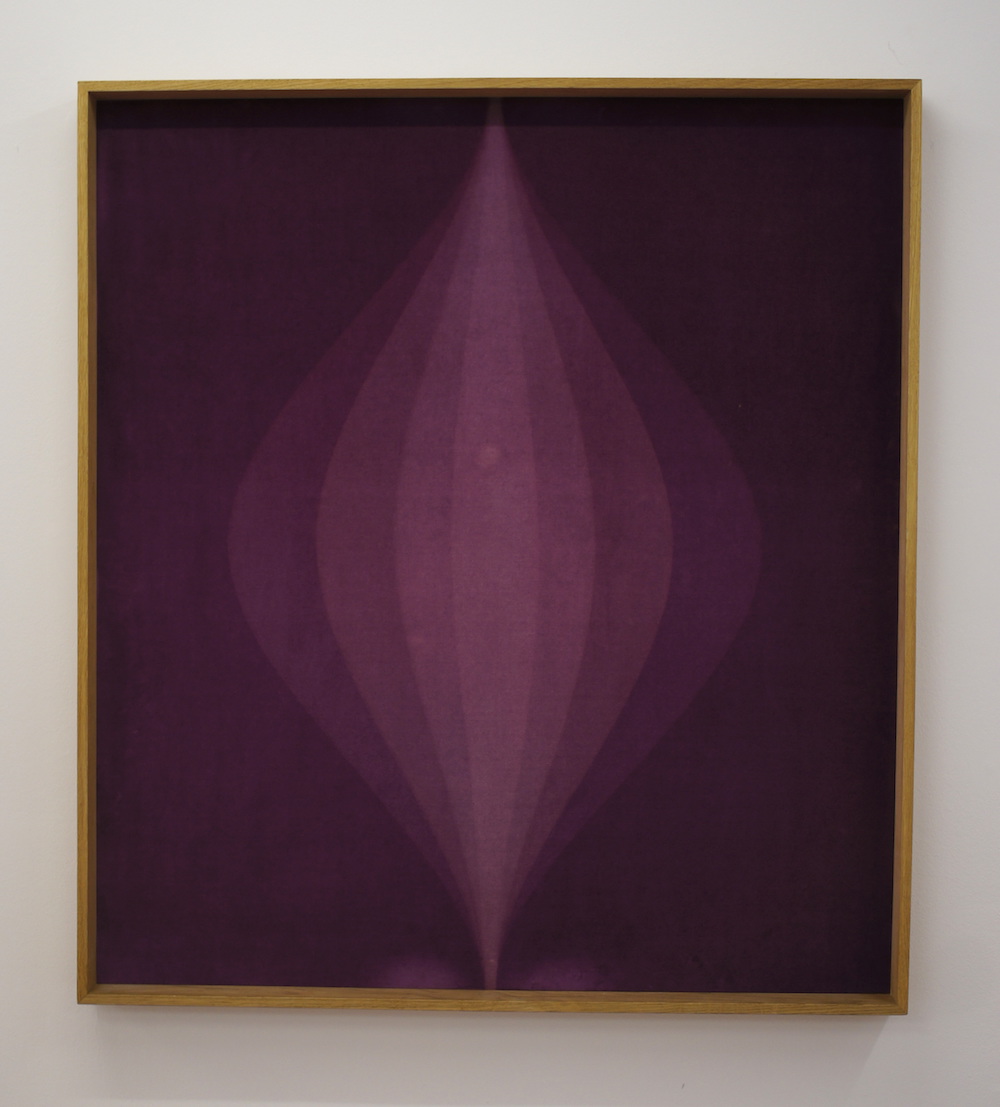 Nicolas Grospierre, Pola Magnetyczne gallery exhibition view

Nicolas Grospierre and Nelly Agassi, Pola Magnetyczne gallery exhibition view

Nicolas Grospierre and Nelly Agassi, Pola Magnetyczne gallery exhibition view