Baltic exhibition guide
Baltic exhibition guide: March

01/03/2019
March
From now on, every month Arterritory.com will offer our readers a glimpse into the brightest art events in the Baltic region. Tallinn, Riga and Vilnius has much to offer and therefore we invite you to look into our Baltic exhibition guide!
TALLINN
Taavi Suisalu exhibition "Ocean Botlights" at the Tallinn City Gallery
1 February till 31 March

Taavi Suisalu. Touch of the Network. Video and installation, 2019.
Taavi Suisalu (b. 1982) is an artist, who seems to be constantly flickering between different times, simultaneously looking into the ancient past and the future just out of reach. In the newest exhibition he explores light – simultaneously a giver of life and a conveyer of information, spreading out in a web of rays the breadth of a hair at the bottom of the oceans, where no other light can reach. The exhibition is curated by Siim Preiman.
The installations on show bring together the characteristics of light, both ancient and new. Taavi Suisalu writes: "Although how people behave and think acclimatises to new technologies quickly, the changes in sensations, physiology and mentality are more long-term." At the exhibition "Ocean Botlights", light is what brings together the ancient and the modern, simultaneously one of the prerequisites for life on Earth as well as the conveyer of information along the super-fast fibre optic cables that cover the world like a spider's web.
Liina Siib at the Tallinn Art Hall
16 February till 14 April

Liina Siib. Still from the film Urban symphony in e minor, 2018.
Liina Siib's work pays acute attention to the minor narratives, which usually persist in the shadows of the attention economy or crevices of accelerated lived experience. Bringing together new productions and a selection of older works by Siib, the exhibition at Tallinn Art Hall mediates intergenerational conversations between individual lives and complex gendered histories of privilege and power.
Liina Siib (b. 1963) is known for her photography, video and installation works based on extensive research, archive material, interviews and collaborations. Recent exhibitions include Riga Biennial 2018 and Sinne, Helsinki. Siib represented Estonia at the Venice Biennial 2011.
Gordon Matta-Clark: Anarchitect. Anu Vahtra: Completion through removal on view at KUMU
22 February till 8 June

Gordon Matta-Clark and Gerry Hovagimyan working on Concial intersect, 1975. Photo: Harry Gruyaert
Best known for his monumental cuts, holes, apertures and excisions to the facades of derelict homes and historic buildings in New York, New Jersey, Chicago and abroad, Gordon Matta-Clark's (1943-1978) work conveys a potent critique of architecture's role vis-à-vis the capitalist system. Taking as a point of departure the pivotal series of "cuts" produced in the Bronx in the early 1970s that led to his further exploration of the city as a field of action, "Gordon Matta-Clark: Anarchitect. Anu Vahtra: Completion through removal" will examine the artist's pioneering social, relational, and activist approach.
The exhibition is organised by Antonio Sergio Bessa, Bronx Museum Director of Curatorial and Education Programs; and Jessamyn Fiore, independent curator and co-director of the Matta-Clark Estate. The exhibition in KUMU Art museum will be featured by Anu Vahtra's project, inspired by Matta-Clark's activities.

Anu Vahtra (b. 1982) lives and works in Tallinn. Vahtra's artistic practice often relates to the spatial context or architectural setting that she exhibits in; through subtle changes she reveals otherwise overlooked aspects of spaces in such a manner that they eventually underline their initial purposes. Vahtra studied photography at Gerrit Rietveld Academie in Amsterdam and is in residence at the International Studio & Curatorial Program in October and November 2017, specifically focusing on Gordon Matta-Clark's archives.
Group exhibition at Temnikova & Kasela gallery
28 February till 27 April

Helena Keskküla. Etude of Dreamcatcher, 2018, video still.
From 28 February till 27 April Temnikova & Kasela gallery in Tallinn will host a group exhibition "Post Winter Mixtape", with the participation of Helena Keskküla, Anna Mari Liivrand, Inga Meldere, Ann Pajuväli, Jaanus Samma, Sigrid Viir.
Temnikova & Kasela gallery was founded in 2010 by Olga Temnikova and Indrek Kasela and is working with leading artists from the Baltic region combining them with promising younger generation stars, and international artists. Right now the gallery is representing 14 artists, including Jaan Toomik, Kaido Ole, Kris Lemsalu, Maro Mäetamm, Oleg Frolov and others.
The curator of Temnikova & Kasela is Alina Astrova.
RIGA
Boris Lurie and NO!art at Art Museum Riga Bourse
12 January till 10 March

Boris Lurie. Feathers, 1962. Paint, collage on canvas
"NO! NO! NO! to the conventional, to all the evil and despair that reign here, NO to conformism and materialism!" This sentence is published in the flyer of Boris Lurie (1924–2008) exhibition in "The Gallery: Gertrude Stein" in New York in 1963 and it depicts the exhibition dedicated to the NO!art movement that started in the late 1950s and early 60s as opposition to the trend of the commercialization of art.
During the period 1959–1964, NO!art became an important impetus for artists who would later become famous, such as Allan Kaprow, Yayoi Kusama, Jean-Jacques Lebel, Michelle Stuart, Erro, Wolf Vostell, and others. One of the initiators and founders of the movement is a former resident of Riga, Boris Lurie, who, together with Sam Goodman and Stanley Fisher, held politically and socially intense exhibitions in their March gallery in New York. In 1963, when Boris Lurie meets an art collector and gallerist Gertrude Stein, she founds her gallery and continues working with NO!art artists for a while. Even the names of exhibitions are like the manifestos that "shout for everyone to hear" and demand to be involved: Vulgar Show, Involvement Show, Doom Show, NO! Show, NO! Sculpture (Shit) Show.
The works of the NO!art American artists encourage one to look at some of the principled free thinkers in the Baltic region at that time, who were under the opposing political system in the former Soviet sector.
"Together and Apart" at ISSP gallery
1 February till 27 March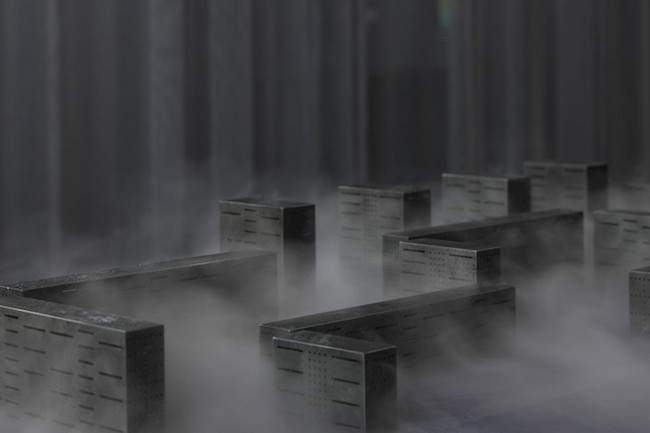 Together and Apart. Photo: Ansis Starks
From 1 February till 27 March ISSP gallery shows the exhibition "Together and Apart" that represented a part of the Latvian national contribution to the Venice Architecture Biennale in 2018.
The housing question is where architecture most directly intersects with political, social, and economic concerns. This is especially notable in apartment buildings. On one hand, an individual apartment offers isolation from the outside world. On the other hand, it implies interdependence within a larger structure, be it a building, a utility infrastructure, a residential community, or a governing framework. Latvia is one of the most sparsely populated regions of Europe, yet it has the highest share of population residing in apartment buildings — 66%. Perhaps this unusual situation should be seen as a new starting point for a discussion on the role of residential architecture in the context of current demographic, environmental and policy challenges.
The exhibition features a photography series by Reinis Hofmanis, depicting apartment buildings found in Latvia's urban and rural landscapes, alongside four conceptual architecture models that visualise processes hidden to the eye yet with a large impact on housing. The models are created by artist Daria Melnikova, sculptor Ivars Drulle, designer Dita Pāne, architect Mārtiņš Dušelis, and scenographer Charlotte Spichalsky.
"The Weather Diaries" at Museum of Decorative Arts and Design
7 February till 31 March
Lola and the Deer Head, 2014. Photo: Cooper and Gorfer.
From 7 February to 31 March 2019, the Museum of Decorative Arts and Design in Riga will host "The Weather Diaries" exhibition, inviting to discover the beauty of Nordic landscapes and harsh weather conditions through the fashion artworks designed by artists from Iceland, Greenland and Faroe Islands.
The Weather Diaries exhibition has been created in cooperation with the artist-curator duo Sarah Cooper (1974, USA) and Nina Gorfer (1979, Austria), who over the course of two years visited Iceland, Greenland and the Faroe Islands to explore the influence of island environment, cultural identity and traditions on the creativity of local artists and designers. As opposed to the scientific approach of traditional anthropologists studying local communities, Cooper & Gorfer transform their observations into poetic stories captured through the lens of a camera. Their experiences are transformed into staged portraits filled with symbolism, layers of colour, and textures. The staging of each portrait was conducted in collaboration with local fashion designers, which can be seen in the exhibition's textile installations.
"The Weather Diaries" exhibition was commissioned and produced by the Nordic House in Reykjavík, Iceland and had its premiere in 2014 as the central piece of the 3rd Nordic Fashion Biennale that took place at Museum Angewandte Kunst in Frankfurt, Germany. It has since been exhibited in Denmark, the Netherlands, the Faroe Islands, Iceland, USA, China, Sweden, and Greenland. In 2019 the exhibition will be on show in Riga, Vilnius and Tallinn.
Michel Castaignet and Helēna Heinrihsone at Māksla XO gallery
14 February till 12 March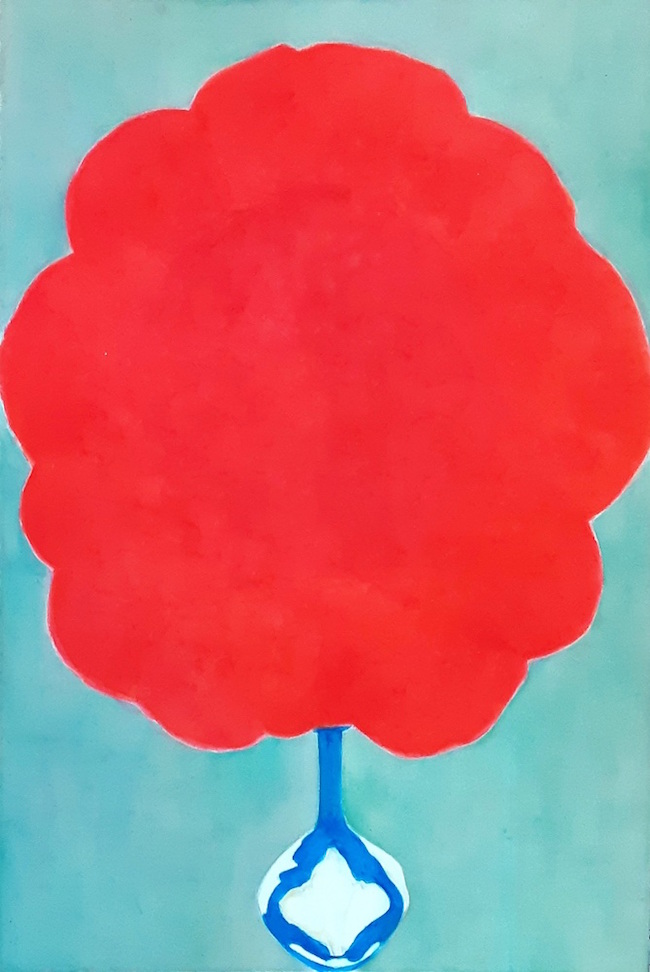 Helēna Heinrihsone. Morandi blue vase,2019. Watercolor on paper.
From 14 February till 12 March Māksla XO gallery is hosting a solo show by French artist Michel Castaignet and Latvian painter Helēna Heinrihsone.
Describing his latest series of works, M. Castaignets says:" I'm looking for a way to connect abstraction and figuralism while keeping them autonomous. Over the abstract shapes that form the background of the painting, I drew a face that was inspired by an image of "Wonder Woman", created by illustrator H. G. Peter."
Michel Castaignet (b. 1971) has obtained a Master's degree in aesthetics and art theory at Midsex University in London. He participates in exhibitions since 2006 and has organised 14 solo shows in France, Latvia, Russia, Austria, Lithuania, Turkey, Spain and other countries.
Helēna Heinrihsone is one of the most vivid and versatile artists in Latvia who works in oil painting, watercolours, lithography, porcelain painting and animation. She is an artist who knows how to change, go into the unknown, discover the unseen and return to what she has once found. In her latest watercolours, H. Heinrihsone has focused on exploring small things and interpretations of flowers.
Helēna Heinrihsone has graduated from the Latvian Academy of Arts. Her works can be found in the public collections of Latvian National Museum of Art, the Ludwig Museum in Cologne, the State Tretjakov Gallery in Moscow and Jane Voorhees Zimmerli Art Museum.
Three exhibitions at kim? Contemporary Art centre
21 February till 31 March

Santa France
From 21 February till 31 March kim? Contemporary Art centre will host two solo shows by uprising Latvian artists Amanda Ziemele, Santa France and the Kim? Open Call 2019 exhibition "Poetry and works of Eugen Berg".
Amanda Ziemele's solo show "Quantum Hair Implants" addresses optional ambiguity solutions by means of multiple spatial approaches, along with the communication difficulties in terms of information transfer between quanta and other bodies.
Inside, outside, and interspace – interior, exterior, and the event horizon in-between. The boundary is the interspace. The interspace is considered a potential-bearing opportunity; standing there, the process runs in multiple directions. One can meet an interspace by touching it. Each object or event has a clear boundary to distinguish it from all the rest. Either blurry, or sharp. The field of vision draws the boundaries of the selected area – the visible stays inside, while the rest is left outside.
Amanda Ziemele (b. 1990) gained BA in Arts from the Painting Department in Art Academy of Latvia and later continued with Diploma studies in the Interdisciplinary and experimental painting study programme at the Dresden Academy of Fine Arts. Her Diploma project 'Gaining Ground' received a Freundeskreis der HfBK Dresden prize as the best graduate's project at the Academy of Arts Dresden and was also nominated for European art graduates Start Point Prize 2018. She was awarded a DAAD scholarship for her post-gradual studies.
Santa France (b. 1993) is a Latvian digital artist. After graduating from Liepaja University with a bachelor's degree in new media arts, her artistic practice has been focused on exploring the potential of 3D software and using it to create web collages, videos, animated .GIF images and digital illustrations. Her work is mainly influenced by internet culture – the self-reflection, nostalgia and solitude that's associated with learning, creating and publishing your work online. kim? Contemporary Art centre is going to host her solo show "SAFEPORTING".
Following the renderings of Michael Kuzmin published by the online magazine Punctum, on 1 March, 2017 the editorial board of the magazine was surprised by an email from Russia. The person behind it was Marina Kamenetskaya (Марина Каменецкая), a researcher interested in the biography and works of Kuzmin; in her email, she referred to a letter written by Kuzmin to Eugen Berg (Eižens Bergs in Latvian) in Riga, in 1920. She was willing to get more information about the mysterious Latvian, whom Kuzmin's lover, the Lithuania-born poet Jurij Jurkun described, allegedly in his diaries, as the "dandy clown", "pretentious loadwriter" and "copycat". The intrigued "research group" followed a trail to find themselves in a tenement house in Riga, where the group met an unrelated-to-the-Berg-family tenant, who had saved, according to her, his "antique legacy". It was an unbelievable material – proof of a surprisingly versatile poet from Riga linked to the Acmeist literary group in early 20th century Russia with a particular interest in Western avant-garde movements, especially, Dadaism.
The curator of exhibition "Poetry and works of Eugen Berg" is Laura Brokāne (b. 1985). She is also the editor of "Punctum" magazine dedicated to contemporary literature and philosophy. She has published reviews and interviews in various cultural magazines and sites. Currently, she is working at Literature and Music Museum and studying curatorial studies at Art Academy of Latvia.
VILNIUS
"Villa Lituania" at the MO Museum
11 January till 10 March
Villa Lituania is a building in Rome that served as an embassy for Lithuania during the interwar period but that was appropriated by the USSR after Lithuania's occupation. Artists, the recipients of the Lithuanian National Prize for Culture and Arts, Nomeda and Gediminas Urbonas drew attention to the fact that to this day the building still belongs to Russia by organizing a symbolical pigeon race between Venice and Rome.
The project includes architectural model of Villa Lituania and video works, which represents history of ambassadors Lozoraitis's family, the research of graffities in Rome which protested occupation of Lithuania and pigeon breeders' situation in Lithuania.
The artwork represented Lithuania in the Venice Biennale in 2007 where it received an Honorable Mention by the jury. The project will be reconstructed at MO Museum.
Linas Jusionis exhibition "Stacks, plants and plains" at Vartai gallery
7 February till 15 March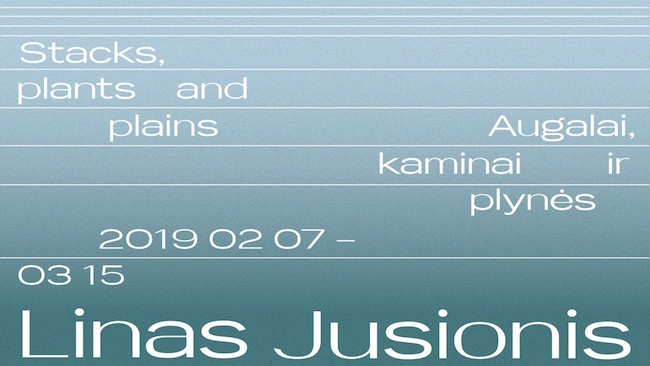 Linas Jusionis. Stacks, plants and plains.
On February 7th, Vartai Gallery opens a new solo exhibition by the well-known young-generation artist Linas Jusionis. The title of the exhibition, "Stacks, plants and plains", helps to create a mood close to that of a road-trip film and refers to elements of landscape, presenting them as recurring motifs in the artist's work. Unconnected landscapes with no clear meaning join into a sequence devoid of any logic, misleading in its aestheticized muteness and transmitting a strange, nostalgic mood. The recurring landscape elements seem to start gaining significance and working like tropes. Even if every motif signals something distinct, all of them together act like certain objects of desire. In his latest paintings, the artist gives way to strong imagery and its dual truth: by depicting something or pretending to be something, the painted view also directs attention to itself, that is to say, issuing an invitation to enjoy an illusion that engages the eye and the mind and plays unexpected tricks on the viewer's imagination.
Jusionis has been making his mark on the contemporary Lithuanian art scene for almost a decade now, focusing his attention more and more on the law of the 'the eye's desire' often devalued in the maelstrom of contemporary intellectual trends.

Linas Jusionis (b. 1986) studied at the Vilnius Academy of Arts in 2007–2011, earning a BA and graduating with a Master's in Monumental Arts (Fresco-Mosaic) in 2011. The artist has been exhibiting his work in group shows as well as individually since 2009, this exhibition already being his fourth solo one at Vartai Gallery. His paintings have been acquired by MO Museum in Vilnius and the Lewben Art Foundation, as well as private collectors in Lithuania and abroad.
Sharon Lockhart and Alejandro Cesarco at CAC Vilnius
8 February till 31 March

Sharon Lockhart. Rudzienko, 2016.
The two-channel film installation "Rudzienko" by Sharon Lockhart and the solo show "Tactics & Techniques" by Alejandro Cesarco will be on view at CAC Vilnius from 8 February till 31 March.
For over two decades, Lockhart has made films, photographs, and installations that are both visually compelling and socially engaged, exploring how labour, rest, education and play are enacted and represented. Her practice is largely based on personal interactions and creative collaborations that unfold over extended periods of time.
The film installation "Rudzienko" and a related series of three still photographs entitled When You're Free, You Run in the Dark (all 2016), are products of shared experiences. This overarching project is also the subject of a new artist book released concurrent with the exhibition.
Sharon Lockhart is an American artist who lives and works in Los Angeles, California. She received her BFA from the San Francisco Art Institute in 1991 and her MFA from the Art Center College of Design in 1993 where she studied with Mike Kelley and Stephen Prina among others. Lockhart has been the subject of numerous solo exhibitions and included in the biennials of Liverpool, UK (2014), Shanghai, CN (2014), Sydney, AU (2006), and at the Whitney Museum of American Art, New York, US (2004, 2000, 1997) as well as the FRONT International Triennial, Cleveland, US (2018). She was selected to represent Poland at the 57th Venice Biennale.
"Tactics & Techniques" by Alejandro Cesarco furthers his exploration of notions of personal narrative, style, aging, influence and inheritance. Uncharacteristically, the exhibition carries a somewhat urgent tone, a shift form Cesarco's usual romantic and rather melancholic approach. It would appear that "Tactics & Techniques" is demanding that a decision has to be made, something needs to be done.
Alejandro Cesarco (b. 1975) currently lives in New York. His selected solo exhibitions include: Song at the Renaissance Society, Chicago (2017); Public Process, Sculpture Center, New York (2017); A Portrait, A Story, And An Ending, Kunsthalle Zürich, Switzerland (2013); Alejandro Cesarco, MuMOK, Vienna (2012); Present Memory, Tate Modern, London (2010). He represented Uruguay at the 54th Venice Biennial (2011). Cesarco has also curated exhibitions in the U.S., Uruguay, Argentina and was one of the curators of the 33rd Bienal de São Paulo (2018). He is the director of the non-profit arts organisation, Art Resources Transfer.
Andris Vītoliņš exhibition at Meno Niša gallery
15 February till March 8

Andris Vītoliņš. Order Making Tools, 2018
Andris Vītoliņš exhibition "Take a Deep Breath for a New Beginning" is made up of two parts, first being the Salon of Order Making Tools, other - the Hall of Levitating Structures. Scenography of the exhibition is opposing the ancient patriarchal era, when the paintings were displayed to the viewer in an established order. Concurrently, it opposes an already retiring era of contemporary art, as it is made up of paintings created in classical manner with a strictly readable structure in them.
Andris Vītoliņš (1975) is a Latvian artist. Studied and now working in Art Academy of Latvia as a Professor in the painting department, Pro-rector in Creative and Administrative work of the Art Academy of Latvia. His works are to be found in various art collections, such as HangART-7, Red Bull collection, Museum of Modern Art Baku, Latvian State Museum of Arts, Matti Milius' Art collection, etc.
Future exhibition at MO Museum
8 March till 14 April
Works of six contemporary artists in the show of the Small Hall tell individual stories. Schlagbaum (English: Boom Barrier) by A. Polukord creates an obstacle for a passer-by, the vision of Vilnius city by L. Parulskis is unveiled in a fast food café, whereas the photographs of G. M. Kinčinaitytė invite you to wander between the canyons of Mars and Earth. Special interactive objects have been created for each artwork. After touching, lifting or activating them in different ways, the visitor will hear the artists' stories about the starting points in their creative processes.
A trip through artworks and interactive objects is like a small adventure, a game, which gives you an opportunity to discover differences or similarities between personal interpretations and artists' original thoughts. Themes developed in the works reveal the distances between personal, social and cultural experiences of the creators.