Baltic exhibition guide: April
Baltic exhibition guide: April

01/04/2019
April
As the warm spring is slowly approaching the Baltic states, we invite you to take an artistic tour through this region! Arterritory.com offers its readers an insight into the current exhibitions of Tallinn, Vilnius and Riga.
TALLINN
A Room of One's Own. Feminist Questions about Architecture
26 January until 19 May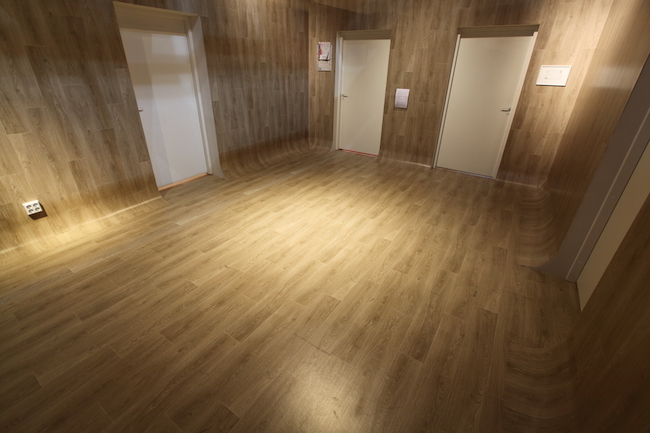 Photo: Reio Avaste
Already from 26 January Museum of Estonian Architecture presents its visitors a poetic and analytical exhibition at the same time. "A Room of One's Own. Feminist Questions about Architecture" is an observation of feminist activities and relationships with architecture in Estonia.
Almost 90 years ago, English modernist writer and influential feminist Virginia Woolf wrote that the two prerequisites for a woman's self-fulfillment are a room and money. Despite that, Estonian architecture still seems to be completely unaware of the fact that space can also be a feminist issue. The main purpose of "A Room of One's Own. Feminist Questions about Architecture" is to provide a critical and polemical tool, a means to spark discussion rather than a place for presenting ready-made research results or pronouncing final judgements. The exhibition suggests nine questions about the specifics of architectural education and the development of the canon of Estonian architecture, as well as the stereotypes related to the work of women architects and other topics.
The curator of the exhibition is Ingrid Ruudi.
Sots Art and Fashion in KUMU
15 March until 8 August

Marit Illison, Smock (2018). Photo: Hooligan Hamlet
"Can the Soviet era provide inspiration for art and fashion? Could the Eastern Europe that emerged after the fall of the Iron Curtain have its own post-Soviet chic?" these are issues that curator Liisa Kaljula is raising with the exhibition "Sots Art and Fashion: Conceptual Clothes from Eastern Europe" , which is on view at KUMU Art Museum of Estonia from 15 March until 8 August.
The exhibition brings together two original art movements that emerged in the Baltic and Eastern Europe region: Sots Art of the 1970s and 80s, and the post-Soviet aesthetic of the 2010s in fashion. Both tendencies have been inspired from the symbols and histories of local cultures, and are quite bright witnesses of contemporary life.
The artists represented at the "Sots Art and Fashion" include Katya Filippova, Komar and Melamid, Marit Ilison, Leonhard Lapin, Gosha Ostretsov, and many others.
The exhibition includes works from various private collections, and from the collections of the Estonian History Museum, the Art Museum of Estonia, the Estonian Artists' Association, Mart Erik's collection, and the Fotomuseum Winterthur.
Pirosmani: The World of a Lonely Genius
23 March until 11 August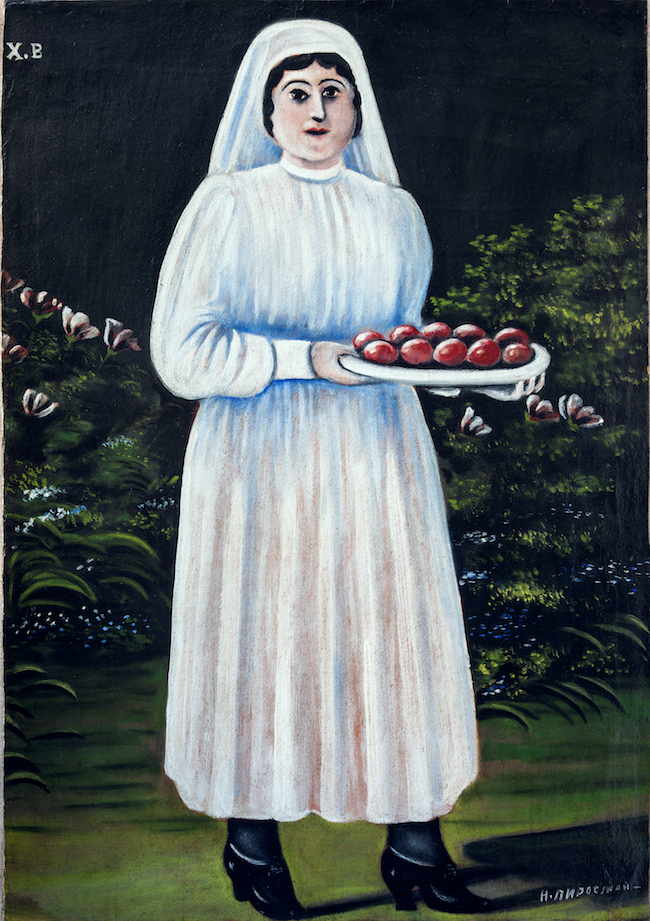 Niko Pirosmani. Woman with Easter Eggs. 1916–1918. Oil on cardboard. Niko Pirosmanashvili State Museum of the National Agency for the Cultural Heritage Preservation of Georgia
From 23 March until 11 August, the Mikkeli Muuseum of Estonia will present the exhibition "Pirosmani: The World of a Lonely Genius", consisting of paintings by the famous Georgian artist Niko Pirosmanashvili (1862-1918). Pirosmani is one of the best known Georgian artists of the 20th century and is highly regarded as having been an important influence to early avant-garde art and a representative of naïve art.
The exhibition shows all of the topics significant to Pirosmani's works – starting from city life and portraits of his contemporaries, to epic country life, animals, and still life paintings. Niko Pirosmanashvili is especially remarkable because of his style and painting technique, as well as the sincerity that hides behind each of his artworks.
Pirosmani's works have been exhibited together with Russian avant-garde artists in Moscow and Paris, and he is also known to have influenced such artists as Pablo Picasso, Kazimir Malevich, Mark Chagall and Tadao Ando.
Curator: Aleksandra Murre.
Gustav Klucis: Russian Avant-Garde Art
12 April until 25 August

Gustav Klucis. On the Front of Socialist Construction. Design for poster. 1927–1928. Latvian National Museum of Art
From 12 April until 25 August, a grand retrospective of the Latvian-born Russian avant-garde artist Gustav Klucis will be on view at KUMU Art Museum of Estonia.
The exhibition "Gustav Klucis: Russian Avant-garde Art in the 1920s – 1930s", curated by Iveta Derkusova from the Latvian National Museum of Art, will overlook the oeuvre of one of the greatest Russian Constructivist and agitprop artists. The show will include some of the most experimental pieces of Klucis' work, as well as graphic designs and photo montages made in the service of both propaganda and the avant-garde.
Gustav Klucis was born near Rūjiena in 1895, and studied under Kazimir Malevich and Antoine Pevsner. He worked in a variety of experimental media and often used propaganda as a background for his own ideas. During the 1920s and 1930s, Klucis produced various photo montages in cooperation with his wife, Valentina Kulagina.
Gustav Klucis is known as one of the four artists that invented the sub-genre of political photo montage (together with El Lissitzky, Hannah Hoch and Raoul Hausmann). His works are included in many significant art collections around the world.
Spring exhibition at Tallinn Art Hall
27 April until 9 June
Ever since the 1930s, when the Tallinn Art Hall first opened, there's been a tradition of annual survey exhibitions usually held in the spring or autumn. Over time, the locations, organisers and participating artists have changed, yet the need for these thematic group exhibitions hasn't lessened. The annual exhibition of the Estonian Artists' Association has been held regularly since 2000, and since 2011 it has been called the "Spring exhibition".
Vano Allsalu, the Vice-President of the Estonian Artists' Association, has said that this group show is: "A manifestation of diversity and a place where the artists' egos, spiritual attitudes and visual styles meet." The artworks featured in the "Spring exhibition" have been selected by a professional jury.
This year, the 19th annual show will take place from 27 April until 9 June at Tallinn Art Hall, City Gallery, and Art Hall Gallery.
RIGA
Two exhibitions at Careva gallery
15 March until 13 April and 18 May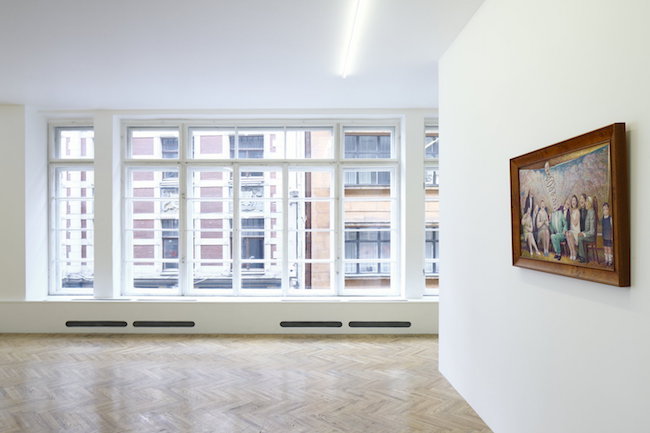 On 15 March Careva gallery (formerly known as careva contemporary) opened two exhibitions in a new location on Kaļķu iela 24 in Riga. The solo show "Plague", by Anna Salmane, is on view until 13 April, while the gallery's first-ever group exhibition, "Games that people play", will be open until 18 May.
"Plague" by Anna Salmane is a story about the town of Hamelin in Germany, which is where 130 children where lost on June 26 in 1284. The tale later became known as "The Pied Piper", and tells of a rat catcher that employed a flute to get rid of rats, and after receiving no payment, he lured the children of the town into a cave and the children were never seen again.
Anna Salmane is a Latvian artist who works with installation, photography and video. In 2007 she received her Master of Philosophy from the University of Latvia, and in 2014 a Bachelor of Fine Arts from Goldsmiths College, University of London. In 2017, the artwork "Song", by Anna Salmane and Krišs Salmanis in collaboration with Kristaps Pētersons, was awarded the Latvian contemporary art award the Purvītis Prize.
The exhibition "Games that people play" is the first group show to be held at the gallery. It has been made for people, it is about people, and it coincides with the title of the 1964 psychology book by Eric Berne in which the author describes and analyses various human games and manipulations that are rather common behavioural patterns.
The exhibition includes artworks by Auseklis Baušķenieks, Kaspars Zariņš, NataliaLL, Inga Meldere, Alvīne Bautra, and Gery Georgieve.
Purvītis Prize 2019 and "Chair as an Artwork" at the Latvian National Museum of Art
23 March until 9 June, and 10 April until 12 May
From 23 March untill 9 June, the sixth Purvītis Prize exhibition will be on view at the Great hall of the main building of the Latvian National Museum of Art in Riga. The exhibition includes works by eight nominees for the award: Ēriks Apaļais for his series "Diaries from Earth" (2014-18) as presented at RIBOCA1; Ieva Epnere for her solo exhibition "Sea of Living Memories" at the kim? Contemporary Art Centre; Kristaps Epners for the artwork "Forget Me Not" as presented at RIBOCA1; Gints Gabrāns for his augmented reality project "SAN" (2017-18); Roman Korovin for his solo show "Satori of Master Wu and Master Lee" at the exhibition hall Arsenāls; Paulis Liepa for the exhibition "The Cabinet of Beautiful Arts" at the Mūkusala Art Salon; Rasa and Raitis Šmits for the exhibition "Fluctuations of Microworlds" at the RIXC Centre for New Media Culture; and the text group "Orbīta" for the exhibition "Where Do Poems Come From?" at the floating art gallery Noass. The curator of the exhibition is Daiga Rudzāte.
The winner of the 2019 Purvītis Prize will be announced on 12 April at a special ceremony at the Zuzeum Art Centre. For the first time, an award for lifetime achievement in art will also be presented, with this year's recipient being the painter Džemma Skulme.
The Purvītis Prize is the most prestigious and substantial visual art award in Latvia. It was founded in 2008 and was launched to promote development of the visual arts and to acknowledge the best achievements in Latvian professional visual arts.
From 10 April until 12 May, the LNMA will also host a satellite project of the Purvītis Prize – a part of art collector Galila Barzilaï-Hollander's (Belgium) collection of chairs created by artists. The chair seems seems to be a simple and understandable object that is used by everyone and every day, but often times it has found its way into the imagination of artists. "All of the chairs in my collection are masterpieces; each is unique, with its own personal story," says Galila Barzilaï-Hollander. She is also one of the international jury members of the Purvītis Prize 2019.
Dainius Trumpis at Riga Art Space
28 March until 21 April
The solo show "Anticipation" by Lithuanian artist Dainius Trumpis will be on view at the Intro Hall of Riga Art Space from 28 March until 21 April. The exhibition is curated by Liena Bondare.
Dainius Trumpis is one of the most recognised contemporary and conceptual artists in the Baltic states. His oeuvre can't be characterised as "painting" in its traditional sense, but rather as an interest about space as a part of an "image". Each element, colour area or piece of cloth is placed in a joint composition so that it looks like a stroke or a streak. The main topics of Dainius Trumpis' interest are "a state of extreme reality; the resistance of nature and emptiness to the human-controlled chaos; the sense of repetition; and the emotional state of close reality."
Dainius Trumpis has studied painting at Šiauliu University and at the University of Helsinki. He is the head of the Šiauliu Division of the Lithuanian Artists Union, and has participated in more than 50 group shows in Lithuania and abroad. Since 2005, Dainius Trumpis has had 25 solo shows.
Riga Photography Biennial
4 April until 28 June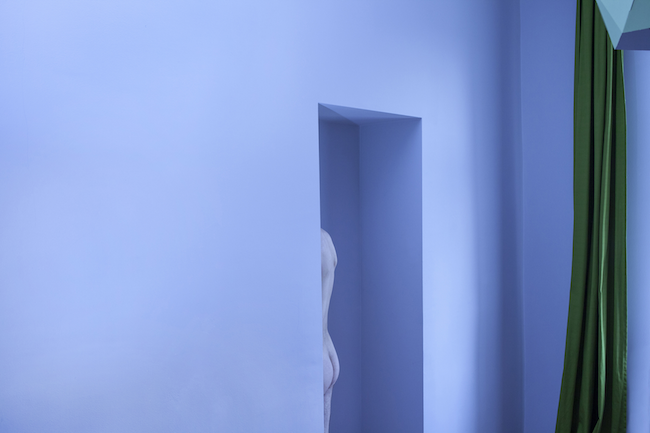 Entitled "Next", the 2019 Riga Photography Biennial will take place from 4 April until 28 June in Riga and Berlin.
The biennial's Off-year Programme mainly focuses on young and upcoming artists from the Baltics, the Nordic countries and Europe who are still in the early stages of their careers. This year the programme includes the exhibition "(UN)NATURAL BODIES" by Polish Young Artists, held at the Latvian Museum of Photography and supplemented by the lecture "Our Bodies in Photography" by critic and curator Adam Mazur; an international symposium titled "Manifestations of (In)Activism in the Latest Baltic Art"; the solo show "Blood Pressure" in Berlin by Latvian artist Diāna Tamane; the solo exhibition "P" by Viktorija Eksta at the Alma gallery in Riga; and an exciting educational programme.
For the first time ever, the Riga Photography Biennial has also organised a portfolio review inviting emerging and professional photographers to meet with industry representatives to gain feedback and guidance for further developing their practice.
To emphasise the focus of this year's programme, the title "NEXT" has been chosen to embody the idea of movement.
Into the Space of Magdalena Abakanowicz
11 April until 30 June

Into the Space of Magdalena Abakanowicz
From 11 April till 30 June, the Museum of Decorative Arts and Design in Riga will host an exhibition of textile and sculpture works by the renowned Polish artist Magdalena Abakanowicz (1930 – 2017). "Into the Space of Magdalena Abakanowicz. Textile and Sculpture" will represent more than 20 objects, from spatial textile abakans to sculptures, figural compositions, and two films about Magdalena Abakanowicz.
The international career of the artist began in 1965 at the Biennale in São Paulo, where she achieved fame with her so-called abakans and spatial figurative compositions, which were made of textiles, wood, stone or bronze. Magdalena Abakanowicz explained her approach as follows: "I started to weave [...] to create a real art from weaving, to give the fabric a different meaning, sparing all habits and experiences. I wanted to remove weaving from any application, create an independent object. I have succeeded in doing this: completely useless, neutral abakans, not fabric..."
Abakanowicz represented Poland in the Venice Biennale of Art in 1990. Among others, she is the author of large sculptural projects around the world. She took part in the famous, historic exhibition "WACK! Art and the Feminist Revolution" at the Museum of Contemporary Art in Los Angeles (2007), as well as at several dozen other exhibitions at museums and galleries in Europe, North America, Asia and Australia. She twice won the prize for sculpture awarded by the Sculpture Centre in New York.
Curators of the exhibition: Eulalia Domanowska and Irēna Bužinska.
VILNIUS
Chinese art at the National Gallery of Art
15 March until 4 May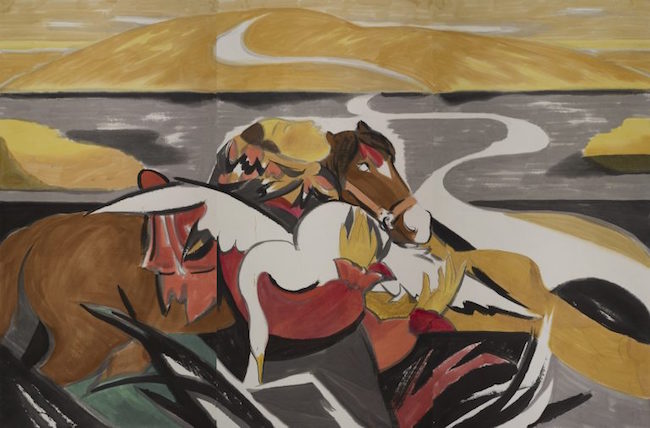 Liu Jude, Highland Road (2017). Collection of the National Art Museum of China
From 15 March until 4 May, the exhibition "Chinese Xieyi. Selected Works from the National Art Museum of China" is on view at the National Gallery of Art in Vilnius. The exhibition presents 73 artworks by 28 Chinese artists.
The core of this exhibition comprises artworks that represent the collection of the National Art Museum of China, supplemented with artworks by Chinese traditional ink artists, oil painters, graphic artists, sculptors and watercolour painters. The phrase included in the exhibition title – Xieyi – is an important feature of Chinese art that combines a distinctive freehand brushwork with the ideas of contemporary art and modern life. Since ancient times, Chinese art has never copied reality and instead has focused on the inner experiences of the artist, and Xieyi is an excellent expression of this approach, founded on intuition and individual interpretation.
Loose ends. Artistic Communication by Mail
22 March until 19 May

New Year's greeting card by Ričardas Povilas Vaitiekūnas (1986).
"Loose ends" is an exhibition about artistic communication by mail, about the sender and the receiver, his or her absence, about the thought that you start and not always finish, about speculative and playful resistance against systems, about the rudiments of social networks in the Soviet times, and finally, about colliding comets. The exhibition, curated by Danutė Gambickaitė, Aistė Kisarauskaitė and Ieva Pleikienė, is on view from 22 march until 19 May at the National Gallery of Art in Vilnius.
Mail is one of the most important means of communication and can also be used for artistic creations. The exhibition also reflects on the relationships of Lithuanian artists with collectors of various countries, organisers of international exhibitions, and Lithuanians in exile. In the 1970s, Lithuanian artists became involved in the Fluxus movement. Later, mail art branched out into various movements and embraced various experimental practices.
The exhibition includes artworks by Valentinas Ajauskas, Eikantas Pakalka, Fluxus, Antanina Ramunė and Norbertas Vėlius, Aurelija Manytė, Povilas Vaitiekūnas, Mikalojus Povilas Vilutis, and many others.
Edith Karlson at (AV17) Gallery
27 March until 27 April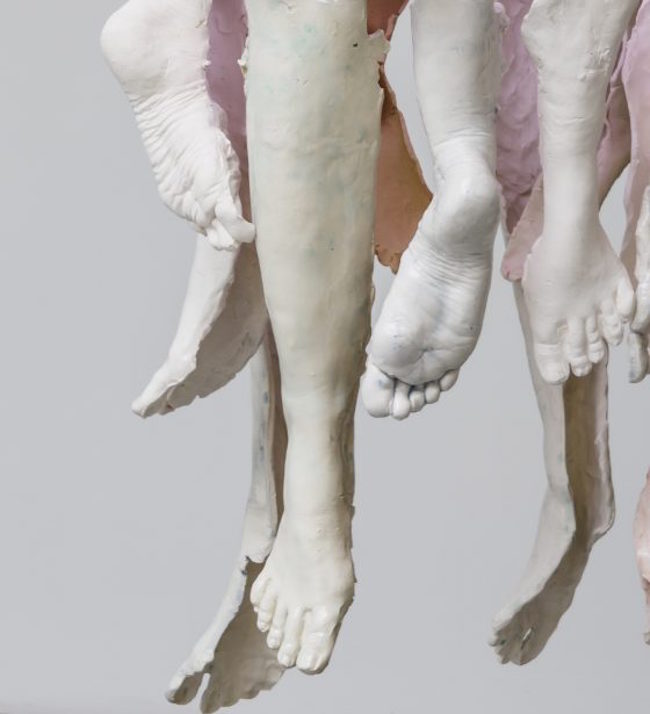 Edith Karlson, Doomsday (2017)
From 27 March till 27 April. (AV17) Gallery will host the solo exhibition "Four Letter World" by Estonian artist Edith Karlson.
By merging classical and nontraditional, mundane materials, Edith Karlson reveals a strange, fantastic and inevitable world in which a Person confronts a Myth. The motifs of snakes and naked bodies remind of Sodom and Gomorrah, while allegories of power – of discipline, morality and human possibilities. However, eventually everything merges into one dark mythological fairy-tale, and only presumptive reflections of reality can be seen in its fictional layers. Karlson's work opens a state of confusion which sometimes leads to human primitivism, yet at the same time, allows one to existentially review both her work and one's own existence.
In 2006 Edith Karlson was awarded the Young Artist of the Year Award, and in 2015, the People's Choice Award of the Köler Prize. She has had multiple solo and group exhibitions in Estonia and abroad. In 2011 she collaborated with British artist Sarah Lucas and the art collective Gelitin on the exhibition "Lucas-Bosch-Gelatine" in Kunsthalle Krems, Austria. In 2015 she assisted Sarah Lucas in the production of Lucas' solo exhibition "I Scream Daddio" for the British Pavilion at the Venice Biennale.
Adomas Danusevičius. Mud and Flowers
4 April until 10 May
From 4 April until 10 May, Vartai gallery will host the exhibition "Mud and Flowers" by the new-generation painter Adomas Danusevičius. For over a decade, Danusevičius has occupied a special place on the Lithuanian art scene because of the sexual identity issues he addresses and the queer aesthetic that is central to his work.
Lately, Adomas Danusevičius has marked a new stage in his creative career. In the new pieces, painting has become an alchemical process, while the trans-cultural, trans-historical images of masculinity and femininity allude to the cyclic and hybrid nature of life, and the energy that is constantly circulating between matter and form.
Adomas Danusevičius actively participates in group exhibitions in Lithuania and abroad. In 2018–2019 he received the Bavarian State Ministry award for Education, Culture, Science and Arts. His works from the debut series Carmine, as well as from the series Camouflage Masculinity and Campish Dazzle, were featured in the important publication Queer!?: Visual Arts in Europe (edited by Evert van Straaten, Anton Anthonissen, 2019).
Geneva Sills "Cones & Eggs"
16 April until 18 May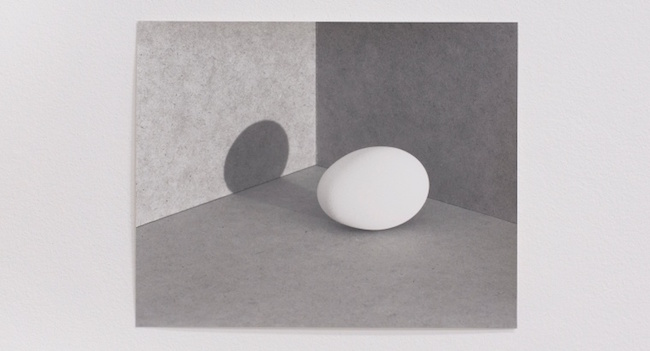 From 16 April until 18 May, the exhibition "Cones & Eggs" by Geneva Sills will be on view at Vilnius Photography Gallery.
The artist's black and white prints attempt to bridge the gap between photography and painting through the shared history of still life and the materiality of the photographic medium. The prints are exhibited bare so that the paper and texture of the images themselves can be appreciated. In her works, Geneva Sills has expanded upon a single image by 20th-century commercial photographer Paul Outerbridge. While colour photography signaled "commercial" and black-and-white signaled "art," Outerbridge believed that the sharp and vividly hued prints that attracted the public in advertising could be just as appealing in traditional art genres such as portraiture, still life, or studies of the nude.
Geneva Sills lives and works in Glasgow. She graduated from the Glasgow School of Art in 2012. Cones & Eggs is her solo exhibition that first was exhibited at the Centre of Contemporary Art in Glasgow in 2016.