A platform for all kinds of experimental publishing activities
Q&A with Vilma Samulionytė and Gytis Skudzinskas from NoRoutine Books
At the end of July saw the launch of the book "Vibrations of a Material Universe. Thirst for Gold" by Kristīne Krauze Slucka, who is this year's winner of the NoRoutine Books Prize, a component of the Riga Photography Biennial – NEXT.
"Vibrations of a Material Universe. Thirst for Gold" by Kristīne Krauze Slucka. Photos: Gytis Skudzinskas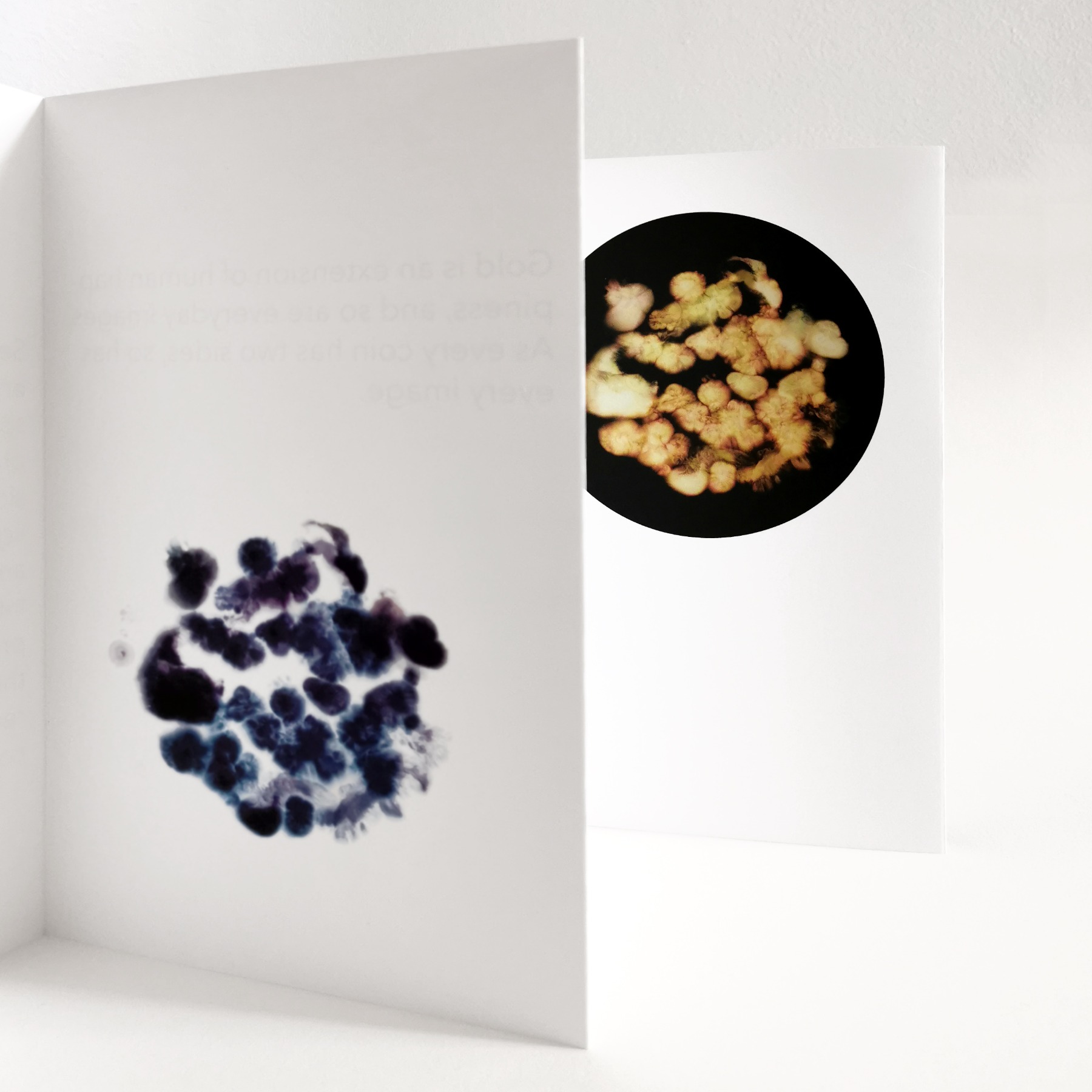 This is the fourth year of this collaboration between the Riga Photography Biennial - NEXT and the Lithuanian publishing house NoRoutine Books. Every year the publishers select one artist from the contenders for the "Seeking the Latest in Photography!" award, and give them the opportunity to publish their own photobook. Thus far, NoRoutine books has selected four artists from Latvia – Ieva Balode in 2016, Madara Gritāne in 2018, Reinis Lismanis in 2019, and Kristīne Krauze Slucka this year. Arterritory had a short conversation with Vilma Samulionytė and Gytis Skudzinskas from NoRoutine Books about the competition and what it means to run a publishing house dedicated to experimental photobooks.
"Vibrations of a Material Universe. Thirst for Gold" by Kristīne Krauze Slucka. Photo: Gytis Skudzinskas
How and when did you start NoRoutine Books?
We started in 2014, but at the time we weren't called "NoRoutine Books", nor were we publishers. Gytis had shown an exhibition of his series "Album", and the exhibition had a catalogue. The exhibition consisted of photographs that he had bought in secondhand markets, and in the way they were shown, all you could read was the back of the photograph – a dedication, a date or a place, etc. From those images, he also made collages and put them in museum boxes.
During the exhibition, we thought it would be nice to make the catalogue in a way that would make it a continuation of the exposition. We put a lot of energy into the design of the catalogue – we did it with Japanese binding, double-folded pages, lots of hand-work, an original picture was attached to the cover, laser cutting, it was hand-bound, and so on.
We got lucky with that first publication in the book competition in Arles – we were shortlisted. We were super happy, and since we were so engaged in the bookmaking process, we thought that maybe that is the way to go. Then we kind of "christened" our label as "NoRoutine Books", because previously, together with my sister, we had created an organisation that produced different cultural events and we had called it "Nerutina". So that is how it came into being in 2014, as a platform for all kinds of experimental publishing activities. We work really closely with the artists on the form of the book and the way it is connected to its content.
Showcase gallery Vitrina, London, 2018. Photo: Gytis Skudzinskas

What is the focus of the publishing house?
The focus is art projects that we see as having the potential to be published, but not in a traditional way. We are interested in how we can expand the project and expand publishing practices. The project can be visual poetry, it can be contemporary art, but we have to see the way that it could be developed into a book, thereby giving it a new form.
This is also what happened with the four Latvian books we've published. I mean, you see the whole selection for the competition – there are a lot of good projects, but some of them simply cannot feasibly become a book, or, they would just be a "normal" book.
NoRoutine Books at the National Art Gallery, 2019 Vilnius. Photo: Gytis Skudzinskas
You've been working with the Riga Photography Biennial for four years now, and as part of the event you have established the "NoRoutine Books Prize". Where did the idea for the prize come from, and what has been your experience in organising it?
Actually, the Riga Photography Biennial came to us. Inga [Brūvere – program director of the Riga Photography Biennial] came to Vilnius when she was organising the first edition of the Biennial, and she asked us to be a part of the committee for the award titled "Seeking the Latest in Photography". At the time, we already had a few books published, and we thought it would be interesting to work with foreign artists as well. In Lithuania, we know the artists and we know who's books we could publish, so we go to them and ask and, of course, they are really happy. So, we thought, ok, what would it be like to work with a foreign artist, and then Inga came with the offer to be on the committee for the competition. We said – Inga, let us make a book for one artist, but we want to choose from all the applications, so who we choose for the book doesn't necessarily have to also be the winner of the "Seeking the Latest in Photography" prize.
When you're in a committee with other people, you have to compromise a lot because, of course, you may like something that someone else really doesn't like. We were very happy that we could choose our artist and not have to argue with anybody. The first one we chose was Ieva Balode with "Invisible Images". A super, super publication – it's totally sold out now!
It was a very good collaboration, and since we thought we were very lucky with the first one, why not make a second one? The next was Madara Gritāne, then Reinis Lismanis, and this year it's Kristīne Krauze Slucka.
We look at the work from an angle of how we would publish the work. The works that have been chosen as finalists look good as an exhibition or as a story, but for us, linear storytelling is not always very interesting. It's more interesting when a person uses photographic matter to express the idea that they would like to talk about.
"Vibrations of a Material Universe. Thirst for Gold" by Kristīne Krauze Slucka. Photo: Gytis Skudzinskas
Can you speak a bit about the new book you just published, "Vibrations of the Material Universe. Thirst for Gold" by Kristīne Krauze Slucka? Why did you choose her work for the prize, and what would you say is special about the resulting publication?
She uses photographic materials, but makes very abstract work; it makes you think about astronomy, the stars, the sky, the microscopic world that you can see only through a magnifying glass. When you read the text, it talks a lot about ecology and where we are going, and then you start to think about global problems. It's not this didactic way of saying, Oh, people, you should not pollute our planet, but instead, the message calmly makes its way into your brain, and I like it. I like that the work doesn't force images of cruelty, but slowly makes you think about what is important.
We chose to make the book as a leporello. This one was sequenced partly by Kristīne, and partly by us, and Gytis made this dynamic floating of images. When we chose to make it as a leporello, we were thinking about postcard sets – photographic souvenirs that in the past would be made about, for example, a city; those were also leporellos, but you could rip off the postcards. Since she's kind of talking about things that aren't reversible, and analogue photography is also slowly disappearing, it's a little bit of a souvenir. When you get to the text, it goes a little bit backwards, because you have to unfold everything to read the text from the beginning.
Kristīne wanted the cover to have a tactile feeling, so we chose this plastic-rubber paper called "Plike". The writing is silk-screened on the cover, which we collaborated on with another studio, and then in the end we had a block and the covers, and we glued everything together in our studio. The books are always finalised by us.
NoRoutine Books at the Vilnius Art fair, 2018. Photo: Gytis Skudzinskas
What other projects are you working on now, and what are your future plans?
When the first quarantine started, we thought that people would be stuck to their screens and bored, so we thought that we would make an open call. [In this case], it didn't matter where the author was from, and we announced "Empty Pages". We ran the announcement through the Printed Matter website – they were very kind to advertise this open call. We narrowed it down to three artists in the final, but we couldn't decide who to choose. So, we sat tight and reviewed our finances, and now slowly we are publishing all three of them. Two are already done. Now we have to publish the third book from the contest, which is by Barbara Pearsall. We have all the material, we just have to start sequencing everything.
And then we are working on another small publication by Valentyn Odnoviun – he's an Ukrainian author who lives in Lithuania and identifies himself as a Lithuanian artist. We were also thinking about a collaboration with a Canadian author, but Covid is really messing with our plans, so we don't know if that will happen. We invited him to Lithuania, but with the borders closed, it hasn't been possible. It would be nice to go to a book fair because the books are piling up, and, I don't know – we need another storage space, I guess.
Photo: Gytis Skudzinskas