It's all about trust
What was it like to open your own gallery in the middle of 2021? An interview with Polish art gallerist Gunia Nowik
What was it like to open your own gallery in the middle of 2021, when world is full or uncertainly and instability? How do you believe the gallery should look and operate nowadays? We decided to discuss it with Gunia Nowik, who opened her gallery in Warsaw at the very beginning of July this year.
A beautiful and energetic woman, Gunia Nowik is originally from Warsaw, but for a few years now, she has lived between Berlin and Warsaw, where she just opened the Gunia Nowik Gallery, located in the city center. She is not a newcomer to the art world; she was previously co-running the Pola Magnetyczne (Magnetic Fields) gallery, which opened as an exhibition space in a private apartment back in 2012. After this experience, in 2021, she decided to take her own path.
Gunia Nowik is surprisingly sociable. She is an art historian, and she also has a real flair for art, which is relevant not in the sense of trending topics, but in the sense of a deep and emotional awareness of our reality. She works with artists more or less of her generation, who include Agata Bogacka, Jakub Gliński, Katarzyna Korzeniecka, Anna Orłowska, and Iza Tarasiewicz. However, she represents Teresa Gierzyńska (born in 1947), whose oeuvre is dedicated to the exploration and understanding of female identity, and the estate of Krzysztof Jung (1951–1998), an important figure in the context of the LGBTQ+ situation in Poland.
Full Circle Ahead!, a solo exhibition by Iza Tarasiewicz. Exhibition view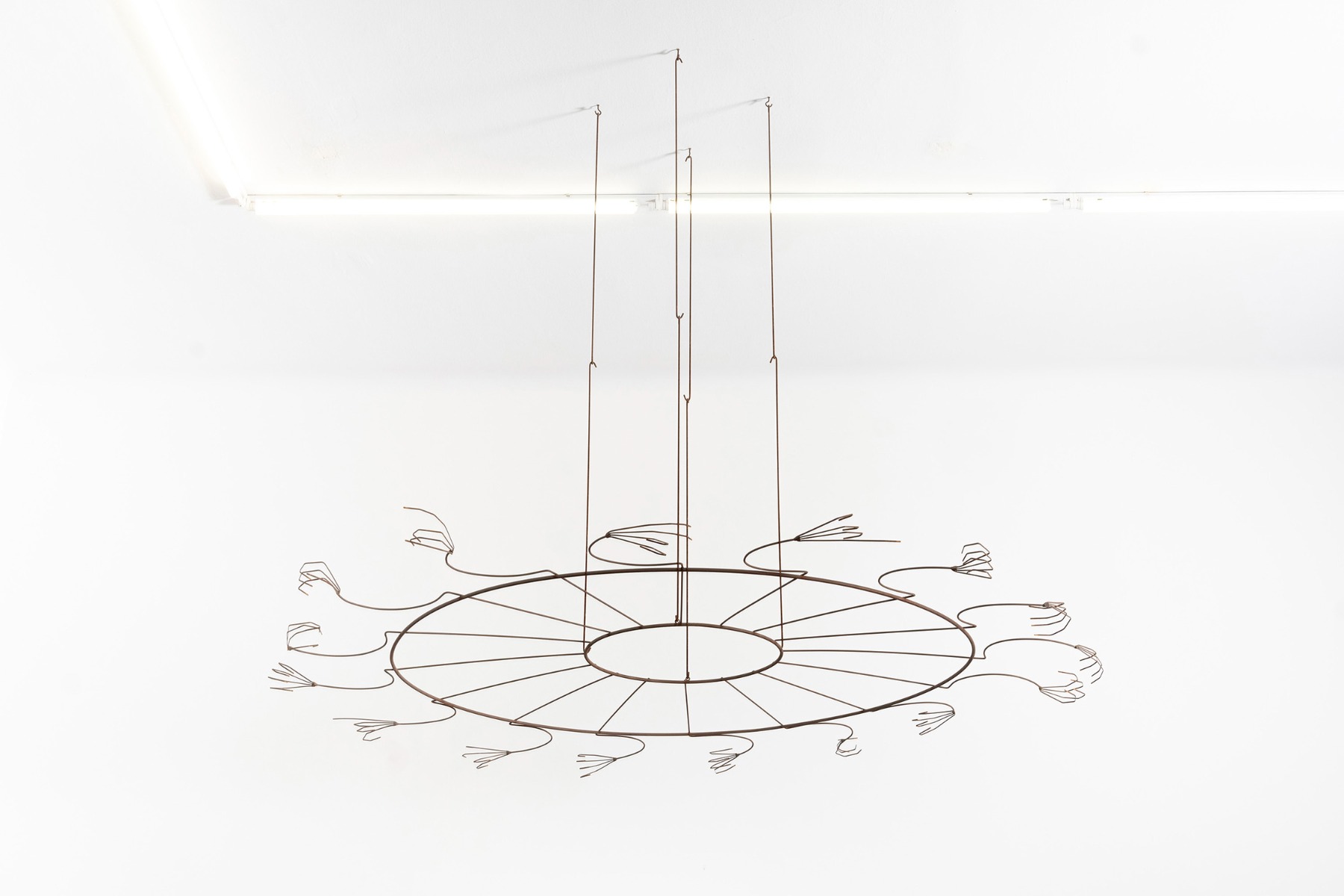 Gunia Nowik Gallery opened in July with Full Circle Ahead!, a solo exhibition by Iza Tarasiewicz (born in 1981). According to the gallery's website: "Her sculptural installations take the form of modular, flexible, mobile, and reconfigurable display systems that combine a raw and modest functionalism with formal logics found in the natural world, scientific experimentation, and graphs and diagrams... The artist gets inspiration for her work from the atomism of classical Greek philosophy and from the reality-explanations of 20th-century quantum physics and chaos-theory."
The second show at the Gunia Nowik Gallery will take place during annual Warsaw Gallery Weekend (September 30 – October 3). This will be the exhibition YOU ARE TOO CLOSE by an emerging artist Jakub Gliński, who usually creates paintings and installations intuitively, and whose actions in many fields are often a quick, subconscious reaction to the signals the artist "receives" from his surroundings.
Gunia and I met in Warsaw in 2016, and since then I have always been interested in her opinion on art projects she participates in and the developments on Warsaw's art scene. The opening of her new gallery was a good occasion to reconnect and organize a conversation; we have constantly touched on the topic of balancing a physical presence and the global "online."
Full Circle Ahead!, a solo exhibition by Iza Tarasiewicz. Exhibition view
When did you start considering a career as a gallerist? Was it your dream career or did life gradually lead you to this choice?
I never considered this would become my life path. It happened by chance, and today I can't imagine doing anything else. When I was studying art history in Switzerland, I applied for an internship at a local kunsthalle, Fri Art in Fribourg under the direction of Corinne Charpentier. It was a very important experience for me to be part of the process of creating exhibitions or producing artworks with the artists and the little Fri Art team back then. After coming back to Warsaw, I worked with the ING Bank collection which is focused on Polish contemporary art. Later on, I also started to collaborate with the Adam Mickiewicz Institute, welcoming curators from all over the world and showing them institutional and gallery shows and artists' studios in Poland. Making art exhibitions and starting a commercial gallery seemed like a soft and natural transition for me, when my former partner and I appropriated a part of his private house and turned it into an exhibition space. Running this gallery was a great experience for me: we learned everything by doing and when I look back at it from the today's perspective, some things were right, some were mistakes, but we definitely learned a lot. During those years, I slowly developed my own vision about what a gallery could look like, and at one point I had to move on by myself. A gallery is a whole complex of relationships – with artists, collectors, and institutions. Surprisingly, it is still holding on to spoken agreements, galleries do not sign contracts of "owning" their artists. Everything rests on verbal agreements, on trust. And it's great in its own way that such things still exist in 2021.
Iza Tarasewicz. Vortex. 2021. Oxidized steel, 145 x 130 x 130 cm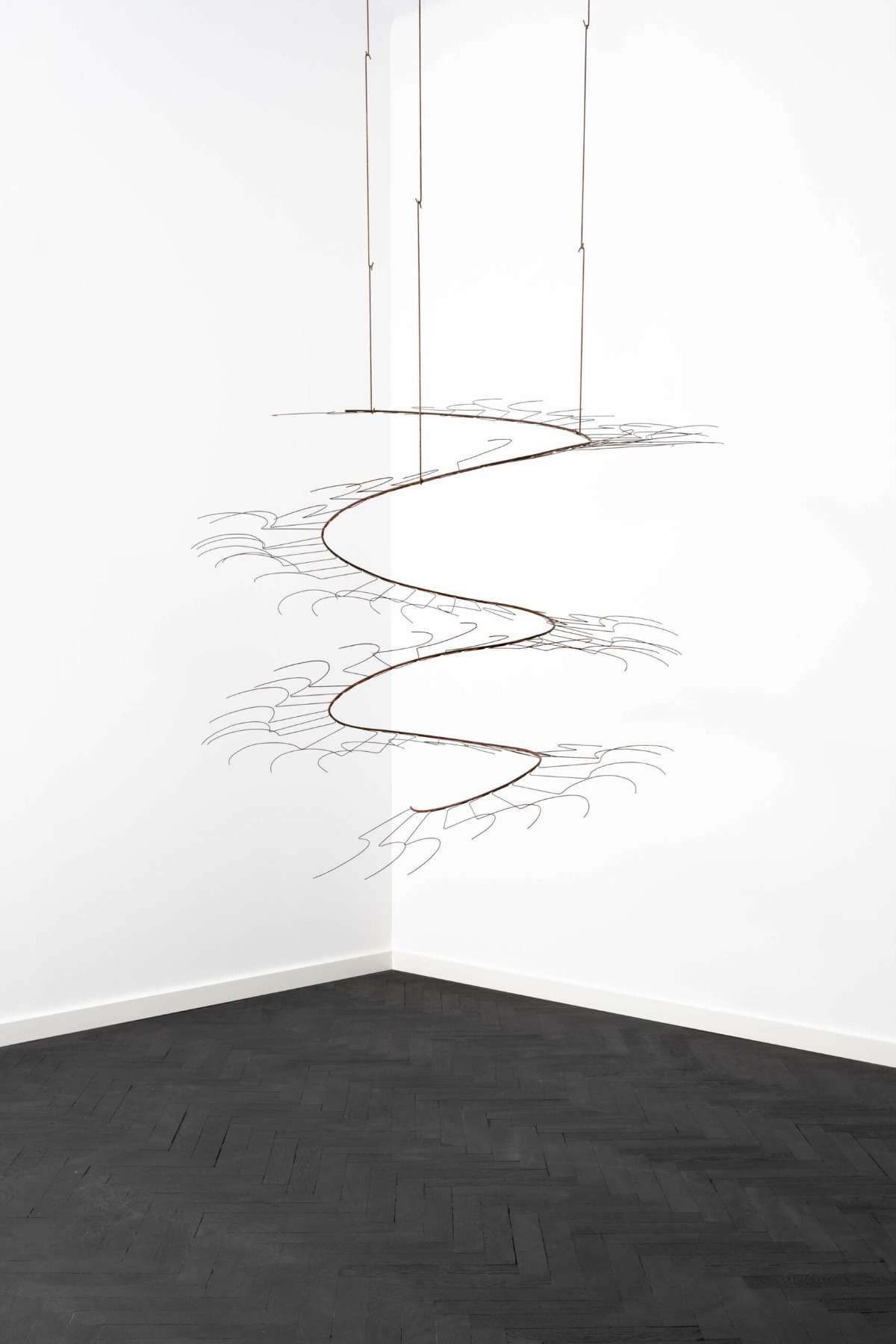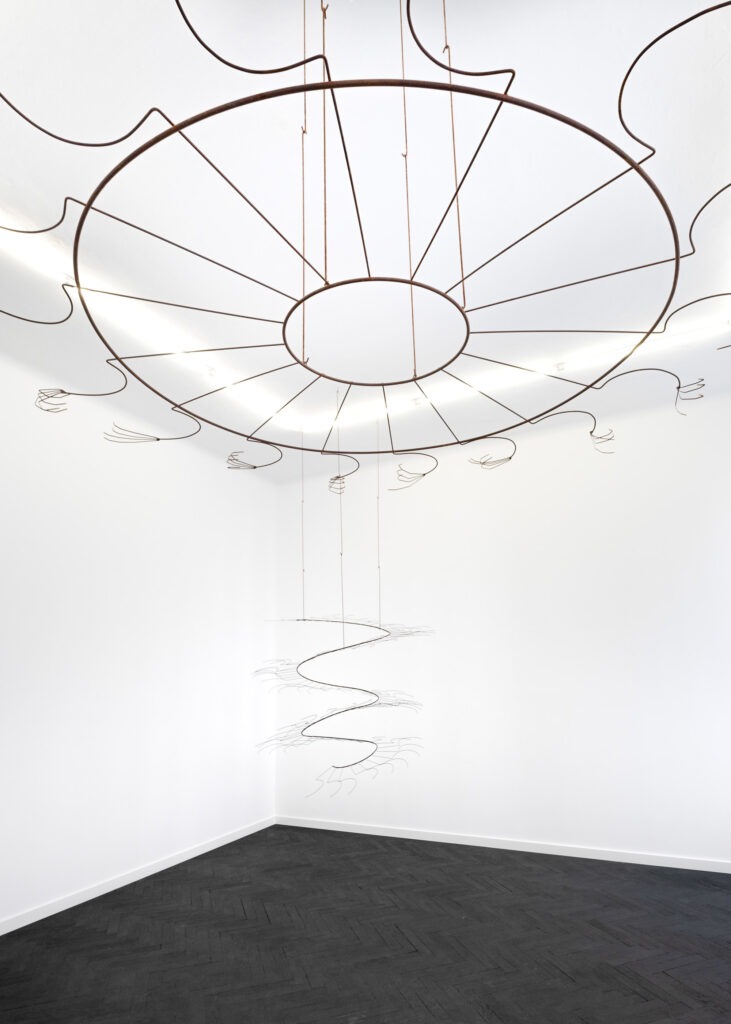 You decided to open your own gallery in this strange time, when we've just come out of a total lockdown and nobody has any clear idea about the coming future, when more and more things around are becoming "remote," "virtual," or non-physical. But you decided to open a physical space in the center of Warsaw, where one can encounter art in real life.
It is a new gallery; indeed, but it is also a continuation of all the professional relationships I developed in the previous years, and what is the most important – the relationships with the artist based on exchange of thoughts, transparency, and trust. Why did I open my own gallery now? I think that crisis situations are the ones that motivate you to make serious decisions. They help you to define exactly what is crucial in your life.
Of course, during the pandemic time, everything was happening mostly on the internet, but I believe that direct contact with art is essential, so I decided to open a physical gallery space where you can come and experience exhibitions. Of course, I also carefully thought of my online presence (website and social media). Our Instagram account is run by my colleague Kasia and presents gallery news and updates in a very consistent way. A well-organized website is also a great way to archive the gallery's activities. We have been working on all that with my colleagues and the Noviki graphic design studio for a few months. All the work discussions took place mostly online due to the fact that part of the team was in Warsaw, and I was in a lockdown in Berlin. But this is the way how we operate today and this is the good part of that. I believe that the website and our visual communication is a good reflection of the "physical" gallery.
But nevertheless, direct contact, the moment of being in communication with art, cannot be canceled. And this applies not only to spectators, but also to collectors. The purchase of an artwork is a very personal event; when choosing it, a collector should have the opportunity to be with the work, to be in the same space and time with it.
Iza Tarasewicz. Chain II. 2021. Copper, grass, 75 x 40 x 40 cm
What should an ideal gallery space look like? How did you find this new space for your gallery?
When I left the previous gallery, my Warsaw acquaintances thought that I might move to Berlin completely. And suddenly one day, a Warsaw collector, a friend of mine, called me and said that he was sure that in order to continue my work with artists, I would need a new place. And he had something to offer me. At that point, I had to go to the hospital for surgery, so I told him: "Tomorrow I am going to the hospital. And I will be given full anesthesia. When I return back to this world and if everything goes well, I will meet with you and see this place." And so, it happened. It is a late nineteenth-century grand apartment, on the first floor, with very high ceilings and wide entryways. It has three exhibition spaces, offices, a storage and a common room as a meeting space. It is located in the city center, in a picturesque Berlin-looking courtyard, and in addition – it neighbours a few other galleries, which can always create a good dynamic. When I came in, I felt that this was the space where I could provide great opportunities for the artists I am working with.
I went home and couldn't sleep all night, trying to figure out if I could afford this place. I was just scared to make accurate calculations. In the morning I got up, counted everything, thought that I was not starting from scratch, many relationships had already been developed and decided that I could make it – for all of us – for all the artists I am working with.
I visited other places (most of them empty because of the coronavirus crisis) but none of them were like the first one – the floorplan was actually drawn up to be a gallery! And I decided to go for it.
Full Circle Ahead!, a solo exhibition by Iza Tarasiewicz. Exhibition view
Do you think people are as interested in visiting exhibitions as they were two years ago before the pandemic?
I think that maybe they are even more interested! Of course, social distancing has left its mark – today we are not sure if it's convenient to shake a hand, hug, or kiss when meeting someone, and many ordinary moments became strange to us. However, the opening of the gallery happened in a wonderful moment, when the covid numbers were down and summer had just started. Visitors were experiencing the opening as a sort of "return to a normal life." The inaugural show opened over the weekend of July 3 and 4, and Monday the 5th was my birthday, so it became a three-day celebration with all the Warsaw art scene – artists, curators, collectors, and other gallerists – everybody was welcome.
Iza Tarasewicz. Boom. 2021. Copper, brass, blue patina, 115 x 70 x 3 cm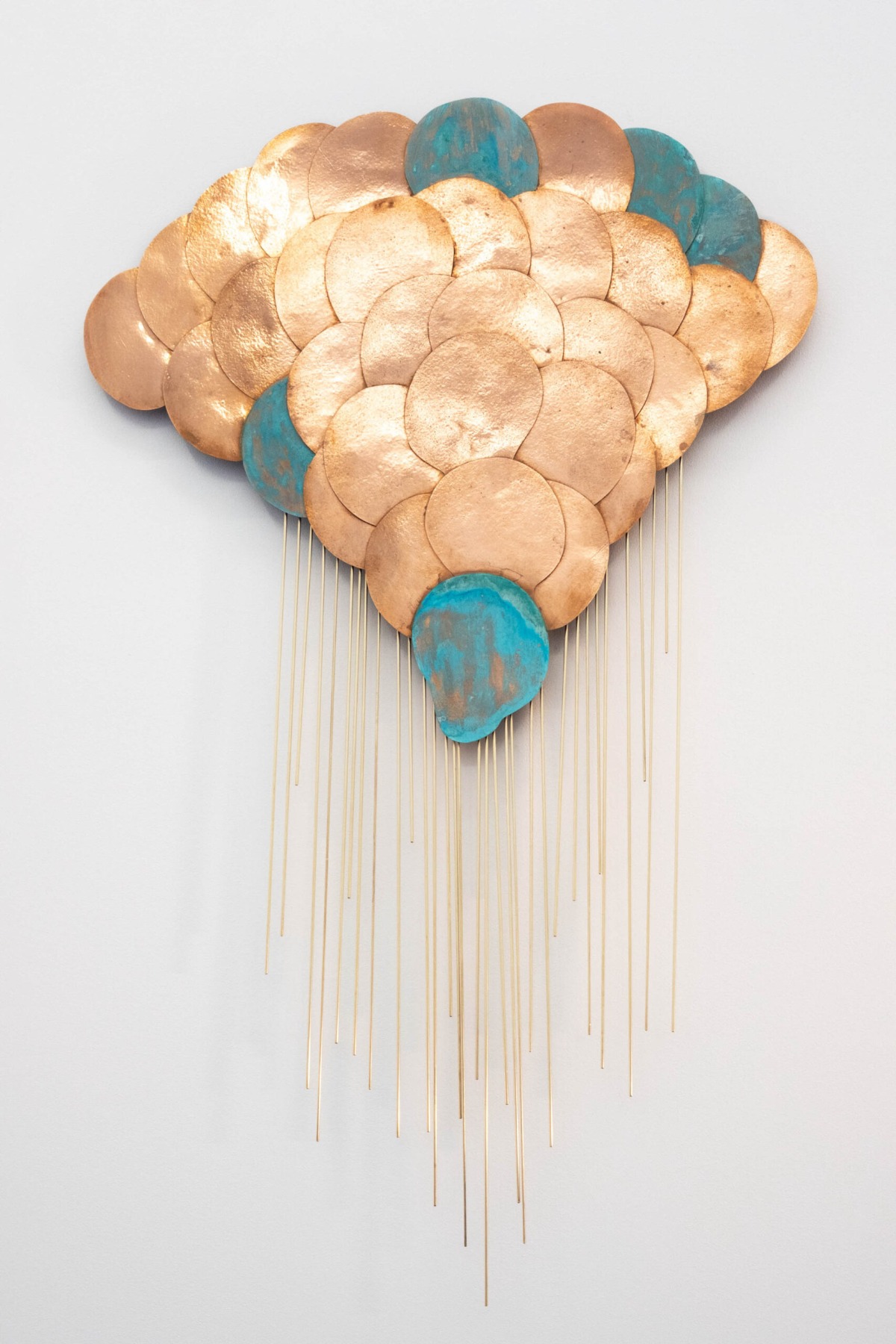 What did you decide to show as an inaugural exhibition of your gallery?
I have always been very interested in the medium of sculpture and I have worked with many sculptors before. Often, when a new gallery opens, they organize a group show to present the artists the gallery will be collaborating with. But I wanted to start with a strong female artist. Because this whole process of creating my own gallery was also a challenge that pushed me to become more emancipated and more independent. And I thought about Iza Tarasewicz.
I've been interested in her work for years. Iza lives and works in the north-east of Poland, in the Podlachia region, where she creates her works on her grand-parents farm, surrounded by farm animals and fowl, and old farming equipment. This rural context is evident in her practice and the materials she uses, and directly reflected in her sculptures, installations, and drawings. Eventually, I was able to see, between lockdowns and going through travel restrictions, The Means, The Milieu (2014/2021) at the Arsenal Gallery in Białystok, then Once Information Has Passed Into Protein (2017) at the Museum der bildenden Kunste in Leipzig, and Flowing in Waves Towards Equilibrium (2020) at Zachęta National Gallery in Warsaw. Finally, I went to the artist's studio, located in a barn, which became for me a crucial moment to better understand Iza's work. And I was so happy that after a long online conversation, she sent me a message the next day: "Let's do it!"
The exhibition Full Circle Ahead! is based on the concept of the circle, which stands for two concepts: the cycle of life and a geometric figure.
Yes, there are many different circles in this exhibition and metaphors around them, referencing parts of machines used in agriculture as well as the circle as a dance figure in the mazurka Polish folk dance, which Iza has been researching for a few years. This exhibition includes many depictions of hands and arms, evoking activities that we can do together, by collaborating with each other. The circle stands for movement and the title of the exhibition, Full Circle Ahead!, as a wordplay, presents the idea of the full circle (or the circle of life) that is still ahead of us or just opening into a new one. The spinning spheres, the shapes that taper into a human limb, refer to a collective spirit of work, and the power vested in community – albeit a power subjugated by the course of the pandemic over the recent months. It also represents the idea of what, in my opinion, the gallery itself is – a fully collaborative structure – so it is a beautiful show to open the gallery with.
Iza Tarasewicz. Chain I. 2021. Copper, blue patina, 47 x 27 x 9 cm
It seemed to me that the works presented in this exhibition are all quite abstract, but I found them also very warm and human.
Yes, they are abstract, but you can find the elements being a metaphor of the human body: with discernible heads, shoulders, four-fingered hands. And yet, these figures are more machine-like than human. At the same time, they are somehow a record of the trajectories of communication between people or energies, with the great belief of creating things together, with this sense of togetherness. They are also all handcrafted, reflecting Iza's laudatory view of physical work in an increasingly automated world.
Iza Tarasewicz. Feedback Systems. 2021. Oxidized steel, brass, 70 x 170 x 70 cm
How did the Polish art market come out of the lockdown?
The pandemic was difficult for all of us, but it also gave us the additional time we needed for reflection. Maybe it was more difficult for the new discoveries, but the art maret went through the pandeminc quite brave. However for this "moment of presence," it is still important to have the opportunity to come to the exhibition and see it with your own eyes. It also showed how we can operate and work from wherever we are, which is quite important for me, living in two countries and two cities. I think it was also a challenging time for creating new ways of presenting and experiencing, art but of course nothing can replace the "offline" encounter.
Jakub Gliński
Jakub Glinski. Escape from the Hospital
What will be the next show in your gallery?
The 11th edition of Warsaw Gallery Weekend is coming up in the end of September and we are going to open an exhibition entitled YOU ARE TOO CLOSE by an emerging artist Jakub Gliński. His oeuvre is characterized by a spontaneous manner and the use of an airbrush, intermingling with patches of color that resemble scratched walls, visual quotations from murals, pop culture, tattoos, or children's drawings. I'm really fascinated by the way Jakub works and I decided to give him the gallery space two weeks before the opening, where he will produce his new paintings on site. The starting point for the show is a keen insight into emotions and the invisible border of safety that people create around themselves, The show is created in a dialog with London-based curator Natalia Grabowska.
Gunia Nowik
Do you believe that we've all become more locally oriented in the last two years due to the series of lockdowns and strict travel restrictions?
I think being local is as important as being international. I have an amazing local audience, but I was also very happy to host many of my friends and professionals who came for the opening of the gallery from Berlin. I truly believe in local initiatives like the Warsaw Gallery Weekend which, in the previous editions, brought a wide audience not only from Poland but also from abroad, or a Friend of a Friend – an initiative based on the idea of giving exhibition spaces of the local galleries to their partners from abroad. At the same time, we are starting to travel again, hopefully not as intense as before, but I just came back from Helsinki and was very happy to experience the first Helsinki Biennale, not online, but offline!