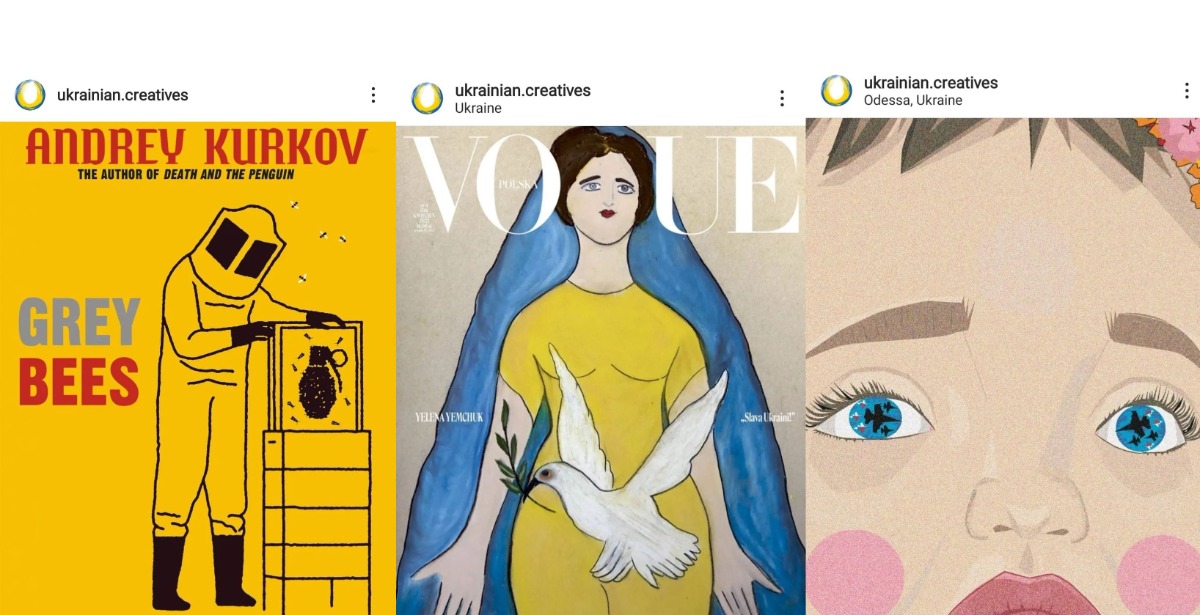 Instagram as a tool for supporting Ukraine
The newly launched Ukrainian Creatives initiative invites to follow, love and support Ukrainian creatives
Back in early February, we were lounging on the beaches of Thailand with London-based Latvian-Russian cinematographer Edgar Dubrovskiy (@edgardubrovskiy), laughing and sipping drinks as we talked about the upcoming premiere of his film The Tinder Swindler on Netflix. Having returned to London, it was just two weeks later that Edgar headed to the Ukrainian border with Romania to meet the mother of his partner Julia, who had left her home in Odessa with nothing more than a handbag. Edgar is now coordinating nine teams of volunteers to deliver warm food, clothing and medical supplies across Ukraine. He uses the social networking platform Instagram as his main tool for gathering, sharing and disseminating information.
Mārtiņš Viļums (@vilumartin), co-founder of Abillio, uses Instagram and Facebook to continuously find and mobilise those who have the capacity to provide various kinds of equipment for further delivery to Ukraine.
The Stories on the private Instagram account of Jānis Gailītis (@watchmanshouse), Head of Project Management and Development at the Art Academy of Latvia, no longer document his visits to various contemporary art exhibitions – since the first days of the war, his Stories now intensively stream political cartoons and memes caricaturing Putin and Russia's aggression. Pulled from the world's major newspapers, Gailītis' collection contains a wealth of visual material fit for posterity. "One picture speaks a thousand words. Political cartoons help to expose the delusions of Russian leaders and give a sense of how surreal it is that these things are happening in the 21st century," says Gailitis.
***
During the second week of March, on the 13th day of the war, I returned to Latvia. I packed a humanitarian aid package with a couple sets of unused bed linen and a pair of trainers that my rapidly growing two-year-old had outgrown before ever having put them on her feet. And that's it?! That's it!? I realised there was something else I had to do. Something in the ongoing process of helping and supporting. I felt this not as a civic duty but as a very deep, primordial need.
In those days I was rummaging through the contents of my travel bags and thinking about how little I actually knew about Ukraine. About its contemporary culture, about its latest architecture, design, literature... One of the bags contained a jacket made of luminescent material which I had bought at the rebellious БРЕНЬ (@bren.ua) brand store in Kyiv on my only visit to Ukraine. (I must confess that on the way back from Asia and through three airport transfers, the jacket had been stuffed into the depths of my bag. The back of the jacket is printed with an improvised Cross of the Order of St. Lazarus, aka the Maltese Cross, and during the flights home I just wanted to hide behind my face mask – up and over my eyes, if I could have – rather than risk drawing any attention to myself by having onlookers wonder which side of the current Orthodox Church schism I'm on. I wasn't about to look for trouble.)
Screenshot from Ukrainian Creatives Instagram timeline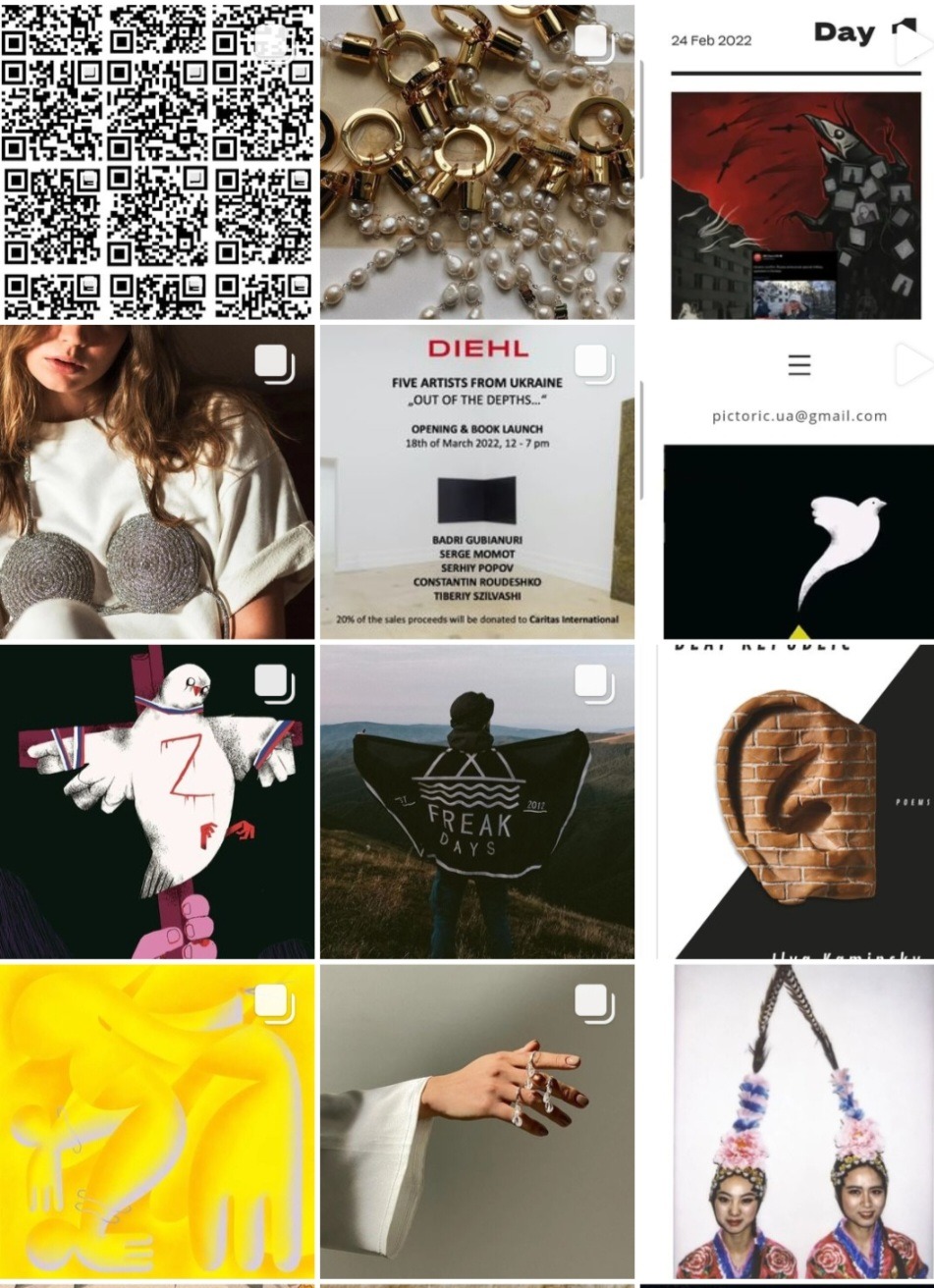 I realised that I had a few more pieces of Ukrainian fashion design in my wardrobe. In perusing the expanse of Instagram over the past few years, a number of Ukrainian brands had come to my attention. Moreover, my friend Anna Iltnere (@sealibrary_), the creator of Jūras Bibliotēka / Sea Library, had said that she wants to add Ukrainian authors to the collection with the twofold aim of supporting the writers and, if possible, providing a library for Ukrainian refugee children here in Latvia.
While Russia was being slammed with sanctions from the Western world, and global companies and brands were announcing the suspension of trade relations with Russia and Belarus, calls to support the Ukrainian economy and buy Ukrainian products were increasing in volume. But where could you buy them? How were we supposed to find out about them? Was there a one-stop place that could provide information?
Screenshot from Ukrainian Creatives Instagram timeline
Light-bulb moment! This was an opportunity to get involved in the support process and, purely selfishly, for me to learn about the current creative scene in Ukraine! I approached fashion illustrator Alīna Grinpauka (@alinagrinpauka), who also seemed to be on a similar wavelength at the time. Recognising the significant role that Ukraine plays in her daily life and work, Alīna had already begun avidly sharing the work of Ukrainian photographers, fashion brands and musicians on her Instagram Stories. She divulged that she consumes a lot of Ukrainian culture on a daily basis, and gave me a list of notable fashion designers and brands. I asked other creatives I know to get involved and share what they know in this way, too.
Graphic designer Pēteris Čivlis (@misterpich) came up with logo samples. In Berlin – not far from a flagpole bearing a Ukrainian flag (incidentally, to deter any nationalistic tendencies, Germany's own flag is rarely seen on flagpoles in Germany) – art consultant Elīna Norden (@elina.norden) and I created the Instagram profile Ukrainian Creatives (@ukrainian.creatives).
For Ukrainian Creatives, Elīna prepares content about opportunities to get involved in supporting Ukrainian artists. Followers of the profile can learn about creative Ukraine through posts about designers, illustrators, book authors and other creative initiatives, as well as find out how to buy their products, form collaborations, or offer freelance positions. It is also a wonderful way to show emotional support for the Ukrainian people.
A similar Instagram initiative by fashion designer Lilia Litkovskaya - ArtcodeUA, which brings together and presents Ukrainian photographers and fashion artists. The designer started it at the Paris Fashion Week, creating a QR code installation, thus allowing as many Ukrainian creative forces as possible to be present in Paris. Screenshots from Lilia Litkovskaya and ArtcodeUA (@artcodeua) Instagram timeline
Some Ukrainian creatives have had to, for reasons known to all, cease their work and/or are currently unable to produce and supply products. While some have literally taken up arms, others have been faced with the priority of getting their loved ones to safety. Some have announced that they will fill orders as soon as it is feasible for them to do so, but nevertheless encourage customers to continue ordering from their online sales platforms so that they can get the immediate support they so desperately need.
However, there are a number of creatives who continue to work. Brands both large and small channel part of their revenues to the Ukrainian army and humanitarian needs. Two weeks ago, the globally renowned fashion brand Litkovskaya (@litkovskaya_official) announced that it had mobilised its workforce and resumed operations in a secure location near Lviv. Once can only look on in awe at the stubbornness, and most importantly, courage of the brand's creators.
A number of creatives turn to the creation of NFT, thereby supporting Ukraine. Screenshots from the Frolov brand Instagram story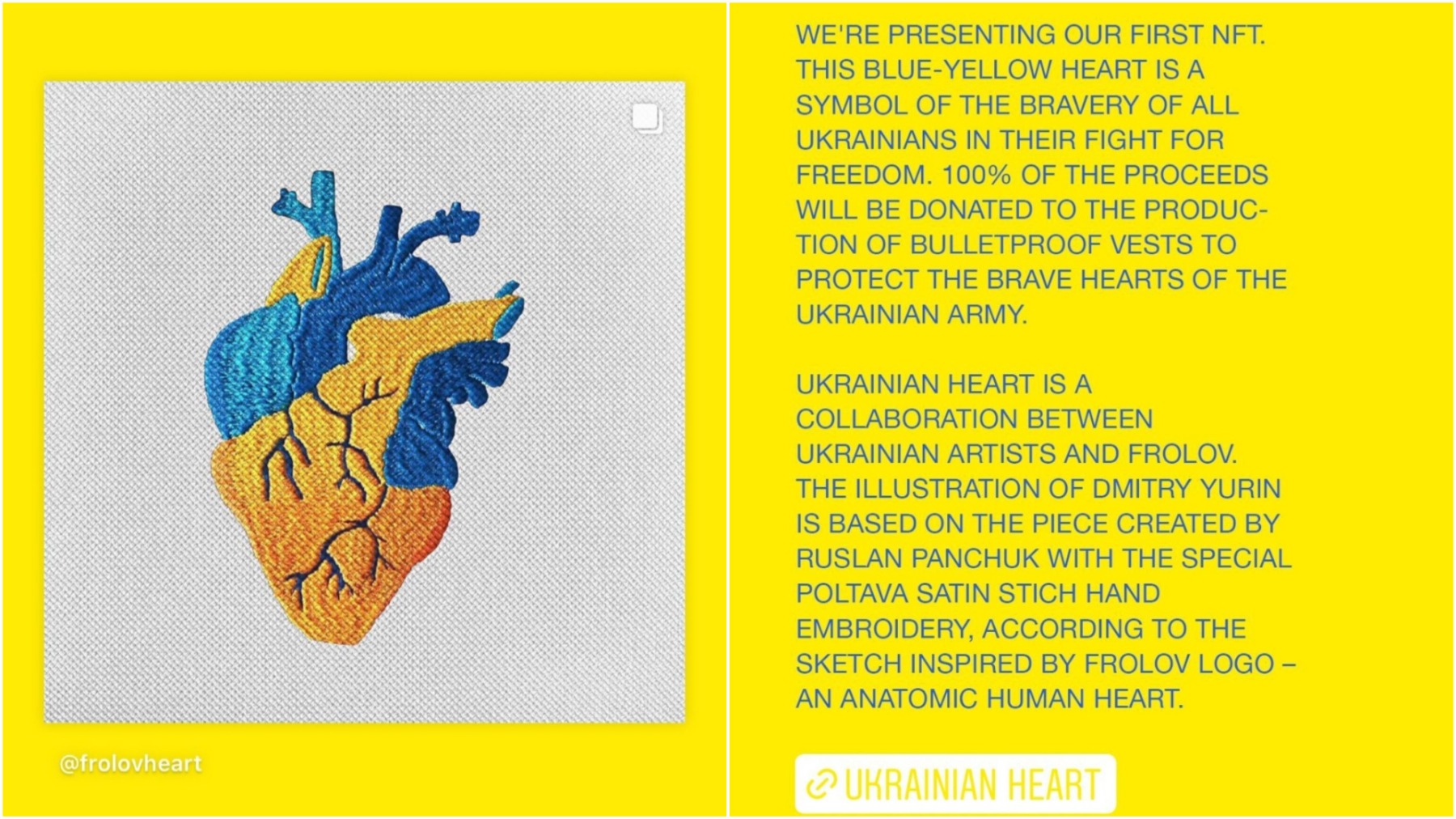 Yet another story of tenacity deals with those who – with their talents, skills and capabilities – have adapted and transformed their work to that of directly helping Ukraine in the war effort. For instance, Kachorovska Atelier (@kachorovska_atelier), a Ukrainian footwear, apparel and accessories brand established in 1957 – in short time, Kachorovska shifted its production over to the making of army boots. On its Instagram page, the brand posted that they were producing 500 pairs of army boots without charge, but that with more donations, they would be able to produce around 500-800 more pairs. In total, USD 25 000 was raised in less than two days.
On Instagram, Pictoric, it is possible to follow the efforts of the community of Ukrainian graphic designers and illustrators to inform about the war atrocities taking place in Ukraine. Screenshot from Pictoric Instagram timeline
The creative community is using Instagram as their main information tool for more than just sharing their work or for soliciting donations for the Ukrainian army. A considerable amount of the creative community's content is being produced to combat Russian propaganda and disinformation, and to inform the world about the atrocities being committed by Russia. Admittedly, the Ukrainian creative community's Instagram Story posts are hard to watch. Alongside video documentaries, personal stories and testimonies, the voices of illustrators and graphic designers are also holding strong. While social media in the early days of the war was flooded with cheerful yellow and blue drawings of peace doves expressing solidarity, peace and hope, the content of the posters and illustrations being posted now is very different. The dreamy Instagram feeds featuring children's book illustrations have been replaced by agony, blood, despair and anger. Posters are being transferred from the virtual world as prints to war protest and exhibitions around the world, from the Open Air Gallery in Łazienki Królewskie in Warsaw to Ukraine House in Washington. Donations from the exhibitions go towards humanitarian needs in Ukraine. The Instagram account Pictoric (pictoric.ua), created by Ukrainian illustrator and social activist Anna Sarvira (@anna.sarvira), announces exhibitions, publications, acquisitions and other activities of Ukrainian graphic designers and illustrators.
Screenshot from the jewelry site Chego (@chegojewelry)
As you can see, being active on Instagram – following and sharing the message of the Ukrainian creative community – is an opportunity for everyone to help and give support.
In its two-week run, the newly launched Ukrainian Creatives initiative has seen real interest from local Latvian companies looking for opportunities to collaborate with Ukrainian professionals; many have admitted that the site has opened up new horizons. I'm continuing to develop the Ukrainian Creatives platform and invite you to follow, love and support Ukrainian creatives: www.instagram.com/ukrainian.creatives
In the visuality of the Ukrainian Creatives logo created by Pēteris Čivlis, a paintbrush train embedded as creativity, a circle shaped like global unity and an impromptu painted Easter egg (Ukrainian-pysanka). Pysanka symbolizes the sun, life, immortality and ingenuity in Ukrainian culture. The ornaments used in the painting of eggs together constitute a prayer for uniformity and peace between humans.
#standwithukraine #unitedforukraine #supportukraine #helpukraine #slavaukraini #godblessukraine
* Agnese Čivle, creator of Ukrainian Creatives, an Instagram platform supporting Ukrainian creatives