Purvītis Prize 2023 / Nominee work exhibition
Photo report
Running from 1 April through 11 June 2023, the eighth Purvītis Prize Exhibition is on view in the Main Building of the Latvian National Museum of Art.
The exhibition comprises a striking selection of paintings, sculptural, installation, photo and video works created by the six artists and collectives shortlisted by a panel of independent experts for the Eighth Purvītis Prize for the most outstanding achievement in visual arts in 2021 and 2022 – Evelīna Deičmane, Kristaps Epners, Daiga Grantiņa, Darja Meļņikova, Evita Vasiļjeva and Kaspars Groševs, Ance Eikena. The exhibition is curated by Daiga Rudzāte. Exhibition design – by Martins Vizbulis.
"2022 was the year when the Latvian National Museum of Art and its visitors celebrated Purvītis. This contemporary art award also carries his name. Marking the 150th anniversary of birth of the great Master, a day that was also featured in the UNESCO calendar of events, the Latvian National Museum of Art hosted an extensive exhibition. I am convinced that this retrospective of Vilhelms Purvītis' works helped many people discover him as an experimenting artist who explored, tried out, learnt and changed his style with every new skill that he mastered. The show was like a long-awaited testimony to the fact that there are so many paths available in art. I therefore wish all the artists shortlisted for the 2023 Purvītis Prize success and confidence that their respective ways in art are the right ones for each one of them," introducing the exhibition says Māra Lāce, Director of the Latvian National Museum of Art.
"The protracted crisis we are currently living in has demonstrated that art remains the space where we can find inspiration, consolation, regain our balance, discover a brief refuge and reach answers to the gnawing questions prodding our unconscious as we encounter the reality around us. Each and every individual exhibition in this show is evidence to the inspiring and healing power of art," states the curator Daiga Rudzāte.
Arterritory.com presents a photo report from the exhibition.
KRISTAPS EPNERS / work "Maslova"
Kristaps Epners' work is based on extended research into the Old Believers' community in Maslova, Latgale region. "What struck a chord with me in Maslova and what I cannot explain rationally (nor do I wish to) was the space: it was empty yet at the same time charged. I sensed this ephemeral energy in there. A house of prayers in the middle of nowhere. Apparently, unwanted by anyone: everything has come to an end; the congregation ceased to exist back in 1993. Neither myself nor my family have any connections in Latgale. It is inexplicable to me that I ever stumbled upon this place. (..) I have had conversations about what Latgale is, and I agree that there is a sense of genuineness in Latgale. Unless they are inveterate drunks, these people are very strong. I think they are the strongest people in Latvia," states Kristaps Epners.
Photos: Kristīne Madjare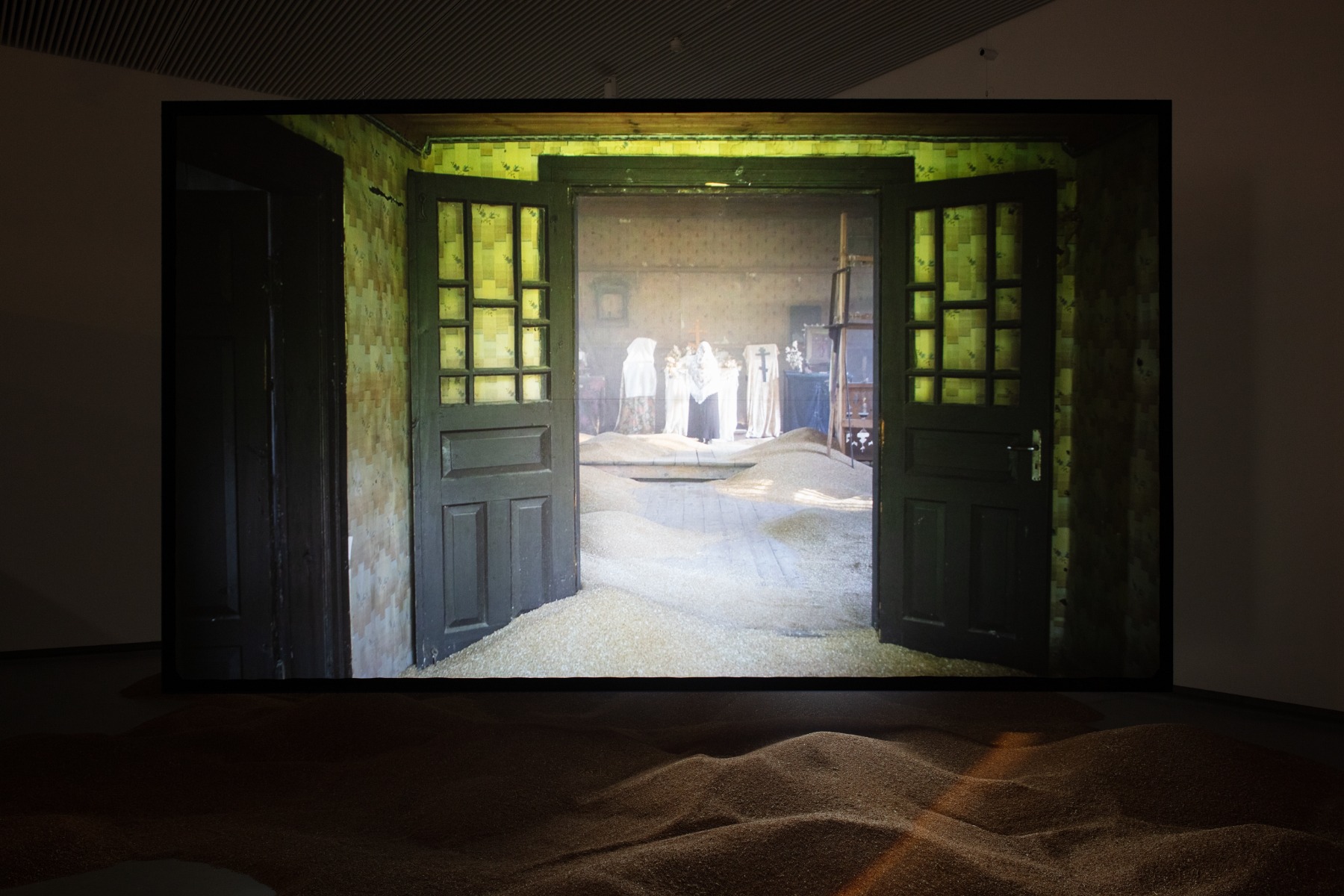 ANCE EIKENA / solo exhibition "Our Heavenly Father"
'The exhibition is about my dad, who in many ways was very much like so many other fathers from the previous generations: now he was around, now he wasn't there; sometimes he was loving, at other times he was withdrawn. Dad had recurring problems with alcohol. I think that when people lose themselves in various addictions, the actual causes lie in depression, unresolved inner problems, deficit of love and elsewhere. Alcohol is nothing but a consolation here, a door offering a way out of this reality when staying is getting too hard. I sometimes think that my dad's greatest blessing and worst curse was his immense capacity for feeling – because that's when so many things around you hurt so much. And Dad really felt the pain of all the injustice in the world. There was so much light in his compassion and humaneness. "Our Heavenly Father" is my dedication to all the loving and hurting dads and to God's presence in people's souls,' says Ance Eikena.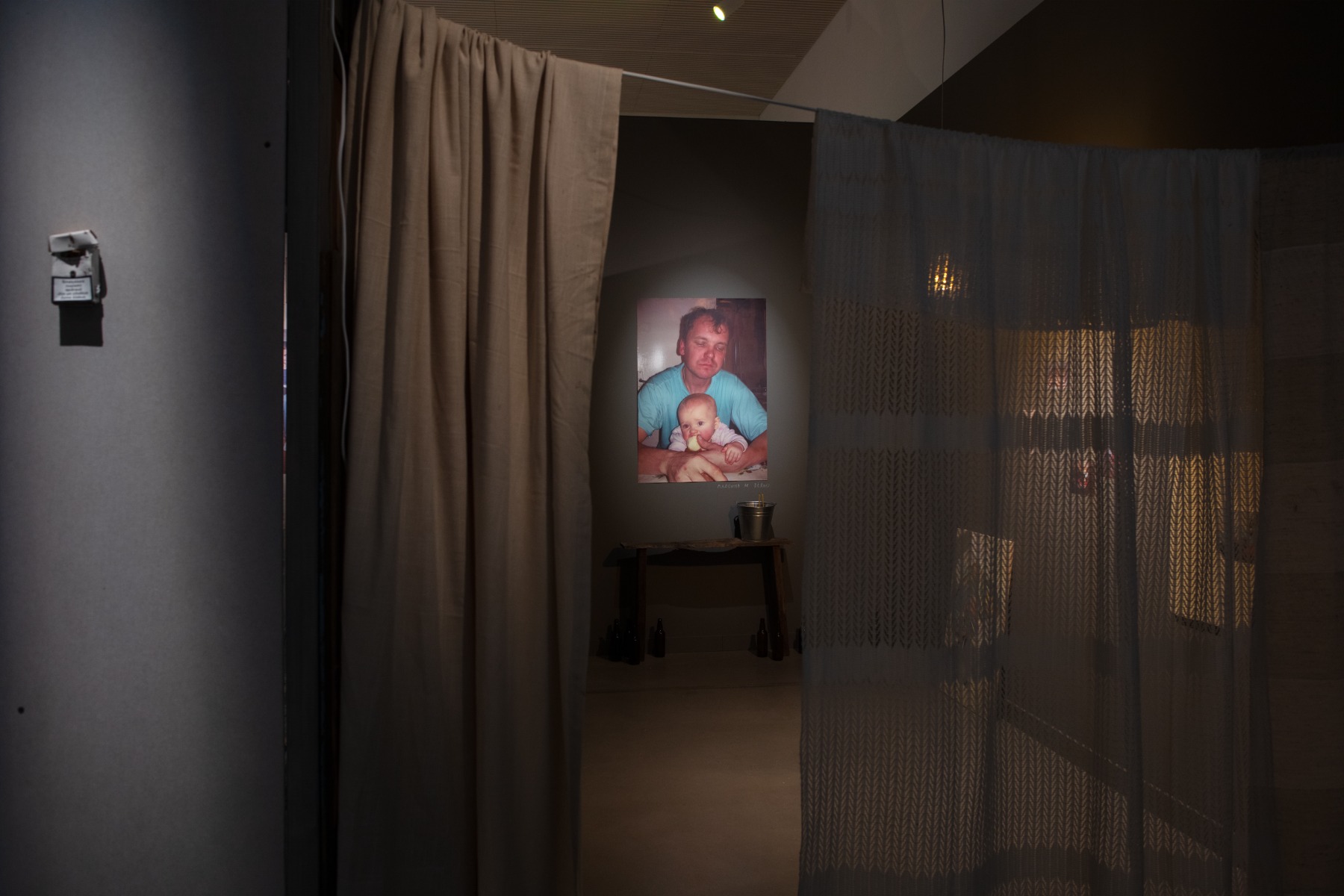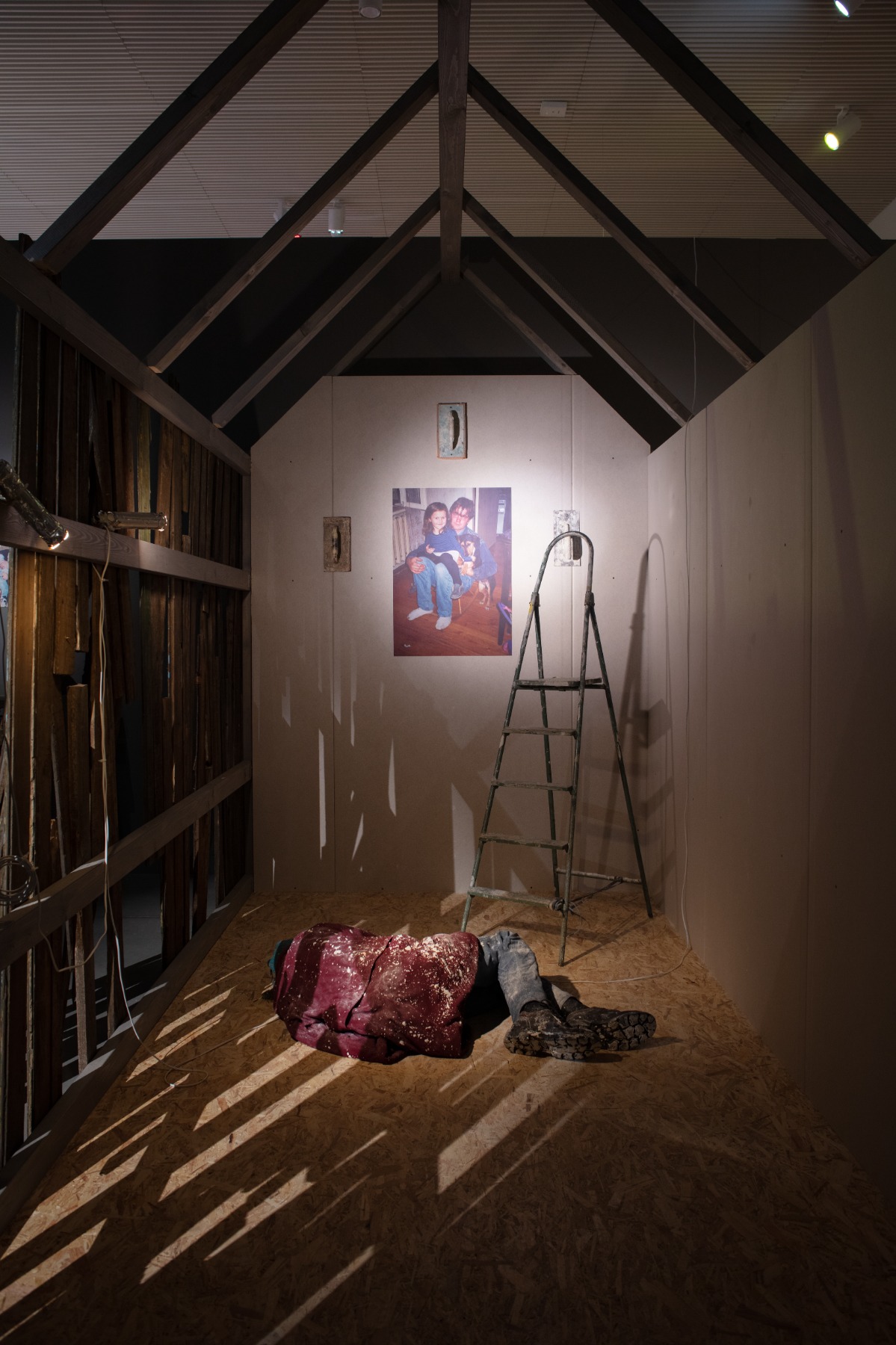 DARJA MEĻŅIKOVA / solo exhibition "The Anticipation"
"Exhibition was custom-designed for the 427 Gallery specifically: I wanted to transform the place so that people would enter and not recognise the space. The idea of the exhibition was to transfer certain architectural elements to the realm of senses. For instance, you are walking down an arcade, and, since the arcade is the same throughout the length, it is monotonous, and your eye starts to skip the repetitive details and focus on moving forward. And it occurred to me that walking down an arcade is actually like anticipation. Something may take place – but perhaps it will not. It is like the horizon; when you walk, you seem to be approaching it. But are you ever going to reach it?" says Darja Meļņikova.
EVELĪNA DEIČMANE / solo exhibition "Tanzorgan"
"It is a word I made up, a combination of 'dance' and 'organ'. By introducing this compound, I purportedly invented a new organ of the human body, one that stores joy of life and makes you dance. I focus particularly on the inner body that allows you to attain that level, that unique state where the world and the invisible realm merge into one.
On the one hand, there is this fantasy, fairy tales and miracles in the exhibition. In visual terms, the exhibition is colourful, cheerful and has a happy ending. On the other hand, I speak about violence against children, peer violence, the indifference of grownups, and peers pretending not to see the things that are going on (which stems from fear of getting involved or knowing more than you should – a fear instilled back in the Soviet years). The exhibition does not purport to separate the evil from the good. I wanted to point at the exigency of compassion and empathy. I love emotional spectrums and strata but it also matters to me that the element of light trumps it all," says Evelīna Deičmane.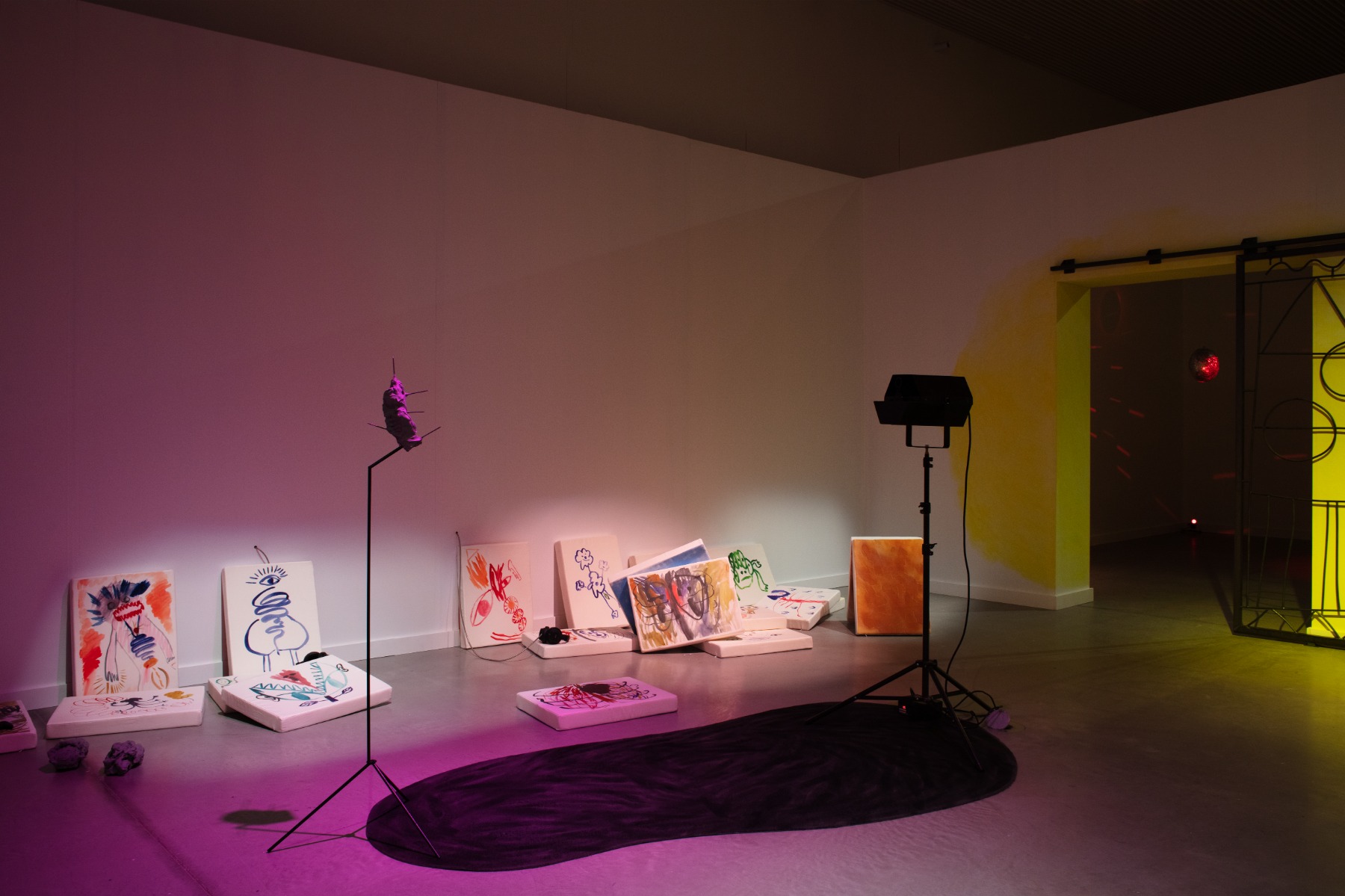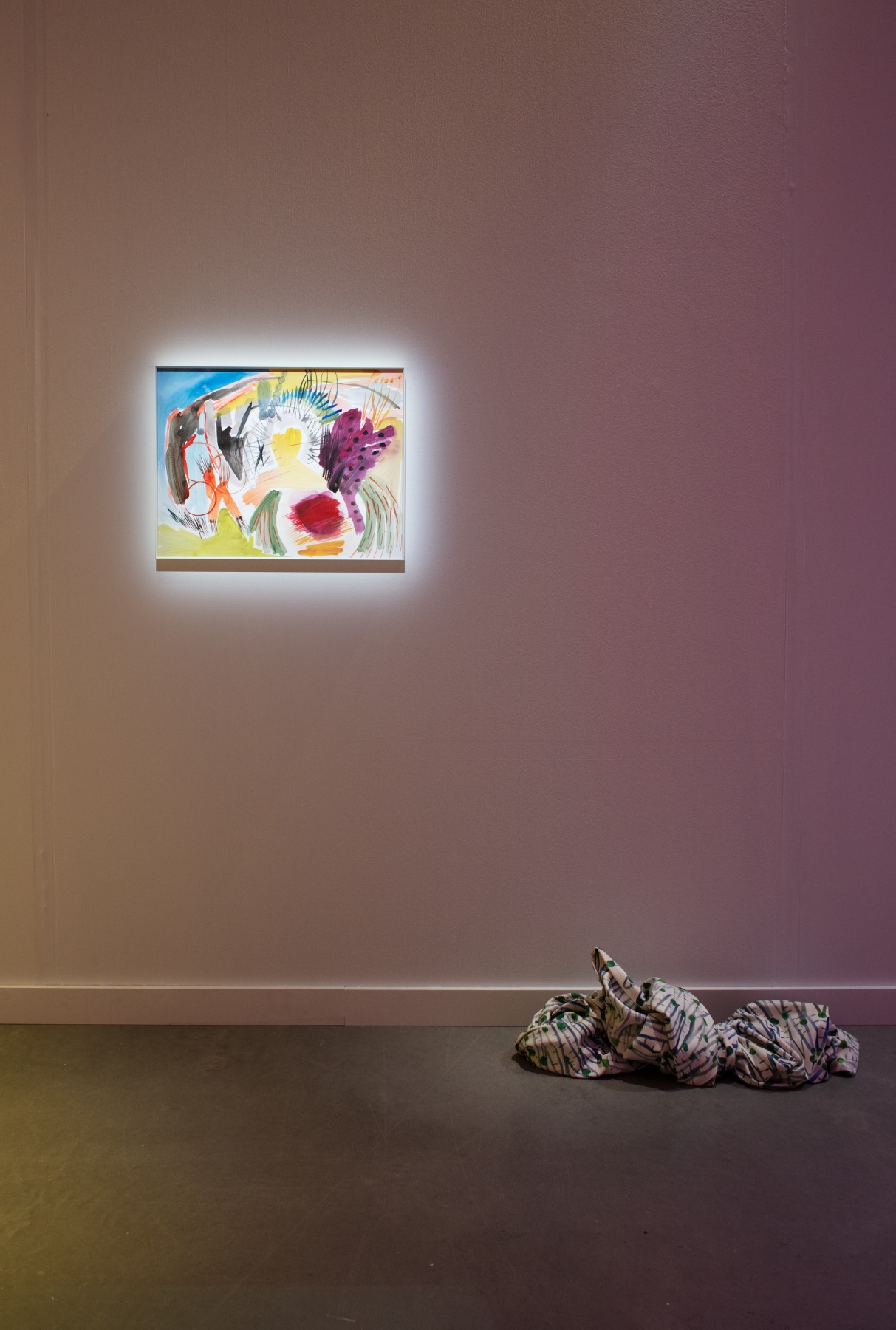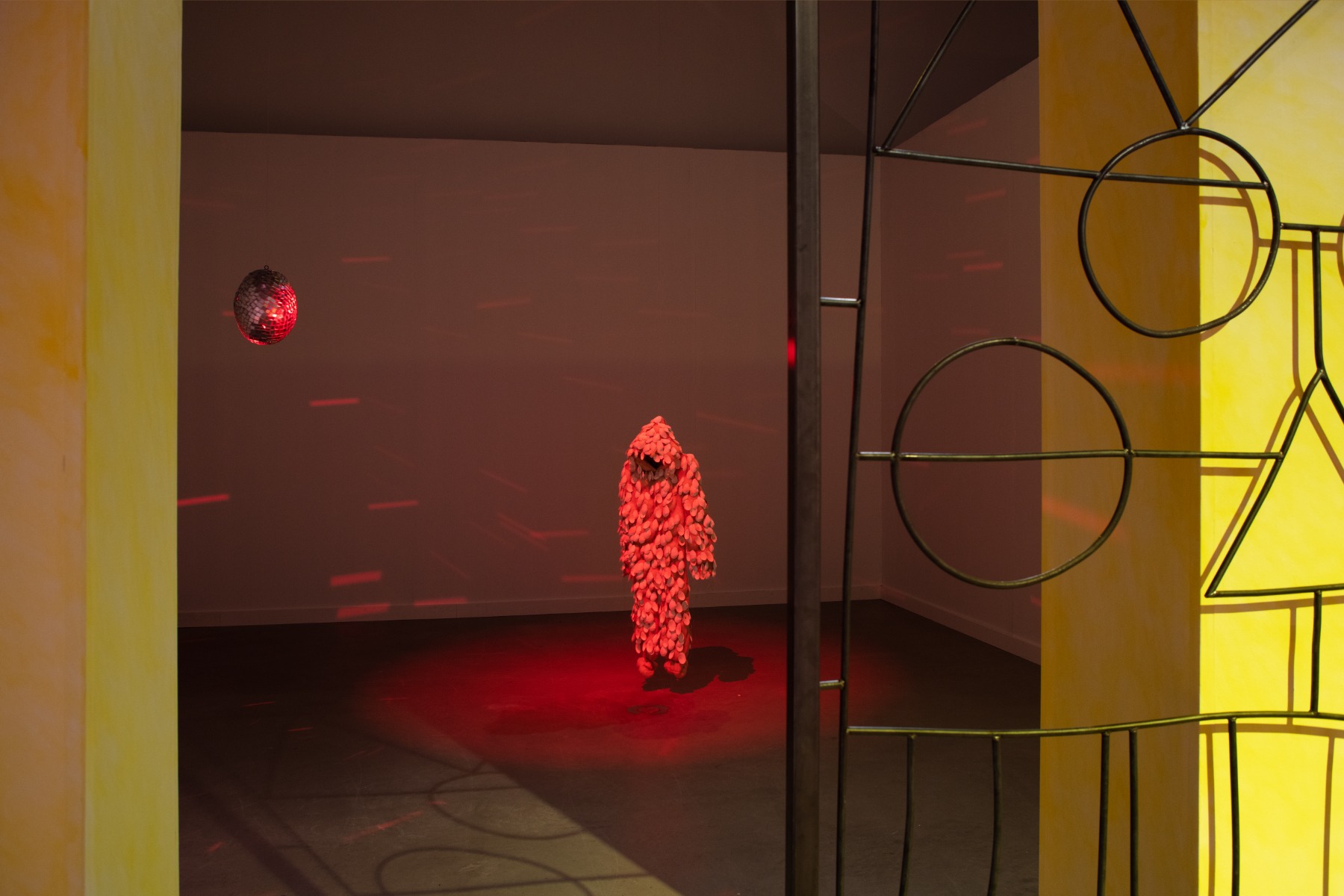 EVITA VASIĻJEVA UN KASPARS GROŠEVS / exhibition "Blue Lagoon House"
"The experience of viewing art is definitely a thing that makes this world much more bearable and occasionally even enjoyable. Thinking of utopia, I tend to associate it more with certain ideas from the past and those utopias imagined in various times that frequently catch the sight of artists and curators these days. Because today even the idea of colonising Mars or something along these lines sounds more like an ominously bad-ending Hollywood catastrophe movie. It is a much more real thing to surround yourself with an environment where you can flourish and create among other artists ‒ a small micro-utopia that sometimes flashes by like a mirage before sunset," states Kaspars Groševs about their exhibition filled with direct and indirect references to Hardijs Lediņš and NSRD's* 'approximate art', finding a new appreciation for local art communities through utopian thought projections and the confluence of materials.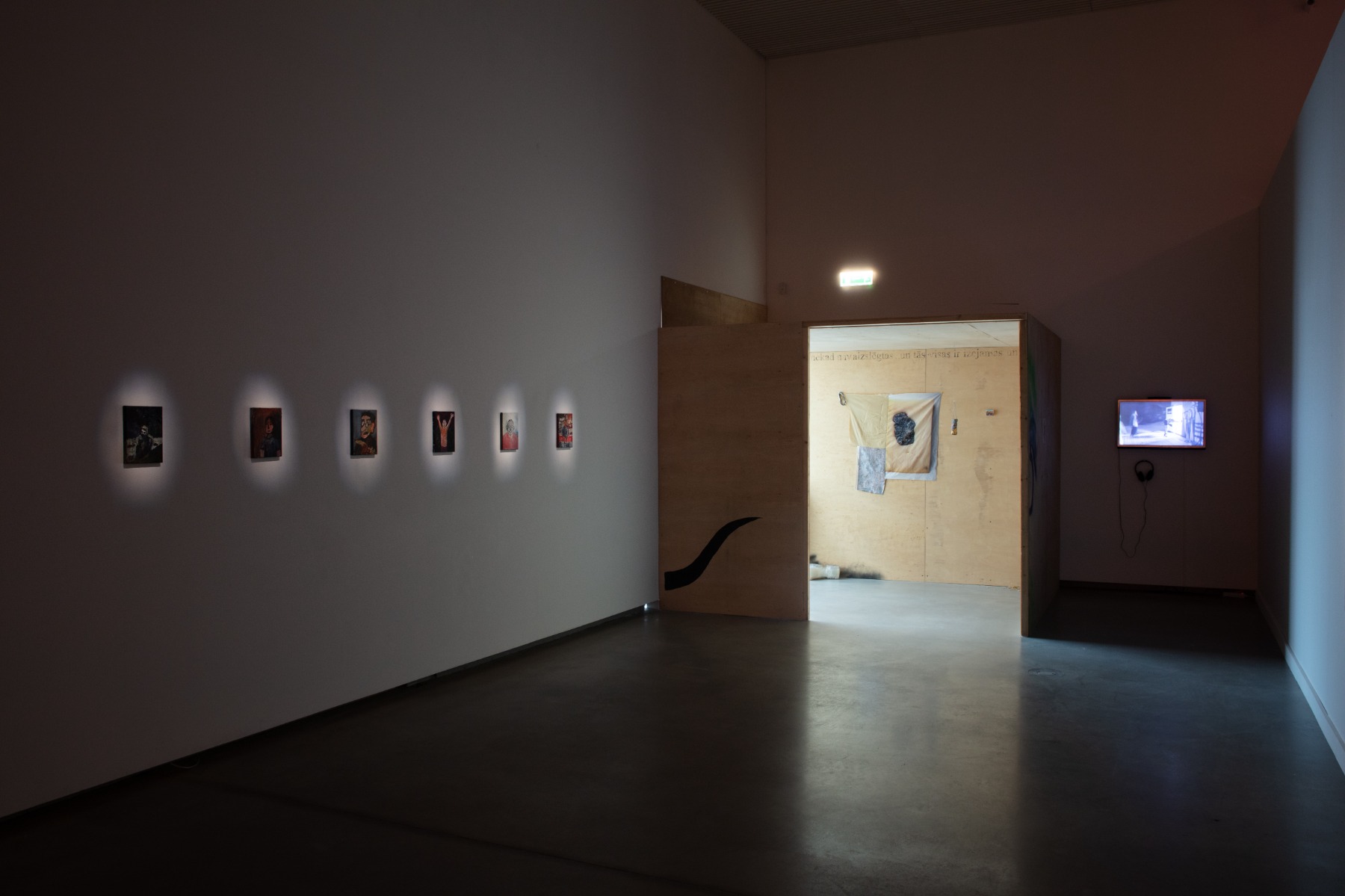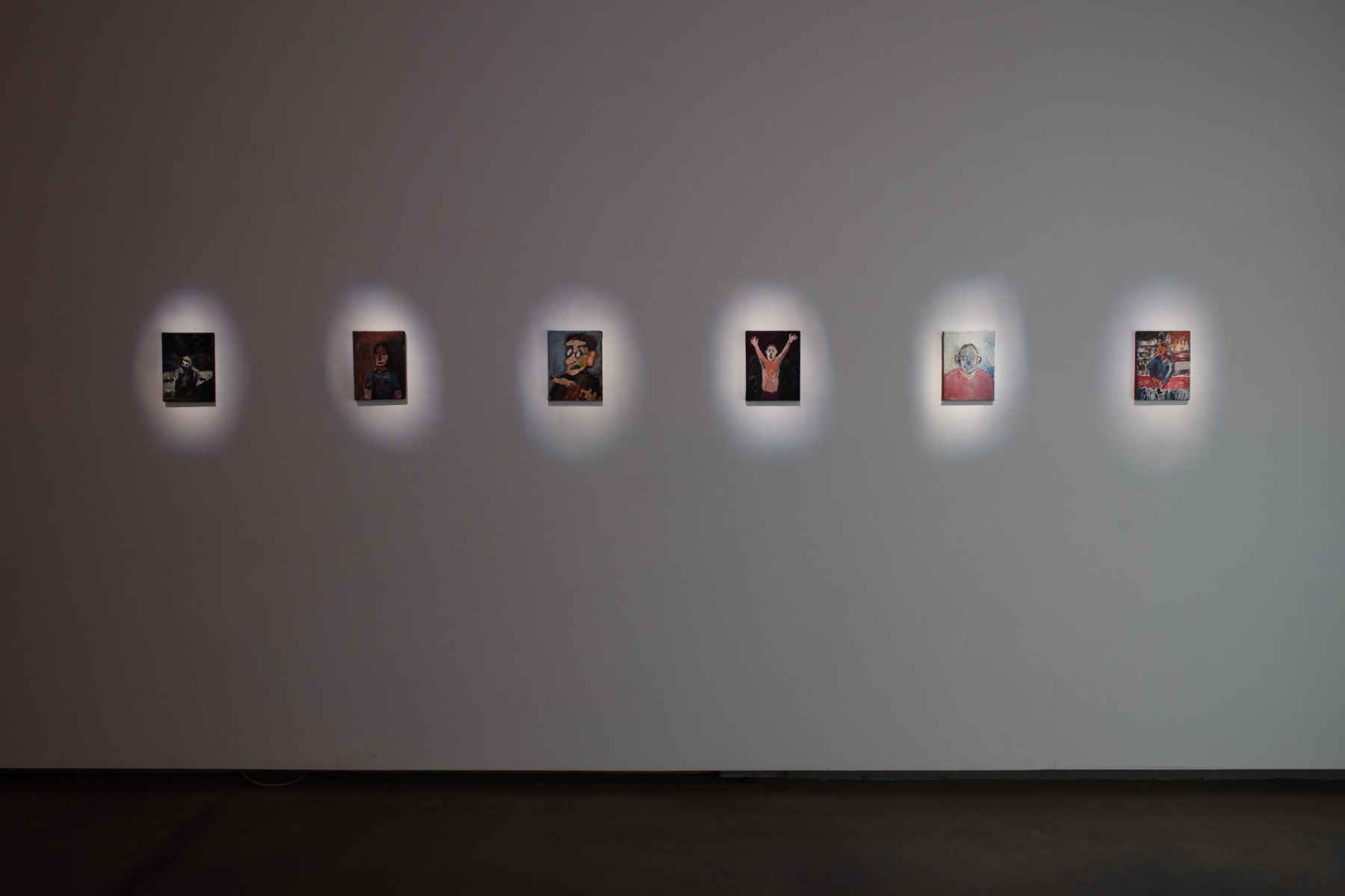 DAIGA GRANTIŅA / solo exhibition "Lauka telpa"
For this exhibition, Daiga Grantiņa has assembled elements of her sculptural vocabulary developed in her practice over the past decade. "Lauka telpa" is a field of the invisible that feeds the imagination.. "I associate my native land with a sense of having nature as my support to lean on; it is like becoming a part of the landscape. It is this force that I had in mind when I named the show "Lauka telpa" [Field Space]. It is a tribute to this form of inspiration. It is a tribute to my family who gave me access to this inspiration. (..) To me, artwork and space form a cohesive whole," says Daiga Grantiņa.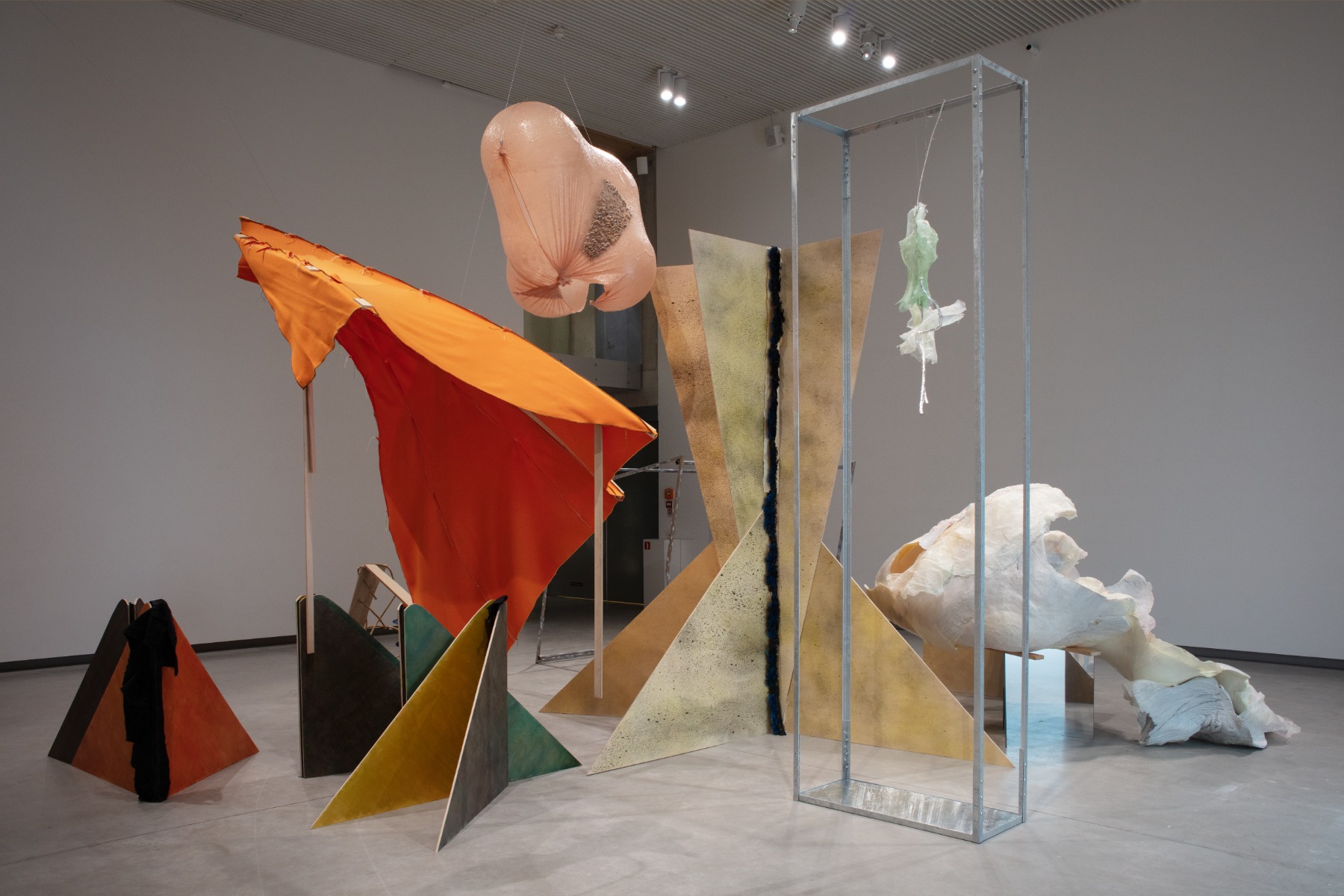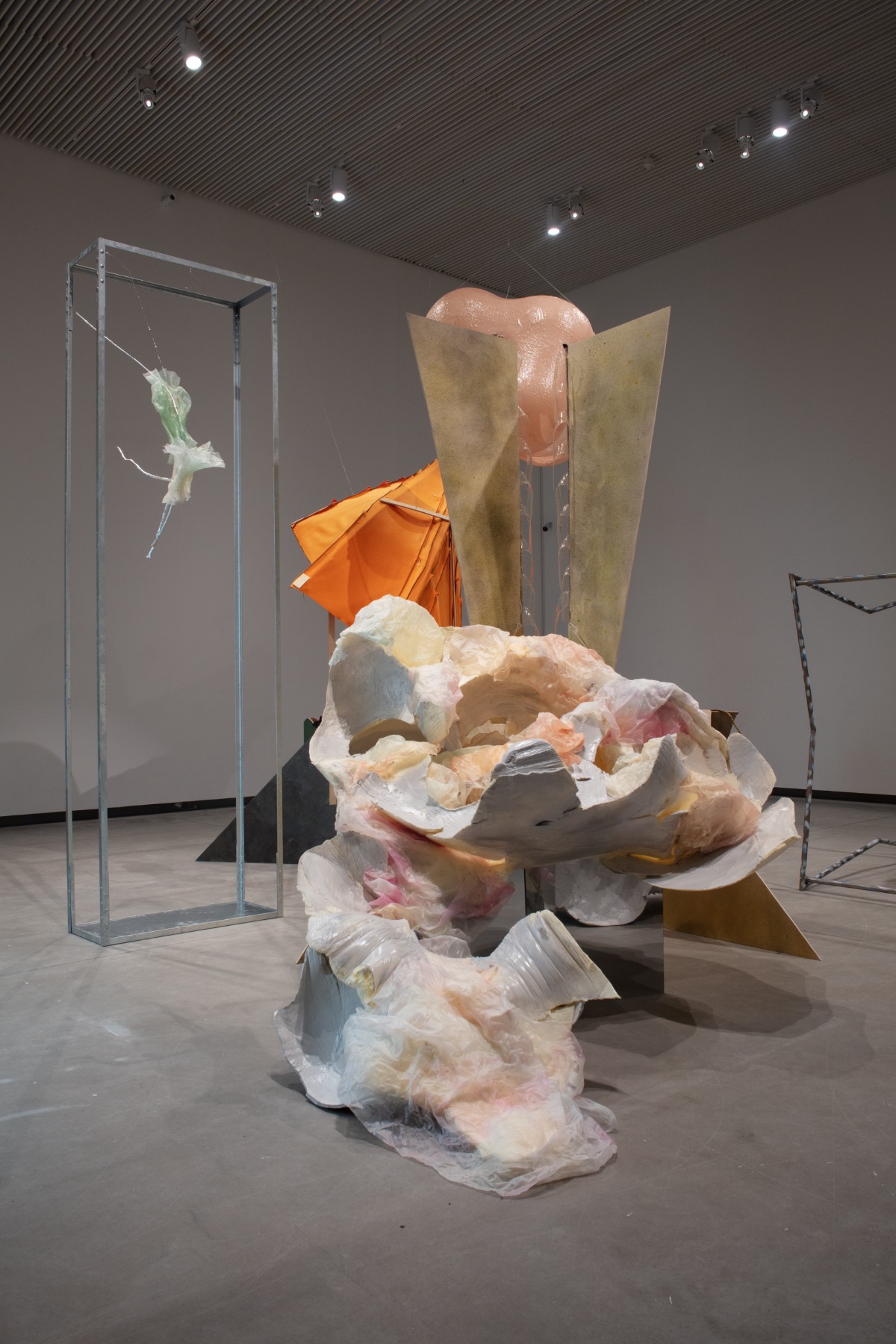 The winner of the 2023 Purvītis Prize will be decided upon by an international jury of seven professionals: Māra Lāce, Director of the Latvian National Museum of Art (LNMA); Jānis Zuzāns, patron of the LNMA and the Purvītis Prize, and Chairman of the Board of SIA 'Alfor'; Udo Kittelmann, art theorist and curator, Director of the Berlin Nationalgalerie group of museums between 2008 and 2020; Krist Gruijthuijsen, curator and art critic, Director of the KW Institute for Contemporary Art (Berlin); Ivana Goossen, Director of Kunsthalle Praha; Christian Nagel, gallerist, co-owner of Galerie Nagel Draxler; Laura Rutkutė, Art Director of the Vartai Gallery. The winner's name will be announced on 26 May 2023.
The Prize is awarded biennially. The Prize is the most prestigious and the most substantial art award in Latvia. The project is supported by the SIA Alfor company.
Images from the exhibition opening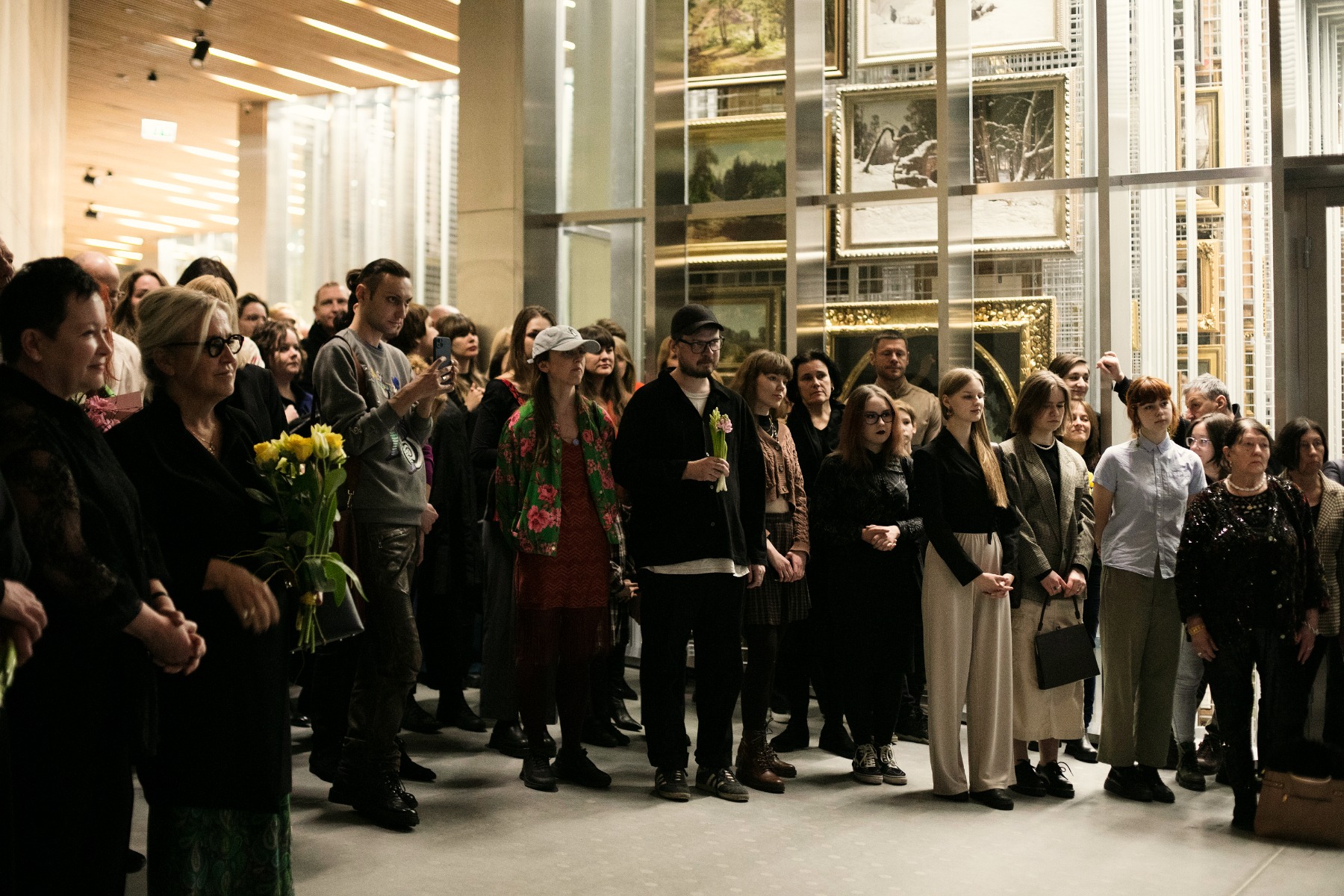 Daiga Grantiņa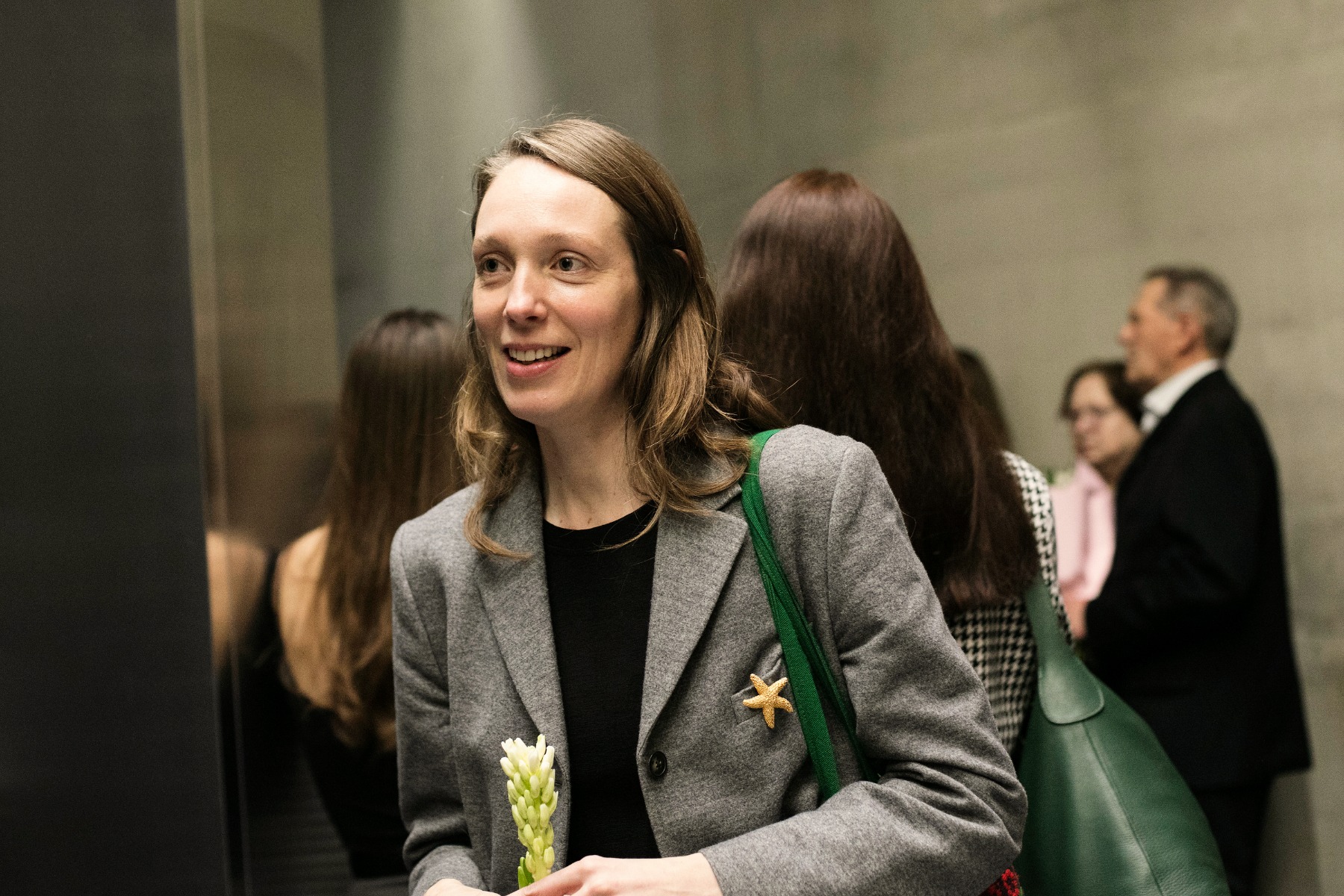 Kristaps Epners and Ieva Epnere
Kaspars Groševs, Martins Vizbulis and Astrīda Rogule
Amanda Ziemele and Margrieta Griestiņa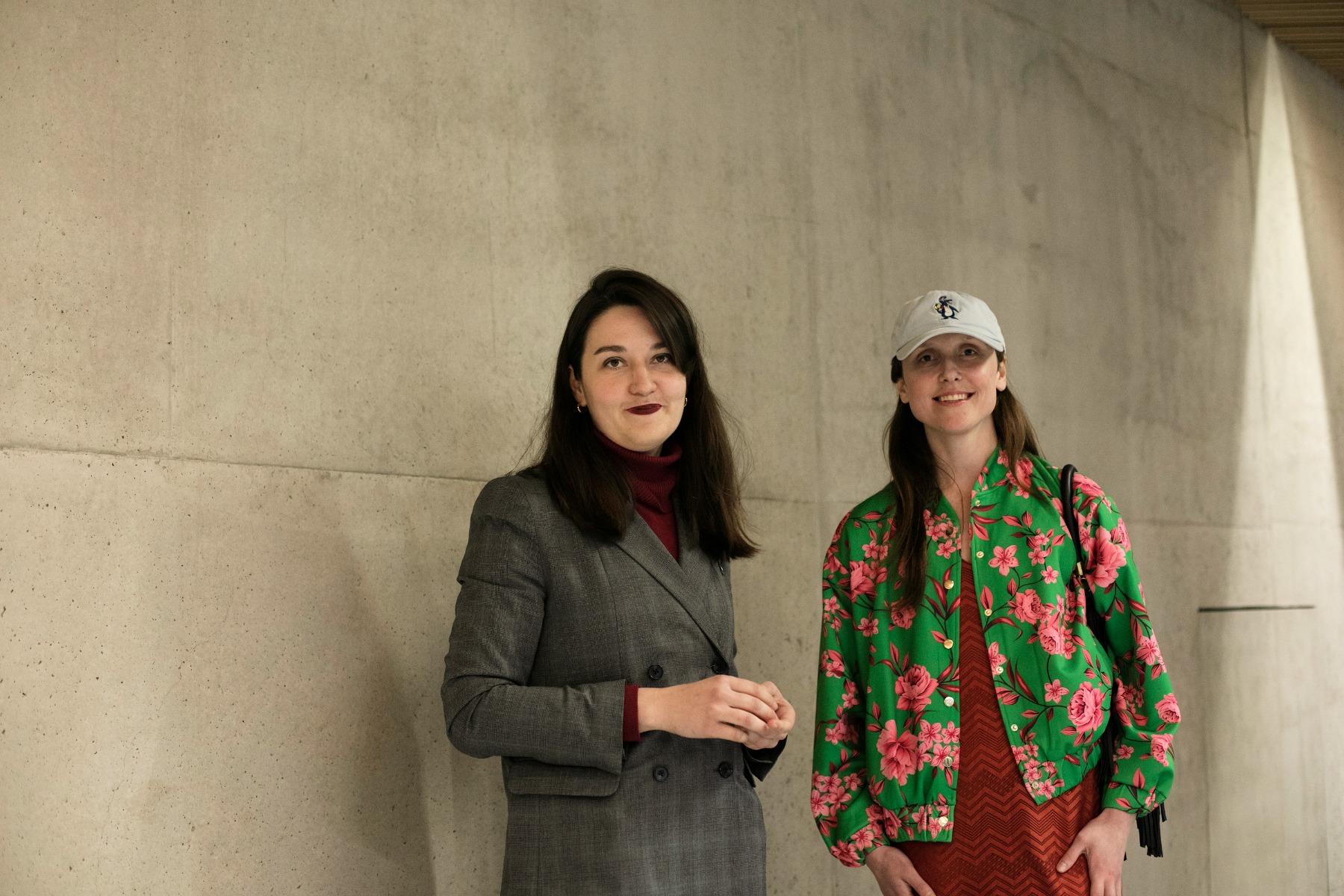 Igors Gubenko
Mārtiņš Ratniks
Evelīna Deičmane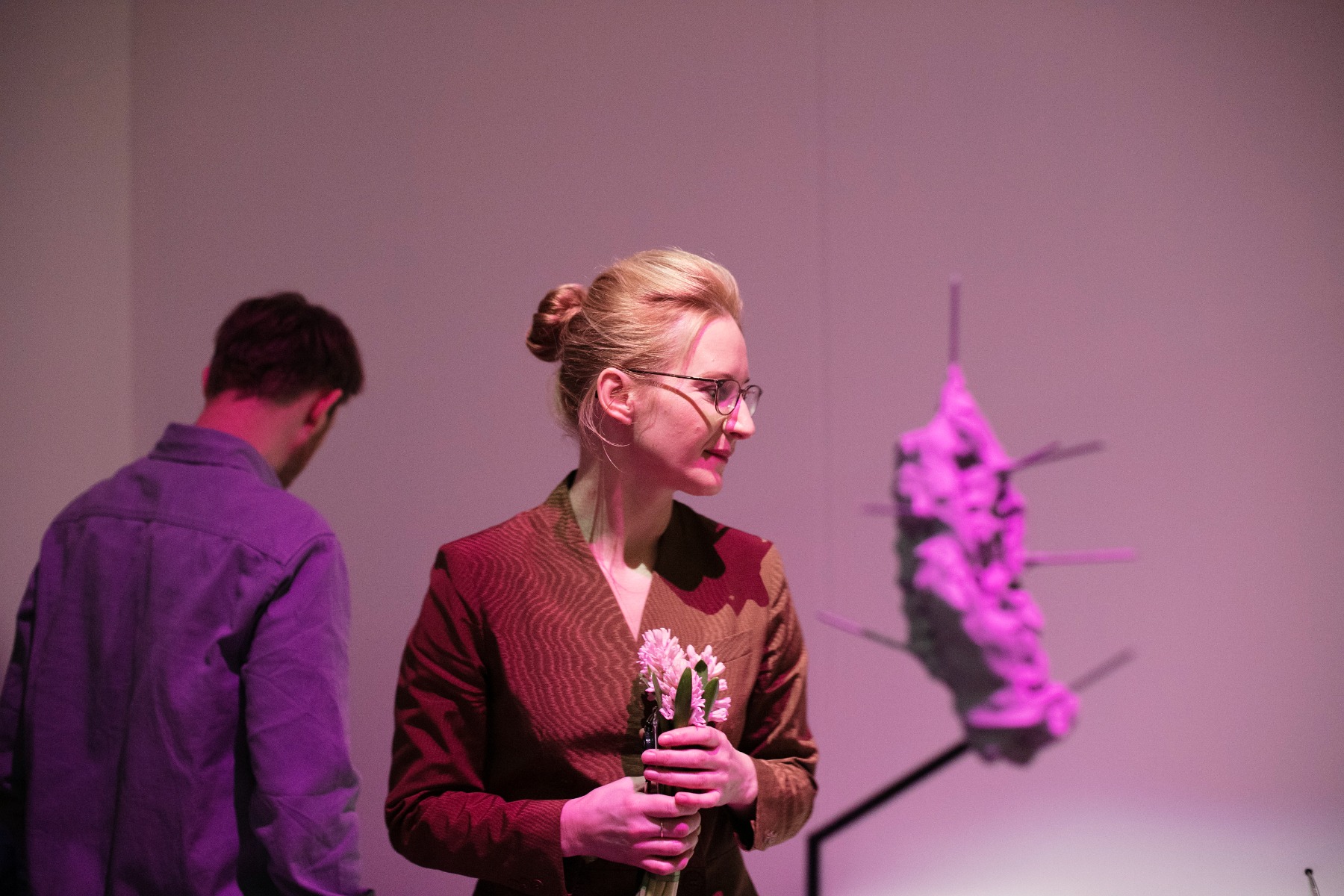 Ieva Ilvess
Odrija Kalve and Sergejs Timofejevs
Rasa Šmite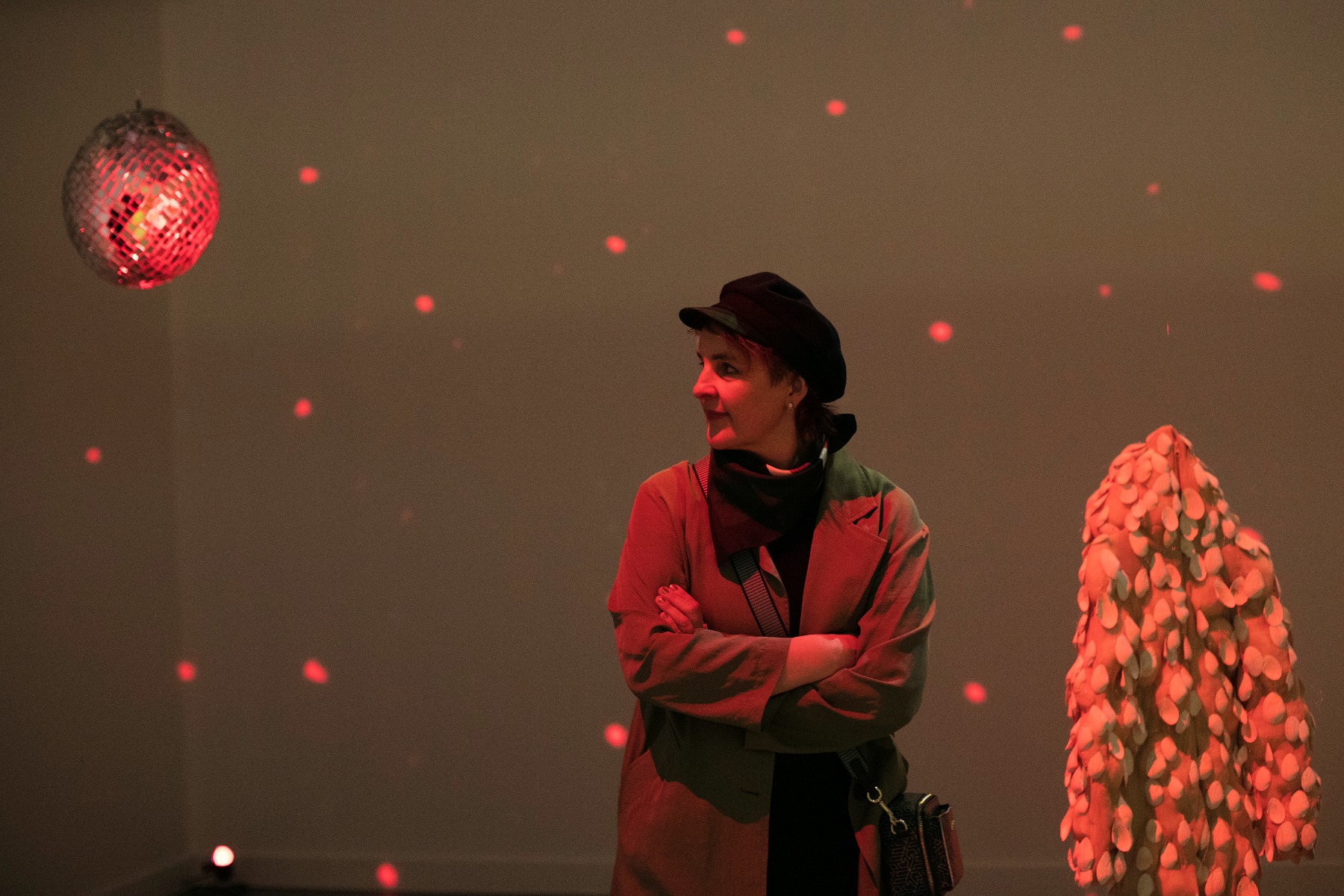 Auguste Petre and Georgs Sīlis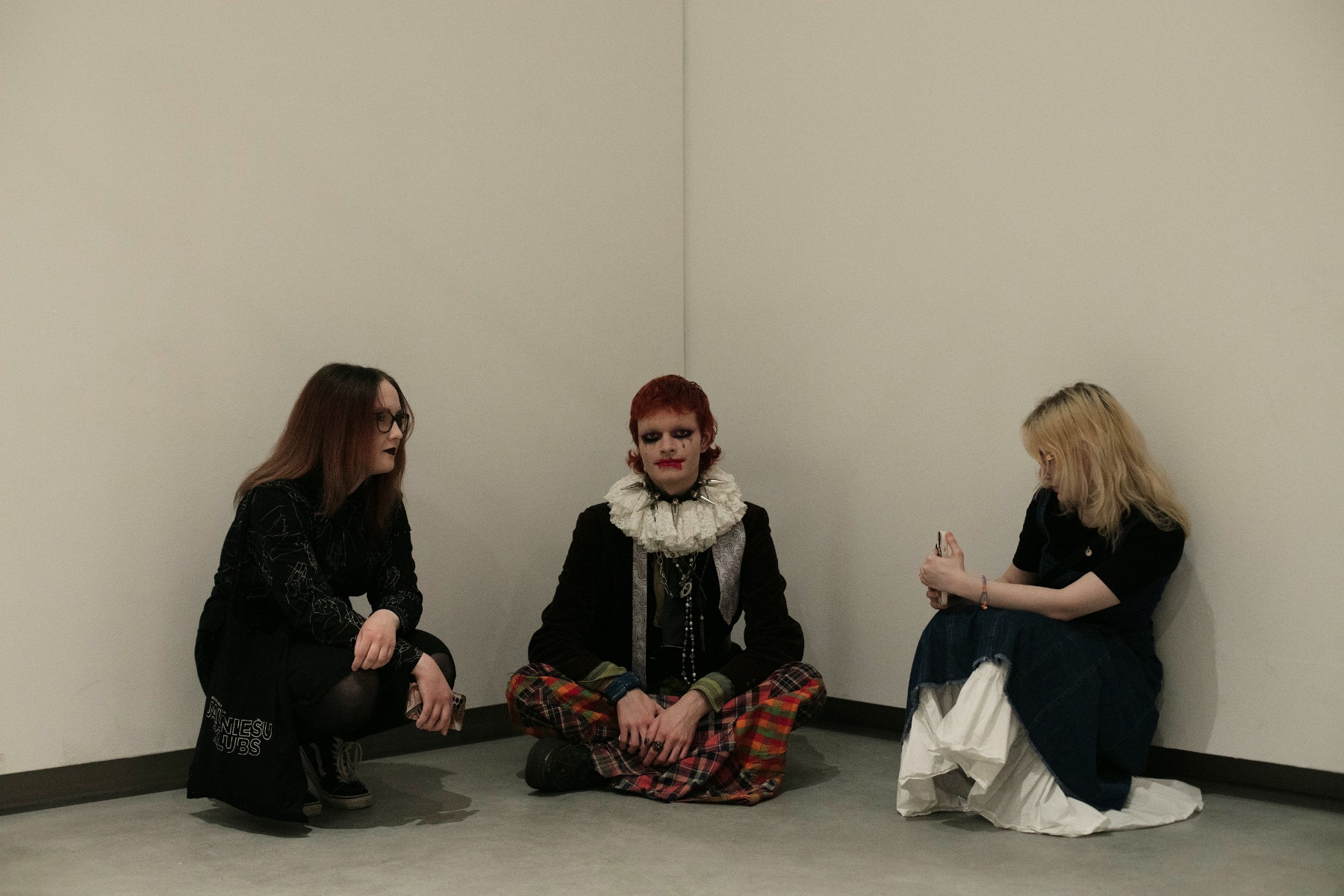 Katrīna Neiburga, Ance Eikena and Raivis Eikens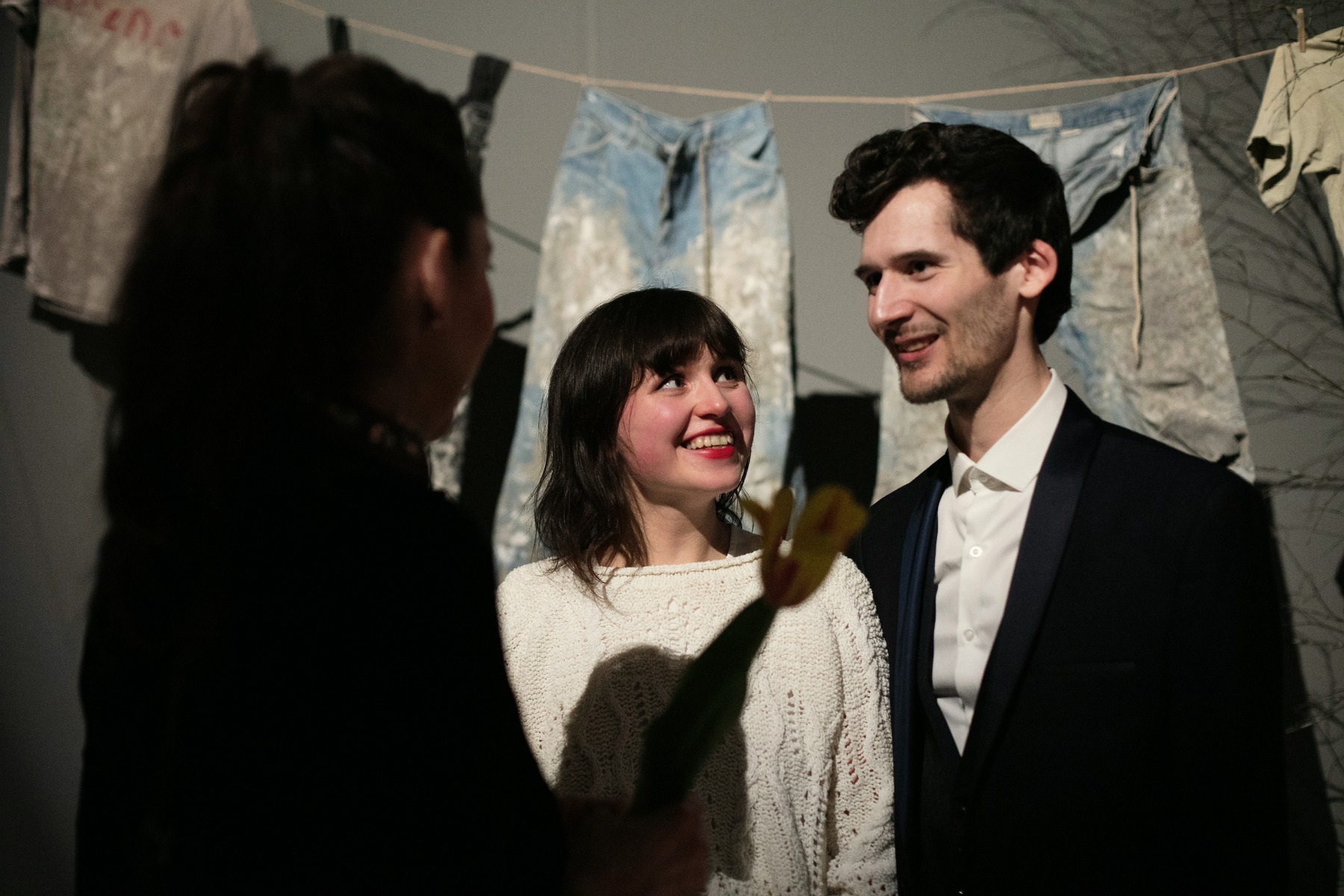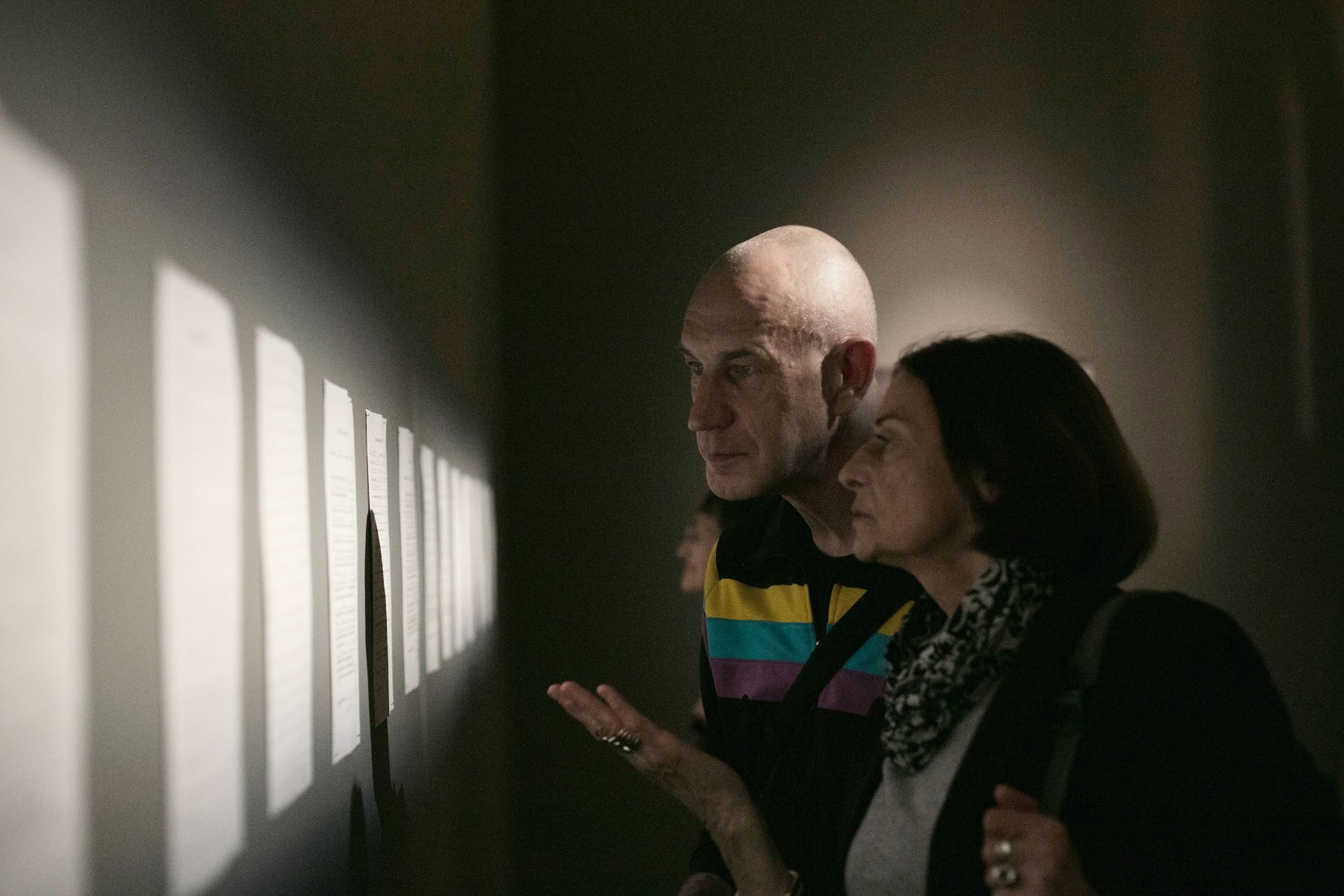 Edgars Vērpe and Valda Podkalne